Finding the right travel trailer can be overwhelming. Narrowing your options down starts with an understanding of RV weight ratings, but you may still have thousands of models and floor plans to consider.
Travel trailers come in all kinds of configurations – not to mention the features and amenities included. Choosing a travel trailer based on floorplan makes it easier to find a travel trailer that really suits your day-to-day routine and travel style.
Popular Travel Trailer Floor Plans
To make your decision easier, here's a breakdown of the most popular travel trailer floor plans:
Bunkhouse Travel Trailers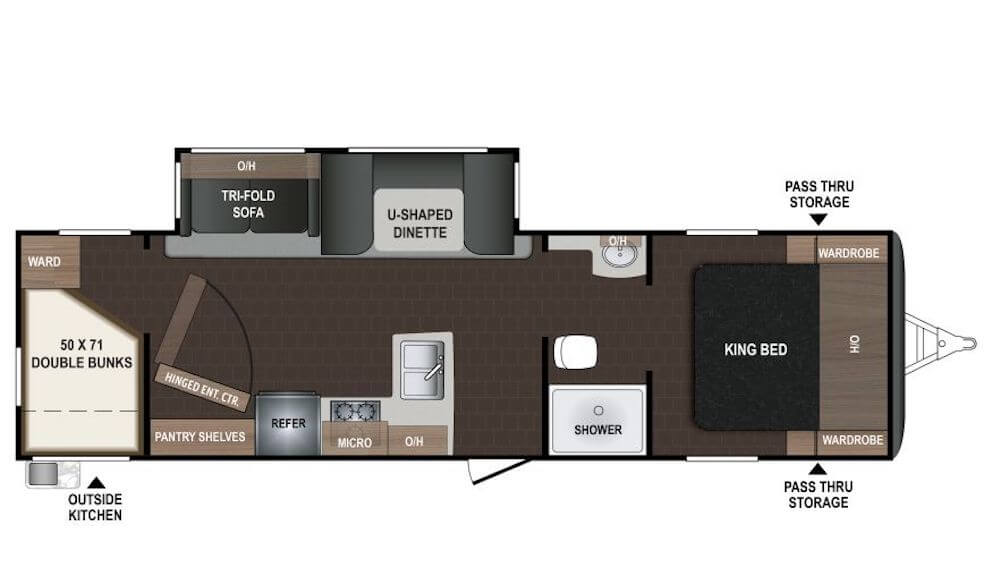 The most popular travel trailer floorplan, with over 3000 available models, the bunkhouse is designed to have plenty of room for your family to sleep and plenty of storage for all of their gear. Popular options include a bathroom with a direct entrance from outside, power stabilizer jacks for easy camp setup, and outdoor kitchens.
Featured RV – Forest River Salem 26DBUD
Length: 33'3"
Dry Weight: 6,923 pounds
Sleeping Capacity: Up to 8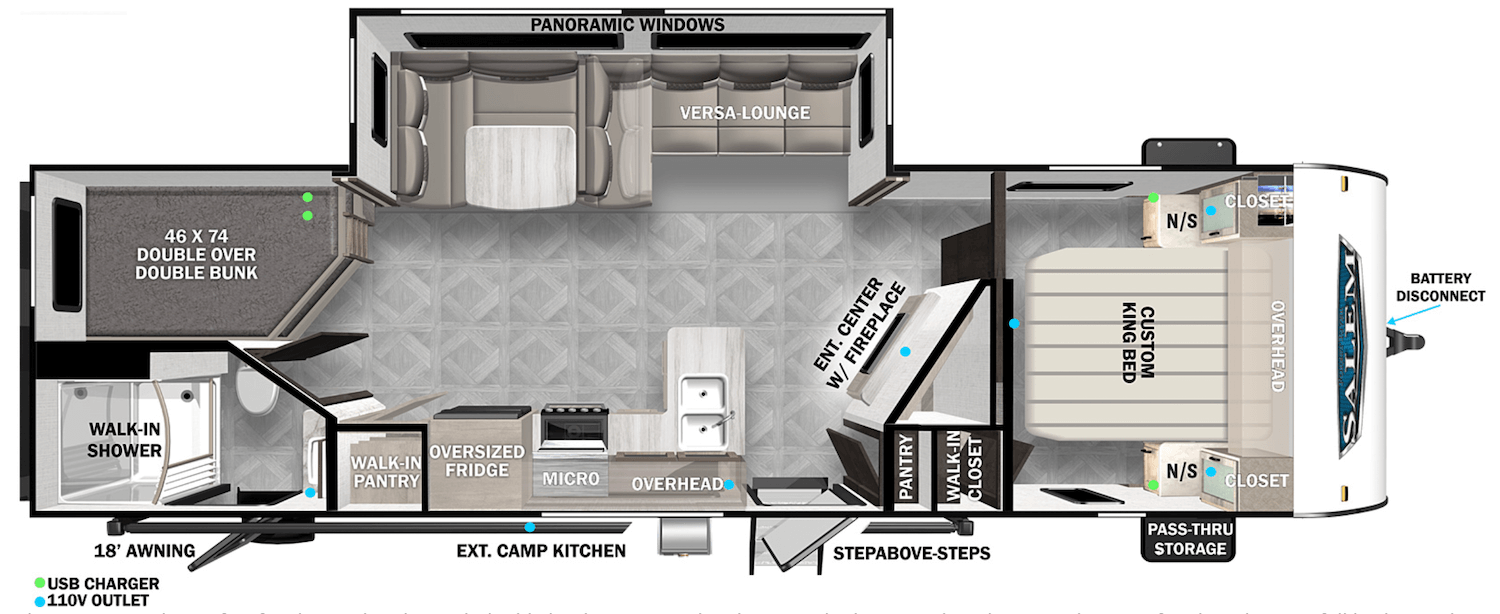 This Forest River Salem bunkhouse floorplan utilizes intriguing angles you won't find in many RV floorplans. The bunks are located in the back on the driver's side, next to the bathroom. The bathroom offers a second entry door, allowing guests to utilize the bathroom without tracking dirt throughout your entire RV.
The main entry door steps into the living area, which is spacious due to this trailer's single slide-out. The living area features a Versa Lounge, a U-shaped dinette, and an entertainment center with an electric fireplace. In the master bedroom, you'll love the custom king bed with 45-degree corners to make it easier to move around without bumping your knees.
Search Camping World's inventory of Forest River Salem travel trailers.
Bunkroom Travel Trailers

Bunkroom travel trailers are an excellent choice for large family camping trips. They offer some of the highest sleeping capacities you'll find, but their floorplan is designed to give everyone a sense of privacy. The definitive feature of this floorplan is a separate room with bunk beds for kids or guests, sometimes coming with its own dedicated full or half bath.
Featured RV – Keystone Passport 3352BH
Length: 38'3"
Dry Weight: 7,665 pounds
Sleeping Capacity: Up to 10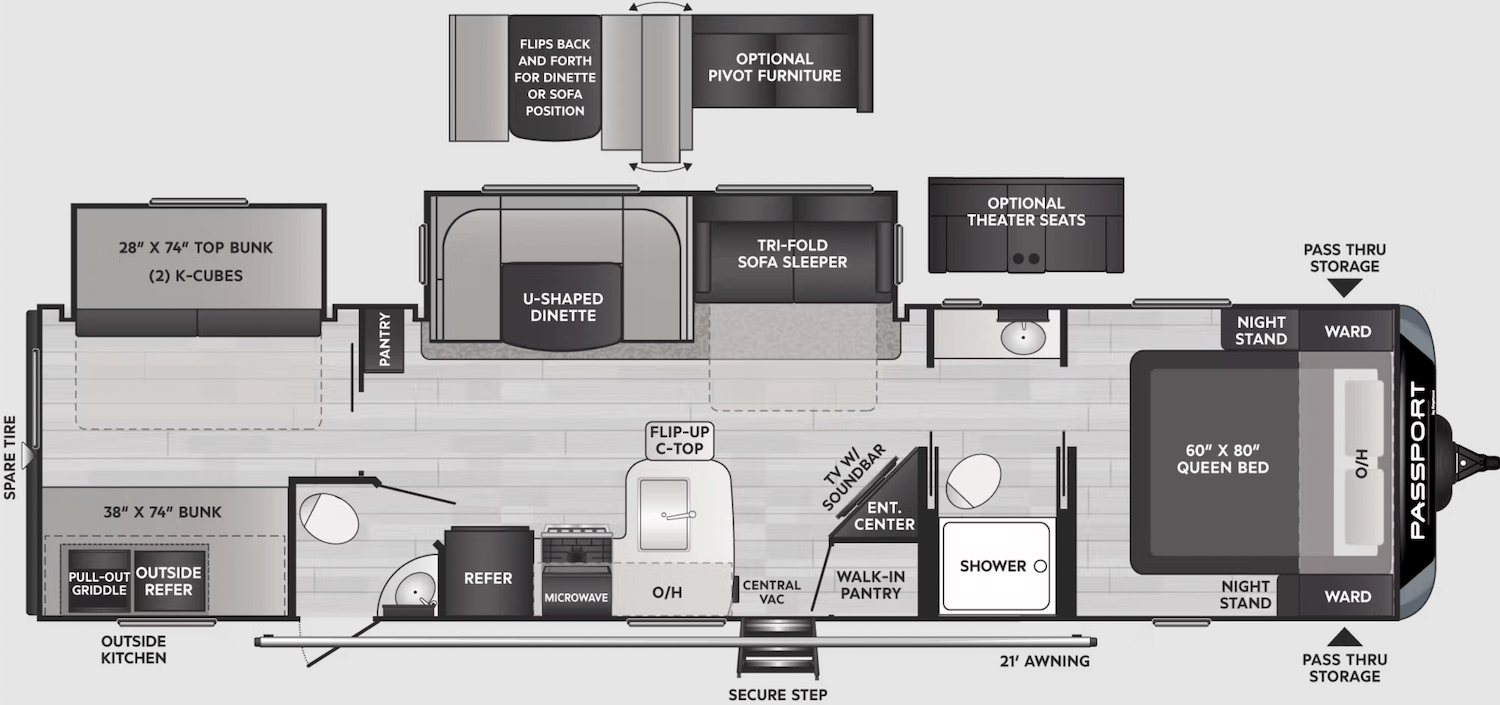 This Keystone Passport bunkroom travel trailer sleeps up to ten while providing plenty of space and privacy for everyone. The bunkroom is located in the rear, while the master bedroom is in the front. Your additional sleeping space comes from the U-shaped dinette and tri-fold sofa sleeper in the living area.
Keystone made every RV chef's day in the kitchen by including a flip-up countertop with overhead cabinets to provide more counterspace next to the stainless steel sink. They also included an outdoor kitchen on the passenger side with a pull-out griddle and a second small refrigerator.
Explore Keystone Passport travel trailers at your local Camping World.
Front Kitchen Travel Trailers

The front kitchen floorplan is perfect for couples, typically offering a separate bedroom in the rear with a large living area and kitchen in the front. Some of the best floorplans include two entry doors – one into the living area and one directly into your bedroom. Most include a convertible sleeping area, like a dinette, for the occasional overnight guest.
Featured RV – Forest River Rockwood Ultra Lite 2608BS
Length: 29'8"
Dry Weight: 6,836 pounds
Sleeping Capacity: Up to 4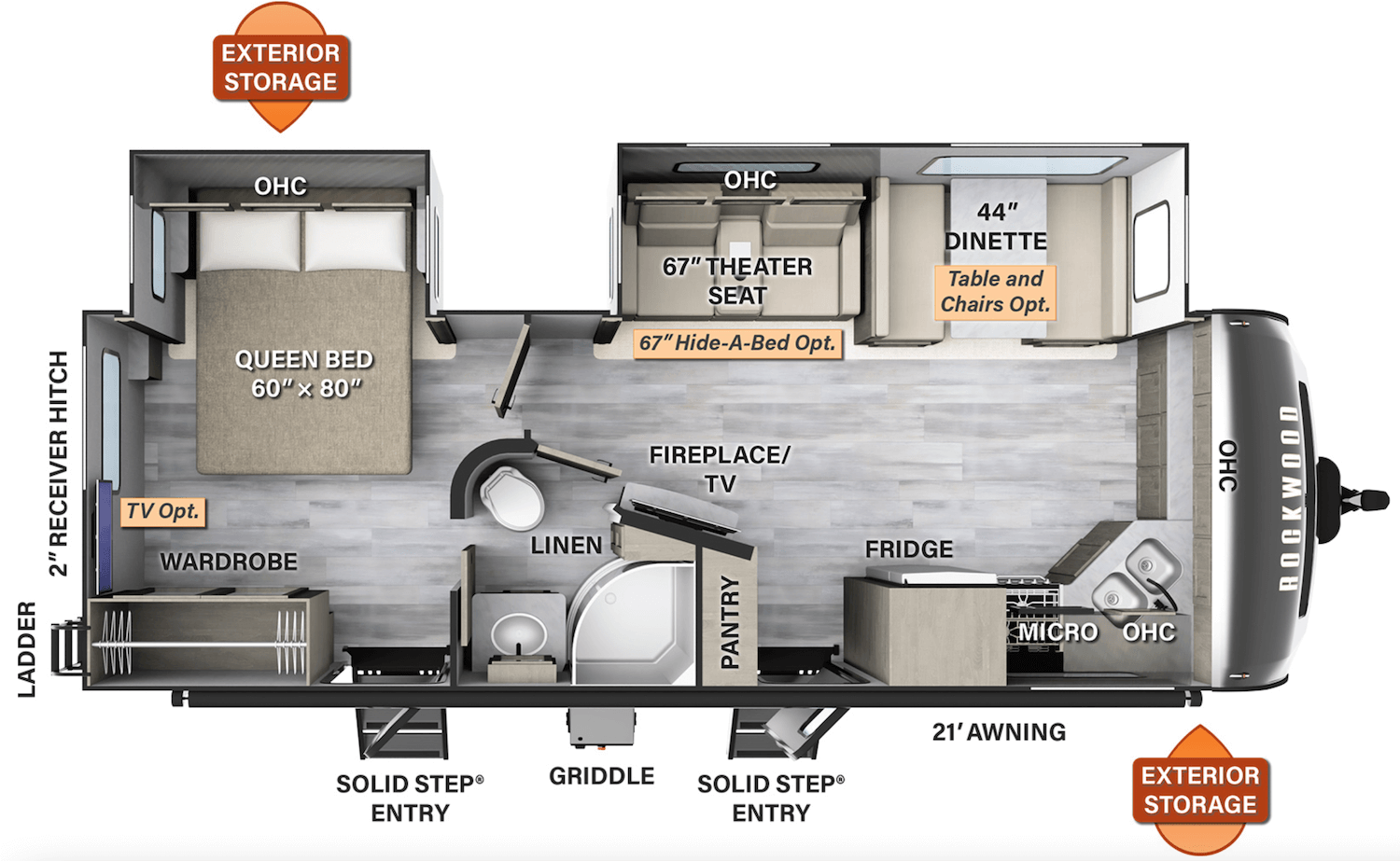 The name might suggest it, but this Forest River Rockwood Ultra Lite travel trailer is no BS – BS actually stands for 'bed slide' in this case. The front kitchen floorplan saves space for a spacious rear bedroom with a private entrance and large wardrobe.
The living room includes a convertible dinette, which can be upgraded to a table and chairs if you don't need the extra sleeping space. If you have guests or kids sleeping up front, the bathroom offers two entry doors, so nobody is disturbed from their slumber in the middle of the night.
Find Forest River Rockwood Ultra Lite travel trailers in your region.
Rear Entertainment Travel Trailers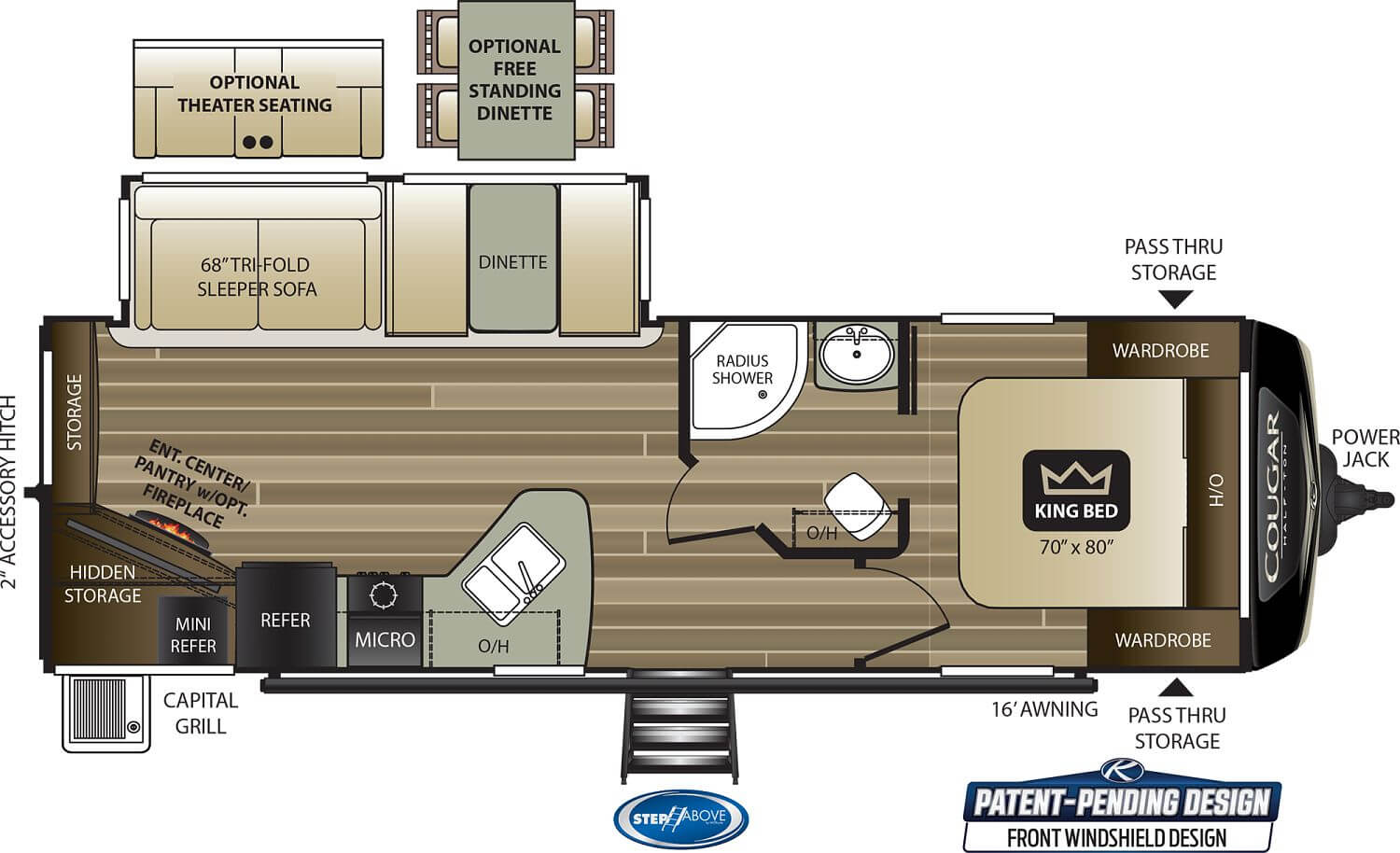 A rear entertainment floorplan replaces the large picture window of the rear living floorplan with a state-of-the-art entertainment center. The entire layout focuses on entertaining, with opposing slides that open up to create a real "great room" feel in the living area.
Featured RV – Keystone Outback 341RD
Length: 38'1"
Dry Weight: 8,432 pounds
Sleeping Capacity: Up to 6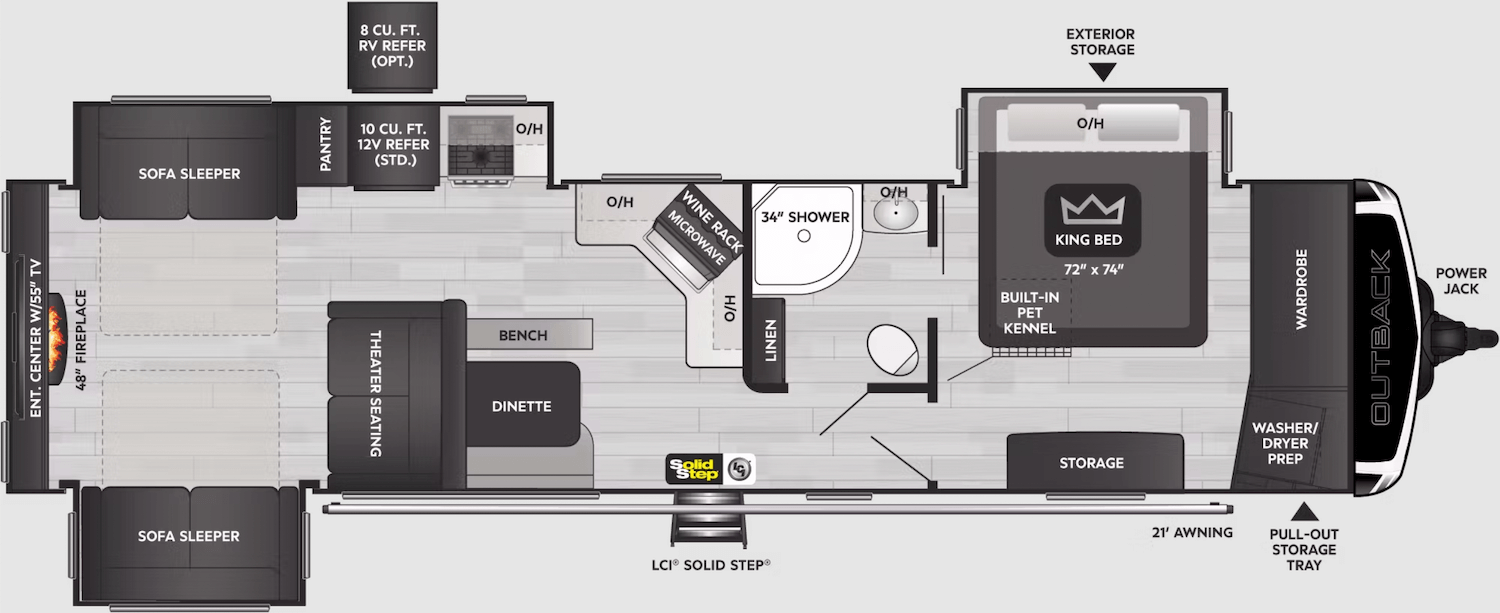 This Keystone Outback travel trailer's rear den entertainment area features two sofa sleepers that allow up to four guests to sleep comfortably. There's also theater seating, a 48" electric fireplace, and an entertainment center with a 55" TV.
In the master suite, you'll enjoy the luxury of a king-size bed with a built-in pet kennel underneath, making this unit perfect for RVing with pets. When you're hungry, your kitchen has a three-burner stove, a microwave, a large refrigerator, and a small dinette.
Explore Camping World's selection of Keystone Outback travel trailers.
Rear Kitchen Travel Trailers
The rear kitchen floorplan is well-suited for couples and small families. The kitchen is the focal point, with a large pantry and peninsula kitchen. This layout offers everything needed to cook a gourmet meal, with plenty of countertop space for food prep and serving. The rear kitchen floorplan is ideal for full-timers, with an open layout that feels like home.
Featured RV – Keystone Springdale 281RK
Length: 32'5"
Dry Weight: 7,420 pounds
Sleeping Capacity: Up to 4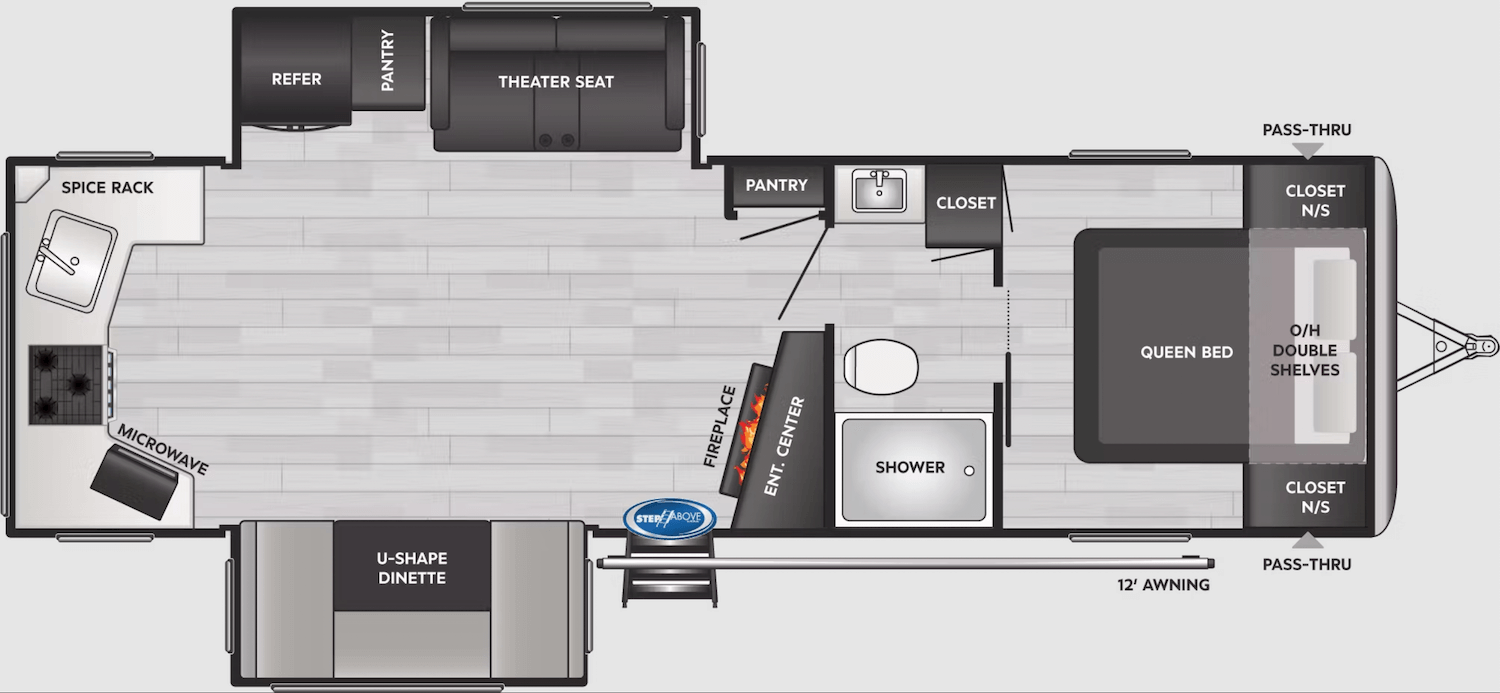 The Springdale 281RK offers loads of interior space in the kitchen and living areas. The open floorplan features a U-shaped dinette, theater seating, and an entertainment center with an LED TV and an electric fireplace.
LED lighting throughout is an energy saver while providing a comfortable ambiance. This travel trailer also has a tankless, on-demand water heater, a 30,000-BTU furnace with in-floor heating ducts, and a 13,500-BTU ducted air conditioning unit.
Check out Camping World's selection of Keystone Springdale travel trailers.
Rear Bath Travel Trailers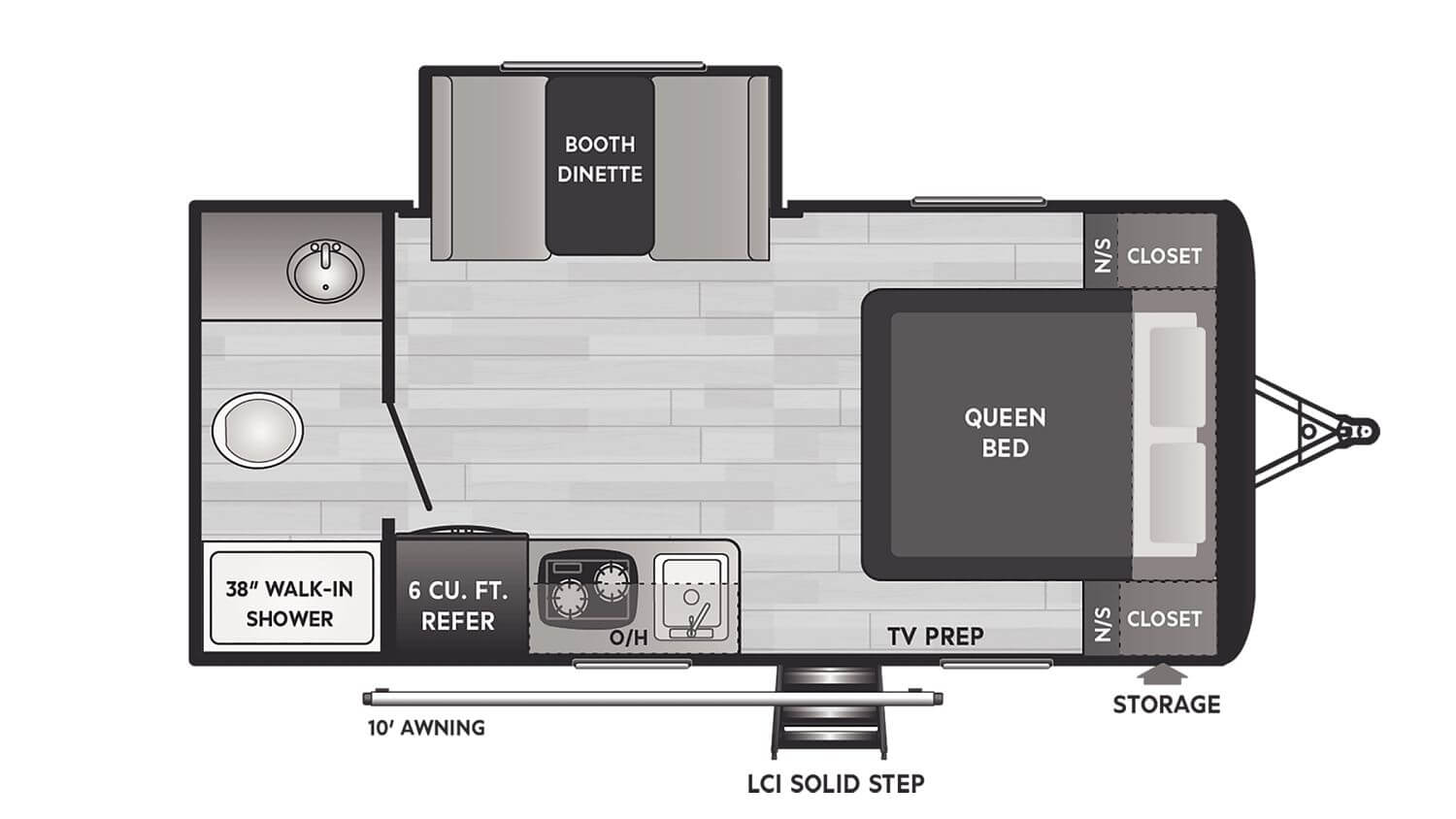 The rear bath travel trailer floorplan is common amongst some of the lightest towable campers. It is usually categorized by increased bathroom space, a larger tub or shower, and more bathroom storage. That doesn't mean you won't find heavier rear bath travel trailers, but it's a useful floorplan for couples and folks towing with a smaller truck or SUV.
Featured RV – StarCraft Super Lite 225CK
Length: 27'4"
Dry Weight: 5,090 pounds
Sleeping Capacity: Up to 6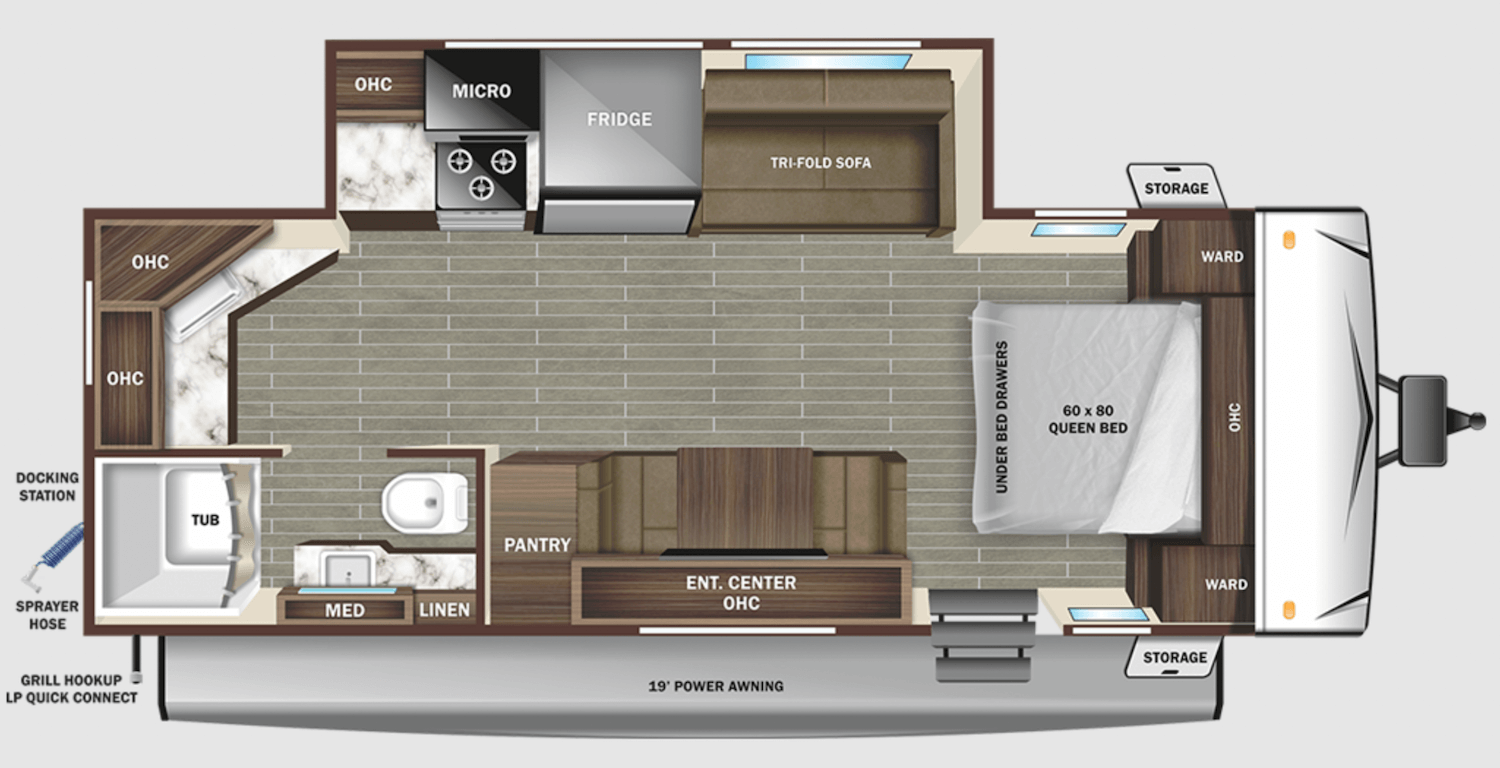 The Super Lite 225CK features a popular floorplan that maximizes the space very well for a trailer under 28 feet long. It features a full bath with plenty of space for a medicine cabinet, tub/shower, RV toilet, and linens.
The single slide-out increases the interior space when you're parked, including a tri-fold sofa and a convertible dinette for extra sleeping space. Outside, you'll love the 19' power awning, door-side spray port for cleaning feet before entry, and oversized front pass-through storage space with motion-sensitive lighting.
Discover StarCraft Super Lite trailers near you.
Featured RV – Forest River Grey Wolf 22CE
Length: 26'"
Dry Weight: 7,615 pounds
Sleeping Capacity: Up to 4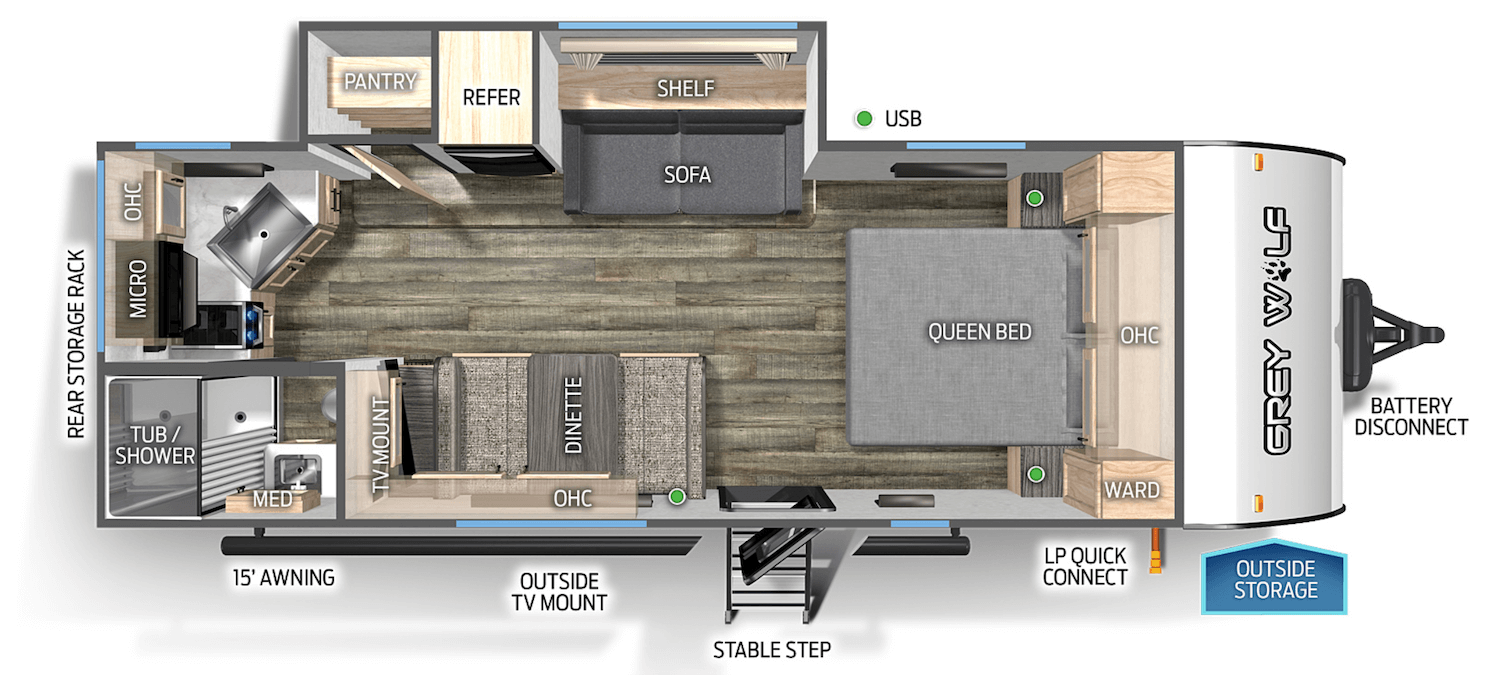 The Grey Wolf 22CE packs a lot into a compact package – a convertible dinette, pull-out sofa bed, and queen-size bed provide the sleeping space after a long day of activities. But you'll love the other interior amenities when you're not sleeping.
That includes a floor-to-ceiling pantry next to the refrigerator and TV mounts on the inside and outside of the RV. The two-burner cooktop sits right next to a single-basin stainless steel sink with a sink cover to provide more counterspace when you need it. The only downside is no RV toilet.
Shop Forest River Grey Wolf travel trailers at your local Camping World.
Rear Dinette Travel Trailers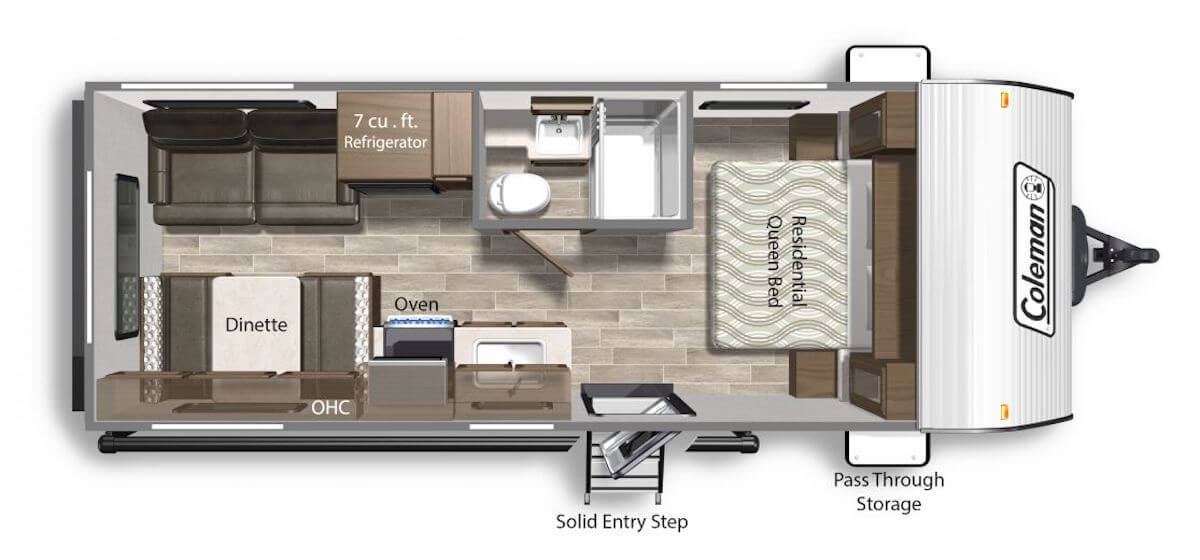 The rear dinette floorplan typically features a panoramic window on the trailer's back wall, allowing you to enjoy an unobstructed view during mealtime. Instead of looking through a side window into the neighboring campsite, this floorplan makes it easy to back up your trailer, so you intentionally have a view of the sunrise or sunset each day.
Featured RV – Coleman Lantern LT 202RD
Length: 24'11"
Dry Weight: 4,444 pounds
Sleeping Capacity: Up to 4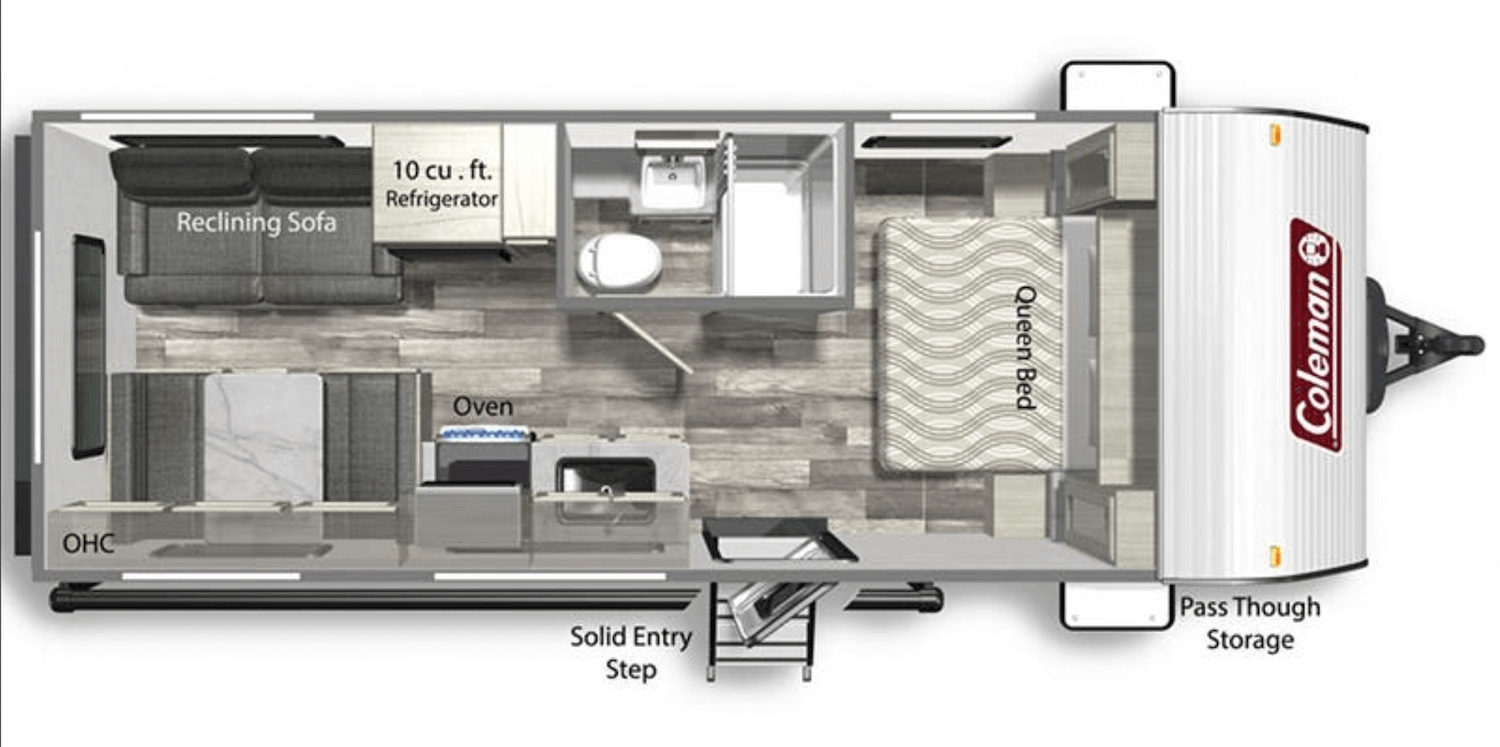 The Coleman Lantern travel trailer is a light and compact model that's easier to tow than some of the larger travel trailers on this list. The rear dinette area does offer a large window, making it perfect for sightseeing or setting up your remote office with a view.
Across from the dinette, there's a reclining sofa that allows you to convert nearly the entire RV rear into a second sleeping area. In the center, your kitchen features a ten cubic-foot refrigerator, a three-burner range, and a large single-basin sink.
Explore Camping World's selection of Coleman Lantern travel trailers.
Toy Hauler Travel Trailers

A toy hauler floorplan is ideal if you need to haul ATVs, dirt bikes, kayaks, or other camping gear. The best part is that most toy hauler garages can easily be converted to sleeping or lounging space once you reach your destination and unload your toys. Just make sure you pack your toy hauler safely.
Featured RV – East to West Alta 2400KTH
Length: 27'11"
Dry Weight: 7,305 pounds
Sleeping Capacity: Up to 4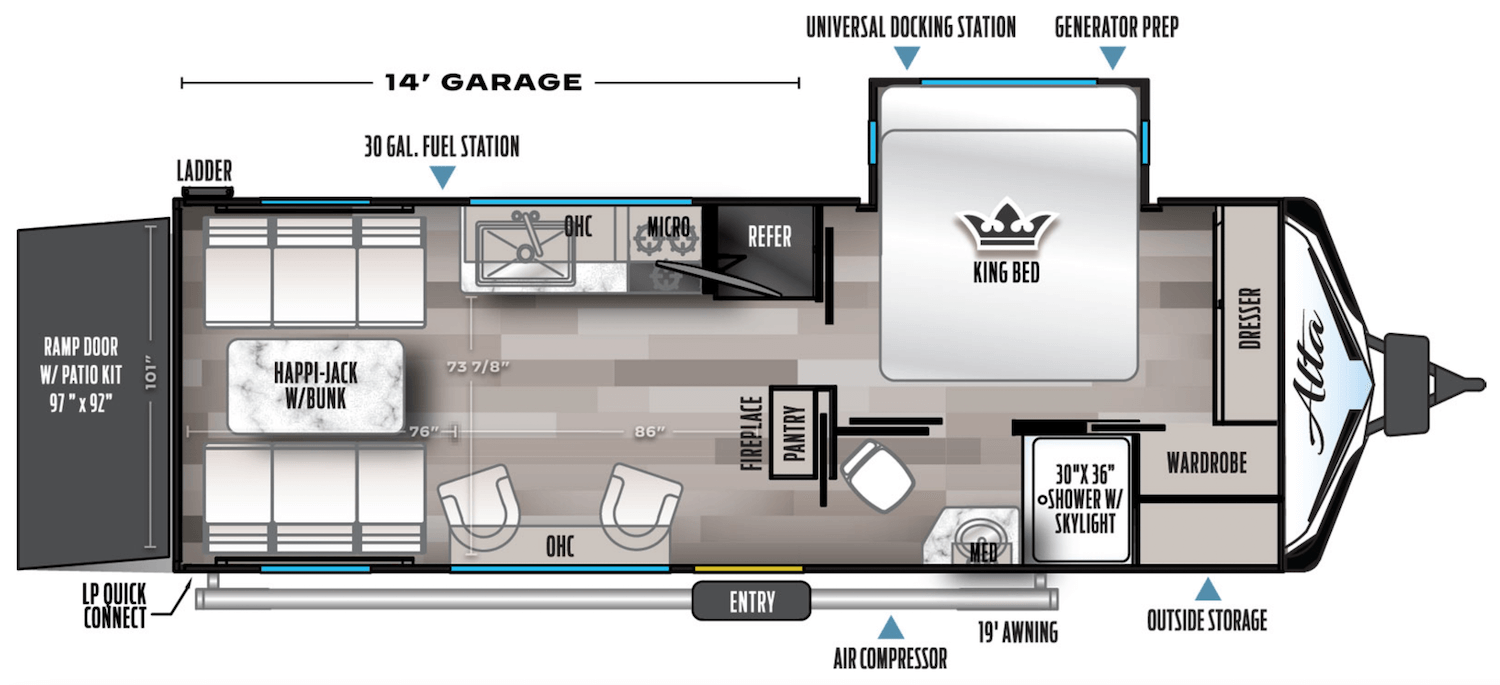 The Alta 2400KTH is a feature-laden toy hauler that's the first of its kind from East to West RV. It gives you the benefits of any toy hauler without upgrading your tow vehicle to accommodate a fifth wheel hitch.
Some of its best exterior features include an LP quick connect, a 19' awning, an air compressor, and a 30-gallon fuel station. Inside, you'll find luxury amenities like a tri-fold sleeper sofa, designer solid surface countertops, and a 10.7 cubic-foot stainless steel refrigerator.
Shop Camping World's selection of East to West Alta travel trailers.
---
With thousands of travel trailers in our nationwide inventory, we can help you find the perfect model for your lifestyle and budget. Search for travel trailers based on floorplan to find your next RV.
What are you looking for in a travel trailer's floorplan? Tell us in the comments below.