Want to get more out of your RV? Subscribe to the Camping World YouTube channel, and never miss a video.
The best thing about owning a toy hauler is being able to bring your big toys on all your camping trips. But to make sure everything stays in good shape while you're towing, you need to know how to safely pack a toy hauler with flammables.
Securing everything is important when packing ATVs, dirt bikes, and other toys containing flammable liquids – not to mention the canisters of extra fuel you'll bring to keep your toys refueled.
Preliminary Tips for Packing a Toy Hauler Safely
Whether you're packing a toy hauler with flammables or renting a regular RV, make sure it is equipped with at least one fire extinguisher. Check the date on the extinguisher to ensure it will still be effective if needed.
If your extinguisher doesn't have a clearly labeled expiration date, check the pressure using the gauge or green test button on top. For extinguishers with gauges, the reading should be in the green. For models with a button, push it down completely and release. The button should pop back up if the extinguisher isn't expired. If it stays down, it's time to get a new one.
It is a good idea to pick up an additional fire extinguisher when traveling with a toy hauler. Keep one in the garage and the other somewhere in the cabin. This is also the time to check carbon monoxide, propane, and smoke detectors to make sure they are working properly.
Learn more about basic fire safety for RV travelers.
How to Pack a Toy Hauler with Flammables Safely
Let's start with some packing tips to keep your toys and flammables safe in your toy hauler.
Open Your Vents
In addition to the roof vents that are standard on most RVs, toy haulers tend to come with a minimum of two side vents in the garage. These vents allow vapors that do leak from your toys or fuel canisters to escape instead of building up.
Whenever the ramp on your toy hauler is closed, the vents should be open, especially if you have fuel canisters or toys with fuel in their tanks stored inside. Side vents should also be open while driving, but roof vents should be closed unless protected by the proper roof vent covers.
Pack the Heavy Equipment First
ATVs, dirt bikes, and other heavy toys should be loaded first. Do your best to center them so the weight is balanced from left to right. Follow the 60/40 rule to distribute weight evenly from front to back as well.
According to this rule, roughly 60% of the cargo weight loaded into your trailer should be on or in front of the axle. However, many toy haulers offer dual-axle designs to better handle loading heavy equipment into the garage, which is usually located at the rear of the RV.
Still, distributing weight evenly in your trailer is critical for safe towing. Check out more tips on loading your trailer properly.
Once loaded in the garage, set the parking brake on any ATVs or gas-powered vehicles. While you'll eventually tie everything down, this provides an extra degree of protection to keep heavy equipment from shifting.
Safeguard your Gas-Powered Toys
You can transport motorized toys with fuel in their tanks on short trips, but it is a good idea to drain the fuel tank when traveling long distances.
When transporting toys with fuel in the tank, be sure to turn off the fuel valve. Then run the engine until it shuts off to empty the fuel line. You should also leave the fuel valve and tank vent caps turned off during transit to prevent fuel vapors from leaking.
Consult your owner's manuals for proper procedures on disconnecting the fuel valve and tank vent caps for the safe hauling of your gas-powered toys.
Also, consider putting covers on your motorized toys to prevent the accumulation of dust and debris. Because you'll be towing with the vents cracked open, keeping your motorized equipment covered will keep them protected, especially if you are going off-road to a boondocking destination.
Load Fuel Canisters
Load canisters of flammable fuel strategically so they can be secured to at least two tie-down points. Those points could be extra D-rings on the floor or D-rings in the back of a UTV with a cargo bed.
Milk crates are also a great alternative for keeping smaller fuel canisters secure in your toy hauler. If you have multiple containers of flammables (such as one-pound propane tanks), a milk crate or storage bin keeps those items secure, and the crate itself can be easily tied down.
Cushion Flammables as Much as Possible
Add shelf liners or area rugs in strategic locations to prevent smaller containers and flammable tanks from resting directly on your toy hauler's laminate flooring. Everything is going to bounce around a little while you're towing.
Adding cushions underneath and around gas-powered toys, storage bins, and fuel canisters is the best way to prevent damage to those items and your flooring. This is less of a necessity for plastic fuel canisters, but shelf liners or floor coverings can also reduce the likelihood of heavy objects sliding around.
Create a Bin for Soiled Items
Fuel spills can happen and, if they do, you need to be prepared to appropriately handle soiled rags or clothing. Anything that you use to soak up flammable liquids or wipe up minor spills should be thoroughly rinsed and cleaned immediately or stored in a bin with a metal lid and kept away from possible sources of ignition until you can clean them.
How to Tie Down Flammables in a Toy Hauler Safely
Now it's time for some quick tips on tying your stuff down so that it doesn't shift until you're ready to use it.
Use Ratchet Straps Instead of Rope
Rope is more likely to stretch than ratchet straps. Straps will keep your stuff secure and they're easier to tighten down to ensure nothing comes loose. Rope relies on your knot-tying skills and is more likely to stretch even if your knots are top-notch.
Use a Minimum of Three Tie-Down Points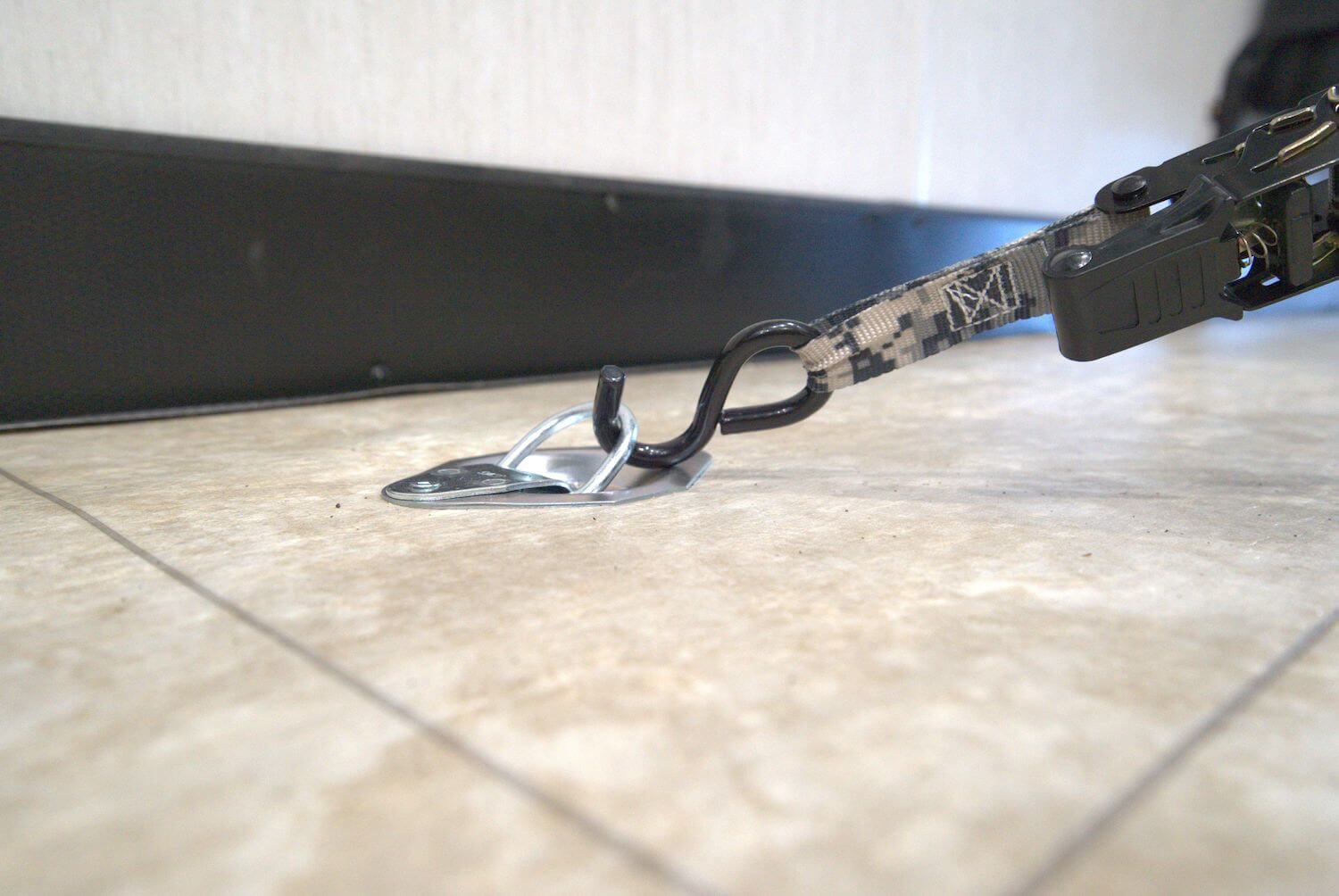 Toy haulers come with D-rings that serve as tie-down points. Secure your motorized toys and flammables to at least three of these points to keep them from shifting while towing. When using three points, pick them strategically and arrange them in a triangular fashion.
For larger ATVs and UTVs, it's best to use four tie-down points strategically placed at all four corners. Fortunately, you can install additional D-rings if needed. Or, you can mount tire cradles to the floor if you're transporting dirt bikes or motorcycles.
Tighten Straps To Prevent Movement
To prevent movement, tighten ratchet straps down as much as possible. Once secured, you shouldn't be able to shake or move your motorized toys at all. When the straps are tight, the wheels should appear as if they are carrying weight.
Once you've tightened the straps, wrap up any excess material and tie it in place. This keeps your straps in good condition and prevents you from tripping over them when you're loading the rest of your gear.
If you don't know how to do it, check out this quick video on how to daisy chain tie-down straps.
Tie Down Fuel Canisters
Fuel canisters should also be tied down to reduce the risk of spilling or leaking. The easiest way to secure a canister is to place a strap over the top and through the handle. Then the strap should be connected to two tie-down points on either side to keep the canister from shifting.
You can also use rope or bungee cords, but these are more likely to stretch and allow your canisters to move. Straps will stay tight, especially if you use shorter ones that are specifically designed for this purpose.
Because fuel tanks come in many shapes and sizes, you may need to get creative. Just remember to use a minimum of two tie-down points. Using a single tie-down point can allow canisters to tip over and leak.
Give Everything The Shake Test
Don't be afraid to give all your toys and flammables a solid shake test once it's all strapped down. If it doesn't move when you shake it, the odds are good that it won't move much while you're towing either.
Conclusion
Once you have everything secure, it's still a good idea to pull over after towing for 30 minutes or an hour to check that everything is still secure. As things shift, you may need to re-tighten straps or make slight adjustments to their positioning.
On long RV trips, it's a good idea to double-check your work every 3-4 hours. That way you can ensure that you arrive at your adventure sports basecamp with your toys intact and your flammables secure in their containers.
---
Do you have any additional tips for packing a toy hauler with flammables safely? Share your experience in the comments below!
If you're still learning the ins and outs of RV maintenance, check out our downloadable RV ownership and maintenance booklet!