Wellness travel is on the rise. What is it? A style of travel that emphasizes the balance between health, self, and place. RVing supports wellness and healthy life balance in so many ways:
It slows down your travel pace for a more relaxed and intentional experience.
It provides custom options for healthy meals and dining, thanks to a kitchen you can take anywhere.
It provides a canvas for design customization so your travel environment is cozy, personal, and inviting.
It encourages a balance between work and life.
I'm a single mom living in an RV full-time with my kid and our two dogs. One of the things that I take pride in since we work and homeschool primarily from our tiny home is that we take our time to create our own oasis, custom to our needs. One result of this has meant that we have less clutter than we used to in previous RVs. And clutter-free living and traveling make for a happy mind and body.
Whether you travel in an RV full-time, part-time, or for the occasional road trip getaway, your RV is ready and waiting to be your own wellness retreat. Here's how.
Choosing the Right RV
Before we moved into our Keystone Premier, my excitement grew about prioritizing wellness, and finding a home that would provide what I needed to work as a content creator. We shopped for RVs that suited us best by keeping this in mind until we found elements such as ample natural lighting and an RV that was aesthetically pleasing without being too distracting.
Next, I made it my mission to create a space that I could enjoy working in that would also be my wellness escape for the times when I don't feel like leaving my RV. Learn how to make an RV office that enhances your well-being and workflow.
I needed my RV to match my productivity and relaxation style which required not having too many objects to look at. I also needed to feel like I had everything to succeed in my self-care and professional life. The hardest part about doing this has been not having "shiny object syndrome," and being more focused on the functionality, size, and weight of objects we desire to place in our RV.
My rule of thumb is if we can't stow it away safely in the cabinets when it's time to travel elsewhere, then we don't need it.
Tips to Make Your RV a Wellness Escape
After 3 months of settling into our RV, we received a lot of compliments about how clean and livable it looks and now I'm on a mission to show others how I created something like a wellness workspace in our RV so that others may create their own. With a tidy RV, you can spend less time sprucing and more time on yourself and basic RV maintenance to keep our RV in great condition.
1. Design Your Desired Vibe Ahead of Time
If you're shopping or renovating an RV and want a space to be your wellness escape, you have to lead with self-care in mind. Imagine going on vacation and staying in a hotel or unique Airbnb — what do you notice? When you walk in, it smells nice, the sheets are clean and soft, and the amenities make you feel amazing. Why not create a space like this of your own in your RV? What would be your simple pleasures to make your RV refreshing and relaxing?
2. Less is Best
The common mistake that I see full-time families make is moving too many objects into the camper. Before they realize it, they're never able to relax inside it because of all the stuff.
Take it from my experience and don't make the same mistake that I made in our first travel trailer. Don't get so excited to decorate, move into your space, and buy tons of things that aren't essential.
Creating a safe and photo-worthy camping space requires patience and dedicated time to review items beforehand. This can be done by visiting your nearest Camping World store and seeing how things will potentially look and fit in your RV. Camping World has RV-friendly furnishings and essentials all in one spot which helps! Explore their Design Center and consult with a Design Specialist to really finetune your vision.
"A clutter-free zone is a happy zone!" -Bionca Smith
Keep all pathways free of clutter. This is very important because if you want to escape your workplace and into a wellness oasis, you don't want to risk tripping and walking through an obstacle course of items in the process. Make sure that every bag has a hook, the broom and mop should have a home, and no objects other than shoes or small trash cans should be on the floor.
3. Be Wise About Waste
Keep trash to a minimum by avoiding single-use plastic straws, cups, and plates. After being on the road and living in RVs for almost 5 years now, I found that trash adds up quickly. The consequence leads to more trips to the garbage dump, hauling trash bags that weren't full but had food and disposable plates in them. Smelly food scraps is an invitation for ants and lingering odors.
Now we avoid single-use plastic items and repurpose plastic shopping bags by using them as trash bags. Using reusable plates, cups and utensils, and even cleaning solution containers is not only eco-friendly but also saves money!
We have a small trash can that can be kept under the sink and it's perfect for reminding us to take out the trash sooner than later. Of course, this means we have to take it out daily, but this is something every camper should get in the habit of doing if only to keep the ants and odors at bay.
4. Create a Cleaning Routine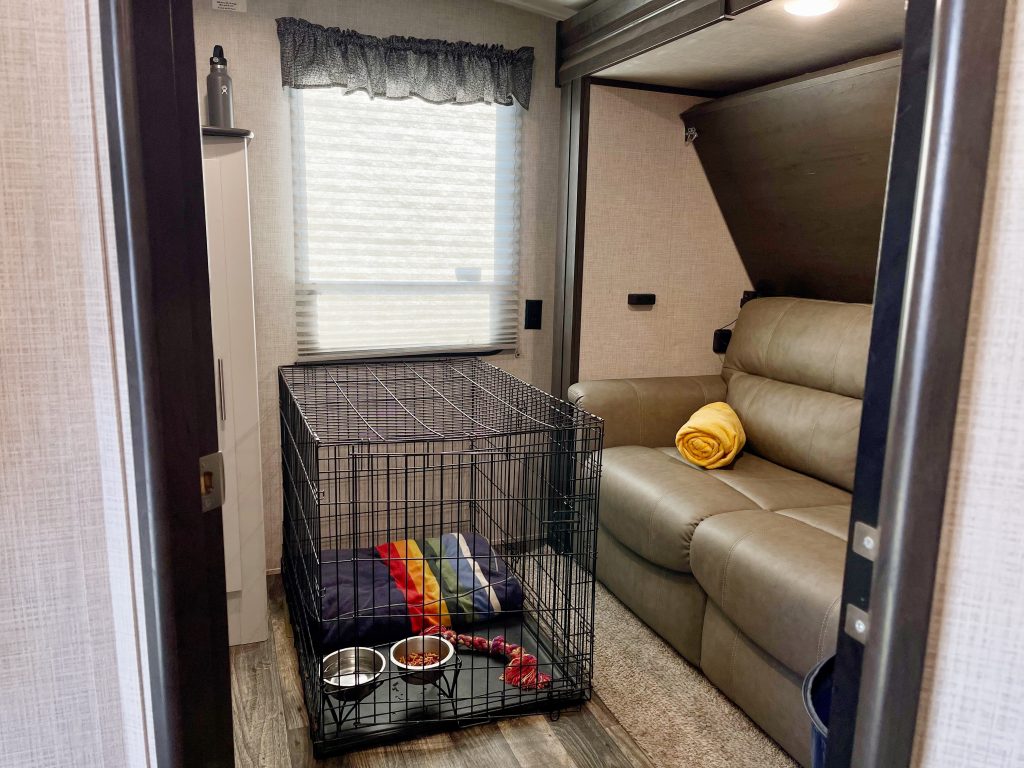 We have a daily and a weekly deep cleaning routine that we follow to help us keep our RV well-maintained. It also reminds us to restock certain items before we've run out. Toilet paper and toilet sanitation solutions, for example, we keep the backstock of these basics in the pass-through storage of our RV.
Don't forget your furry friends! It's good to create a dedicated pet space for them to rest too. We have a large collapsible open kennel that we have placed in our second bedroom for the dogs that we use when we leave the RV for short periods of time. This collapsible kennel is also helpful when arriving at pet-friendly campgrounds as it aids as a safe space for our dogs to get situated while we set up our campsite.
5. Create a Presence in Your RV
One of the best perks about moving into an RV is that it comes furnished! The only thing left to do is adapt the space to reflect your specific interior design style and needs.
I invested in a stylish comforter set that sets the tone for a relaxing western feel and simple decor that doesn't overcrowd the walls. A few other things that helped me create a relaxing presence are small plants, quality pillows, throw blankets, and minimal books. I enjoy candles but for safety reasons, I keep only one and place it on the kitchen island. Lastly, I like to have water out and fruit accessible for snacking as well as a Bluetooth speaker that I can play my custom playlists on. Music and decor create an ambience that contributes to my overall wellness.
An RV Wellness Escape
All of these steps combine to create an atmosphere in our RV that we can always look forward. The RV always feels calming and inviting, whether we're camping in unfavorable weather conditions or we're resting overnight mid-commute.
We hope that by sharing our steps for creating a wellness escape with a combination of techniques inspired by minimalism and eco-friendly alternatives, you are inspired to create your own wellness getaway on wheels. Consider investing in your comfort with decor that soothes the soul and rests the mind after an adventurous day.
Please let us know if these steps were helpful. What are some things you can do to create a wellness experience in your RV too! We'd love to hear your tips in the comments below. Find inspiration browsing Camping World's assortment of interior RV accessories.