After a fun-filled RVing experience, you'll want to thoroughly clean and disinfect your RV. Why? Prompt RV cleaning extends its life, helps retain its resale value, and keeps your RV in tip-top shape for more memorable adventures. Plus, post-trip RV cleaning lets you see any damage more easily to catch potential maintenance issues before they become costly problems.
The sooner you clean your RV after a road trip, the better. Here's how to do it.
RV Detailing
Detailing the interior and exterior of your RV is worth the effort. Save time by outsourcing this to professionals. Or, save money detailing it yourself.
What Do I Use to Clean My RV?
Around the campground and online, you'll find many well-meaning opinions to this question. The answer is always:
"Use the manufacturer recommended cleaning products and guidelines to clean your RV."
While your RV is durable, its construction materials react to different chemical properties. This is why using the proper cleaning supplies and techniques is essential to preventing damage to RV surfaces. Just because the appearance and consistency appear to match another surface you're used to cleaning, they very well may not. Protect your investment and use the recommended cleaners designed for your specific RV components.
However, this doesn't rule out money-saving DIY hacks and biodegradable alternatives. As long as the substitution is comparable to the manufacturer recommended cleaning products. So, the first step to thoroughly cleaning your RV is to read your RV's instruction manual to find out the cleaners compatible with your specific RV components. If your RV has upgraded features and materials, you can also find specific cleaning information on the RV manufacturer website.
Can I Use a Pressure Washer on My RV?
Another popular question—and the answer is: "Possibly."
Pressure washers can potentially damage your RV. High pressure washing can ruin the sidewall gaskets, seals, paint finish, gel coat, or vinyl decals. It can even dent aluminum sidewall. With these risks in mind, when using any hose with a sprayer attachment, only use a low pressure setting at an angle and maintain a safe distance to reduce possibility for damage and leaks. Always wash from the top down and avoid spraying water into any appliance vents.
Post-Trip RV Cleaning Checklist
Use the Post-Trip RV Cleaning Checklist below after every road trip to make sure you clean and disinfect all areas of your RV.
If you RV as a family, post-trip RV cleaning offers an excellent teaching opportunity in responsible ownership. Teach your family that RV cleaning is simply part of the trip. Easily include everyone in the post-trip cleanup effort by dividing this checklist into manageable assignments for each family member. You can even amp up the fun with a friendly competition! Award points for cleaning quality instead of speed.
Clean RV Tanks
It's easier to empty your RV holding tanks or portable waste tank before leaving the campsite.
Empty and clean your potable freshwater tank—this is essential. Avoid bacteria growth inside your freshwater tank. It's easier to clean the freshwater tank at home so that you can allow the cleaning solution to work overnight. While fully sanitizing your freshwater tank is recommended every 6 months for seasonal RVers, you can fully sanitize it more frequently to suit your preferences and RV lifestyle.
Thoroughly Wash RV Exterior
As you clean, pay close attention for any uncovered damage to seals and fabrics. Also, take note of any soot around the exterior appliance vents for the furnace and water heater. You'll use this for the recommended routine post-trip maintenance check once you've completed cleaning.
Wash the RV exterior—roof, sidewalls, awnings, slide toppers, windows, tires, rims. Don't let road grime or love bugs bake on your camper. Make sure to use compatible cleaning products
If your propane tanks are not enclosed in an RV compartment or propane cover, then wash the road grime off these as well so you can see whether protective repainting is needed.
To avoid mildew, allow awnings and toppers to dry completely before rolling up.
Give your RV tires and rims some TLC, and if needed conditioning.
If this is your first road trip of the season, consider waxing your RV exterior.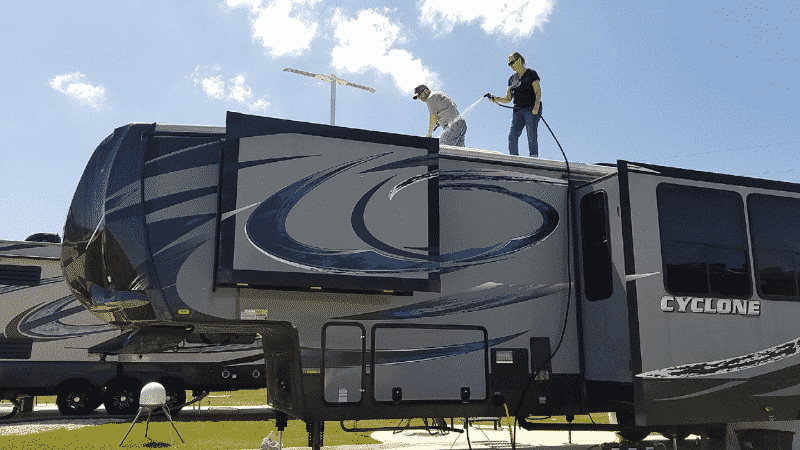 Disinfect RV Interior and Appliances
Cleaning and disinfecting go hand-in-hand. Cleaning removes germs, dirt, grease, and grime. Disinfecting kills germs. The U.S. Center for Disease Control (CDC) sets the guidelines for properly disinfecting surfaces using germ-killing products registered with the U.S. Environmental Protection Agency (EPA).
For hard surfaces, clean the dirty surface before disinfecting with a CDC-approved disinfectant. For "soft" porous surfaces, vacuum visible debris and launder using a CDC-approved disinfectant on the hottest water setting available per the fabric care instructions.
Clean RV from Top to Bottom
Save time by cleaning from the top-down so you can sweep up anything that falls. Avoid attracting critters or pests by cleaning up leftover food or fluids.
Let everything breathe. Open windows and vents to air out your RV while cleaning the interior spaces. Open closets and cupboard doors as well.
Dust or vacuum ceiling vents and exhaust fans in the kitchen, bathrooms, and bedrooms as well as the heating and air conditioning vents. Check the ceiling and crevices for cobwebs and bugs. Dust entertainment system electronics to help them last longer.
Spot-clean splash zone areas: upholstery, window coverings, walls, and ceilings—yes, even ceilings. Leave window shades open to mitigate moisture accumulation and mold.
Unpack the refrigerator, pantry, and anywhere else you stored food items. Clean the inside and outside of the refrigerator, stovetop, oven, and microwave.
Wipe down the kitchen backsplash area, pantry, countertops and tables. Thoroughly wash any kitchenware you plan to keep inside your RV. Check sink drains and clear any food. If you have these upgrades, clean the dishwasher and confirm garbage disposal is completely empty.
If you have a motorhome RV, wipe down the cupholders, steering wheel, vents, and dashboard. Where applicable, consider applying a vinyl or leather protectant.
Next, tackle the bathroom drains in the tub, shower, and sinks. Remove soap and shower product residue. Clean any condensation on the visible water pipes under the counterspace. Clean the toilets—inside and around the outside, getting behind the toilet as well to remove any condensation build-up.
Clean any camping furniture, outdoor patio mats, or grills to prevent mold and rust from developing.
Launder any linens you plan to keep inside your RV. Clean the mattresses and under the beds—including pull-out beds. This prevents bed bugs and dust mites from feeding on human fluids and skin cells naturally left behind. If there's space, your pet may have hidden a treat under here for later.
Rinse the trash cans and wipe down trash collection areas. Not everything makes it inside the trash bag, so these are prime places for sticky surprises to develop.
Vacuum crumb catching areas: couches, seat cushions, floors, and carpets.
Combat Odors, Mold, and Mildew
This terrible trio is caused by bacteria and fungus that prefer moist environments, especially humidity.
Absorb odors by using a deodorizer, baking powder, or eco-friendly charcoal packets. Baking powder will also kill bugs who mistakenly consume it.
Keeping your RV interior dry prevents mildew and other types of mold from developing. Use dehumidifiers to remove moisture. Leave window shades open to mitigate moisture build-up.
Wait until you've finished cleaning the interior to recheck your RV awnings and toppers. Once completely dry, close and latch securely to prevent moisture penetration.
RV Cleaning Service
Disinfecting your RV after a trip is important. If saving time has even greater importance to you, then schedule an RV Spa appointment with your nearest Camping World Service Center. Trained service professionals can wash, wax, remove oxidation, and completely clean your RV interior including carpets.
---
Did we miss anything? What are your RV cleaning tips? Tell us in the comments below.