Why should toy haulers have all the fun? Known for having maximum space for your outdoor accessories like ATVs, toy haulers are the go-to RV when you need storage space. But they're not alone.
Cargo RVs are becoming increasingly popular among RV enthusiasts who crave additional storage space without sacrificing living space. Suitable for the weekend warrior as well as the full-time RVer, a Cargo RV is arguably one of the best RVs to travel in.
Not sure which one to explore? No worries! We've rounded up a few awesome Cargo RVs that aren't toy haulers, but still manage to pack in plenty of fun.
What is a Cargo RV?
Before jumping into our round-up of awesome Cargo RVs, you might be wondering what exactly a Cargo RV is. While the definition varies from model to model, the one thing that remains the same is storage capacity. If you're into it, chances are you can make it fit — think kayaks, stand-up paddleboards, dirt bikes, and more.
With a Cargo RV, you're able to store bigger items and more gear than you normally can in a Class B or small camper. Much like the toy hauler, the use of space is only limited by how much you plan on bringing with you. The more the merrier? In a Cargo RV, that sentiment rings true.
Keystone Cougar Half-Ton 25DBSWE
With the Cougar Half-Ton 25DBSWE, you get exterior rear storage with a flip-up bunk. So whether you need extra space to store gear or additional room to sleep guests, you're covered.
You're not getting this extra space at the expense of the storage you expect either. There is still a full pass-through storage area with slam-latch baggage doors, so you have plenty of space to not only store your gear but organize it as well.
Keystone Cougar Half-Ton 25DBSWE Specifications
Length: 29 feet, 10 inches
Height: 11 feet, 3 inches
Carrying Capacity: 2,577 pounds
Hitch: 800 pounds
Sleeping Capacity: 8
Shop all Keystone Cougar Half-Ton RVs
Outback Ultra-Lite 244UBH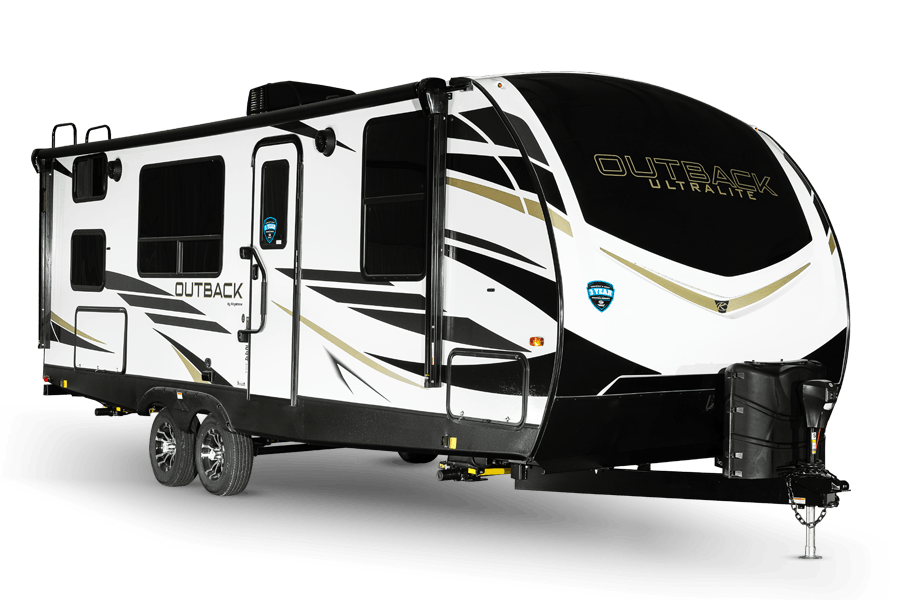 Not only does the Outback Ultra-Lite 244UBH have a rear cargo door to make loading and unloading equipment easy and convenient, but the interior ensures you'll never want to leave.
With features like double-over-double bunks, pull-out dog dishes, built-in shoe storage by the entrance, and two refrigerators (one inside and the other outside), this Cargo RV will not only be your home away from home, but it might just become your favorite place ever.
Outback Ultra-Lite 244UBH Specifications
Length: 28 feet, 11 inches
Height: 11 feet, 1 inch
Carrying Capacity: 1,930 pounds
Hitch: 670 pounds
Sleeping Capacity: 8
Shop all Outback Ultra-Lite RVs
Keystone Passport SL 268BH
Known as the Swiss army knife of RVs, the Keystone Passport SL 268BH offers multi-functional features as well as best-in-class storage. What more could you ask for? Well, other than tons of storage. But you get that, too!
The rear cargo door accesses a storage area with flip-up bunks for additional sleeping or stowing larger gear. A super-slide extends to create even more space around the U-shaped dinette and tri-fold sofa sleeper.
Ready to escape to your own oasis at the end of the day? Do so in the 60-inch by 80-inch queen-sized bed. As part of the Passport series, this cargo RV is definitely capable of taking you places you've never been.
Keystone Passport SL 268BH Specifications
Length: 30 feet, 10 inches
Height: 10 feet, 8 inches
Carrying Capacity: 1,338 pounds
Hitch: 595 pounds
Sleeping Capacity: 10
Shop all Keystone Passport RVs
Keystone Bullet 312BHS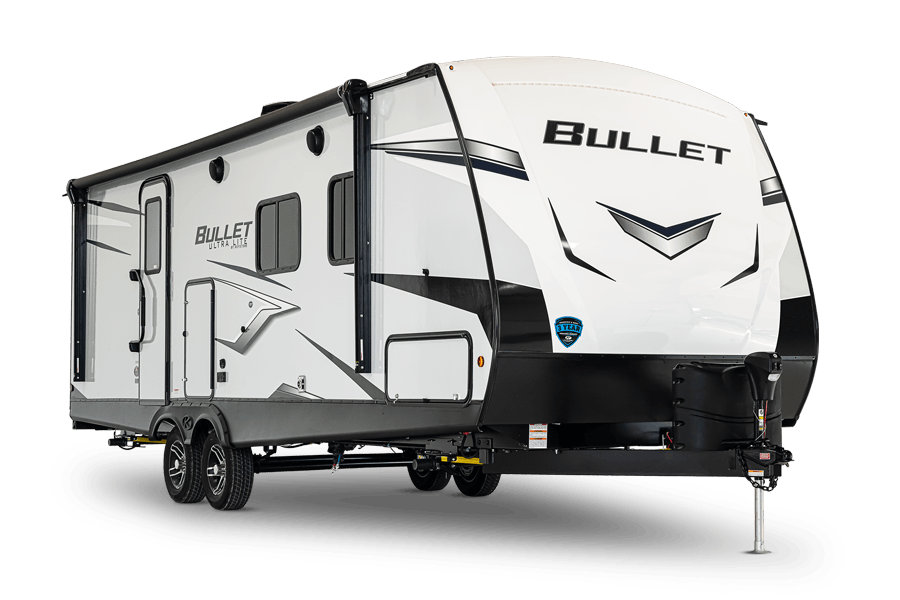 If you're hitting the road with kids in tow, then bite the bullet (pun intended) and opt for the Keystone Bullet 312BHS. Designed with a queen-sized bed loft area, the kids will have their own lounge area to retreat to in between destinations. It's even prepped for television and a mini-refrigerator for maximum convenience.
Not only will the kids love it, but with features like theater seats with cupholders and hidden storage, vaulted ceilings that make the space feel larger than life, and a laundry chute to the pass-through storage, you will too. Go ahead, give this one a shot – you won't regret it.
Keystone Bullet 312BHS Specifications
Length: 35 feet, 9 inches
Height: 10 feet, 11 inches
Carrying Capacity: 1,805 pounds
Hitch: 785 pounds
Sleeping Capacity: 10
Keystone Hideout 32LBH
With a rear door perfect for accessing outdoor gear, like an electric bike, the Keystone Hideout 32LBH is more of an ideal camping hangout than a hiding place.
It has all the bells and whistles every RVer looks for, such as a flip-up bunk, sleeper sofa, pantry, undermount kitchen lighting, fireplace, laundry chute, and an 18-foot awning to make the most of outdoor living.
The hideout also has tinted safety glass windows, an exterior shower, and bedside outlets that ensure your RV doesn't lack the comfort and convenience you enjoy at home.
Keystone Hideout 32LBH Specifications
Length: 36 feet, 6 inches
Height: 11 feet
Carrying Capacity: 2,284 pounds
Hitch: 1,045 pounds
Sleeping Capacity: 10
If you like to hit the road with your favorite people and your favorite outdoor accessories in tow, a Cargo RV is worth exploring. While toy haulers have their advantages, they're not the only type of RV that can get you from Point A to Point B with your gear along for the ride.
Whether it's one of the RVs featured above or another one you've explored, there are plenty of Cargo RVs that check every box on your list. If you have an RV you're looking to sell or trade in, Camping World can make that process as easy as possible so you can upgrade to your next fancy Cargo RV!
Have you ever traveled in a Cargo RV before? Tell us about your favorite features in the comments below.