With 2021 slowly winding down, it can be bittersweet to wrap up the year without knowing what lies ahead. Lucky for RV enthusiasts, we can share a few of the new motorhomes of 2022 that are sure to lift your spirits and get you excited for future camping trips.
So, before costumed kids ring your doorbell, before the turkey hits the table, and before Santa slides down your chimney, let's set our sights on what we have to look forward to – a new year of adventures, family memories, and life on the road.
Class B: 2022 Thor Motor Coach Tellaro 20AT
Length: 21'1"
Weight: 11,500 lbs.
Sleeping Capacity: 4
Fresh off the factory floor is the Thor Tellaro 20AT. Built on the pro master chassis, it's a Class B with the attitude of a Class A. The driver and passenger seats sit up higher providing excellent visibility while on the road and they both swivel for full access to the back and front.
The Tellaro is equipped with front-wheel drive. As a result, this rig performs better in inclement weather. In addition, you'll find more storage space in the rear since the drive train elements are located in the front.
There's an additional sleeping space above the cab, which most Class B RVs don't have, plus the two twin beds in the back convert to one king-sized bed. Concealed storage compartments under the beds have dual access points (one inside and another from the rear once the back doors are opened). Within those compartments are various connections like the spray port for water hose access and electrical outlets for convenient outdoor access.
Solid surface countertops in the kitchen compliment the techno-form cabinets with hidden hinges that run across the top of the kitchen space. Try cooking your favorite camp recipes on the two-burner propane cooktop and store any leftovers in the 12V refrigerator. Bring along your favorite appliances, like a blender, air fryer, or pressure cooker, and plug them in on the hidden pop-up tower – convenient when you need it; hidden away when you don't.
The perks are endless (we're looking at you bike rack mount on the back). With so many hidden and add-on options, it's best to see this one in person. Stop by your local Camping World for a full tour.
Shop the Thor Motor Coach Tellaro
Class C: 2022 Thor Motor Coach Freedom Elite 22FEF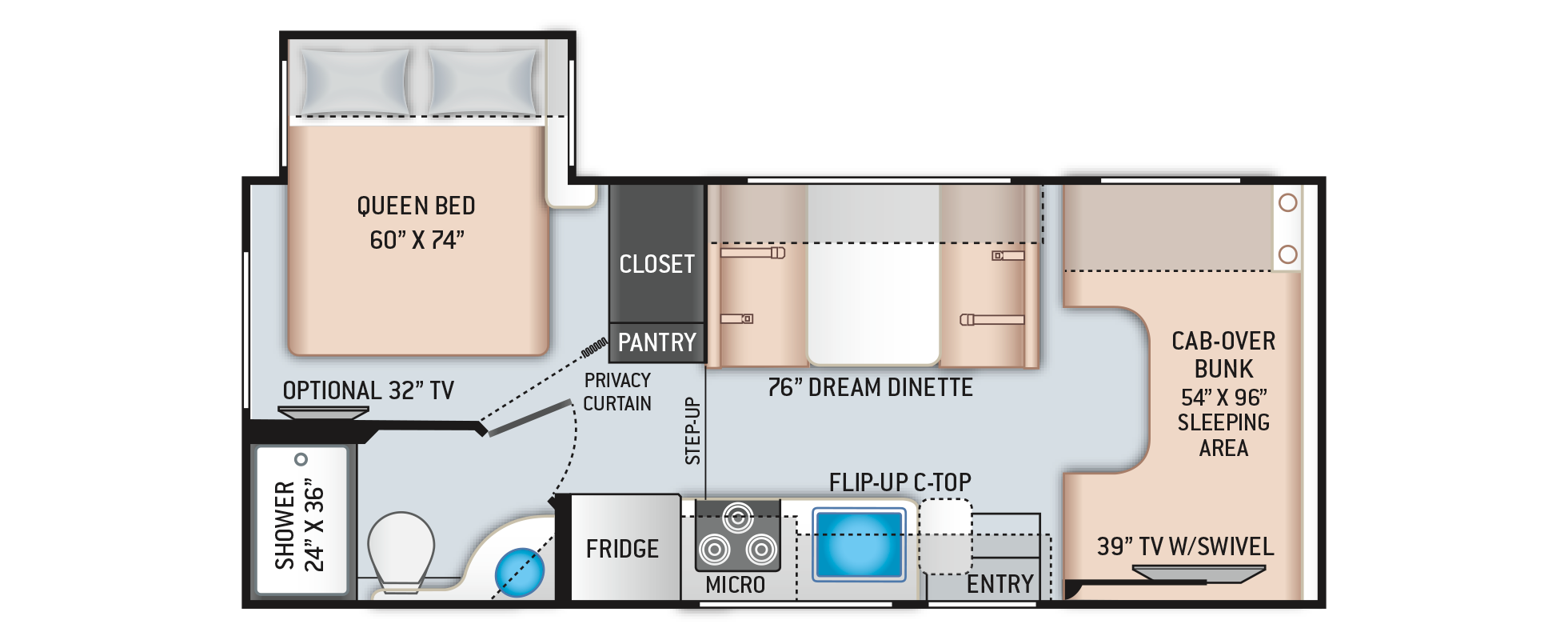 Length: 24'1"
Weight: 11,030 lbs.
Sleeping Capacity: 5
If you're looking for an RV that's easy to drive and easy to park, then look no further. The Freedom Elite checks those boxes and more. It also allows you to navigate narrow roads that lead to smaller off-the-beaten-path campsites, or the compact National Park campsites that larger RVs simply cannot access. Nimble, yet comfortable, the Freedom Elite knows no bounds.
An updated, lighter interior color scheme makes the open walkway space feel even more spacious. The upper cab sleeping area features a privacy curtain and built-in cupholders for a hideaway the kids won't want to leave. Designed for modern RVers, a dedicated USB port with a net pocket to hold a cell phone or iPad keeps electronics secure and within reach.
Built on the Ford E350 chassis with a new V8, 7.3L engine, the Freedom Elite will undoubtedly get you where you want to go and do it in style. A slide-out expands the master bedroom with storage surrounding the bed – wall-to -all. Multiple windows let in natural light by day and the coveted moonlight by night. The Freedom Elite is truly a home away from home, but we think it's more like an oasis. It's hard not to enjoy the journey in the comfort and power of this agile Class C motorhome.
Stock up on all your RV accessories and take your new off-grid adventures to the next level. Start your adventures in this fully-equipped rig, or trade-in your RV and upgrade your experience.
Shop the Thor Motor Coach Freedom Elite
Class A: 2022 Thor Motor Coach Windsport 29M

Length: 30'10"
Weight: 18,000 lbs.
Sleep Capacity: 6
We all know the saying "go big or go home," right? What if we told you that you could do both with a Class A? Go big and go home… in your Thor Windsport 29M.
A full wall slide runs the length of the camper and practically doubles the interior living space, from the living area all the way to the bedroom. It's a sight to see, but it's even more impressive to walk through.
A full windshield lets in light and frames the landscape in front of you – it's maximum visibility at its best. The passenger seat has a lift-up lap desk for those on the road meals or for working remotely from the road.
For the driver, there's a touchscreen command center full of controls that trigger the array of special features, like the heated mirrors and more. Getting hungry on the road? No worries. Pull over and quickly install the pedestal table between the driver and passenger seats and swivel around to enjoy your meal with your fellow passengers. The Windsport doesn't waste a single bit of space and is designed for enjoyment at every step of the journey.
In the living area, the theater seats will be the most coveted spot when traveling. Thanks to their seatbelts, cupholders, and center console storage, you've got everything at your fingertips until you reach your next destination. When parked, they recline. See? The most coveted spot – better call "dibs".
In the kitchen area, the cabinets stretch across the wall. Above the dinette seats, you have under-mounted LED lights, speakers, and USB ports.
Gear up on all things entertainment because this RV is sure to be the life of every tailgate party.
Shop the Thor Motor Coach Windsport
Class (Super) C: 2022 Thor Motor Coach Omni SV34

Length: 35'9"
Weight: 19,500 lbs.
Sleep Capacity: 6
We've already covered a Class C in this list, but a "Super C" is something else entirely. The Omni SV34 has 825 lbs. of torque separating it from the regular Class C RV. What does that mean? More power for climbing grades and hauling gear to your next adventure basecamp.
Inside, the over-cab sleeping bunk has a telescoping ladder for easy access and a swingarm-mounted TV for catching up on shows after a long day of exploring. Multiplex controllers can be removed from their docking location on the wall for full remote access control throughout the RV. Want convenience? You have it in the palm of your hand.
The dinette accommodates four people comfortably and features built-in cupholders and seatbelts. Play family games while you roll down the road. Plus, there are drawers located on both sides of the dinette benches for additional tucked-away storage.
In the galley, solid surface countertops and a stainless steel under-mounted sink ensure the kitchen suits all of your meal prep needs. A pop-up power tower provides plenty of electrical outlets for your cooking gadgets.
Outside, the Omni is just as amazing. Side cameras offer full visibility to make switching lanes easier than ever before. There are additional storage compartments on the sides and rear (an upgrade from the regular Class C RVs). An awning keeps your outdoor space fully open and covered. A 32" television with soundbar mounts outside with a liftgate door. Still not impressed? The outside kitchen with sink, minifridge, and cabinet storage outfit this motorhome with everything you need to host an epic backyard party or lake party.
Shop the Thor Motor Coach Omni
---
While everyone else will be ushering in 2022 with the same old "new year, new me" promises, you could be ringing it in with a "new year, new RV" chant instead.
Tell us, what features are you looking forward to in the new 2022 RVs below in the comments.