Buying a Class A motorhome is the right move for many people (whether you're shopping for new or used), but there are a lot of variables that come into play when thinking about buying the right RV. One of those variables is size, but how much do class A motorhomes vary in size and why does it matter?
How Much Do Class A Motorhomes Vary in Size?
For reference, size is defined as height, width, and length. You should consider all these metrics before buying a new RV, but Class A coaches vary most in length rather than width or height.
Height and width are largely restricted by roadway design. All new RVers should take the time to learn more about RV height clearance and how rules, regulations, and road restrictions may impact your ability to travel on certain roadways depending on the size of your coach.
In terms of length, you'll find Class A RVs under 28 feet and over 45 feet. The length of a Class A RV, along with the number and design of its slideouts, is going to have the most impact on things like interior living space and sleeping capacity.
Class A Motorhome Height Clearance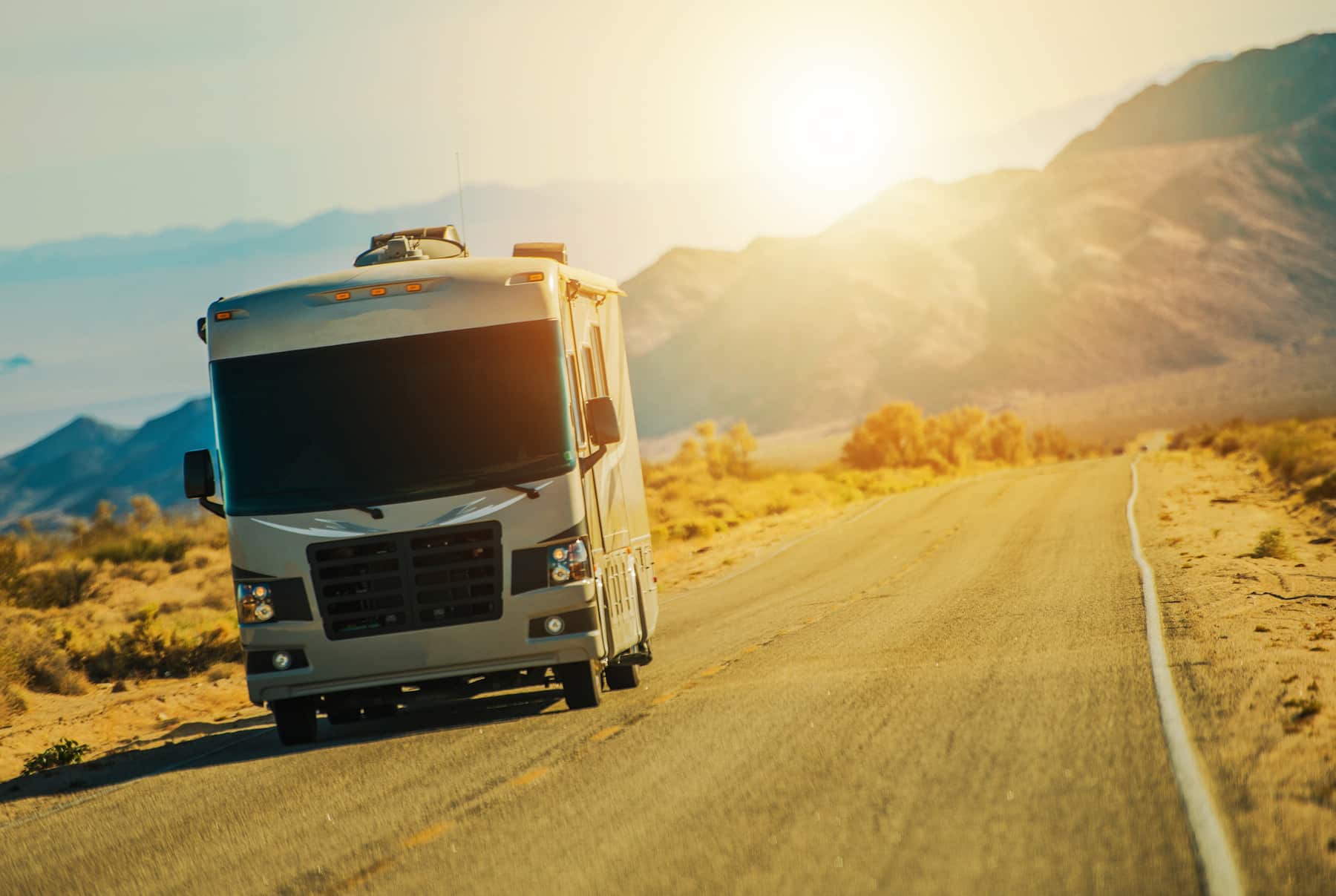 Class A motorhomes vary a little in height, running from about 11 to 13 feet. This keeps them manageable while driving and parking while still giving you plenty of height inside. Keep in mind, some older roadways have tunnels that can have low clearance.
If you're considering specific scenic drives, like along the Blue Ridge Parkway, check the height of the tunnels. Oftentimes, a tall RV means having to re-route, but planning your routes in advance will help you avoid time-consuming detours.
Class A Motorhome Width
When motorhomes are closed (i.e. the slides are in) they are between 8 and 8.5 feet in width. You won't find wider coaches because they must safely fit into the lanes on highways and city streets. Larger Class A RVs with a wall slide, however, can increase the width of your coach by several feet. On average, RV slideouts extend two to three feet outside your RV's regular dimensions.
This extra width only comes into play when you're selecting campgrounds because you can't drive with your slideouts extended. Still, you'll need to be aware of nearby trees or light poles when parking your RV to make sure you have enough room to open your slideouts.
Length of Class A Motorhomes
An RV's length is arguably the most influential measurement when it comes to choosing the right RV and then setting your travel plans once you have it. It will determine things like the square footage of the interior and which campgrounds offer long enough sites to fit your coach.
RV length is a measurement of the exterior, so keep in mind that the interior length will be slightly shorter. Generally, Class A motorhomes run from around 25 feet in length all the way up to nearly 45 feet.
Larger families and retired couples might need the living space of a 40-foot rig that provides more of the cozy comforts of home. Small families and couples, however, might appreciate the compact mobility of a smaller coach.
Ultimately, determining how big of a class A RV you should buy comes down to factors like how many people you travel with and how far your trips take you. At the end of the day, personal preference also plays a big role in your decision.
Just ask Keith Sims, former NFL player and member of the Soulful RV Family,
"I needed a king-sized bed. I needed a shower I could spread my elbows in and, after a lot of research, Class A felt a little bit more comfortable for us."
His wife, Tia, adds, "When we first started doing this, our kids were toddlers. Imagine the amount of things that you have to carry along when you have small children."
Questions to Ask When Considering Class A RV Size
Don't just go with your first gut instinct on size. Really think about it! You don't want to be stuck in an RV that's too big or too small. You deserve your goldilocks situation! Still, don't fret about the decision. You can always trade-in your RV if you need to upgrade to a different size.
Let's take a look at some questions for you to consider when buying a new or used Class A motorhome.
Where are You Planning on Going?
Keep in mind that longer class A RVs will generally be more limited in terms of the campgrounds that can accommodate them. RV owners with shorter coaches will enjoy a larger selection of campsites across the country.
If you're trying to visit some of the best national parks for families, for example, research the park-wide RV size restrictions to make sure you'll be able to navigate the park's roads safely. Then check the regulations for the individual campsites in the park to see if they can provide a comfortable place for overnight camping.
As an example, America's oldest national park, Yellowstone, has a wide variety of campgrounds but none accommodate Class A motorhomes over 40 feet in length. And if you're towing a toad (a small vehicle towed behind your motorhome), you'll need to factor the length of that vehicle and your tow bars into your overall length.
If you are already over 40 feet just with your motorhome, plan on parking your RV outside of Yellowstone – as well as pretty much every national park. The way to see the parks would be in a smaller vehicle, trailer, or via any shuttle services offered by individual parks.
Then there's the matter of the types of roadways you'll be traveling on. If you're heading into the Rockies to climb up and over Rabbit Ears Pass, you'll probably want a Class A diesel pusher. Not all of these diesel pushers resemble tour buses. There are plenty of Class A diesel RVs under 35 feet that won't limit your campground choices. If you're going down this path, you should also look into the pros and cons of gas versus diesel motorhomes.
Who Will Travel With You?
Consider your camping party. Are you traveling as a couple or as a family? Do you anticipate hosting guests? And, if so, how often and how many at a time? An RV's length and its passenger capacity are directly related. The shorter the motorhome, the more likely it was designed with a camping couple in mind.
For the most part, every Class A motorhome has the capability of sleeping at least five people. But you'll need to narrow in on specific floorplans to see what fits you best. If you'll be traveling with four or more family members, you'll want to make sure your RV has enough comfortable sleeping spaces for everyone to get a good night's sleep.
On the other hand, if you're traveling as a couple and anticipate hosting regular dinner gatherings, a floorplan that maximizes the living and dining spaces would be best. As a general rule, the more travelers your RV needs to hold, the longer your coach should be. 
Also, longer Class A coaches are the most common to offer bunkhouse floor plans to keep you from stepping over floor-sleepers on your way to the bathroom. They are also more likely to offer a master bedroom with a solid privacy door. And when you're camping with a large family, that will matter. Together time is important, but so is a little alone time as well.
You'll want a space to wind down with a book while the kids watch TV, play a board game, or enjoy a video game. On unexpected rainy days when you're all packed in the RV, this private escape is essential. Believe it or not, many class A RVs over 40 feet also have an extra half bath or two full baths, which also gives you that extra privacy you'll want when camping with the family.
What About Storage?
Different RV sizes also offer varying storage layouts. In your selection process, there are three kinds of storage to think about: interior storage, exterior storage, and storing the RV itself.
In general, shorter RVs offer less storage space and longer coaches provide more freedom to pack in all your favorite recreation gear. 
If you're leaning towards a shorter Class A, make sure you'll be able to fit and organize your stuff as you'd like it. Class A motorhomes rarely (if ever) offer pass-through storage compartments, which means you'll need to store longer items under the bed or couch inside.
Sometimes, opting for a slightly longer coach is a better choice purely from a storage standpoint. Are you bringing along a set of kayaks? You'll need a fair amount of space in the storage bays for that. Leaving for a long trip and taking your full wardrobe for winter camping? Make sure your floorplan has the space for it.
And how are you planning on storing your Class A when you're not out traveling the country?
If you're a full-time RVer, you don't have to worry about storage, and welcome to a wonderful full-time community! But for the vast majority of RV owners, you'll need to prepare your RV for winter storage or rent it out when you're not using it. So where will it live when you're living at home?
Storing your RV properly is vital to retaining its long-term resale value. The longer your coach, the larger (and more expensive) your RV cover will be if you opt for at-home storage. It also means paying for a larger spot at an RV rental facility or in general self-storage. There's a lot to learn about how to properly store your Class A RV, but the important takeaway here is that it's going to be a little more work with a longer model.
So Why Does It Matter?
To sum it up, Class A motorhomes vary in size. And your choice matters because the size of your RV will determine so much about your ability to experience more once you hit the open road.
But, when you're shopping for an affordable Class A motorhome, it's not the width or height that should concern you the most, it's the length. And then things like floorplan, and gas versus diesel engines should come into play.
Fortunately, the Camping World RV Search Tool allows you to filter based RV class, length, and floorplan so you can find the perfect coach for your needs!
---
If you're interested in finding the perfect size Class A for you, check out our full inventory of motorhomes.