Whether you have a motorhome or a towable RV, driving can be a daunting experience for new RV owners, especially if you choose a larger model. However, with practice and patience, you'll be a pro at navigating parking lots, gas stations, and narrow campsites in no time.
Here are 17 RV driving safety tips for beginners to help you stay safe on your RV journey.
Tip #1: Make Sure You're Legal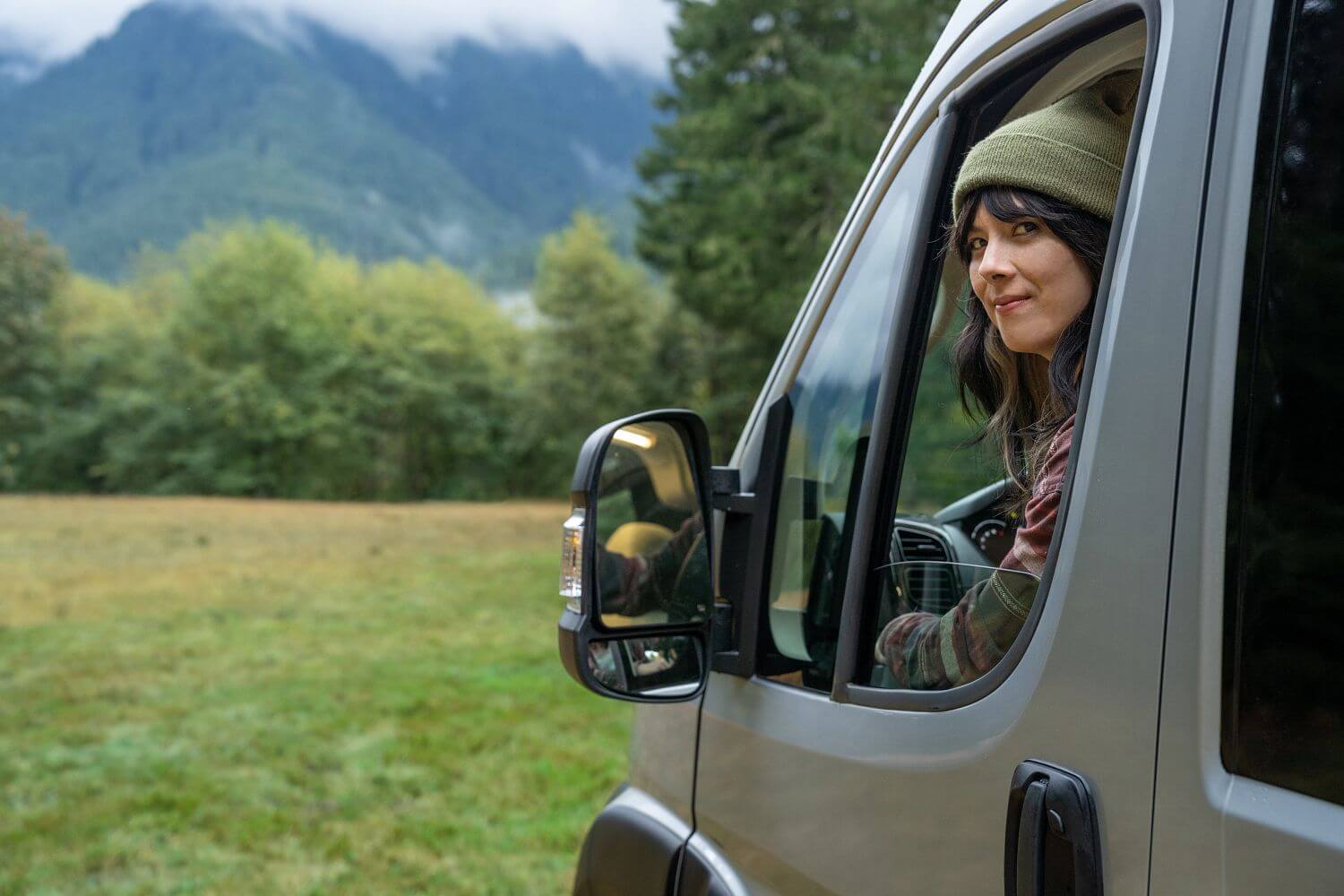 The good news is that just about anyone with a non-commercial class C license can drive an RV. However, there are certain exceptions depending on RV size and weight, as well as the state you register your RV in.
There's not too much to be concerned about here, but it's always good to ensure you're on the right side of the law before driving an RV. So here's an answer to a very important question: Do You Need a Special License to Drive an RV?
Tip #2: Be Aware of Your RV's Size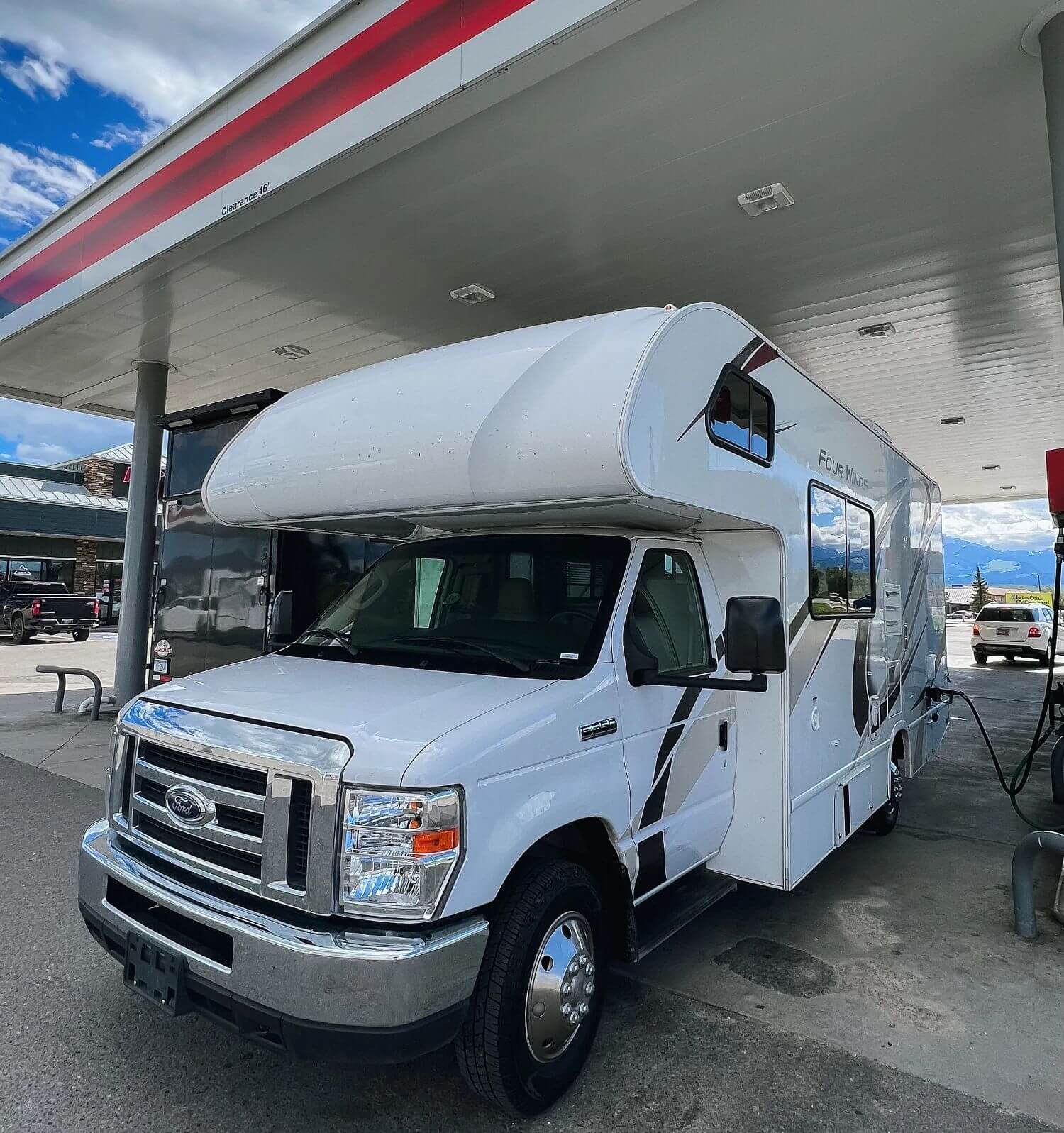 Most RVs are much larger than passenger vehicles. As a result, they require considerations of things like height clearance and turning radius. Know your RV's height before you start driving to avoid low bridges or underpasses.
We'll discuss the importance of wide turns later, but your RV's size is also important for campsite selection. Don't assume an RV resort has sites that can accommodate your RV – call ahead and make sure.
Finally, knowing your RV's weight can be important when traveling on roads with weight restrictions. Larger motorhomes and travel trailers may not be permitted on roads that can't handle their weight.
Tip #3: Get Used to Wide Turns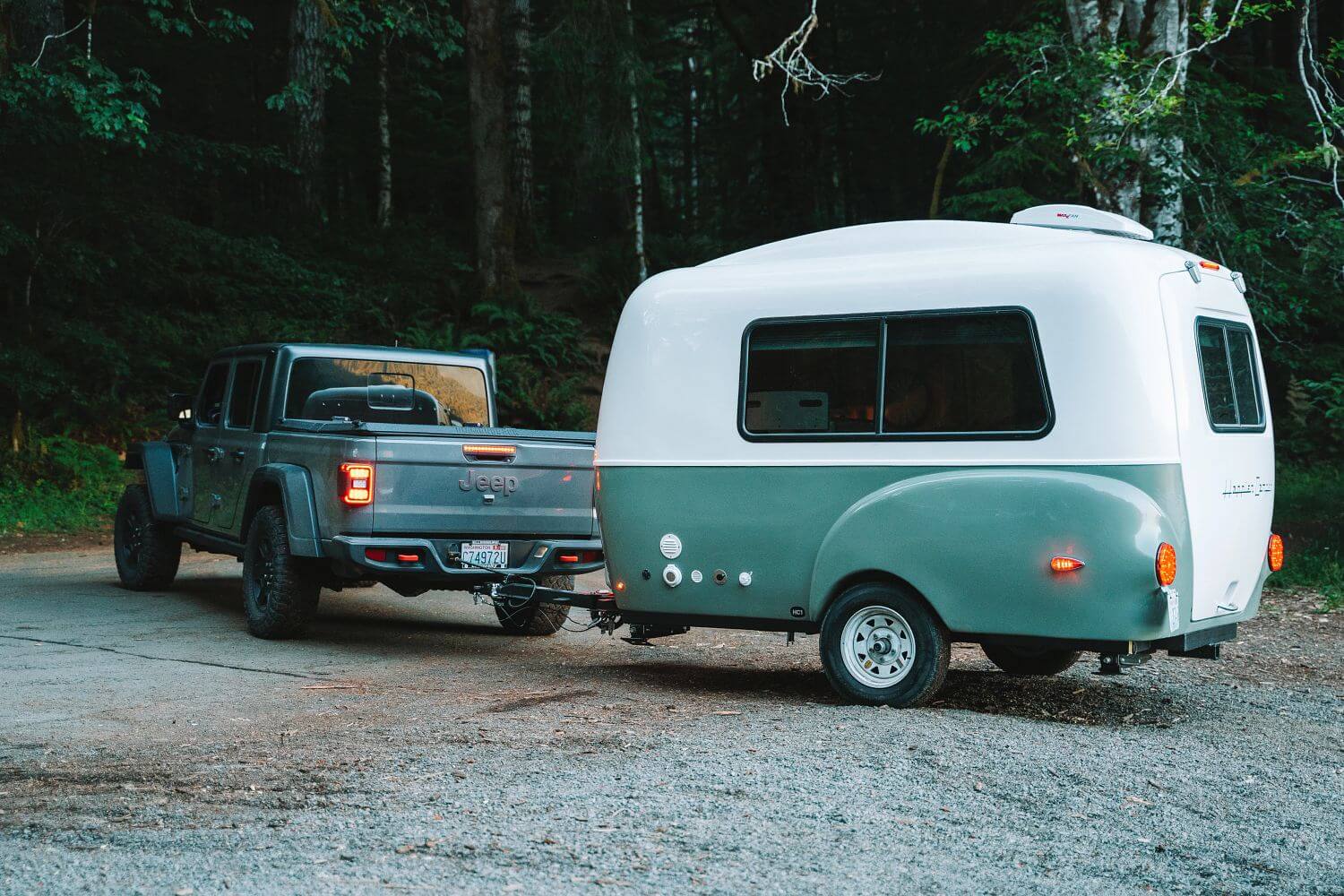 Speaking of maneuverability, you'll need to take wider turns – regardless of your RV's size. This is particularly true of right turns because you'll be up against the curb. A sharp turn could find your rear tires up on the curb or tracking over someone's lawn.
You must also stay in your own lane to avoid a collision, so simply pull out farther into the intersection before starting the turn. Watch your rear-view mirrors, keep as close to the center lane as you can, and be aware of impatient drivers who may try to zip around you.
Tip #4: Drive Slow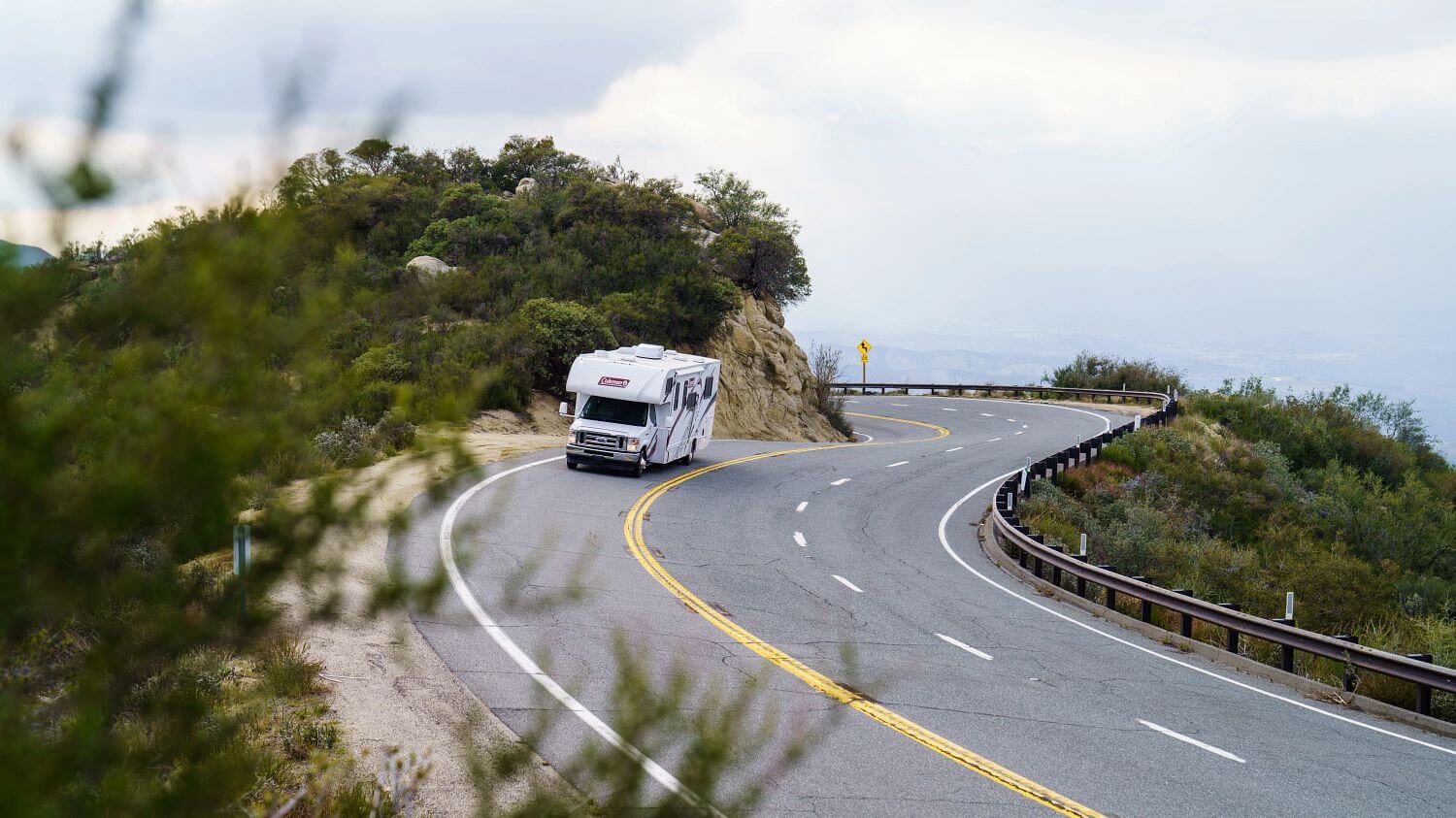 When driving an RV or towing a camper, you should not feel a need for speed. Take your time and enjoy the journey. Driving an RV too fast significantly increases the risk of accidents.
With that kind of weight behind you, braking requires more time. So you'll need more distance between you and the vehicles in front of you. You'll also need to maintain more awareness to give yourself time to react when you see brake lights ahead.
RVs are also more susceptible to crosswinds (winds blowing perpendicular to your RV's path of travel) than passenger vehicles. When encountered, slowing down will reduce their propensity to blow your RV around.
Finally, slowing down will help save the pain at the gas pump. Reducing your highway cruising speed from 75 mph to 55 mph can reduce fuel consumption by as much as 20 percent.
Tip #5: Practice in a Safe Place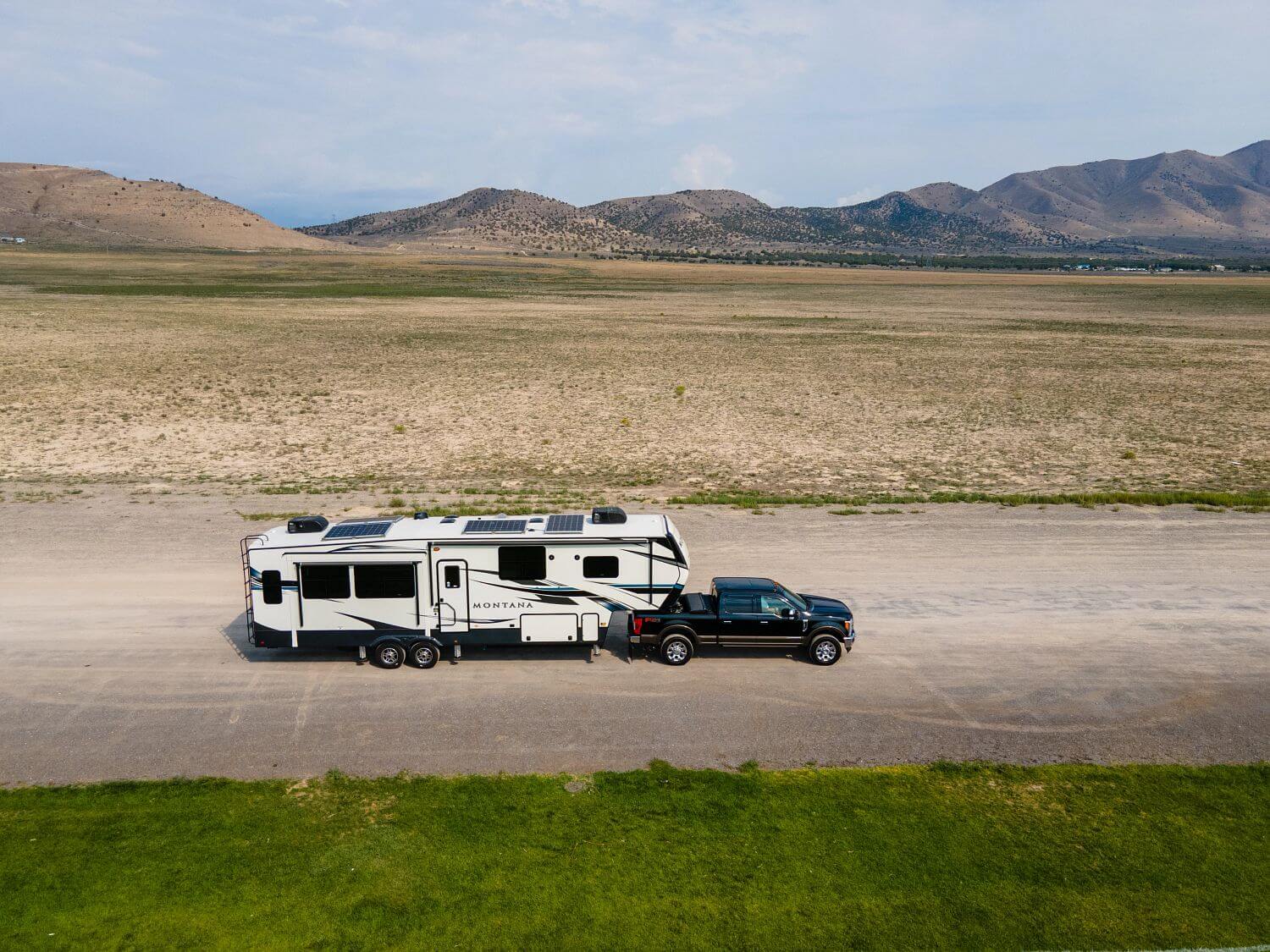 Take some time to practice turning with your RV before you head out on a road trip. Find a big empty parking lot or a dirt field and put out some cones to practice maneuvering and parking. Set up scenarios where you're pulling into a campsite forward or in reverse.
Most importantly, don't hesitate to ask for help or sign up for a driving course. There's no substitute for practice and experience, but taking an RV driving course to learn about your RV and its limitations will ensure safer road trips in the future.
Tip #6: Plan Routes and Gas Stops in Advance
Last-minute maneuvers are dangerous when driving a passenger vehicle. They can be downright reckless when driving a motorhome or towable RV. You should know your directions well in advance to avoid late lane changes that put yourself and others at risk.
To help you plan ahead, consider investing in an RV GPS unit. Many nicer models give you verbal and visual cues to keep you on your desired route. Plus, you won't be able to get angry with your co-pilot when he or she leads you astray – you'll both just be cross with your GPS.
While looking at potential routes, consider maneuverability, low bridges, and other restrictions. Will your route take you through a busy city? Merging and yielding require patience. Driving in heavy traffic means you must be aware of vehicles around you, especially in blind spots.
Finally, even getting gas can be a little tricky. Be sure to choose a gas station with plenty of room for maneuvering around the pumps and parking areas.
Become a Good Sam Member to enjoy gas and diesel discounts at RV-accessible Pilot Flying J locations across the US and Canada.
Tip #7: Keep Up with RV Maintenance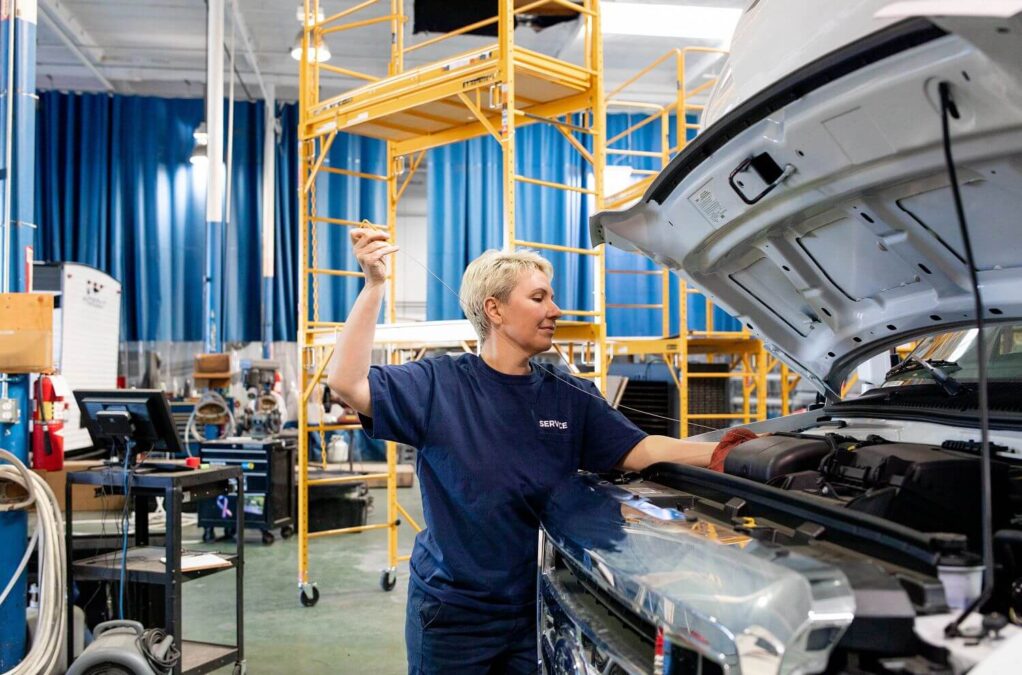 A well-maintained RV or tow vehicle is a safe vehicle. Be sure to keep up with the preventive maintenance and conduct regular inspections of your RV systems, especially those that can cause an accident while traveling.
Download Camping World's Reference Handbook to track your RV's maintenance schedule.
Make a pre-trip checklist, and do an inspection of these items every time you get behind the wheel:
Belts and hoses (check for cracking)

Headlights, turn signal, tail lights

Hitch or towing equipment

Tires for the correct air pressure and sufficient tread depth
Enjoy more resources to help you maintain your RV on the road and in storage.
Tip #8: Take Care of Your RV Tires
Tire blowouts are one of the leading causes of RV accidents. They can be caused by improper inflation, wear and tear, or overloading. Let's address each of these issues briefly.
Tires must be inflated to the manufacturer's recommended air pressure – measured in pounds per square inch (PSI). One of the easiest ways to monitor your tire pressure is to install a tire pressure monitoring system (TPMS).
You can learn more about these systems at Camping World.
You'll also need to check the tire condition and tread depth before and after each RV trip. Check your tire manufacturer's recommendation for minimum tread depth to determine when it's time to change your RV tires. When checking sidewall condition, look for cracks and bulges, as they may also require changing your tires.
Sometimes tires get the most wear and tear when you're not even using your RV. This is why it's important to use tire covers and maintain your RV tires properly while in storage. Avoiding prolonged exposure to the elements is one of the best ways to maximize the life of your RV tires.
Learn more about RV and trailer tires to keep your road trips rolling smoothly.
Tip #9: Load Your RV Properly
Every unit has a maximum cargo carrying capacity (CCC) that shouldn't be exceeded. You also need to load your RV to distribute the weight properly. The video above will help you load your travel trailer properly, but here are a few more resources:
Tip #10: Pay Attention to the Weather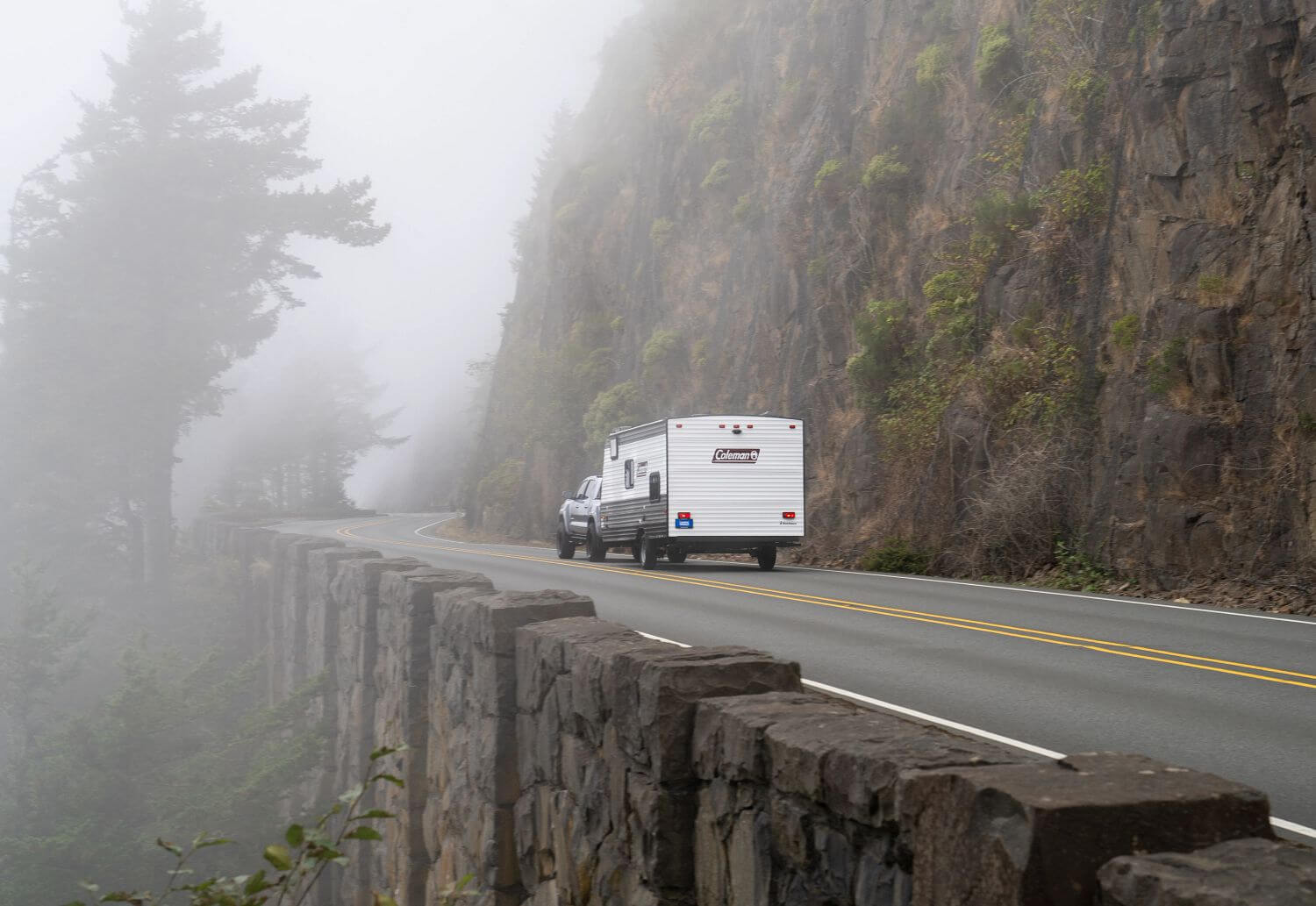 Another common cause of RV accidents is driving in poor weather. Rain, fog, ice, and especially high winds make RV driving treacherous. Plan your trip to avoid bad weather, and always factor in extra time for delays in the event of unforeseen storms.
If you're on the road and dangerous weather arises, pull over into a rest stop or at the next exit. Please note that in the event of high winds, there is simply no better option than getting off the road and waiting.
Keep an eye out for debris and downed power lines when you get back on the road after a storm, and stay away from standing water on low-lying roadways. You can't tell how deep it is, and the risk of finding out the hard way is never worth the potential reward.
Tip #11: Use a Spotter When Backing Up
Sure, you'll have to get creative if you're traveling solo, but using a spotter when backing up your RV is always a good idea. Of course, your spotter needs to know how to guide an RV, which is why we've provided the video above.
Even if you have a rearview camera or a class B RV with 360° cameras for easy maneuvering, a spotter can see things you can't when you're behind the wheel. When in doubt, shift your RV into Park and get out to check your surroundings.
It's always worth taking the extra time to double-check versus the alternative. But if you didn't double-check and you had an accident, as a result, contact a Camping World Service Center to get your RV fixed up and back on the road.
Tip #12: Know RV Road Restrictions and Regulations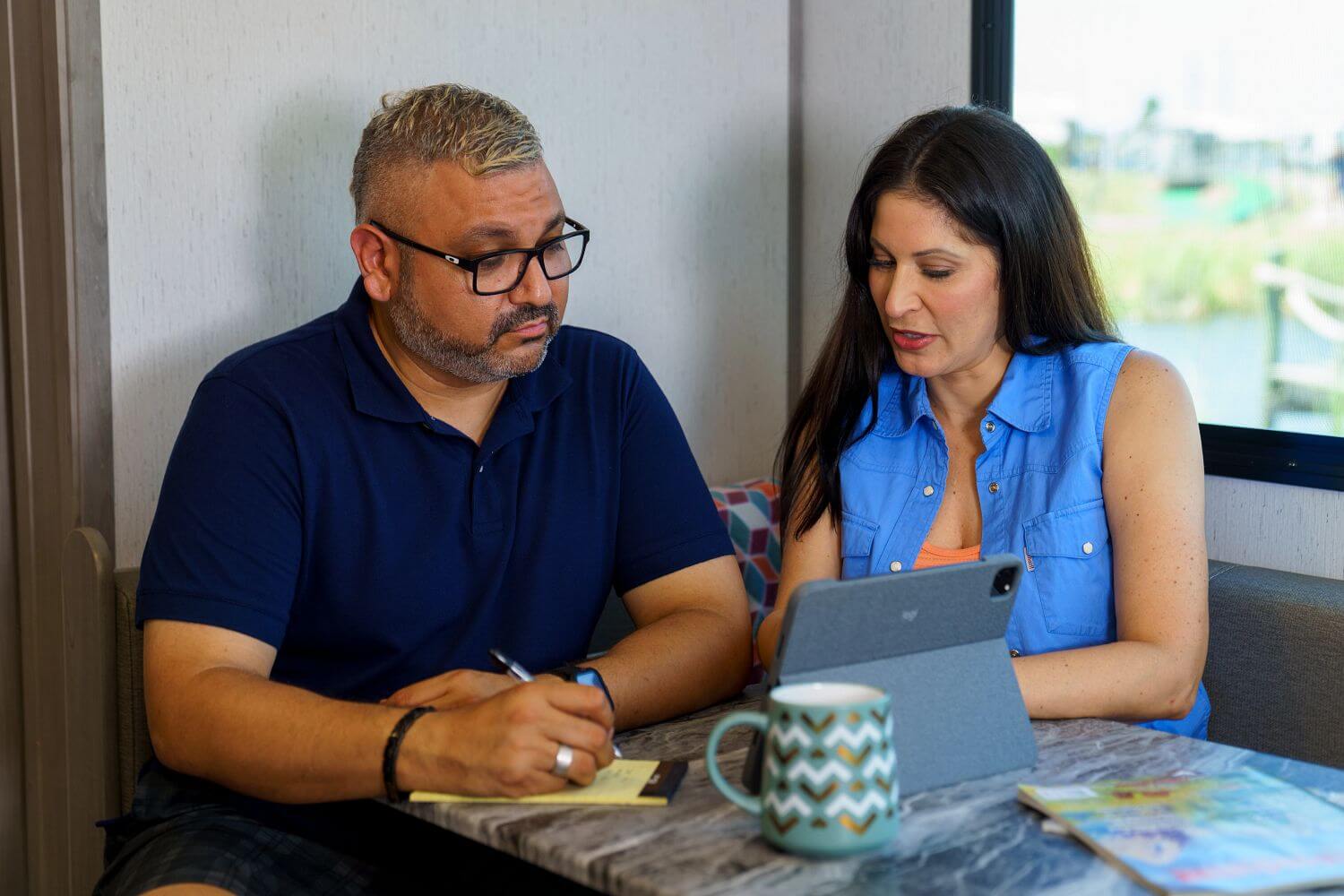 Unfortunately, motorhomes and towable RVs aren't welcome on all roadways in the US. Failing to understand the rules for RV travel on your route can lead to a costly detour that wastes time and money – and can cause safety hazards if you wind up pushing to get to your destination in the dark.
Research RV Rules, Regulations, and Road Restrictions in the US.
Tip #13: Use a Weight Distribution Hitch (for Travel Trailers)
This tip is for those that are new to pulling a travel trailer. If you haven't already purchased a trailer, start by consulting our Towing Guide to know how much your vehicle can tow safely.
From there, you should know why a weight distribution hitch is so important. It transfers the weight of your trailer more evenly across both axles of your tow vehicle. Doing so reduces trailer sway, levels your trailer, and allows you to tow more efficiently.
Without a weight distribution hitch, you'll experience less stable towing, leading to an increased risk of accidents. Towing without a weight distribution hitch can also increase driver fatigue because you'll fight against sway and bounce to keep your trailer safely on the road.
Once it's installed, learn how to adjust a weight distribution hitch.
Tip #14: Drive a Reasonable Mileage Each Day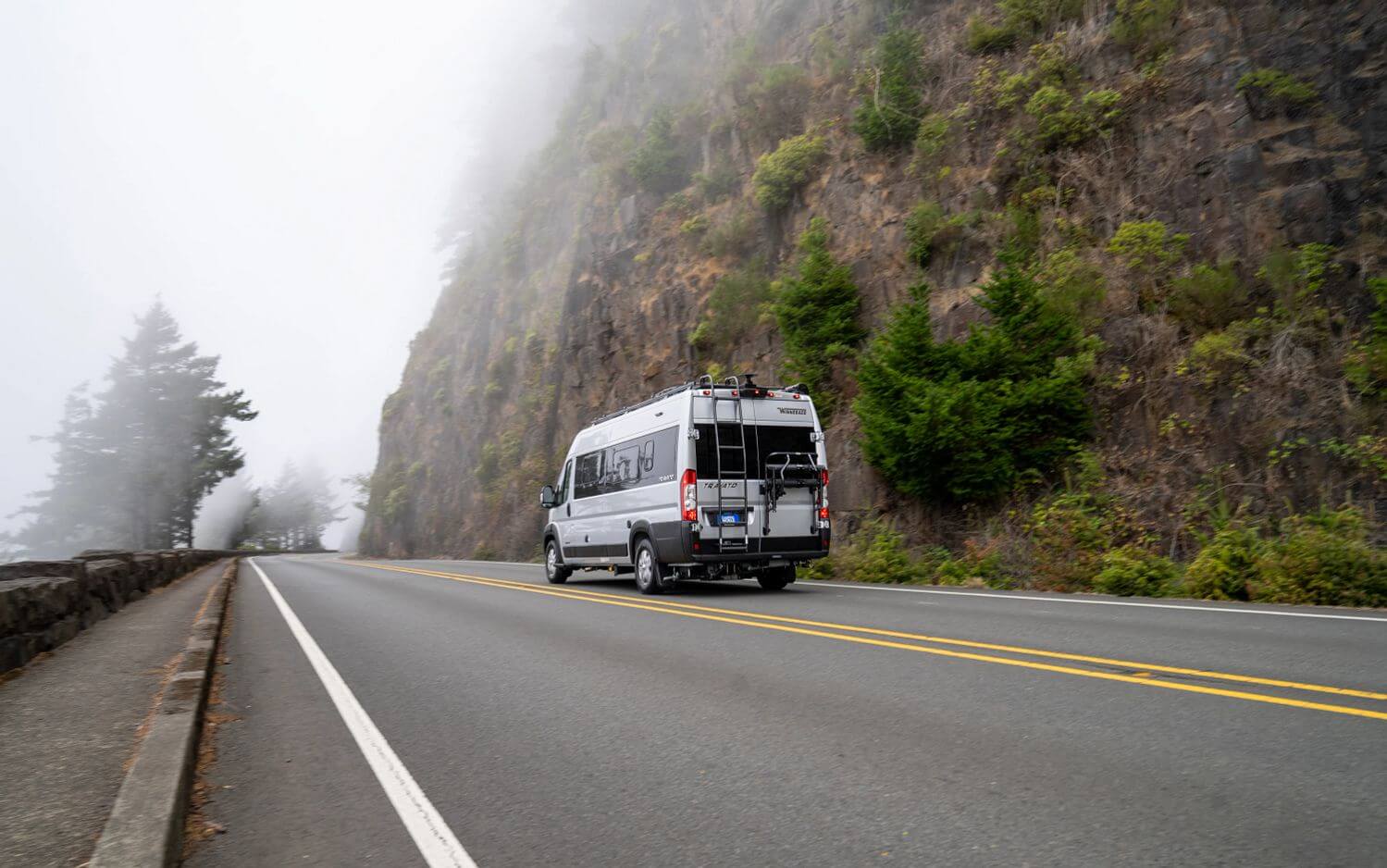 Over time, all RVers develop their own "rules" or preferences for how they travel. For beginners, many RVers recommend the 2/2/2 rule:
Don't travel more than 200 miles per day.

Stop every two hours.

Arrive at your destination by 2:00 pm.
Some add "Stay for a minimum of two nights" to this list, and others adapt this list to become the 3/3/3 rule – simply replace every two above with a three, and you'll have the idea.
Ultimately, the key to this tip is to avoid driving when tired and to give yourself plenty of time to set up camp and relax when you arrive at your destination. Of course, you can adapt your "rules" once you gain more experience.
Tip #15: Use Your Engine to Slow Down on Steep Grades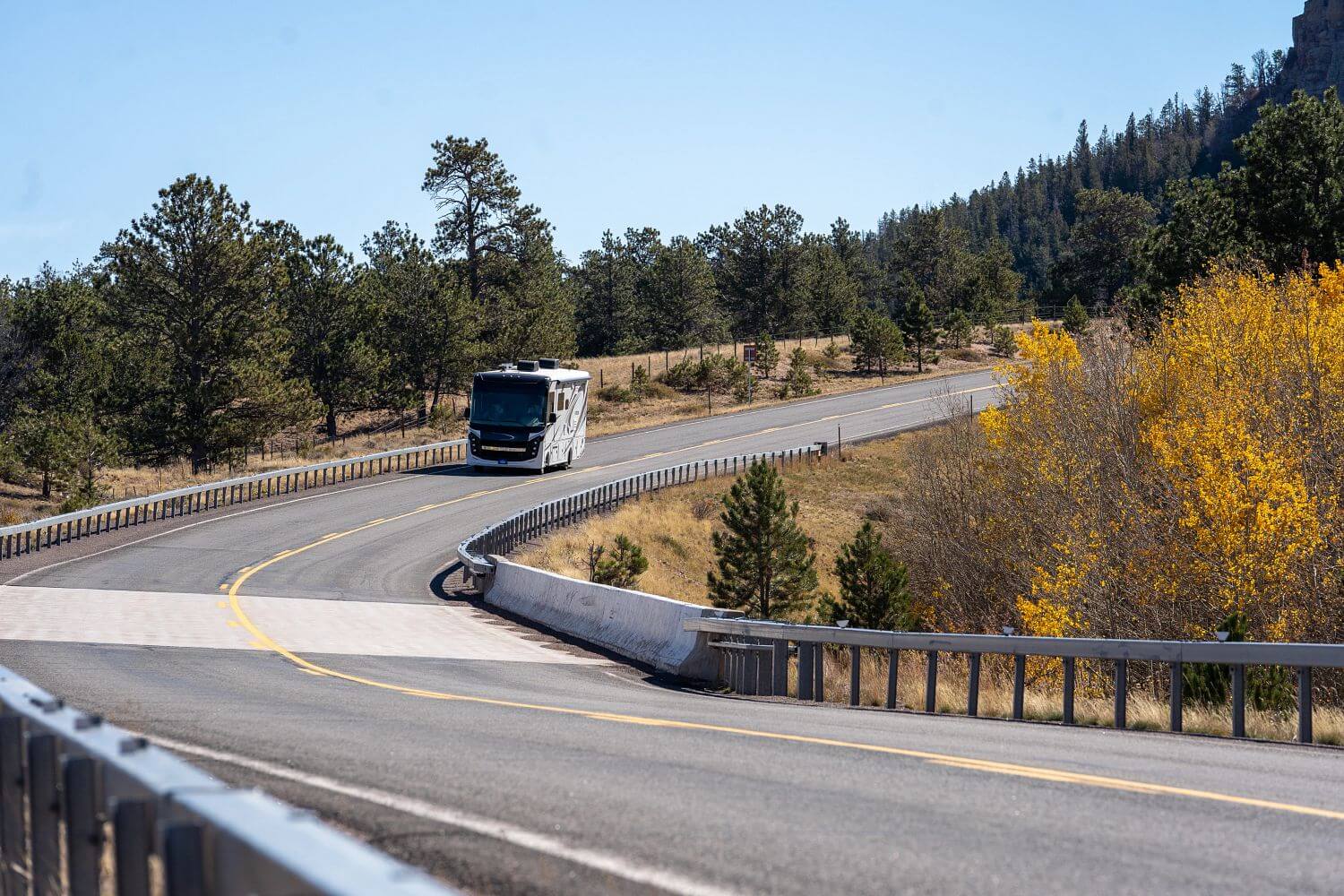 There's arguably nothing scarier than the smell of burning brakes when you're descending out of the mountains. The first thought that always goes through my mind is, "Gosh, I hope those aren't mine!"
Safely navigating grades while towing requires utilizing your engine to keep your speed in check. Downshifting early and pumping your brakes regularly will keep you from constantly riding them, which increases the risk of burning them up.
Tip #16: Carry the Right RV Emergency Essentials
No matter how much preparation and care you exercise when trip planning and driving, all RVers know that you can't control everything that happens on the road. You can control whether or not you have the tools to handle emergencies when they occur.
Stocking up your RV with emergency essentials is one of the first things you should do when you hit the road. Of course, you'll need other accessories like sewer and water hoses, wheel chocks, and other essentials for first-time RV road trips.
Don't forget the emergency essentials that will be critical to getting your trip back on track if you find yourself stuck on the side of the road.
Check out this list of 21 Emergency Essentials for RV Owners.
Tip #17: Invest in a Roadside Assistance Plan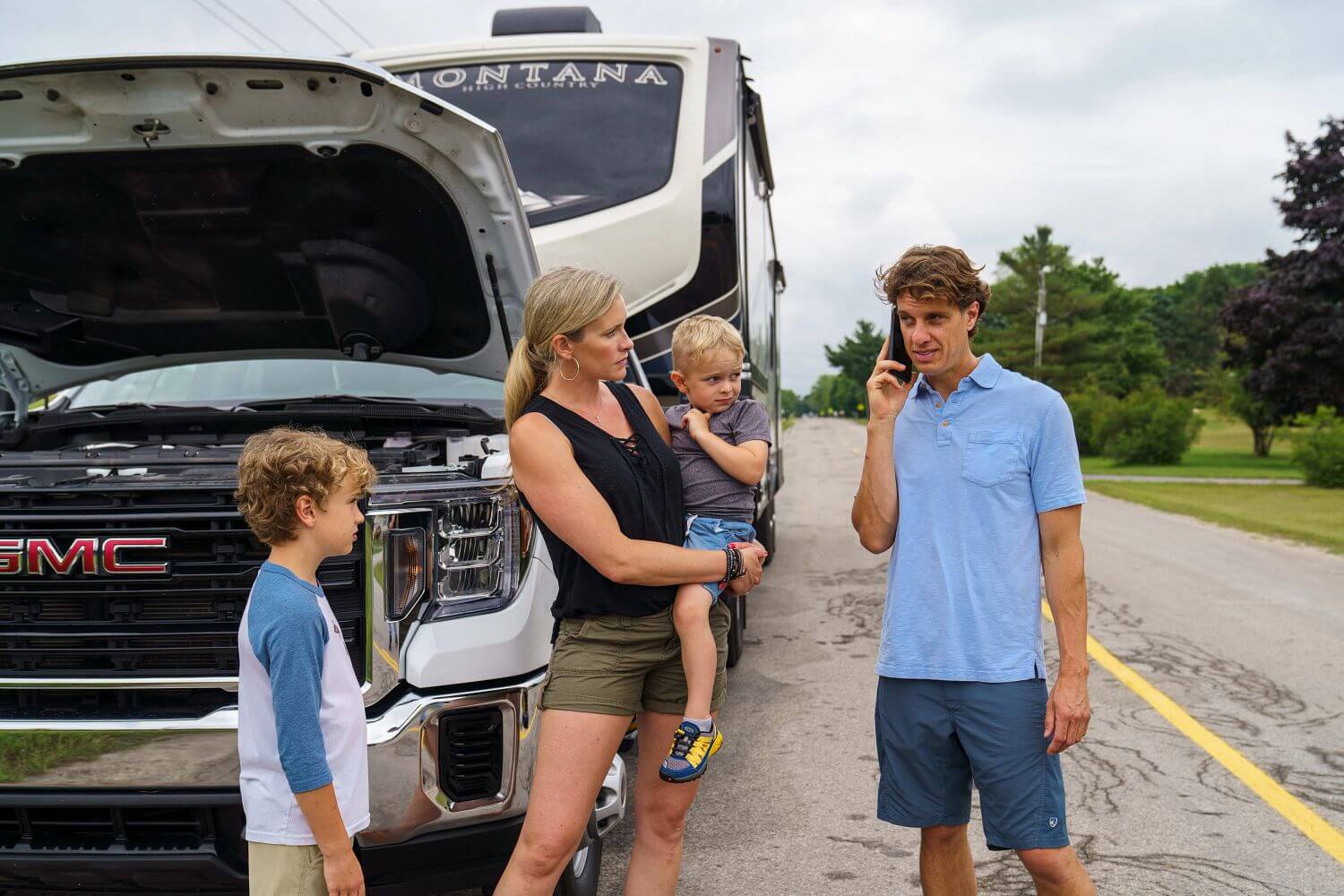 Unless you're a trained RV technician, even the best emergency roadside kit won't help you solve every problem you could encounter. When you've exhausted your energy or expertise, it's comforting to know you can call for roadside assistance to get you back on the road.
Good Sam's RV Roadside Assistance plans offer unlimited distance towing to the nearest service center in the US or Canada, flat tire repair, battery jumpstart service, emergency fuel delivery, and more.
Compare Good Sam Roadside Assistance Plans for your RV.
---
In addition, here are a few more tips to help you travel safely in your RV:
NEVER drive an RV when impaired by drugs or alcohol.

Avoid driving when tired.

Don't operate your cellphone when driving an RV.
Do you have any RV driving tips you think should be added here? Leave a comment below.