RVing has transformed the way my family experiences fishing. Gone are the days of booking mediocre hotel rooms so that we can be near our fishing spot when we wake up. And when hotels weren't an option, I certainly haven't missed the body aches from sleeping on a hard surface while tent camping.
Instead, we can park our camper just steps from our fishing hole for days or even weeks at a time. We can fish the early morning bite, have lunch, take a cat nap and head back out for the evening bite. We can clean our catch in the kitchen and store fresh walleye fillets in the fridge or freezer – or better yet, cook it on the spot. RVing is how we make fishing a family activity, because our kids now have a place to nap and play comfortably.
Our Fishing RVs
Our family fishes year-round and we have a few different pull-behind campers to make that possible. One is a retro camper from the 1970s that we primarily use for ice fishing and the second is a newer camper for regular camping. Currently, I'm researching how to convert our newest camper into an ice fish house too. What can I say? We love fishing.
While neither camper has everything I like, they've allowed me to figure out what features make the perfect fishing RV. I'll break down these features below.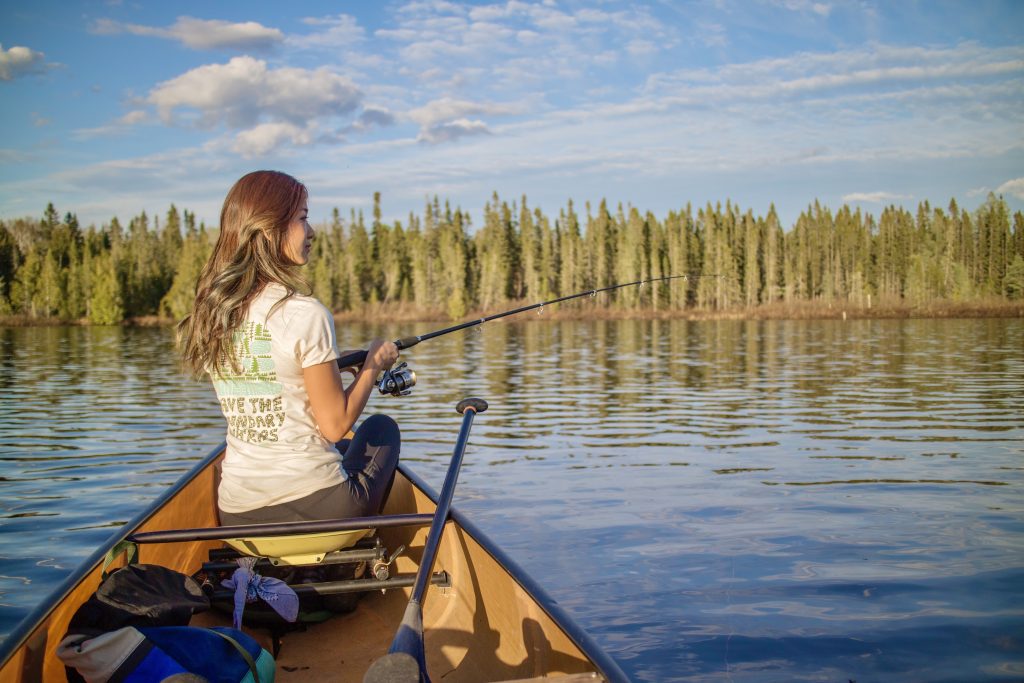 Off-Grid Living
Most RVs these days come with battery and propane hookups. But if you bought an old converted camper like us, you'll want to know the basic power sources for off-grid living.
If you're able to boondock or disperse camp near your fishing spot, make sure you have a big deep cycle battery with an inverter. If you power anything other than LED lights, you'll want at least a 100 amp hour battery and an 1800 watt inverter. We usually run lights and the water to the pump/toilet when we need to.
When it starts to cool off in the evening, you may want to run the furnace so make sure you have a full 20-pound propane tank, as well as a backup tank. If propane isn't an option, a generator can also power an electric heater. Here are some ways to keep your camper warm.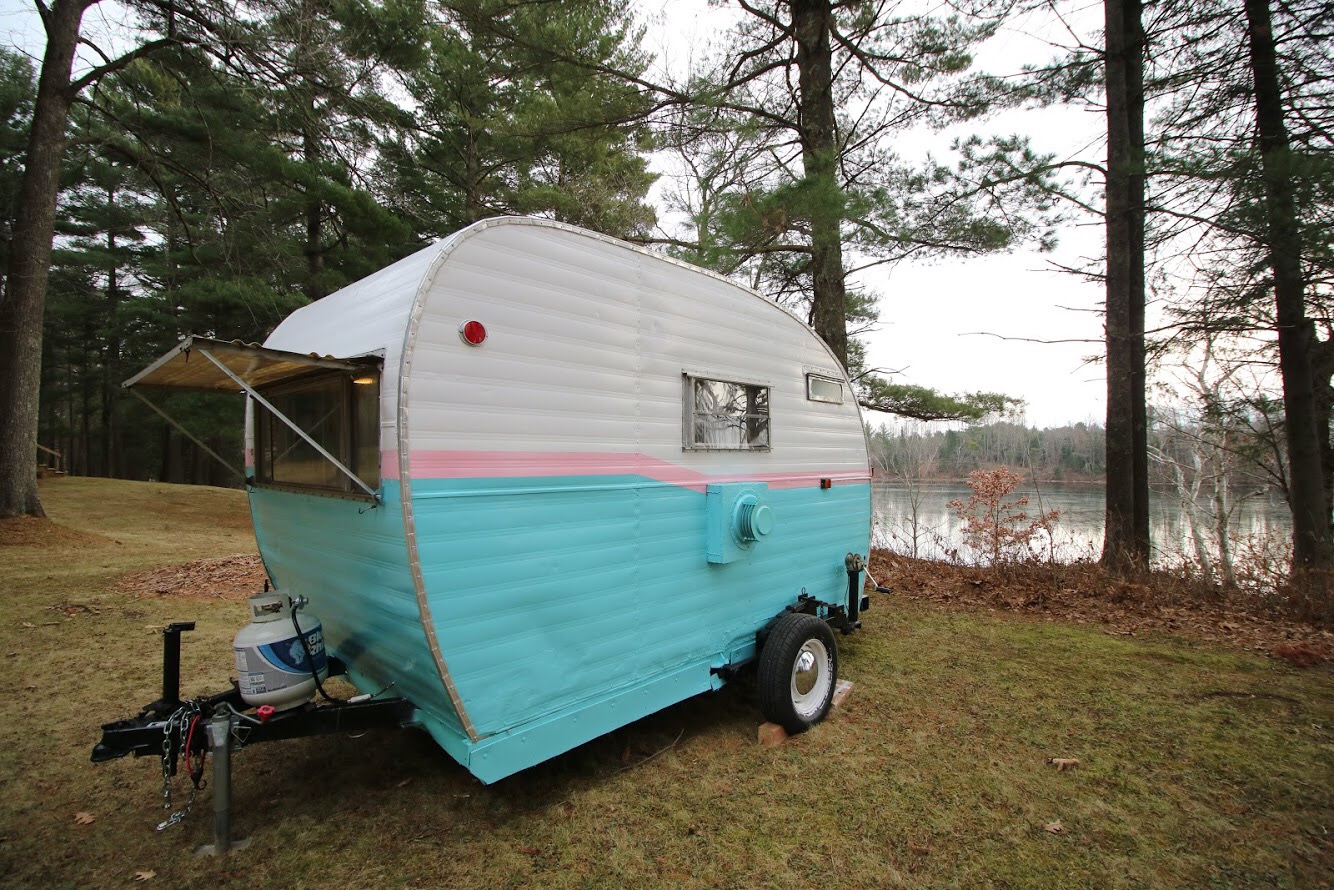 Higher Clearance
If your secret fishing spot is off the beaten track, you'll probably be dodging potholes, winding through dirt and gravel roads, or even rolling over snow and ice-covered paths. Look for an RV with raised suspensions, offset wheels, off-road tires, and a roof rack for storing watercraft like canoes and kayaks. There are camping trailers specifically designed for off-roading like the Forest River No Boundaries 10.6 – a durable off-road trailer for rougher terrain that can withstand all four seasons.
Truck campers also offer higher clearance since it's an RV that sits in the bed of a pickup truck so the clearance depends on what truck you drive. Truck campers can have all the features of a typical travel trailer or fifth wheel but are often designed for one to two people. It's compact, self-contained, and can have pop-tops or hard sides.
Want to learn more? Click here to find out What Makes an RV Built for Off-Road.
The Kitchen Sink
A kitchen sink makes all the difference in determining whether we eat freshly caught fish for dinner. Most campgrounds and boat launches don't offer fish cleaning stations, so I usually clean our catch in the RV sink. Cleaning fish can get messy so having an area where you can fillet and rinse fish with clean water is convenient. Most modern campers have a sink attached to an electric pump with a pressurized water tank, but a sink can be as basic as a manual foot pump that pumps water out of a five-gallon freshwater jug through a spigot, draining into a five-gallon grey water jug.
Even better for cleaning fish is an outdoor kitchen. Our friends, Chase and Lindsay of We're Out N' About, have a lot to say about why they love their outdoor kitchen.
Pass-Through Storage
Surprisingly, many RVing anglers store their fishing rods in the shower or on top of their beds. But with bumpy roads, that can be risky – especially if you like to travel with hooks already tied to your rods. Pass-through storage is the safest and most convenient place for rods. You can mount PVC pipes or a fishing rod storage system to the ceiling of the pass-through storage to secure rods in rough road conditions. It's also a place that's easily accessible when you're headed out the door to your next fishing spot.
Toy Hauler
I've only recently discovered the convenience of having a toy hauler. It's a fantastic camper, but is also the best RV for carrying large items. If getting on the water is important to you, consider a toy hauler for transporting kayaks, canoes, small boats, and other water sports equipment. A toy hauler garage is an enclosed area, sectioned off from sleeper quarters, that keep watercraft from getting damaged or dirty while on the road.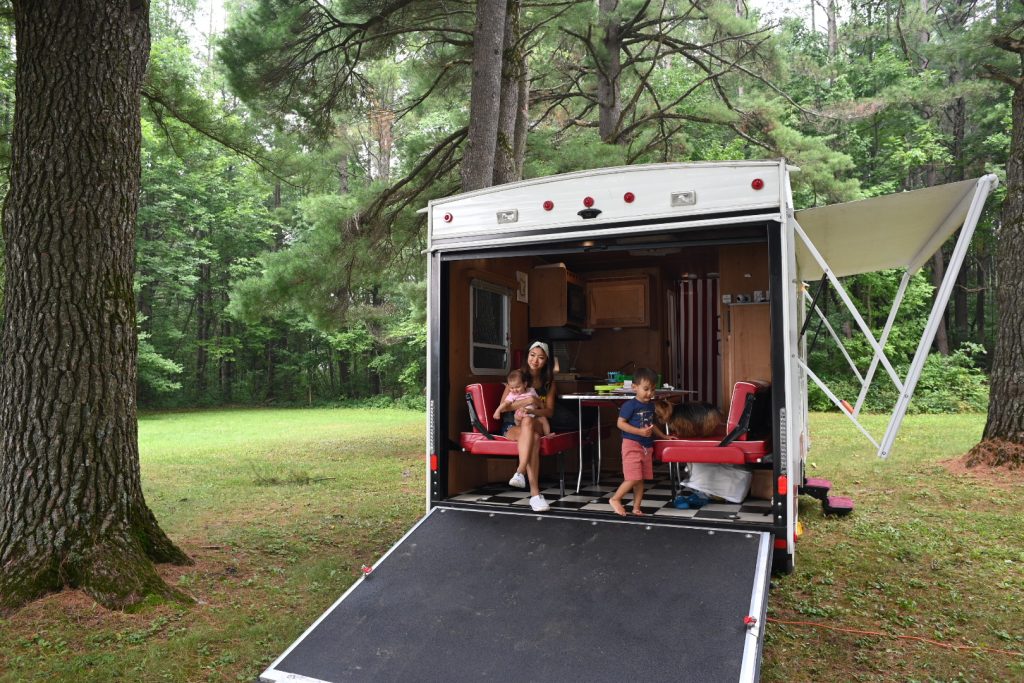 Ice House
If you like to fish year-round like our family, an ice house or a fish house is designed for that exact purpose. It's an RV that also serves as an ice fishing house, complete with holes in the floor with removable covers, winter-rated insulation, a hydraulic or winch cranks to bring the frame down to the ice, a more powerful heater for those bitter cold days, and all of the amenities you'd find in a typical RV. It's luxury on ice but can also serve as a camper for spring, summer, and fall.
There are other add-on components to convert a fishing RV to ice house, including rattle reels – fishing reels that attach to the walls so that the fishing line goes directly into an ice hole. Our fish house will have a fish camera and monitor this year – a fun addition for the kids (and adults) to watch what's happening below the ice in real-time. We also store our ice fishing fish finders in one of the cabinets to grab it as soon as our first hole is augered and see if there are fish in that particular location.
An icehouse is sometimes called a fish house, ice shack, ice fishing shack, wheelhouse, darkhouse, or permanent house.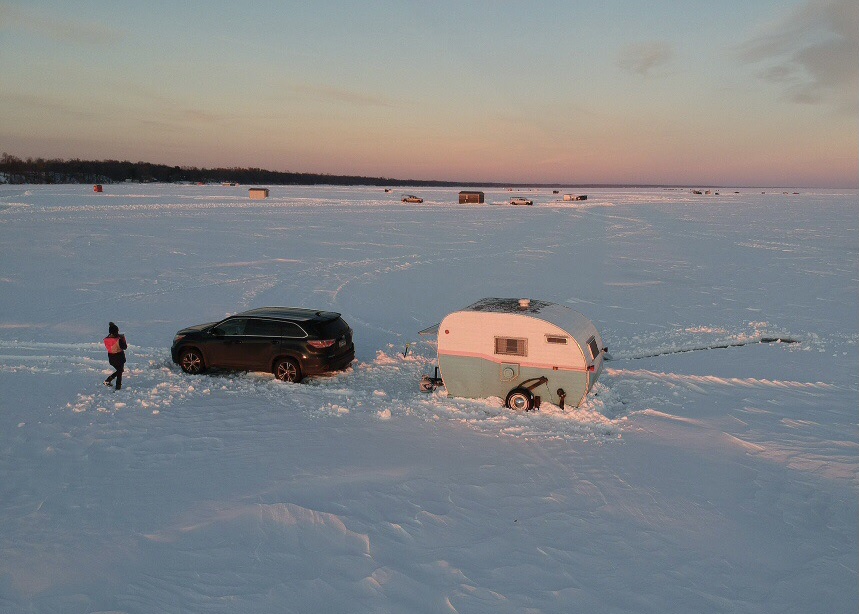 At the end of the day, the perfect fishing RV fits your lifestyle. The only non-negotiables for successful fishing while camping is your rod and reel, line, tackle, bait, and at times, a bit of luck.
What would you like to see in a fishing RV? Tell us in the comments below.
Explore and find your next fishing RV at Camping World.