Off-grid camping is the ideal alternative when you can't find any spots at RV parks or campgrounds for your RV.
In fact, some RVers prefer boondocking spots over RV parks or developed campgrounds. Camping off the grid often means better views, fewer people, and the ability to camp for free.
Off-grid camping requires a little more preparation. From finding an off-grid-capable RV to learning how to drive it on the backroads, it requires planning and the right tools to camp without electric power or city water.
Here's Everything You Need to Go Off-Grid Camping
Learn how to boondock in an RV with the right camping gear and mindset before your next trip.
RV GPS Unit (and Paper Maps)
The first step to camping off the grid is getting there safely. Several sites help campers find free and legal places for primitive camping, like on public land or in national forests.
RV GPS units are useful for getting you there, especially for navigating a large RV. They can help you avoid underpasses with low clearance, steer you around traffic, and identify RV-friendly gas stations along your route.
But every smart off-grid camper knows the importance of a backup – in this case, paper maps. Check out road atlases and travel directories, so you're always prepared for the road ahead.
Generator (Portable or Built-in)
If your RV came equipped with an onboard generator, you have a leg up for off-grid camping. If it didn't, learn how to choose the right generator for your RV with this short video.
Once you have your generator, take the time to learn how to operate a portable generator.
Explore Camping World's selection of portable generators.
Solar Setup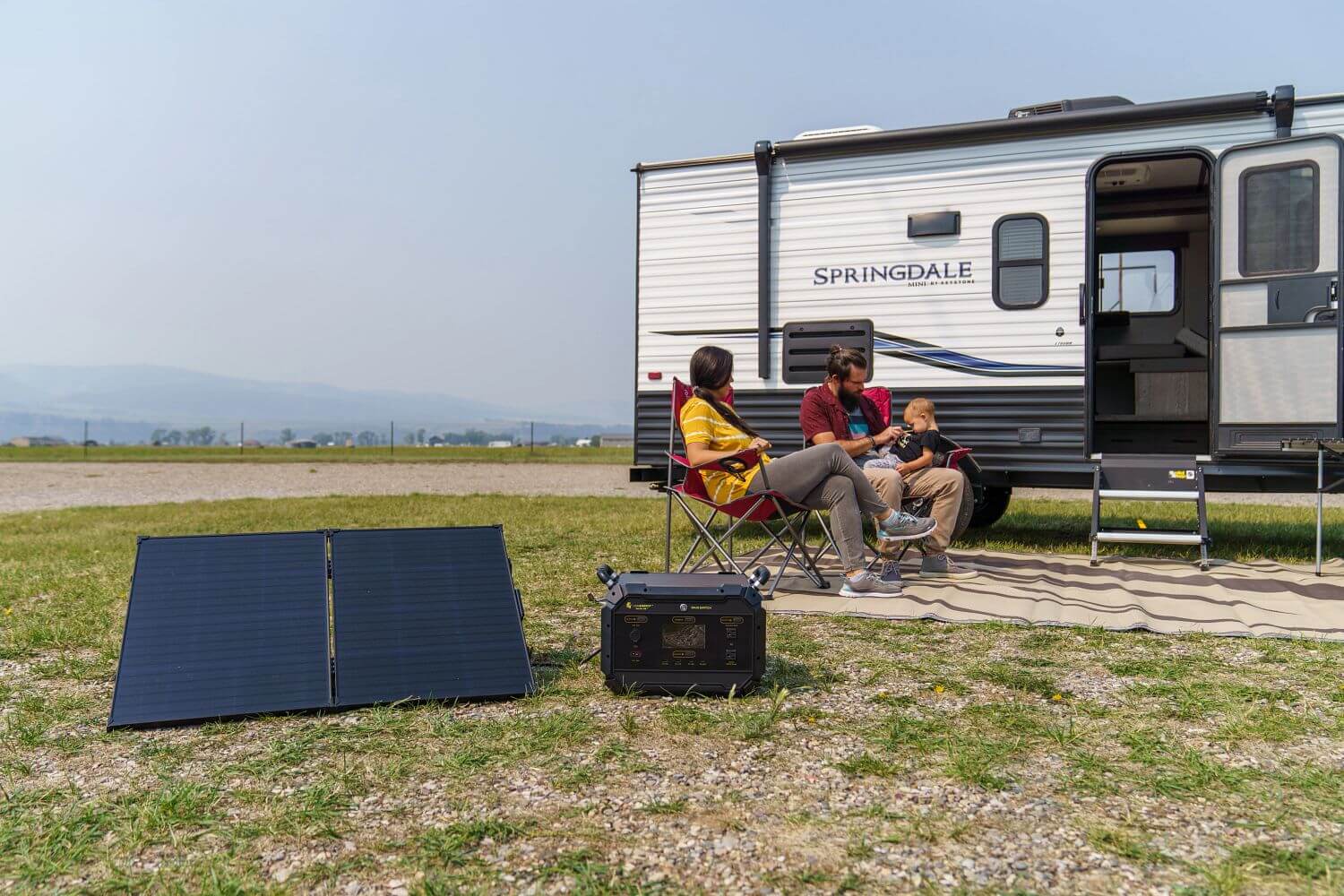 The right solar power array can dramatically increase your RV's off-grid capability. Without one, you're limited to the charge capacity of your RV batteries. Of course, that generator you just grabbed will recharge your batteries, but its ability to do so will be limited by the amount of fuel you bring to power your generator.
Solar energy is an excellent resource for off-grid campers, but you'll need solar panels, a charge controller, and ample battery storage to efficiently harness and utilize solar renewable energy. Learn more in our guide to solar camping before you explore our selection of solar kits for RVs.
Portable Power Station
Diversifying your energy sources is key if you want to camp or live off-grid. A portable power station is a great addition for boondocking because it essentially adds an extra battery to your camping setup. Many portable power stations plug into your tow vehicle's 12-volt outlet or solar panels to be recharged.
There are many power stations to keep your small electronics charged when you can't plug your RV into the electrical grid. Check out these in-depth power station reviews:
Discover Camping World's selection of portable power stations.
Cellular Signal Booster
There's no better way to improve your cell service when dry camping than with a cellular signal booster. Whether you need it for remote work or emergency calls, reliable service is vital to a stress-free boondocking experience.
To be clear, a cellular signal booster won't give you a signal if your camping site offers absolutely no service. It boosts your existing signal to improve service if you need to reach out – or simply want to load your favorite YouTube sports highlights.
Discover cellular signal boosters for your next off-grid camping trip.
Extra Fuel Storage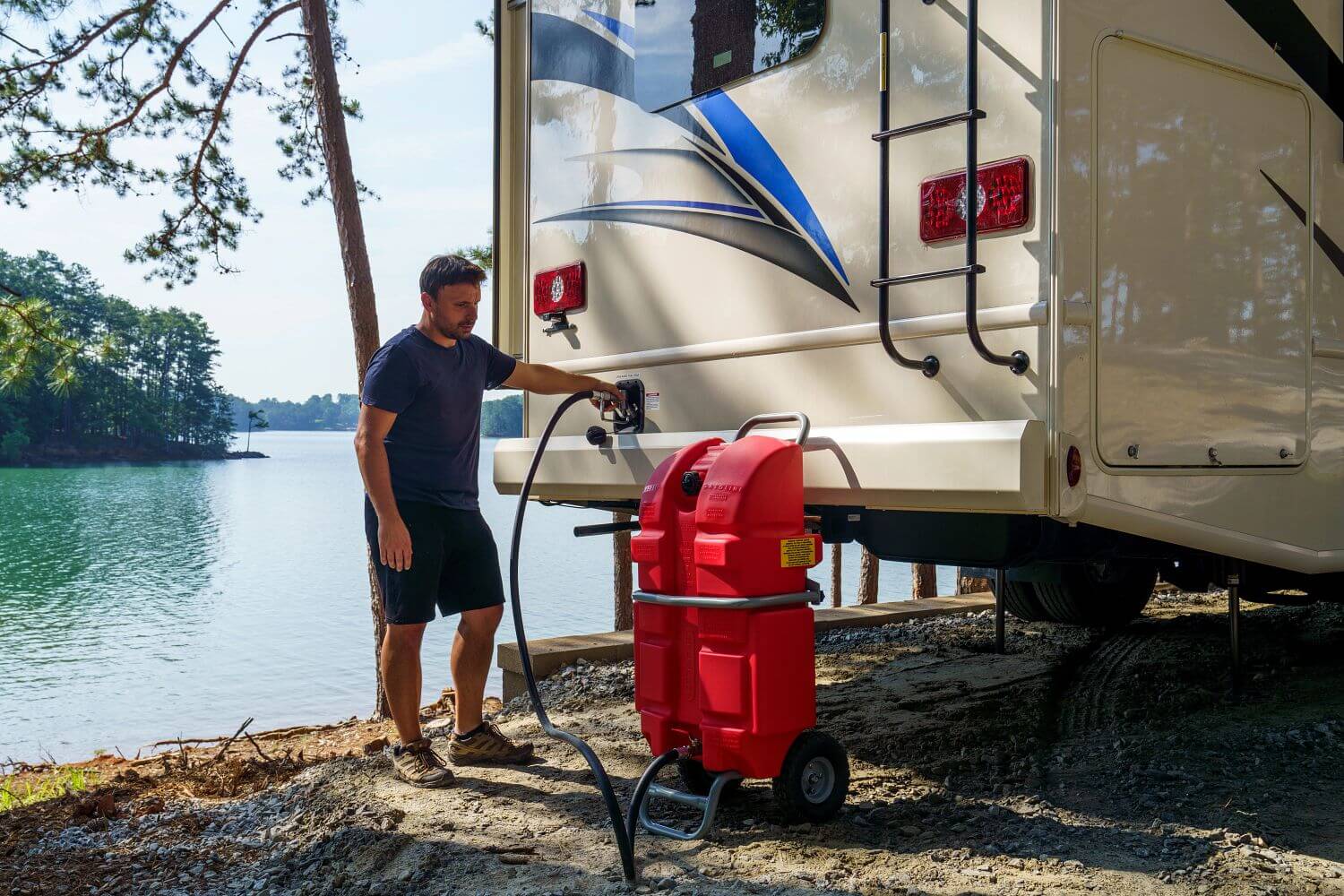 Not all off-grid destinations require driving hundreds of miles off the beaten path, but some do. You can't be too careful about having enough fuel to get your motorized or towable RV to the next gas station, especially when you're boondocking.
Furthermore, many people like off-grid camping because it provides access to trails or dunes for riding dirt bikes, ATVs, or other motorized toys. Those toys all require fuel too. So unless you've chosen a toy hauler with an onboard fuel station, you'll need extra fuel storage for your off-grid camping trip.
See our selection of portable fuel tanks and caddies.
If you carry fuel and flammables in your RV, please watch the following video to ensure you load those flammables safely:
Extra Water Storage
You'll need to calculate how much water you need for the duration of your stay and bring extra to be safe. While most off-grid-capable RVs are equipped with large onboard freshwater tanks, carrying extra containers is a good idea if you won't be camping in an area with a nearby water source.
The Reliance Aqua-Tainer is one of our favorites for storing up to seven extra gallons of water, but other options offer 5.5, 1.25, and 0.75-gallon capacities depending on your RV's available storage space.
Energy-Saving, Rechargeable Lights
If you haven't gathered by now, the name of the game with off-grid camping is conserving power. To that end, your RV should be equipped with energy-saving LED lighting instead of traditional bulbs.
Beyond that, you can conserve power by reducing the amount of time you use your RV lights if you bring rechargeable LED lanterns, flashlights, or headlamps. Solar rechargeable lights, like the Luci Pro, are our preference, but if you use a battery-powered option, just make sure you bring backup batteries.
See our lineup of camping flashlights, headlamps, and lanterns.
High-Quality Cooler
When you learn the basics of RV refrigerators, you'll understand why overpacking them is a no-no. Depending on the length of your off-grid adventure, you'll need to supplement your fridge space with an insulated cooler that keeps ice for several days.
Everyone has their opinion on the best coolers for RV camping. Here are some in-depth camping cooler reviews:
Explore hard and soft-sided coolers from Camping World.
Portable RV Waste Tank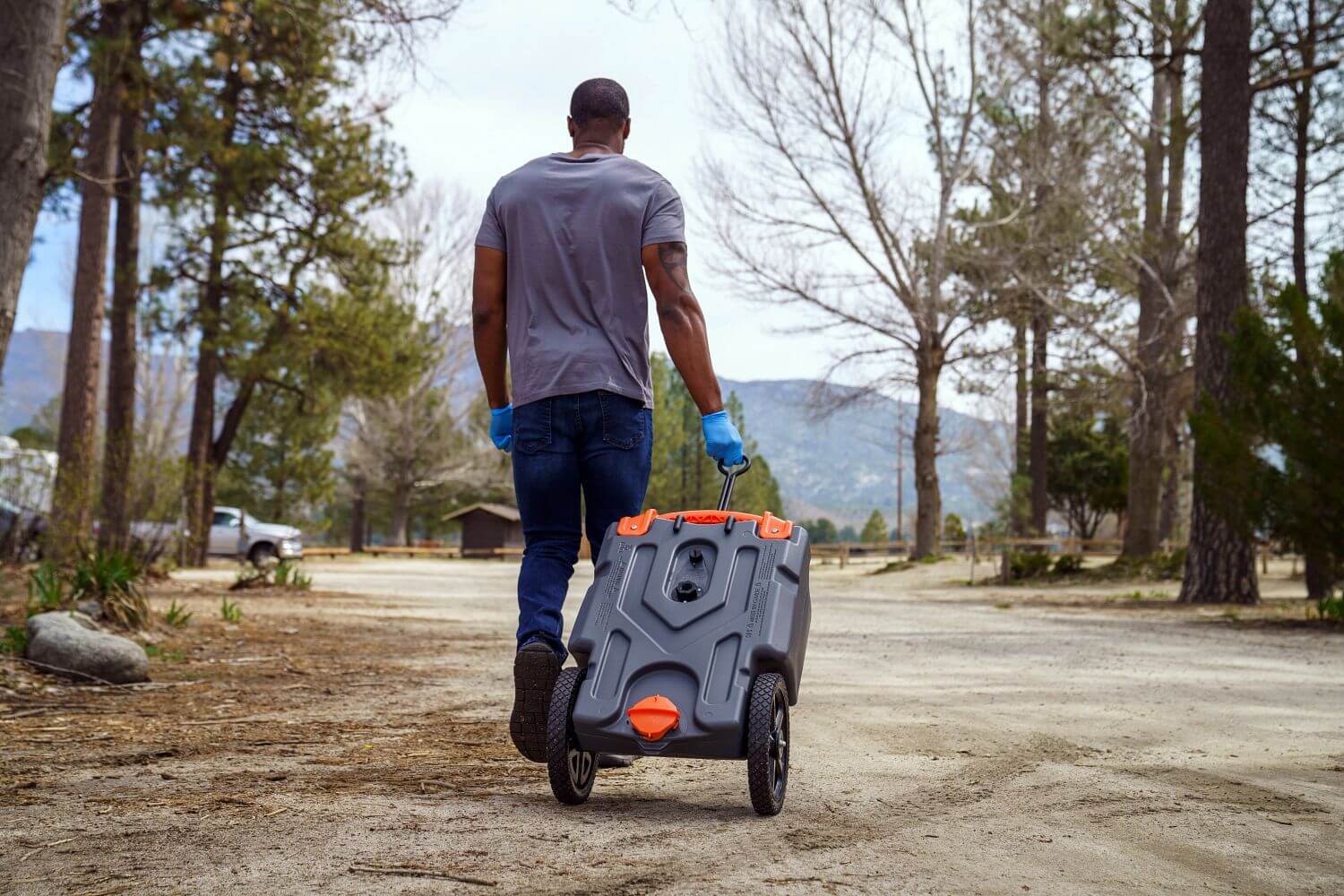 Portable RV waste tanks (also known as 'tote tanks') are great for long-term off-grid camping because they allow you to empty your holding tanks without moving your RV. Most are made to be towed slowly (no more than 5 MPH) to a dump station to empty their contents.
They can also be loaded into a truck bed and transported further for emptying. So if you're off-grid for a full season, you can load up your portable tank and empty it whenever you make your supply run into town.
Learn if a portable RV waste tank is right for your RV lifestyle.
Water-Saving Showerhead
Water conservation is vital to any successful boondocking adventure. You'll need a water-efficient showerhead when you clean off so you don't waste water.
Replacing your showerhead is also one of the many ways to upgrade your RV shower. In this case, it could make the difference between getting home fresh or needing to head straight for the shower after your trip.
Discover water-saving showerheads.
Portable RV Toilet
The last thing that can help you extend your off-grid adventure is a portable RV toilet. If your RV doesn't already have a toilet, you need one for dry camping. Even if it does, a portable toilet makes it easy to dispose of waste without moving your entire RV.
Portable toilets can easily be transported to a dump station and emptied. Plus, a portable toilet allows you to set up your own "Porta-Potti" if you prefer doing your business in nature. On the more practical side, it can keep your RV's interior smelling clean and fresh if everyone is doing their business outside instead.
Just be sure to follow Leave No Trace waste principles to leave your favorite off-grid campsites, trails, and land better than you found them. Learn more about portable RV toilets to discover if it's the right choice for your off-grid camping needs.
Camp Toys and Games
Disconnecting from your cellphone and other electronics is one of the best benefits of off-grid camping. So give your family more reasons to put their phones down by packing a collection of fun games and activities to enjoy at camp.
Outdoor yard games like bag toss or pickleball are popular favorites. But don't forget board games and puzzles if the weather isn't perfect. You could even get an inflatable projector screen for an outdoor movie night.
Check out some of the best portable projectors for RVs and camper vans.
---
With these RV accessories in hand, your first step is complete. Here are a few more resources to prepare for your next off-grid camping trip:
What concerns you the most about boondocking or off-grid camping? Tell us in the comments below!