When winter temperatures start plummeting, some RVers outfit their rig for winter RV camping and others prepare to put their RV in storage. If you're going to brave the winter chill, however, it pays to know about the different types of space heaters for RVs.
Even if you don't plan on RVing during the winter months, a space heater will help you keep things toasty on cool nights. Let's discuss the varying types of space heaters so you can choose the right kind for your motorhome.
Why Space Heaters for RVs Makes Sense
When the temperature drops, you naturally run your RV's furnace more frequently. Your furnace is the most efficient way to heat your RV and it will certainly do a reliable job, as long as you don't run out of propane.
Therein lies the rub of relying solely on your furnace as a heat source. Not only will you burn through propane quickly, but you'll also use electricity to circulate hot air throughout your RV.
During the coldest months, you'll burn through propane way faster than normal. If you can't move your RV to refill or find a propane company that offers a mobile refill service, things in your RV will get dangerously cold dangerously fast.
Plus, the more you run your RV furnace, the more you'll need to do seasonal maintenance to keep your RV's furnace in good working order. So, you can reduce seasonal maintenance and extend the life of your RV furnace by supplementing with a space heater.
Some RV space heaters are even capable of heating your living space while using far less energy. With that in mind, let's take a look at the space heater options for your home on the road.
The Different Types of Space Heaters for RVers
There are two main types of RV space heaters: electric and propane. There are also subcategories under each of these. As with many RV accessories, there are pros and cons to the power source you choose for your space heater.
Electric Space Heaters for RVs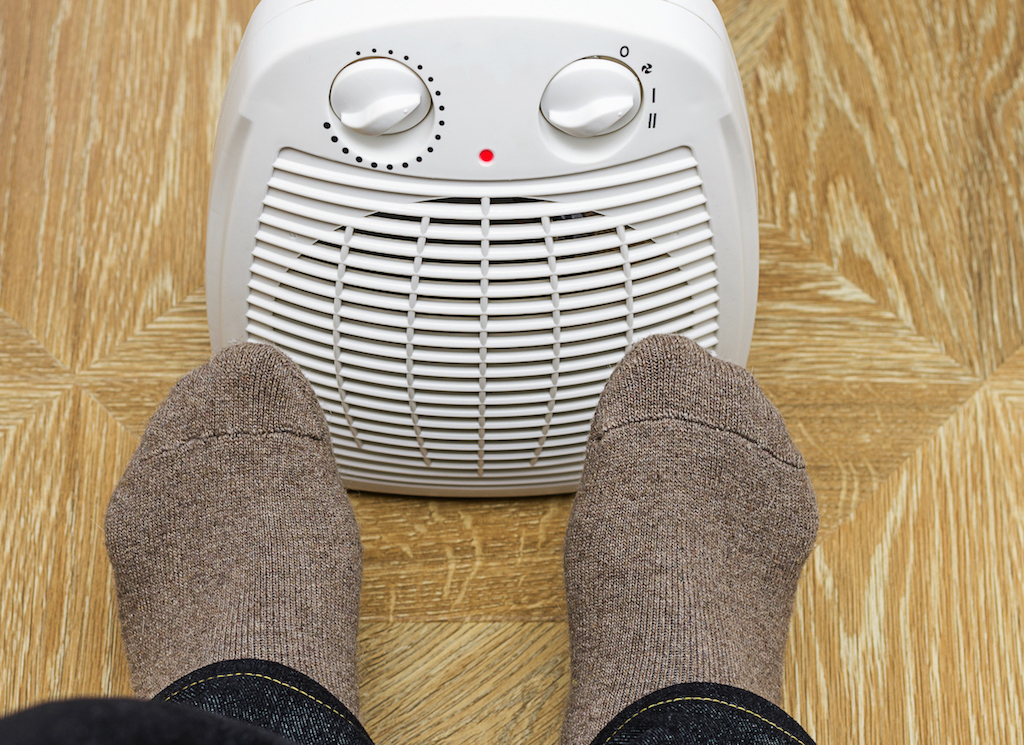 If you want to reduce propane usage, go for an electric space heater. These require your RV to be connected to shore power, but they can significantly reduce the amount of propane you use when winter camping.
Electric RV space heaters come in a variety of options: infrared heaters, ceramic heaters, oil-filled heaters, and micathermic heaters. Here's a little more about how each of these types of space heaters works.
Infrared Heaters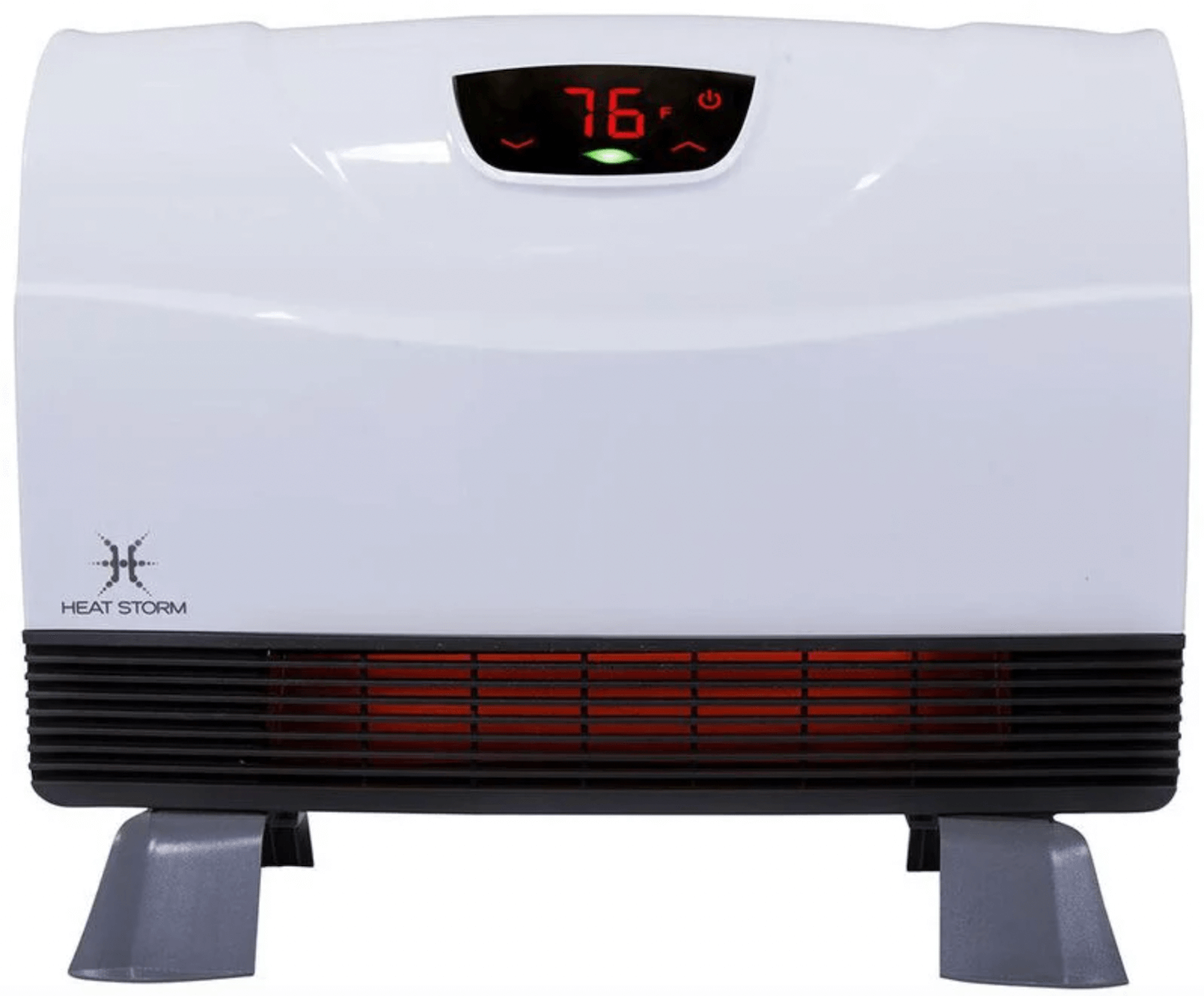 Shop Portable Heaters at Camping World!
Infrared heaters emit electromagnetic waves that heat up the physical objects in your RV. Instead of heating the air, these waves heat up your RV furniture, walls, flooring, and, yes, your body.
They use the same thermodynamic principles that can be observed in the way the sun radiates heat that eventually warms up the Earth. This radiation allows infrared heaters to function effectively without the need for an internal fan, although some models have a fan that speeds up the heating process.
Oil-Filled Heaters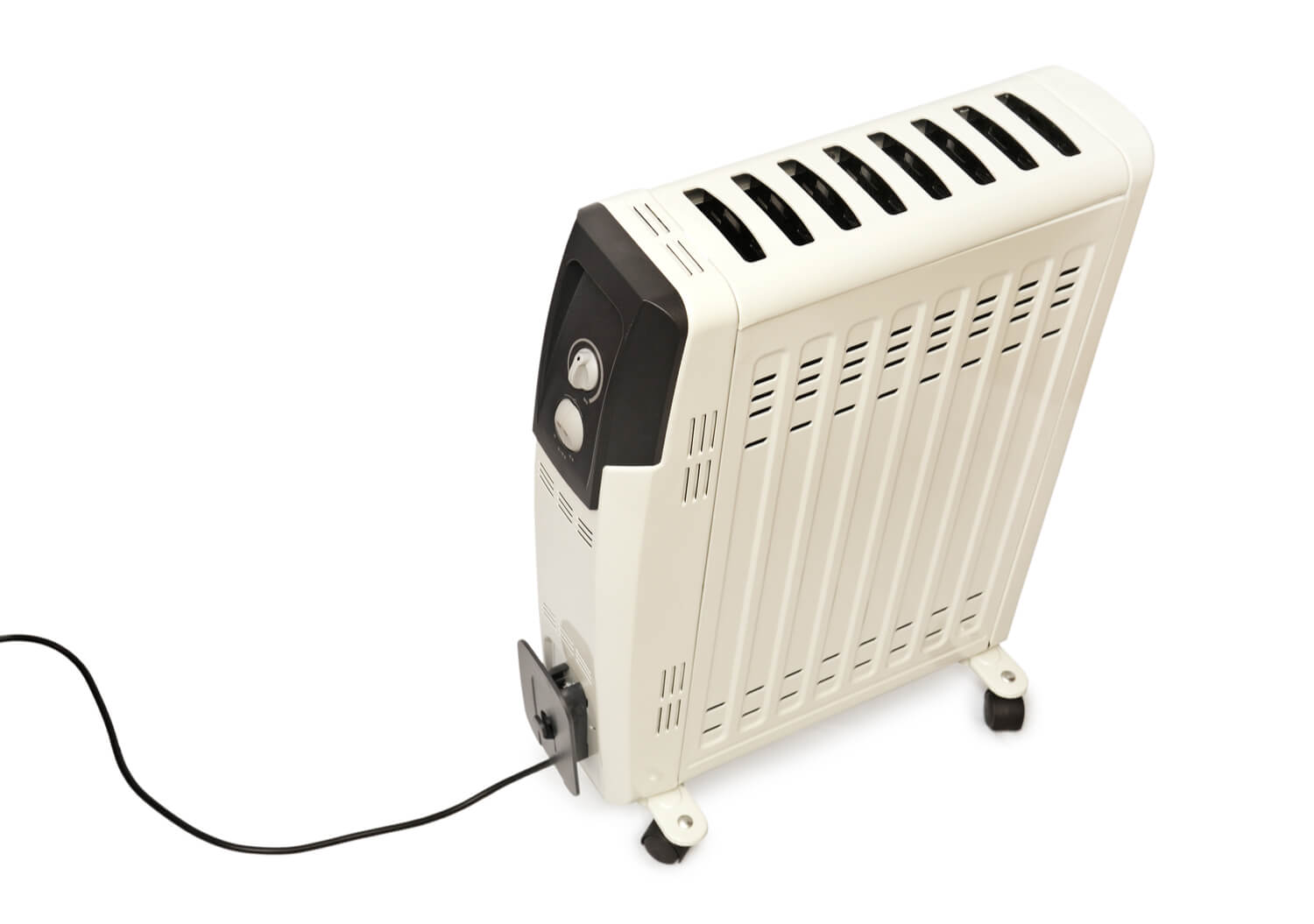 Oil-filled radiant heaters do an excellent job of providing consistent heat in a quiet and extremely efficient manner. They don't heat a room quickly, but once heated, the room will stay at a more consistent temperature.
The internal body of these heaters is filled with a liquid called diathermic oil. This liquid is heated and then circulated through the heater's columns. As the surface temperature of the columns rises, heat is released into the surrounding air.
The tall and slender design of oil-filled heaters resembles old-fashioned residential radiators, but many include wheels for easy movement around your RV. They generally draw very little energy and they don't have to run consistently to provide sufficient heat.
Disclaimer: Because of their tall designs, these heaters can be hard to secure while traveling. They are best for full-time RVers that remain in one location throughout the entire winter.
Ceramic Heaters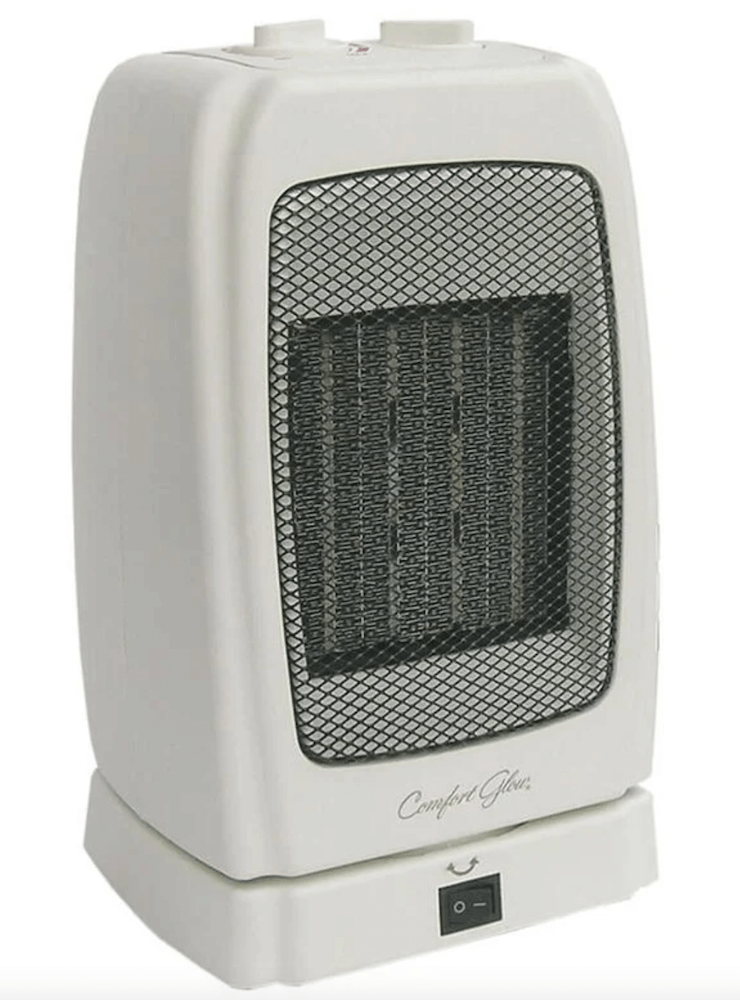 Shop Portable Heaters at Camping World!
Ceramic heaters generally use a small fan to circulate heat. They do an excellent job of providing heat quickly, but they tend to use slightly more energy. They're also louder and you'll have to listen to the fan kicking on and off frequently.
Internally, these heaters are built with ceramic plates attached to metal coils. When electricity passes through the coils, the plates heat up and continue to absorb heat until it is eventually dissipated into the surrounding air.
If your ceramic heater has a fan, air blows over the coils and speeds up the distribution heat to your RV. While ceramic heaters without a fan are still an efficient way to use electricity to heat your RV, they take a little longer to warm a space than their fan-equipped counterparts.
Micathermic Heaters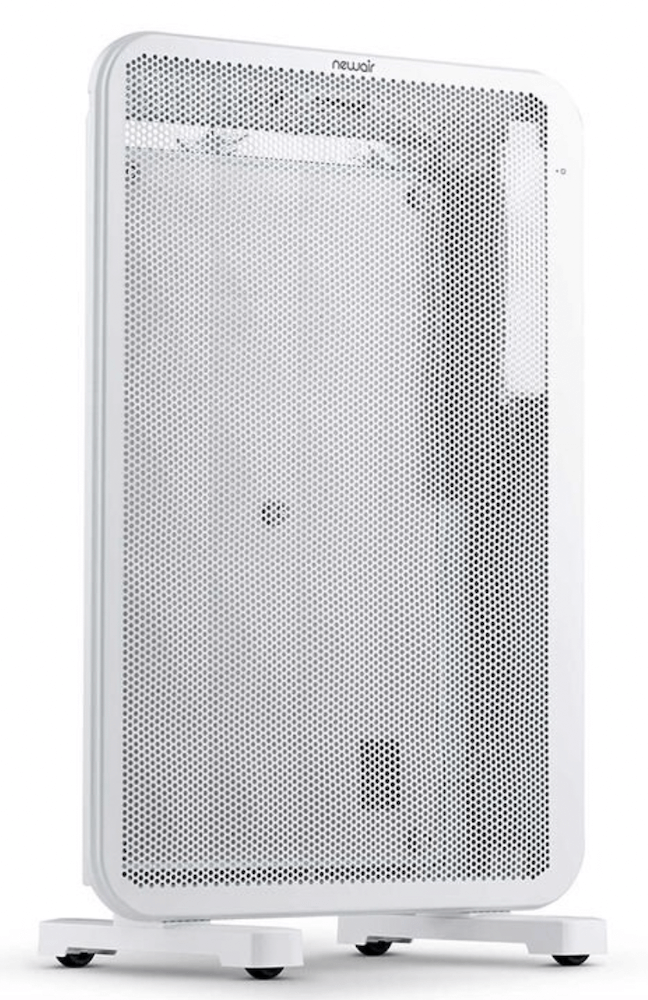 Shop Portable Heaters at Camping World!
Micathermic heaters combine the heat quality of radiant heaters with the speed and efficiency of convective heaters. They are built with internal panels covered in sheets of mica. When it is heated, mica is extremely effective at emitting electromagnetic waves.
Just like infrared heaters, these waves heat up the objects in your RV. However, micathermic heaters are generally considered to provide better heat and can do so more efficiently than infrared heaters.
Propane Space Heaters for RVs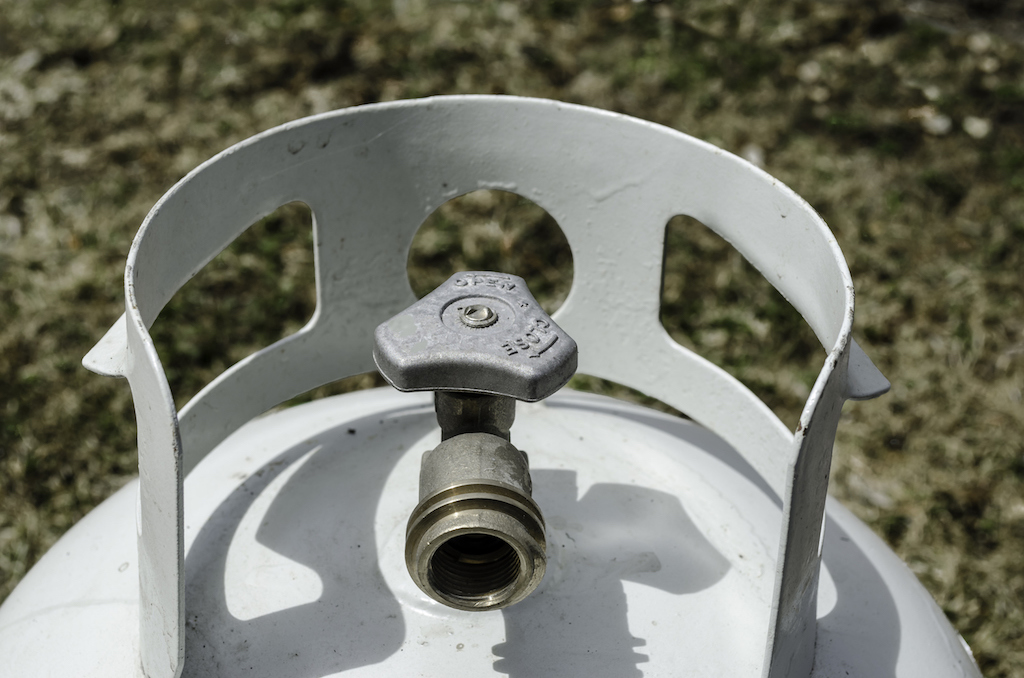 If you don't have access to shore power, a small propane space heater could be the right choice for your RV. Propane heaters are also great for boondocking or long-term RV parks that charge more than you're comfortable paying for electricity.
Propane space heaters for RVs work wonderfully and are safe for indoor use. It is also easier to find replacement propane tanks for a small heater than it is to refill your RV's onboard propane tank.
They are considered to be the most portable type of portable space heater because you're not limited by the length of a power cord when deciding where to position it. That means you can take your propane space heater outside and, while it might not offer the same ambiance as a portable fire pit, it will provide plenty of heat.
Speaking of heat, propane heaters generally produce more heat than their electric counterparts. They are similar to infrared heaters because they emit electromagnetic waves that heat up objects in the space around them, but they run on liquid propane instead of electricity.
You'll find propane space heaters with and without circulating fans. The models with a fan will heat your living space faster, but designs without fans are still extremely effective at supplementing your RV's furnace or when used as a standalone heating solution.
Most propane space heaters that are designed for RV use, such as in a used motorhome or a used travel trailer, also have important safety features like an oxygen depletion sensor and a tip-over safety shut-off feature. As a result, you can rest easy knowing you aren't endangering anyone if you use one of these heaters in your RV.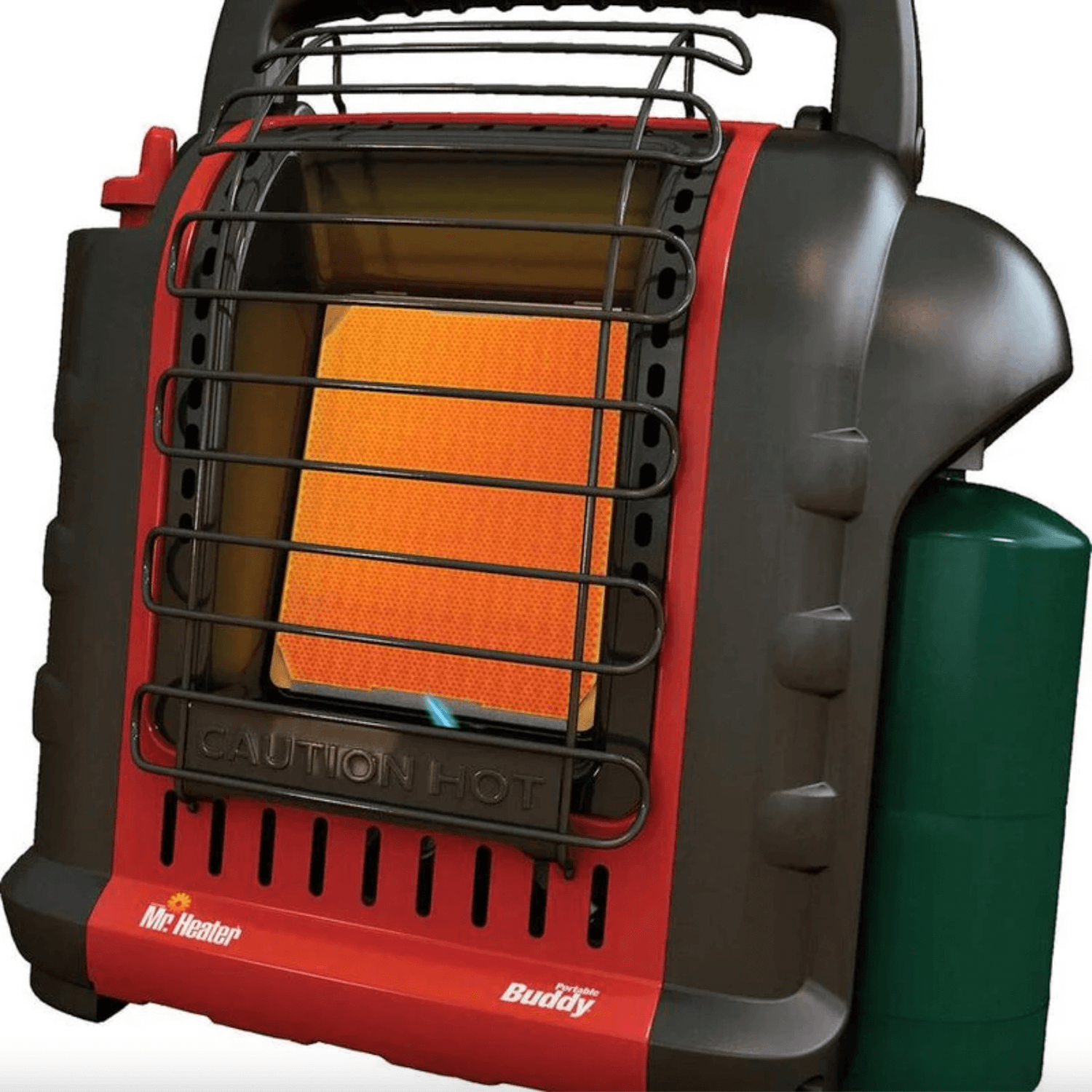 Shop Portable Heaters at Camping World!
Final Thoughts on Space Heaters for RVs
As a final word of warning, it's recommended to turn all RV space heaters off when you leave for several hours at a time. Rely on your RV's furnace to keep things warm when you're gone during the day.
Propane and electric space heaters are generally safe for RV use but can cause damage if knocked over by your dog or a mischievous gust of wind when you aren't around. So err on the side of caution and only use your space heater when you are present.
Once you've figured out how to heat your RV safely this season, check out these Cozy Winter Wonderland Campgrounds!
Need to know how to maintain your RV A/C? Click here to check out our handy guide.
---
Do you use a space heater in your rig? If so, what do you recommend? Leave a comment below.