Some RVers might be nervous to venture off the grid. But traveling to rugged, remote destinations doesn't have to be so intimidating. With the increase of RVs designed for off-road adventures, it's easier than ever for outdoor enthusiasts to conquer their nerves and replace them with excitement and memories that are truly one-of-a-kind.
While road trips on major routes and byways are still popular, it's the option to drive to places where only hiking boots can go that really inspire intrepid wanderlust. If your sign of a good trip is mud-caked tires, then an RV built for off-road is the adventure travel partner you need.
So, what makes an RV built for off-road adventures? Let's get into it.
What to Look for in an Off-Road RV?
Every RV differs from one to the next, but an off-road RV sets itself apart in more than just looks. An off-road RV is built specifically for roads less traveled–think dirt roads, mud trails, or sand-packed shores. It's on these roads less traveled where the adventure is the journey and not just the destination. Here's what to look for in an off-road RV.
Industrial Design and Construction
Featuring rugged construction from raised axles to reinforced bodies, off-road tires to four-wheel drive capability, off-road RVs are built with protection in mind. They're designed to protect you and your rig while traversing rugged paths that would cause most RVs to back down quickly. Simply put, off-road RVs are not your typical camper – they're on another level.
One of the most important things to look for in an off-road RV is increased ground clearance. This is the distance from the ground to the bottom of the RV's axles. An RV with more ground clearance (12+ inches) makes it less likely to contact rocks and sharp objects on uneven roads.
In addition, off-road tires are important to give your RV the traction it needs to handle rough roads. Your off-road RV should also come with a full-sized, off-road spare tire to make fixing a flat and continuing on your way possible without calling for Roadside Assistance.
Weatherproof Functionality
Thanks to high-quality insulation and advanced onboard heating options, off-road RVs are built to withstand extreme weather. If you're looking to venture off the grid, then it's wise to prepare yourself for the unknown and that includes anything that Mother Nature might throw at you.
Camping in snow, rain, or high temperatures can be navigated comfortably when your off-road RV is ready and willing to take on whatever comes its way. Look for features like an enclosed and insulated underbelly, a fully insulated roof membrane, and high-quality weather sealing on doors and windows.
Additionally, your off-road RV should be equipped with a good A/C unit and a central heating system. To power these kinds of appliances, your off-road RV should have an onboard generator and plenty of propane storage.
What Brands Make Off-Road RVs?
If you're looking for an adventure that dials up the thrills, it's only natural to look for a brand that does the same with its RVs. From beaches to mountains, the RVs below are built for off-road excursions without sacrificing the comforts you'd expect when RV camping.
Thor Compass AWD (All-Wheel Drive)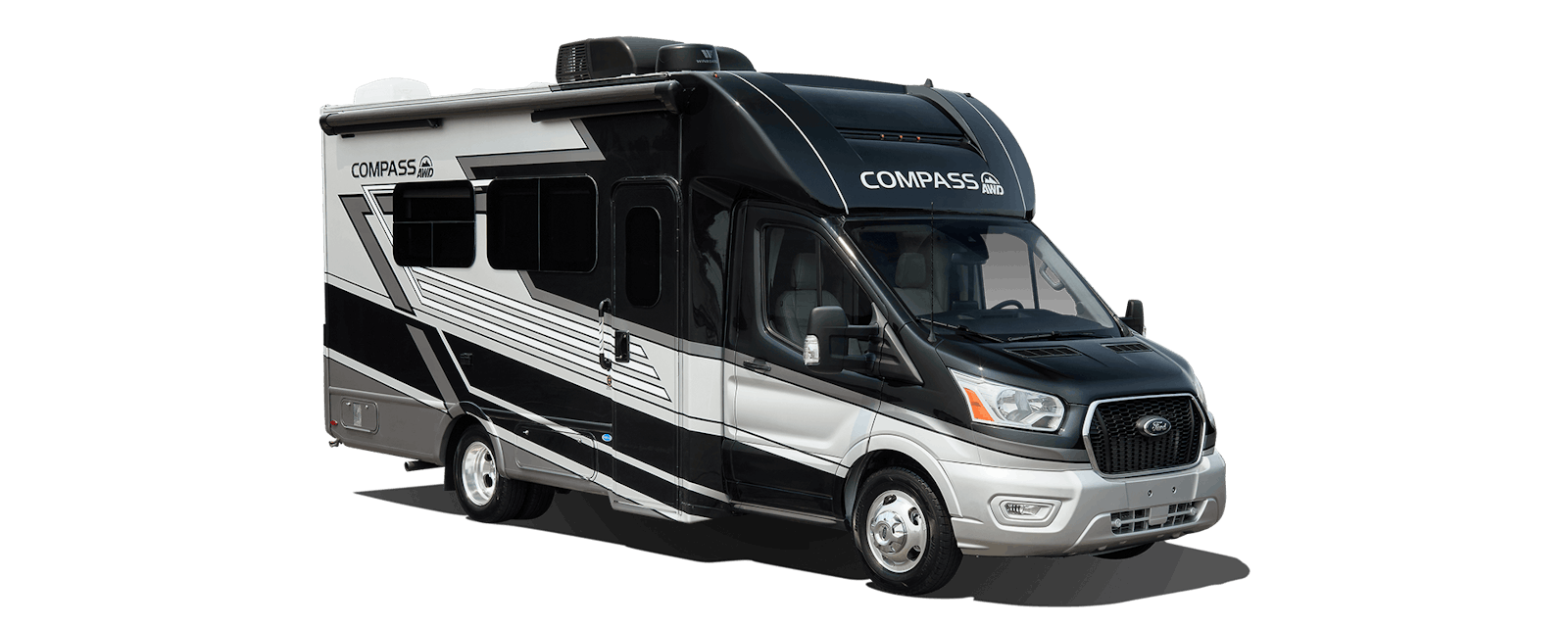 It might be small, but the Thor Compass AWD Class B+ is almost as mighty as the Thunder deity himself. Built on the Ford Transit chassis, the Compass features an all-wheel-drive system paired with AdvanceTrac and Roll Stability Control technology putting it at the top of your list if you plan to drive in adverse weather conditions.
Key features include:
Hill-Start Assist
Lane Departure Warning System
Pre-Collision Assist
Automatic High-Beam Headlights
Solar-Prepped
Thor Gemini AWD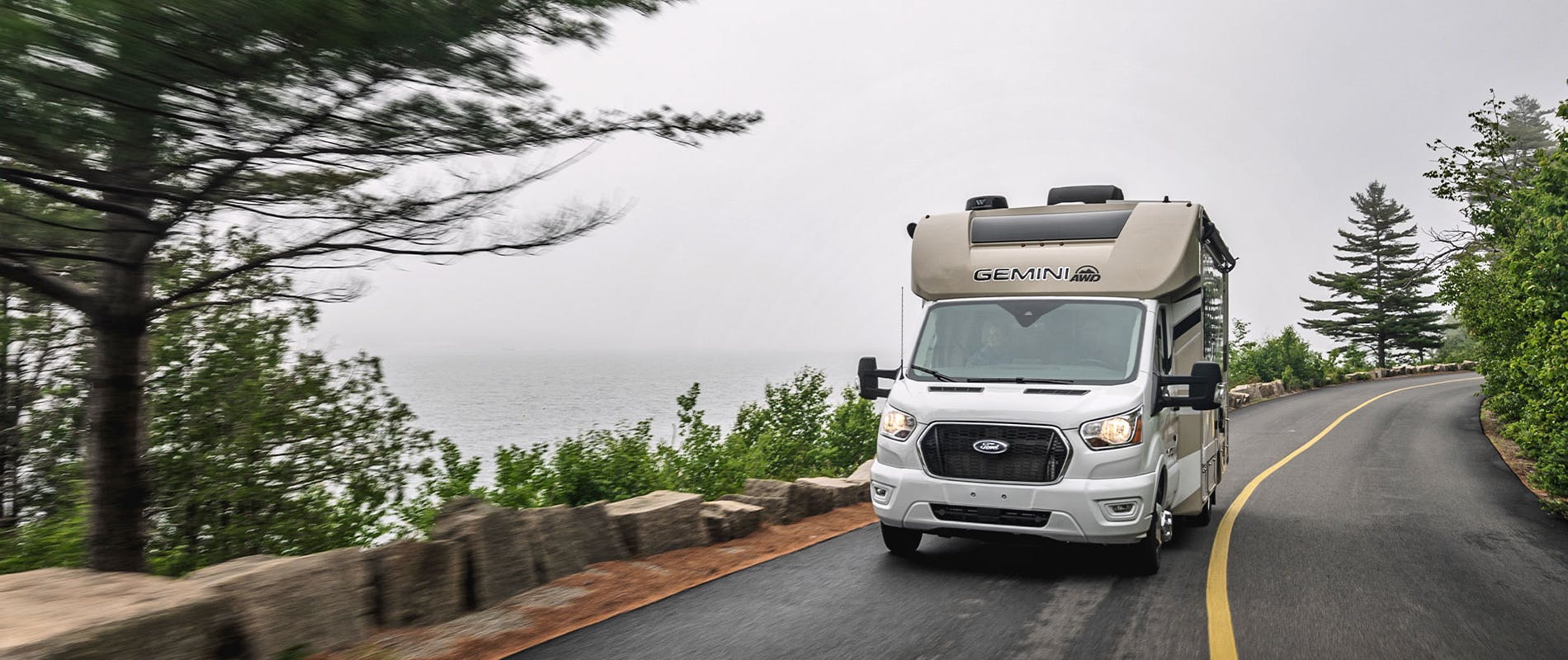 The Thor Gemini AWD Class B+ can go almost anywhere, so let your imagination run wild. Easy to drive with plenty of storage space, the Gemini is built on a Ford Transit chassis that is designed to perform its best in inclement weather. With many of the same features as the Compass, the Gemini will help you navigate those windy roads so you can focus on all the fun that lies ahead.
Key features include:
The Dream Dinette
Murphy Bed Floorplan Options
Built-In Skylights
Solar-Prepped
Rain-Sensing Windshield Wipers
Thor Omni Super C Diesel Motorhome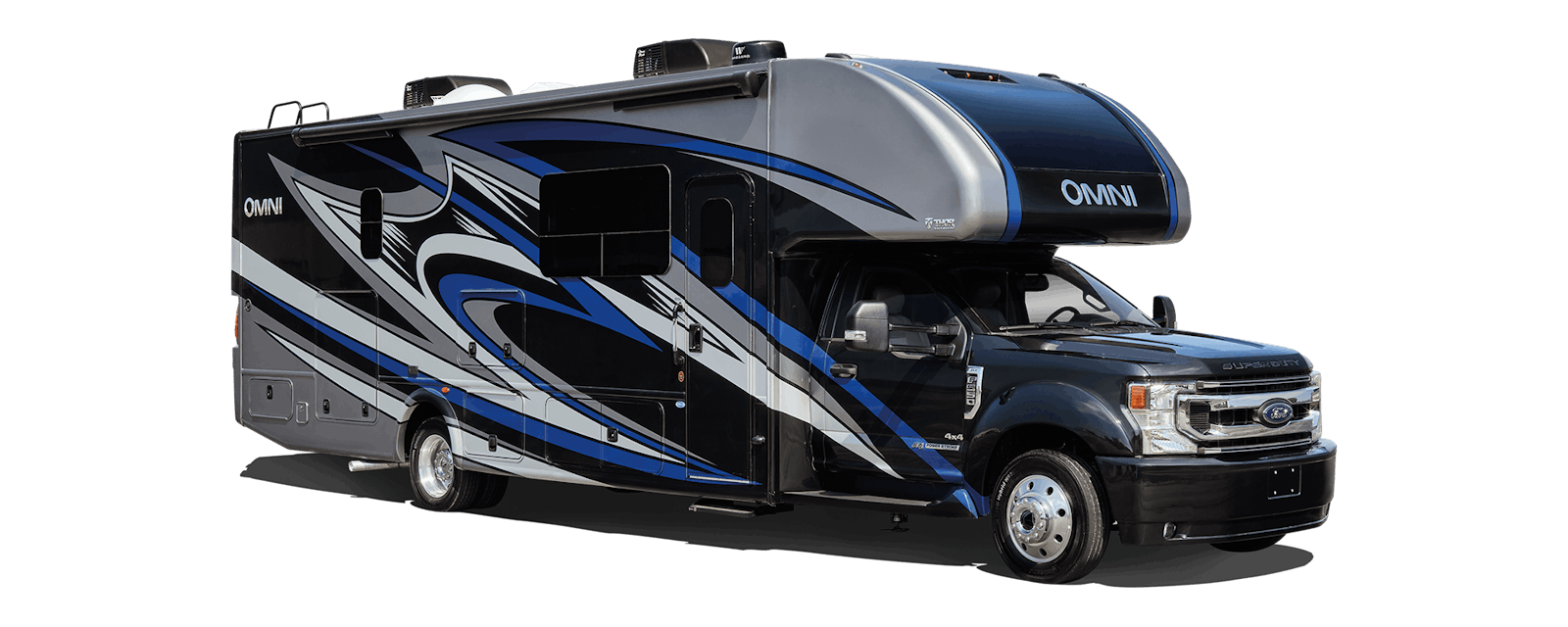 Just because you're venturing off-road doesn't mean you don't want that home away from home feeling that RVs are known for. With the Thor Omni Super C Diesel, your lifestyle can continue as normal — maybe even better — with a floorplan that offers more than enough room for the entire family.
Key features include:
Built on a Ford F-550 or F600 Chassis
4×4 Power Stroke Diesel V-8 Engine
Heated Remote Mirrors
Emergency Start
Heavy-Duty Trailer Hitch
Winnebago Revel
Built on the Mercedes-Benz Sprinter chassis, the Winnebago Revel is powered by a three-liter turbo diesel engine and thanks to on-demand four-wheel drive, going off-road is never off-limits. You can also travel in comfort, even when the roads aren't perfect, with this RV's ergonomically designed seats and dinette. As a bonus, there is plenty of discreet storage.
Key features include:
Two 125-Amp Hour LiFePO Batteries
Hydronic Heating System
Inside/Outside Accessible Refrigerator
Power Lift Bed
Internal Freshwater Tank with Simplified Water Center Panel
Coleman Rubicon
Choosing an RV can be overwhelming, especially when going off-road, but the Coleman Rubicon makes the choice an easy one. With tiny details that make a big difference, like upgraded linoleum with enhanced backing and folding grab handles at the entryway, taking the path less traveled doesn't mean you're doing so without all the perks that come with sticking to the pavement.
Key features include:
Three Year Structural Limited Warranty
Fiberglass Front Cap with Automotive Windshield
13,500 BTU AC
Aluminum Framing
Four Stabilizing Jacks
Black Series
Is there anything better than enjoying nature, but with a touch of luxury thrown in? With the Black Series, your off-road adventure will be off-the-map amazing. Built for the outdoors, Black Series campers have premium furnishings and European appliances inside, and a rugged construction outside. It's the best of both worlds!
Key features include:
Quad Shock Design for Independent Suspension
Optimal Weight Distribution with Improved Ground Clearance
Rooftop Tent and Shade
Climate Control
Fast Charge Off-Grid Lithium Battery
Rockwood Geo Pro
It isn't called pro just for fun — the Rockwood Geo Pro makes you feel like fun is your profession when you venture off-road. Designed to feature only the best in both style and amenities without sacrificing anything when it comes to your towing needs, the Rockwood Geo Pro runs the risk of turning your home away from home into your permanent residence.
Key features include:
Outside Griddle with LP Hookup
Heated Holding Tanks
Torsion Axle, Rubber-Ryde Suspension
Six-Sided Aluminum Cage Construction
20,000 BTU Furnace
Jay Feather Micro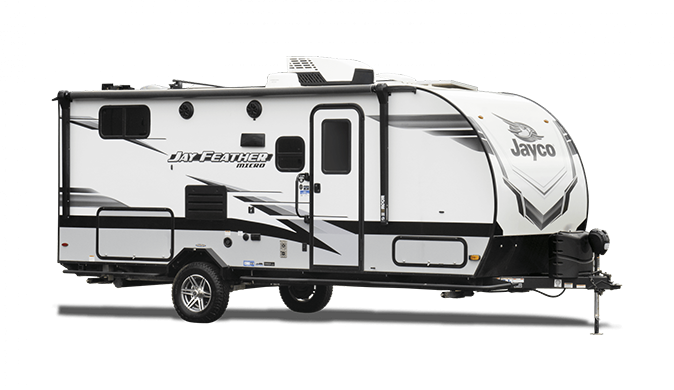 Good things come in small packages and the Jay Feather Micro proves that theory true. As the lightest travel trailer from Jayco, the Jay Feather Micro delivers a heavy-duty performance in a lightweight form. Ideal for couples or small families with a taste for excitement, this one is sure to satiate all your off-road camping needs.
Key features include:
Stronghold VBL Vacuum-Bonded Floor and Walls
G20 Tinted Safety-Glass Windows
Six-Gallon Gas/Electric DSI Water Heater
55-Gallon Freshwater Tank
Galvanized Steel and Impact-Resistant Wheel Wells
Where to Take Off-Road RVs
Don't know where to start in planning an adventure off-road and off-grid? There are so many places to enjoy that aren't paved. Here are a few of our favorites.
Death Valley National Park
Its name alone may be a deterrent, but don't let that stop you from visiting Death Valley National Park. Full of miles and miles of roads, more than any of the other national parks, Death Valley has an abundance of dirt roads perfect for exploring in your RV or ATV if you have the room to bring one along.
Canyonlands National Park
With hundreds of miles of unpaved roads, the Canyonlands National Park is an off-roader's playground. Enjoy breathtaking views of the surrounding canyons as you explore the national park. However, make sure you review the park's regulations before you begin (as you should at any destination — especially national parks) so you're not surprised with unforeseen rules when you arrive.
Great Sand Dunes National Park
With so much to do from hiking to fishing, swimming to stargazing, the Great Sand Dunes National Park lures travelers from all over the country, but it's the famous Medano Pass Primitive Road that's the main draw for off-road enthusiasts. Requiring the crossing of Medano Creek several times, as well as traveling over deep sand areas, the roads winding through this national park are nothing if not exciting.
Be A Smart Off-Road RV Traveler
Traveling off-road in an RV requires preparation and research. You should be carrying the emergency essentials for RV owners and familiarize yourself with the baby steps to boondocking before heading down an undeveloped road to find an off-grid campsite.
Utilize local resources like national park offices, forest service stations, or local wilderness management agencies to get updates on road conditions and camping regulations for safe off-road RV travel.
If going off-road on your next RV adventure isn't off the table, hopefully, you now have the courage to venture off the beaten path. After all, it has been said a million times but is worth repeating: it's not about the destination, but the journey you take to get there. And there simply isn't a journey more thrilling than going off-road.
Have you been off-roading before? Tell us your favorite places to visit in the comments below!