Let's talk iconic duos. We have Sonny and Cher, Batman and Robin, Chip and Joanna, Oprah and Gayle, Salt-N-Pepa – the list is endless, but let's talk about you and yours. Whether you choose to hit the road with your significant other or your best friend, we recommend doing it in style.
Nothing says style like half-ton towable RVs built for couples. Traveling off the beaten path has never been more enticing or more accessible than now. As new 2022 RVs hit the market, there's a floor plan out there for you. Here are a few of our favorites.
2022 Keystone Cougar 24RDS
Length: 28'11"
Weight: 7,369 lbs.
Sleep Capacity: 6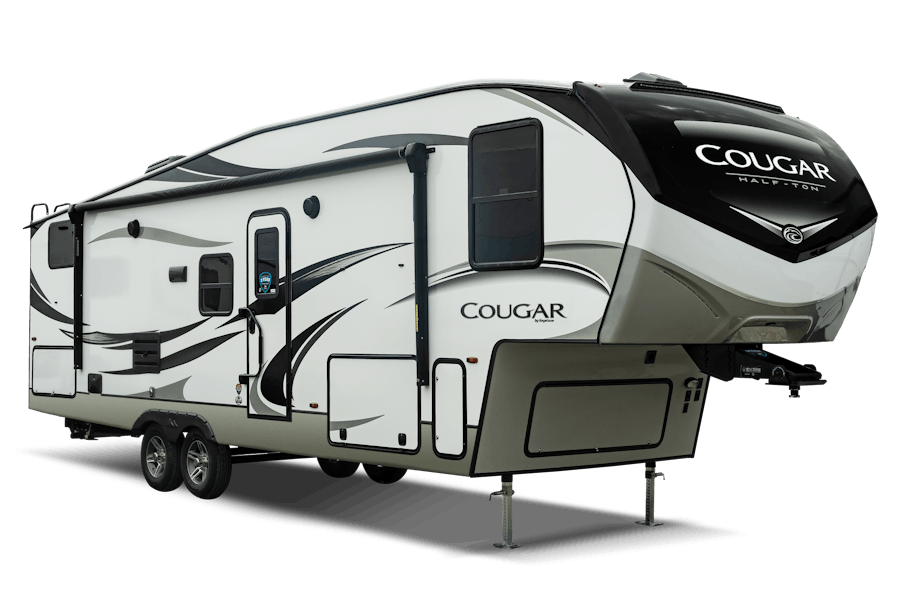 If you're looking for the perfect RV to get away for a long weekend, then look no further. The Keystone Cougar 24RDS has the features of larger fifth wheels but in a more lightweight package. The result? An RV you can tow with your half-ton truck making it ideal for those intimate, more remote campgrounds.
Inside, the u-shaped dinette sits two comfortable but can easily handle four if you decide to invite a few friends over for a double date. Share a few laughs, a few memories, and a few drinks while the kids are with the grandparents or sitter and you're on a long weekend in your rolling getaway cabin. Speaking of those drinks, if your friends have a few too many (it happens) – no worries. The dinette drops down into a bed, so no one has to venture out once the party ends.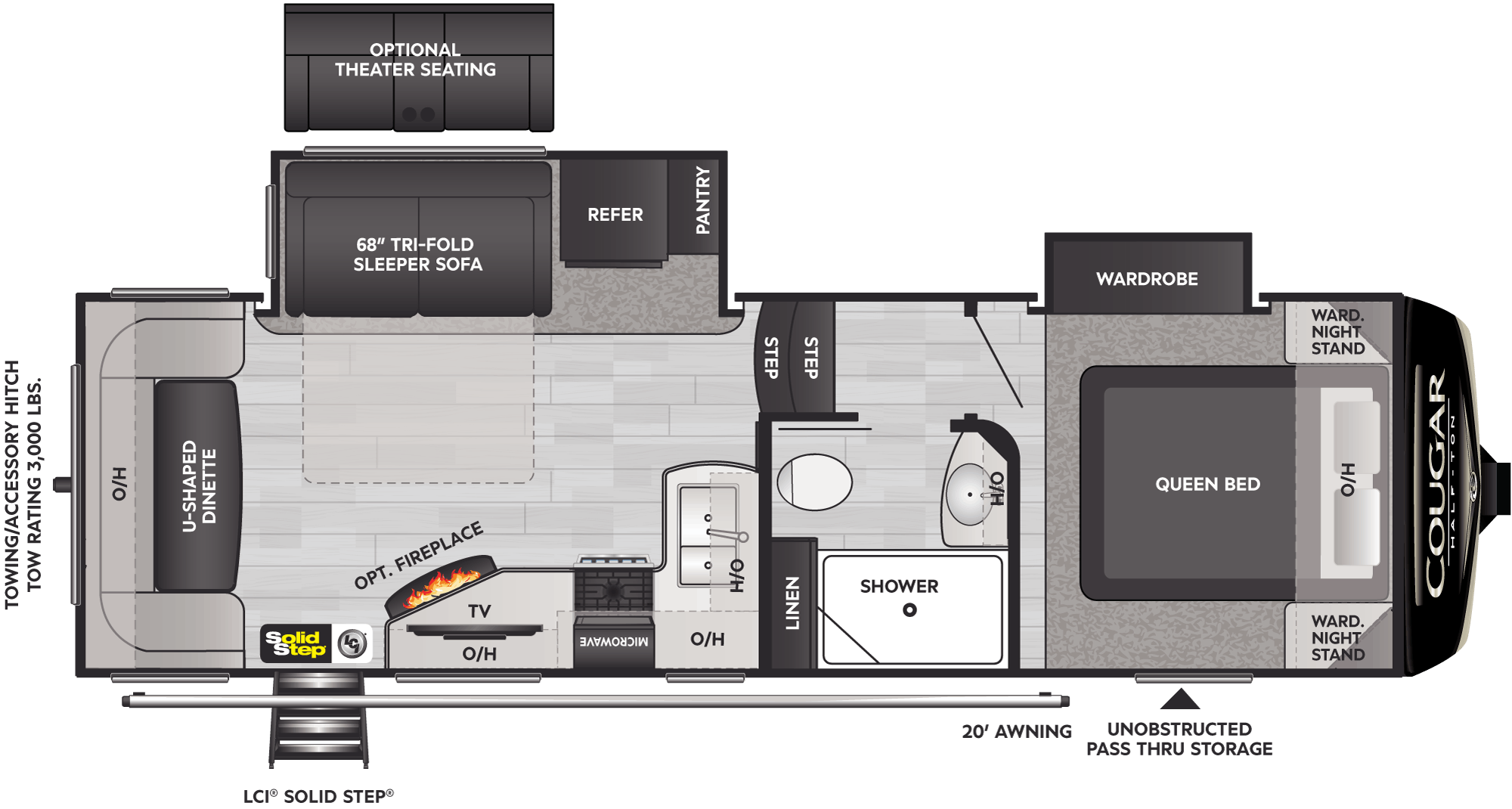 The trifold sofa also folds out for sleeping in case you need options. Located in the slide, the sofa doesn't impede the open floor space. Windows throughout have black-out roller shades for privacy when you need it and views when you don't. The LED lights are on a dimmer, so you can set the mood when it's just the two of you for those romantic evenings alone.
In the kitchen, storage is a top priority. A pantry beside the cabinet-front fridge holds all your dry goods, while additional cabinets extend the length of the kitchen. Upgraded thermal form countertops and an under-mounted stainless steel sink make food preparation a breeze. A 40″ flat-screen TV is mounted across from the couch and above the fireplace for an open floorplan designed for entertaining, whether it's date night or family night.
2022 Dutchmen Atlas 3302RL
Length: 37'5″
Weight: 8,391 lbs.
Sleep Capacity: 4
Interested in an RV that genuinely feels like home? You're in luck. The Dutchmen Atlas 3302RL is big and gorgeous and, with three slide-outs, the definition of open floorplan living. Two of the three slides oppose the living area making plenty of room for a kitchen island. The contrasting color scheme strategically uses light and dark finishes throughout to highlight the spacious layout.
Linoleum flooring throughout, including within the slides, create unity, further adding the openness of the Atlas. A freestanding dinette and chairs (with concealed storage in the seats) fit four comfortably. Thomas Payne designed theater seats are nearby located directly across from the 50″ flat-screen TV. Curl up in front of the 5000 BTU fireplace that doubles as a space heater for movie night. It's a movie theater experience for two without the annoying previews and whispers from other guests.
The third slide out is in the bedroom. What do you do with extra space in the bedroom? You put a king-size bed in there, of course, with bonus storage underneath. A matching set of built-in shelves serve as nightstands on either side of the bed with their own convenient charging outlets. A mirrored wardrobe is across from the bed, and above is a barreled ceiling that makes the bedroom feel large without sacrificing coziness.
Outside, the vacuum bond laminated sidewalls are the best construction method in the industry, ensuring your home on the road is safe, secure, and sturdy. The fully insulated underbelly is perfect for cold weather camping, so your one-on-one time can easily extend into the winter months. A power tongue jack makes hooking up and disconnecting easier than ever, so your RV is ready whenever you are.
2022 Keystone Springdale 293RK
Length: 33'4″
Weight: 6,948 lbs.
Sleep Capacity: 4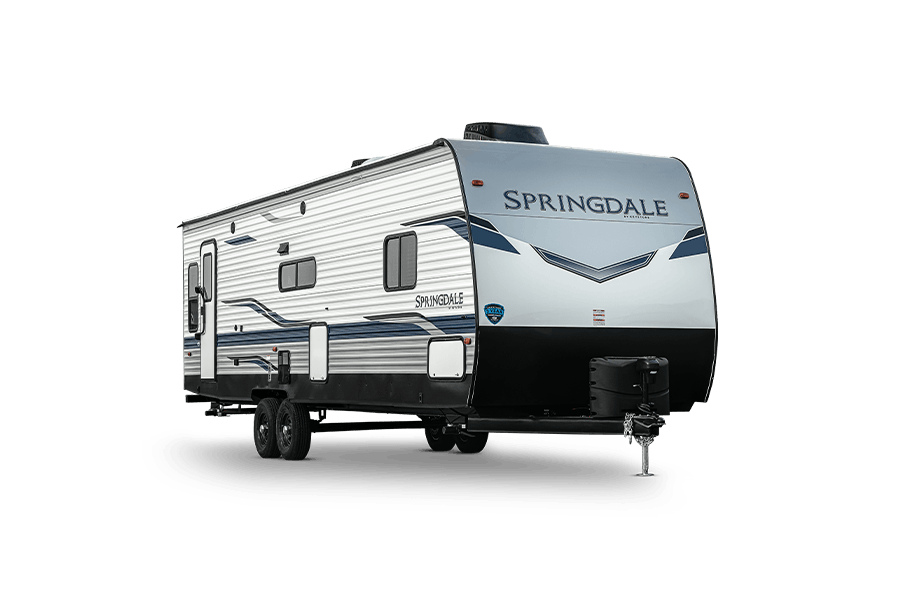 Working from the road or in the office can really take a toll on your mood. The remedy? A fall weekend away with the one person who can make you smile bigger, laugh louder, and completely lose track of time. The only thing missing is the setting for this adventure. Not anymore! The Keystone Springdale 293RK is a match made in RV heaven when it comes to lifting moods.
The camp side slides out provide plenty of living space inside and creates a great camping space outside under the power awning with LED lights. It's no secret that indoor/outdoor living is one of RVing's biggest and best perks, so outdoor spaces are just as important as indoor areas. The Springdale, always aiming to please, delivers both.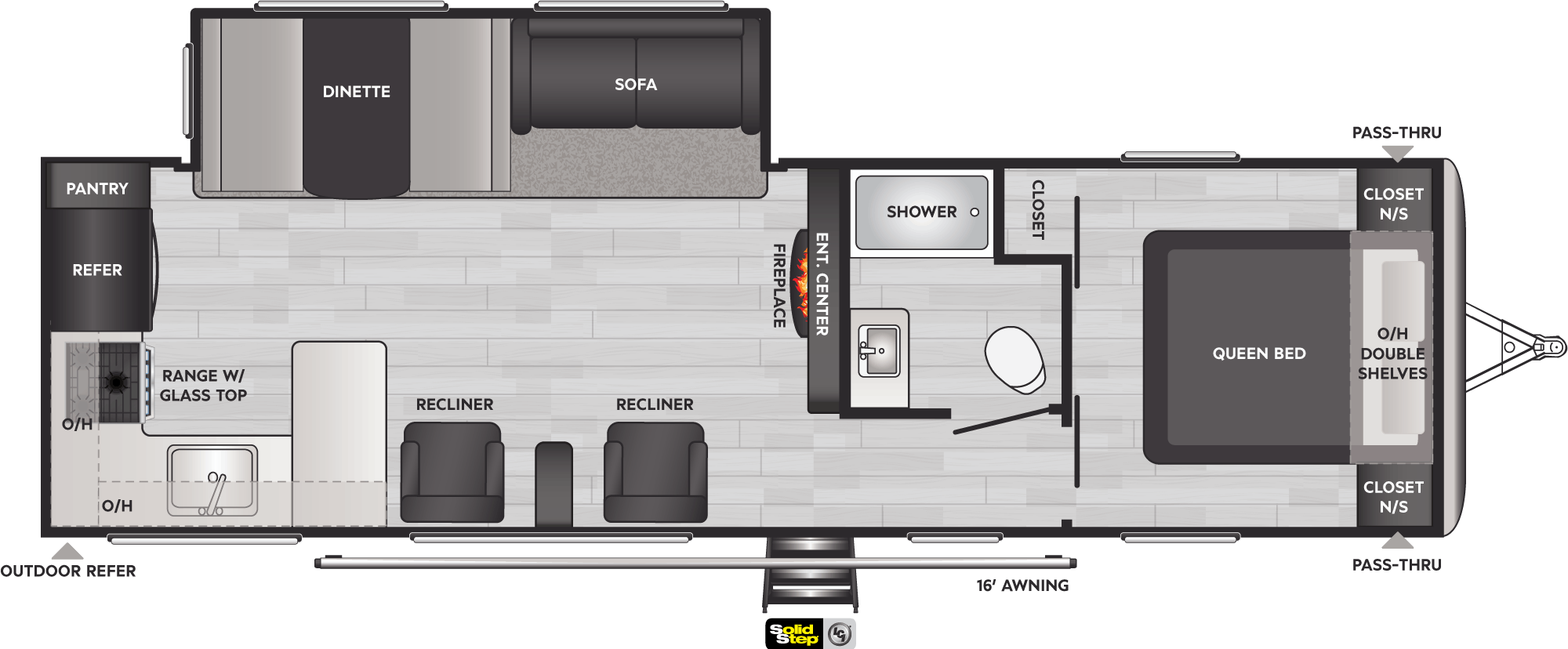 With a Solar Flex 200 system installed that includes a 200-watt solar panel on the roof, you're able to run power from your 12V battery system through the inverter outlets throughout the RV. What's more romantic than energy conservation? Not much. We can only think of the natural light streaming through large windows lining both sides of the RV.
There is plenty of seating options, from the jackknife sofa to the reclining theater seats to the dinette in the kitchen, all of which offer the perfect view of the large flat-screen TV. Mounted above a 30″ fireplace, the TV features a built-in DVD player that begs for you to grab a bowl of popcorn and a blanket for some Netflix and chill time.
2022 Crossroads Sunset Trail 253RB
Length: 29'11"
Weight: 5,531 lbs.
Sleep Capacity: 5
Coming in as the lightest weight of the group, the Crossroads Sunset Trail is the epitome of a couples RV. A grand, oversized entrance to the bedroom leads you to a king-size bed with built-in shelves along the sidewalls and conveniently placed outlets along both sides. As a bonus, there's a dedicated pet sleeping space under the foot of the bed with LED lighting. Don't have a pet? Store your slippers there instead. There aren't rules when you're off the grid.
A rear bathroom offers a ton of storage across, above, and beside the toilet. The neo-angled shower has a skylight providing plenty of space and light. While you'll inevitably be visiting the bathroom, the place you're likely to spend most of your time is the outdoor kitchen. Equipped with a mini-fridge, functioning sink, a cabinet for storage, a slide-out Capital grill, and an outdoor TV connection, this will be the space where memories will be made. So make it happen and start collecting good times.
---
Visit your local Camping World for all your RV needs. Which one on this list is your favorite? Tell us in the comments below.