One of the barriers to many aspiring RVers face is their vehicle's towing capacity. Your SUV, crossover, minivan, or midsize pickup can probably tow a moderate amount, but many travel trailers can get pretty heavy, and not all vehicles can handle that much weight.
Rather than purchase a new vehicle, consider the best lightweight travel trailers under 3,000 pounds. Start by checking your vehicle's towing capacity and contacting your vehicle manufacturer to see whether you can install a hitch if you don't already have one.
Once you know how much you can tow and have the right hitch equipment, the possibilities for fun, adventure, and vacation memories are endless. Are you pining yet? Let's look at the best lightweight travel trailers under 3,000 pounds.
Coleman Lightweight Travel Trailers
Coleman Lantern LT 17R
Length: 21'5"
Dry Weight: 2,970 pounds
Sleeping Capacity: Up to 3
The Lantern LT 17R is one of the newest additions to Coleman's lineup. Coleman has improved upon the 17B by turning it into a more comfortable couple's RV, highlighted by the spacious rear bathroom and closet. Units should start hitting Camping World lots in spring 2023, so stay tuned into inventory in your region.
Find the latest availability on Coleman Lantern 17R campers.
Check out other lightweight travel trailers perfect for couples.
Coleman Rubicon 1200RK
Length: 13'5"
Dry Weight: 1,682 pounds
Sleeping Capacity: Up to 2
Ideal for couples or solo travelers, the Coleman Rubicon 1200RK is a rarity among travel trailers on the market today – it can fit in most garages with an overall height of seven feet. The rear outdoor kitchen features a bigger refrigerator than previous models, and the reinforced wheel fenders make it easy to access the RV's roof.
Explore our selection of Coleman Rubicon trailers.
Coleman 17B
Length: 21'5"
Dry Weight: 2,985 pounds
Sleeping Capacity: Up to 5
The Coleman 17B travel trailer provides a lightweight base for family camping adventures. Affordability is the main draw to this bunkhouse camper, but it features everything you'll need to easily transition from tent camping to RVing, including a six-gallon water heater, two-burner cooktop, single-door refrigerator, and much more.
Forest River Lightweight Travel Trailers
Forest River Flagstaff E-Pro E15TB
Length: 15'8"
Dry Weight: 2,667 pounds
Sleeping Capacity: Up to 3
The Forest River Flagstaff E-Pro E15TB is a unit that has a unique layout with two 30" x 74" twin beds that can be converted to a king-sized bed for couples. It's Forest River's smallest walkable camper, but it still packs a full kitchen and bathroom for comfort and convenience.
This travel trailer also comes with an exterior gas grill. You'd be surprised how much you'll use an outdoor kitchen in a smaller RV. The Flagstaff E-Pro E15TB is a lightweight travel trailer with a 10' power awning, plenty of exterior storage, and a 2" hitch receiver for a bike rack or cargo carrier.
Shop Forest River Flagstaff E-Pros.
Forest River R-Pod 180
Length: 2
Dry Weight: 2,950 pounds
Sleeping Capacity: Up to 3
The Forest River R-Pod 180 is an excellent, lightweight travel trailer with everything a couple could need for a weekend warrior getaway or a longer boondocking trip to a wild landscape.
Across from the entry door, on the off-camp wall, is a slide with the two-burner stove, sink, prep space, and refrigerator. The 75″ by 24″ dinette is great for game nights or if you need extra sleeping space when hosting guests. There's a large queen size bed at the front of the unit and a dry bath along the rear wall.
Forest River Ozark 1530VBK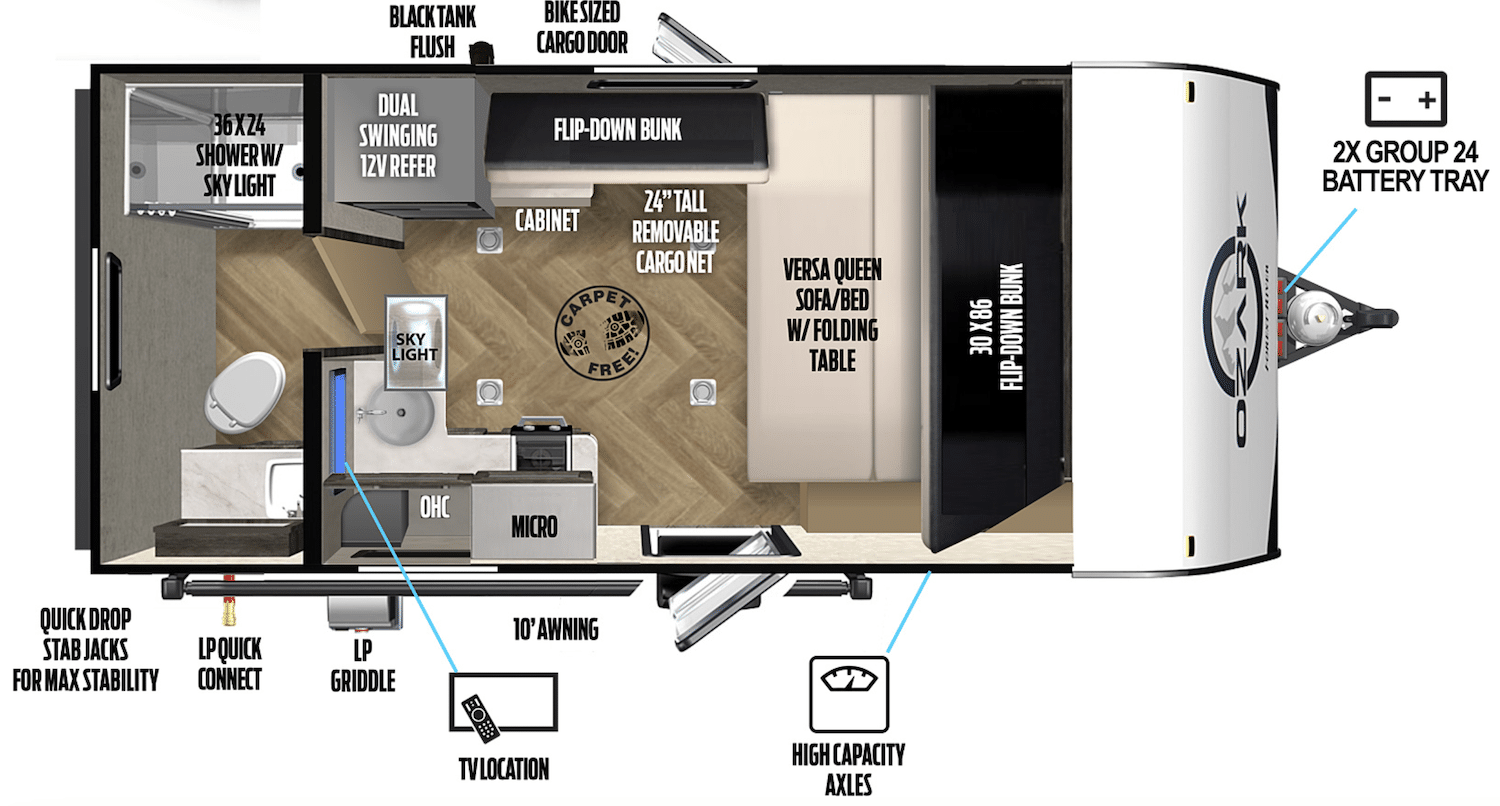 Length: 18'1"
Dry Weight: 2,989 pounds
Sleeping Capacity: Up to 4
Don't be fooled by the compact size of the Forest River Ozark 1530VBK. This lightweight travel trailer is packed with amenities and designed for rugged adventures. That starts with the high-capacity axles and the bike-sized cargo door on the off-camp side.
Inside, the rear bath floorplan gives you one of the most versatile living spaces out there. There are two flip-down bunks, an optional cargo net for storage, a central skylight for extra natural light, and one of the largest 12-volt refrigerators you'll find in smaller campers.
Discover more about the Forest River Ozark trailers.
Jayco Lightweight Travel Trailers
Jayco Jay Flight SLX 154BH
Length: 18'
Dry Weight: 2,810 pounds
Sleeping Capacity: Up to 4
The Jayco Jay Flight SLX 154BH is a simple bunkhouse floorplan with 29" x 75" bunks, a convertible front dinette, a full bathroom, and a modest kitchen. There's also a nice ward next to the entrance door, a spacious pantry, and plenty of storage in the overhead cabinets.
While it's already easy to tow because it's small and lightweight, this camper is also prepped for side and backup cameras. You'll also find an LP quick connect, an exterior TV hookup, and roof solar prep among the list of standard features on the Jay Flight SLX 154BH.
Shop Jayco Jay Flight travel trailers at your local Camping World.
Jayco Hummingbird 16MRB
Length: 19'10″
Dry Weight: 2,890 pounds
Sleeping Capacity: Up to 2
The Hummingbird 16MRB is another lightweight model (no longer in production as of 2020) from Jayco. This unit features a 60″ by 75″ Murphy bed, a split kitchen, and a large rear bathroom with linen and storage closets. The Murphy bed offers extra versatility, converting to a comfortable sofa during the day.
Shop used Jayco Hummingbird floor plans.
Other Lightweight Travel Trailers
Sometimes less is more, especially when it comes to small lightweight travel trailers. Less to tow, less to maintain, and less to clean means more time for adventures, fun, and making memories.
RV owners often find peace of mind by towing smaller travel trailers, especially when navigating certain roads and paths. Whoever said good things come in small packages must have been referring to travel trailers.
Happier Camper HC1
Length: 13'
Dry Weight: 1,520 pounds
Sleeping Capacity: Up to 3
Who doesn't aim to be a happier camper? Thanks to Happier Camper, that goal is more achievable than ever. Responsible for revolutionizing the lightweight travel trailer industry with its trademarked modular Adaptiv® system, Happier Campers can quickly and easily become whatever you need them to be. The modern design certainly doesn't hurt, either.
Learn more about the Happier Camper HC1.
TAXA Outdoors Cricket
Length: 15'
Dry Weight: 1,800 pounds
Sleeping Capacity: Up to 4
Look no further if you're looking for a lightweight, rugged, sophisticated design and bold purpose. The TAXA Outdoors Cricket is the ideal small travel trailer for your next adventure. The pop-up roof is optimized for ventilation without sacrificing protection. As a bonus, it fits in a standard garage.
Find pricing and availability for the TAXA Outdoors Cricket small campers.
Airstream Basecamp 16
Length: 16'2"
Dry Weight: 2,650 pounds
Sleeping Capacity: Up to 2
Airstream's revitalized Basecamp 16 travel trailer is another excellent lightweight travel trailer under 3,000 pounds. Built for two, it's perfect for adventurous couples who need a cozy place to rest each evening. It has a full wet bath inside and is equipped with thoughtful amenities like a rear hatch for cargo loading and an exterior shower for rinsing yourself and your gear.
Discover Airstream trailers at your local Camping World.
Find Your Lightweight Travel Trailer
Is your tow vehicle up to the task of towing one of the best lightweight travel trailers under 3000 pounds? Use Camping World's Towing Guide to check your maximum towing capacity before you go any further.
You'd be surprised at how light and nimble today's RVs are. Manufactured with lightweight materials and designed to be aerodynamic, today's towable travel trailers are getting increasingly easier to pull.
It doesn't take much to tow 3,000 pounds. You might even be able to tow with a minivan. With that, you have a full kitchen, bathroom, and bedroom wherever you park it – a tiny home on wheels.
If your current RV isn't lightweight, sell or trade it in for one that is. Camping World has options to suit every RV enthusiast! Fill out an online credit application and get pre-approved today.
---
Check out some of our other content on lightweight camper trailers and how to find your RV:
Do you have any other suggestions for the best lightweight travel trailers? Leave a comment below.