The Coleman Lantern LT 17R is the perfect first trailer for couples. It's lightweight, affordable, and spacious inside. It also features simple systems that make it easier to learn to RV if you're new to it. Naturally, all RV owners think about upgrades over time, so here are 11 options to help you enjoy a more comfortable camping experience in your Coleman Lantern LT 17R travel trailer.
With the right tools, you can make these upgrades yourself. However, if you don't feel comfortable, reach out to one of our local service centers to have them installed by a certified RV technician.
Mattress
The biggest complaint I always have while camping is sleep. I never seem to get a good night's rest at the campground, usually due to the mattress. The mattress that comes in the Lantern is manageable, but you'll likely be missing the support and comfort of the one back home in no time.
When you're ready to improve your sleeping situation, we recommend upgrading to the Brooklyn Bedding Medium 10.25″ Dreamfoam Hybrid Mattress. With an advanced cooling panel typically only found in luxury mattresses and a ¾" soft quilted top, it'll keep you cool throughout the night and provide the support you need for better rest.
Please note that the main bedroom mattress is a short queen that measures 60" wide x 75" long.
Other RV Mattresses to Consider
Toilet
The bathroom is another area you can easily improve with a few small changes, especially the toilet. The small seats can be uncomfortable and, unlike the toilets in your house, most have a plastic bowl that tends to hold odors and stains more easily.
If you share these complaints, switch it out for something better. The Dometic 320 Series Gravity RV Toilet is our favorite toilet upgrade. It has a standard seat height for easy up and down, an elongated bowl for comfort, and a ceramic base that won't stain or hold smells. You'll hardly notice a difference between the Dometic 320 and the one back home.
Please note that the Dometic 320 Series requires a rough-in (distance from the wall to the center of the toilet flange) of 11" or more.
Other RV Toilets to Consider
Backup Camera
Often referred to as "the marriage saver," a backup camera is a must-have upgrade for your camper. These cameras help you see what's behind you when backing into a campsite or parking space, as well as on the road. They are powered by the running light circuit, so they work whenever you have these lights turned on.
We highly recommend the Trailer Life Pathway 5″ Wireless Backup Camera System. The system is wireless and easy to install. Simply plug and play with the 17R's backup camera prep. The 5" color monitor allows you to see clearly, and the built-in camera lights help with improved low-light visibility.
Technician Tip: To install, remove the rear cover plate on the camper's backup camera prep, held in place with four screws. Once these screws are gone, attach the camera to the pre-wired plug and secure the camera using the same holes as before. Plug the monitor in, sync the camera to the display, and that's it!
Other RV Backup Cameras to Consider
Trailer Tongue Jack
Like most campers, the Lantern comes with a manual crank tongue jack. Raising and lowering the trailer takes more time and effort than a powered tongue jack. This straining and time-consuming task is virtually eliminated with an electric trailer tongue jack, and the Lippert Electric Tongue Jack is a great reliable option. It operates with a simple switch and has a built-in light for night-time use.
Technician Tip: Trailer tongue jacks all use an industry-standard mounting pattern, so you don't have to worry about drilling new holes. They are bolt-on swaps. However, when upgrading to electric, you must run a power wire to the battery. It's an easy task that most can do themselves, but feel free to contact our service team if you're uncomfortable with electrical wiring.
Other Trailer Jacks to Consider
Stabilization
The Lantern comes with two scissor jacks in the rear. However, you may want more stability, especially if you're camping with kids or furry companions. To fully stabilize this Coleman trailer and minimize rocking from side to side, add another set of stabilizing jacks to the front.
We recommend using this pair of 24″ Scissor Jacks. They mount to the bottom of the frame with self-tapping screws. The frame rails, which run parallel to one another, front to back, have a flat bottom. You can simply attach the front stabilizer jacks to the bottom of the frame, a few feet back from the front cross-member that links both sides together.
If you don't feel comfortable installing the jacks yourself, you can take your trailer to any Camping World Service Center to have the work performed for you.
Other RV Stabilizer Jacks to Consider
Entry Steps
The Lantern LT 17R has a single entry step, which some may want to upgrade. Plus, entering the camper may require a considerably high step, depending on how high it rests once leveled and stabilized.
Many RV owners switch their steps out, and the Lippert SolidStep RV Steps are one of the most popular options for this. Unlike the factory pull-out step, the SolidStep directly contacts the ground. This improves stability and gets rid of all bouncing and wobbling. They also swing up inside the trailer for storage and provide a nice wide-step base for your foot.
Other RV Entry Steps to Consider
Power Roof Vent Fan
The Lantern has two vents, one in the living area and one above the shower. If you want to bring more fresh air into the camper for cooling purposes or to remove cooking odors better, you can replace the manual vent in the living area with a powered vent like the MaxxAir Vent Fan. If you want to be able to use the vent fan in the rain, you'll also need a cover like the MaxxAir FanMate Vent Cover.
Technician Tip: A powered vent fan should not be used above the shower due to the chance of humidity encountering the circuit board. Trailer roof vents are installed into a standard-size opening of either 14" x 14" or 14-1/4" x 14-1/4". Therefore, you don't need to worry about cutting into the roof. To prevent leaks, you must use some new sealant on the vent flange atop the roof once finished. We have a kit that makes this easy, the Dicor Seal-Tite Rooftop Accessory Installation Kit. You'll also have to run a power wire to the battery for the fan motor.
Other RV Vent Fans to Consider
Solar
Supplementing your RV's battery charging system with a solar kit is essential if you plan to avoid crowded campgrounds. Solar energy is great because it's self-sustaining; there's no fuel to add or noise to deal with like when using a generator. The Lantern 17R is prepped with a port at the front of the unit on the frame rail. That port is wired directly to the battery, allowing you to plug in a portable solar panel up to 200 watts and set it on the ground.
I recommend the Go Power! 200-Watt Portable Solar Kit. It's a complete kit and has everything you need. It's also portable, so it's easy to set up and take down when done.
Other RV Solar Panels to Consider
Generator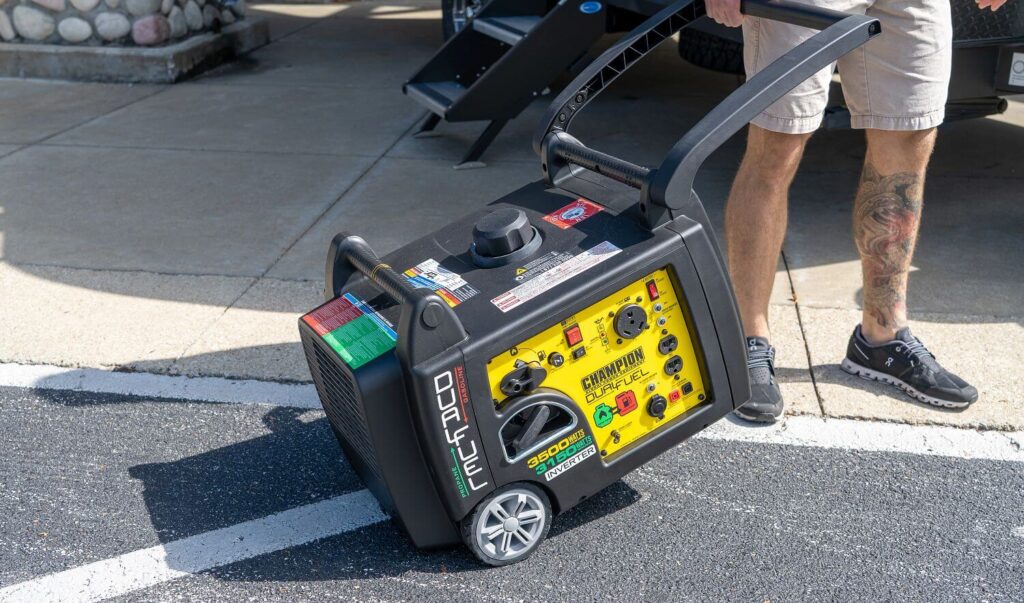 A portable generator is a must-have upgrade for any camper. It provides freedom, so you aren't limited to campgrounds and can enjoy your trailer's full function when boondocking. They'll power most of your essentials if sized correctly, keeping you cool and protecting your food from spoiling.
The Honda EU3200iAC 50-State Inverter Generator comes highly recommended. It's durable, has exceptional fuel efficiency, and can easily power the Lantern's air conditioning unit. We recently reviewed this generator in depth if you want to learn more. You'll also need the Camco PowerGrip Generator Adapter to use your existing 30-amp power cord.
Other Portable RV Generators to Consider
Surge Protector
Your Lantern is filled with delicate electronics you don't want to replace if something goes wrong. Unfortunately, problems at the RV park power pedestal are not uncommon. Open neutral, open ground, and reverse polarity are just some common electrical problems you could encounter at the park. These problems could create surges that send excess voltage to your camper and your appliances. You could be left with a very expensive electrical repair if not protected.
This is why I recommend using a surge protector anytime you're hooked up to park power. The Hughes Autoformer 30-Amp Power Watchdog comes highly recommended and gives you the peace of mind you deserve while camping.
Other RV Surge Protectors to Consider
Bike Rack
If you enjoy riding bikes, transporting them is one of the biggest issues you'll face while traveling. Bikes are big and bulky. They'll take up too much space in the bed of your truck, and you don't want to transport them inside your trailer.
So, I have two great storage options for you: the Lippert Jack-It Double Bike Carrier System and the Stromberg Carlson Platform-Mount Two-Bike Rack. These racks both allow you to carry up to two bikes. The Lippert rack mounts to the tongue of the trailer's frame, and the Stromberg Carlson rack mounts to the rear bumper.
Technician Tip: Exceeding the rear bumper's capacity or misusing can result in serious injury and or loss of warranty.
Other RV Bike Racks to Consider
---
Please note, by no means do you need to upgrade every facet of your camper. This list has some common Coleman Lantern LT 17R upgrades others have found worthwhile and worth the cost of upgrading. That said, not everyone is the same, so some of these you may feel are warranted, and others are not. That's totally okay, the most important thing is that you can enjoy the weekend with your partner. The Coleman Lantern LT 17R is a great camper you'll enjoy every trip.
Which of these Coleman Lantern 17R upgrades appeal most to you? Let us know in the comments below!