Want to get more out of your RV? Subscribe to the Camping World YouTube channel, so you never miss a video.
When you aren't plugged into a power pedestal, your RV's generator is your main AC power source. To keep it running efficiently and maximize its lifespan, you'll need to learn how to winterize your RV generator.
Of course, the exact procedure depends on the make and model of your generator. Begin by consulting your generator's owner's manual or contacting the manufacturer for generator winterization best practices.
That said, here are the reasons to winterize your generator and an overview of how to do it.
Why Winterize Your RV Generator?
Here are a few reasons why it's smart to winterize your RV generator when you aren't using it for an extended period:
Maximize your generator's lifespan and efficiency.
Prevent fuel varnish and deterioration.
Reduce corrosion of engine bearings and other components.
Prevent the need for more expensive maintenance.
Avoid battery drain or accidental surge.
When to Winterize Your RV Generator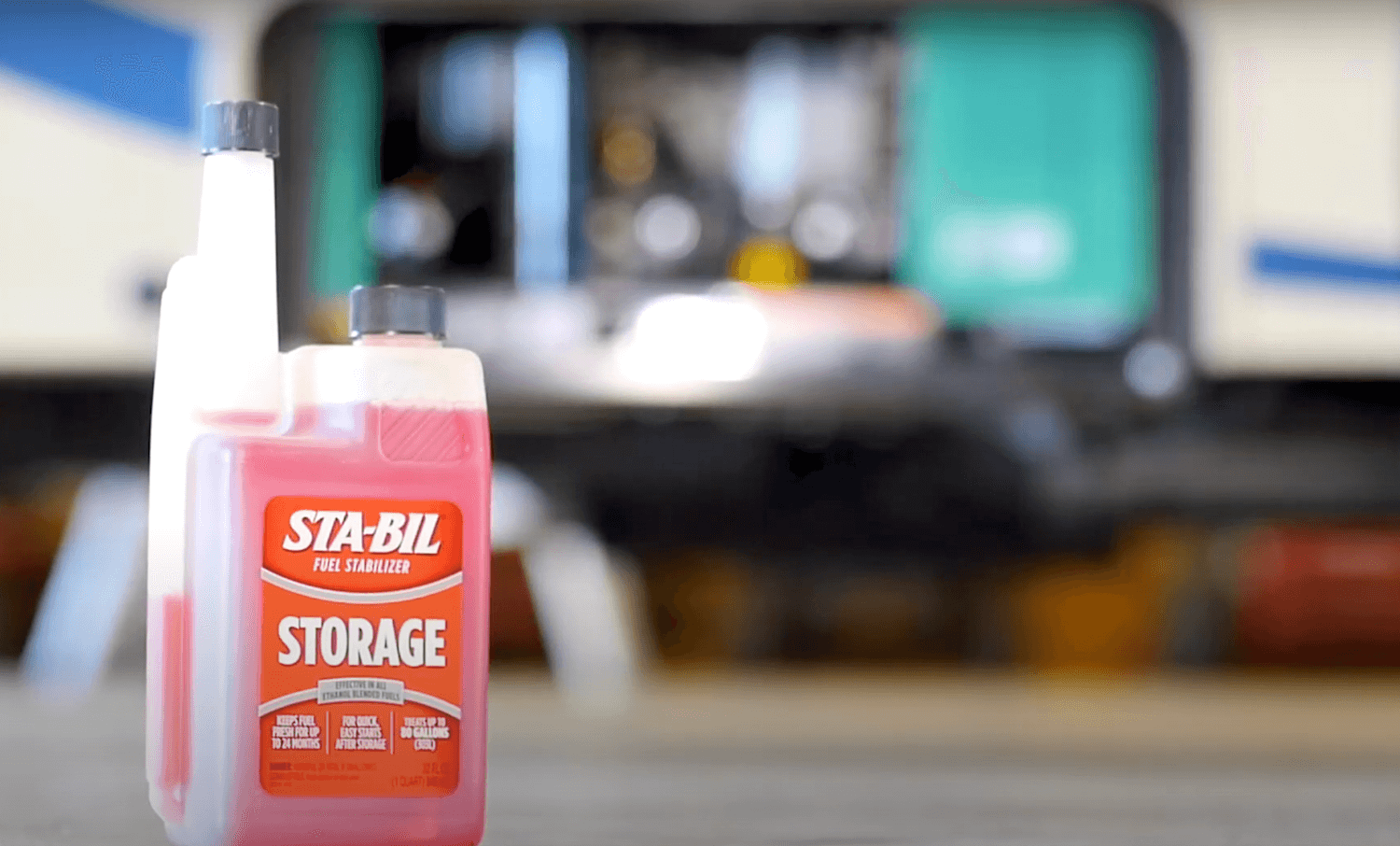 You should winterize your generator when you don't plan to run it for 30 days or more, and there's a strong likelihood of freezing temperatures. This can be incorporated into your larger process of winterizing your RV each season. Here are some other resources to help you protect your RV from freezing temperatures:
How to Winterize Your RV Generator
Here's how to winterize your RV generator:
Step 1: Fill the Fuel Tank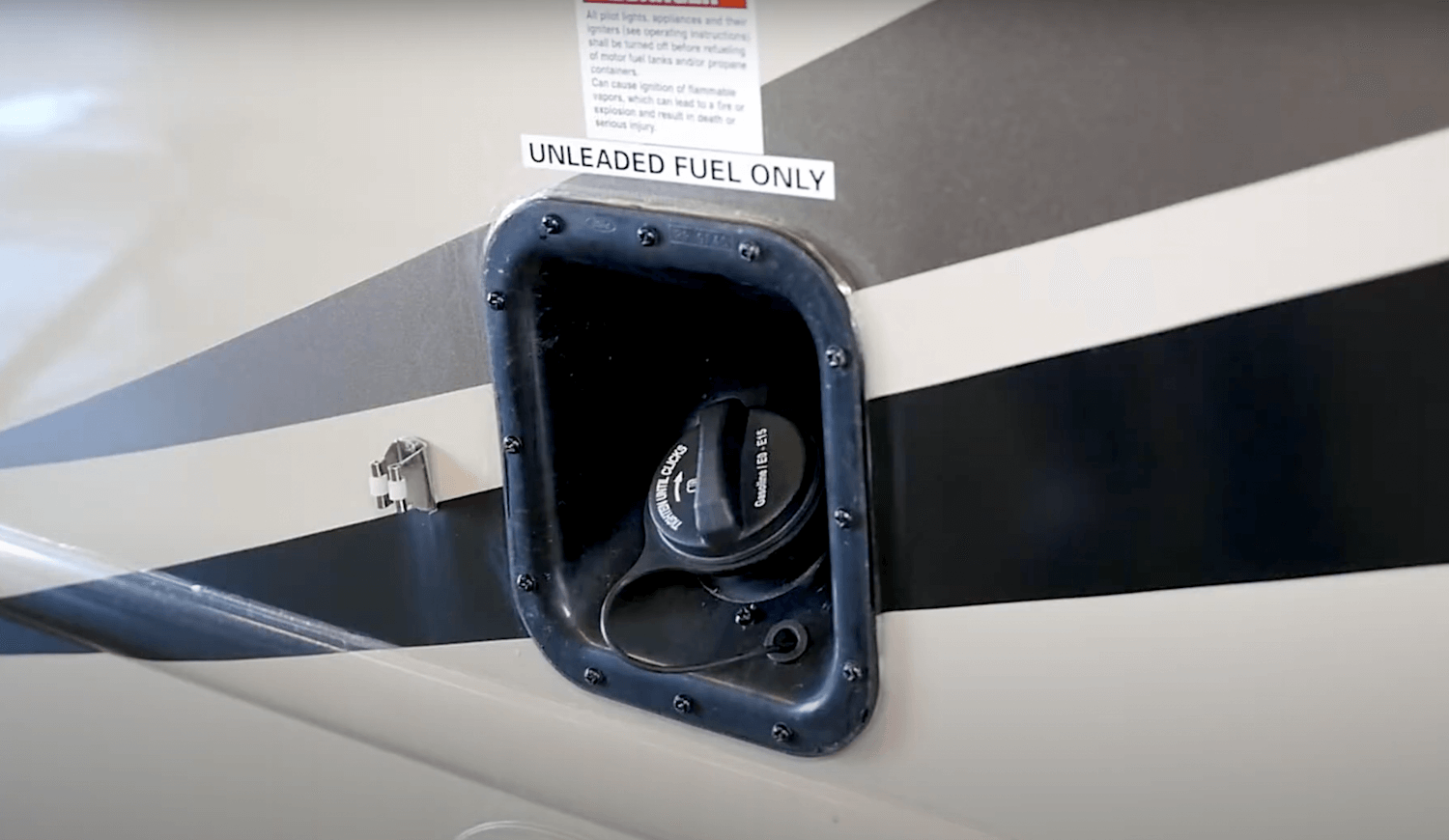 Your RV's fuel tank should be full whenever your generator is idle for a minimum of 30 days. With air space inside your fuel tank, condensation can form and lead to rust and other issues. It can also water down your fuel, making it more susceptible to freezing temperatures.
The type of fuel you use depends on your generator's manufacturer. Diesel generators require diesel fuel, LP generators require propane, and most gasoline generators can be filled with regular or ethanol-blend gasoline, so long as it's less than 10% ethanol.
For diesel generators, your fuel choice is especially important, as certain fuel blends are designed for certain ambient temperatures. Your owner's manual is your guide to choosing the right fuel to use when winterizing your generator.
Many RV owners empty their RV's fuel tank before winterization. This guarantees that you'll have fresh fuel (nothing more than 30 days old) in the tank while your generator is resting.
Step 2: Stabilize the Fuel Supply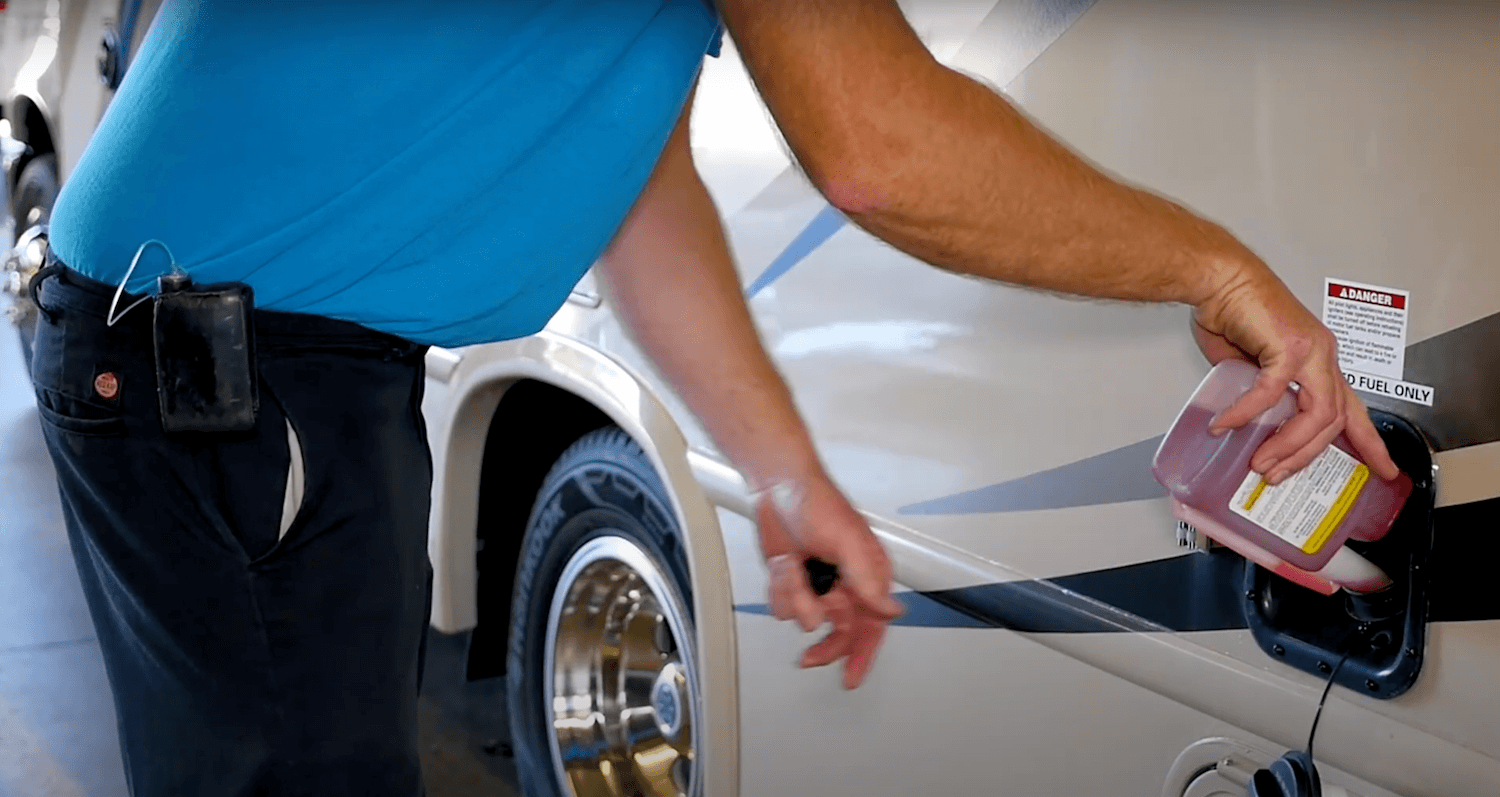 Regular gasoline deteriorates over time, resulting in a gummy substance that can clog your carburetor, fuel filter, and fuel pump. Non-ethanol fuels are more stable than ethanol blends, making them the preferred choice for units that aren't used often or that will be stored for a while.
Diesel fuel won't varnish like regular gasoline, but it can become gel-like in cold weather and be subject to algal growth.
So, for gasoline (regardless of the fuel type used) and diesel generators, you'll need to add a fuel stabilizer to your RV's fuel tank and run it through the engine when winterizing. Most manufacturers will recommend specific stabilizers for their generators.
Technician Tip: Once fuel begins to varnish and deteriorate, it's too late to add a stabilizer or preservative. If fuel is bad, disassemble your generator's fuel system components, remove as much from the system as possible, and dispose of it properly. Then, use a fuel system cleaner to remove the remaining contaminants.
Step 3: Run the Generator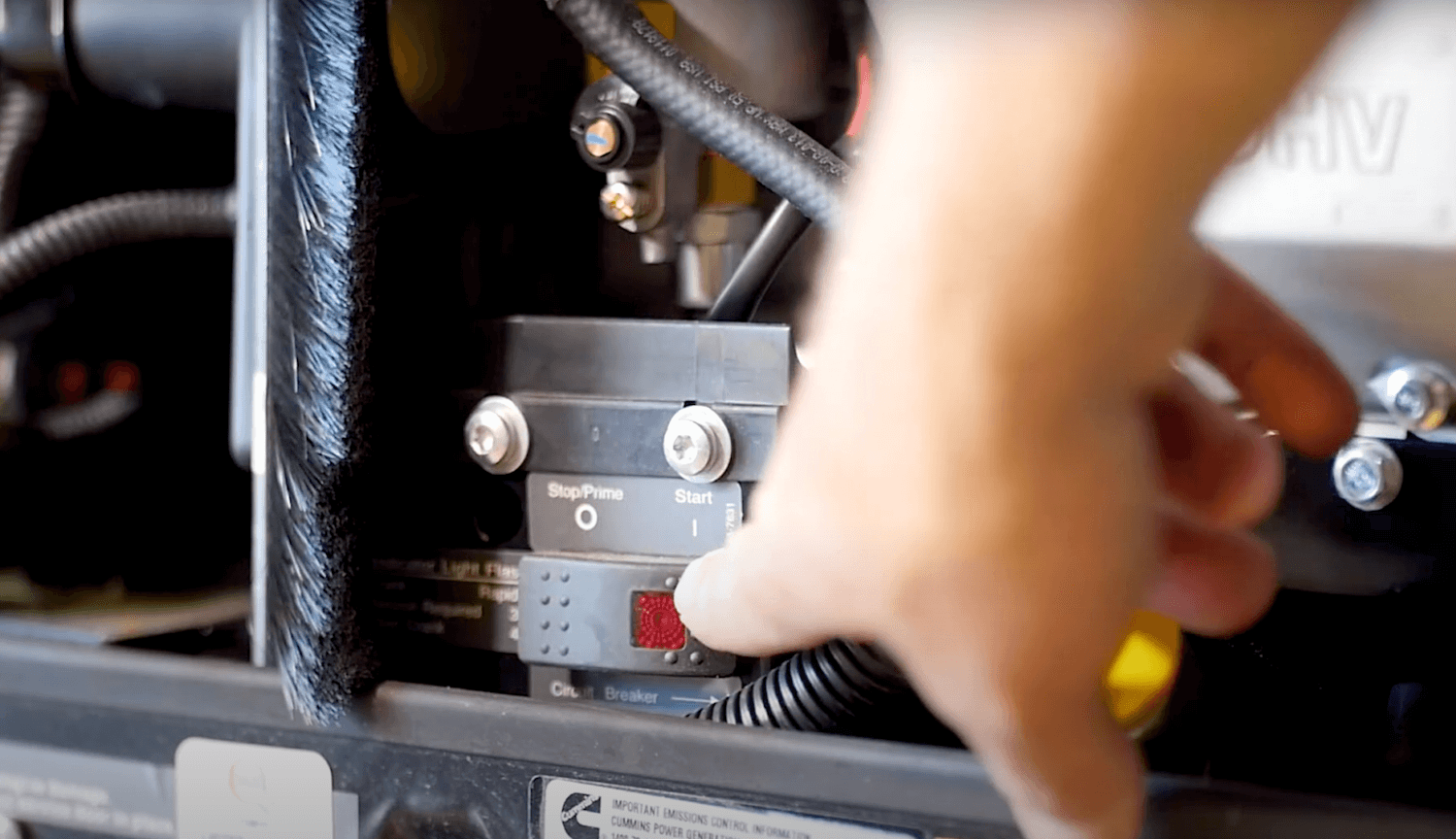 Now it's time to start your generator and run it for 30-60 minutes under load. Depending on your manufacturer's recommendation, you may need to run your generator for additional time.
For example, Onan recommends running your generator for 30 minutes plus another two minutes for each foot of the fuel line.
This ensures your fuel stabilizer runs through the entire line and all engine components, reducing gasoline deterioration and varnish and preventing seals from hardening in diesel and LP generators. It also keeps oil and its protective additives distributed throughout the engine, reducing wear.
Technician Tip: Running your generator 'under load' means turning on at least one interior appliance, such as your air conditioner.
Step 4: Change the Oil and Filter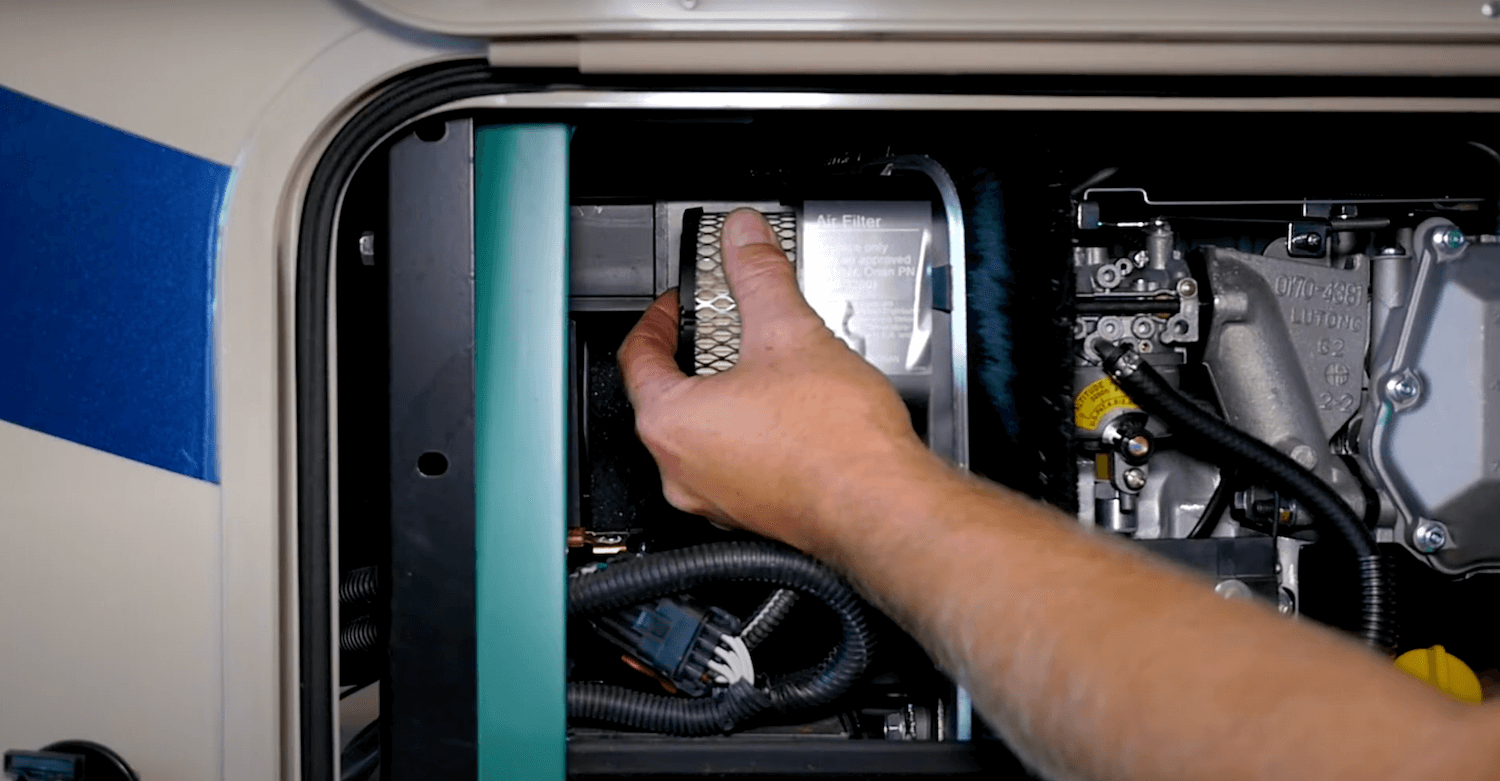 Once your fuel stabilizer is run through the system, it's a good idea to change the engine oil and oil filter to prevent acid accumulation that can corrode engine bearings. Again, you'll need to consult your owner's manual for the correct type and amount of engine oil, as well as the correct filter replacement.
Technician Tip: Only use OEM (original equipment manufacturer) parts for oil filters and recommended engine oil. Generic or replacement parts are often made with inferior materials that can void any existing warranties and result in expensive problems.
Step 5: Prevent Engine Fogging and Check Electrical Connections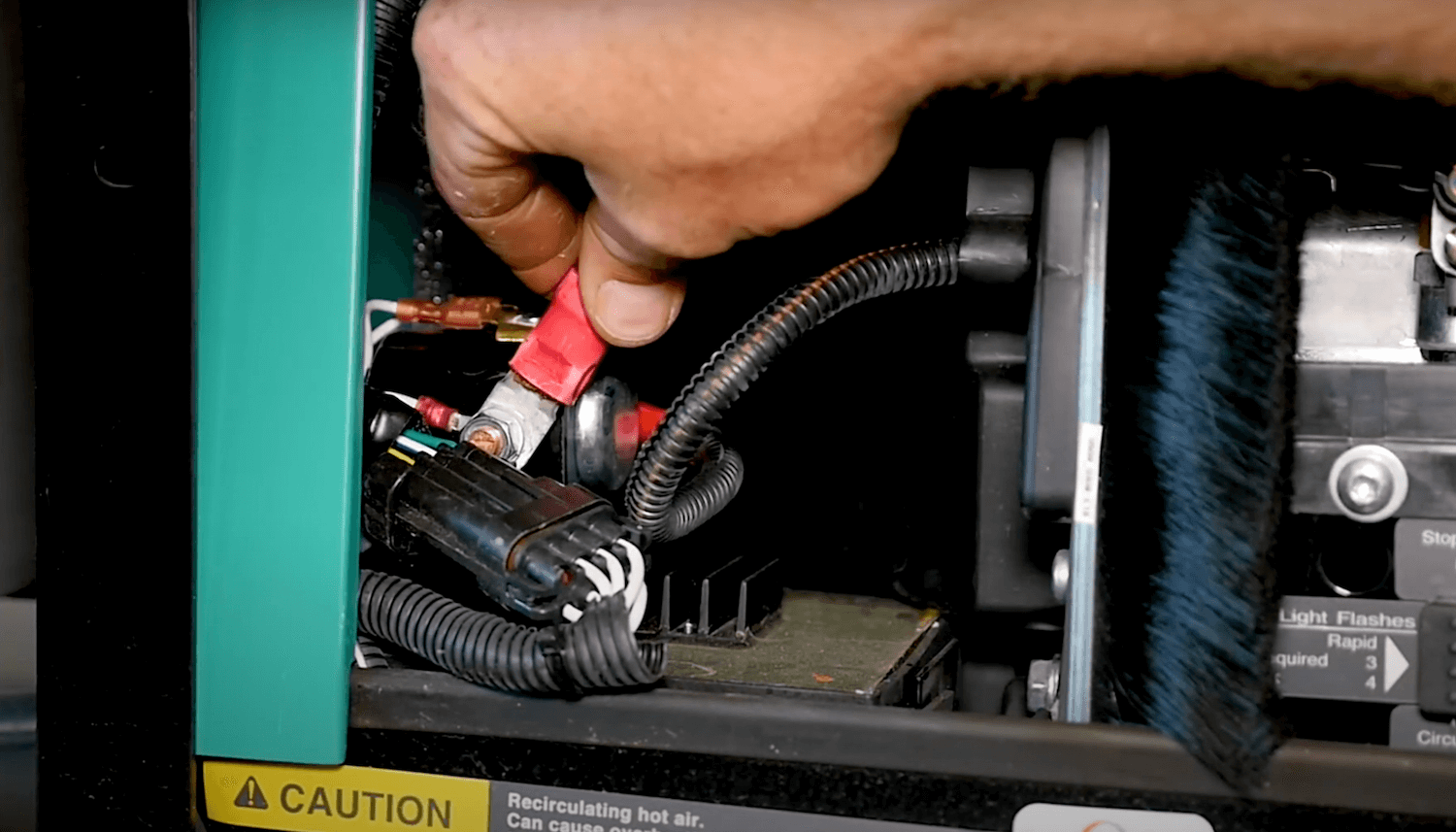 For gasoline generators, you should remove the spark plug and apply a fogging spray to prevent rust and condensation in the cylinder.
For all generators, visually inspect all wiring connections to ensure they are secure and protected. If necessary, clean battery cable connections and apply a lubricant to the linkage points.
Technician Tip: Only lubricate linkages if recommended by your generator's manufacturer and utilize the appropriate lubricant based on their recommendation.
Step 6: Disconnect the Battery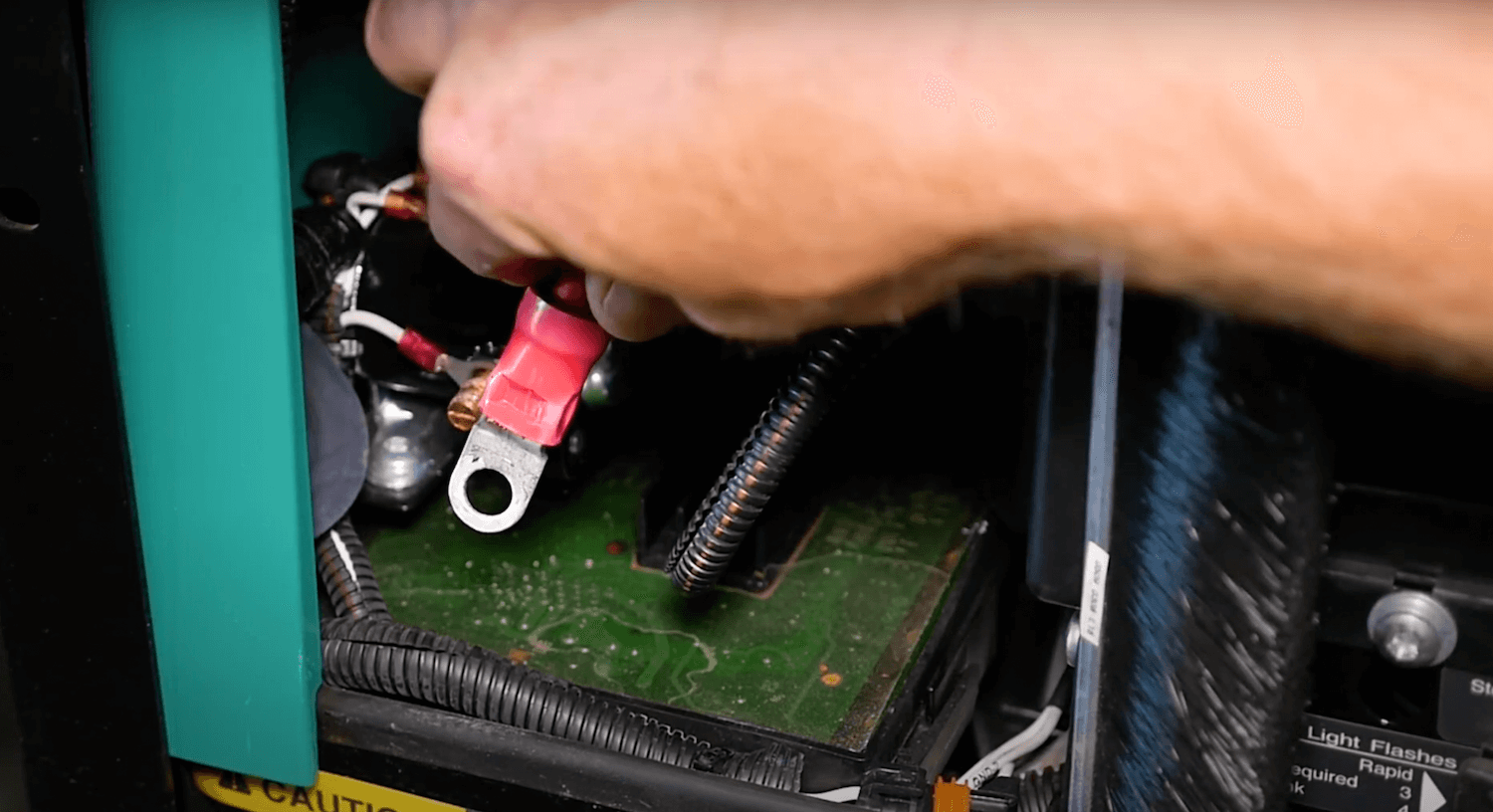 Your final step is disconnecting the battery's ground terminal to the generator. This will prevent battery drain and protect the system from accidental surge if your RV is plugged in for long-term storage.
Technician Tip: Many manufacturers will also recommend running your generator at least once a month for a minimum of 30 minutes under 50% load.
Final Consideration
Many generator manufacturers recommend a monthly run time for their units. Consult your operating manual to see how often you'll need to run your engine at normal operating temperature and whether you'll need to add more fuel stabilizer and top off the fuel tank at those intervals.
RV Generator FAQs
Beyond proper winterization, here are a few more tips to help you operate and maintain your generator.
How do you choose an RV generator?
The right generator for your RV should handle the load of your largest RV appliances (typically your air conditioning unit). Still, the right RV generator for your setup may only allow you to run some of your appliances simultaneously.
Learn more about how to choose a generator for your RV in this video:
Technician Tip: Any built-in or permanently mounted generator must be listed for RV use and installed according to that listing.
How long can you run an RV generator?
Most RV generators (built-in and portable generators) can run for 8-24 hours. That requires they are properly ventilated, prepped for weather and temperature changes as needed, and provided with the proper amount of fuel.
Here are a few more tips for how to operate a generator:
Can you leave your generator compartment closed while it's running?
RVs with built-in generators are designed to provide proper ventilation for your generator when the compartment door is closed. Manufacturers actually require the cover or access door to be closed when the generator is running to prevent damage to the generator or coach.
Technician Tip: Keeping the compartment door for your built-in generator closed during operation prevents heat and fumes from escaping to places they aren't supposed to be.
On the other hand, portable RV generators should be placed at least 25 feet from your RV (and others). They should also be set on a non-flammable surface, such as concrete, and connected to a known good earth ground – either permanent or temporary, as stated in your generator's operating manual.
Read our complete article on generator safety tips.
---
Add winterizing your RV's generator to your seasonal checklist to ensure it runs as efficiently as possible for your next camping season. Download Camping World's Maintenance Handbook to track your RV's seasonal maintenance needs.
Do you have any questions about winterizing your RV generator? Let us know in the comments below.