You've picked a destination for your next RV vacation, figured out the route that you'll take to get there, decided on the parks or campgrounds you'll stay at, and now you're super excited to start planning all the awesome things you'll do on your trip! We've been there many times. So… where do you start? How do you find the best things to do on your RV trip? Don't worry, we can help with our list of the best resources for RV trip planning.
There are so many great resources out there that help navigate the task of planning a trip (unlock several when you become a Good Sam member). We'll dive right in with a few of our absolute favorite resources to help you not only find the best things to do on your RV trip, but also help you find some really unique experiences that you simply won't find anywhere else.
Pinterest
When planning any trip in this day and age, it's generally a good idea to start with Pinterest. There are so many amazing travel bloggers out there (including a few of our own) who are documenting cool things to do all over the world. Reading from their personal experiences as they navigate their trips is immensely helpful when planning your own excursion.
To start, type in your destination in the search bar on Pinterest and pin content to a board for your trip. Custom boards are an easy way to organize your favorite locations with the activities you can engage in once there. Look for posts with titles like "Things to do in _____" or "48 Hours in ____". These will give you a great overview of what you should be aiming to do in and around your specific vacation destination. Once you've saved some of these articles to your board, go through each blog post and look for activities or experiences you and your family might be interested in.
From there, you can go directly to that attraction's website or do another search on Pinterest to see more tips and advice on that particular experience. This method works for discovering National Parks along your route (with recommendations for hiking and scenic views) and even finding the best restaurants and unique roadside attractions. The possibilities are endless.
We have some great Pinterest boards for road trips and U.S. camping destinations on the Camping World Pinterest account!
Airbnb Experiences
If you are looking for some really unique experiences for your next RV trip, check out Airbnb Experiences. It's only in select cities throughout the country as of now, but it's worth it to check if there are any experiences along your planned route.
You never know what you might find, including ukulele lessons, city tours, photography sessions, paddle boarding, brewery tours, shoemaking classes, and even glow-in-the-dark kayaking. I had a dream-come-true Airbnb experience in San Diego when I signed up for the sunset mermaid photoshoot. I even ended up being one of the chosen photos for the experience! It was quite the out-of-body, out-of-water tale.
Experiences are led by locals and offer a truly unique perspective on that location. You could easily discover experiences that bring you closer to nature or show you the heart of a city. Traveling off the beaten path is never a concern thanks to Good Sam's Roadside Assistance. You never know what journey lies ahead until you check it out. Airbnb Experiences can be a treasure hunt of cool things to do, so start searching for your next once-in-a-lifetime. You won't regret it.
Trip Advisor
Another great resource for finding the best attractions, restaurants, and more in an area is Trip Advisor. It's designed for travelers of all types but works great for planning exciting, memorable RV trips.
It ranks experiences and points of interest at your destination by popularity and reviews, so you'll get a good idea of the things you should definitely add to your list directly from other travelers. It's also a great resource for finding and booking tours, like jeep tours, helicopter tours, hot air balloon rides, and many more.
Trip Planners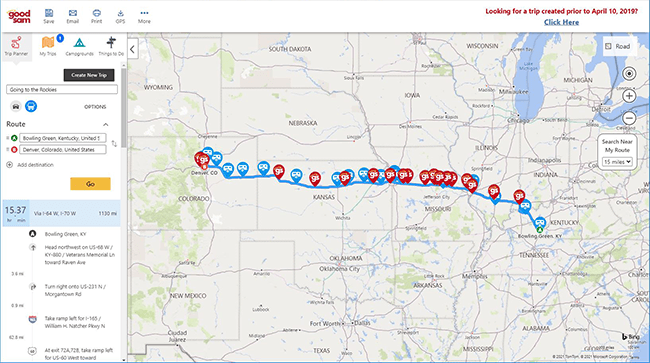 If you are a member of Good Sam, you can use their exclusive trip planner to find things to do along your route and locate the best Good Sam parks to stay at (hello savings!). The Good Sam trip plan integrates points-of-interest, out-of-service highways, tolls, and bridge clearances. It's built for RV travel and makes the journey stress free with it's smart integrations.
Another great trip planning resource is Roadtrippers, which also allows you to look for things to do and campsites along the way. If you find an RV park or campground on Roadtrippers that you might want to stay at, check it out on Campendium for reviews.
Trip planners are great for looking at the overview of your vacation. You can see your whole trip at once and plan out how to fit everything into your trip schedule. Once you've selected experiences from the previous websites, search for them in your trip planner and discover more surrounding experiences from there.
Bonus: How to Save Money on Travel Experiences
Now that you know the best things you want to do on your RV trip, check out this blog post on how to save money on travel experiences. Your RV vacation will be amazing and affordable! Find ways to save on theme parks, museums, experiences, and more. Don't have an RV, or have one in the shop? Your trip planning doesn't have to go to waste! The show (and the road) goes on. Good Sam offers RV rentals so your off-the-grid dreams don't fall off your radar.
You have all the resources you need to get started with your trip planning. Now, have fun with it! This is one of the best parts of the RV process–finding travel inspiration to fuel your adventures. Get the whole family involved and make sure there is something for the whole family on your vacation. There is never a shortage of things to do on an RV vacation. Use these tips to help discover and outline the best things to do on your next RV trip and enjoy making memories that will last forever.
---
Do you have any other tips or resources for finding things to do on your RV vacation? Comment below!