Water is essential when RV camping – dishes, showering, and, perhaps most importantly, staying hydrated. As a new RVer, be sure you know how to make clean drinking water.
For those who always camp in RV resorts with full hookups, you might never worry about filling your fresh water tank. But, if you're interested in boondocking and camping off-grid or just need water for travel days between campgrounds, all RVers should know how to fill an RV fresh water tank.
Where is my RV Fresh Water Tank Fill?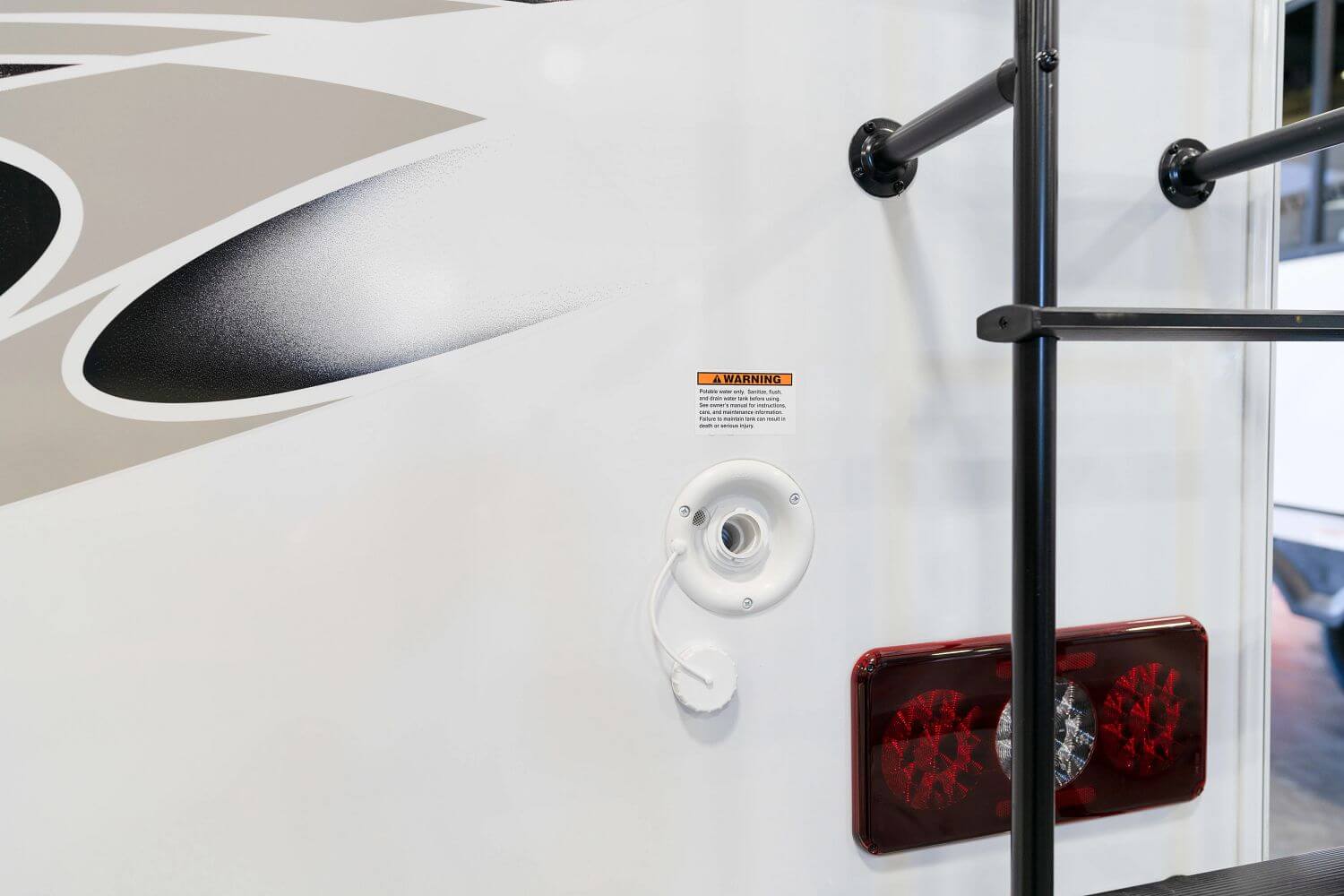 On most motorhomes and travel trailers, you'll find the fresh water tank fill on the off-camp side – opposite the main entry door. This is the same side you'll find the city water inlet and sewer outlet more often than not. Some, however, have the fill location on the camp side or in the back of the RV.
On new RVs, the fill location should be clearly labeled on the exterior. However, that label sometimes falls off or is accidentally removed on used RVs. Consult your owner's manual if you're having trouble locating your RV's fresh water tank fill.
How to Fill an RV Fresh Water Tank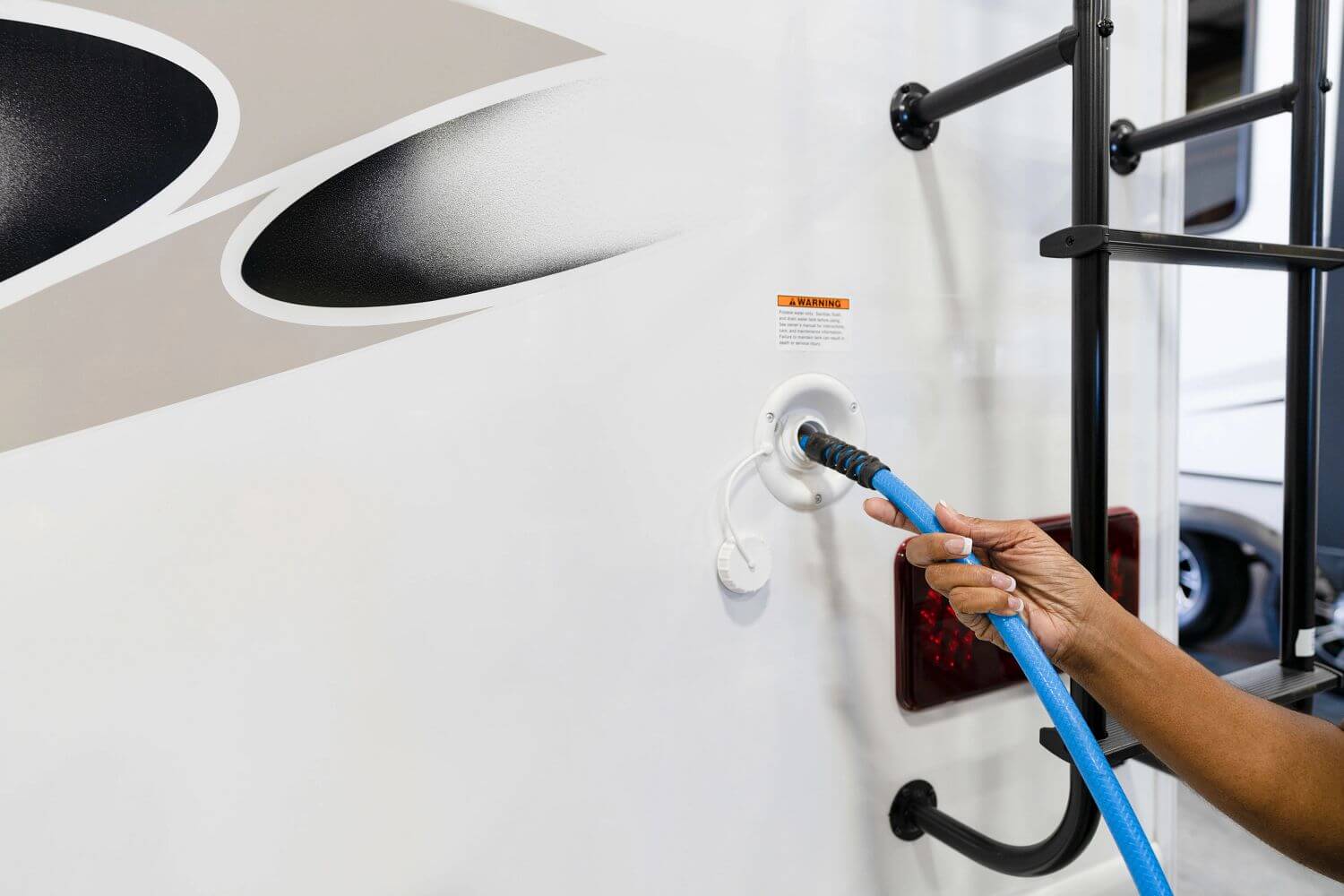 All RVers will need a potable water hose for this process. Most garden hoses are not recommended for drinking water, so make sure you check the hose's recommended uses. You'll also need a water filter if your RV lacks an onboard filtration system. With those supplies in hand, follow these steps:
Potable: (adj.) Safe to drink
Position your RV near a potable water source. Pull up close enough for your potable water hose to reach between the spigot and your fresh tank fill. The proper distance depends on your hose's length.
Connect your RV water filter to the spigot.
Connect your fresh water hose to the water filter.
Insert the open end of your water hose into your fresh tank fill.
Turn on the water spigot and let it run until you see water spurting out of the tank vent.
Turn off the spigot, remove the hose from your tank fill, and replace the fill cap.
Disconnect the hose and filter and clear water from the hose before storing it.
Remember that you'll need to turn on your RV's water pump to pressurize the lines after filling your fresh water tank. The pump should then be turned off until you have another demand for water supply.
How to Fill an RV Fresh Water Tank Without a Hose
Your RV's fresh water tank can be filled directly from a portable water container if you don't have a hose. You'll still need a funnel to do so, but you're more likely to have water spilling back out of the inlet without a hose. This is often called 'gravity filling,' so let's talk a little more about that fill method.
How to Gravity Fill an RV Fresh Water Tank
Gravity filling might be the best way to refill your RV's fresh water tank if you're boondocking for an extended period. This means using gravity to transfer water from an external portable water container into your RV's fresh water holding tank.
Here's how to do it:
Create a DIY gravity fill device using a clean funnel and a 6-12" section of potable water hose. You can attempt to fill it with only a funnel, but you're more likely to have water spilling back out of your inlet. Better yet, use a flex funnel.
Place the device's hose (or just your funnel) into your fresh water tank inlet.
Position your water storage container above the funnel. Use a portable camping table that extends high enough if you don't want to hold the container throughout the process.
Open the handle or lever on your water container and allow water to flow into your tank.
To fill your tank completely, you'll need to repeat this process several times. The number of times will depend on your portable storage container size compared to your RV's fresh water tank capacity. Shop water storage containers.
You might also be interested in conserving and creating power when extended boondocking.
How to Hook Up to City Water
Whether your fresh water tank is full or empty, hooking up to a city water connection is another way to get clean water in your RV. Here's an overview of how to hook up to power and water:
You should also learn why you need a water pressure regulator when hooking up to city water.
FAQs About RV Fresh Water Tanks
Here are a few common questions about your RV's fresh water system:
Should I Drive with a Full Fresh Water Tank?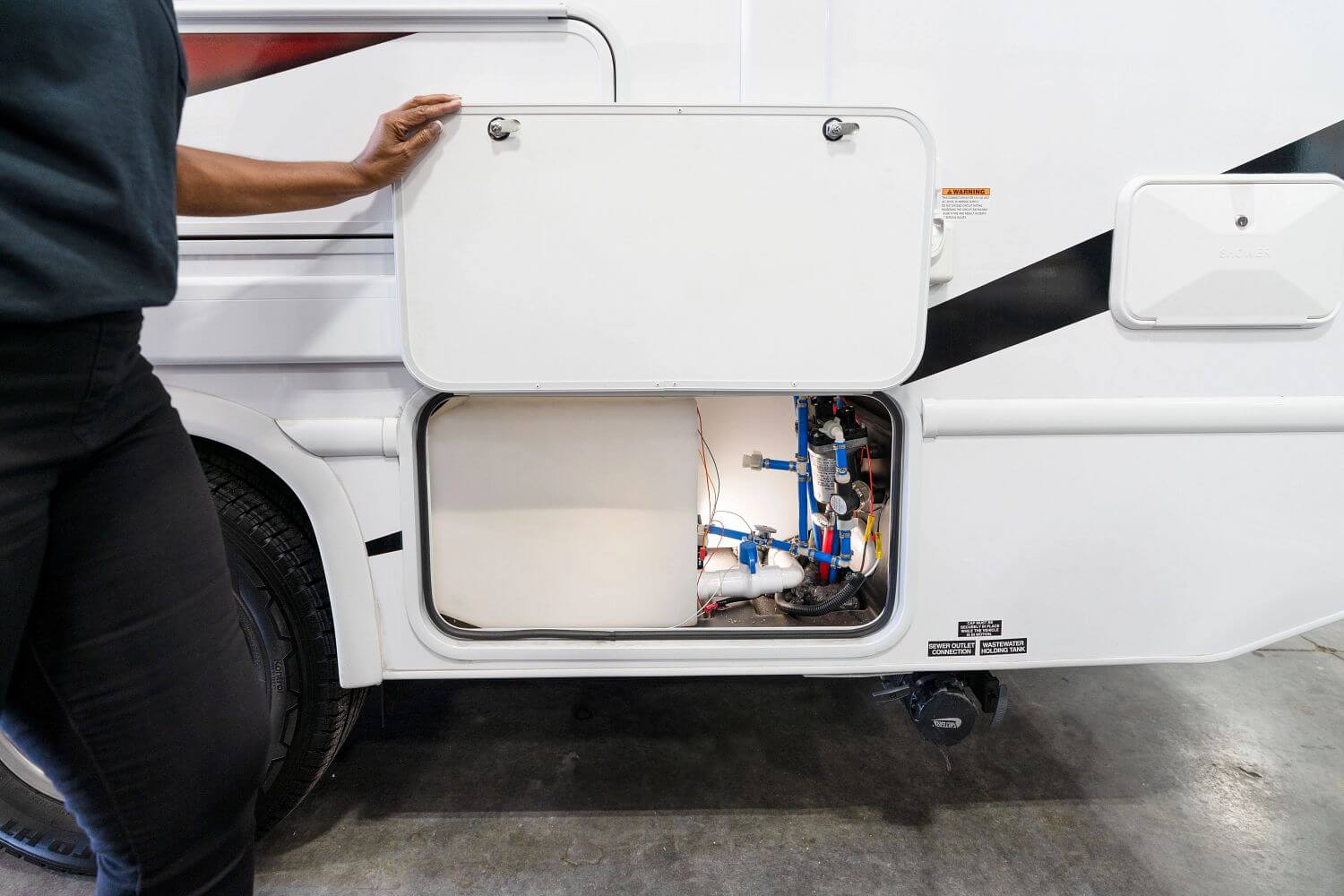 The added weight of the water in a full fresh tank will decrease your fuel economy, whether you're driving a motorized RV or pulling a towable. RVs are designed to travel safely with a full fresh water tank.
To be smart, you can budget for how far you'll travel and how much water you'll need between destinations. That will allow you to fill your tank partially to have water on your journey without dramatically increasing fuel consumption.
The standard rule of thumb is one gallon of water per person per day for hydration and another gallon per person per day for hygiene uses. Try to fill your freshwater tank as close to your camping destination as possible to enjoy better fuel economy.
Why is my Fresh Water Tank Filling When Connected to City Water?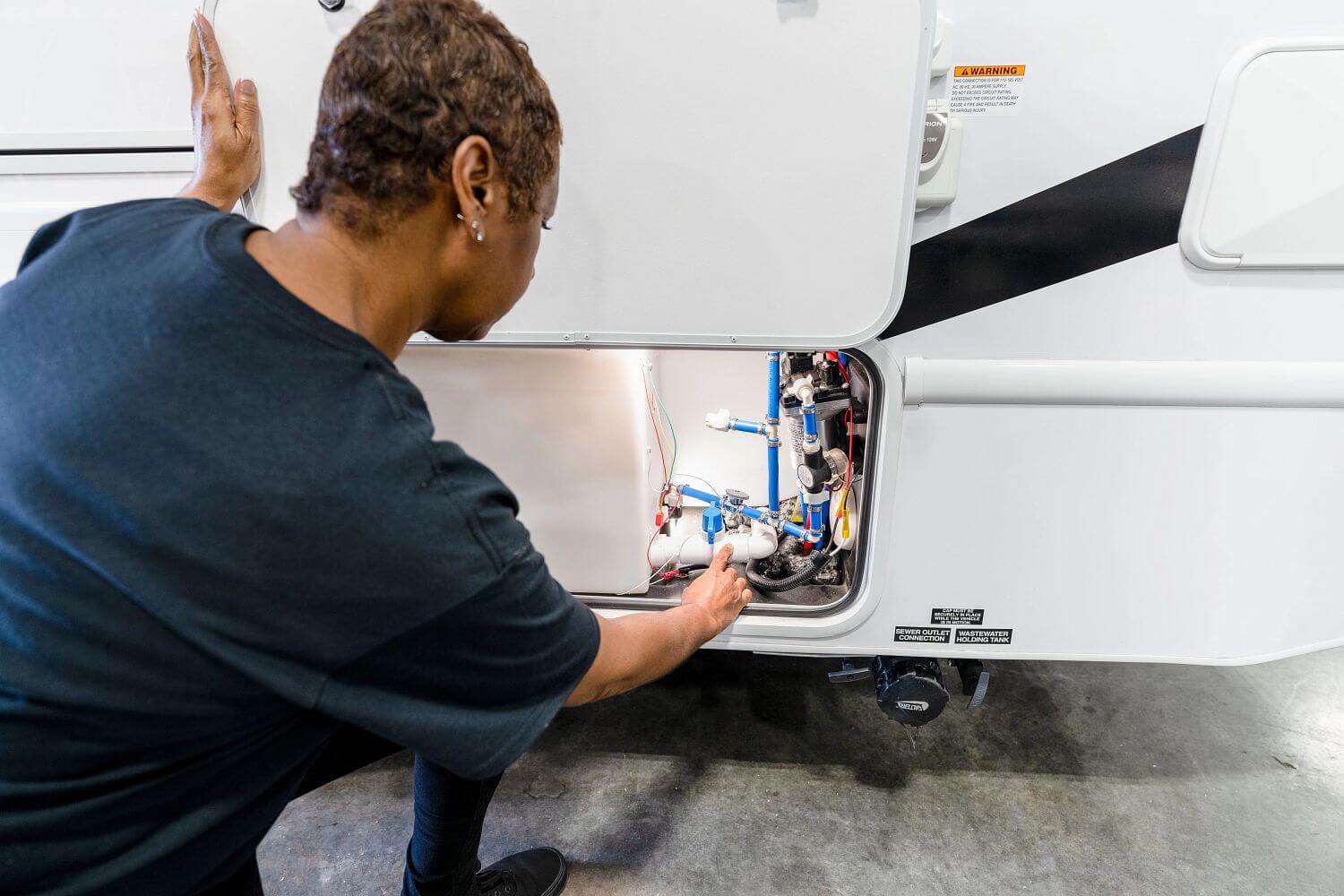 The most common reason that your fresh water tank is filling when connected to city water is that you have a faulty check valve in your water pump. This valve keeps water from passing through the pump and into your fresh water tank when you're hooked up to city water.
A faulty check valve is typically caused by fine sediments that entered the system when filling the tank without a filter. It may also occur when the water pump was not properly winterized, allowing ice to form. The water expands as it freezes, and this damages the check valve.
Do I Need to Sanitize My RV's Fresh Water Tank?
The NFPA 1192 standard for RVs states that the fresh water system should be sanitized before each use. Some interpret this to mean it should be sanitized before placing it into service each season, such as when dewinterizing your RV in the spring.
Others believe it is prudent to sanitize your RV's fresh water system after it has been allowed to sit for more than 2-4 weeks between uses. Here's an overview of how to sanitize your RV's fresh water tank:
And here's the full step-by-step tutorial outlining the process of sanitizing your fresh water tank.
Why Isn't the Water Flowing in My RV?
There are several reasons you aren't seeing water flow out of your RV faucets. Reasons vary based on whether you're connected to city water or pulling water from your fresh water tank. Here are some troubleshooting tips to help you restore water flow to your RV:
---
Filling your fresh water tank is relatively simple. Follow the steps above, and you'll have a full tank ready for your next off-grid adventure.
Do you have any questions about filling your RV's fresh water tank? Let us know in the comments below.