Tent campers (also called pop-up tent campers and tent trailers) are a nice go-between for those that still love tent camping but want to be off the ground when they sleep. The thing is, all kinds of critters also love pop-up tent campers.
Because many folding tent campers feature screens and fewer hard materials, they're easier for pests to invade – and they love chewing through the screens. That said, some of these tips apply to keeping critters out of all types of RVs.
How to Critter Proof a Pop-Up Tent Camper
Here are a few tips to help you critter proof your pop-up tent camper, whether you're putting it away for the winter or getting it ready for a trip.
Store Food Properly
Food is the biggest reason critters make their way into your camper. Be it insects, mice, or something larger, the aroma of something delicious will bring them out in droves.
Keep food sealed in airtight food storage containers or zipping plastic baggies. Because space is limited inside most pop-up campers, consider using a hard-sided camping cooler for sealed food storage. If your campsite has a food locker, use it.
When camping, it's also a good idea to cook outside when you can. This keeps food odors from lingering inside your tent camper and attracting curious critters.
Additionally, remove all foods from your RV refrigerator and pantry if you're putting your camper away for the winter. Then, do a thorough cleaning to remove aromas. Remember, plastic containers won't stop a dedicated animal from getting into your RV.
Inspect Your RV for Entry Points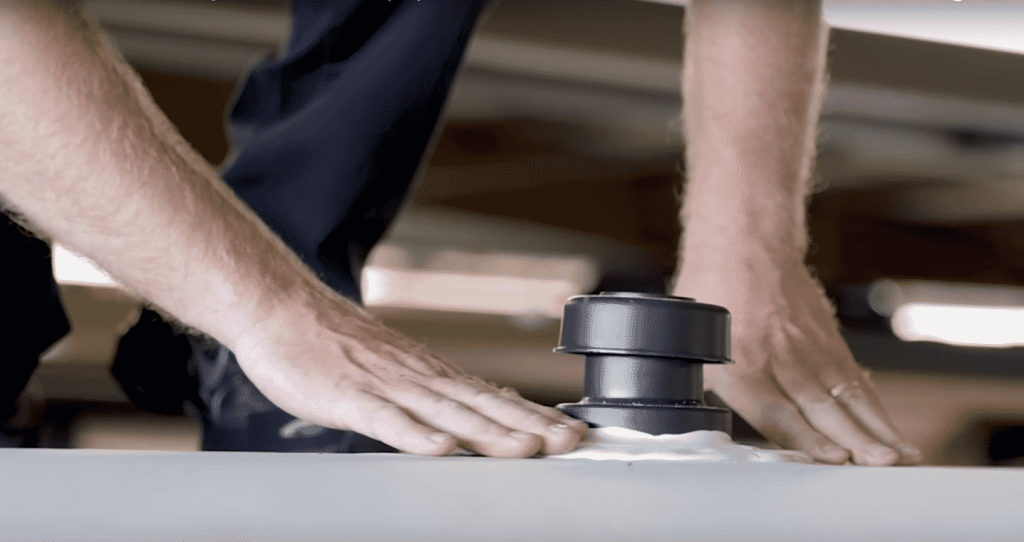 Nearly every RV, including motorhomes and travel trailers, has gaps for water and LP lines, electrical wiring, and steel cables to operate the lift mechanisms. These gaps are often larger than necessary to make installation easier.
Unfortunately, these make excellent entry points for mice and other pesky creatures. Finding gaps requires crawling underneath your pop-up tent camper with a flashlight. You'll also need a partner inside to identify entry points as you shine the light.
Once you find the gaps, it's possible to fill them to reduce the chances of critters entering your camper. However, it's important to recognize that modifications can void any existing warranties you may have. So you may begin by contacting your warranty provider to inquire about the terms of your policy before you continue.
That said, critters can absolutely total a pop-up tent camper in a few short weeks, so mitigation is essential. Minimal expanding spray foam mixed with steel wool is an old, albeit effective, solution for filling potential entry points.
Installing a full belly plan or small wood or metal plates over the individual openings must be done with the utmost care to avoid damaging plumbing and LP lines, electrical wiring, lift mechanism cables, or your camper's suspension.
Utilize Rodent and Insect Repellents
Dozens of old home remedies seem to work for that lucky guy on the message board. Some are actually worth a shot. Here are a few examples:
Gain dryer sheets and borax spread out throughout the camper
Cotton balls soaked in peppermint oil
Irish Spring soap
Rope lights
Outdoor cats
Explore Camping World's complete selection of insect and rodent repellents.
Finally, poison can be used to mouse proof a camper if you exercise extreme caution. Using safe bait stations is a good idea if you choose this option, as they restrict the size of the animal that can get to the bait.
These must be strategically placed and monitored, especially when RVing with children or pets. The safest choice is to place these inside or in underneath compartments when your camper isn't being used for an extended period.
Always consult the manufacturer's safety warnings and use proper protective equipment when handling poison for the purpose of critter control.
Remove Cushions and Store Your Camper in Travel Mode
For the cost of replacing a mess of chewed screens and mattress pads, it's probably worth your time to remove the tenting and cushions and store them in a safe place for the offseason. Mice love to use cushions to steal insulation for their winter homes, so removing them certainly beats repairing or replacing them later.
Whether you remove cushions or mattresses before storing your pop-up camper or not, it should always be stored in travel mode. That means with the pop-up down and locked in place. Even then, opening and inspecting your camper once a month is recommended to address issues before they progress to a point where expensive repairs are needed.
Clean Out Storage Compartments
Speaking of the offseason, it also won't hurt to clean out your camper's storage compartments. We've seen rodents create shelters inside ski boots, watersports equipment bags, and just about anywhere they can find a source of insulation.
It takes a little extra time, but emptying your camper and storing your camping gear inside a garage can eliminate the temptation for critters to create a seasonal home. If you do keep your gear in your camper, it's a good idea to pack everything into hard-sided storage boxes.
Awesome Pop-Up Tent Camper Trailers
Small pop-up campers are a great option for new RVers. They allow you to experience the benefits of RV living without overpaying before you find out if this is the right choice for your travel desires.
Here are a few popular pop-up tent camper trailers:
Forest River Rockwood Freedom 1940LTD
Open Length: 20'2"
Dry Weight: 1,608 pounds
Sleeping Capacity: Up to 5
The Rockwood Freedom 1940LTD is as lightweight and compact as they come. It features a two-burner stove that can be closed and carried outside if you don't opt for the outdoor griddle add-on. Cooking outside is another great way to reduce the temptation for critters to explore your tent camper.
Shop Forest River Rockwood Freedom pop-up campers at Camping World.
Forest River Rockwood Hard Side A213HW
Open Length: 21'2"
Dry Weight: 2,670 pounds
Sleeping Capacity: Up to 3
The Rockwood Hard Side A213HW eliminates many of the issues of pop-up tent campers by removing the tent walls and replacing them with hard-sided walls. That design provides additional insulation, but you will find slightly minimized headroom on one end of the camper because of the A-frame style.
Check out Camping World's Forest River Rockwood Hard Side pop-up camper inventory.
Livin Lite Quicksilver 10.0
Open Length: 20'2"
Dry Weight: 1,190 pounds 
Sleeping Capacity: Up to 5
If you're looking for a used pop-up tent camper to dip your toes into the RV lifestyle, the Livin Lite Quicksilver 10.0 is one of the most affordable options out there. It's also lightweight and off-road capable, designed to comfortably sleep a large family in the two 60" x 84" beds plus a convertible dinette.
Shop Livin Lite pop-up campers at Camping World.
---
Use Camping World's Towing Guide to determine the towing capacity of your current vehicle. That'll allow you to choose a pop-up trailer you can tow safely without putting too much wear and tear on your tow vehicle.
Check out this tutorial to learn about RV weight ratings to ensure safe towing.
Do you have any ideas for pest-proofing a pop-up camper? Leave a comment and let us know.