How do you manage trash and recycling in your RV?
The biggest problem with RV trash cans is there's often not a specific place for them, except in bigger, luxury RVs. Trash in an RV fills up quickly, becomes smelly, and attracts flies and animals.
RV kitchens are so small that they rarely have a place to hang or store a trash can. This is especially true in micro campers or teardrops, meaning you'll need to get creative to collect and dispose of RV trash before it becomes a problem.
Depending on your floorplan, you may need to get creative to store an RV trash can and recycling in a conveniently accessible location in your RV.
Where to Put RV Trash Cans
Most new RVers don't think about where to put trash until they're finished cooking and need somewhere for trash to go.
The best place to put trash cans in your RV depends on its floorplan and layout.
Here are a few locations:
In the Kitchen
This is the most obvious location for an RV trash can. Most of us want easy access to a trash can while we're cooking, but not all RVs have enough space under the sink. Plumbing lines and the placement of certain appliances can limit the available cabinet space under your kitchen sink, meaning you'll need a small trash can or over-the-door bag holder if you choose this location.
In the Bathroom
RV bathrooms are also compact, requiring an over-the-door bag holder or a waste basket that's small enough to fit under the sink. A trash can in your bathroom is useful for disposing of hygiene products that can't go down your RV toilet. Some even use an RV trash can in the bathroom to collect their RV toilet paper to reduce the possibility of having to unclog a black tank.
If your RV's bathroom doesn't include a vanity or cabinet space, you may be limited to hanging a trash bag over your shower faucet handles, like I do in my Sunlite Classic.
In the Pantry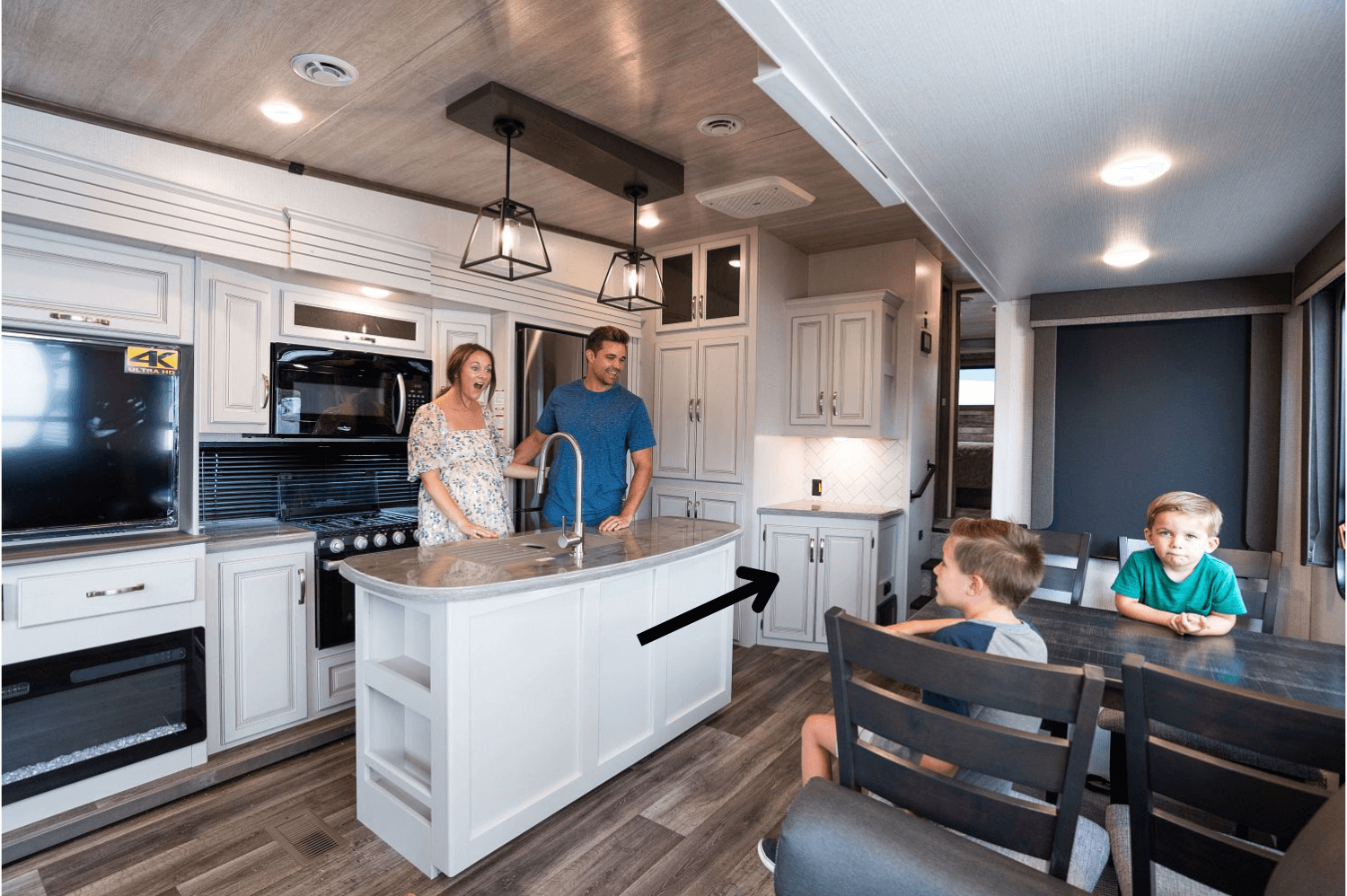 If your RV has a floor-to-ceiling pantry, you can utilize that space to store a larger RV trash can so you don't have to empty it daily. This is a great option for full-timers with more spacious floorplans.
Next to the Cooktop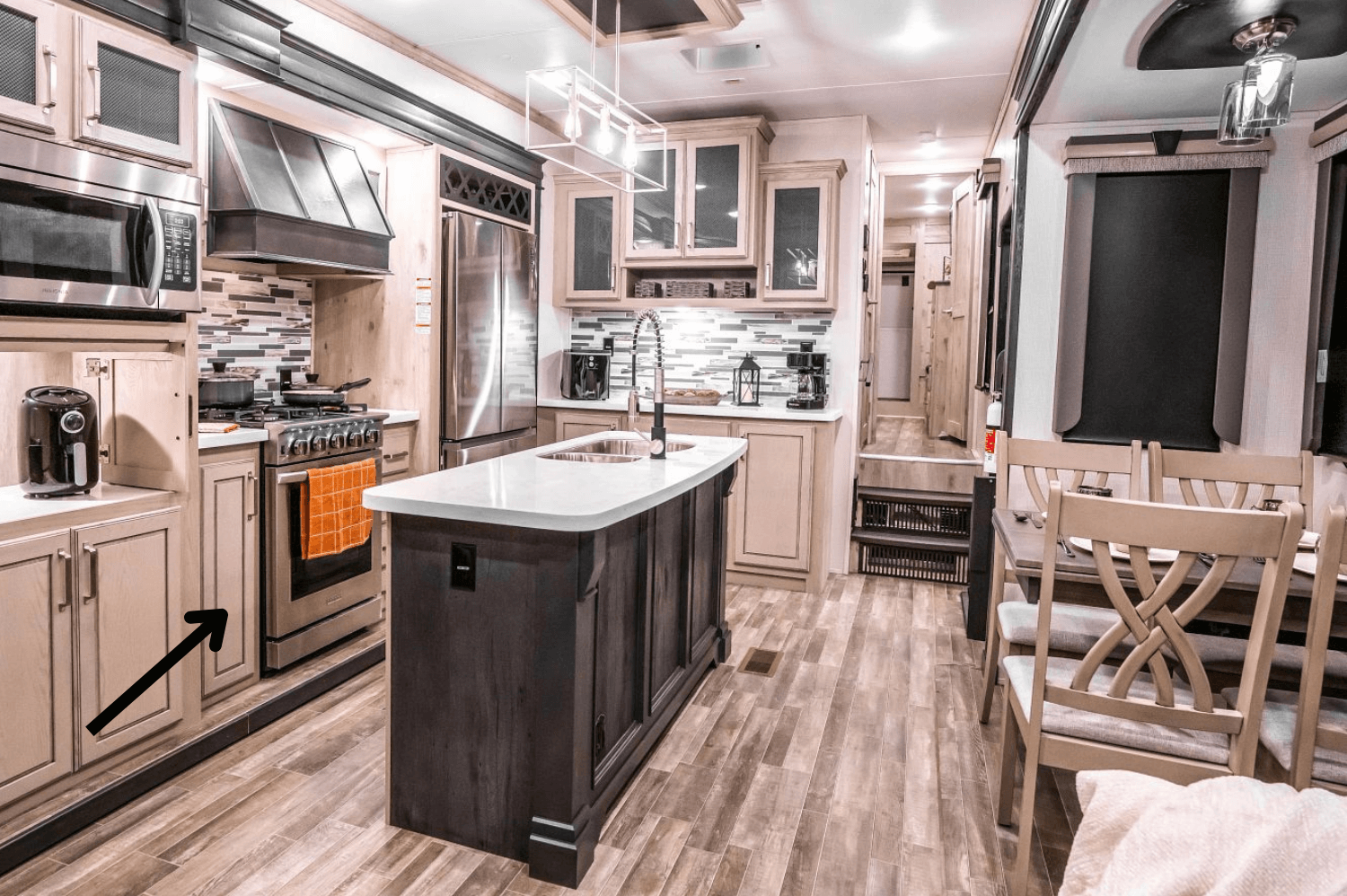 This will also be floorplan dependent, but some RVs, like this Keystone Montana, offer a taller cabinet space to the left or right of the stove and oven. If the shelves can be removed, you'll have more space for a taller RV trash can.
Outside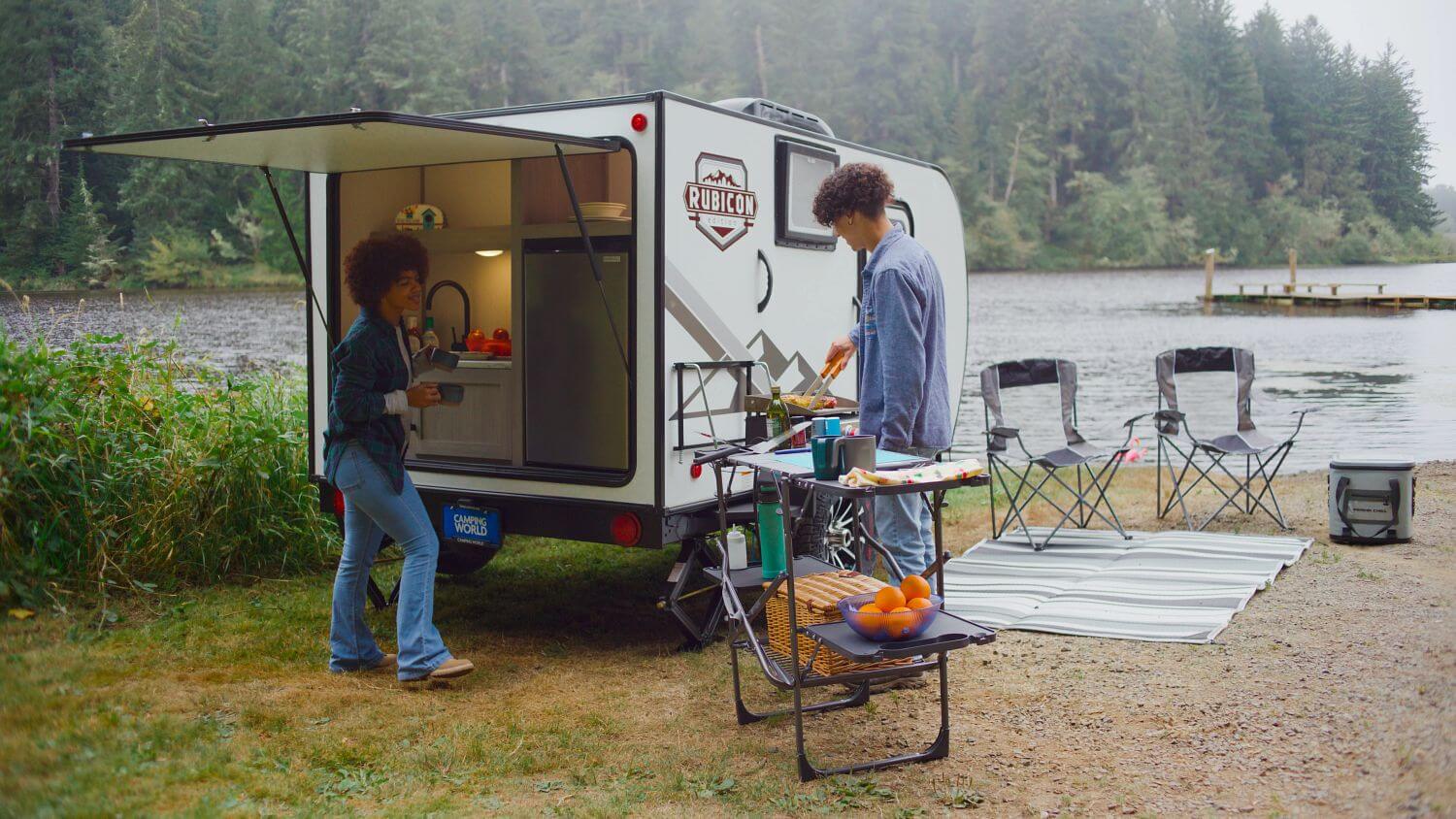 Tired of trying to awkwardly hang a trash bag from your campsite's picnic table? Get a collapsible trash can that creates the perfect outdoor trash can and takes up minimal storage space when you aren't using it.
In an Exterior Compartment
This is another great location for a trash can if your RV is equipped with an outdoor kitchen. It can also be a useful storage location if you utilize a secondary trash can to collect aluminum and glass recycling.
RV Camping Trash Can Ideas
Here are a few RV trash can ideas: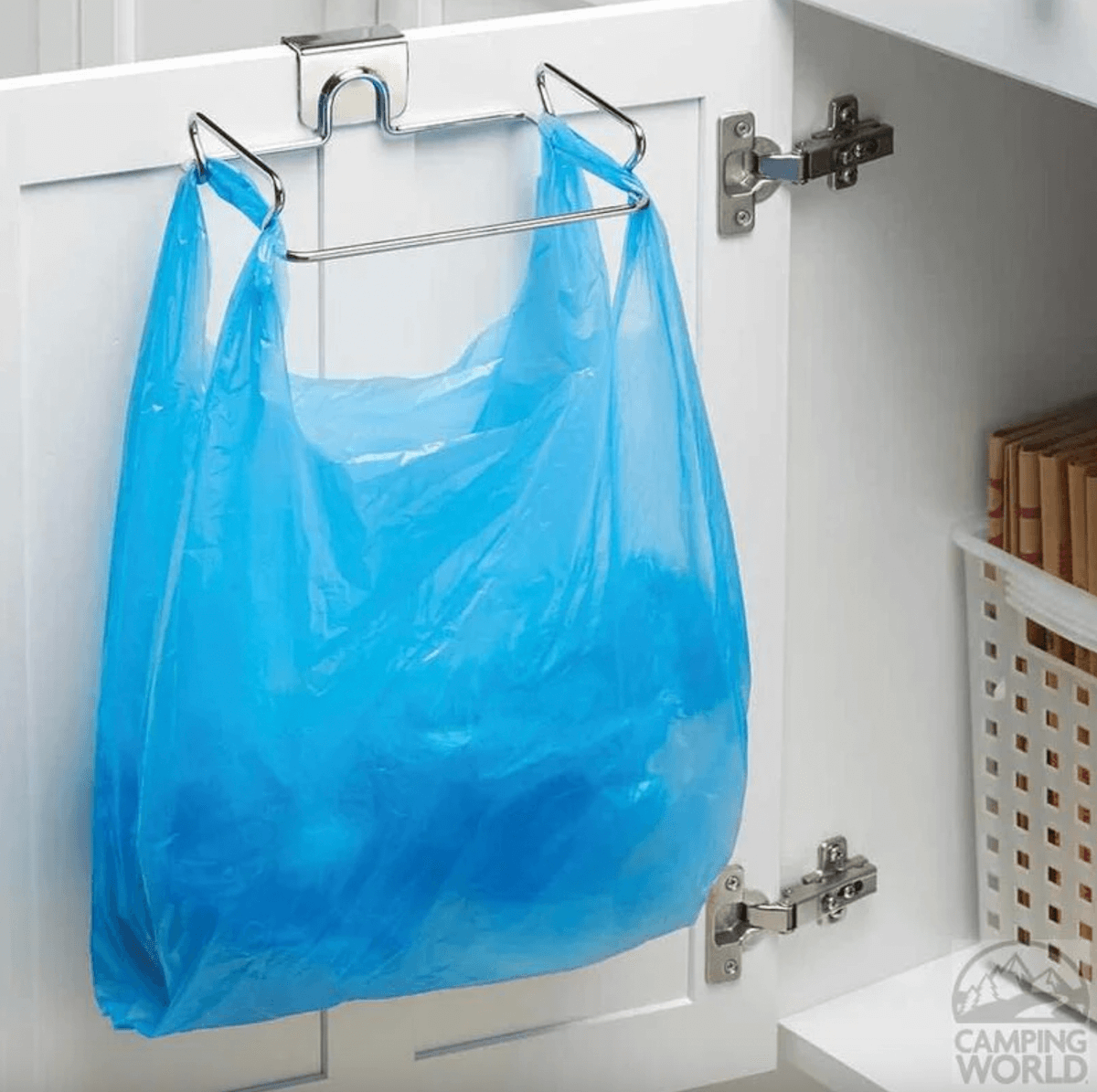 Great for small campers or weekend warriors who don't create much trash.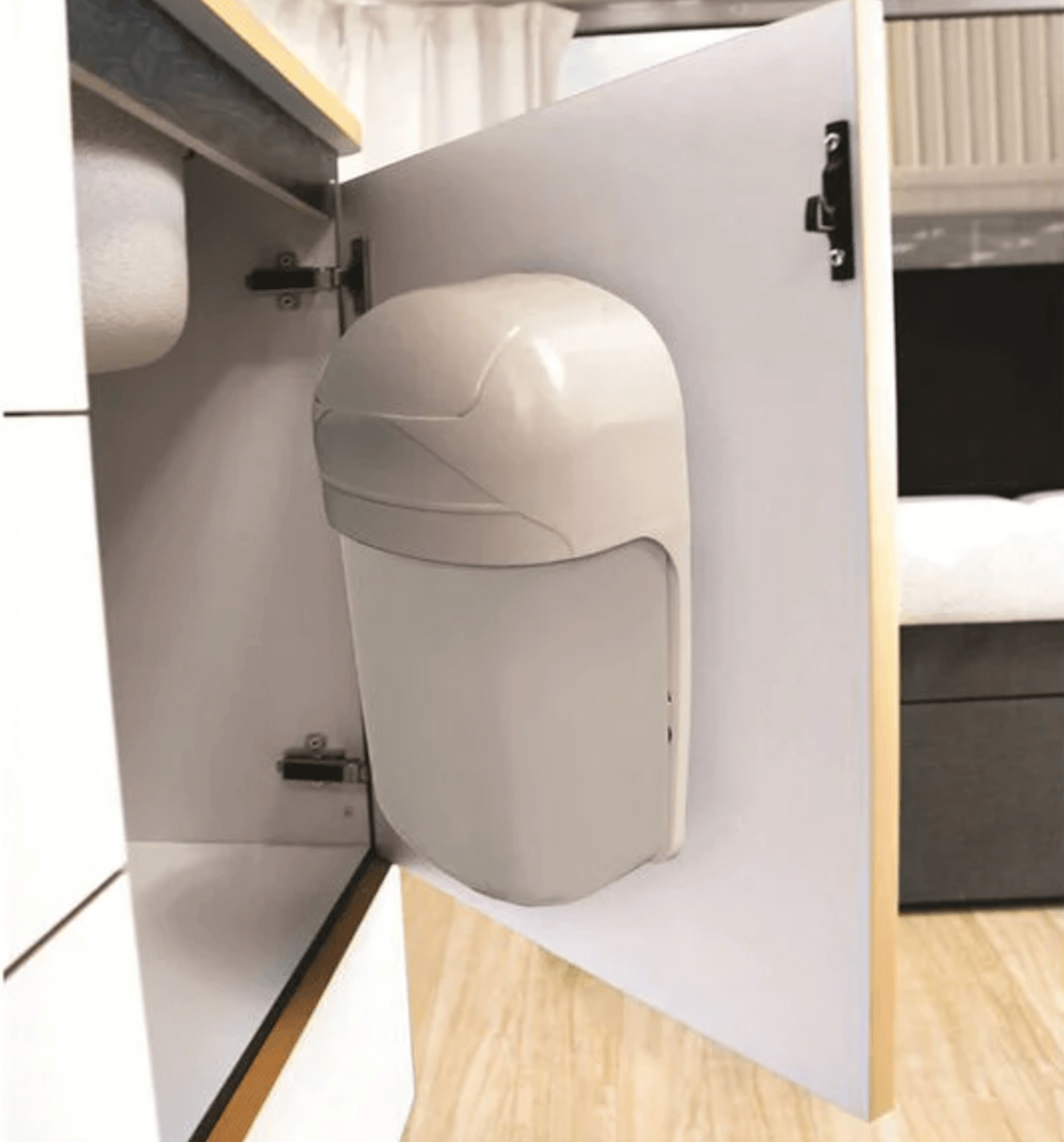 Ideal for mounting trash cans under your kitchen and bathroom sinks.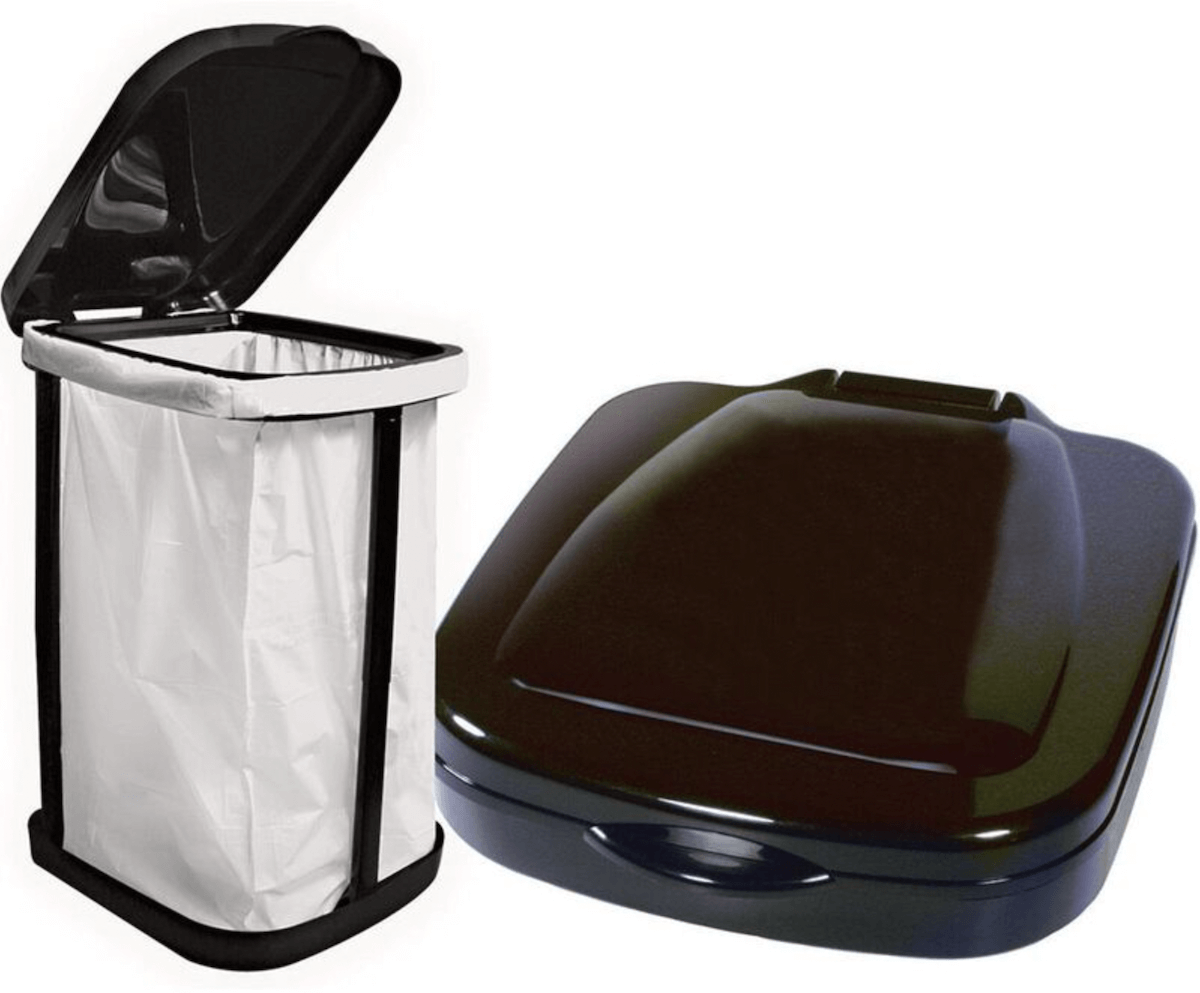 Excellent in a larger RV pantry or as an outdoor trash can that doesn't require storage space when you don't need it.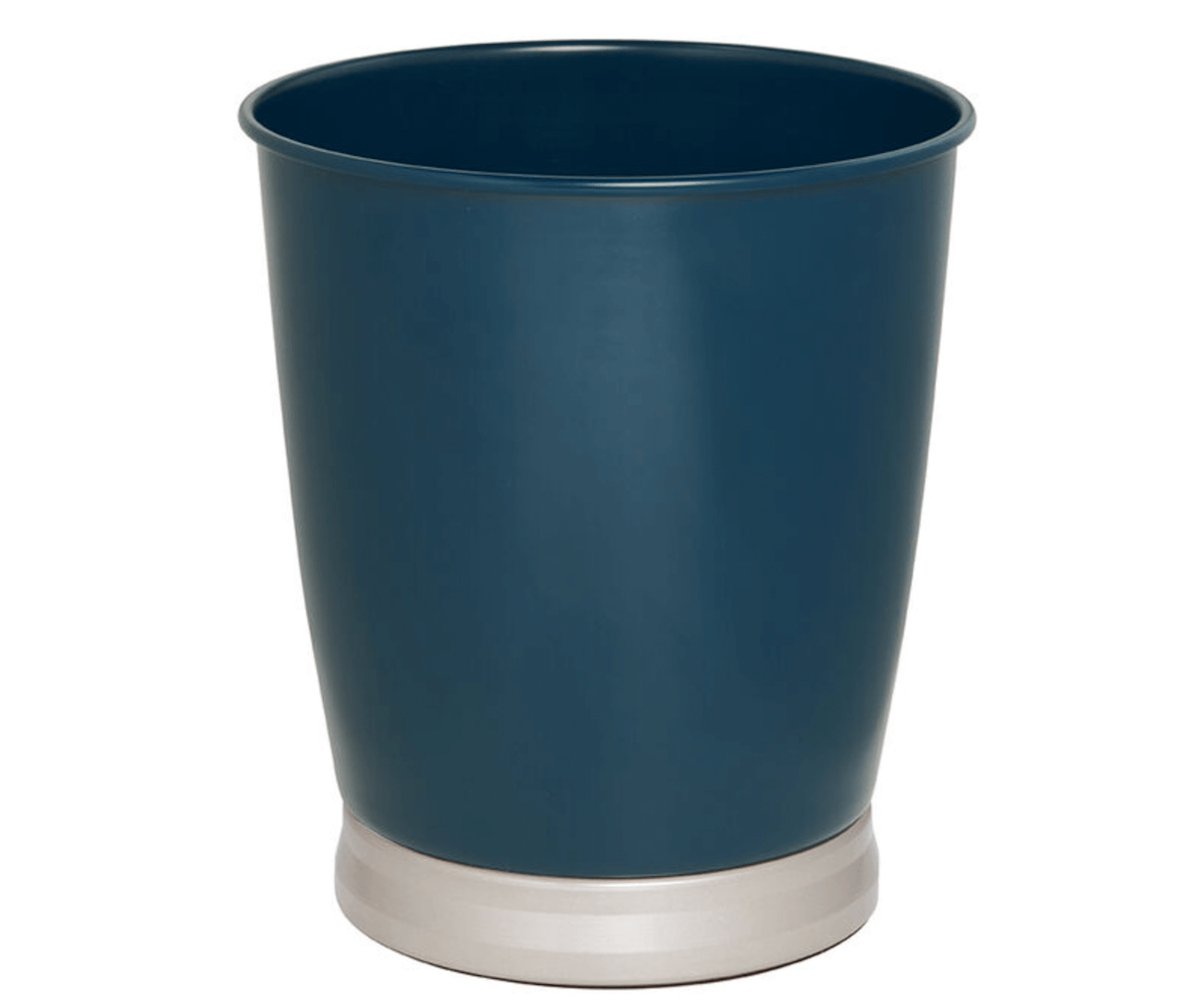 A versatile, stylish option that can be used anywhere in your RV, especially if plastic receptacles don't exactly match your RV's decor.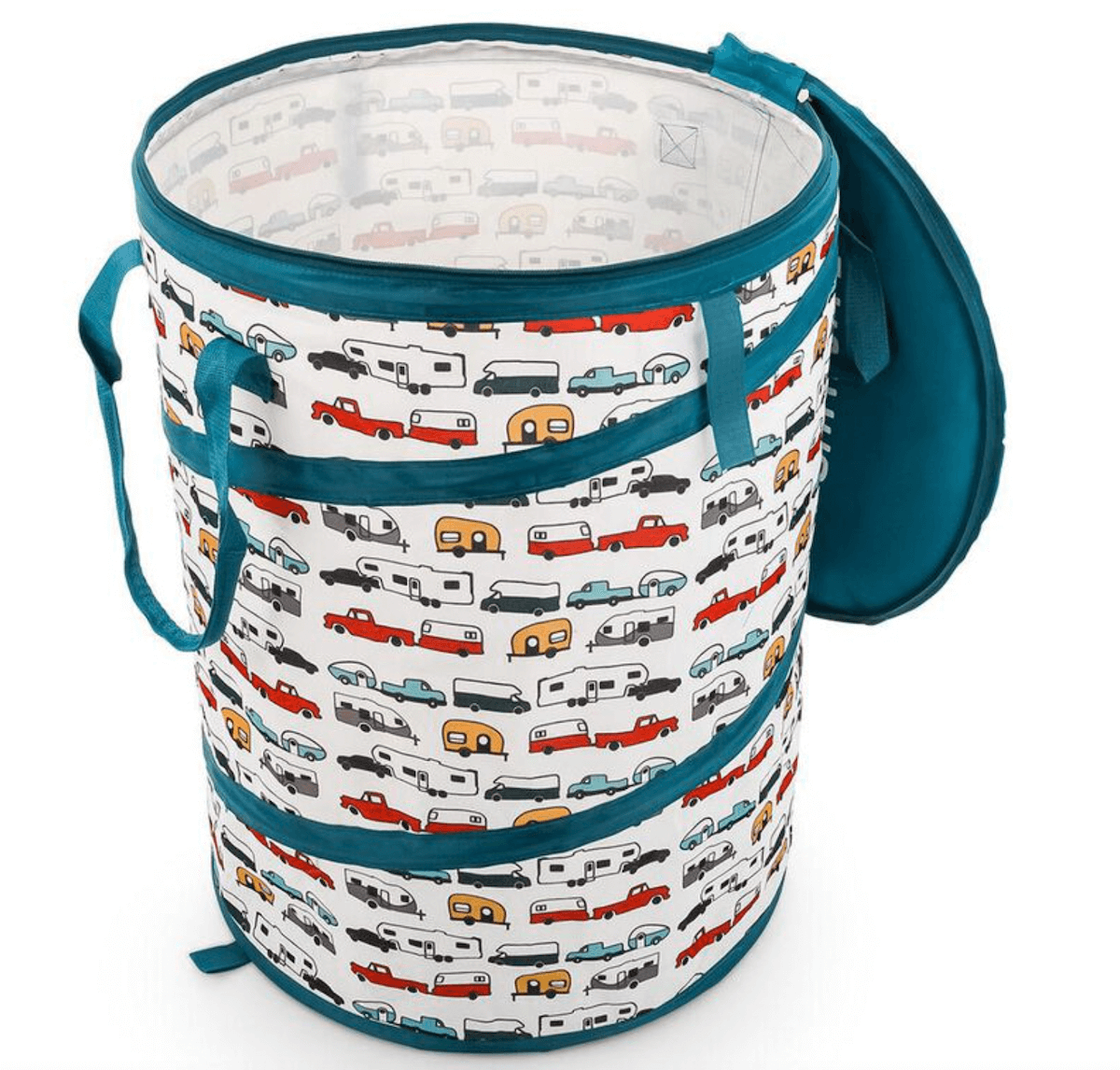 It can easily be lined with a trash bag and used as an outdoor trash can. Get two of these and use the second for dirty laundry storage.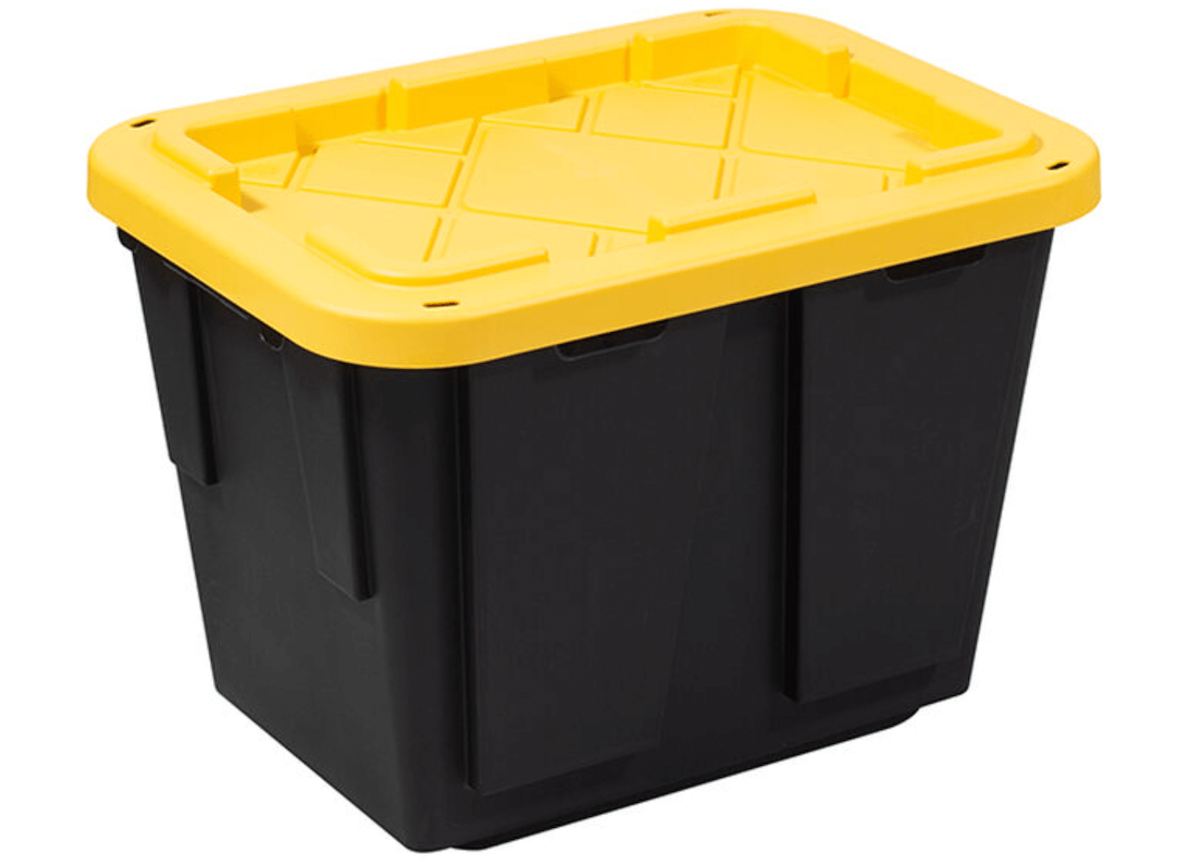 Use it as a recycle bin to store glass and aluminum recycling until you reach the next campground with recycling collection containers.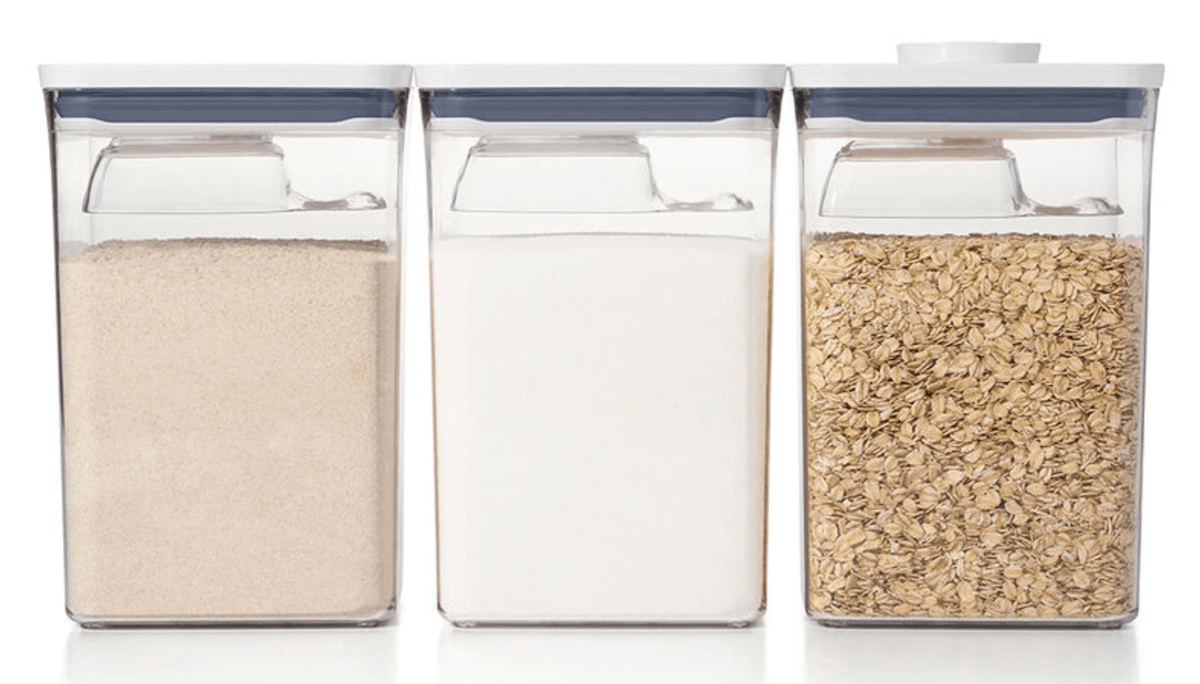 Use one for temporary food scrap storage and the rest for your favorite cereals, grains, and dried fruits.
What to Use for a Trash Can in a Small RV
A trash bag holder that mounts on the inside of a cabinet door is an ideal option when you're limited on space. It saves cabinet storage for appliances, cooking utensils, cleaning supplies, and other kitchen and living essentials.
One option is getting an actual trash can that mounts inside a cabinet. It'll give you a rigid waste basket that's less likely to leak or fall out of place. But it will still require more cabinet space than a simple cabinet-mount trash bag holder.
From a space-saving perspective, the over-the-door bag holder is the way to go. The downside is that you'll need to empty trash more frequently, and it'll be riskier to travel with a full bag due to a higher likelihood of leaks or spills.
Of course, if you have a place in mind outside an enclosed cabinet space, you could opt for a ceramic waste basket. But you'll need to carefully empty and secure a ceramic basket to keep it from breaking every time you move your RV.
Tips for Recycling and Composting as an RVer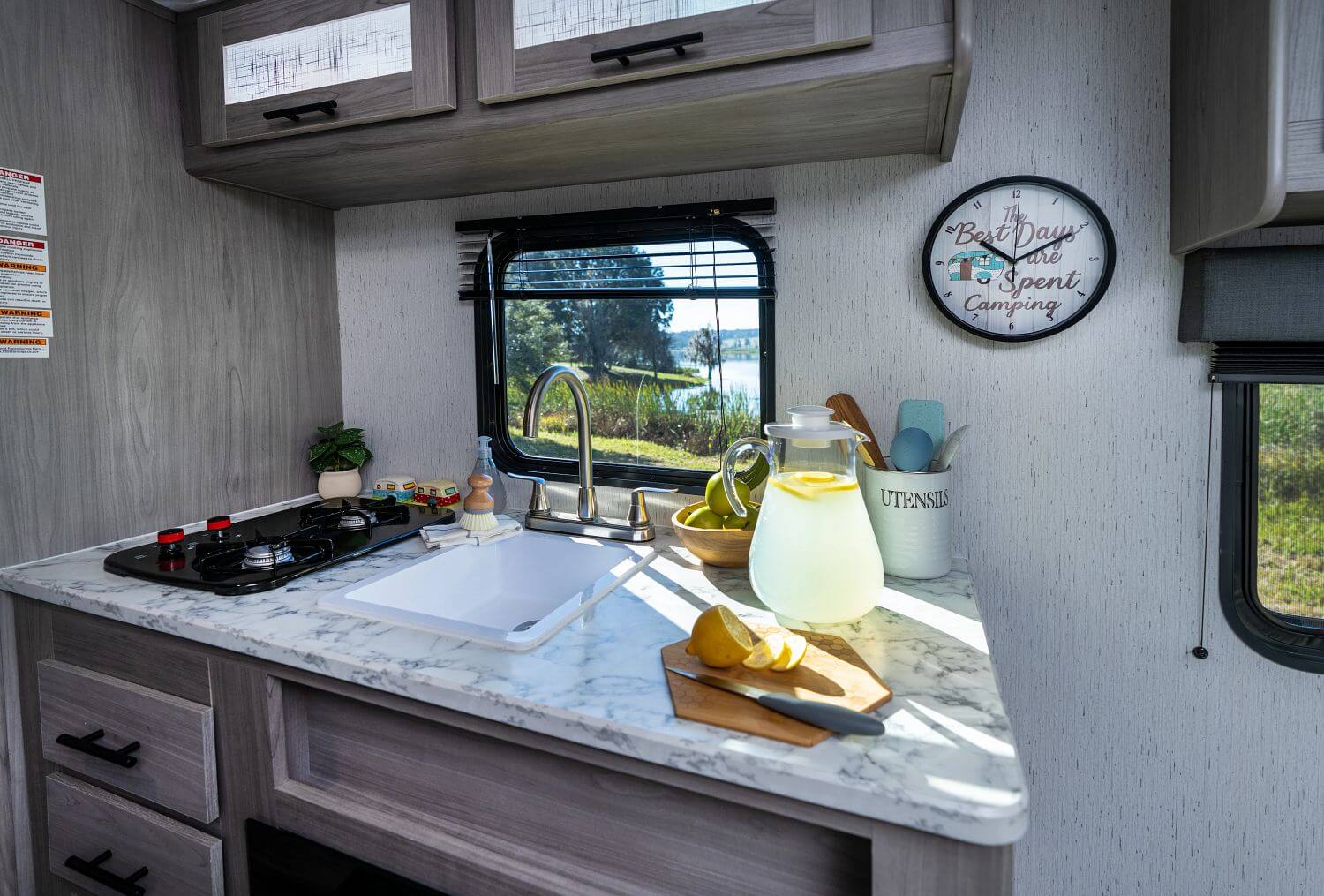 Space isn't the only limiting factor when it comes to separating and disposing of different types of trash. When traveling in an RV, you're often limited to the available trash or recycling receptacles that campgrounds offer.
Here are a few tips to help you do your best at recycling and composting as an RVer: 
---
Dedicating yourself to recycling or composting while RVing takes more planning than at home. Research destinations in advance, and plan road trips around stops where you can appropriately dispose of food scraps and recyclables.
Tell campground owners that sustainable waste practices are important to you – the camper. The more campers prioritize earth-friendly waste management, the more momentum campgrounds have to change.
Use these resources to minimize your environmental impact when RVing:
Do you have other tips for waste management and eco-friendly RVing? Share your advice in the comments below!