The past few years have drastically changed how people work, live, and travel. Now, more than ever, workplace flexibility is making the daily cubicle a thing of the past. Don't believe it? Check out these 10 Awesome True Life RVer Jobs.
Hybrid and remote work is becoming popular as more companies embrace the evidence that a flexible workplace is as productive, if not more, than in-person office environments.
With the option to work anywhere, anytime, it should come as no surprise that people are opting to do so on the road. Having the ability to travel has long been a perk many look for in a career, especially for the traditional 9-5 roles.
Have you longed to explore a new landscape, coast, or city? Working remotely from an RV might be the answer to your wish. But which RV?
Check out the best RVs for working remotely and use these tips for finding the best RV for you.
What Class of RVs are Best for Working Remotely?
Trying to determine the class of RV best suited for working remotely depends on several different factors. Are you comfortable working on any surface, such as the dinette? You'll need a place to sit and a convenient outlet to plug in your laptop or devices. Or would you rather have a designated office area that doesn't have other uses throughout the day?
Every RV class has its advantages for the remote working professional. Here are a few.
Advantages of a Small Camper for Remote Work
Pop-Ups and Small Campers. Since space is limited in pop-ups and small campers, it's not uncommon to find furniture that morphs into other functional furniture. Create or store a fold-down desk inside one of the cabinets for quick and easy access when it's time to clock in, then tuck it all away once you clock out again. Out of sight, out of mind.
Advantages of a Travel Trailer for Remote Work
Travel Trailers and Fifth Wheels. Many travel trailers and fifth wheels have a desk included in their floorplans already. Whether the desk is in the rear of the RV inside the primary bedroom or located in the kitchen with built-in cabinets above, the office is essentially already in place and waiting for you to set up shop.
Advantages of a Small Motorhome for Remote Work
Class B and Class C both have convenient table options, whether in the form of moveable sofa tables or dinette seating, the best space to work in is the great outdoors itself. Who doesn't love an office with a view? Extend the awning and take your work outside, when weather permits. Take advantage of the best part of working from an RV – the ever-changing view.
Advantages of a Class A or Toyhauler for Remote Work
Class A and Toyhaulers have plenty of room to spread out. If you're looking for a designated contained office space inside your RV then it's wise to consider a class A or Toyhauler. Both have the space for an office that is separate from the main living area, whether in the form of a slide-out or garage, to give you adequate separation of space.
What Makes a Good RV Office?
Before choosing the best RV for working remotely, we recommend nailing down what exactly makes an RV office a good RV office. Setting up an RV office is simple once you've nailed down what works for you and what doesn't. What do you require of the space and what are you willing to compromise on?
A few tips to keep in mind when creating your RV office:
Set up your workspace as far from your bed as possible. There's no need to confuse your body by working where you rest and resting where you work. Your productivity level, and your back, will thank you.
To ensure your internet connection is as fast and as reliable as possible, look into WiFi systems and boosters. Using your cell phone as a hotspot is sufficient for a quick meeting, but it shouldn't be considered a long-term solution.
Consider going solar with your setup so you can always charge your computer and other accessories. There's no reason you can't put the RV to work as an office tool.
Designate a hard surface, such as a desk, table, or laptop stand, to hold your computer. Working with your laptop in your lap will be hard on your neck and back over time.
If possible, set up your RV office with a view of the outside. In the event you can't take your work outside, there's no reason why you can't enjoy the view.
RVs Best for Working Remotely
While there are numerous RVs on the market that are great for working remotely, here are a few of our favorites that are sure to have any cube-dweller desperately wishing they could trade in their rolling desk chairs for some time on the road instead.
KZ Durango with the Full-Timer's Desk Option
The KZ Durango provides all the comforts of home but now, thanks to their full-timers desk option, this fifth wheel also provides the comforts of the office. By replacing their standard legless dining table and chairs with a desk that comfortably fits two people, working remotely from this RV is a luxury. The space has plenty of room for multiple computer setups, laptop or desktop, and doesn't interrupt the flow or footprint of the rest of the RV.
Airstream Flying Cloud 30FB Office Travel Trailer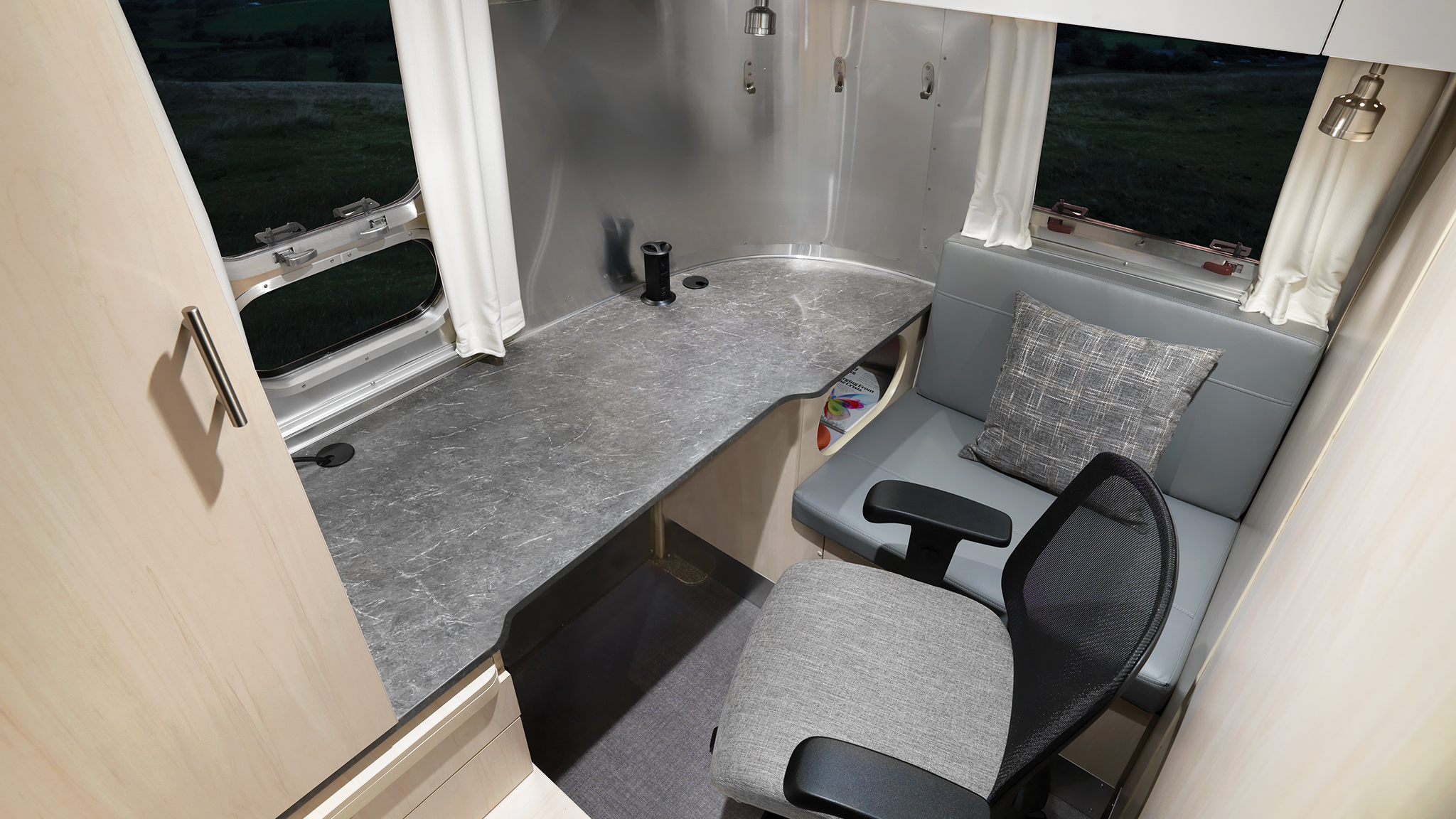 In true Airstream Flying Cloud fashion, they've designed the 30FB Office travel trailer that not only features all the amenities required to live and play on the road but now you can work there, too. With a dedicated workspace has a wide desk, multiple USB ports, sliding drawers, storage cubbies, overhead storage cabinets, and dry-erase material mounted on the wall for notes. Even a swivel office chair is included with a secure strap to hold it during transit. They thought of everything, so you don't have to.
Shop Airstream Flying Clouds at Camping World
Winnebago Travato
Consistently one of the top-selling campervans in the country, the Winnebago Travato caters to the RV enthusiast who is constantly on the go and wearing many hats along the way. A pivoting pop-up table behind the front captain's chairs provides a quick, easy desk to hold your laptop – a perfect solution for the busy RVer squeezing in work between destinations.
Shop Winnebago RVs at Camping World
With these tips and RVs in mind, the transition from working in the office to working on the road should be a little less bumpy. The view is guaranteed to be better.
Have you thought about working from the road? What do you look for in an RV office? Tell us in the comments below!