As travelers with dogs who are part of our family, we would like to think that all campgrounds welcome dogs. But the fact is, many campgrounds do not welcome our family members with fur.
If you travel with dogs, like us, you know the unique joy and excitement that our dogs bring to any trip. So finding a dog-friendly campground that our dogs will be happy with is of utmost importance to us. Not only do we do our research ahead of time when planning a trip in an area, but we do our research on the campground we choose.
Finding dog-friendly campgrounds is possible if you know what tools to use.
What Does Your Dog Want in a Campground?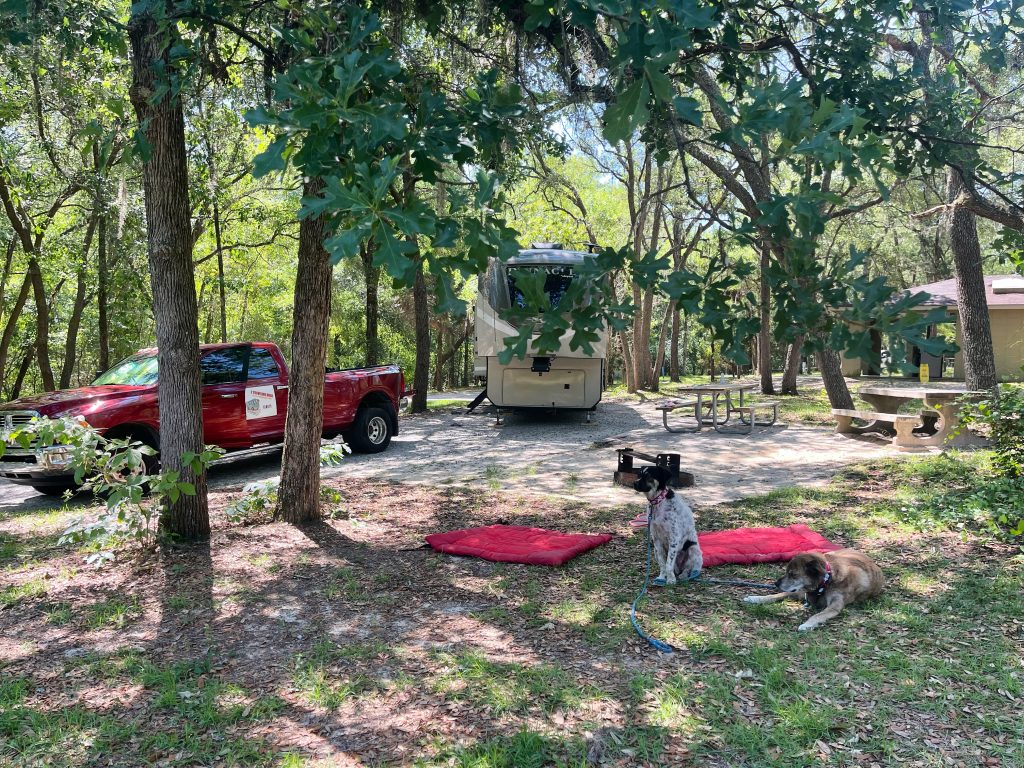 Just like people, all dogs are different. What one dog is comfortable with and enjoys is different from another dog. This is a serious question to consider before searching for that first dog-friendly campground: What does your dog want in a campground?
Our dogs Brickle and Digby were certainly different. Brickle likes his space and is protective. A campsite that is more private with adequate space and not noisy is a must for Brickle. Digby enjoyed howling at all times of the day, but especially at dinnertime. A campsite away from others worked best for us. Many campgrounds have quiet hours, so try your best to keep barking to a minimum.
Our newly adopted dog, Fruitycake, is just getting used to everything! Camping is new, an RV is new, and socializing with other dogs and people is new. A quiet campground may not be the best for us right now as barking is still an issue.
We want to be considerate of others while allowing our dogs to be comfortable as well. Recognizing what characteristics your dog has is key. Some dogs do not care for children. Don't put your dog in a situation that is unhealthy or put children at risk with a campsite by a playground.
Some dogs do not like other dogs. If possible, choose a campsite away from trail entrances, dog parks, or main streets that other dogs walk by regularly. You do not have to feel guilty about your dog's personality. Just pick a campsite that is good for the whole family and others.
Keeping your pet happy and safe, as well as others should always be a priority.
Pick a Dog-Friendly Area to Visit First
It's true! Some cities and states cater more to travelers with their dogs, while some cities and states are very restrictive to dogs. You are more likely to find a dog-friendly campground in areas with activities and attractions for dogs. Areas with outdoor activities, like hiking, likely cater to four-legged travel companions.
Check out these dog-friendly destinations:
Ask if in Doubt
The internet has made it possible to find out just about everything on our own. But when you are looking at a campground's website or social media pages, make an effort to find their dog policies. Don't take it for granted that a campground allows dogs, or all sizes and breeds of dogs, even if you see pictures. If you cannot find specific dog policies outlined, email, message, or call. Read reviews, if possible, on numerous different websites for real feedback from other dog parents. Make a point to ask about details around leashes and dog crates while at the campsite.
Campgrounds May Allow Dogs, But Not in All Campsites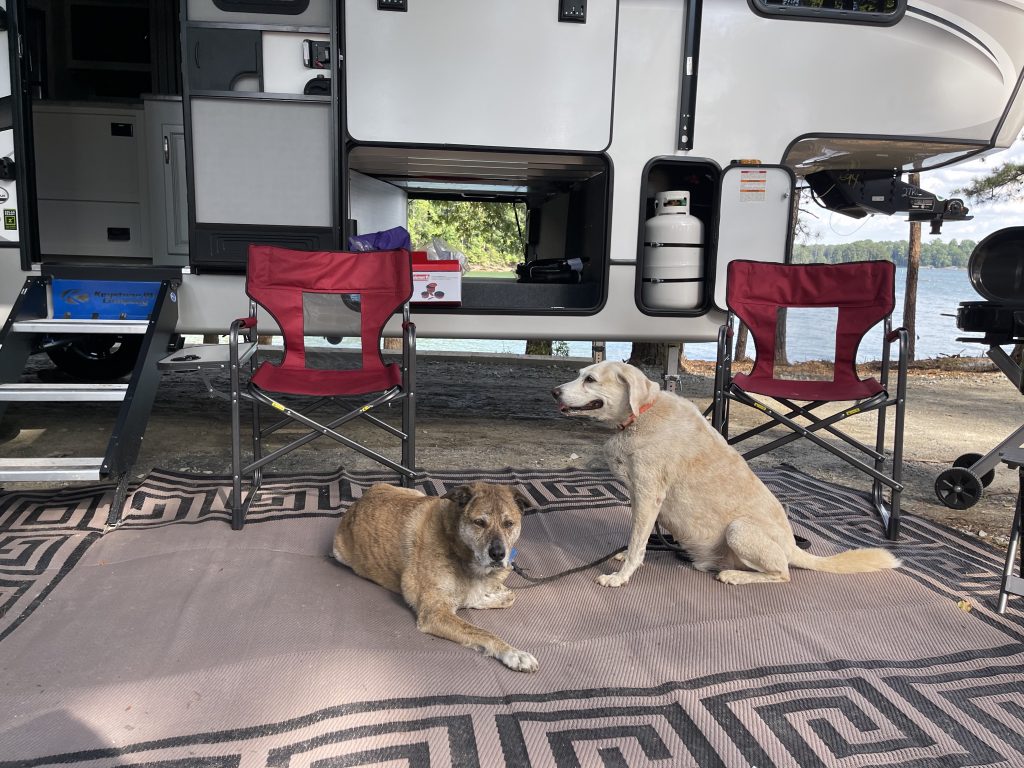 We learned a valuable lesson on the road. We stay at many state parks, county parks, and national parks. Most of these parks welcome dogs in the campground, but one night, we pulled into a state park and found out very quickly that not all the roads in the campground were dog friendly. In fact, dogs were not even allowed to walk down the roads in parts of the park.
If you forget to check that box that says "pets allowed" when you make your online reservation, you may be very disappointed when you arrive. We never made this mistake again! It was too hard not to walk the dogs on certain roadways and it was stressful. That is not what a camping trip should be.
Most campgrounds or parks also do not allow dogs on beach areas for sanitary reasons. Even if dogs are allowed in other parts of the campground, be sure and look for signs indicating if dogs are allowed in swimming areas. Don't get discouraged though! There are plenty of pet-friendly campgrounds out there.
Number of Pets
Most campgrounds, whether private or public, have a limit on the number of pets that may be at your campsite, even if kept inside your RV. We have found that most campgrounds have a limit of two pets per reservation. This rule has kept us from filling up the RV with more adoptable dogs!
Weight Restrictions
Your dog may not like to jump on the scale. Who does? But campgrounds want to know the weight of your dog. Many campgrounds do not allow dogs over 30 pounds.
Breed Restrictions
Many campgrounds mention insurance policy standards for why they restrict certain breeds or mixes of breeds in their park. As a result, some campgrounds will not allow Pit Bull Terriers, German Shepherds, Dobermans, Boxers, or mixes of these breeds. If you have a dog that fits this description, read the fine print on dog policies. We are asked more times than not what breeds our dogs are when checking in, and have seen other campers turned away.
Search the Good Sam Directory Online for Dog-Friendly Campgrounds
Once you narrow down where you want to take your dog camping, search the Good Sam website to find the perfect dog-friendly campground for your pup. This is America's largest campground network! You can even pick a campground filtered by your interests to make it easier. Yes, consider your dog's interests too!
There are so many rewards when it comes to camping with your dog. I will never regret the extra work of cleaning, feeding, and taking care of our dogs on the road. They have added more to our adventures and our experiences than I can explain. Our favorite campgrounds, after six years of full-time travel, have been the ones that Brickle, Digby, and now Fruitycake have enjoyed.
As Brickle gets older, we are able to move our RV to cooler weather when it gets too hot. We are able to take him to his favorite beaches when he feels down. We are able to take Fruitycake to see the mountains for the first time. We were able to give Digby the best years of his life.
More dog-friendly advice: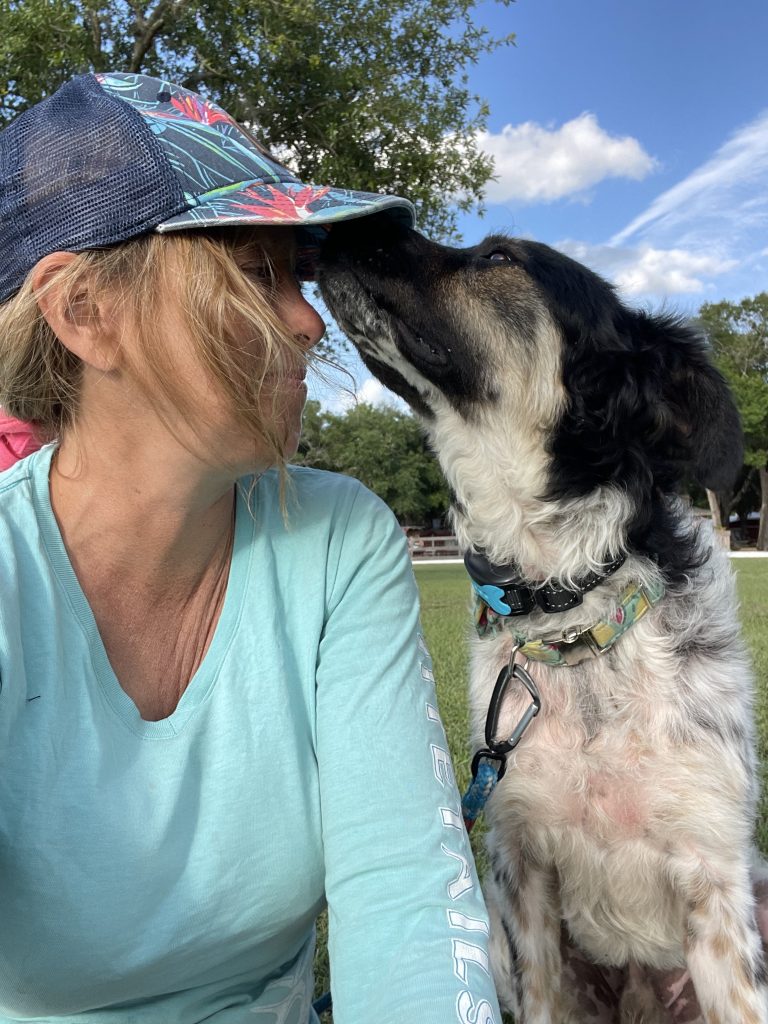 Finding the perfect dog-friendly campground may be a learning experience as well. You may see parts of your dog's personality you didn't know were there. Learning about each other in a family while traveling is fun! When the hectic parts of life distract us from the things and the individuals that are most important to us, camping reminds us that it is still possible to be with the ones we love.
Finding a dog-friendly campground takes more effort and work on our part, but it's worth it!
What dog-friendly campgrounds have you visited? Tell us in the comments below!