The Midwest is a region of the United States of America known as "America's Heartland". We can certainly say that traveling to the Midwest with our dogs, Brickle and Digby, touched our hearts!
Friendly people, good food, and simple living are what we will remember about our time in the Midwest. Wide, open spaces, room to roam, and a relaxed way of life made our dogs feel at home and relaxed. We found the Midwest to be very accommodating to dogs and their people.
Although the Midwestern region of the United States is mostly flat, it does contain other landforms that vary in elevation. You'll find rolling hills, rising mountains, plains, plateaus, and large lakes. Along with natural beauty, you will also find quite a few history lessons waiting for you and your dog as well!
It's time to visit some dog-friendly RV destinations in the Midwest! Remember, these destinations are only a start to the paws-ibilities of exploring this inspiring part of the USA!
Lincoln State Park –

Spencer County, Illinois
Rich in history and the site of Abraham Lincoln's boyhood home, Lincoln State Park has over 10 miles of hiking trails, rolling hills, and two lakes. Dogs are welcome to explore this state park with you. You can see the Lincoln Boyhood National Memorial, a pioneer farm, the Lincoln cabin site, the gravesite of Abraham Lincoln's mother, and the historic Trail of Twelve Stones. Want to stay all day? You can camp in this state park! It is great for an overnight spot.
Good Sam Campgrounds Nearby
Madison County, Iowa
If covered bridges bring to mind a famous movie, you know why this county in Iowa is such a unique place to travel to. Your dog is welcome to join you at many of the covered bridges in this area of Iowa. Madison County is the covered bridge capital of Iowa. This county has the largest group of covered bridges that exist in one area! Since there are many bridges that are reached by dirt roads, leave the RV back at the campground while you explore.
Good Sam Campgrounds Nearby
Chalk Pyramids –
Monument Rocks National Landmark, Kansas
During our over six years of RV traveling with pets, when I think of a place that surprised me the most, it is paws down the chalk pyramids in Kansas. Not many travelers know about this destination, but now the secret is out! On the western edge of Gove County in Kansas is Monument Rocks. This is a series of large, chalk monoliths that are referred to as the Chalk Pyramids. Dogs are allowed on leash and you will feel like you are on another planet. This is truly a once-in-a-lifetime experience.
Good Sam Campgrounds Nearby
Sleeping Bear Dunes National Lakeshore –
Michigan
Being from Florida originally, we love being on the beach! But after visiting Sleeping Bear Dunes National Lakeshore with Brickle and Digby, I can now understand the lake life! Sleeping Bear Dunes National Lakeshore has miles of sandy beaches and bluffs that tower above Lake Michigan. Like many areas, there are some beaches that dogs are not allowed, so check with the friendly park staff, get a map or look online. We found that there were more places that Brickle and Digby could go in this picturesque lakeshore than we expected. But keep in mind that dogs are not allowed on the dune climb for safety reasons.
Good Sam Campgrounds Nearby
Bemidji, Minnesota
Your dog will feel as tall as Paul Bunyan when you take him to Bemidji, Minnesota! This was such a fun stop for us on our travels. Meet the giant statues of Paul Bunyan and Babe The Blue Ox for a spectacular picture opportunity. This roadside attraction has been listed on the National Register of Historic Places since 1988. Built in 1937, Paul Bunyan and his Blue Ox Babe stand along the shore of Lake Bemidji near the Tourist Information Center. After you get the best pictures ever of your dog, visit nearby, dog-friendly Itasca State Park. Here, you can see the headwaters of the Mississippi River, hike, and have a picnic!
Good Sam Campgrounds Nearby
Indian Cave State Park –
Nebraska
Named for the large sandstone cave within the park, Indian Cave State Park borders the mighty Missouri River. Your dog will thank you for taking her here to camp, picnic, and hike on over 22 miles of trails! Indian Cave is the main geologic feature of this park and bears prehistoric Native American petroglyphs! Make sure to keep your dog on leash and clean up after them to preserve this beautiful site.
Good Sam Campgrounds Nearby
Gateway Arch National Park –
Missouri
Usually, we tend to stay away from big cities on our RV travels because our dogs were seniors. But we found the Gateway Arch National Park in Missouri to be a great balance of city and quaintness. The two iconic structures in this 91-acre park will take your breath away. Your dog will enjoy walking on the green grass and park areas, watching the horses and carriages stroll by, and relaxing with a picnic. Dogs on leash can explore the park and walk along the Riverfront Trail.
Good Sam Campgrounds Nearby
Frontier Village –
Jamestown, North Dakota
We love roadside attractions and unique stops, and dog-friendly Frontier Village really checked all our boxes! Original buildings from the frontier villages of North Dakota were brought to this site. The displays filled with unique antiques and artifacts are a great way to learn about North Dakota and its history. If you are looking for the World's Largest Buffalo Monument, you found it! Close by to Frontier Village, visit this special spot for a picture. You just can't resist!
Good Sam Campgrounds Nearby
Cuyahoga Valley National Park –
Cuyahoga Falls, Ohio
This park is a beautiful refuge for native plants and wildlife, and your dog is welcome to explore over 100 miles of trails in this National Park with you. Why is the Cuyahoga Valley National Park dear to my heart? There is a winery within the park! Yes, a dog-friendly winery! After hiking and exploring, sit underneath the trees at Sarah's Vineyard with your dog. As with any park, check out the national park pet restrictions before visiting.
Good Sam Campgrounds Nearby
Custer State Park –
South Dakota
Custer State Park is a South Dakota State Park and wildlife reserve in the Black Hills of South Dakota. Custer State Park is famous for its bison herds, scenic drives, historic sites, resorts, and campgrounds. It was named one of the World's Top Ten Wildlife Destinations for the array of wildlife within the park's borders. Just 15 miles from the city of Custer, this state park is massive and inspiring!
Good Sam Campgrounds Nearby
Apostle Islands National Lakeshore –
Wisconsin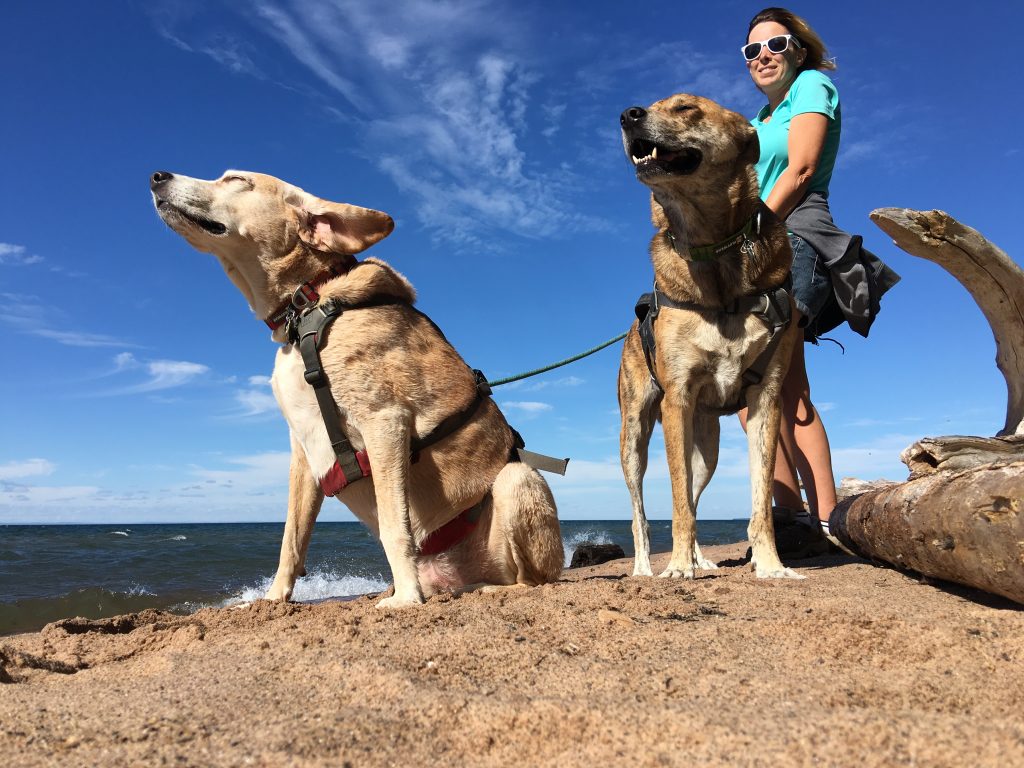 I can still remember the way that Digby looked at me when we stood on the lakeshore of the Apostle Islands. The wind was blowing, the sun was shining, and all was right in our traveling world. Dogs are welcome to explore this treasure of Wisconsin with you. You will see windswept beaches and sandstone cliffs. Hike with your dog and experience the magic of Lake Superior.
Good Sam Campgrounds Nearby
If you like changing seasons, the Midwest truly has four seasons to enjoy with your dog. Remember before heading out to explore in your RV, check for road conditions and weather conditions. Our traveling family has found that exploring after we set up the RV in the campground in our separate vehicle allows us a bit more freedom in this area of the United States. Plus, as a Good Sam Member, you can save an extra 10% on Good Sam RV parks and campgrounds.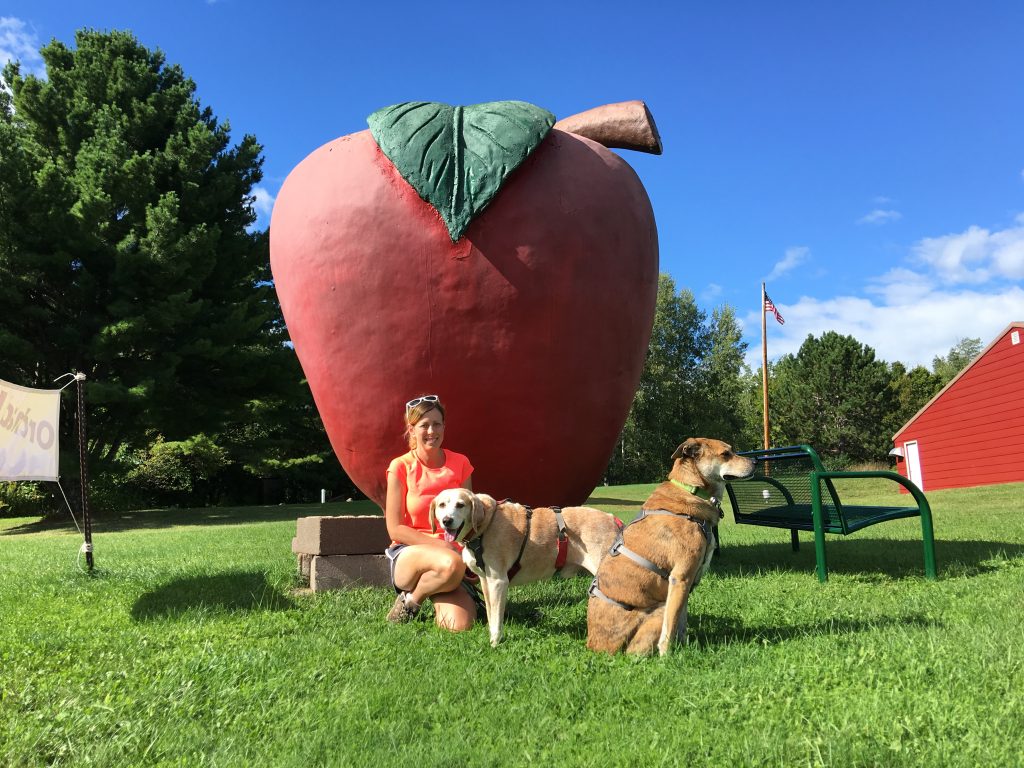 If you are a foodie, or your dog is a foodie, you can sample Midwest treats like a hotdish, Chicago-style hotdog, deep-dish pizza, or even a Juneberry pie. Traveling to the Midwest will be like a step back in time when life was simple. Experience the Midwest with your dog!
Brickle and Digby's favorite places in the Midwest were where they could hike, swim, explore and have a snack! The Midwest knows the simple pleasures of life, just like your dog! Get in that RV and head to a new, favorite dog-friendly destination. It's waiting for you and your dog!
A Midwest Recipe For Dogs
Illinois Style Deep Dish Pizza For Dogs
Crust Ingredients:
3 cups organic, all-purpose flour

1 cup warm water

1 tablespoon yeast

2 tablespoons honey
Sauce Ingredients:
1 cup organic tomato sauce (unsalted, no seasonings)

1 tablespoon honey

1/2 tablespoon olive oil
Topping Suggestions:
Organic bell peppers, lean, cooked meat, organic turkey bacon, cooked sweet potatoes, baby spinach, grated carrots, and mozzarella cheese.
Instructions:
For the crust, mix all ingredients and let rise in a warm place for an hour. Roll out dough and spread on a greased, cast iron or deep dish pizza pan. Preheat the oven to 400 degrees. Bake the crust for 15 minutes and remove from the oven. Place cheese and toppings on top of the crust and spoon tomato sauce mixture over it. Return to the oven and bake for an additional 20 minutes. Let cool completely before serving to your dog. Never serve hot food to your dog.
Disclaimer: This is a treat and not a regular meal replacement. Control portion size. Always consult a vet before making any changes to your dog's diet.
More Dog-Friendly RV Destinations