There is something magical about traveling in the West. The western United States has everything RV travelers with dogs can hope for. Expansive and impressive national parks, ocean paradise views, boundless hiking trails, and endless opportunities for exploration await you and your dog! You can hardly ever run out of destinations to visit. It seems like there is always "just one "more" destination on our list to see with our dogs in the West.
Our dogs certainly have their favorites when it comes to the West. Our dog, Peanut Butter Brickle, definitely prefers to sink his paws into the sand of the western coastal regions. Our dog Digby Pancake recently passed away, but we will never forget his love of hiking trails in the West and how the low humidity helped him with his health and stamina over the years.
The best part of RV travel for our family is knowing that our dogs will always have new sights, smells, and sounds. Here are just some of our favorite Dog-Friendly RV Destinations In The West.
Grand Canyon National Park, Arizona
How can we start a list of dog-friendly RV destinations in the West without the Grand Canyon? No matter what you have heard about this national park in Arizona, prepare to be amazed. We look for dog-friendly trails when we visit any national park, including the Grand Canyon. At Grand Canyon National Park, leashed pets are welcome on the Rim and Greenway trails at the South Rim. The Rim Trail was Brickle Digby's favorite. Most of the trail is paved and allows for a safe place to view the Grand Canyon. During some times of the year, this trail can get very busy. So be mindful of the dog's individual temperament around other dogs and people. This trail can also get very hot, so carry plenty of water. RV travelers with dogs will love the convenience of Trailer Village. Trailer Village is open year-round, but other park parts may not be, so be sure and check online. Trailer Village is an excellent beginner RV park with full hookups and large campsites. We had great picture opportunities without ever leaving the park, watching wildlife visit our camp every day. If you want to explore other trails of the canyon that are off-limits to dogs, this is a great place to be able to let your dog take a nap and come back frequently to walk together and check on him.
Seminole Canyon State Park, Comstock, Texas
Not many RV travelers know about this unique state park in Texas. Prehistoric people found the creative energy to paint pictographs in Fate Bell and other rock shelters of the Lower Pecos River Country despite their struggles to survive. This distinct style only appears in an area that includes portions of the Rio Grande, Pecos, and Devils rivers. More than 200 pictograph sites hold examples of their style of rock paintings! These range from single paintings to caves with art hundreds of feet long. The artists are the only ones who know the meanings of these paintings, but it is fun to imagine what secrets they hold. Dogs are welcome in the campground here and on the hiking trails of Seminole Canyon State Park. Water and electric hookups are available in most campsites here, and some even have sun shelters at your camp.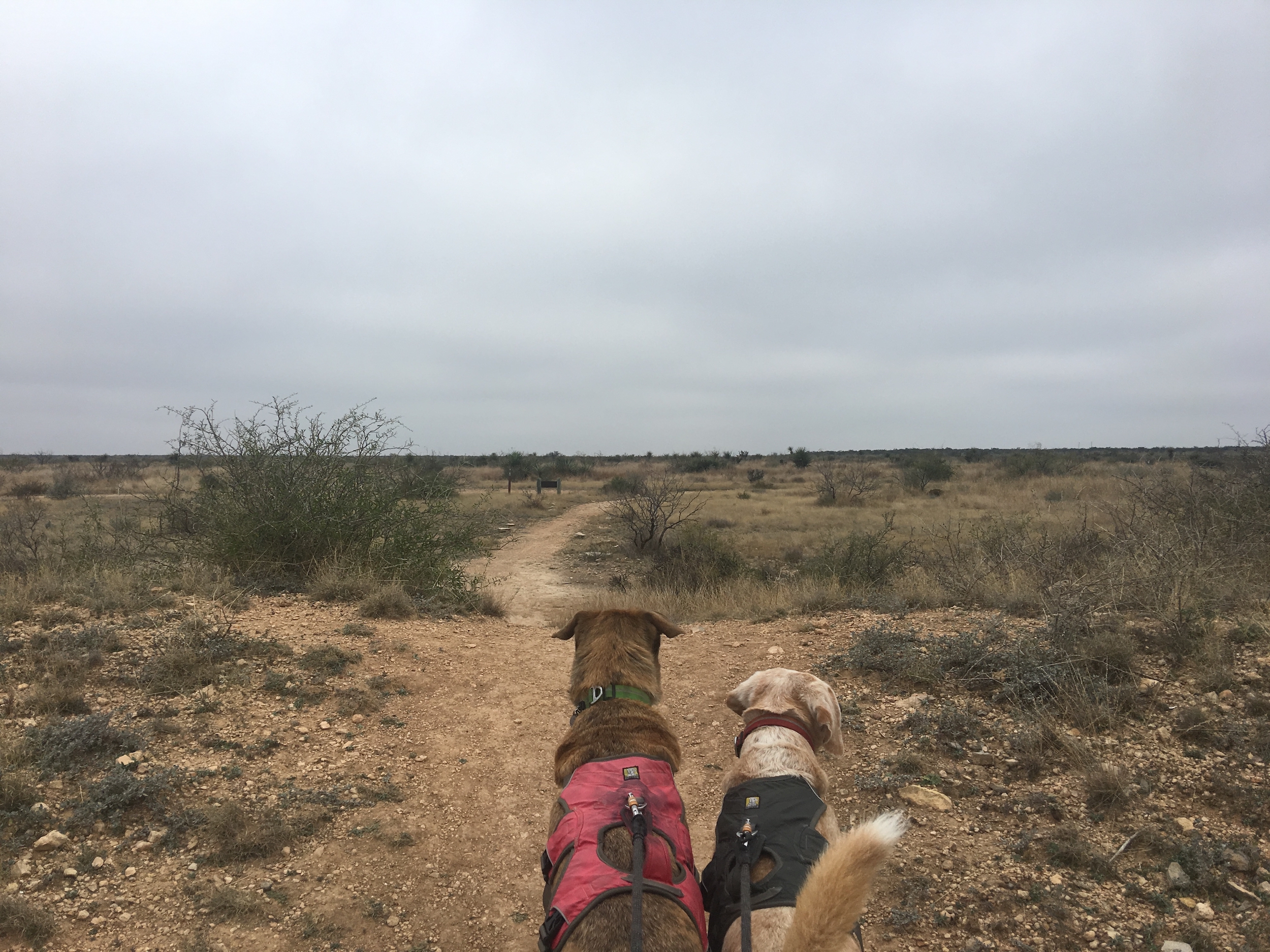 Kartchner Caverns State Park, Benson, Arizona
Kartchner Caverns State Park in Benson, Arizona, not only has a clean, spacious campground with hiking trails right outside your door. But its real allure is a cave unlike any other. Kartchner Caverns is home to one of the world's longest soda straw stalactites: 21 feet 3 inches. Dogs cannot go into the cave, but you can; it's convenient to be close to getting back to your pup. We loved this campground, but we loved its proximity to other dog-friendly attractions like Tombstone, the art town of Bisbee, and Patagonia.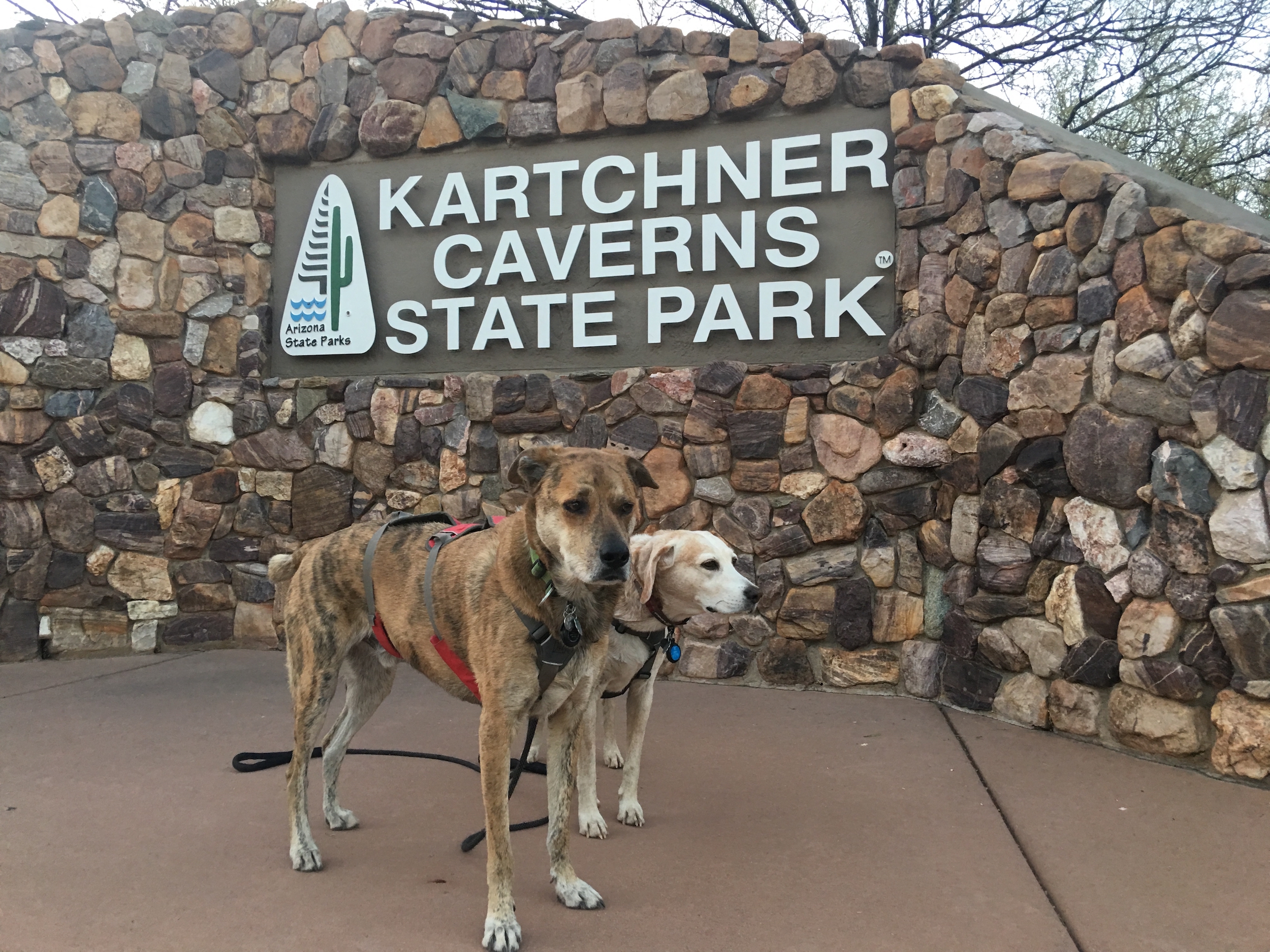 Big Bend National Park, Texas
Big Bend National Park is for splendid isolation from the world. This is a great national park to visit for senior dogs who enjoy driving because they are not allowed on trails. However, the viewpoints allow for great picture opportunities and places to stretch your paws so that you can enjoy this national park together. The Ross Maxwell Scenic Drive is a thirty-mile drive that leads to the Castolon Historic District and Santa Elena Canyon. Along the way, the road showcases some of the historic and geologic features this region is famous for. If you are fortunate to visit during spring, bluebonnet flowers are abundant. The best places to stop for pictures are the roads between Panther Junction Visitor Center, Rio Grande Village Visitor Center, and between Panther Junction Visitor Center and Chisos Mountains Basin Junction. The park concessioner operates a full hookup RV camping area that is dog friendly.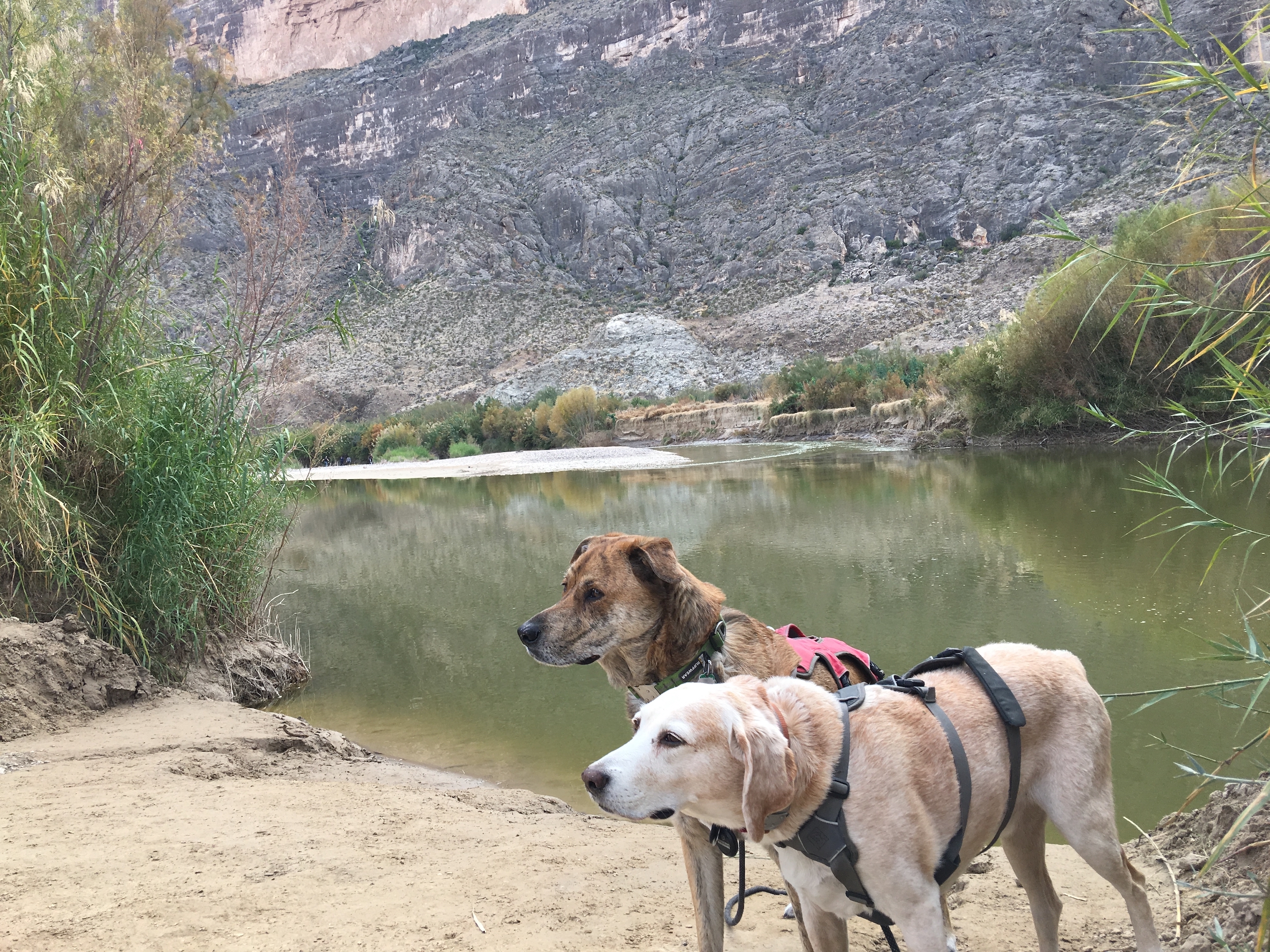 Organ Pipe Cactus National Monument, Arizona
This 517-square-mile park was set aside in 1937 to preserve a pristine example of Sonoran Desert Habitat. The Organ Pipe Cactus Biosphere Reserve is a first-generation biosphere reserve created in 1976 to conserve the unique resources representing a pristine example of an intact Sonoran Desert ecosystem. Pets are welcome on the Palo Verde Trail, Campground Perimeter Trail, and all roads open to visitors, including the paved campground areas. Visitors with pets are welcome to walk the nature trail at the Kris Eggle Visitor Center, and this is where we found the safest and best picture opportunities with Brickle and Digby. If you like the sounds of coyotes luring you to sleep, take your RV to Twin Peaks Campground within the national monument property. Twin Peaks Campground has 174 sites for RVs. Several sites can accommodate RVs up to 45 feet in length. Restrooms have running water, and a few have solar showers. Please note that hookups for electricity, water, or sewer are unavailable.
Solvang, California
The Danish Village of Solvang, California, is one of those places that help you feel like a puppy and a kid again! You will feel like you are in a different country in the historic Danish village of Solvang. It offers the best of the Santa Ynez Valley and Santa Barbara wine country in a relaxed and peaceful setting. Indulge in authentic Danish pastries at their world-famous bakeries. Yes, we will admit, we got Brickle and Digby some treats of their own. Yes, we will admit, we might have had a bite too. Stroll through the village and admire the old-world European architecture, plus find the perfect souvenir at various charming boutiques and shops. Many of the shops offer dog treats to your furry friends. Plus, you will find several watering fountains at just the right level for your pet! How cute is that?! We camped at the nearby Cachuma Lake Recreation Area, less than 20 minutes away. Cachuma Lake Recreation Area offers year-round RV hookups, nature walks, picnicking, boat rentals, a laundry facility, and a general store.
Las Vegas, Nevada
Have you ever thought about camping in Las Vegas, Nevada? We had not considered this an RV destination, but we were wrong because we didn't know about Red Rock Canyon! Red Canyon's RV campsites are located in the stunning Red Rock Canyon National Conservation Area, approximately twenty miles away from the Las Vegas Strip. Visitors enjoy hiking, rock climbing, bike riding, and scenic driving in this unique Mojave Desert environment. If the city is your thing, make sure to get back in time for the gorgeous sunsets here! And remember, fill up those water tanks before you arrive. The campground is ideal, with just a couple miles from the Scenic Loop at Red Rock and 5 miles the other way to Red Rock Casino. There is a grocery store and fuel within 4 miles. Our dogs loved walking throughout the campground, and the views are some of the most unique we have seen.
Petaluma, California
I'll just say it. I love cows. Located in the wine county of Sonoma, Petaluma is one of our favorite RV destinations. You are close to wineries and the coast. There are unlimited farms and fields to admire. And the Petaluma KOA Campground is so fun! This beautiful camping resort is rated one of the top RV campgrounds in California! With 312 spacious sites on 70 Acres, this KOA offers the best in dog-friendly RV camping in a rural atmosphere. A vast, fenced park awaits your dog, and this is a great home base to explore San Francisco as well.
Manitou Springs, Colorado
We love dog-friendly attractions, and our dog Peanut Butter Brickle's favorite Colorado destination is definitely Manitou Springs. The small size of Manitou Springs makes it great to explore with your dog. Known for its centuries-old healing mineral springs found throughout the town, Manitou Springs offers adventures and retreats, all within a three-mile hiking distance. The Manitou Cliff Dwellings is a tourist attraction consisting of replica Ancestral Pueblo cliff dwellings and interpretive exhibits located just west of Colorado Springs, Colorado, on US Highway 24 in Manitou Springs. There are numerous opportunities for RV camping in this area, including nearby Colorado Springs, where you can also take your dog to Garden Of The Gods Park!
Capitol Reef National Park, Utah
Located in south-central Utah in the heart of red rock country, Capitol Reef National Park is a hidden treasure filled with cliffs, canyons, domes, and bridges in the Waterpocket Fold, a geologic monocline extending almost 100 miles. There is a curvy road leading to the park, and we can attest to that when Digby had an accident in our back seat! But we promise the colors of the cliffs will be unlike any colors you could imagine.
The 71-site Fruita campground is the only developed campground in Capitol Reef. Reservations are available from March 1- October 31. When people ask me where my favorite campsite is located in the West, I hesitate to tell! When Capitol Reef National Park in Utah was booked, we searched for a boondocking spot, and I have to say, it was perfect. Right outside the national park are opportunities to camp on public land. You have to do your research for exact coordinates but we encourage you to do the extra work. We had our own space, even with a fire pit. We felt like Utah was all our own, and our attachment for this state is strong. You get a different feel when you are away from the public and can appreciate the silence of the morning and the stars at night.
The Western United States has something for everyone, and that includes your dogs. You may visit the same destination at different times of the year or in a different season, and it may present other opportunities for exploration and discovery. We have found more boondocking opportunities in the West, and often, these are some of our favorite campsite memories. The West pushes us beyond our limits, offers new and ever-changing perspectives and an opportunity to grow as a traveler. Peanut Butter Brickle and Digby Pancake inspired us to start the RV travel lifestyle, and the West got us hooked for life. Find your own unique places to share with others. The Western United States will surprise you and your dog with facts you didn't know about the USA and your perspective on the ones here before us. That will help us protect the future and appreciate these lands for us and our dogs for generations to come.