So who is RVing these days? People from all backgrounds, ages, career paths, and life stages are hitting the road in ever-growing numbers. Here are a few that are documenting their journey.
Tell us your RV story to be featured on the Camping World blog!
---
Chase & Lindsay Garrett of We're Out 'N About
RV Make & Model:
2023 Keystone Fuzion 424 and 2019 Travel Lite 625 Truck Camper
How many years have you spent RVing?
5 years full-time but we've both RVed our entire life with our families.
About Chase & Lindsay
We decided to take our career as ICU nurses on the road by becoming traveling nurses. Since we both grew up RVing and loved the lifestyle, we knew it was the only way we'd want to travel! We've been full-timing for almost 5 years & have no intentions of stopping. We actually just upgraded our 30-foot travel trailer to a 45-foot toy hauler since we're so invested in the freedoms this way of life brings. We love that we're able to live our lives to the fullest while experiencing everything the country has to offer from the comfort of our own home!
Follow Chase & Lindsay on Instagram.
What are your 2023 RV Plans?
We're continuing to full-time! We're currently being snowbirds in southern Arizona. We're hoping to explore the West Coast & Pacific Northwest in 2023!
---
Dan & Samantha Mathews of We Are Dan and Sam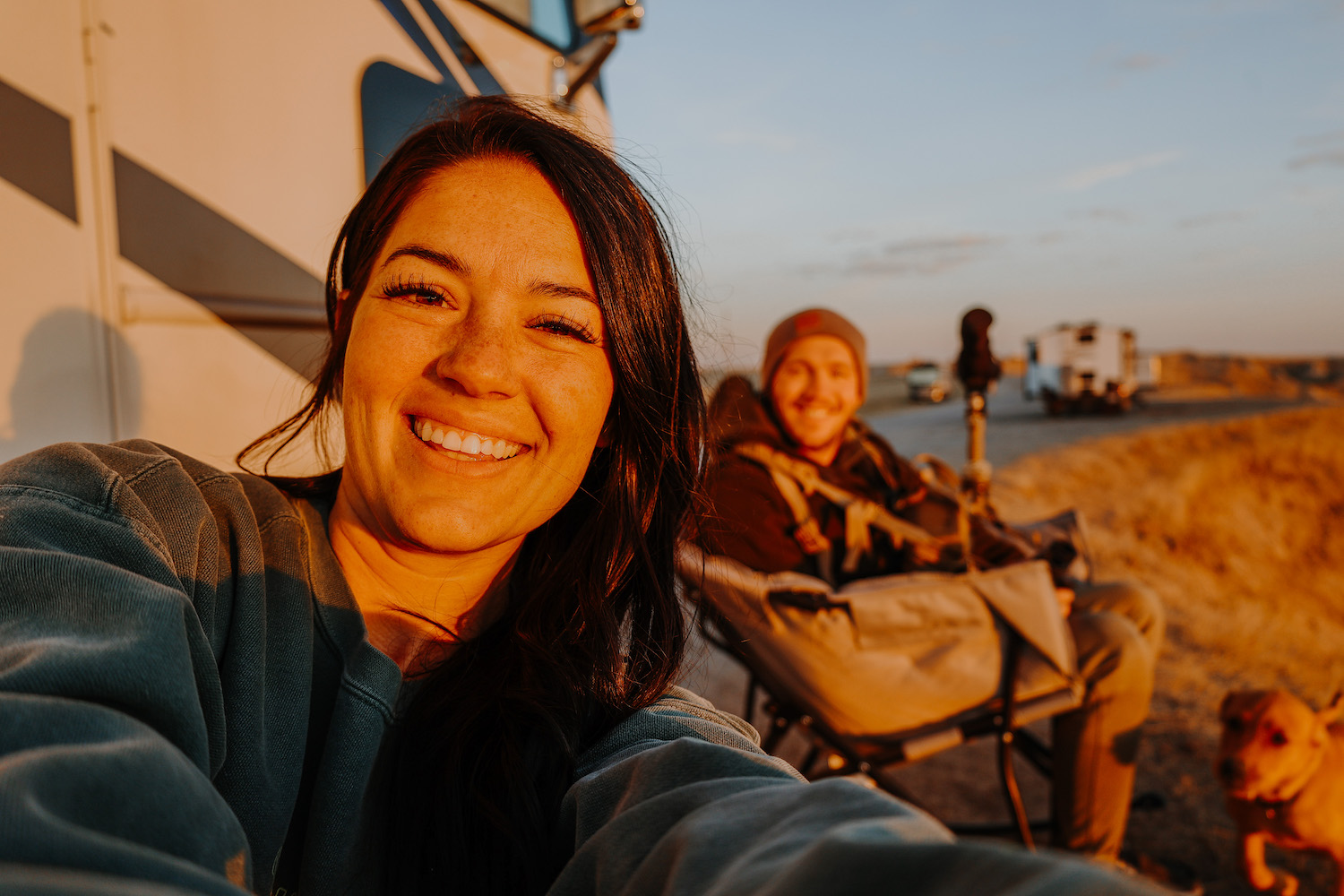 RV Make & Model:
How many years have you spent RVing?
This is our second time RV living. So far, four months this time around!
About Dan & Samantha
We work for ourselves and love to travel. It was a good transition between renting and building our home! We love family time and being in a different state whenever we want.
Follow Dan & Sam on Instagram.
What are your 2023 RV Plans?
We are most excited to spend two full months at the beach!
---
Kirsten Trout of Kirs and Devin Fifth Wheel Living
RV Make & Model:
2020 Riverstone 391FSK
How many years have you spent RVing?
5 years.
About Kirs & Devin
My husband Devin and I started fifth wheel living full-time on January 1, 2018. We wanted to move to Nashville, but the housing prices and apartment prices were so high (and still are high) that we couldn't afford to move to Nashville. [We] would be moving to Nashville just to pay rent. My husband showed me the RV living option, and I fell in love with the lifestyle. It's just like a tiny house but more affordable. We were only going to do it for a year while we looked for a house, but that was five years ago. We fell in love with the lifestyle and the freedoms that have come from it.
Follow Kirs & Devin on Facebook.
What are your 2023 RV Plans?
Maybe get another RV, one with two bathrooms and two bedrooms. Toy haulers are a good setup for full-time families that want those two options.
Karen Akpan of The Mom Trotter
RV Make & Model:
2021 Keystone Montana High Country 385BR
How many years have you spent RVing?
2.5 years.
About Karen
Coincidentally around when Covid started. We full-time RV travel around the country. We love being able to change our backyard and neighbors whenever we want, and we can summer all year long if we want.
Follow Karen on Instagram and explore Karen's advice for road schooling.
What are your 2023 RV Plans?
Expand and explore the number of states we have covered. And meet fellow amazing RVers.
Amanda & David Boles of The Rollin' Boles
RV Make & Model:
2005 Tiffin Phaeton 40QDH
How many years have you spent RVing?
5 years.
About Amanda & David
We started RVing with a 19-foot travel trailer that we absolutely loved. We had recently built our dream home in Nashville on five acres but quickly realized we preferred RVing over being stationary. So we sold everything, went full-time in a bigger rig, and haven't looked back since!
We have been full-time RVing for five years, and we absolutely love it. We love waking up to a new backyard and always having our upcoming travel plans to look forward to. It's allowed us to explore more of this beautiful country than ever before. We enjoy being able to meet new people and visit friends and family all over the country. We get to experience new adventures every day, and we wouldn't trade RV life for anything!
Follow Amanda & David on Instagram.
What are your 2023 RV Plans?
Las Vegas, NV
Moab, UT
Flagstaff and Phoenix, AZ
Southern Colorado
Houston, TX
James & Stefany Adinaro of The Fit RV
RV Make & Model:
How many years have you spent RVing?
About 13 years.
About James & Stefany
We initially saw RVing as a more comfortable way to participate in cycling and running events (hot meals and no port-a-johns for us!). But once we had the RV, we realized RVing is an easier and more comfortable way to see the country. We haven't been through a TSA line in years now!
We also love that RVing gives us an easy way to travel with our (reluctant) adventure cat, Mel. That cat has seen more than most non-RVers see in a lifetime.
Follow James & Stefany on Instagram and watch their interview with Camping World about staying fit and healthy on the road.
What are your 2023 RV Plans?
In 2023, we'll start the year with a few RV shows where we'll lead seminars. We also plan to RV to some active cycling and running events (races, fun runs, Fondos, etc.) That's kind of 'getting back to our roots' in RVing. Finally, we have a few RV rallies on our schedule in the summer and fall. The Pacific Northwest has been on our minds lately, and we hope to spend a few weeks there riding it up. It should be a super fun year!
Jenny Anderson of Girl of 10,000 Lakes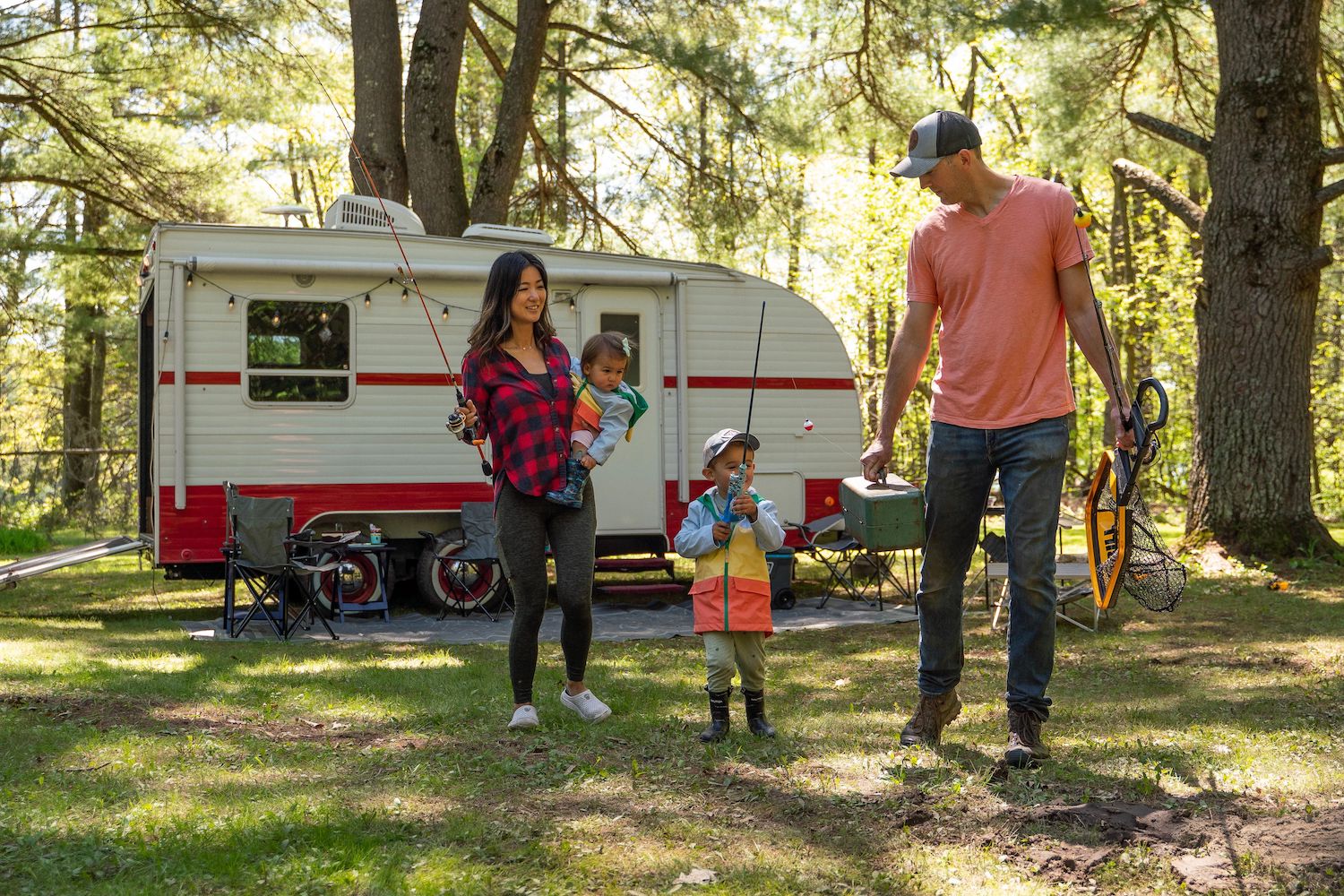 RV Make & Model:
2015 Glacier Rage'n Ice House and Riverside RV Retro 820R
How many years have you spent RVing?
5 years.
About Jenny
Our RV journey didn't begin on the road. It actually started on the ice on the frozen lakes of Minnesota. We started RVing because we wanted a way to go ice fishing while sleeping on the lake to maximize our time on the ice. Winters in Minnesota can feel long, but having a fish house RV has completely changed that. Winter can't be long enough! And during the warmer months, we love RVing in our retro-style RV, which we call the Peppermint Patty. Both RVs have allowed us to camp and travel with our family comfortably, no matter the season.
Follow Jenny on Instagram.
What are your 2023 RV Plans?
We plan to take the fish house RV out on frozen lakes as soon as the ice is consistently 14 inches thick. That means ice fishing for most of the beginning of 2023. After that, we'll take the Peppermint Patty to its annual spring turkey hunting camp, followed by summer camping with the whole family on some of our favorite lakes in Minnesota and Wisconsin.
Tara Burnett of Tara's Tiny Trailer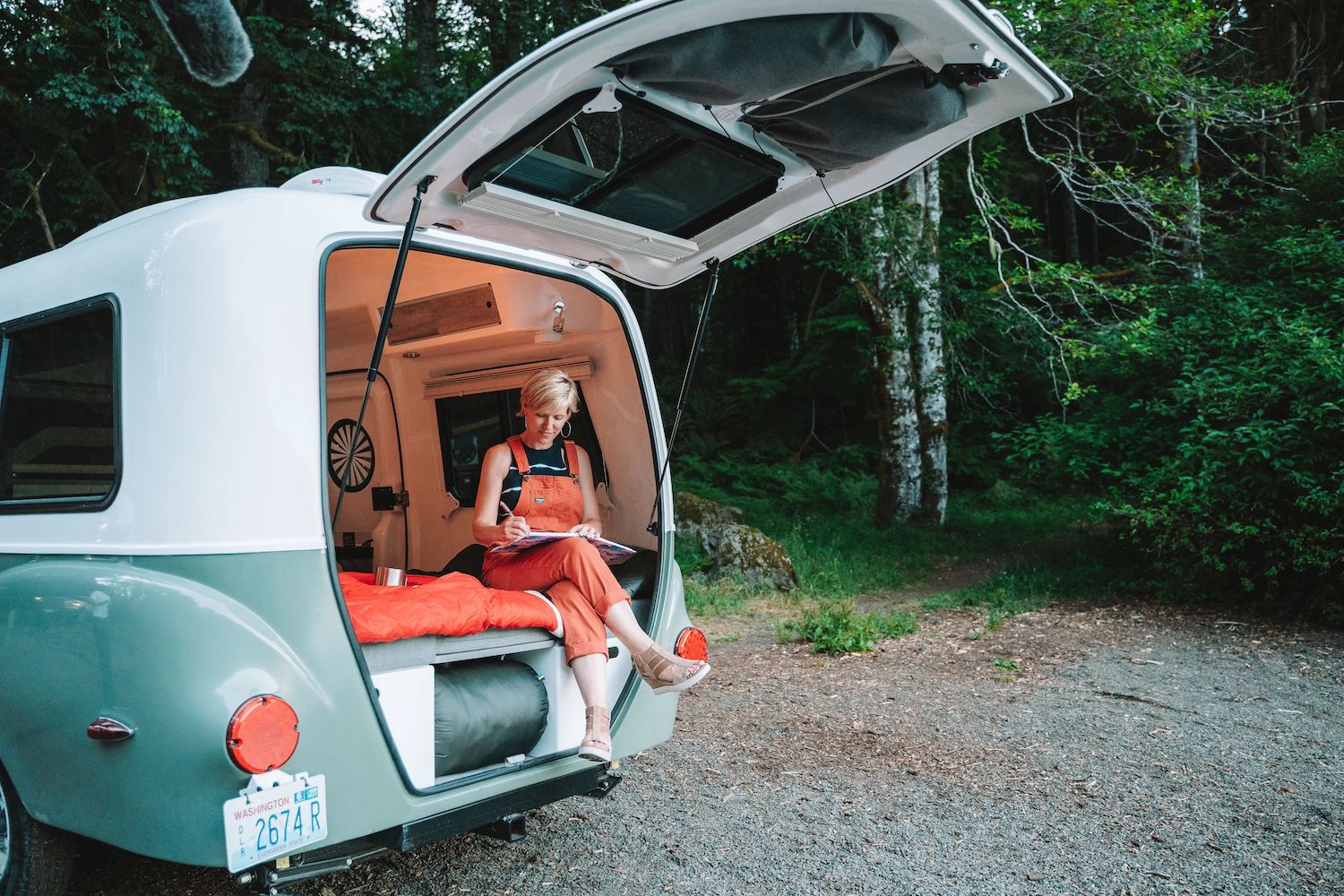 RV Make & Model:
How many years have you spent RVing?
My childhood was spent in giant motor homes! Just got my own RV about 2 years ago!
About Tara
Growing up in Washington State, my family and I traveled the West Coast in our RV. I loved how it felt to embark on journeys to new destinations, discover fun roadside attractions, delight in terrific local food, and best of all, set up and hang out together at the campsite where we would get to know other interesting campers. I hope to provide my kids with memories of camping as well!
Follow Tara on Instagram.
What are your 2023 RV Plans?
In 2023, I plan to continue the exploration of the Pacific Northwest. I cannot wait to explore new camping areas, hiking trails, natural wonders, and the amazing towns and people we meet along the way. We also plan to make the adventurous road trip to Disneyland and visit our Happier Camper friends in Southern California.
Mike & Jennifer Wendland of RV Lifestyle Mike
RV Make & Model:
2022 Arcadia 3250 Fifth Wheel and 2023 Leisure Travel Vans Unity FX Motorhome
How many years have you spent RVing?
11 years as influencers, 20+ years as RVers
About Mike & Jennifer
Mike Wendland is a veteran journalist who, with his wife, Jennifer, travels North America blogging about the people, places, joys, and adventures of RV life on the road at RVLifestyle.com. He and Jennifer also host the weekly RV Podcast and do twice-weekly videos on the YouTube RV Lifestyle Channel. They have written 12 books on RV travel.
Follow Mike & Jennifer on Instagram.
What are your 2023 RV Plans?
We plan to start 2023 with a winter campout in the Upper Peninsula of Michigan, then traveling through Florida and the Gulf States before heading west via US 10, spending time in Texas, Arizona, Utah, Wyoming, and Montana. We will also be developing some private RV property we recently bought in Western Michigan as our private RV retreat.
Bonnie Hoellein
RV Make & Model:
2021 Jayco North Point 377RLBH
How many years have you spent RVing?
3 years.
About Bonnie
We started going RVing to get our kids outside in nature and to spend time as a family. It started by borrowing my sister's tiny pop-out trailer. Then we loved it so much that we rented a much bigger bumper-pull [travel trailer] and toured the Oregon coast. After a couple of years of renting, we decided we needed our own!
We now own a Jayco North Point and plan to go full-time next year! Our kids seem to be their most authentic selves when we travel. They meet new kinds of people with different life experiences.
Follow Bonnie on Instagram.
What are your 2023 RV Plans?
Nashville is on our bucket list! We have heard so many good things about the area, plus we have a lot of family and friends there.
---
RVs work for any lifestyle or family situation. Ready to hit the road? Contact us today!