Sometimes, there's a benefit to getting older. That's particularly true for those looking for the perks and benefits of senior passes for RVers!
There are so many senior passes available that most RVers are not even aware that, had they asked or taken the time to check around, they can get steep discounts on camping, admission fees, products, and services.
It's hard to come up with an exhaustive list – it would take many pages and thousands of words. But here is our list of what we think are some of the best senior passes for RVers currently out there.
The National Parks Service Senior Pass
The National Park Senior Pass is hands down is the absolute best of the best. It used to be known as the "Golden Age Pass," but several years ago, the park service made it even easier to understand by simply calling it the Senior Pass. They also raised the price but, still, at its current $80 fee for a lifetime pass ($20 for an annual pass), it provides a value that is truly priceless. That's $80 for a lifetime pass–paying for itself in just four years.
The only requirement is that you are a U.S. citizen or permanent resident age 62 or older. You must have an ID that proves so like a Driver's License, Passport, Passport Card, or Green Card.
This pass is your entrance ticket to more than 2,000 federal recreation sites for national parks and national wildlife refuges, as well as day-use fees for national forests and grasslands, and at lands managed by the Bureau of Land Management, Bureau of Reclamation, and U.S. Army Corps of Engineers.
The Senior Pass covers entrance in your RV (or any other vehicle) for a driver and all passengers in fee areas. This accounts for up to four adults at sites that charge per person. Children age 15 or under are admitted free…But wait, it gets better.
The same pass also provides very steep discounts for camping at sites with a campground, in some places, a 50 percent discount! Even the Tennessee Valley Authority gives discounts at its excellent campgrounds to those with the Senior Pass.
By the way, the old Golden Age Pass is still honored, and it will continue to be for the life of the pass holder. Those who have that pass bought it for just $10 before the price went up in 2017.
You can buy the Senior Pass at many national parks online stores or at select National Park properties.
State Park Senior Discounts
Many state parks offer state park entrance and camping discounts to seniors, but the policies vary greatly from state to state and they change all the time.
The Florida State Pass, for example, offers a 50% discount to those 65 or older but to get that discount they must be Florida residents. That requirement, or that the vehicle entering must have plates from that state, is fairly common.
But the rules and offerings are far from standard. Here are some examples:
New Mexico has a $100 annual fee for seniors over 62 camping in its state park that is good for 12 months and as much camping there as you want. That's $80 less than New Mexico residents under 62 pay. The rate for out-of-state residents, no matter their age, is $225.
Pennsylvania's state park system offers a discount off the base camping fee for those over 62. It makes no mention of a residency requirement, just that campers should have proof of their age.
Arkansas citizens 62 and over are admitted to campgrounds at one-half the regular campsite fee Sunday–Thursday nights and at a 25% discount on weekends and holidays. Out-of-state RVers 62 and over will receive a 25% discount Sunday–Thursday nights and no discount on weekends or holidays.
Louisiana state parks offer a 50% discount off campsite stays for those 62 and older.
And Colorado has an annual senior pass for those 64 and over that is discounted $10, but only for in-state residents.
As you can see, there are lots of variations. The best advice is to contact your state and check. Chances are excellent that there will be some senior discount available.
City, County, and Regional Park Senior Discounts
Across the country, thousands of local government campgrounds and parks offer discounts for seniors. The most common discount is for entry fees, but many also discount camping.
Orange County, CA requires a pass for its parks and many of its beaches. The annual $80 pass is discounted to $50 for seniors.
In Michigan, Oakland County operates several large parks and campgrounds. An annual vehicle pass for county residents 62 and over is free. That is perhaps the best senior pass we have heard of. Free is hard to beat!
Another source for discounts when camping is to belong to an association or club. Escapees, the FMCA, Good Sam, Passport America, and Happy Camper all have affiliated campgrounds that offer discounts, whether you are a senior or not.
Other Places for Senior Discounts and Perks
Here are some examples:
Restaurants – As RVers travel across the country, they need to eat. Many are aware that they could have received a discount on their meal if they just asked. Dozens of the major fast food and restaurant chains (Taco Bell, Wendy's, McDonald's, Appleby's, A&W, etc.) offer discounts or free items. Each store sets its own terms so you need to speak up.
Pharmacies – CVS, Costco, Rite Aid, Walgreens, and others have a senior discount or membership programs that will save you money.
Hotels – Almost every hotel chain will give you a senior rate, typically 10% or more. Just ask.
For a comprehensive list of the places where seniors can get discounts, check out the annual list published by TheSeniorList website.
Senior Passes for RVers are Common, But Vary by Location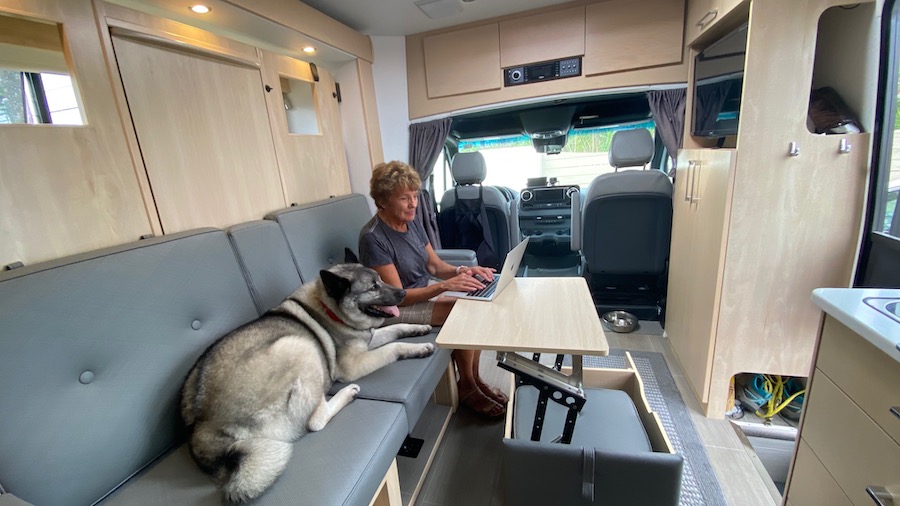 As you can see, senior passes, perks, and discounts are very common, both for campgrounds and the places and services you are most apt to use on the road. If you are a military veteran, chances are the discounts are even more.
But be aware that each individual business usually has autonomy by their corporate headquarters to set and specify what goods and services get discounted and for how much.
So while we have just scratched the surface in listing the best senior passes, you will be surprised by how many you can find if you just ask.
Happy Trails!