Want to get more out of your RV? Subscribe to the Camping World YouTube channel, and never miss a video.
Keeping a leak-free roof over your head is one of the most important things you can do for an RV of any type. If you don't have a good roof, the rest of your RV or motorhome is compromised. One of the best ways to treat your roof right is to do a regular RV roof inspection.
Many suggest adding an RV roof inspection to your annual maintenance routine. Even if you're not interested in doing maintenance work yourself, you can save money and time simply by giving it a quick check.
How Often Should I Inspect My RV Roof?
Seasonal RVers should inspect their RV roof at least twice a year. Inspect at the beginning of the RV season and again at the end of your camping season before winterizing your RV.
Full-time RVers need to consider regular RV roof maintenance at least three to four times a year. Make it a quarterly check and combine it with a thorough roof cleaning. You'll already be up on the roof for regular RV maintenance, so cleaning while you're at it is a good idea.
Check out some options for RV cleaning products. And don't forget, nationwide Camping World Service Centers offer free roof inspections!
Consult your RV owner's manual for recommended roof inspection intervals from your manufacturer.
How To Do an RV Roof Inspection
Water leaking through your roof is a serious issue. It causes mold, mildew, and other unhealthy conditions. In simple terms, it will destroy your RV roof. So periodic inspections are the best way to avoid roof issues.
Here's where to start.
Step 1: Establish Your RV Roof Type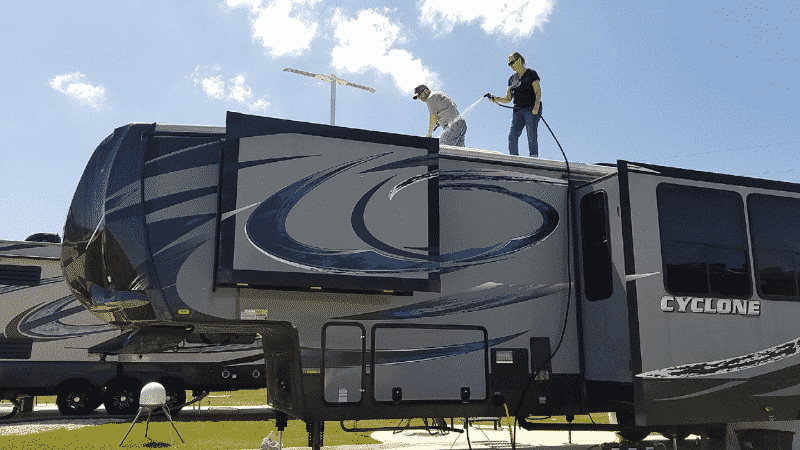 An RV will have either a walkable or non-walkable roof. This will determine whether the roof is rated to hold a person's body weight. As for the interior construction, RV roofs are fortified by trusses and decking that form the structural skeleton of the roof. Further inside, insulation is used for retaining heat or cold within the camper itself.
Usually, an RV roof membrane is a single layer of material stretched tightly over the decking. It's attached with a heavy adhesive between the membrane's underside and decking, then secured with mechanical fasteners along the edges.
For the exterior membrane, RVs can utilize EPDM, TPO, PVC, fiberglass, aluminum alloy, or galvanized sheet metal. Here's a quick breakdown of those three initial acronyms:
EPDM Roof = Ethylene propylene diene monomer (aka a synthetic rubber roof membrane)
TPO Roof = Thermoplastic polyolefin
PVC Roof = Polyvinyl chloride
There's no unanimous choice for the best roof membrane, not to mention the pros and cons of a fiberglass roof versus aluminum alloy or galvanized sheet metal. For the purposes of your RV roof inspection, you'll simply need to know which RV roof type you're working with.
With roof membranes, you generally can't tell the difference between the two most common brands (Alpha Systems or Dicor) by looking at it. The best and easiest way to tell the difference is by asking the RV dealership or RV manufacturer. They will let you know which brand was used based on the year and model of your RV.
If you're a Good Sam member, you can also call the Elite Service Tech Advisor line to get this info. Why is knowing the difference such a big deal? The type of roof membrane you have determines the RV roof coatings you can use to ensure your choice is chemically compatible with your designated brand.
Step 2: Inspect the Roof for Cracks, Tears, or Holes
If your RV roof is walkable, carefully use your RV ladder to get up there and check for damage. On a non-walkable roof, safely inspect the roof from a sturdy telescoping ladder. Look for cracks, tears, or holes in the roof membrane.
Obvious signs of damage can cause issues very quickly. If you notice anything, you need to:
1. Take steps to fix it on your own (as suggested below)
2. Get to a service center as soon as possible. Camping World locations nationwide offer free RV roof inspections!
RV roof damage can be caused by a variety of factors. One of the big ones is the weather. If your RV just went through a serious storm where debris, sticks, branches, or other items had a chance to damage your RV's roof, then you need to inspect it.
Assess the general cleanliness of both the RV lap sealant and the roof membrane. A quality inspection can't be performed if the RV roof membrane is covered with dirt, dust, leaves, or mold. Rub your hand over the membrane surface to see if it feels chalky. If so, even the best RV sealant may not adhere.
If you've got a dirty roof, stop and wash your RV before continuing your inspection.
Step 3: Inspect Roof Seams and Seals
The RV roof sealant on the membrane never turns solid. It maintains a degree of flexibility that varies by brand. So your next step in a proper roof inspection is to inspect the RV lap sealant for cracks, voids, and adhesions.
When inspecting for cracks, know that surface cracks in the sealant crust are not uncommon and aren't an issue. Deep cracks that penetrate into the lap sealant are of concern. Luckily, if you find deep penetrating cracks in the lap sealant, these can be repaired with a little touch-up work (more on that later).
When inspecting for voids, you're essentially looking for missing silicone sealant. Voids in the lap sealant could allow water into the roof cavity, which can be the start of a very costly repair.
While you're up on the roof looking for obvious signs of damage, you should also look at any seams or seals along the edges and transition moldings of the roof. While many RVs have a single-piece rubber membrane that eliminates issues around seals or seams, that's not true for all of them.
Step 4: Inspect Around RV Vents, A/C Units, and Other Roof Appliances
Also, just because the roof is one piece doesn't mean it's absent of seams and seals. Anywhere the roof connects to your RV or travel trailer body is a potential entry point for a leak. Many motorhomes also have roof racks, vents, and appliances like A/C units on their roof. If their seals wear out, these accessories can be the culprit behind a leaking roof.
Inspect the seams and seals around the attachment points for your RV roof vents, air conditioning unit, solar panels, and any other roof-mounted accessories. If you see cracked, damaged, or worn-out materials, have a professional take a closer look or repair the area yourself if you're comfortable doing so.
Step 5: Apply New RV Roof Sealant as Needed
All roof membranes provide protection against the elements. But an RV sealant is an important part of the final product. An RV rubber roof sealant is applied on top of the membrane to keep the seams, joints, and transition points from leaking.
For small fixes, here are a couple popular RV lap sealants you might need:
RV roof sealing tape is also an attractive option for repairing corners or vertical surfaces. For resealing an entire RV roof, you'll want a rubber roof coating treatment. Of course, if you're unsure what you need, check your owner's manual before shopping for RV roof repair and maintenance products.
Just make sure the product you choose is compatible with your RV roof material. And when it comes to applying RV roof sealant, consult the product manufacturer for step-by-step instructions.
Pro Tip: If there's a bead of water rolling out in front of the lap sealant as you're applying, this indicates your roof has suffered significant water infiltration. Consult a service center, as your RV may require a more extensive repair because water remaining will prevent proper sealant adhesion and also cause damage under the roof membrane.
---
Whether your RV roof is walkable or not, make it a habit to give it a periodic visual inspection. This will save you from large-scale repairs down the road and keep the interior of your RV or travel trailer warm and dry for your next adventures!
How often do you inspect your roof? Leave a comment below.
If you're still learning the ins and outs of RV maintenance, check out our downloadable RV ownership and maintenance booklet!