Having access to electrical power sets camping in a travel trailer, motorhome, or fifth wheel apart from other types of camping. An RV's amenities make camping more comfortable in large part thanks to power for lights, outlets, and appliances. RV surge protectors are essential for protecting your RV's electrical system so you can enjoy those amenities.
While you can do several maintenance tasks to ensure your RV's electrical system remains healthy, you should protect it with a surge protector when plugging it into a power pedestal. If you don't, you run the risk of a power surge that could destroy your RV's electrical system and the items connected to it.
Here's what you need to know about RV surge protectors.
Why Do You Need an RV Surge Protector?
When you connect your RV to a power source – like shore power at an RV park – you expect the right amount of electrical power to come out of the outlet and that it's wired correctly. The acceptable range for AC power in an RV is between 108 and 132 volts, with 120 volts preferred.
But some outlets aren't wired correctly and could be prone to power surges, or the voltage could be too low. These errors can wreak havoc on your RV's electrical system and even fry your electronics.
Using a surge protector can eliminate major electrical issues. Not all RV parks are wired by certified electricians, and miswired pedestals are more common than you might think.
Technician Story: When traveling the east coast, I saw park voltages as low as 82 volts AC, but I rarely saw it go over 130 volts AC. Usually, this took place on hot summer evenings when everyone returned to their RV from their daily outings, cranked up the AC, and ran a shower. This would cause the voltage throughout the park to plummet.
A surge protector protects your RV's electronics from the power outlet you plug into. An outlet that seems fine could suddenly provide a huge surge of electricity, like in the event of a lightning strike.
Would you rather purchase a surge protector or purchase all new electronics after a surge? The cost savings can be huge – a voltage surge repair bill can cost as much as $3,000 to $5,000!
What Does an RV Surge Protector Do?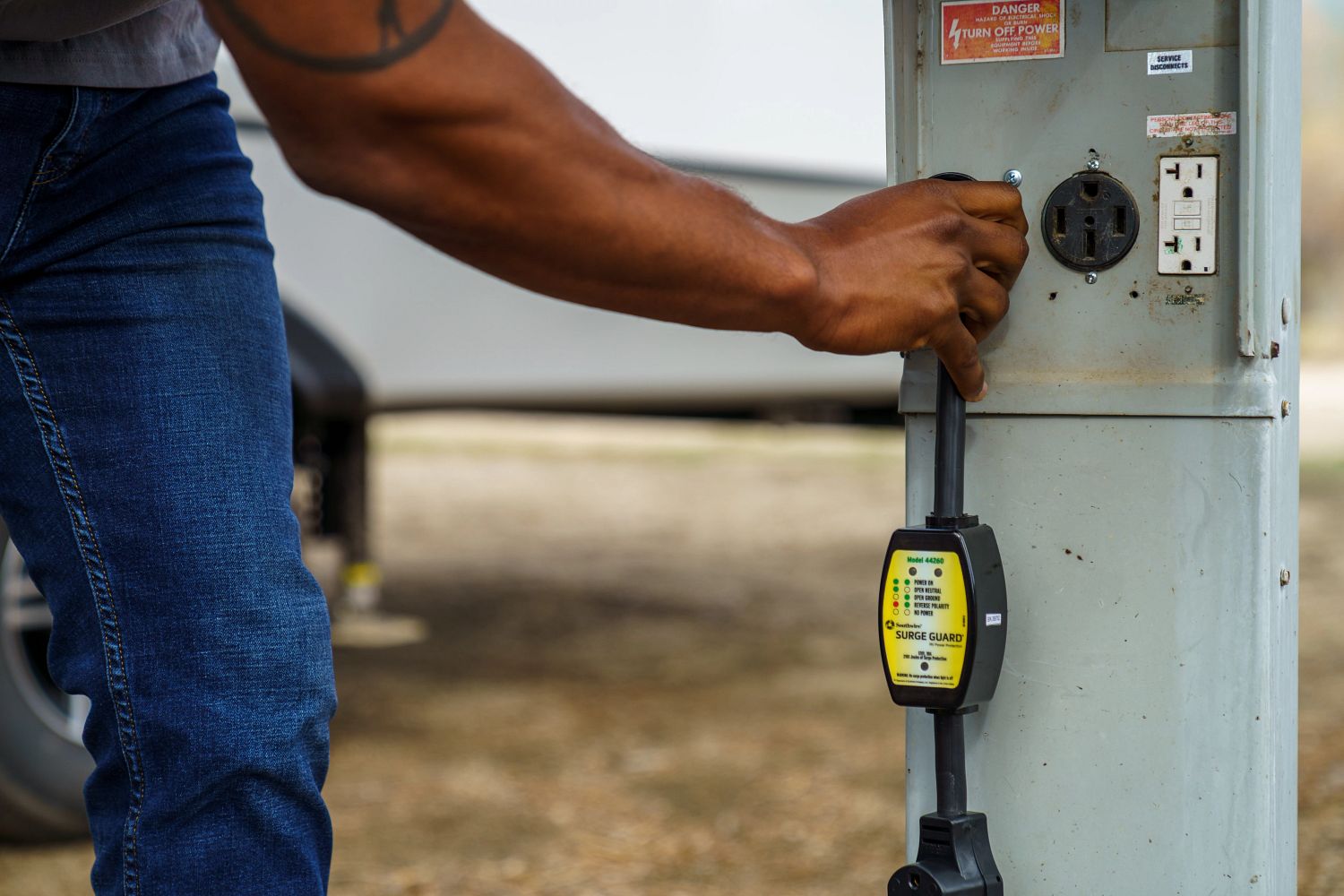 Surge protectors plug into the outlet where you would plug in your RV. Then, you plug your RV power cord into the surge protector. It is a buffer between your RV and the power of the electrical outlet.
This intermediary device monitors the amount of power from the outlet and ensures no power spikes travel through your RV.
Technician Tip: Generators may not work well with some surge protectors. Generators do not have an earth ground unless the user provides one (attaching the generator chassis to a known good ground) or fakes it with a floating neutral (installing a jumper wire between the ground and neutral on the generator). It can be removed if the user has an issue with a portable surge protector. But with a built-in model, it cannot be bypassed.
Not all surge protectors are created equal. As you can imagine, surge protectors have multiple price points, and you generally get what you pay for.
The less expensive models are a one-and-done design, like a fuse. They must be replaced with a new surge protector once they have experienced a protection event. At best, some may come with a coupon for a small discount on the replacement.
The best models can be reset manually or will self-reset once the danger has been corrected. There's also the possibility of purchasing a product protection plan. Protecting your investment is vital whether you do that or practice caution in the field.
What Kind of RV Surge Protectors Are Out There?
There are two types of surge protectors. The first is a basic surge protector the other is an electrical management system (EMS). While they do different things, they have the same purpose – to keep your RV's electronics safe.
Surge Protectors versus Electronic Management Systems
The main difference between a typical surge protector and an electrical management system is its breadth of protection. A surge protector offers protection only from high voltage, which can occur from several potential scenarios:
A miswired RV in another campsite sending faulty power back into the campground's electric system.
Power lines touching each other in the wind or when bumped by a passing RV.
RV outlets miswired for 220-volts AC instead of 120-volts AC.
Reversed hot and neutral connections.
Technician Tip: Low voltage caused by more demand on a campground's system than it can provide can be just as damaging to your RV as electrical surges – potentially causing circuit board damage or heating an already poor connection and increasing the risk of fire.
Loose connections or damaged outlets in the campground's system can cause arcing, surging, or voltage drops, as well as open grounds or open neutrals that damage your RV. Heat building in a loose connection can result in fire.
An electrical management system is a more robust solution that protects your RV from high voltage, low voltage, reverse polarity, open neutral, open ground, and various other issues.
EMS surge protectors regulate voltage by not allowing power into your RV if it's out of the acceptable range. High-end surge protectors can even provide voltage regulation by keeping power even at all times. These systems are more expensive, but they're worth it. They protect your RV's electronics more holistically, which is what you want.
What Surge Protection Equipment Should You Get?
Many electronic management systems are sold with the words "surge protector" in the product's name. The reason? Most people have at least some idea of what a surge protector is. The words energy management system (EMS) can be confusing if you know you need protection for your RV's electronics but aren't sure what to get.
Here's our complete guide on how to choose an RV surge protector.
Below are a few recommendations. These are energy management systems though they're called surge protectors. They will protect your RV against various problems and should ensure your RV electronics stay safe and function as designed.
Technician Tip: Some models, especially EMS designs, may have a time delay that allows the system to confirm a no-fault condition before allowing power to pass to your RV. It's critical to read your product's owner's manual to understand all its features before using your device.
1. Hughes Autoformer Watchdog 30 and 50 Amp Surge Protectors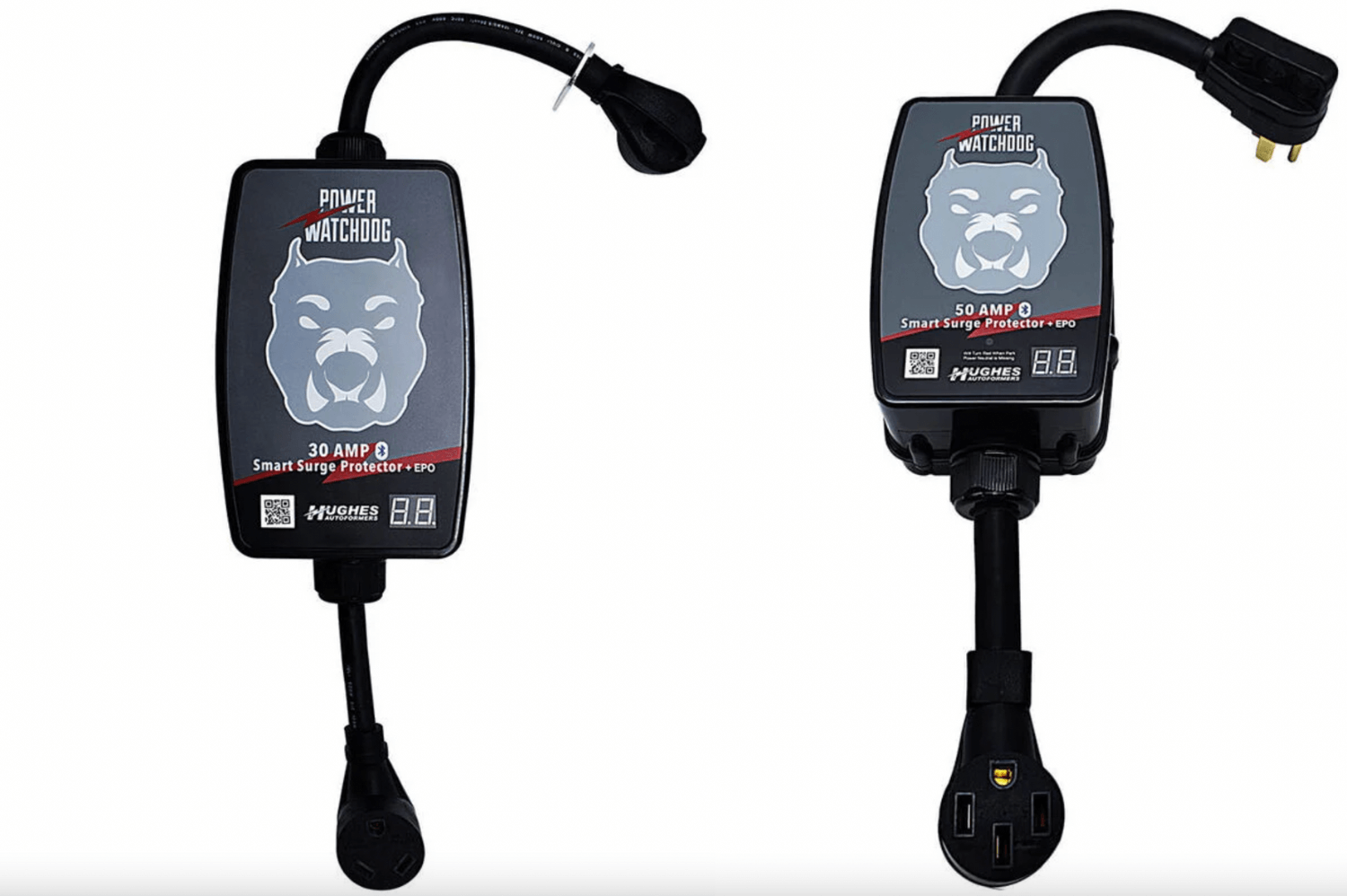 The Hughes Autoformer Watchdog is available in 30-amp and 50-amp models. These surge protectors have gained popularity largely because of their emergency power-off feature. They're also heavy-duty, weather-resistant designs with Bluetooth capability to track power levels from your smartphone.
Technician Tip: These might be the best thing out there today. They protect extremely well against all conceivable faults and automatically reset when the danger has passed. If there is permanent damage to the components, they are also user serviceable in the field.
2. Southwire Surge Guard Portable 30-Amp and 50-Amp Surge Protectors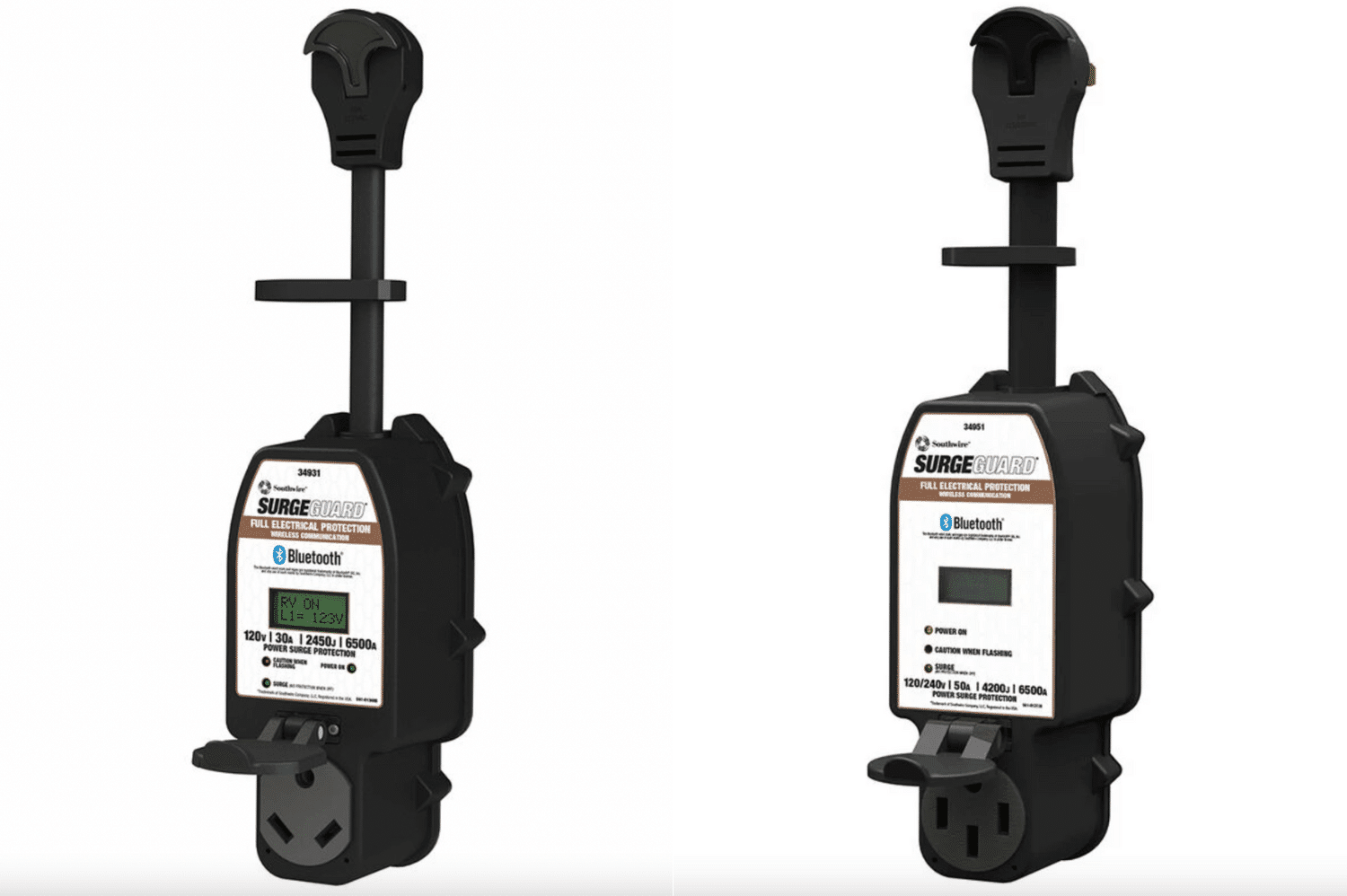 This Southwire Surge Guard also offers a model for 30-amp RVs and one for 50-amp coaches. They protect against various wiring issues, including reverse polarity, open neutral, and open ground. They also protect against low and high voltage, low and high frequency, and elevated ground line current.
The units feature a locking bracket to keep thieves from stealing them once they're in place, and they include wireless technology, so you don't have to get out of your RV any time you want to check power status, so long as you purchase the wireless LCD display we'll highlight below.
The Southwire Surge Guard Wireless LCD Display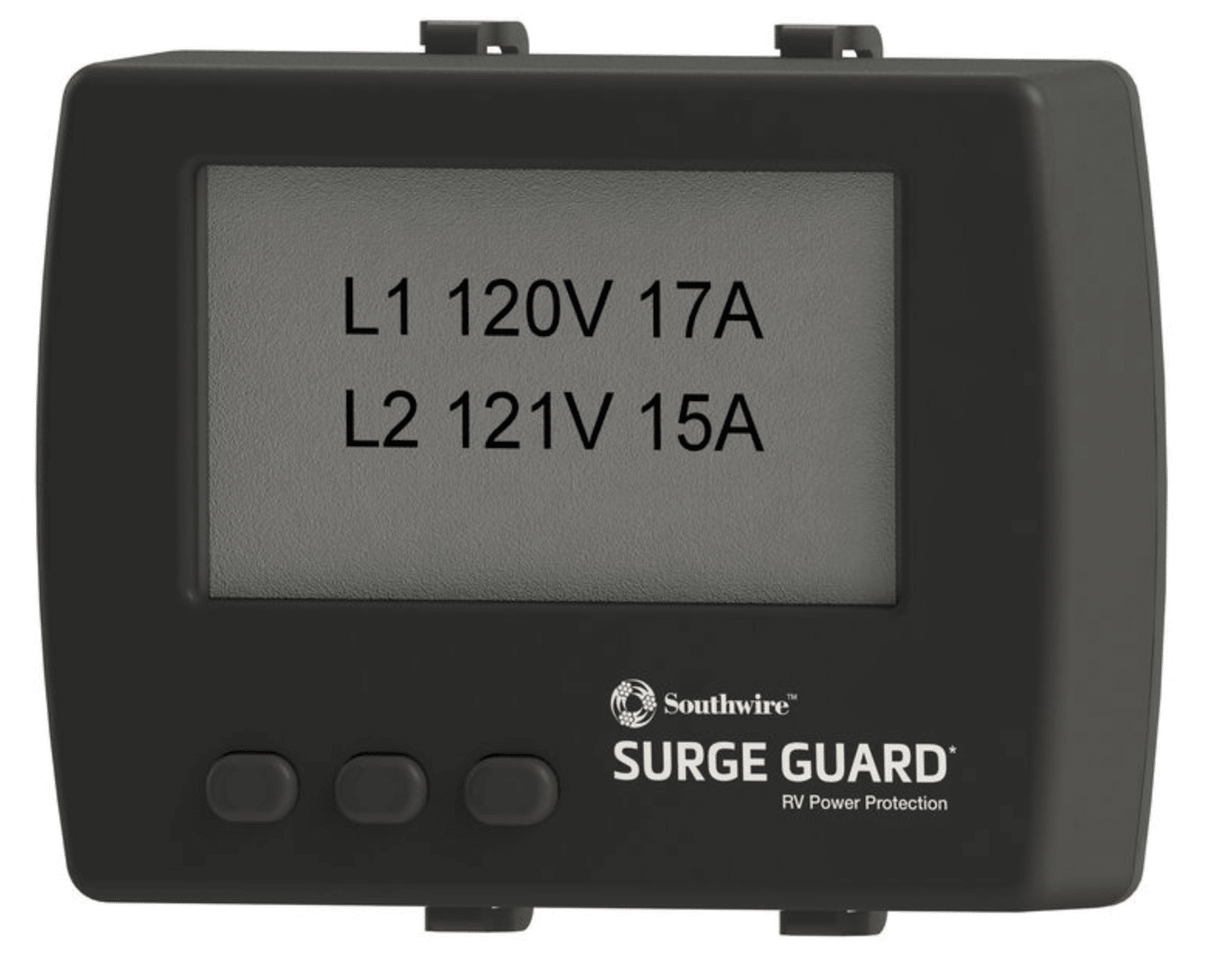 This is the LCD display to complement the wireless capability of Southwire's 30 and 50-amp surge protectors. It provides total visibility for easy monitoring of your surge protector and the status of the connected power source.
3. Progressive Industries EMS-PT30X and EMS-PT50X Surge Guards
The EMS-PT30X and EMS-PT50X surge protectors from Progressive Industries are excellent electronic management systems for your RV. Choose the appropriate size for your 30-amp or 50-amp RV electrical system.
They protect against various electrical issues, including high and low voltages, open ground, open neutral, and reverse polarity. Additionally, they offer better weather resistance than competing models and include a built-in scrolling digital display.
Shop Camping World's complete selection of RV surge protectors.
How to Keep My Surge Protector From Getting Stolen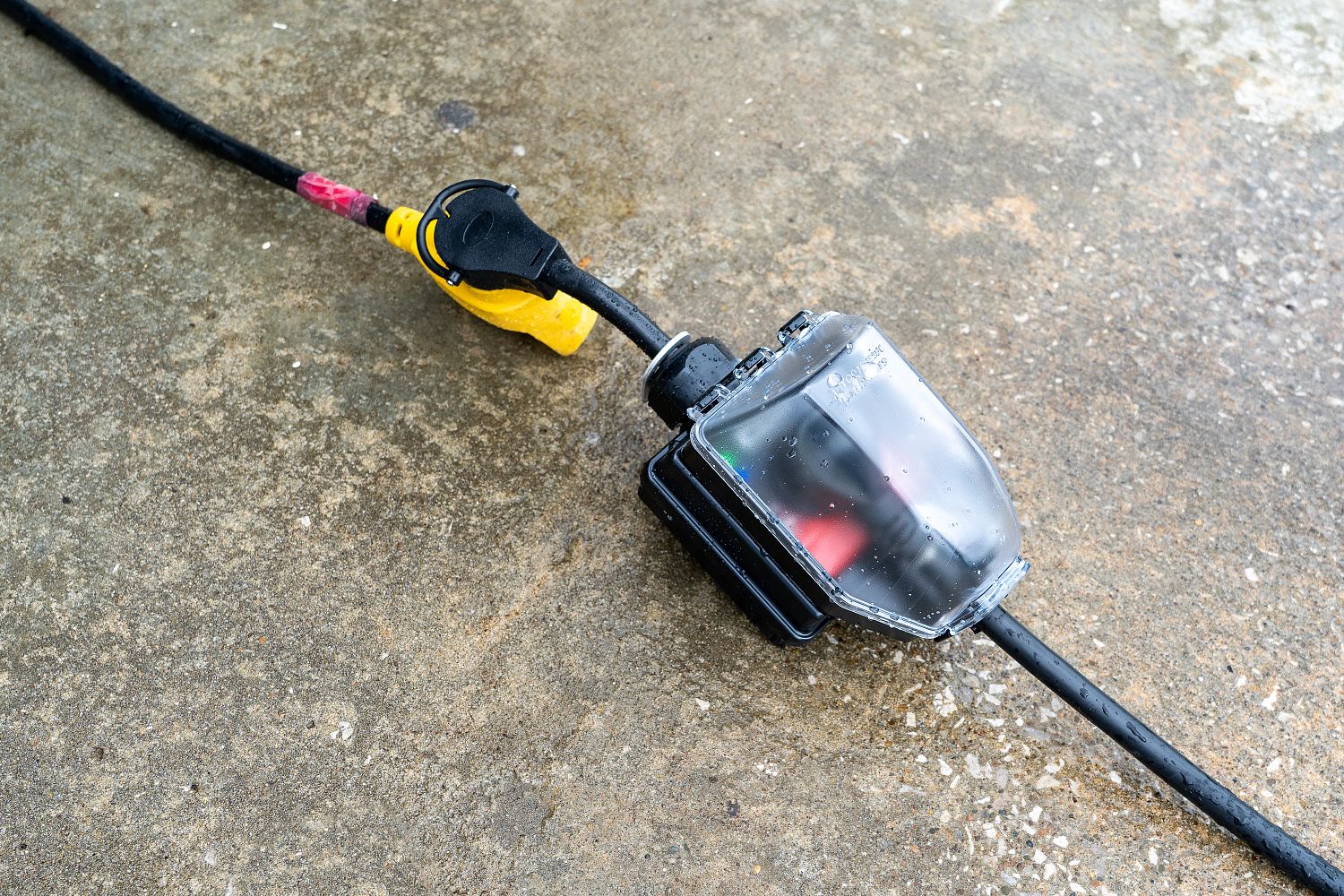 The best way to avoid someone stealing your surge protector is to choose one with a security locking bracket, such as the Progressive Industries EMS-PT50X.
That bracket allows you to utilize a cable or combination lock to secure the surge protector to the power pedestal.
You'll see some RVers recommend locks that simply go around the power pedestal and your surge protector once it's plugged in. The problem with that solution is that the surge protector can still be freed if unplugged (unless you use zip-tie style cable locks and tighten them all the way).
The locking bracket is really the best method for using a cable or combination lock to keep your surge protector from getting stolen.
Disclaimer: A determined thief may still manage to steal a surge protector, but the most common thefts are crimes of opportunity where there's a clear chance for a quick, easy score. Most thieves are not typically trained or equipped to defeat a quality bracket and cable lock system.
What About a Hard Wired Surge Guard?
Some luxury RVs also come with voltage management systems as a built-in feature. These are usually housed in an underneath storage compartment, and they are a great option if you're looking to avoid theft.
However, you'll need to completely understand your RV's electrical system to choose and install a hard-wired surge protector. We highly recommend scheduling an appointment with an RV Performance and Improvement Specialist at your local Camping World if you're interested in installing a hard-wired surge guard in your RV.
---
With the equipment listed above, you should be able to keep your RV's electronics issue free. This will allow you to camp worry-free regarding your RV's valuable electronic components.
As always, stop by your local Camping World if you want to sell or trade in your used motorhome or travel trailer.
Do you have any questions about RV surge protectors? Leave a comment below.