Most new motorhomes and travel trailers come equipped with a retractable RV awning. There's really no better way to deploy added protection from the sun and light rain when you're camping. But RV awnings don't last forever.
Our guide to RV awnings covers how to maintain your awning and replace the awning fabric if it's damaged. But what if you need an entirely new awning?
Find RV awning replacement and enhancement accessories at Camping World online.
What's the Difference Between a Retractable Awning and a Standard Awning?
Retractable awnings permanently mount to the side of your RV and extend or retract manually or mechanically, with the latter typically using a 12-volt DC electric motor. Awning sizes typically range from 8 to 21 feet, depending on the RV.
Standard awnings (also known as canopies or instant shelters) are independent of your RV and must be stored underneath between uses. They aren't as easy to deploy, but they can be moved around according to where you need shade in your campsite.
Retractable awnings are generally more durable and weather-resistant, making them the preferred choice for full-time RV campers. Standard awnings supplement your retractable awning when you need additional shade and rain protection.
Explore Camping World's standard awnings and instant shelters.
What to Consider When Choosing a Retractable RV Awning
You'll need to find an awning that fits your RV and can be installed securely. So let's discuss the factors to consider when choosing the best RV awning.
Awning Size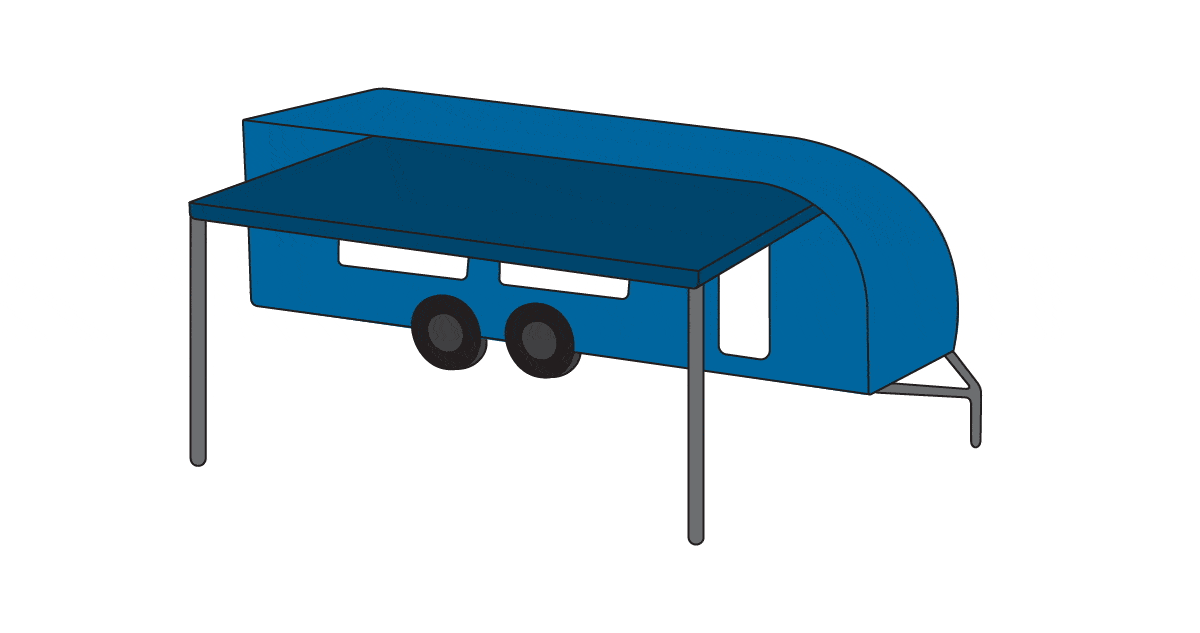 Selecting an awning that fits your RV is your first step. This process will be slightly different if you're replacing an existing awning or installing a new one.
Replacing an Existing Awning
The easiest way to get the proper awning size is to measure your current awning and buy a replacement. Measure from the center of the forward arm to the center of the rear arm (as shown above). RV awning fabric will be slightly smaller than the arm-to-arm measurement, so avoid measuring the fabric itself when choosing a new retractable RV awning.
Installing an Awning on an RV Without One
If you're adding an awning to an RV without one, things are a little more complicated. For starters, you'll need to decide where to place it. Most RV awnings are placed on the same side as the entry door, but they must not impede the operation of the entry door, windows, compartment doors, other awnings, or slide-outs on that side of your RV.
Your awning choice will also depend on the size of your RV – the largest RV awnings are about 21 feet long. But you won't be able to install an awning of that size on a 20-foot class B camper van.
Your goals with location choice are to find a place where you can install the largest awning possible while doing so safely. A larger awning will provide more coverage area when you're boondocking, and shade is at a premium.
Once you choose a location, mark it and measure the area to get an idea of your awning size options.
Awning Design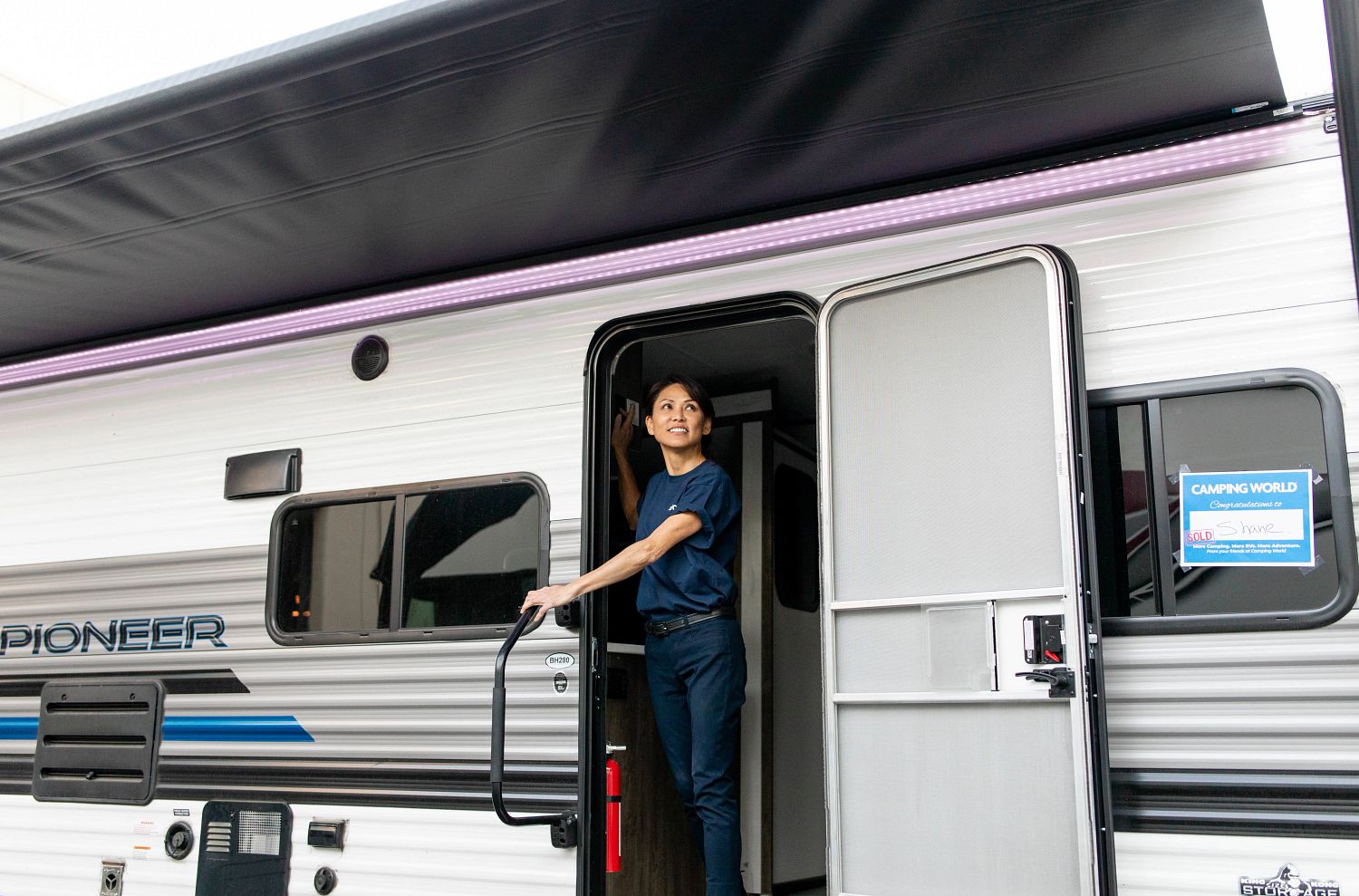 There are various designs for awnings. Electric RV awnings are now standard on many new RVs, but older used RVs were typically equipped with manual awnings. As you'd suspect, there are pros and cons of these RV patio awning types:
Electric Awnings
| | |
| --- | --- |
| Pros | Cons |
| Easy, push-button operation | More expensive |
| Wind-sensitive safety features (some, not all) | More mechanical components to maintain |
Manual Awnings
| | |
| --- | --- |
| Pros | Cons |
| More affordable | Harder to open |
| Fewer mechanical components to maintain | No automatic safety features |
Ease of deployment is arguably the biggest factor when it comes to choosing the perfect RV awning. Electric awnings might cost more, but they require little more than holding a button for 30-60 seconds until the awning is fully deployed.
Manual awnings require much more effort to open and close. Learn how to open and close manual and electric RV awnings.
In addition, the best electric awnings now come with safety features that will automatically retract the awning if wind speeds exceed a pre-programmed threshold. While you should never leave your awning extended if your RV is unattended, a safety feature like this can save you from replacing your awning again before you're ready.
That said, electric awnings can only be installed on RVs with compatible electrical systems. The awning must be connected to a power source, and your RV needs controls to operate it once installed.
If you're set on installing an electric automatic RV awning on a model previously equipped with a manual awning, we recommend scheduling a service appointment at your local Camping World Service Center.
RV Awning Materials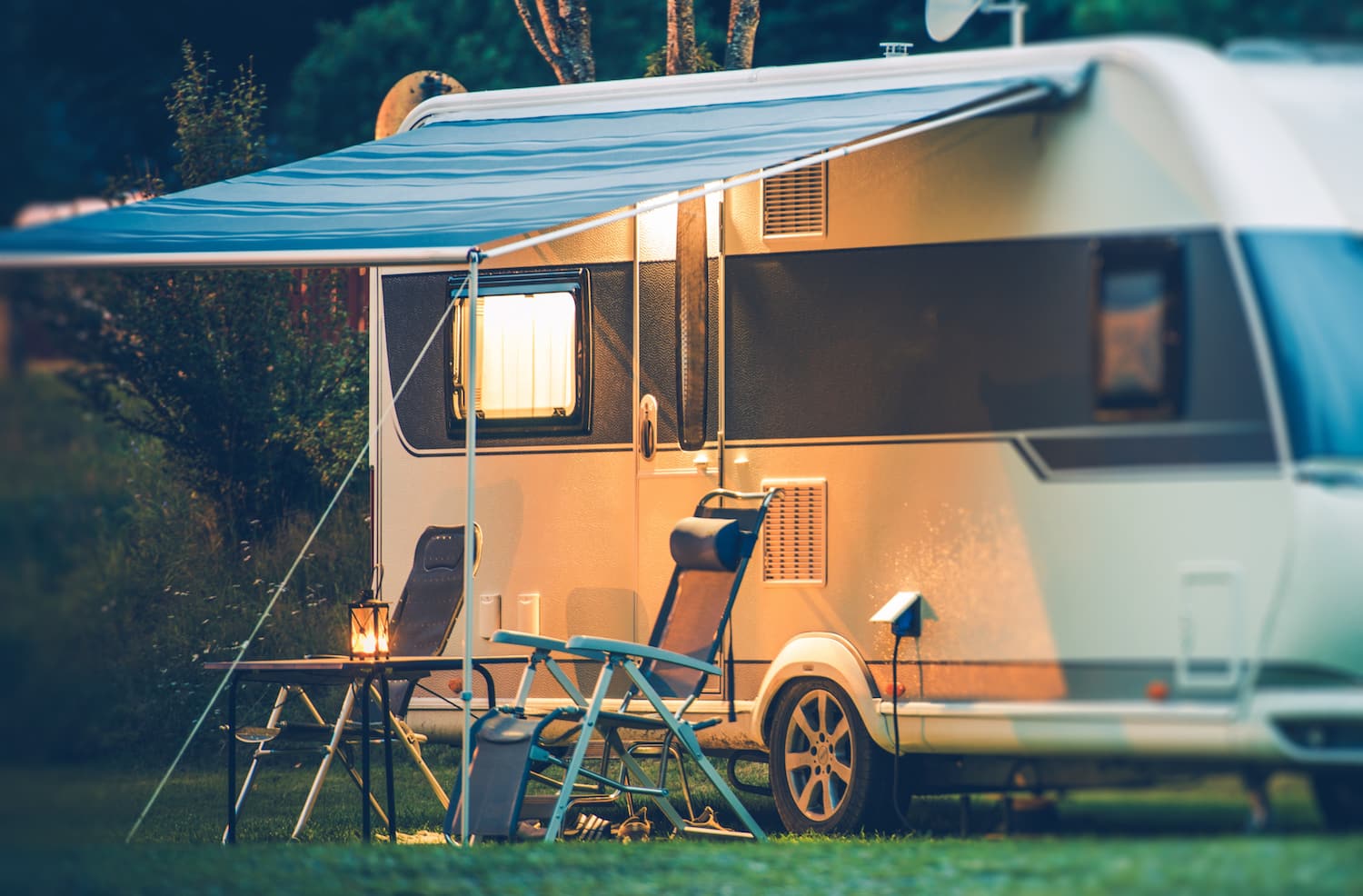 The last thing to think about is the type of material used for the awning fabric. If your awning arms are still in good shape, you should replace the awning fabric instead of the entire awning assembly. Most awnings use either an acrylic fabric or some type of vinyl material.
Acrylic awning fabric works great for most applications and is the most common. It offers good air circulation, handles all weather conditions well, and dries quickly. However, it isn't fully waterproof and can stretch and sag over long periods of time.
Vinyl awnings are scratch and fade-resistant, waterproof, and block all harmful UV rays and other elements. However, vinyl attracts dirt and dust more easily and can be a hotbed for mold if not properly cleaned and dried regularly.
Can Your RV Support a New Awning?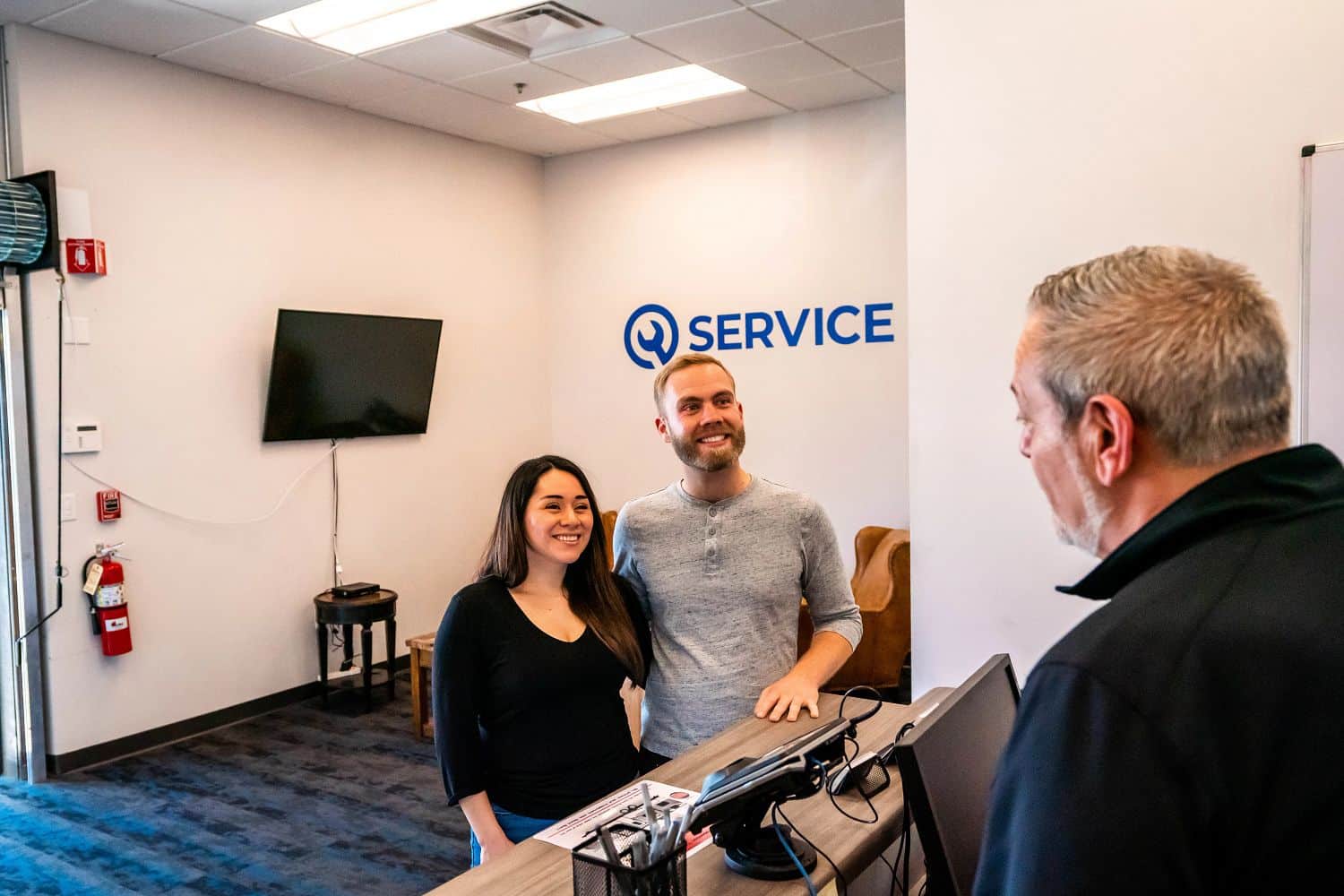 Your RV must also have the proper framing and hardware to support an awning installation. For instance, some awnings require a minimum distance between the awning rail and the entry door or slide-out room.
The best way to ensure your recreational vehicle can support a new awning is to contact your local Camping World Service Center to discuss your awning replacement options.
Installing an RV awning without taking the proper steps to secure and seal it can result in structural damage, water leaks, and other damage. Avoid a costly DIY mistake by entrusting this job to a professional RV technician.
---
Camping World's Design Specialists are another great resource for upgrading your RV. Find a Design Center near you and speak to a specialist about all your RV design needs.
Have you purchased an awning for your RV recently? What did you choose? Leave a comment below.