*Camping World donated this product for the purpose of review. The opinions are our own.
My husband and I had first rode ebikes on vacation with friends a few years back. We've ridden road bikes for years, so having to pedal (and pedal hard) is something we're accustomed to. But we had such a fun time relaxing on those ebikes, I've been trying to find a reason to get one ever since.
Then a few months ago, I had the opportunity to test out the JackRabbit OG micro ebike for Camping World. Two main things made this ebike especially interesting to me: 
First, the JackRabbit OG is super small and lightweight compared to others I've seen, so I felt it would be more portable and potentially have more applications. Second, the price point on this ebike is definitely toward the lower end of the spectrum compared to other ebikes.
My questions, though, were: How does the JackRabbit OG perform, who would most likely love this bike, and would I love this bike? Enjoy our complete review to learn my answers.
JackRabbit OG Micro eBike At-a-Glance
According to the JackRabbit website, this bike has been named the "best micro ebike" by multiple outlets. Here are a few key specs that might be why it has earned that title.
Weight: 24 pounds
Folded dimensions: 45″ x 7″ x 30″
Ready-to-ride dimensions: 48″ L x 21″ W x 39″ H
Wheels/Tires: 20" All-terrain tires
Range: 10+ miles on a full charge (3 hours to charge)
Max Speed: 20 mph
Max incline: 12% grade
Possible rider height: 4'10"- 6'2"
Check out all the specs for the JackRabbit OG micro ebike.
Who Is This For?
If you quickly search for ebikes, you will find a ton of variety. There are ebikes designed for commuting in the city, cruising the beach, mountain biking, and even hunting.
So, what is the best use of the JackRabbit eBike?
I've been riding it around my neighborhood for a while, and I've taken it to a local campground to test it out on several terrains and situations. After all of that riding, I have a good idea of who would and wouldn't get the most use out of the JackRabbit Micro ebike.
Let's start with who I think would love the JackRabbit OG Micro eBike.
I think this ebike is perfect for campground use. The bike is compact enough (AND folds up to an even smaller size) that it should easily fit in most RV storage compartments or the back of your vehicle. When I put my back seats down, I could fit this bike into my Mini Cooper. Plus, the JackRabbit ebike handles gravel and dirt paths just as well as paved ones.
This bike would also be great for short commutes. If you live within a few miles of your workplace, you could easily use this bike for your daily commute. And you could have the added peace of mind of charging your battery during the day if needed. Plus, without needing to pedal, you hopefully wouldn't get too sweaty.
I could also see people who live in or visit cute little beach towns absolutely loving this bike. The thought of being able to hop on your cute bike, ride down to the grocery store with your little rear basket, and pick up a few things for the cookout seems idyllic.
Now, let's talk about how I wouldn't recommend using it.
The advertised maximum incline for this bike is 12%, so if you plan to use your ebike in an area with steep hills, you might want to look elsewhere. While riding the JackRabbit OG, I found a couple of hills that were a bit sketchy toward the top, but there was only one hill that wouldn't make it all the way to the top of. I will point out, though, that I weigh about 133 pounds, and my 180-pound husband noticed the bike struggling more on lesser inclines.
The advertised maximum ride range is 10+ miles on a full charge, so if you're looking for a bike that will last on all-day rides, this may not be it. JackRabbit does offer a pretty reasonably-priced spare battery that can be easily mounted to the underside of the seat, increasing that range to 20 miles.
Additionally, if you want to do more rough-terrain riding, the JackRabbit OG is likely not your best option. This bike doesn't have pedals (we'll talk more about that in a minute), nor does it have shocks, so even though the 20" all-terrain tires can handle some slightly rough terrain, you're going to feel all the bumps, rocks, roots, and divots.
Finally, if you want an ebike to help haul heavy loads, the JackRabbit isn't for you. The advertised maximum load of the 300-watt brushless motor is 240 pounds. So, I could only haul about 100 pounds with this bike, and my husband would be limited to around 60 pounds. That's great for small loads but less than ideal for heavier ones.
What are the Pros and Cons of the JackRabbit eBike?
So far, I've been pretty impressed with the JackRabbit OG ebike. It's been super fun to ride, and I can see it being a great addition to a camping and/or traveling adventure. It appears to be well-built and has held up to the tests I've put it through, but it also has its drawbacks.
Pros
Price point: It is one of the most affordable ebikes on the market.
Transportability: With its compact, foldable design and 24-pound weight, this thing can be taken just about anywhere. It is also advertised as FAA-compliant, so you could even take it on a plane.
Easy to stow: It can also be stored in small spaces, like a closet, for folks who live in smaller homes/apartments with less free space.
Easy to use: The power switch and thumb throttle are very easy to use. Speeding up and slowing down are a cinch.
Range: You can ride at least 10 miles on a full charge – and double that with an extra battery.
Speed: For an ebike without pedals, being able to go 10-20 mph makes it a safe but efficient working speed.
Cons
Only one brake: The JackRabbit ebike has a right-hand controlled rear brake, but I always like having the option to use front and back if there is a steep descent.
No pedals: JackRabbit frequently advertises the lack of pedals as a plus. I can see the benefits of not needing to pedal. But in the worst-case scenario, I would like to have the option to pedal should my battery die or the motor quit working.
No suspension: I could definitely feel all the bumps when riding this bike. On smoother surfaces, it's not so bad, but when I was venturing out on rougher terrain, I knew it.
Limited hill climbing: Most hills were not a problem, but when I tried using this bike in steeper areas, it had its limitations.
Handlebar height limited: At 5'4", I still had times I felt like I was leaning further forward than I would like to feel completely comfortable.
Additional JackRabbit eBike Features
As if all the features I've mentioned aren't enough, there are a few more things that stood out while testing this ebike.
The 300-watt brushless motor is very quiet and smooth.
The throttle has a three-color battery indicator light so you can keep up with how much juice you have left.
The bike comes mostly assembled and is very easy to get started riding.
Charging can either be done by directly plugging into the bike or removing the battery and plugging it in separately.
It is IPX4 water-resistant to rain and splashes.
Would I Recommend the JackRabbit OG Micro eBike?
I have had a lot of fun with the JackRabbit OG mini ebike and can see the great benefits of having it. With anything I buy, I first determine what I expect the item to accomplish for me, research whether or not it will do those things, and then decide if it's the right purchase. I would recommend you do the same, but here are my two cents.
If you are looking for a compact, lightweight ebike that can be stored in small spaces and taken just about anywhere, look closer at the JackRabbit ebike. If your primary use of that bike is shorter rides (<10 miles) where you won't be climbing very steep hills, riding on super rough terrain, or carrying heavier loads, then you should definitely consider this ebike – especially because of its very reasonable price point.
But if you want a bike that can handle extremely rough terrain, all-day rides, or hills and valleys, I would tell you to keep looking. I would say this is especially true if you're looking for a bike to help you haul in and/or haul out heavier loads from the backcountry.
Explore Camping World's full ebike inventory.
How Does the JackRabbit eBike Compare to the Competition?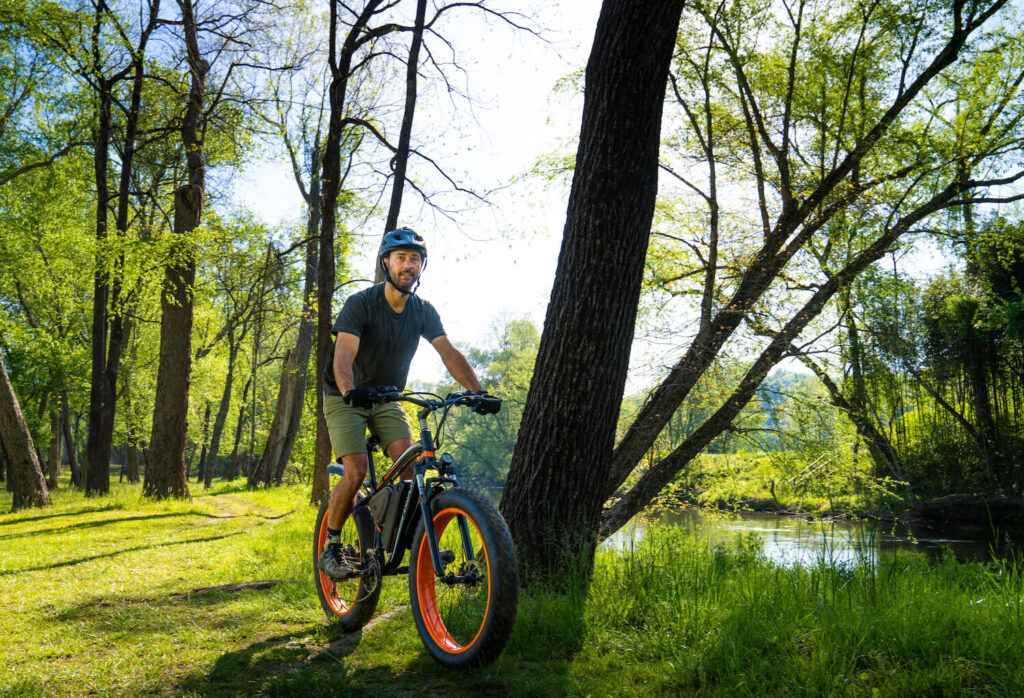 There is no shortage of options for choosing an ebike. I did a quick internet search and found a "complete list" of ebike manufacturers with around 200 companies. I've only ridden one other ebike, and both experiences were very positive, but it would be impossible to compare this bike to every available option.
That said, here are a few electric bikes from competing brands that caught my eye: 
The iDeaPlay Electric Mountain Bike fits a very different need. The range is up to four times that of the JackRabbit OG. It has larger, 26-inch wheels and will handle a 30-degree incline. But it's also much larger and heavier. For more details, check out Camping World's complete iDeaPlay Electric Mountain Bike Review.
The Jetson Bolt is a tiny little thing with only 12-inch wheels. Surprisingly, this bike will still handle a 15-degree hill, travel at speeds up to 15 mph, and has probably the lowest price point I've seen. But, even though it is smaller, the Jetson Bolt actually weighs eight pounds more than the JackRabbit OG. And I would be a little nervous on any sort of rough terrain with those little wheels. 
If the JackRabbit OG micro ebike is what you're looking for, make sure to check it out at Camping World.
---
What questions do you have about the JackRabbit Micro ebike? Ask in the comments below.