The RV industry is used to twists and turns which is exactly why you'll see them making every effort to stay ahead of the curve. When it comes to advances in technology, RVs are sporting more features and high-tech gadgets than ever before.
The comforts of home are included, as always, but we're seeing more and more that RV life can feel like living in a high-end luxury apartment and not just a home on wheels. So, buckle up as we hit the road with our favorite cool new RV tech features.
All Things Solar Power
It's rare to find an RV these days that's not, at the very least, solar prepped. Many have solar panels already installed and are ready to roll fresh off the lot, but for those that don't, it's an easy upgrade to make. The benefits of having solar panels installed on your RV continue to grow.
From operating your interior lights without any drain on your lithium battery to the easy maintenance that prolongs their life and everything in between, solar panels are popular for good reason. Let's look at the 2022 Hideout Travel Trailer, for example. Solarflex 200 is standard on all new Hideout Travel Trailers.
We're talking 30A solar roof port with MC4 connectors and a 10 AWG MPPT solar charging circuit, a 200-watt solar panel from Future Solutions, an inverted 110-volt loop prep with up to seven outlets, and a Zamp Solar portable solar panel charging port.
As if that doesn't sell itself, it also comes with a 15A Victron SmartSolar MPPT controller that can be used with an app on your phone. How's that for cool?
Tire Pressure Monitoring System
Nothing puts a wrench in your RV travel plans quite like a tire blowout. They're not only inconvenient, but they're dangerous. Losing control of an RV while it's in motion is scary, so it's better to plan ahead.
How? With a cool new tire pressure monitoring system. When you're covering a lot of ground, having a tire pressure monitoring system to monitor your RV's tires makes maintenance easier. How do they work?
Sensors are placed directly on your tires that send information back to a monitoring screen typically mounted on your dashboard. The newest systems monitor the pressure in your tires and trigger an alert if the pressure falls below a designated threshold.
Tire blowouts can be quite literally the worst thing to happen when you're living life on the road. With a quality tire pressure monitoring system, you're notified before that happens. Most systems also monitor your tires for leakage, temperature, and more. So you know when it's time to see RV service on the road.
Hyperdeck Flooring
Let's be honest, nothing impacts the overall design of your RV more than the flooring. It can make your RV feel open and spacious or it can break up the flow for a choppy, divided feeling. When space is limited, it's the former you want to reach for. With the same flooring throughout, the natural flow is enhanced and the overall aesthetic is elevated.
Hyperdeck/Dyna Span flooring is the coolest flooring option and here's why:
Comprised of waterproof non-organic materials
Will not rot, mold, swell, or mildew
Lightweight
Water-resistant wood fiber strand decking
Keystone's Cougar line of luxury fifth wheels and travel trailers all come with hyperdeck flooring. No need to adapt your lifestyle to your RV flooring when your RV flooring has already adapted to your lifestyle. Outdoor adventures and camping on the road can be messy, but these floors are built to withstand those conditions and outlast them.
Plus, they carry a 25-year warranty against delamination, glue bond failure, and manufacturing defects. Cool, right?
iN-Command System
Speaking of the Keystone Cougar, their use of the iN-Command system is worth mentioning. Who doesn't enjoy controlling things from a distance? Especially these days. Everyone wants the option to control everything from the palm of their hand regardless of what it is or where they are.
With the iN-Command system, you're able to successfully operate your RV's slides, awnings, lights, and even program the HVAC. Yes, you can control the temperature of your RV from any distance. It's convenient. It's definitely cool.
It's a new way, so take advantage of it. Worried about it breaking down? Don't worry. Color-coded wiring makes troubleshooting a breeze in the event you need to take a look behind the curtain.
The Giggy Box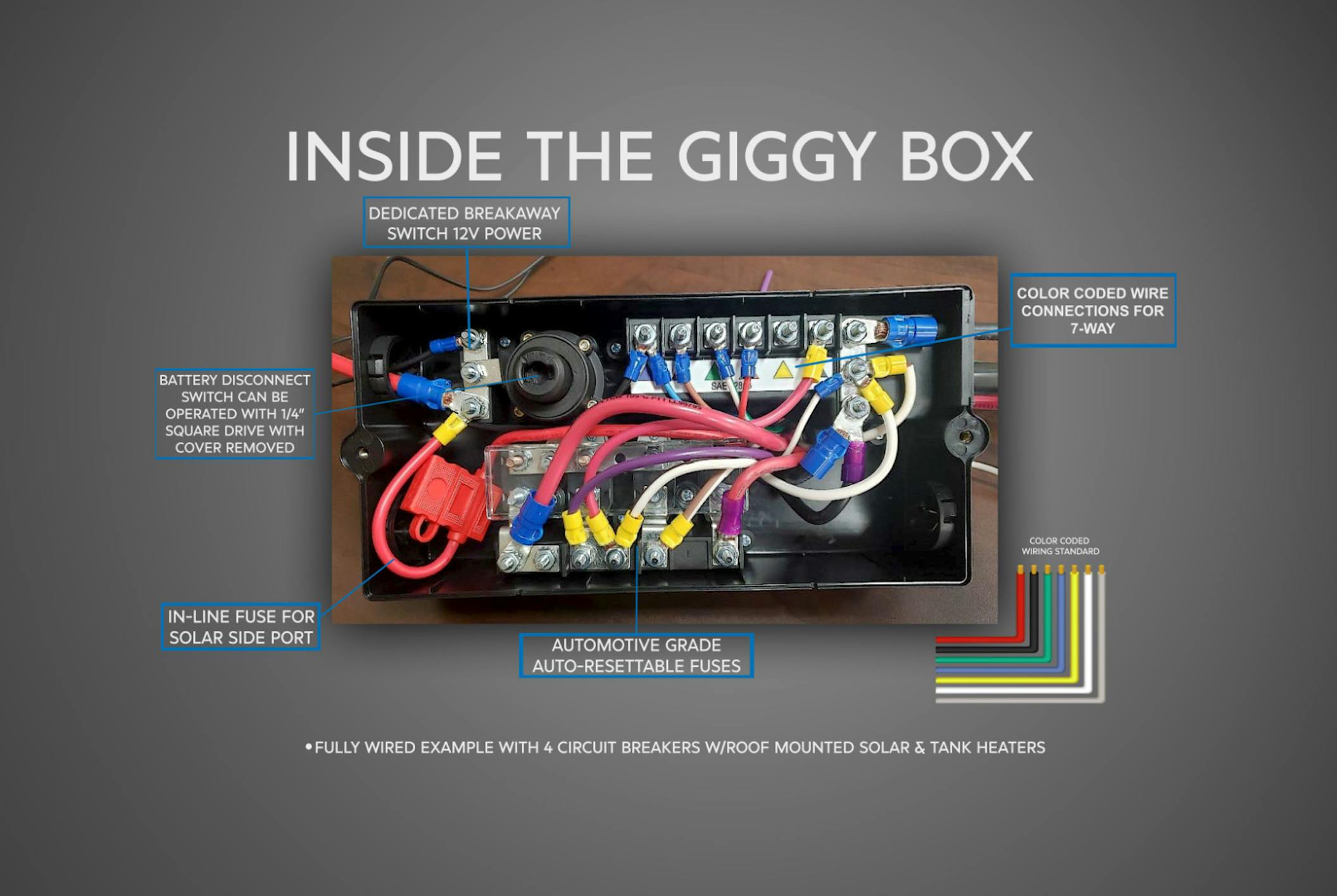 It's a funny word, but protecting your battery disconnect is no laughing matter. The Giggy Box takes its job seriously. As the industry's first organized 12-volt wiring distribution, it offers breaker protection and an upgraded battery disconnect location that eliminates all parasitic draws.
As a bonus, there isn't any exposure to the elements or road debris. See? Funny word, but serious performance.
Cool RV Entertainment Options
You'll never reach a dead-end when trying to outrun the constant upgrades to our favorite entertainment items. However, choosing to invest in a quality TV is always a good choice to make. For those long road trips or when the weather forces you to stay inside, smart TVs could be the saving grace.
Binging whatever show is trending at the moment or watching an old favorite movie is a good way to bring the family together when RV camping.
Another item to stay up to date with is a Wi-Fi booster. It's not a secret that most campsites have less than amazing signal strength when it comes to the internet, so get ahead of the game with a booster.
Never worry about having the speed to work from the road or stream your devices again. I promise your kids will think this is the coolest part of the list.
---
Whether you're in the market for a new RV or you're upgrading an existing one, it's always worth staying on top of the new advancements being made in the field. For guidance on upgrading your interior decor, RV technology, or entertainment options, check out Camping World's Design Centers!
What's your favorite tech part of an RV? What, in your opinion, could use improvement? Tell us in the comments below.