October is one of the best months of the year for camping. The crisp weather and changing leaves make sitting around the campfire even cozier. But October camping also ushers in a spooky time of year—Halloween. RV campgrounds are a great place to celebrate this playful holiday. Some campgrounds host special events like hayrides, golf cart parades, costume parties, and RV trick-or-treating. Plan your trip to a spooky destination, like Sleepy Hollow, NY, and participate in the festive community events.
These simple campsite Halloween decorating ideas should get you in the spirit. Make it a fun activity for the whole family and break out the craft bin.
Spooky Light Decoration
The easiest way to add some ambiance to the campsite is to add themed lights. A strip of LED lanterns in the shape of pumpkins or ghouls look great on an RV awning or lighting up a picnic table. Get creative with what you already have on hand, like Christmas lights, and arrange them in the shape of a jack-o-lantern or ghost.
Monster Decorated Rig
Give your RV an eerie makeover and think of ways to bring it to life. Use products you have on hand, like garbage bags, tablecloths, or craft paper to give your rig eyeballs or a monster mouth.
Halloween Tablecloth
Pumpkin carving is a Halloween tradition. If your campground allows it, enjoy this messy activity outdoors at your campsite. Spread this Halloween Tablecloth out over the picnic table and simply slop the pumpkin guts on the tablecloth. Afterward, simply wipe the PVC surface clean with a damp cloth. Save the seeds and make a yummy Fall snack!
Creepy Campsite Chairs
While you're off trick-or-treating, keep your camp chair occupied with chilling characters. Store-bought skeletons spook passers-by. Or make a homemade scarecrow using natural campground materials like sticks or fallen branches.
Halloween Garbage Bags
Give everyday items a Halloween punch. For a family activity, bring along these festive garbage bags on a hike and pick up litter along the way. Then, use the filled bags as festive Halloween decorations before pitching the garbage when you depart. Leave the park cleaner than you found it!
DIY lanterns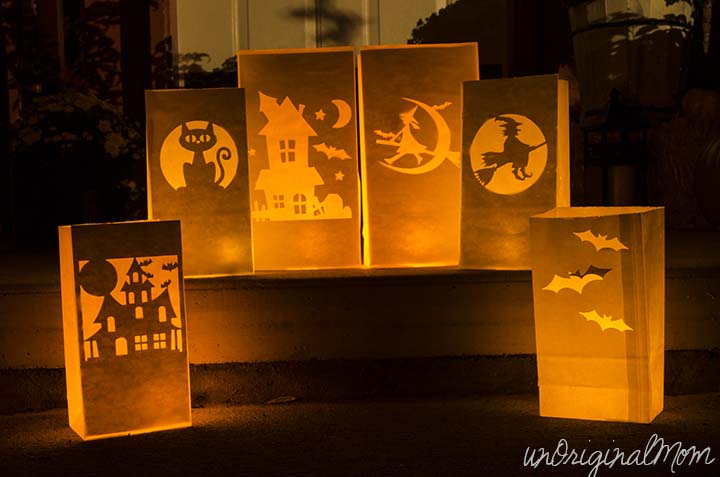 Pick up some battery-operated LED tealights (real tealights pose a fire hazard). Then customize paper lunch bags with ghostly cutouts. Line your campsite with these flickering lanterns.
Halloween Collapsible Container
Keep games, balls, and sports equipment organized in this Halloween collapsible container. Or use it to keep extra blankets for staying warm around the fire. There are endless uses for this multi-purpose pop-up. Its compact fold-up size takes up little space in your RV storage, so there's no reason not to bring it along.
Paper-Cutout Puppet Characters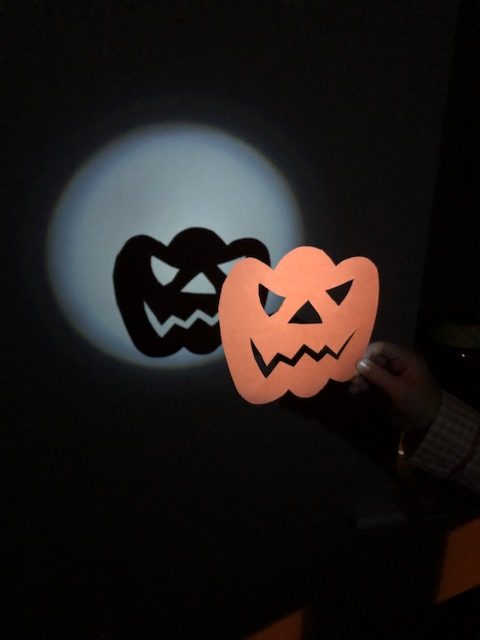 This décor requires only popsicle sticks and firm cardstock. Cut out spooky characters like spiders, bats, witches, or ghosts and glue them to the popsicle sticks. Wait for the sun to go down, then bring out the flashlights and act out your own Halloween puppet show for passers-by.
Halloween Pet Apparel
Include the whole gang in the Halloween fun, even fur-family with some Halloween pet apparel. A simple pet bandana stays put better than pet costumes and looks great in family photos.
When it comes to decorating your RV, whether for the holidays or in general, consider Camping World's Design Center. With over 46 locations nationwide, Camping World Design Centers have Design Specialists that help RVers plan and create custom interior design projects unique to their RV, including seasonal decor.