Sitting by the campfire telling stories, mesmerized by the flames, makes for some of the best camping trip moments. Of course, there is an art to the campfire, and preparation is key.
Even if you know how to build the perfect campfire, you probably rely on modern technology, and there's nothing wrong with that. Why labor over the simple act of starting a fire when the right campfire accessories can make life much easier?
Must-Have Campfire Accessories
We've probably all been caught, at least once, without our best campfire setup during perfect campfire conditions. To help you always be ready for the perfect campfire, here's a list of must-have campfire accessories and patio furniture for your next camping trip. 
1. Axe, Hatchet, and/or Multi-Tool
Fuel is a vital component of building a campfire. Getting wood of the right size is where your axe, hatchet, and/or multi-tool comes in handy. Ideally, you can use something like dry grass or dead pine needles.
However, there are times when none can be found, especially at developed campgrounds. As long as you remember firewood, these tools allow you to create tinder without using a dangerous amount of lighter fluid.
Split large logs with your axe, chop smaller pieces with your hatchet, and use the knife in your multi-tool to carefully shave off small pieces of the wood. Wood shavings make great tinder.
2. Fire Starter
You can't have a perfect campfire if you can't get the fire started!
Once you set up your tinder, kindling, and logs, it's time to start the fire. Matches are certainly tried and true, especially waterproof matches. Be sure to pack some before your trip. A disposable gas lighter works well too.
Speaking of fire starters, you can also get some help with the tinder step and use fire starter sticks or fire starter squares. Fire discs are also popular. Avoid using lighter fluid. It smells foul and is dangerous.
Shop Camping World's full selection of fire starters.
3. Extendible Fire Poker and Bellows
To avoid burning your fingers and hands –– surely not part of a relaxing campfire experience –– use an extendible campfire poker or fire tongs to reposition wood in the fire. Don't risk using your hands and potentially ruining your trip with a surprise ER visit.
We love nature, but it might not always provide the perfect fire poker, especially when you're staying in developed campgrounds. This fire poker extends to keep your hands safe from the flames and can also function as a lid lifter for your dutch oven (more on that later).
Speaking of safe distances, blowing at the base of your fire is an important step to building the perfect campfire. But if you've ever dealt with slightly wet firewood, you know the strain that can put on your lungs.
Safely add oxygen at a distance with bellows. These pocket-sized expandable metal tubes help you safely blow on your fire if you follow good fire safety practices (i.e., don't inhale through the tube.).
4. Comfy Camp Chairs
You can stand around a fire, but after a long day, there's nothing like sitting by the campfire. Be sure to pack some comfy camp chairs. If you're up for it, go all out with reclinable camp chairs. There's so much comfortable camping furniture to choose from.
Sitting around the campfire invites conversation and bonding. You might even get inspired to whip out the ukulele or guitar and sing songs. If you are tight on space or camping with kids who prefer to sit on the floor, an RV patio mat can be a nice spot to enjoy the campfire.
Don't forget to add extra light to the scene with patio lighting that helps folks make it back to their RVs when they leave the campfire. At the end of the night, retire to an RV that feels like home with these tips for transforming the interior of your RV.
5. A S'more Caddy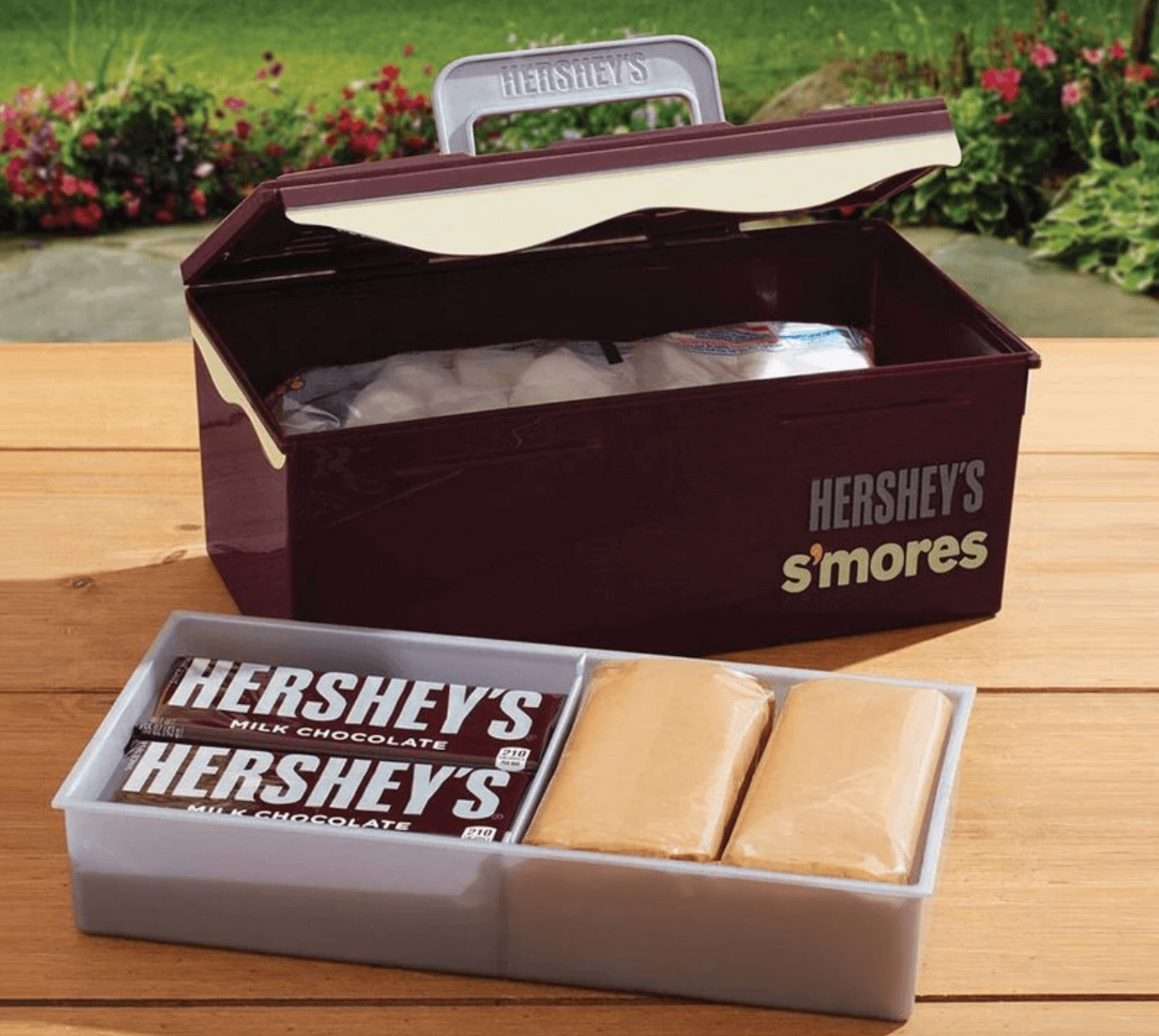 Whether it's cold or not, a campfire isn't complete without some snacks. Be prepared when the kids want S'mores with marshmallow roasting sticks and a S'more caddy and tray. It keeps your S'more essentials neatly organized so you can grab them when the kids can't wait any longer.
If you're entertaining at your campsite, look at our expert tips on hosting the holidays in your RV.
6. Collapsible Bucket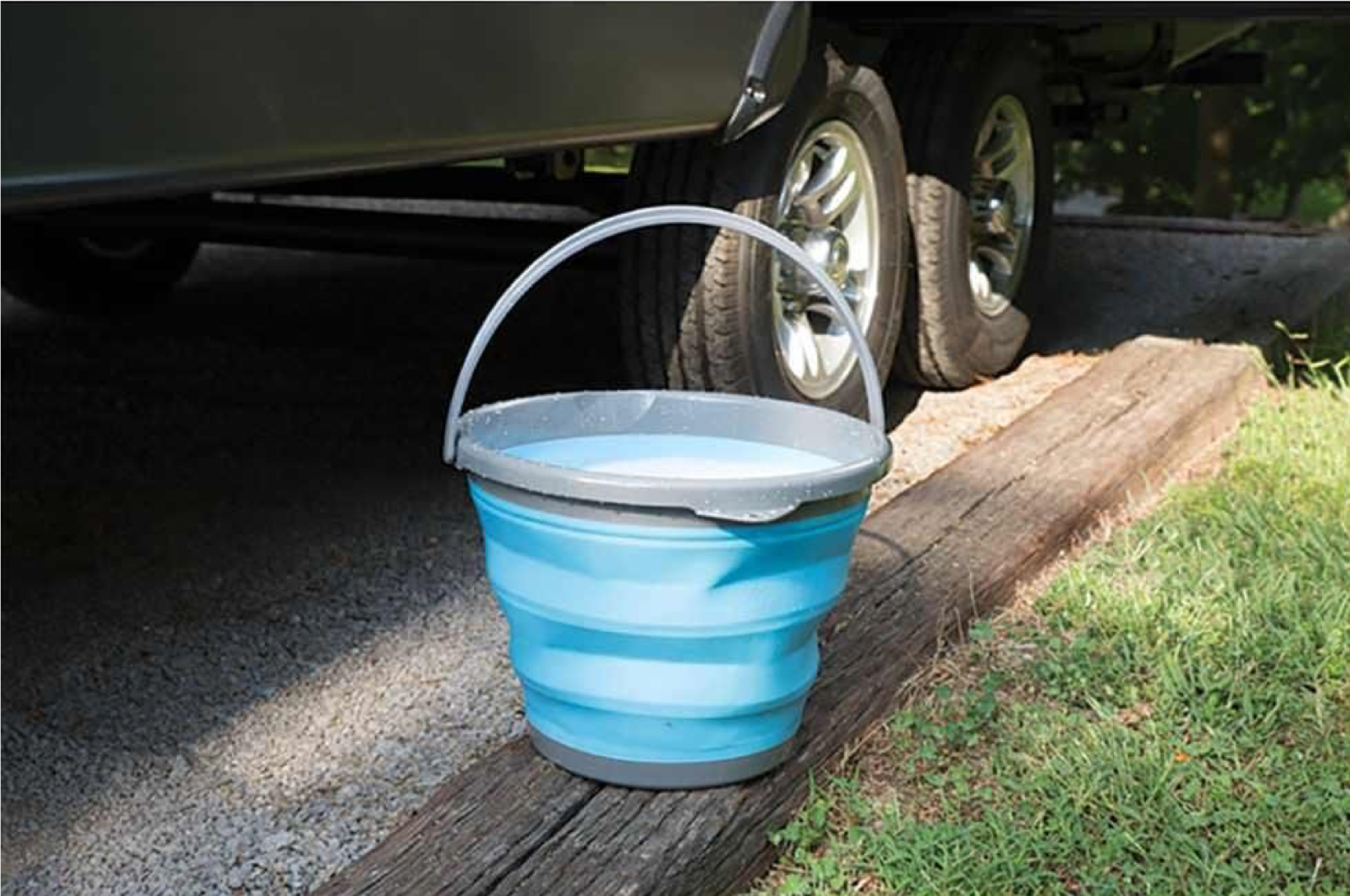 This is a must. Being a responsible camper and campground RV neighbor means putting your fire completely out when you're done. Keep enough water in your collapsible bucket so you can easily pour it onto the fire at the end of the night (or after breakfast) until it no longer hisses at you.
The great part about a collapsible bucket is that it's a multi-purpose accessory. When you aren't using it to douse a campfire, use it to clean dishes, wash your RV, or anything else you can imagine.
7. Smokeless Campfire Option
A smokeless campfire option is a must-have for anyone wanting to upgrade the campfire experience. We all love sitting around the campfire, but how many truly love the smoke?
That campfire smoke envelops you as you drift off to sleep at the night's end. Its smell can linger on your clothes or in your hair. And, of course, how many of us have had nights where the smoke chases us around the fire until sitting around the campfire becomes a game of musical chairs?
For those who want to skip the smoke, we recommend Biolite's Smokeless Fire Pit. You still get to use wood and keep all the joys of a campfire without the smoke. It even doubles as a hibachi campfire grill.
Try a portable propane firepit if you can't, or simply don't want to, build a wood-burning fire. This is a great option for those who were never camp scouts. You'll be able to enjoy a consistent, smokeless campfire. We promise you'll still enjoy sharing life stories while sitting around it.
8. Campfire Mugs or Tumblers
If it's chilly out, a hot mug of coffee, tea, or hot cocoa will nicely complement your campfire. Be sure to pack some mugs for your next trip. If it's not chilly, try an adult beverage instead. And if you're not into drinking wine from a mug––who are we to judge––go ahead and bring wine tumblers.
9. Dutch Oven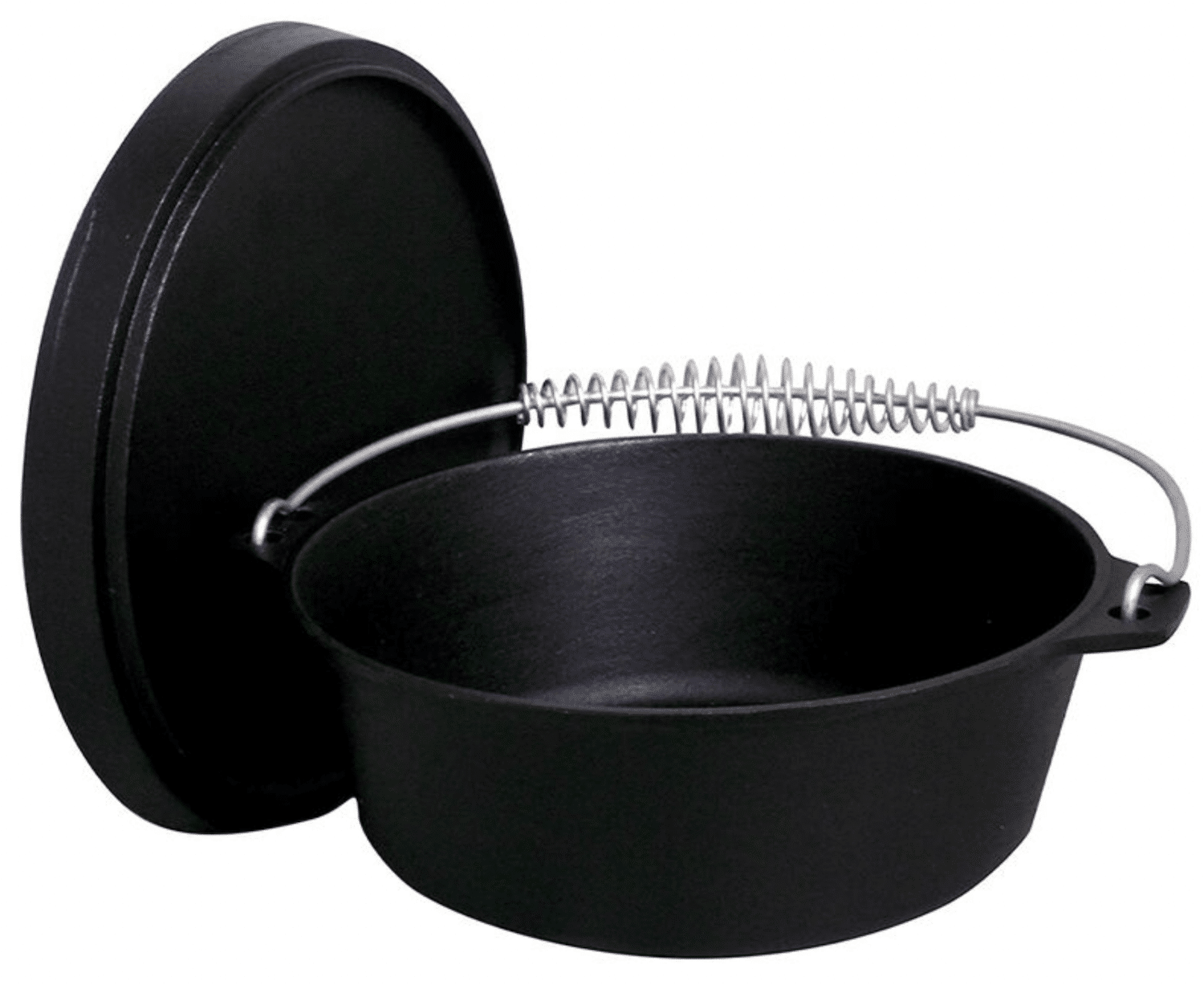 Many of us love cooking food over the campfire, but what about cooking food in the campfire? Some of the best campfire cooking recipes call for a cast iron dutch oven, which can also be a fun way for you to experiment with new meals on your next camping trip.
Here are 7 Campfire Soups to Make in Your Dutch Oven.
Discover our selection of dutch ovens.
10. Pie Iron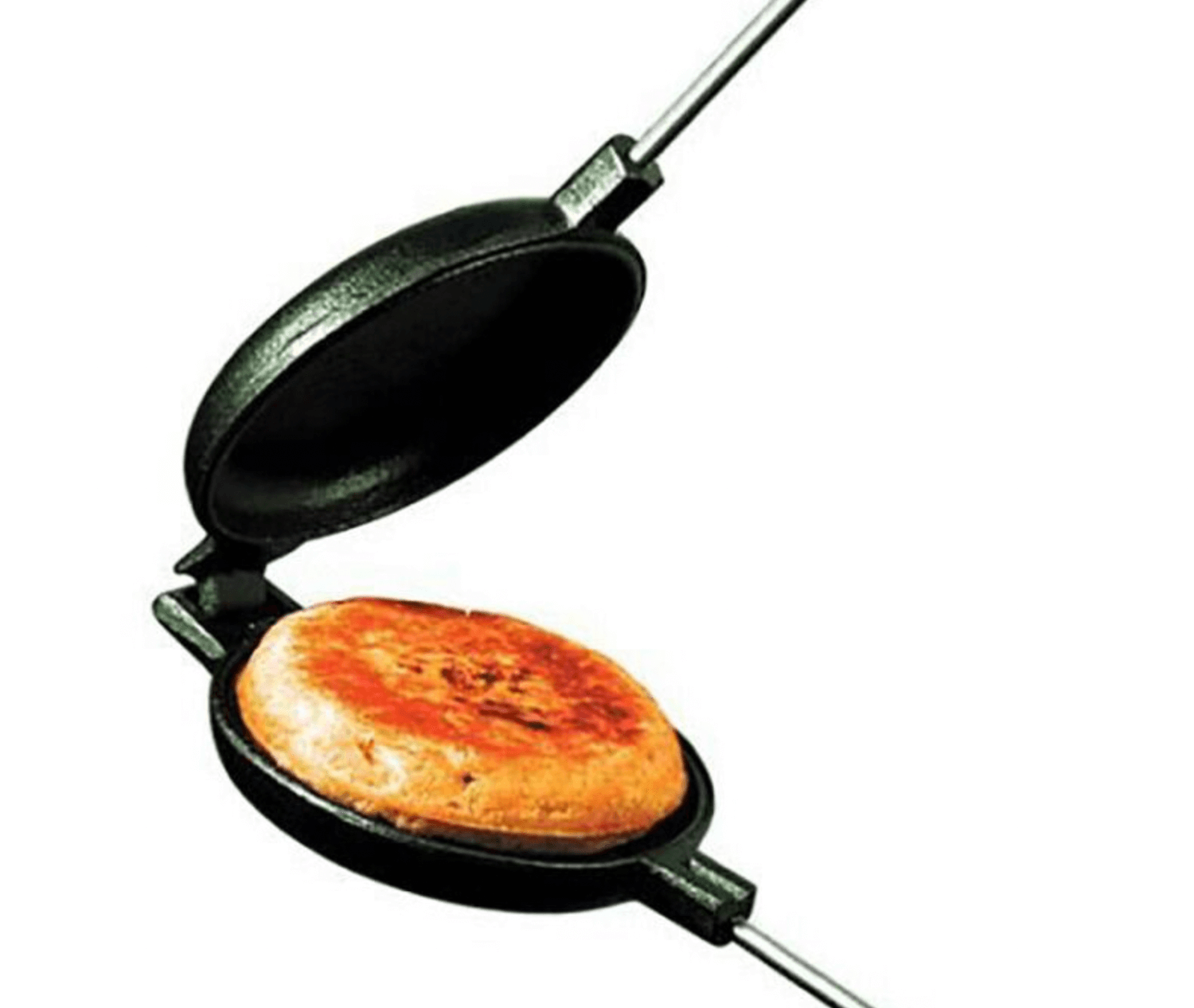 The possibilities are endless – exercise your creativity and spice up your campfire meals with this campfire accessory. Most campers love marshmallows and s'mores, but once you discover the versatility of the pie iron, life will never be the same.
A pie iron is the ideal campfire accessory for crafting delicious grilled cheese sandwiches for lunch, stuffed french toast for breakfast, or personal calzones for dinner.
---
With just a few simple accessories, you're on your way to your perfect campfire. Make sure you practice fire safety when building, tending, and dousing the fire on your next RV trip.
What other campfire accessories would you recommend? Leave a comment below!