One of the most beautiful – and perhaps overwhelming – parts of buying a fifth wheel RV is finding the right floorplan. Fifth wheels come in numerous layouts, and you're bound to find one that fits your personality and needs. Below are just a few options that are popular among RVers.
Popular Fifth Wheel Floor Plans
Because fifth wheels tend to be longer and heavier than some travel trailers, they require a truck with a higher towing capacity. Use our Towing Guide to find out how much your truck can tow before you check out these popular fifth wheel floor plans.
Before you take your new 5th wheel on its maiden voyage, download or print and laminate this hitch checklist for reference.
Bunkhouse Fifth Wheels
Big family or RVing in a group? Bunkhouse models feature loads of sleeping spaces to keep everyone comfy. Add slideouts and these models are spacious enough to accommodate multiple people comfortably—even on rainy days.
Keystone Cougar Sport 2700BH
Length: 32'3″
Dry Weight: 7,655 pounds
Sleeping Capacity: Up to 10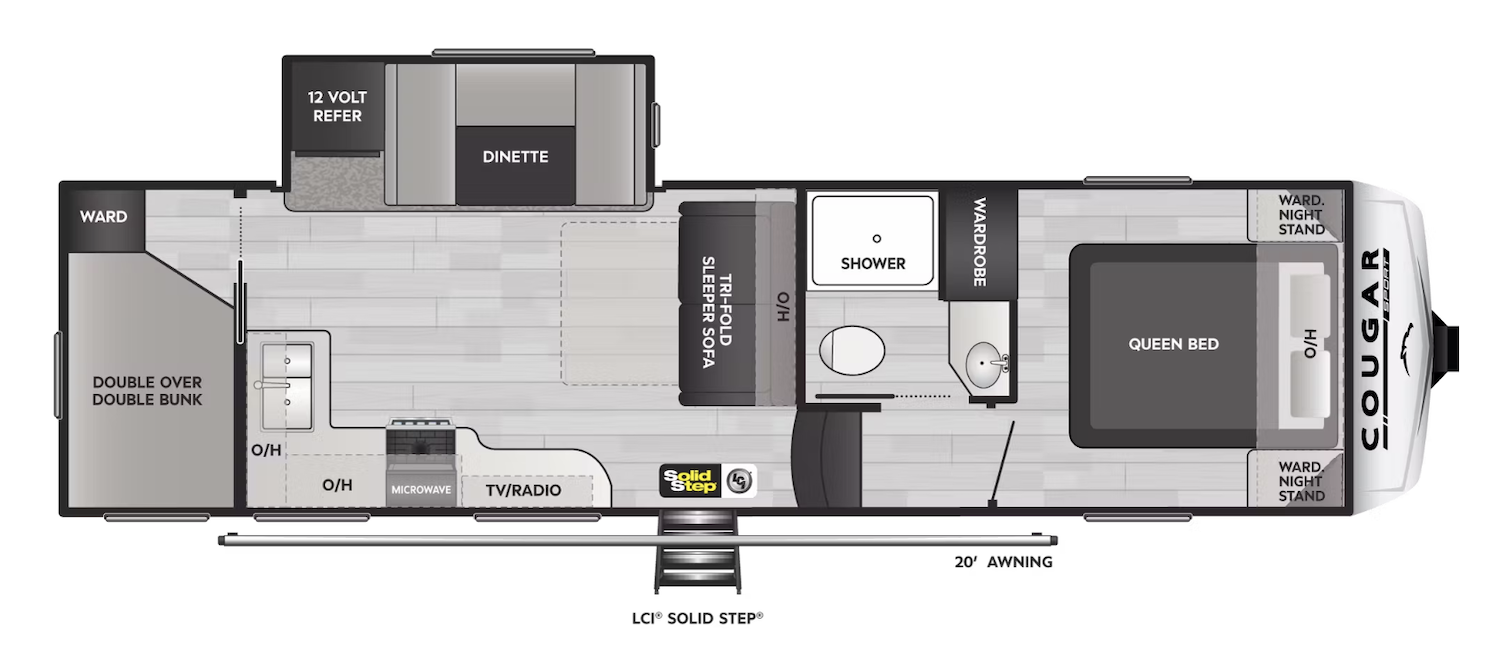 The Cougar Sport is the newest addition to Keystone's line of fifth wheel RVs. The bunkroom floorplan of the 2700BH features double-over-double bunks in a private room at the rear. You'll also enjoy a spacious living area and a private primary suite, but easy towing is the biggest selling point for this new, lightweight fifth wheel.
Cougar Sport 2100RK
Length: 26'3″
Dry Weight: 6,720 pounds
Sleeping Capacity: Up to 6
Find all Keystone Cougar Sport fifth wheels available at nationwide Camping World locations.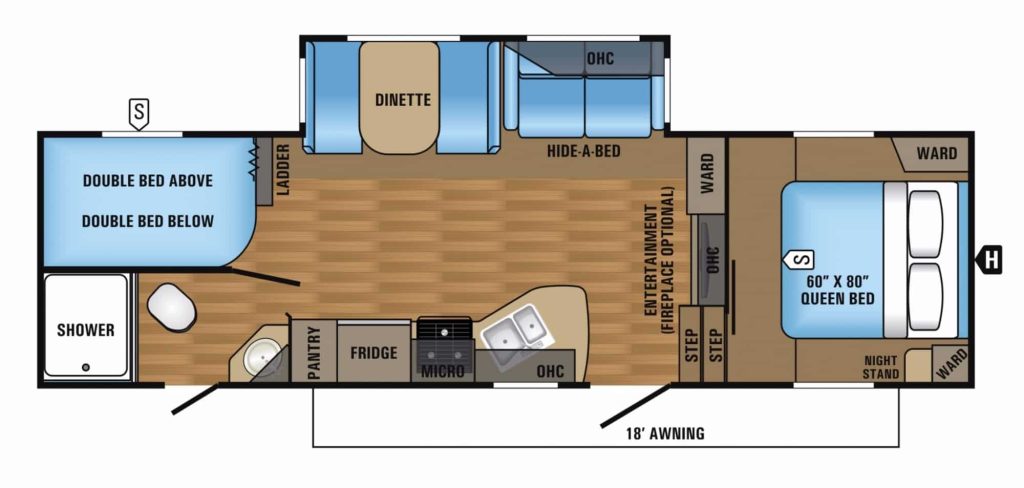 Featured RV – Forest River Sabre 350BH
Length: 40'1"
Dry Weight: 11,853 pounds
Sleeping Capacity: Up to 6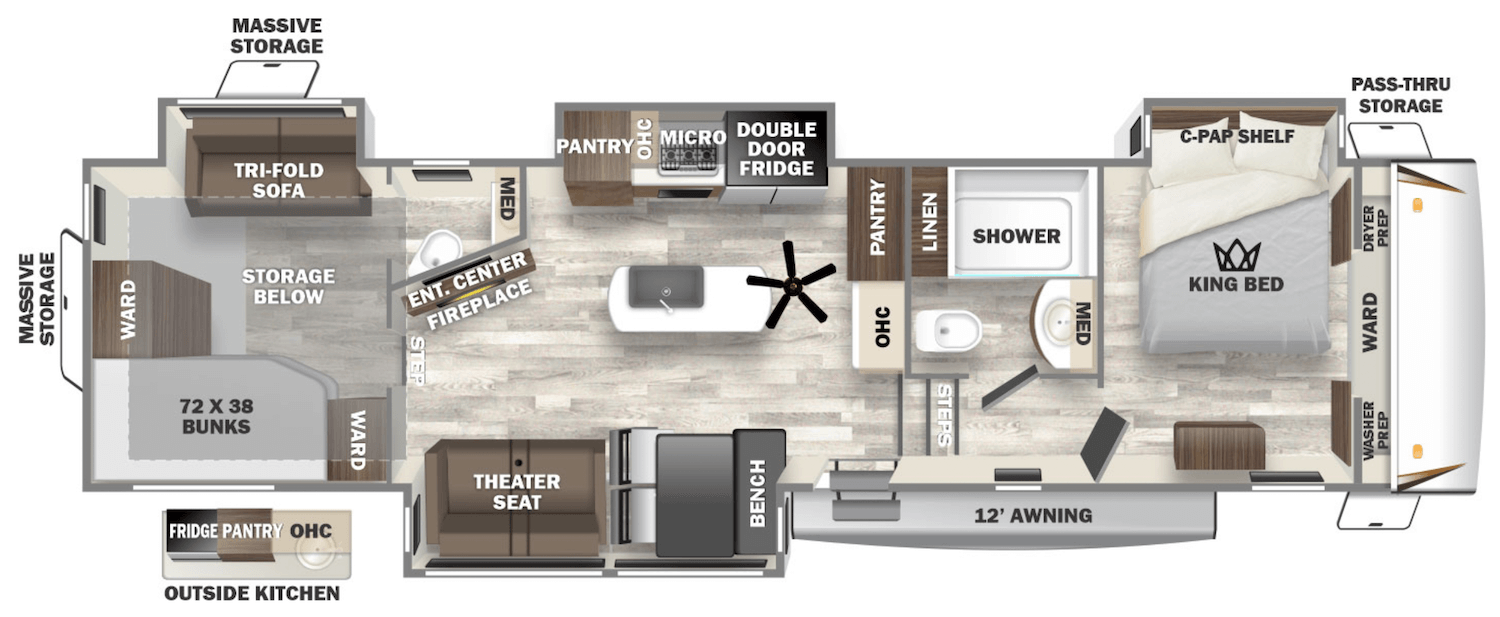 The Forest River Sabre fifth wheel offers a unique floorplan with a raised bunkhouse area in the rear and ample storage space underneath. That basement storage area is accessible from the fifth wheel's rear exterior, and there's also an outdoor kitchen on the passenger side.
In addition to a dedicated bunk area for kids or guests, the Sabre also features a second bathroom. So your primary suite, featuring a king-size bed, full wet bath, and washer-dryer prep, remains private day and night.
Discover Forest River Sabre 5th wheel trailers at a Camping World near you.
Bunkroom Fifth Wheels
Bunkroom fifth wheels are also ideal for families or group camping, but they provide a little more privacy than standard bunkhouse models. The bunks are completely separated from the main living and kitchen areas by a door, and some even feature a second dedicated bathroom, so the kids aren't using your primary bathroom in the middle of the night.
Featured RV – Forest River Wildcat One 36MB
More manufacturers have been rolling out bunkroom 5th wheels with the room located in the center of the floorplan. These are classified as "Mid-Bunk 5th Wheels," and the Forest River Wildcat One 36MB is a great option in that category.
Length: 42'7"
Dry Weight: 11,538 pounds
Sleeping Capacity: Up to 8
Forest River's Wildcat One is new to the scene. It features a centrally-located bunkroom with a slide-out, a loft area, and ample storage for all the kid's belongings. Placing the bunkroom in the center of the floorplan frees up the rear for the kitchen, dining, and entertainment rooms.
In that entertainment area, you'll have a TV, an electric fireplace, theater seating, and a fold-out sofa if you need extra sleeping space. The dinette also converts to a small bed, and the kitchen features a center island to give you plenty of counterspace for meal prep.
Shop our nationwide inventory of Forest River Wildcat fifth wheel RVs.
Front Living Fifth Wheels

Designed for maximum comfort for a couple the front entertainment option dedicates itself to a spacious living room. Multiple couches and a large screen TV mean these models pretty much come with their own entertainment room or just make for ample space to allow guests to crash, thanks to hide-away beds.
Featured RV – Forest River Cedar Creek 371FL
Length: 41'11"
Dry Weight: 16,615 pounds
Sleeping Capacity: Up to 6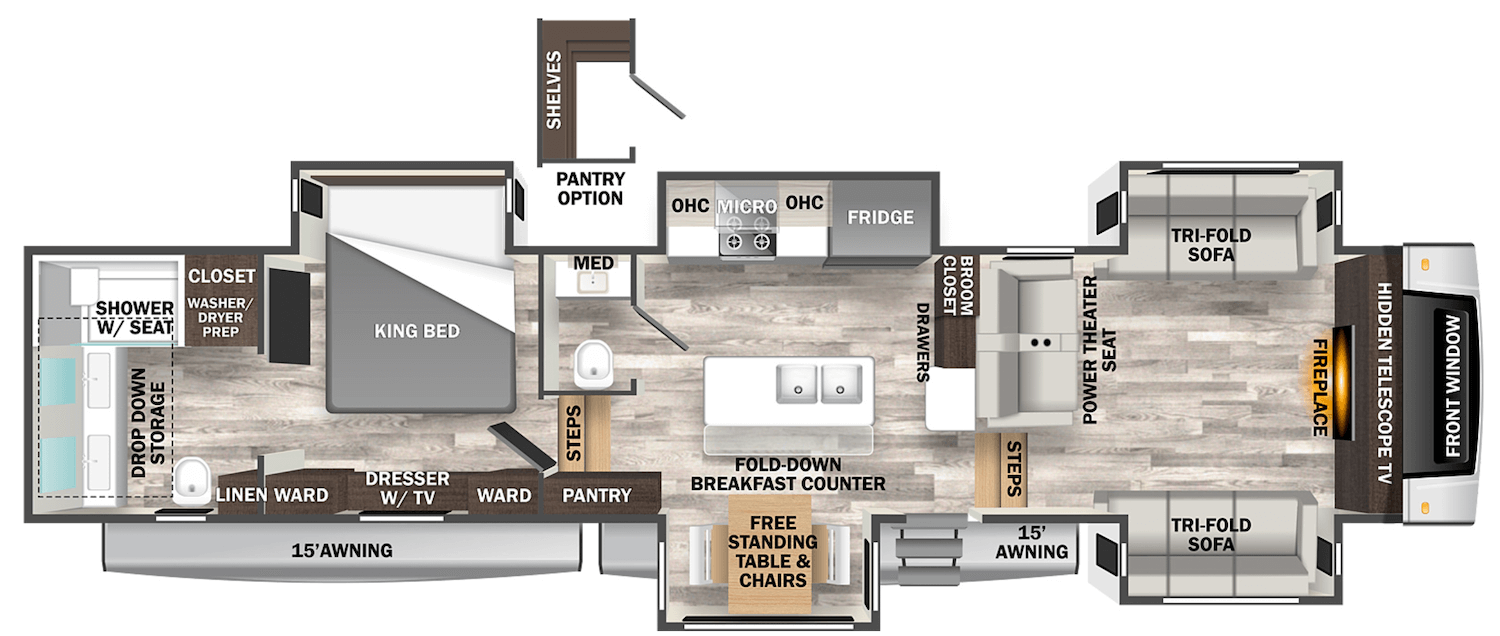 The Cedar Creek fifth wheel from Forest River features an ideal floorplan for hosting guests on your RV travels. The front living area boasts two tri-fold sofas, theater seating, a panoramic front window, and a hidden telescoping TV for watching movies on rainy evenings.
At the back of the unit, the primary bathroom includes his-and-hers sinks and a closet with a washer-dryer prep. In the kitchen, you'll love the large central island and the options for a second half-bath or a bonus pantry for storing dry goods.
Check out our nationwide selection of Forest River Cedar Creek fifth wheel trailers.
Rear Living Fifth Wheels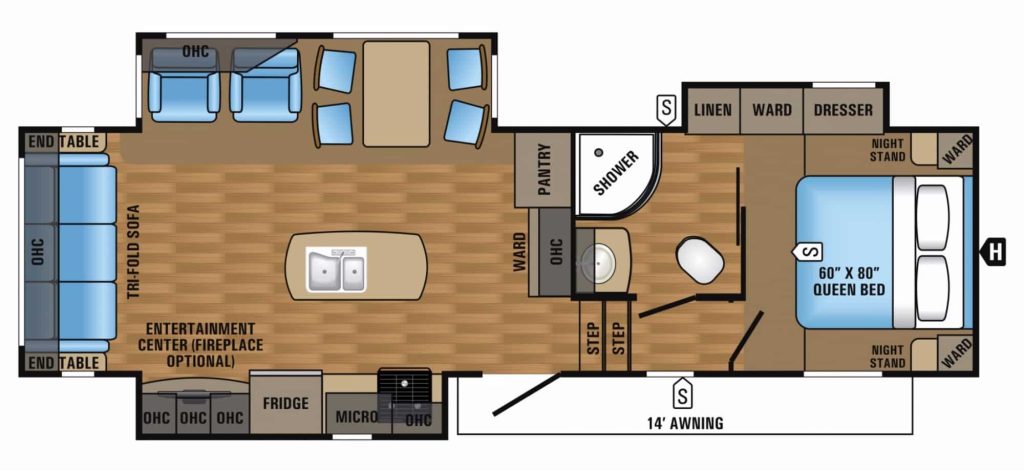 Rear living floor plans emphasize living space. Some of these models utilize this plan to offer two separate bathrooms. Dinettes, a large kitchen area, and theatre-style seating make this floorplan popular among those who love cooking delicious camping meals.
Featured RV – Forest River Cardinal Red 29RL
Length: 34'7"
Dry Weight: 11,825 pounds
Sleeping Capacity: Up to 6 adults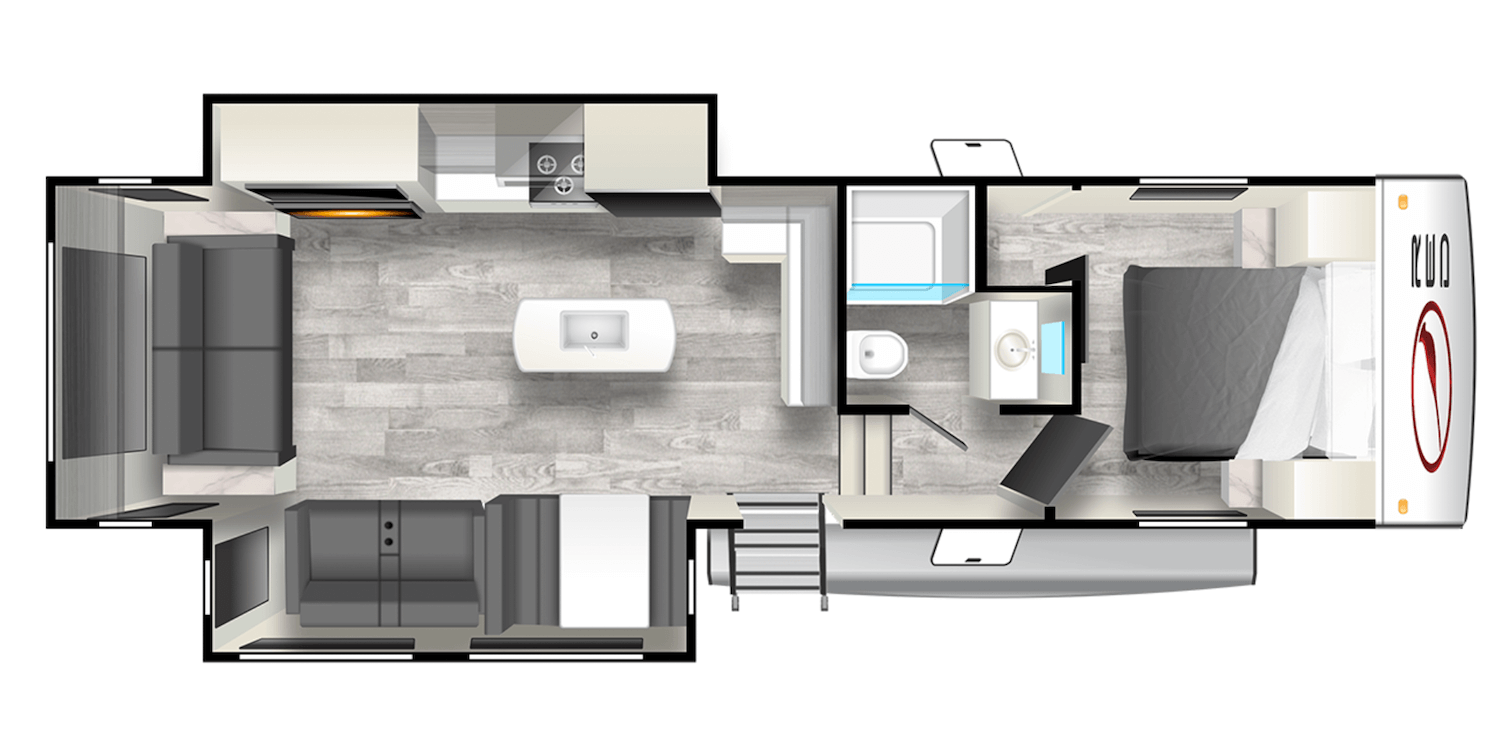 The Cardinal Red fifth wheel is also new to Forest River's lineup. The floorplan looks very similar to the Wildcat One, with the exception of the central bunkroom. You'll still get three slide-outs that vastly expand the rear living area.
That area includes your entertainment center, a spacious kitchen with a central island, theater seating, and a convertible dinette for eating or extra sleeping space. The Red Climate package for this 5th wheel includes a ducted air conditioning system with two 13,500-BTU A/C units and prep for a third, making it ideal for camping in hot and humid climates.
Explore Camping World's inventory of Forest River Cardinal fifth wheels.
Rear Entertainment Fifth Wheels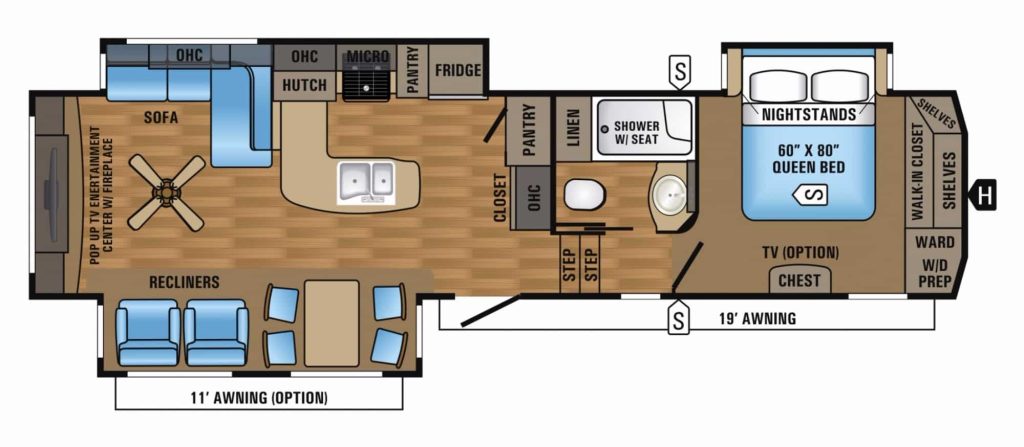 These plans are built around an entertainment center at the rear of the camper. Spacious couches surround the large-screen TV, making these models ideal for watching the game and keeping the tailgate party going. And with large kitchens that overlook the entertainment area, the snacks are never far out of reach.
Featured RV – Forest River Salem Hemisphere Elite 35RE
Length: 42'9"
Dry Weight: 12,194 pounds
Sleeping Capacity: Up to 4 adults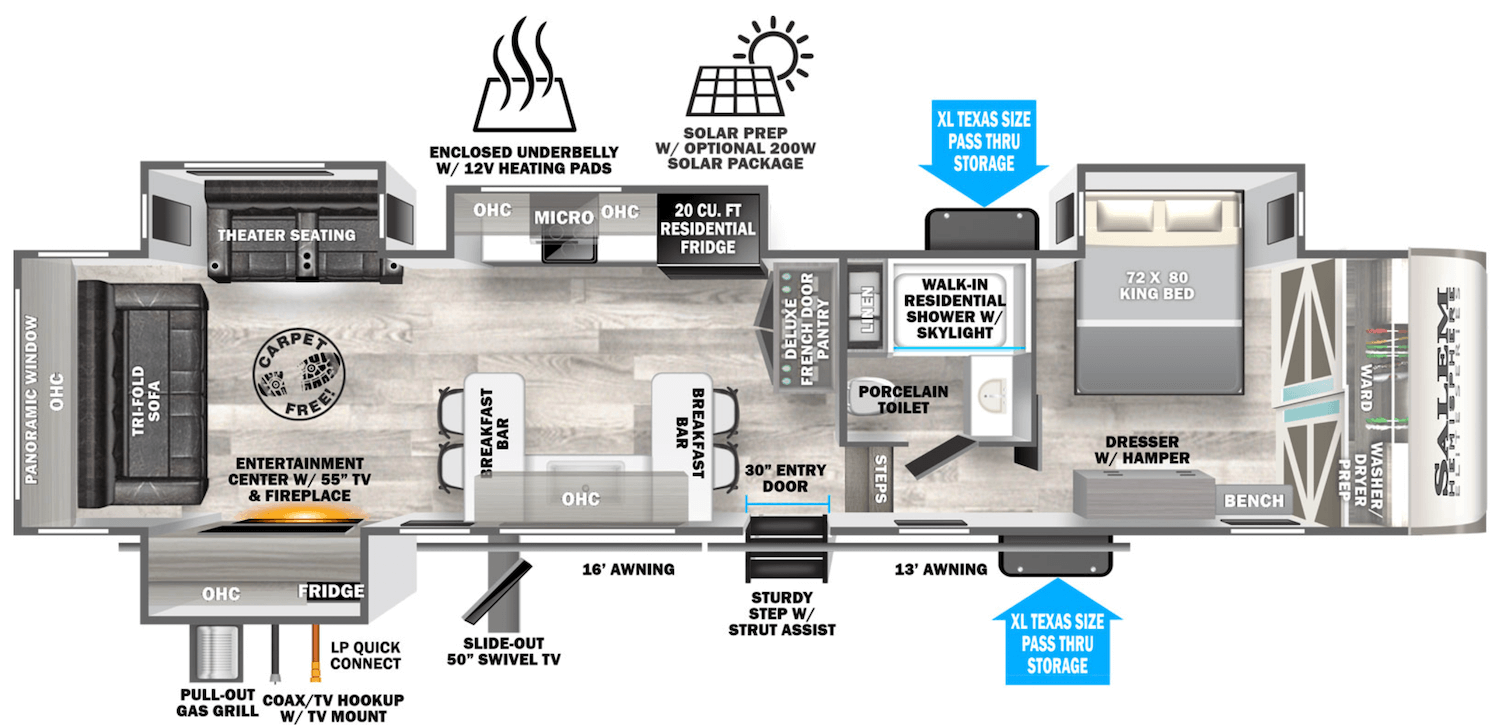 The Salem Hemisphere Elite 5th wheel from Forest River features a floorplan we've truly never seen before. The centerpiece is two breakfast bars in a U-shaped design on either side of the kitchen's deep sink with a high-rise faucet and pull-out sprayer.
Four slide-outs give you ample interior living space, making it comfortable for full-time RV living. Other features that support full-timers include an enclosed underbelly with 12-volt heating pads, an extra-large pass-through storage compartment, a washer-dryer prep, and an optional 200-watt solar package.
Discover Hemisphere Elite fifth wheels in your area.
Featured RV – Keystone Montana High Country 311RD
Length: 42'9"
Dry Weight: 12,194 pounds
Sleeping Capacity: Up to 4 adults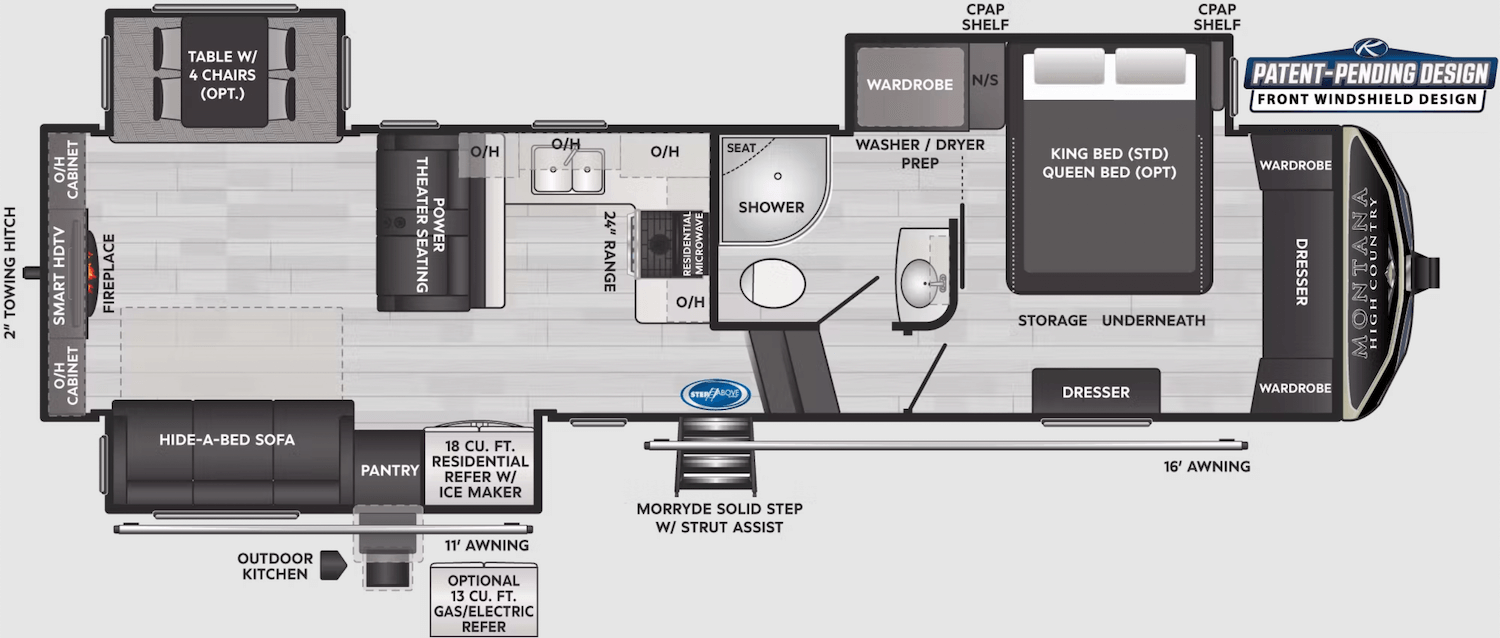 The Keystone Montana High Country fifth wheel's rear entertainment floorplan places the Smart HDTV and electric fireplace on the trailer's rear wall, along with plenty of overhead cabinet storage. The Hide-a-Bed sofa provides comfortable daytime seating and extra sleeping space at night.
There's also a power theater seating for watching your favorite shows, and you can upgrade to an optional dining table with four individual chairs over a traditional RV dinette. You'll love the large wardrobe with washer-dryer prep in the primary bathroom and the 18 cubic-foot residential refrigerator in the kitchen.
Shop Camping World's selection of Keystone Montana High Country 5th wheels.
Rear Kitchen Fifth Wheels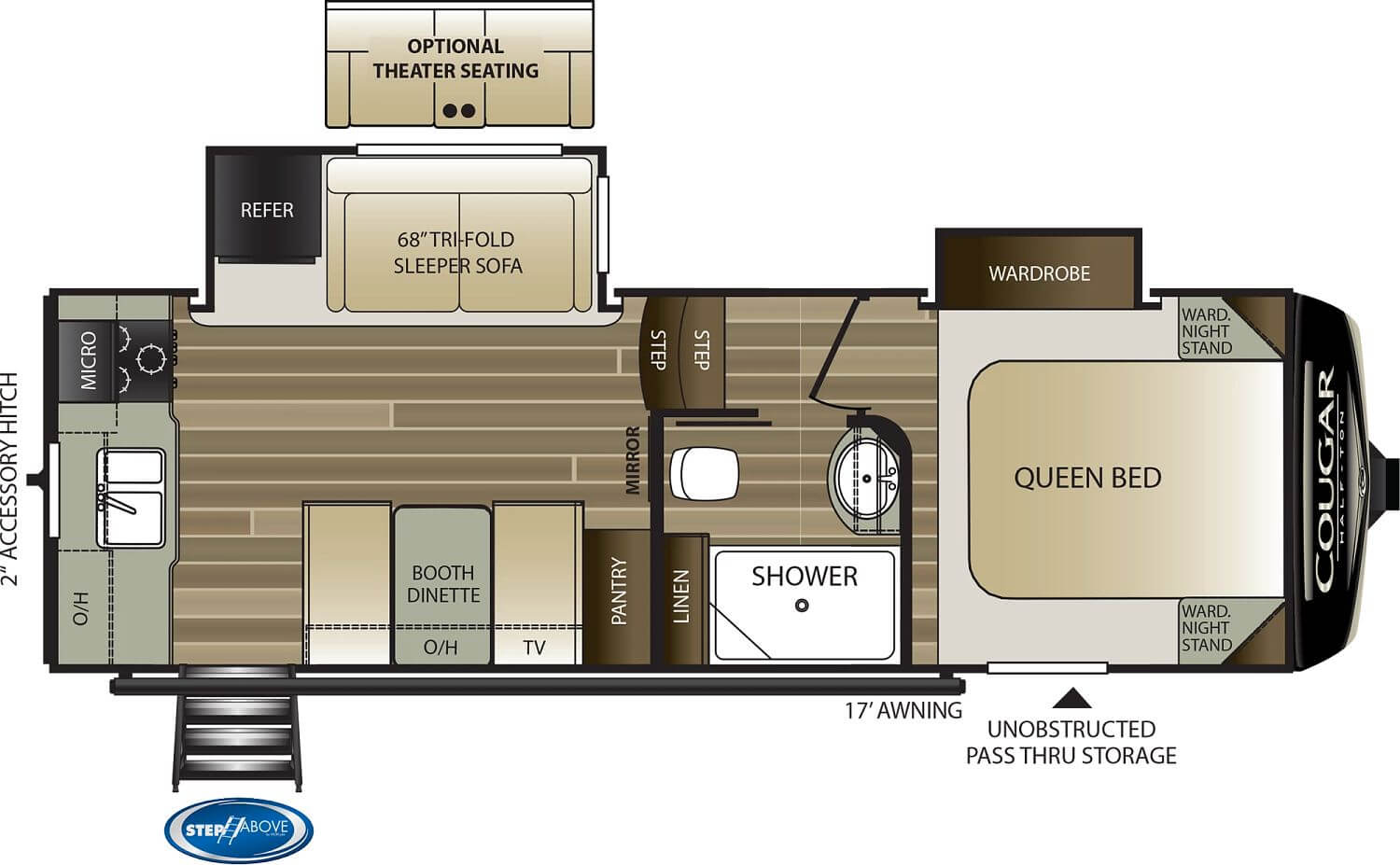 The chef in your family will love a fifth wheel with a rear kitchen floorplan. It allows you to concentrate on meal prep and cooking without people walking back and forth through the kitchen.
The entry door will typically be into the living room, but some rear kitchen floorplans offer two doors – one into the living room and one into the kitchen. This makes it easier to prep meals inside and transport them to your campsite's picnic table.
Featured RV – Keystone Montana 3901RK
Length: 42'4"
Dry Weight: 14,541 pounds
Sleeping Capacity: Up to 4

This Keystone Montana floorplan is lengthy, giving it room for a spacious rear kitchen with 270-degree solid surface countertops and a huge residential refrigerator. It also boasts a kitchen slide-out, a pull-out spice rack, and an oversized stainless steel sink.
The primary bedroom has a walk-in wardrobe, double-door entry, washer-dryer prep, and LED lighting. Two bathrooms also give you plenty of privacy when camping with your family or entertaining guests for the holidays.
Search for Keystone Montana 5th wheels in your region.
Featured RV – Forest River Cherokee 235MB
Length: 29'6″
Dry Weight: 7,384 pounds
Sleeping Capacity: Up to 6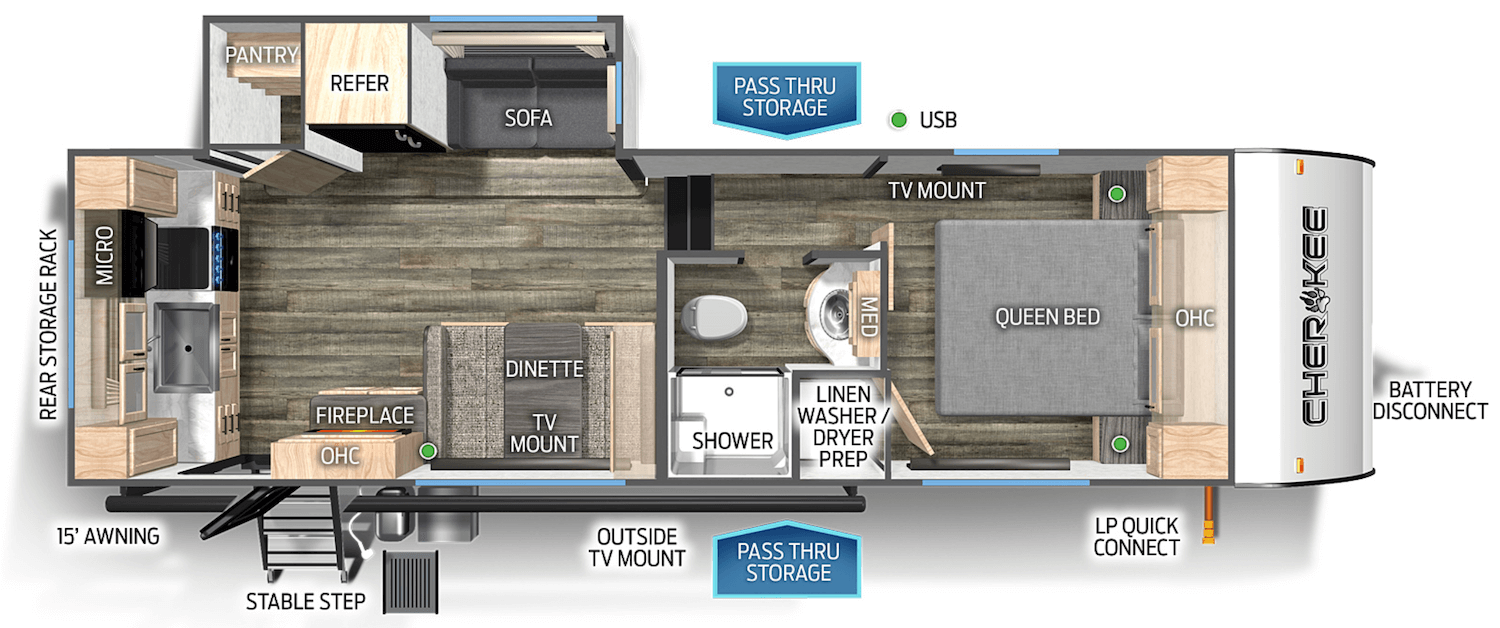 The Forest River Cherokee is so new to the scene that we don't yet have specs for the final build. We know it will be packed with luxury amenities in a compact package. The side-entry door brings you right into the rear kitchen, which boasts a floor-to-ceiling pantry next to the large refrigerator.
The primary bedroom has a queen-size bed, but you can also convert the dinette and pull out the sofa in the living area for extra sleeping space. Outside, a 15' power awning covers your outdoor living area, which includes an LP quick connect and a mount for an outdoor TV, so you don't miss any of the action on your next RV trip.
Find Forest River Cherokee fifth wheels near you.
---
With thousands of fifth wheels in our nationwide inventory, we can help you find the perfect model for your lifestyle and budget. Search by floorplan to find your next RV.
What are you looking for in a fifth wheel floorplan? Tell us in the comments below.