Picture this: you've planned the perfect getaway with your significant other or your family while the kids are on a break from school. You've scoped out the most romantic destination with a wine tasting for two, or landed on a family-friendly spot that has an adventure suitable for all ages.
It's far enough away to require traveling but not so far that you have to spring for airfare or worry about carry-ons. In fact, the journey itself begs for an RV road trip. There are sights to see and miles to collect along the way, making the location the cherry on top once you arrive.
So, how will you get there? The best way possible, of course — in a sprinter van.
What is a Sprinter Van?
Chances are you've seen a sprinter van on the road without even realizing that's what you were looking at. A light commercial vehicle designed to carry passengers or cargo, a sprinter van can be used in a variety of ways, with the goal of getting from point A to point B in style and comfort.
Ranging in size depending on passenger or cargo capacity, a sprinter van marries luxury and convenience like nothing else on the road.
The main types of sprinter vans are:
Cargo Sprinter Van
Party Sprinter Van
Panel Sprinter Van
Cargo Sprinter Van
Built to be heavy-duty with a spacious cargo area, a cargo sprinter van is typically used to haul goods or heavy equipment. Designed to be nimble and roomy, they can provide better fuel economy than a large cargo truck or semi, but still provide ample storage space for transporting goods.
Party Sprinter Van
Likely the most popular type of sprinter van, the party sprinter van accommodates anywhere from 12 to 42 passengers. It's the ultimate chauffeur-driven experience, often offering top-of-the-line upgrades from leather seats to onboard bars.
If you've seen a sprinter van on the road, it's plausible that it was a party sprinter van. Typically used to transport passengers to concerts, weddings, tailgate parties, or one of many planned trips where the destination is grand enough to warrant a luxury ride there.
It's not uncommon to find these vans listed on resale sites like Craigslist after they've spent some time in service. They're commonly bought in this used condition to gut and turn into an RV by savvy DIY'ers. Have you built out a sprinter van?
Panel (Crew) Sprinter Van
Combining the best qualities of the other types, a panel (or crew) sprinter van generally has one side designated for passengers and the other for cargo. These are extremely customizable and can be used for a variety of trips whether you're carrying more passengers or more cargo. It's simply the best of both worlds.
The Benefits of Road Tripping in a Sprinter Van
Traveling in a sprinter van offers some advantages over towing a travel trailer or maneuvering a class A motorhome.
Easier driving. Especially if you haven't driven RVs before, sprinter vans are the easiest to drive and they aren't a nuisance to navigate in and out of crowded gas stations.
Better for stealth camping. You can get away with easily pulling over at a rest stop and climbing from the cab into the sleeping area to rest before continuing your trip.
Easier parking. Smaller sprinter vans can fit in regular parking spaces when you have to make a pit stop in a crowded parking lot.
The Mercedes-Benz Sprinter Van
When it comes to sprinter vans, no one does it quite like Mercedes-Benz. Transforming the idea of a van into an object of complete luxury, the Mercedes-Benz sprinter van always goes the extra mile.
The Mercedes-Benz sprinter van lineup features all three types mentioned above, offering floorplans optimized for hauling cargo, stowing gear, or transporting your crew to the destination of your dreams in style.
Common features offered with the Mercedes sprinter van include:
360-degree camera for easier parking and navigation
Active distance assist
Active brake assist
Blind spot assist mirror
Gasoline engine
Maximum traction with electronically engaged 4×4 drive
Smartphone integration
Whether you're exploring a sprinter van for business, pleasure, or a little of both, a Mercedes-Benz sprinter van delivers and raises the standard all at the same time. Designed to fit your needs and your lifestyle, you'll never want to travel any other way once you've taken a trip inside a luxury Mercedes-Benz sprinter van.
Learn more about the Mercedes-Benz Sprinter Van.
Buying a Sprinter Van
It's likely that once you've traveled in a sprinter van, you'll want one of your own. Whether it's to carry cargo for business purposes or personal excursions, owning a sprinter van is enticing.
You could always opt to purchase a fully-loaded sprinter van that is ready to go like the popular options from Mercedes. Here are a few vans to consider:
The Winnebago Revel
Winnebago is one of the most recognizable RV brands out there, and the Revel is one of their best sprinter van models. It's powered by a reliable turbo diesel engine and features an on-demand four-wheel drive to help you reach remote boondocking campsites.
A hydronic heating system helps you stay warm on cooler nights, and a 320 amp-hour lithium-ion battery bank allows you to stay off-grid for longer. Plus, you'll love the powered bed that quickly converts your "garage" storage area into a comfortable sleeping space when you're ready to retire for the day.
Shop Winnebago RVs in Camping World's nationwide network.
Pleasure-Way Plateau TS
The Plateau TS sprinter van from Pleasure-Way offers luxury features not commonly found on most sprinter vans. That begins with a larger-than-usual galley area with six feet of counter space to help you cook delicious camping meals.
The extended wardrobe provides extra space for clothing, and the roll-up screen on the sliding door allows you to keep the door open without being inundated by bugs. The Plateau also boasts a full wet bath and a six-cubic-foot RV refrigerator.
Check out our nationwide selection of Pleasure Way RVs.
Airstream Atlas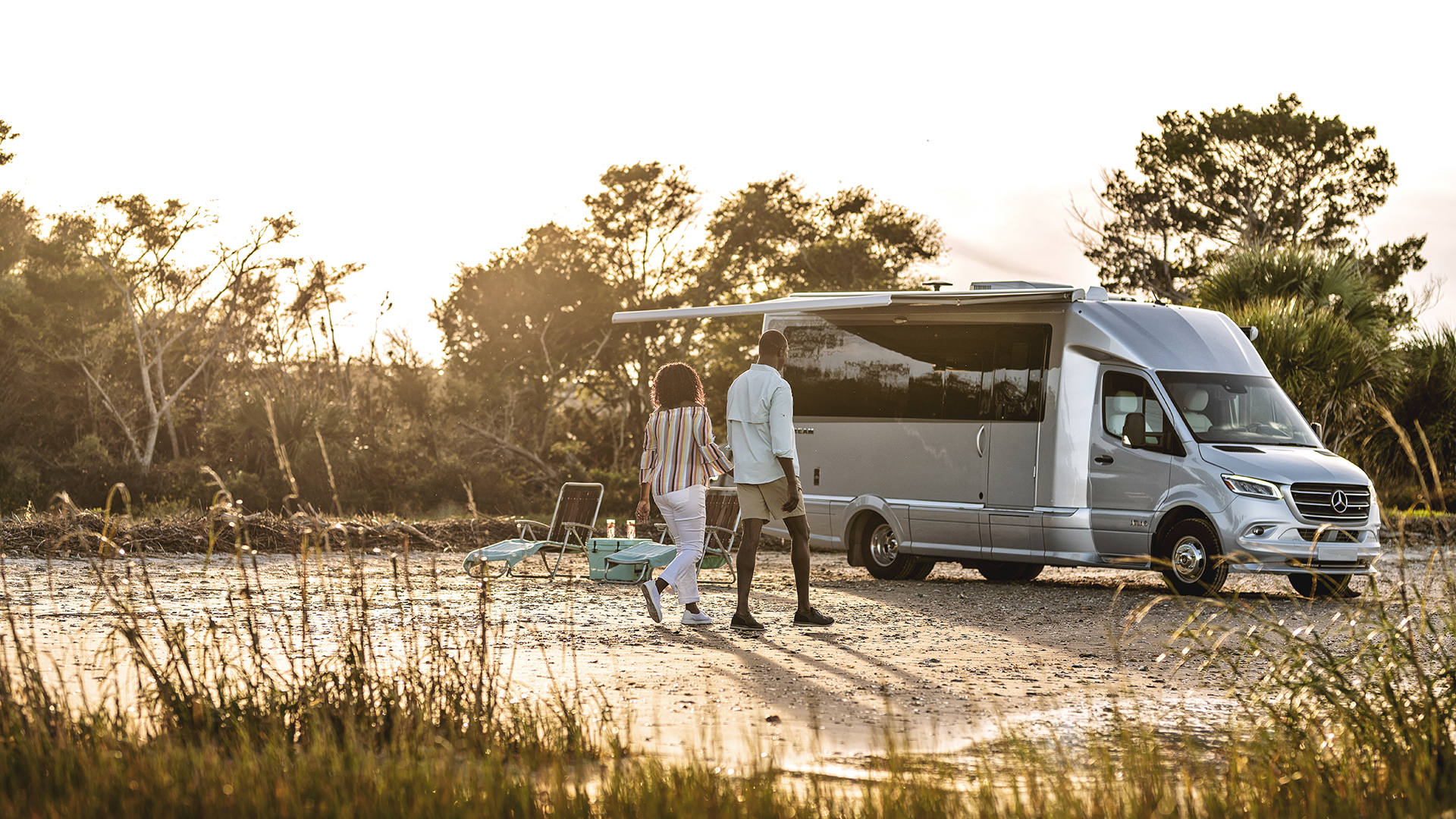 Airstream may be well-known for its towable RVs, but the Airstream Atlas is among the best luxury sprinter vans out there. It's the rare sprinter van that's built with an RV slide-out to give you more interior living space.
With a unique, L-shaped, compact kitchen design, Airstream created more space for a luxurious RV bathroom. They also went with a Murphy bed, which folds up and gives way to a comfortable couch during the day.
Learn more about Camping World's selection of Airstream RVs.
If none of these quite suit your fancy, check out Camping World's complete selection of camper vans.
Converting a Sprinter Van
If you don't find the perfect sprinter van that's road ready, you could convert your own. Sure, it'll require more time, effort, and energy, but it's completely worth it to have a one-of-a-kind sprinter van customized to your needs.
When converting a sprinter van, you'll need to decide between the cargo van or the panel (crew) van style to base your conversion. Cargo vans are typically the most affordable option and essentially provide a blank canvas with unlimited customization options.
Common areas to focus on during your sprinter van conversion:
Length: 144" vs. 170"
Roof Height: standard (common for campers) vs. high (if standing up inside is desired)
Drivetrain: 4×2 vs. 4×4 (ideal for off-road camping)
Converting your own sprinter van is exciting, but it can also be overwhelming when you're getting started. Speaking to a design specialist at your local Camping World Design Center is a great place to start when you're converting a sprinter van or upgrading your RV.
Run, Jump, or Sprint for a Sprinter Van
Whether you're exploring renting, buying, or converting a sprinter van, you'll find yourself fully immersed before you know it once you dip your toe into the pool. They're becoming increasingly popular because of their unique combination of luxury and versatility.
Who doesn't like to travel in style? Plan the ultimate bachelor's party or an epic girl's night, a couple's getaway to a gorgeous vineyard or a family trip to Disney, and make the journey just as fun as the destination itself.
When it comes to sprinter vans, you'll find yourself jumping at the opportunity to travel in one.
What's your favorite thing about a sprinter van? Tell us in the comments below!