In this episode, we take the sights, sounds, and incredible food of one of America's most iconic cities, the Big Easy! In all of our travels, we've never come across another place quite like New Orleans. The city is known the world over for being the home of Mardi Gras, which is one of the best parties in America. There is more to NOLA than just vibrant nightlight, however. The city teems with culture. From street musicians entertaining crowds with jazz music to top-rated chefs pleasing patrons with soulful cuisine, the Crescent City has something for everyone.
What to do in New Orleans, LA
Walk Around The French Quarter
No trip to New Orleans would be complete without spending a day wandering around the famed French Quarter. The architecture is amazing, there's fantastic restaurants, plenty of galleries, street performers, and of course, Bourbon Street. The French Quarter is the heart of New Orleans and there is always some festival or event going on. During this episode, we went to a festival that was right up our alley… the National Fried Chicken Festival and it was great. Yes, you read that correctly – an entire festival dedicated to fried chicken. What could be better?
Here are a few can't miss places in the French Quarter:
Jackson Square
Jackson Square is a National Historic Landmark and one of the most historically important sites in New Orleans. It was the site where France turned over the capital to the United States as a part of the Louisiana Purchase. Today it serves as a wonderful park to relax, take in the views of St. Louis Cathedral and soak in the energy and vibrancy of the French Quarter.
Cafe Du Monde
Right across the street from Jackson Square is Cafe Du Monde which is famous for two things: amazing beignets and cafe au laits. Take our advice, fight through the crowds and treat yourself to these French delicacies. You'll be happy you did.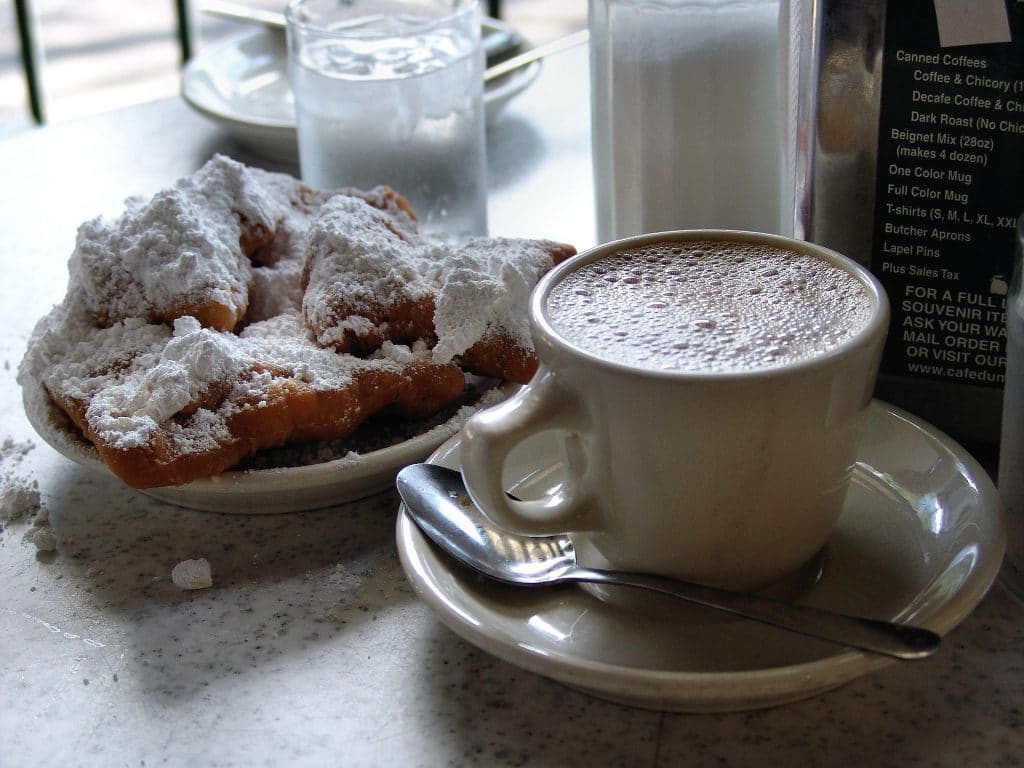 St. Louis Cemetery No. 1
Sometimes referred to as the city of the dead, the St. Louis Cemetery No. 1 is a fascinating place and a unique way to learn about the history of New Orleans. Due to their popularity (and abuse), you can only visit the cemetery with a guide, but your guide will share the colorful history and stories that will have you captivated.
Bourbon Street
Bourbon Street really needs no introduction. If you're looking to experience the wilder side of New Orleans, you'll want to find your way to Bourbon Street. Party, dance, "earn" some beads – whatever you want – anything goes on this world-famous street.
Frenchman Street
If you're seeking something a little quieter, more relaxed and less touristy than Bourbon Street, head a few blocks over to Frenchman Street. Frenchman Street is the best place in the city to go for live music and is considered the heart of culture and nightlife in NOLA. Check out this article for a good start on what to do and what to see on Frenchman.
Jet Boat Around the Bayou
While most will find plenty of ways to stay busy in the city, it's worth getting out and taking a swamp boat tour of the Louisianna Bayou. We took a sunset airboat tour with Ultimate Swamp Adventures and had a blast. The Bayou is fascinating and the wildlife and the ecosystem are incredible. Getting into nature gives you a whole new appreciation for the history and the way of life for those living in the region.
Gators and Guns – A Different Kind of Swamp Tour
If you're looking for a different type of rush, check out Gators and Guns. They offer tours that take you to an indoor shooting range where you can fire automatic weapons followed by an airboat tour where you'll most likely get up close and personal with some gators.
Where to Camp
Unlike most cities, New Orleans actually has several places to park your RV which are very close to all the action. If your goal is to be right in the action, the French Quarter RV Resortis a perfect choice. Although it is fairly pricey, the location can't be beaten.
If you're looking for a few more amenities and don't need to be within walking distance of the French Quarter, Pontchartrain Landing RV Park is an excellent choice. We loved that this park has deluxe sites that feature private hot tubs and that the grounds are very well kept. They also have an onsite restaurant/bar that serves good food and is a great option when you want to enjoy your time, rather than worrying about cooking dinner.
The RV
One of the best parts about the Happy Camper Bucket List is that we get the chance to check out a new RV each episode. In this episode, we test out a Mallard UltraLite M280 travel trailer by Heartland.
This was a very nice travel trailer. We really enjoyed the living area as the double recliners were really comfortable. Also, there was sufficient counter space in the kitchen so cooking a delicious home cooked meal was a breeze.
Want more of the Happy Camper Bucket List and Dan and Lindsay? Check out the previous episode or head over to the couple's blog Follow your Detour for more great content!
---
Have you visited New Orleans in your RV? How was it? Leave a comment below