In this episode, we head to the birthplace of Rock and Roll and the home of the King himself – Elvis Presley. Beyond Graceland, Memphis features one of the largest urban parks in America and there is plenty of activity to find along the banks of the Mighty Mississippi.
Undoubtedly, Memphis has a rich musical and culinary history, but is it a great place to take an RV?
Spoiler alert: We definitely think so! Come along with us in this episode as we experience the best things to do in Memphis, TN.
What to do in Memphis, TN
Relive the magic at Graceland
No trip to Memphis would be complete without a trip to Graceland. People flock from all over the world to relive the life of one of the most influential musicians of all time. You can tour Elvis's mansion, which looks exactly like it did when he was still alive. You can also experience the 200,000 sq foot entertainment and exhibit complex which features a museum of Elvis's beloved toys.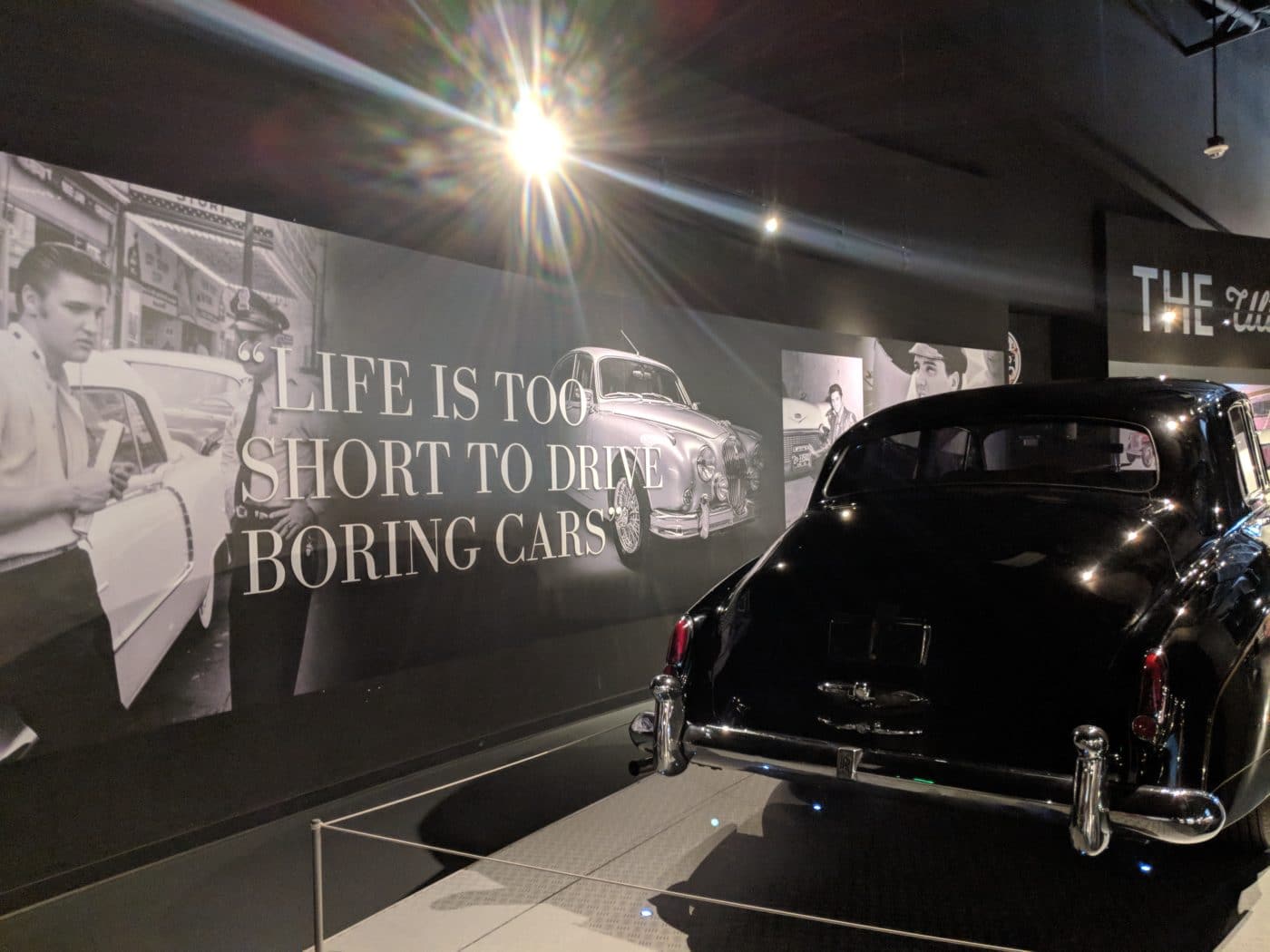 It's an incredible collection of cars, motorcycles and other vehicles, all fully restored. The career museum is fascinating as well. Make sure not to miss the display of many of Elvis's most iconic looks. Lastly, be sure to visit his private jet, which like the mansion, still is furnished as it was during his time. The whole experience is really surreal. You get an inside look into the life of one of the world's biggest stars. We came away inspired, entertained, but also with a little bit of sadness.
Get Outside at Shelby Farms
Located only 15 minutes from downtown, Shelby Farms is an outdoor lover's playground. The park has something for everyone. There are over 20 lakes inside the park for those that love getting on the water, there are over 40 miles of hiking trails, you can ride horses, there's a huge dog park, and you can zip line through the treetops! We enjoyed everything about the park, but we really enjoyed the zip line. The lines were fast (one of them went across a lake) and the other ropes/obstacles were both challenging and fun.
Experience World Famous Beale Street
There's arguably no street in America more famous than Memphis's Beale Street. Popular with tourists and locals alike, Beale Street is a can't miss activity. The pedestrian strip features bars, restaurants, souvenir shops, and wonderful street performers.
The music, the neon lights and the crowds combine to make an atmosphere with an energy you can feel. Unlike most of America, open containers are permitted so if you are looking to party, you can't go wrong on Beale Street. Even if you aren't looking to get rowdy, it's a great place to eat some of Memphis's legendary BBQ and hear some of the best Jazz music in the country!
Take to the Sky and See the Country-side in a Hot Air Balloon
Hot Air Balloons are not unique to Memphis – you can do it all over the world, but that doesn't mean that Memphis isn't a great place to take a ride. Memphis is surrounded by beautiful farms, pastures and soft rolling hills. From the air, you see the landscape from a different perspective and the scenery will leave you awestruck. Bluff City Balloonsprovided a great experience from start to finish and worked very hard to ensure we had a wonderful flight.


Where to Camp
The Tom Sawyer RV Park is a nice campground right along the banks of the Mississippi River and located just a quick drive from downtown Memphis. It's actually located in Arkansas, west of Memphis. We really enjoyed the large sites, the beautiful mature trees and the wide-open feel made for a very peaceful experience. Being nestled right along the banks of the river makes it very easy to relax outside and enjoy the serenity. On a side note, the RV park is really nice and well kept, but be aware as you drive to it, you might feel that you're heading the wrong direction. The surrounding area is not particularly nice, but we felt completely safe and had zero problems going to and from the park.
The RV
In this episode, we stay in a Coleman Lantern 1805 RB. This 22-foot unit is great for a couple or a small family. It comfortably sleeps three and is lightweight, making it easy to tow and maneuver. We felt like the unit's storage was sufficient and we thoroughly enjoyed being able to control all the major systems from our smartphone. This is a no-frills camper that is perfect for providing you a comfortable living space while you are camping and enjoying what's most usually important, being outside and making memories with loved ones.
Want more of the Happy Camper Bucket List and Dan and Lindsay? Check out the previous episode or head over to the couple's blog Follow your Detour for more great content!
---
Have you visited Memphis, Tennessee? If so, what did you like the best? Leave a comment below!