Fast, nimble, and fun to ride, it is easy to understand why electric bikes have become the fastest-growing segment of the cycling industry. Over the past decade, e-bikes have gone from somewhat of a novelty to a bonafide hit, selling more than 400,000 units on an annual basis. That number is only expected to climb, with sales of the high-tech bikes projected to reach $47.6 billion by 2026.
As the demand for e-bikes has grown, manufacturers have begun offering models to meet the needs of a more diverse audience. Whether you like riding on trails, gravel, or pavement, there is now an e-bike that can accommodate your needs. And to go along with the bikes aimed at more traditional riders, there are a growing number of options for bike commuters, casual cruisers, and everyone in between.
But, with so many different models to choose from, selecting the right e-bike has gotten much more challenging. Potential buyers will want to consider where they want to ride and how much range and speed the bike offers. They'll want to look at the size of the battery pack, what type of motor it uses, and how much it weighs—something that is important when transporting any bike around.
Here's what you need to know before picking the right e-bike for you.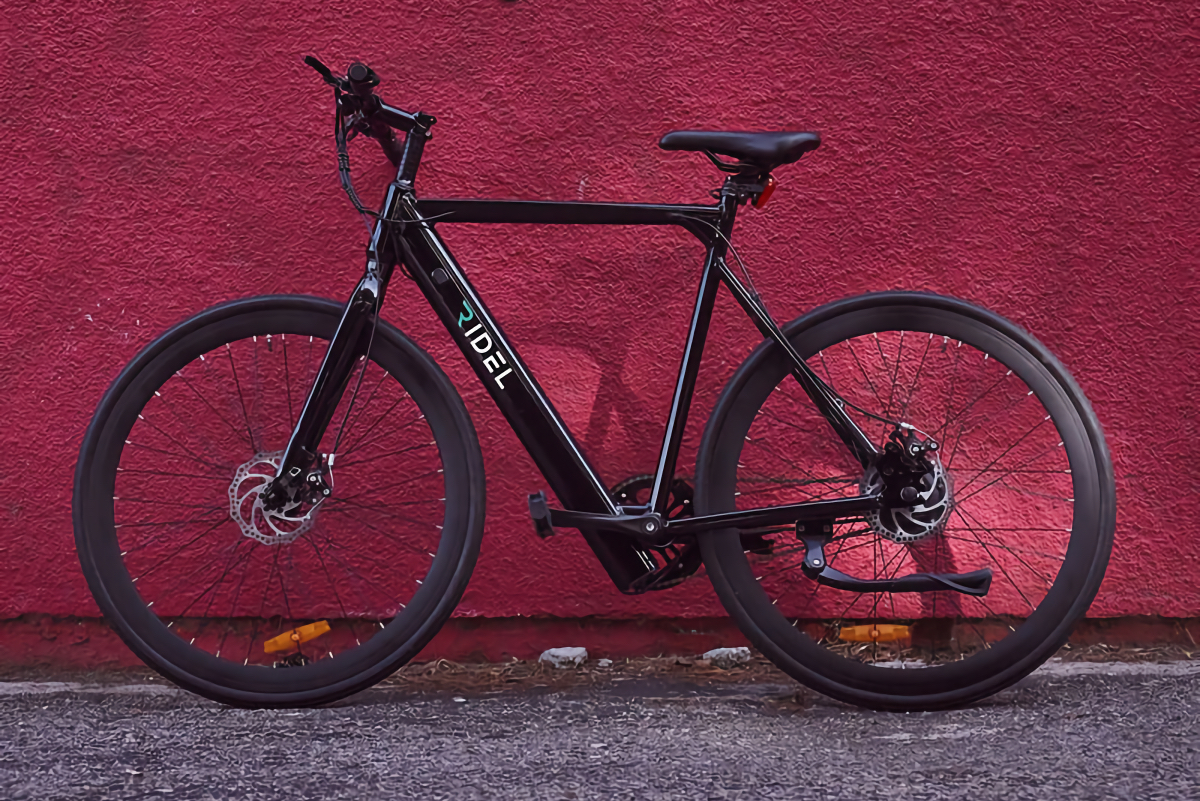 E-Bike Classifications
Most states in the US have implemented regulations that enforce strict guidelines for the performance of an e-bike. To meet those requirements, manufacturers typically design their bikes to fit into three classifications levels. Most models will list the classification as part of their specifications alongside the size of the battery and motor.
Those classifications are defined as follows:
Class 1: A Class 1 e-bike offers assistance up to a speed of 20 mph through its pedals only. In other words, a rider must turn the pedals to engage the electric drive system, which helps keep the bike moving at a consistent speed and makes climbing hills more effortless.
Class 2: A Class 2 e-bike also has a top assisted speed of 20 mph, but the bike uses a throttle to control the motor's output rather than the bike's pedals. This allows riders to travel along without pedaling at all, with the electric drive doing all the work.
Class 3: A Class 3 e-bike functions exactly like a Class 1 model, but the top speed increases to 28 mph. This higher level of assistance usually comes with a higher price tag as well.
These classification levels were created to set safety guidelines for the use of e-bikes. Some manufacturers offer models with higher top speeds that far exceed these regulations. Be cautious when considering an e-bike that doesn't fit into one of these categories. Not only could it be potentially dangerous, the bike may not be legal to operate in some locations.
Battery Pack
The electric motor on an e-bike draws power from a battery pack, which can either be built into the bike's frame or fully detachable. A built-in battery allows for a sleeker design and has the benefit of making it much more challenging for would-be thieves to make off with the bike's power cell. On the other hand, a removable battery can easily be detached from the bike and carried inside for charging. It also allows owners to purchase a second battery that can be swapped out as needed, effectively doubling the bike's range.
As with all batteries, those used in an e-bike come with a power rating measured in volts. Batteries that offer 36 to 42 volts of power tend to be smaller and lighter but offer less range. 48 to 52-volt batteries allow riders to travel further on a single charge, but they are also bulkier and heavier. Larger batteries also take longer to recharge.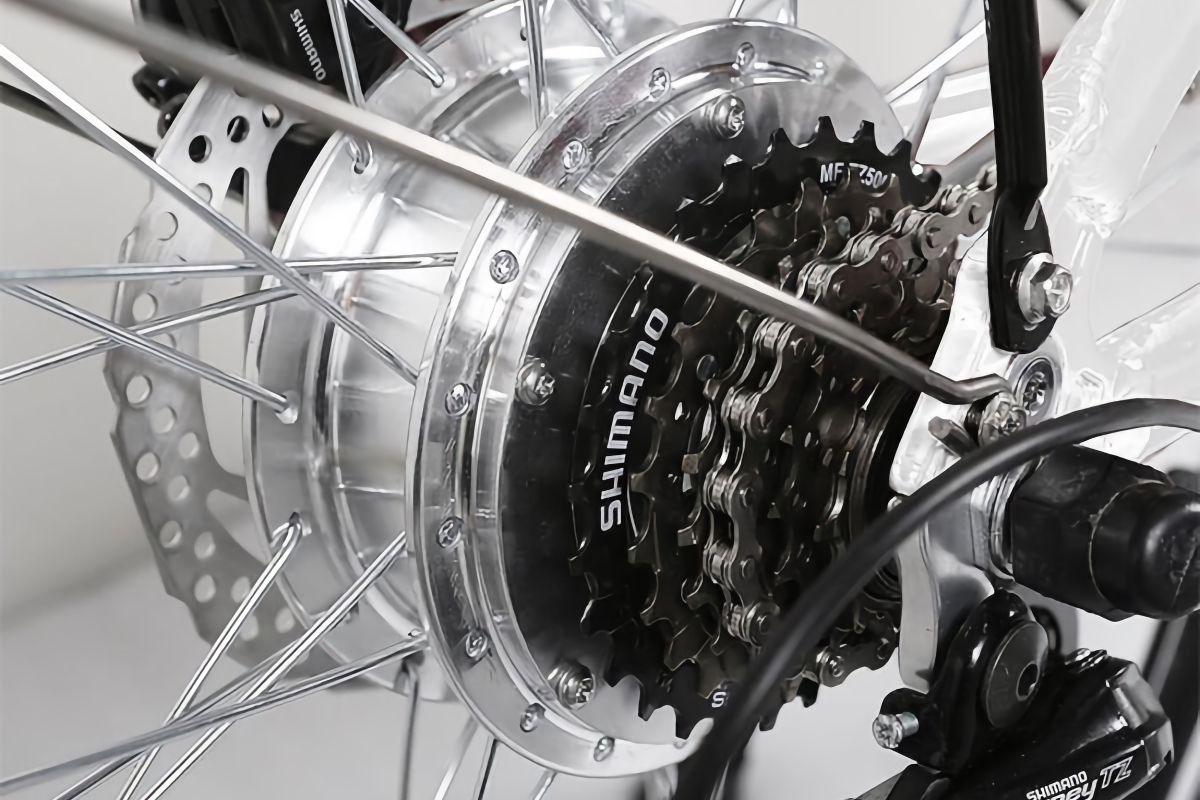 Electric Motors
Like battery packs, the electric motors used on e-bikes also come with a rating. In this case, the performance of the motor is measured in watts, with higher numbers producing more power. In other words, a 1000-watt motor provides faster and smoother acceleration when compared to a 250-watt model. However, thanks to the e-bike classification system, their theoretical top speeds should be about the same.
E-bike motors come in two varieties based on where they attach to the bike. A mid-drive motor is installed in the frame at the same point as the crank arm of the pedals. Alternatively, a hub-drive connects to the center of the rear wheel and feeds power directly to the bike. This is a convenient place to put the motor, but it can make changing a flat tire more challenging.
Neither type of drive has a significant advantage over the other, although the placement does impact the center of gravity when riding the bike. A mid-drive motor does provide a more natural feel when pedaling, while a hub-drive feels like it is pushing the bike along from behind. Which type of drive works best for you comes down to personal preference, which is why test driving e-bike models before purchasing is essential.
Range
The range of an e-bike is the estimate of how far it can travel on a single charge before the battery runs out of power. This is an important number to keep in mind and understand because once the pedal-assist—or throttle control—stops working, most electric bikes become slow and ponderous to ride. Since e-bikes are much heavier than traditional models, they can be challenging to ride without power. In other words, the last thing you want to happen is for the battery to die before you've reached the end of your ride.
There are a lot of factors that play a role in determining the range of an electric bike. Two of the most important variables are the power output of the motor and the size of the battery powering it. Simply put, the more watts that the electric drive produces, the faster it will deplete the battery. Because of this, larger motors usually come with bigger battery packs, which adds weight to the bike.
Most e-bike drive systems feature multiple pedal assist settings, which also impact how far they can be ridden. On a lower setting, the bike provides less assistance, requiring the rider to do more of the work. This puts less demand on the motor, increasing battery life. But as the level of assistance goes up, the bike becomes much easier to pedal, but the battery loses charge faster.
Other factors that can impact range include weather conditions, the type of terrain ridden on, the size of the bike's tires, and the weight of the rider and cargo. Riding in strong winds or on hilly roads will drain the battery faster than if you're riding on flat, smooth surfaces in calm conditions. Likewise, if you're carrying bags of groceries back from the store, the added weight can reduce the range of the bike too.
When shopping for an e-bike, the manufacturer should offer an estimate of the bike's range. This number serves as a good guideline but is often only achievable under ideal conditions. The bike's range is likely to be less in real-world conditions, which you'll learn to adapt to after a few rides.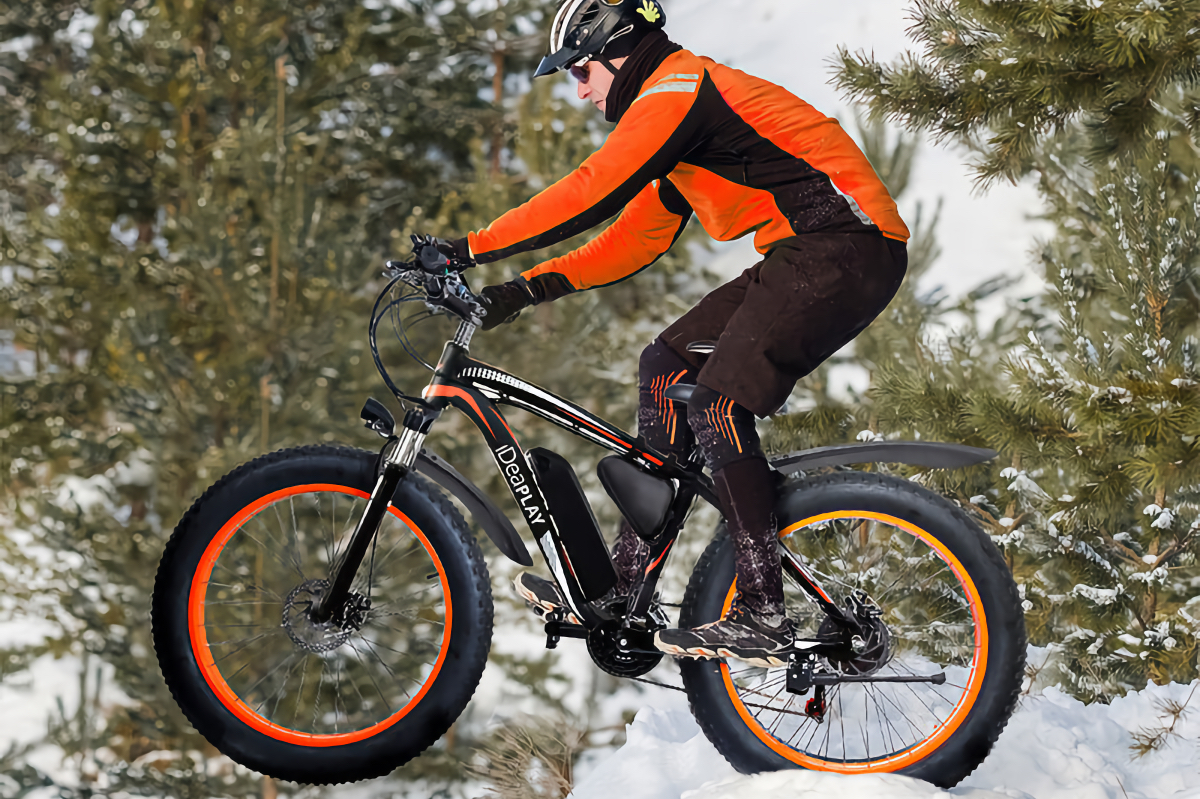 Torque
The specs for an e-bike may include a rating for the amount of torque generated by the bike's motor. Measured in newton meters (Nm), this usually falls in the range of 40 to 80 Nm. Torque can be helpful if you'll be riding on hills or using the bike to haul cargo. A higher torque number indicates that the electric motor will perform better in those conditions, keeping in mind that the level of pedal-assist can impact the amount of torque generated.
Accessories and Features
When shopping for an electric bike of your own, pay close attention to the accessories and features that come with each model. For example, nearly every e-bike will come with a built-in LCD screen for monitoring speed, distance, and battery life. Many will also feature LED headlights powered directly from the bike's battery pack. Integrated racks or baskets for carrying cargo are also common, with some models offering fenders, attachment points for paneers, and other handy add-ons.
Additionally, some e-bikes include various high-tech features that riders may find helpful. For instance, some models provide GPS tracking, making it easy to track the location of your bike at all times. Some have anti-theft features, including alarms, flashing lights, and smartphone alerts that activate when an unauthorized person tries to tamper with the bike. There are even models that allow riders to monitor the health and settings of the motor from their phone.
These additional accessories and features may not be on your must-have list of e-bike features, but they are a nice bonus when included.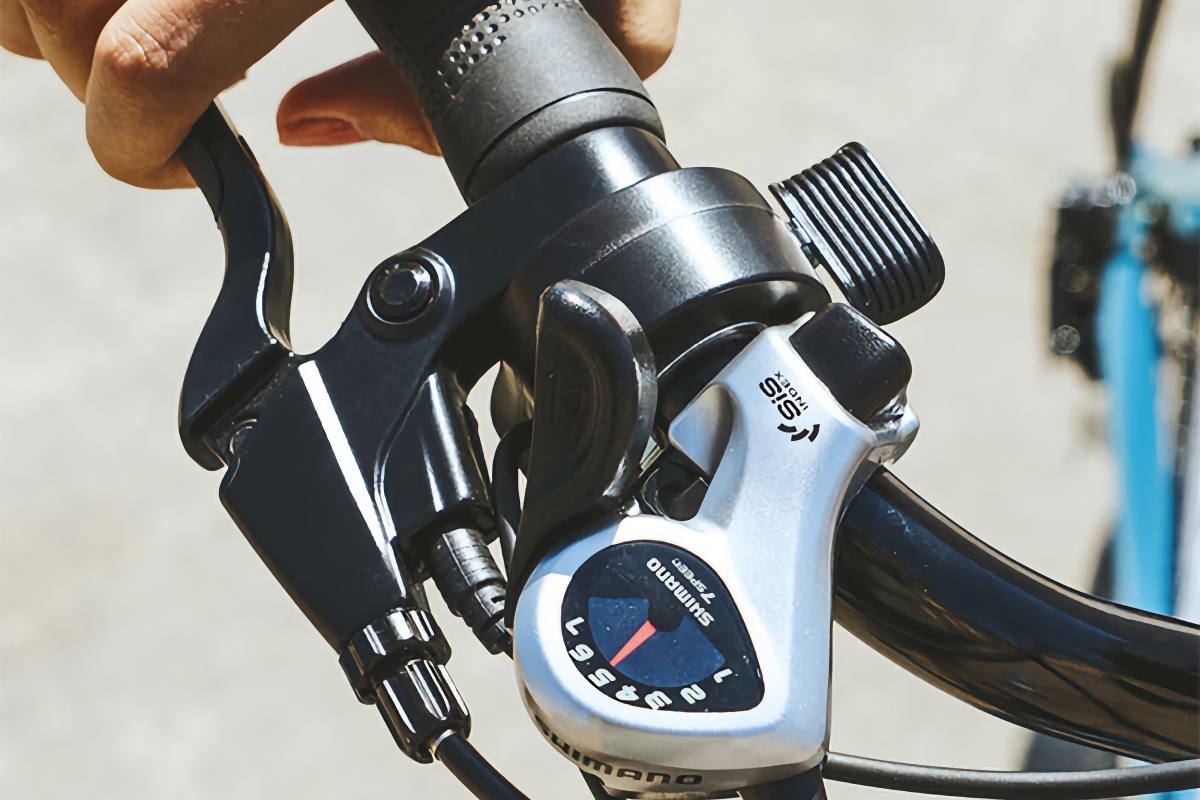 Bike Components
When considering an e-bike, it is easy to get caught up in the size of the battery pack and the type of electric motor it uses while ignoring the bike's more traditional components. As with any other bike, the frame, seat, tires, brakes, suspension, and gear set are all important too. Be sure that any bike you consider buying includes high-quality components from name brand companies like Shimano and SRAM. Otherwise, quality and performance could be subpar and ultimately disappointing.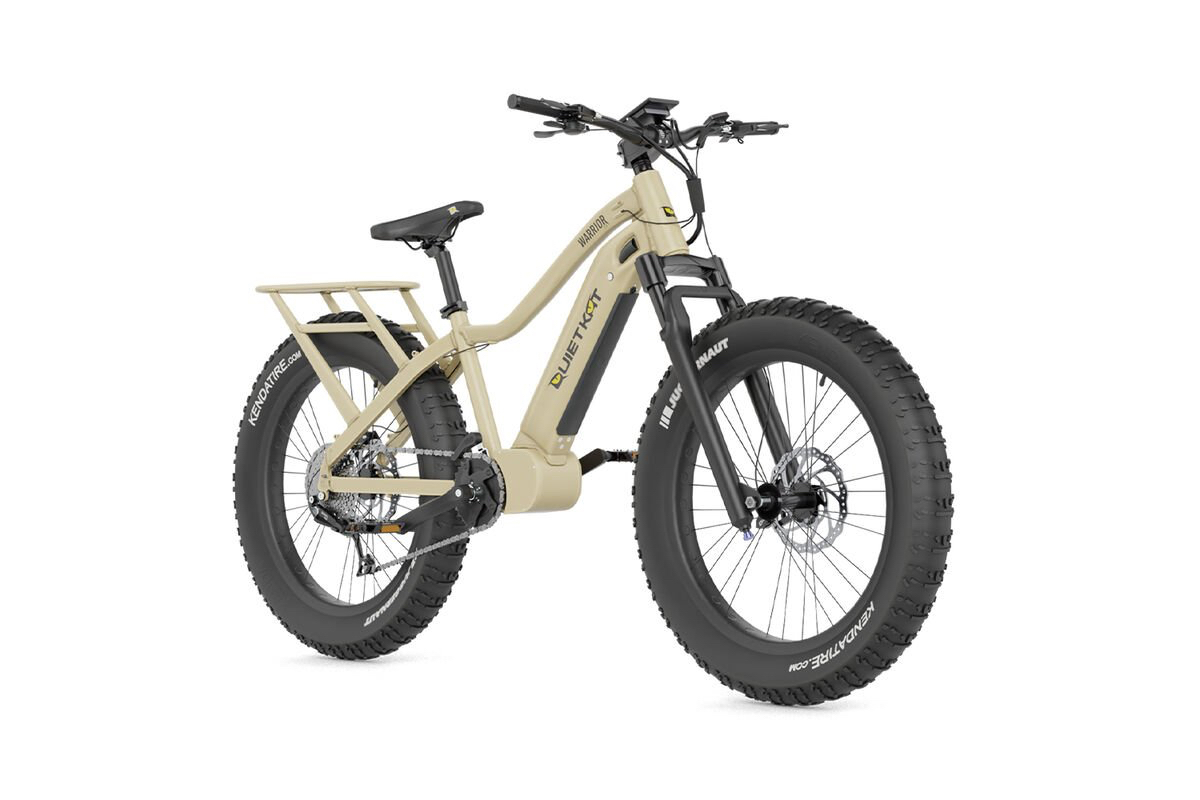 Weight
Because e-bikes have electric motors and battery packs, they are inherently heavier than traditional models. In order to accommodate those additional components, e-bike frames also tend to be larger and bulkier too. It is not uncommon for an electric bike to weigh more than 60 or 70 pounds, making it awkward to lift or even move without assistance from the motor.
The good news is that the batteries, motors, and frames used in making e-bikes are getting smaller, thinner, and lighter. As a result, less bulky models are becoming more widely available, particularly at the higher end of the market. Most e-bikes still have a ways to go before they get as light as a non-electric model, but the industry continues to head in that direction.
Until lighter e-bikes become more mainstream, it is essential to note the weight of any model you are considering purchasing. A heavy bike can be very ponderous to ride, particularly when the electric drive isn't functioning. As a rider, you'll learn to keep a close eye on the battery life indicator and know when it is time to turn for home rather than continuing to press your luck with a quickly failing battery.
The Best E-Bikes for RVers
Now that we've established the criteria to keep in mind when purchasing an e-bike, here are some suggestions for the best models for various types of riders.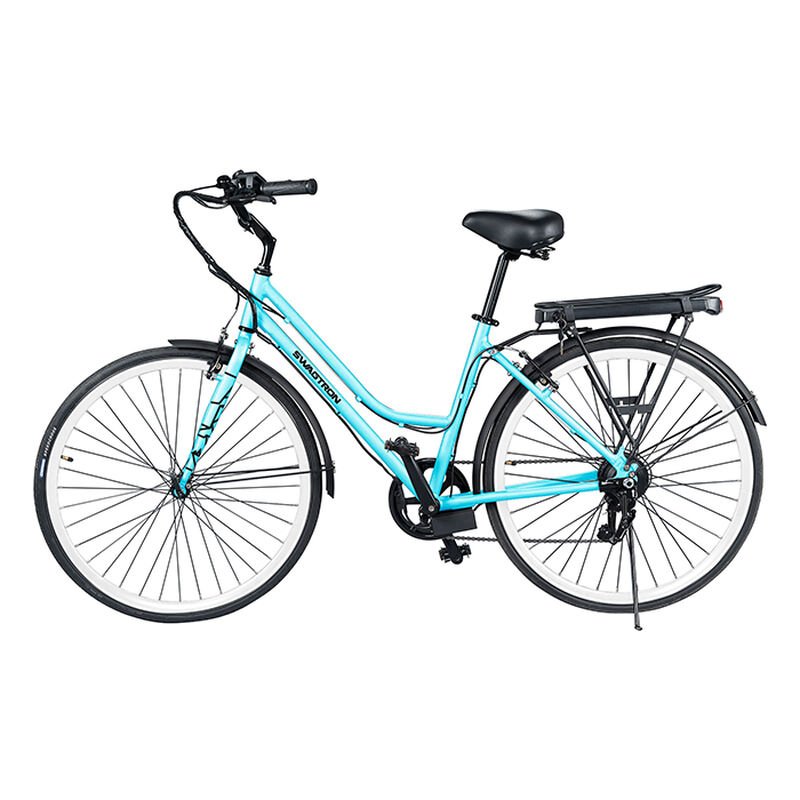 Best E-Bike for Casual Riders – Swagtron EB-9
Built for comfort and ease of handling, the Swagtron EB-9 is an e-bike that offers good all-around performance at an affordable price. It features a 250-watt hub-mounted motor with pedal-assist speeds of up to 16.5 mph and a maximum range of 28 miles. The bike includes three drive modes—throttle-only, pedal-to-go, and pedal-only—and has a step-thru design that makes it easy to get in and out of the saddle. The bike's 42-pound weight is relatively svelte in the e-bike market, giving it a more agile feel. A removable battery and cargo rack are nice extras, as is the EB-9's entry-level price point.
Alternative: Ridel EKO
Best E-Bike for Supply Runs – MBM Pulse Step-Thru
The MBM Pulse Step-Thru is an e-bike designed with utility in mind. The bike comes with a cargo basket on the front and rear, making it perfect for those quick trips to the grocery store. But, the Pulse isn't just for hauling cargo, as its 250-watt hub-mounted motor provides pedal-assist speeds of up to 15.5 mph and gives it a range of 62 miles. The bike—which tips the scales at just under 60 pounds—comes with built-in LED lights and a Shimano drivetrain, along with a handlebar-mounted LCD display.
Alternative: MBM Apostrophe Step-Thru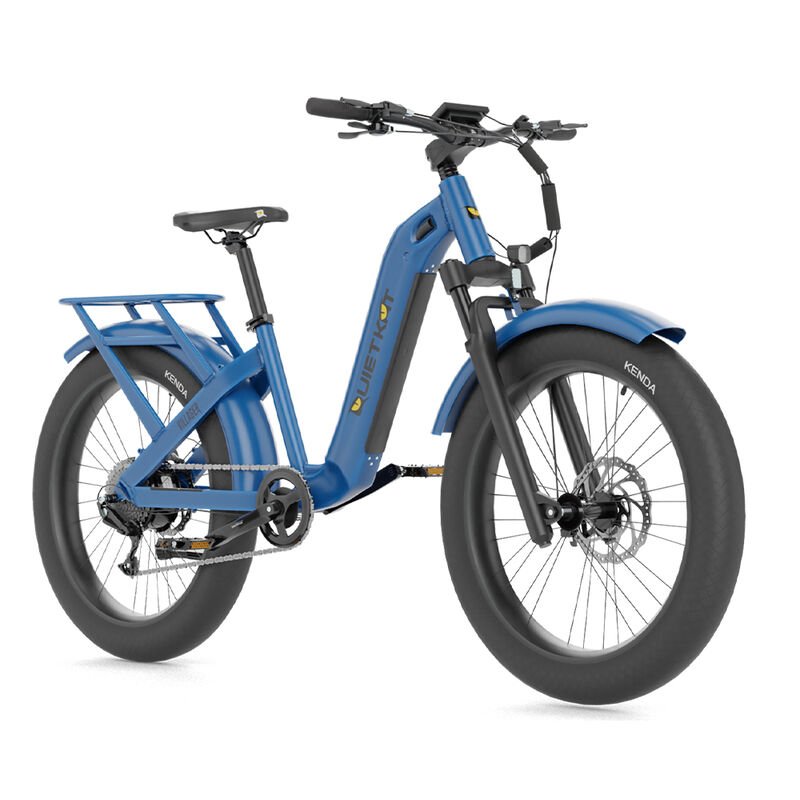 Best E-Bike for Urban RVers – QuietKat Villager
Urban RVers looking for a bike that provides a comfortable ride, plenty of range, and high-quality components should put the QuietKat Villager on their shopping list. The bike features a step-thru design that makes riding in the city—where frequent stops and starts are common—easier to handle. The Villager's 500-watt motor and built-in battery provide 40 miles of range and throttle-assisted speeds of up to 20 mph. More importantly, the bike's wide tires and suspension system offer a smooth ride on city streets, gravel, and even light trails. Despite its 50-pound weight, this e-bike is surprisingly quick and agile, which is essential when riding in traffic.
Alternative: GlareWheel EB-X8
Best E-Bike for Trail Riding Boondockers – QuietKat Ranger
With its rugged frame, cushy suspension, and fat tires, the QuietKat Ranger is an excellent choice for riders looking to go off-road. The bike features high-quality components—including a SRAM 7-speed gear set, Kenda Juggernaut tires, and Tektro mechanical disc brakes—that enhance its performance on trails. Powered by a 1000-watt hub-drive motor and a large, integrated battery, the Ranger offers pedal-assist speeds of up 20 mph and has a range of 48 miles. At 65-pounds, the bike isn't light, but it does roll over sand, snow, and mud with ease.
Alternative: MBM Kairos 29" MTB
Best E-Bike for Riding in the Snow – QuietKat Apex
Riding in the snow requires fat tires, and the QuietKat Apex definitely has them. The bike features 4.5-inch wide Kenda Juggernaut wheels that effortlessly float over fresh powder, as well as sand and mud. The Apex also includes a SRAM 9-speed gear set, a beefed-up fork with air suspension, and Tektro hydraulic brakes, all of which make riding on snow easier. The bike's 1000-watt mid-drive motor provides plenty of power and torque for riding over challenging terrain and slick surfaces. Its large battery even allows it to travel up to 58 miles on a single charge, giving it the longest range of any bike on this list. The bigger battery comes in handy when riding in the winter when the cold conditions deplete the battery faster too.
Alternative: iDeaPlay 26" E-Mountain Bike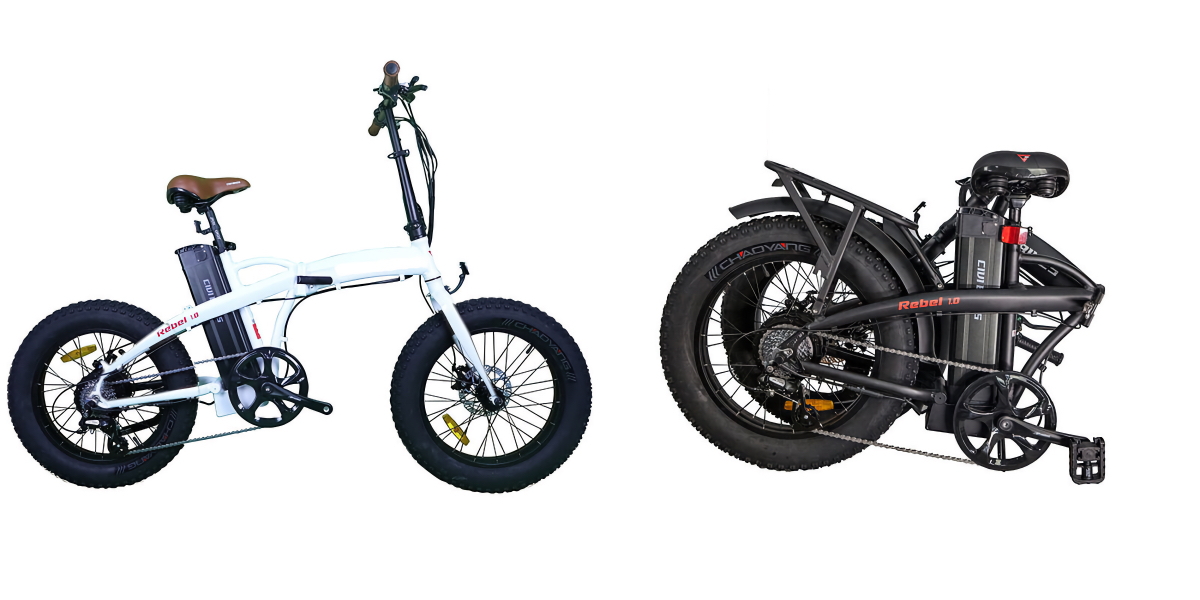 Best E-Bike for RVers Short on Space – GlareWheel EB-RE Folding Bike
If you're in the market for an e-bike but have limited space in your RV or van, why not consider a folding model? Thanks to strategically placed hinges and collapsible components, these bikes can fold down to a surprisingly small size. This makes them very easy to store and transport.
The GlareWheel EB-RE is a perfect example of a folding e-bike. This model includes a 500-watt motor that generates speeds of up to 25 mph and has a range of 40 miles. While the bike's frame is small, the seat and handlebars can be adjusted to accommodate a variety of riders. And when not in use, the frame folds small enough to be tossed in a trunk or stashed inside a small closet. However, the bike does weigh 70 pounds, so portability is still somewhat limited.
Alternative: Swagtron EB-8
Browse Camping World's full selection of e-bikes for every kind of rider. While at Camping World, explore all of our services including how to sell your RV.