Making healthy snacks and meals for your dog doesn't have to be difficult. Learning the basics of safe ingredients for your dog is a good beginning! Being able to make your dog's treats, snacks and occasional meals is possible, even while traveling. We know! We have been making our dogs treats and meals for over ten years, and for over six years on the road with our pets in our RV!
Convenience is key to many of us. I have found that being able to shop for our food and our dogs' food at the same place is easier than having to go to a pet supply store! I can also control the ingredients that go into my dogs' food and save money. Just a little preparation and packing ahead of time, especially on travel days in the RV makes for easy snacks and mealtimes.
Make sure to pick up a cooler, cooking utensils, food storage containers, and dog supplies at your nearest Camping World. A cooler is essential in our RV to pack our dog's meals and snacks ahead on travel days! These are just a few of the 2 Traveling Dogs' favorite supplemental meals and snacks on the road!
Please note, we are not dog nutritionists. Always consult your personal veterinarian before making any changes to your dog's diet.
Chicken Jerky For Dogs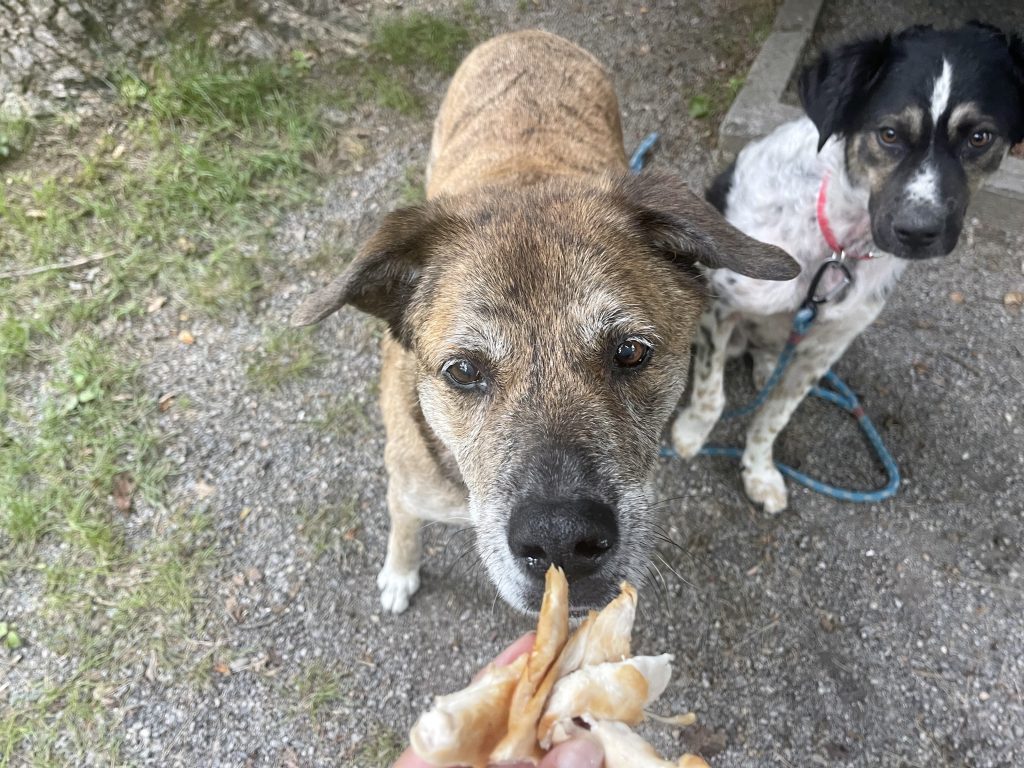 Easily, our dogs' favorite, go-to treat anywhere, any time, any place! Chicken jerky for dogs is not only easy but cost-effective and delicious. If your dog is not a fan of chicken, feel free to substitute beef or boneless fish.
Ingredients:
1 pound boneless, skinless chicken breast tenders. Soft frozen makes them easier to slice

1/4 cup vegetable oil

Juice from one lemon

2 Tablespoons Honey

Your choice of dog-friendly seasonings: parsley, rosemary, sage (preferably fresh and chopped very fine)
Directions:
Rinse the chicken breasts and remove any fat, which slows down the dehydrating process and will shorten the jerky's shelf life. Fat may also go rancid quickly in a dehydrator. Slice the chicken into strips about 1/4- to 1/8-inch thick; slicing with the grain. This will make the treats chewier!
Coat the strips with oil, lemon juice, honey, and seasonings. Put in a plastic storage bag and let marinate overnight. Place the strips on the dehydrator tray, spacing them evenly; make sure they do not touch. The drying process depends on adequate airflow between the strips. Put the tray in the dehydrator, turn it on, and set the temperature to 140 degrees. It will take between 3 and 12 hours for the strips to fully dry, depending on how you cut the chicken and the dehydrator settings.
To determine the dryness level, remove one strip from the dehydrator, cut into it with a sharp knife and examine the inside. When the meat is completely dried, there will not be any moisture and it will be the same color throughout. If it needs more time, put it back in. Keep checking until the chicken is dry but not brittle. When your chicken jerky is done, store it in air-tight containers or zip-lock bags. Refrigerate the containers for an even longer shelf life. Safety first!
Note: If you do not have a dehydrator, follow the above directions, however, set the oven at 200 degrees.
Vegan Butternut Squash Soup For Dogs And People
Ingredients:
1 teaspoon Celtic sea salt (optional)

8 cups peeled and cubed butternut squash (about 2 medium)

2 cups peeled and cubed carrot (about 2 medium)

8 cups vegetable broth (no onion or salt)

1/4 cup cilantro

1 can organic full-fat canned coconut milk

1 teaspoon minced ginger and 1 teaspoon cinnamon

Freshly ground black pepper, to taste

2 tablespoons finely chopped cilantro leaves

Optional flavor enhancers after the soup is cooked for the people and dogs: Coconut Aminos, Salt.

Options for persons: Black pepper and more salt to taste.
Directions:
Preheat the oven to 350°F. Toss the butternut squash and carrot and spread out on the prepared baking sheets sprayed with nonstick cooking spray. Roast for about 1 hour, until the vegetables are cooked but not burnt. Once vegetables have roasted, allow them to cool slightly.

Transfer the vegetables to a blender with all liquid, cilantro, and spices. Puree until well blended. Put the mixture in a saucepan. Bring the mixture to a boil, and then reduce the heat to low, and simmer, covered, for about 45 minutes. Remove the soup from the heat and allow the soup to cool.

NEVER serve hot food to your dog. Let cool completely. For a thicker soup, reduce water or vegetable broth. Soup will also thicken overnight in the fridge.

This is meant as a treat, and not a regular meal replacement.
Warm Chicken Caesar Salad
Caesar Salad can be high in fat, and that is not an option for dogs. And not all dogs like lettuce. So for our spin on Caesar Salad, we decided to give this classic a healthier taste and use spinach. Enjoy this salad with your dog, but you may want to add some salt and pepper to your plate. This recipe serves one dog and one person.
Ingredients:
2 cooked and sliced organic chicken breasts

2 cups, chopped, cooked organic spinach, warm

2 sardines, chopped finely (optional)

1/4 cup organic, nonfat greek yogurt

1 tablespoon organic apple cider vinegar

1 tablespoon organic honey

1/4 cup grated parmesan cheese

1 hard-boiled egg, chopped

2 large, unsalted matzo crackers
Directions:
Mix dressing up first. Combine yogurt, vinegar, and honey. Set aside. Take each matzo cracker and top with spinach and sliced chicken breasts. Place chopped sardines on top. Drizzle dressing on top of the chicken. Top with parmesan cheese and egg. Serve!
Again, never serve hot food to your dog.
Barking Brunch Eggies For Dogs
When we started traveling full-time with our dogs and became more active, our appetites became more active too! Eating brunch together after a hike is one of our favorite memories with our dog Digby. He loved his eggies so much.
Ingredients:
One tablespoon organic olive oil

1/2 cup chopped organic broccoli and cauliflower

Two organic eggs

Two tablespoons organic cheese
Directions:
Heat olive oil over medium heat in a pan.

Add chopped broccoli and cauliflower. Saute' for three minutes.

Add eggs and cheese and cook until set. Remove from heat. Let cool completely before serving to your dog.
Pupparito Burrito Bowls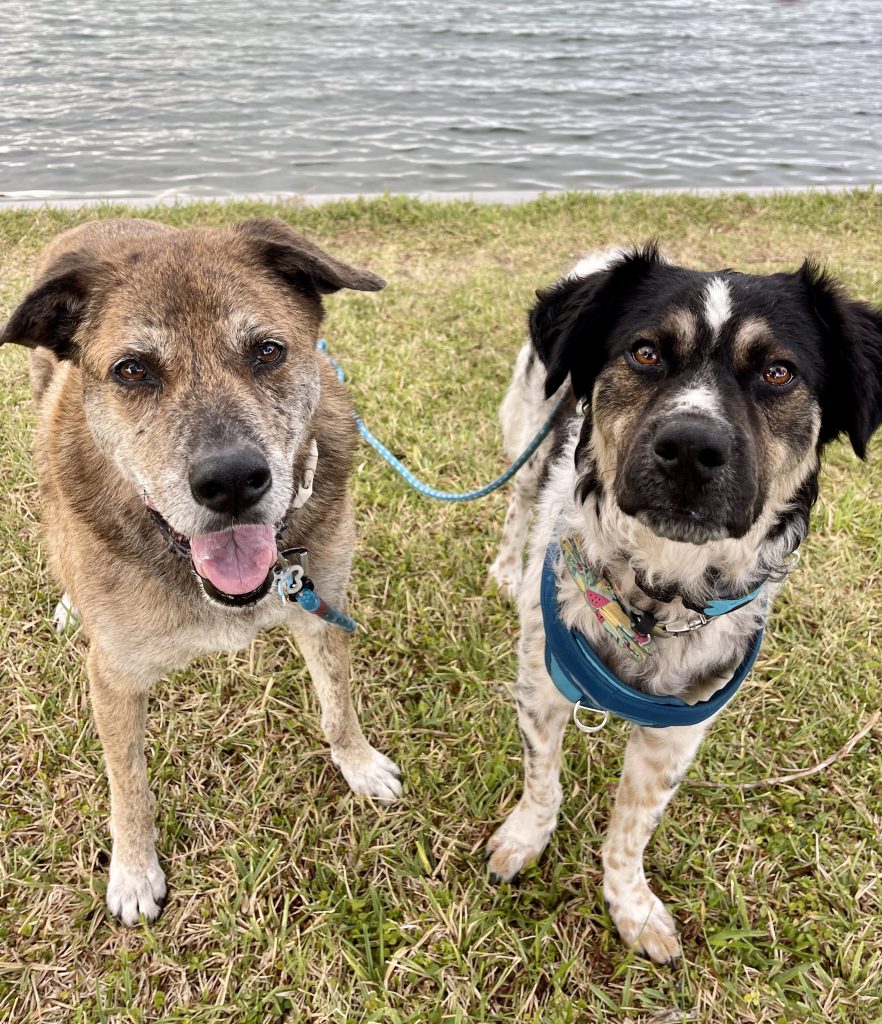 This is simplicity at its best! All your dog's favorite flavors are in one bowl, which makes this great for travel.
Ingredients:
2 cups cooked organic brown rice

2 cups chopped white fish, chicken breast or chopped turkey breast

1 cup chopped bell pepper

1/2 cup chopped carrots

1/2 cup chopped finely baby spinach

1/4 cup organic, plain greek yogurt

2 tablespoons, chopped fresh cilantro

1 tablespoon olive oil
Directions:
Preheat your oven to 375 degrees. Spray a nonstick baking sheet and bake chicken, pepper, carrots, and spinach for 35 minutes. Let cool completely.

For each serving, spoon in a bowl one cup of the cooked rice and pour the veggie and chicken mixture on top of the rice. Top with a dollop of yogurt and sprinkle with fresh cilantro.
Bad To The Bone Broth
Homemade bone broth can give your dog's immune system a boost and can also benefit dogs with allergies and food sensitivities. Bone broth also acts as a superior joint supplement, as it contains gelatin, glucosamine, and chondroitin that support good joint health. Bone broth helps maintain a healthy gut, especially for dogs with digestive issues. It also detoxifies the liver. Why would our dogs need this? Think about all of the contaminants that our dogs are exposed to on a daily basis. Cleaning chemicals, lawn fertilizers and chemicals, salt on roadways, and even pollution.
Note: You can use raw or cooked bones but be sure to include joint bones with cartilage. Turkey wings and legs are a good raw choice. If you leave the meat on during the cooking process, just be sure to discard and strain.
Ingredients:
2 lbs or more of preferably healthy, organic bones (raw or cooked0

4 chicken feet for extra gelatin (optional)

4 tablespoons RAW organic apple cider vinegar

Water
Directions:
Completely cover the bones with water and add the vinegar. Turn your crockpot to high for the first hour, then switch to low and cook for 24 hours.

When your broth is finished, strain the bones. DO NOT GIVE THE BONES TO YOUR DOG. Let chill completely. Once it's chilled, skim the excess fat off the top of the broth. The remainder is your "Bad To The Bone Broth"!

This is a great base to add different, cooked, dog-friendly veggies to form a nutritious soup for dogs. Try celery, carrots, spinach, or broccoli! For sick dogs, add the broth to organic, cooked white rice.

You may freeze the broth in an ice cube tray for easy dispensing, or it can be stored in the refrigerator for up to four days.

How much bone broth should you feed to your dog? Every dog is different. Most experts recommend a 1/4 cup per 25 pounds of weight.
Cooking for your dog and making your dog's food does not have to be complicated. If you aren't ready to make all of your dog's food, that is ok! Start small by topping your dog's kibble with fresh vegetables or cooked meat. Traveling helped us to realize just how much our dogs enjoyed many of the same things that we as persons do. Our dogs do so much for us. This is something that we can do for them.