Towing can be one of the most stressful things about RVing. Even for veteran RVers and professional truckers, towing isn't something to be taken lightly.
Whether you tow a vehicle with your motorhome, or an RV with a tow vehicle, you need to know the hitch and tow fundamentals to travel safely. Choosing an RV setup that works best for you is the first step. There are so many configuration setups to fit an RV lifestyle. As a rule, it's best to practice with your setup to really get a feel for how it tows.
Consider these things when selecting your RV setup:
Your choice here is key because your RV and tow vehicle must be compatible. This is where RV hitch types join the conversation.
Hitch Types for RVs
With motorhomes you'll use a tow bar or a tow dolly to pull a towed vehicle. You can also use your motorhome to pull a boat trailer or haul toys, like ATVs.
With fifth wheel RVs, you'll use a fifth wheel hitch installed in the bed of your truck. For this reason, fifth wheel's are towable only by trucks.
With all other towable RVs, such as travel trailers, pop-up tent campers, teardrops, and toy haulers, you'll use a conventional hitch configured for your tow vehicle's rear receiver trailer hitch.
Conventional Hitch
Conventional hitches are grouped into classes specifying a trailer weight range. The class of hitch you select is mostly determined by the tow vehicle and its towing capacity.
Class of Conventional Hitches and Towing Capacities
Class 1: up to 2,000 pounds
Class 2: up to 3,500 pounds
Class 3: up to 8,000 pounds
Class 4: up to 10,000 pounds
Class 5: up to 12,000 pounds
Most cars and crossovers come equipped with Class 1, 2, or 3 hitches.
Larger trucks and SUVs can be equipped with Class 3, 4, or 5 hitches.
Class 3, 4, or 5 trailer hitch receivers are rated for use with weight distribution components
Conventional Hitch Components
Each conventional hitch has a different sized receiver tube. This is where the ball mount and hitch ball go. Ball mounts come in 2 types: adjustable or non-adjustable. Adjustable ball mounts lower or raise the ball height as needed to help your fully loaded trailer sit and ride as level as possible.
Hitch ball sizes are determined by the weight of the trailer. Incorrect hitch ball size is a leading cause of trailer accidents. The correct hitch ball size for your trailer should be stamped on the trailer coupler in accordance with Department of Transportation (DOT) regulations. The hitch ball and coupler size classes must match.
The trailer hitch coupler is bolted or welded onto the end of the trailer frame. The hitch coupler mounts onto the hitch ball and pivots on the hitch ball during trailer operation.
Frame Mounted Receiver Hitch
If your tow vehicle is not equipped with a rear receiver hitch, Camping World can install one, manufacturer guidelines permitting. There are aftermarket frame mount hitches designed to fit motorhome and vehicle chassis. The frame mounted receiver hitch is an attachment you can either bolt-on or weld to the tow vehicle frame. For safety and towing capacity, trailer hitches should be mounted to the tow vehicle's frame instead of its bumper.
RV Hitch Mount
RV hitch mounts, also referred to as accessory adapters, are aftermarket components attached to the RV bumper or the RV frame. RV hitch mounts are sometimes confused with frame mounted receiver hitches because of the similar design. So, verify the manufacturer designated usage rating if you're unsure which one you're looking at. RV bumper hitch options fasten to the bumper, either clamp or bolt-on, and provide a hitch mount attachment point for you to haul bicycles, cargo, or another accessory. RV bumper hitches are NOT rated to tow a trailer or vehicle.
Weight Distribution Hitch
This brings us to the weight distribution hitch, also called an equalizer hitch. A weight distribution hitch mounts to the rear hitch of the tow vehicle. This kind of load equalizing hitch redistributes the tongue weight, which removes weight from the rear of the tow vehicle allowing a more leveled trailer.
Level trailer operation is essential whether the RV is traveling down the road or parked at a campsite. As the driver, what you feel is greater steering control, improved braking, and better fuel economy. Whatsmore, your vehicle's headlights are pointed in the correct direction instead of skyward—less squatting. Level trailer towing makes for an all around safer towing environment.
Too much weight on the hitch will make steering difficult because of the drag on the rear wheels of the tow vehicle. Too much weight on the rear of the towed vehicle could cause the trailer to "fishtail."
Sway Control
Quick RV lingo lesson: weight distribution hitches are incorrectly interchanged with the term "sway control." Weight distribution hitches improve sway control; however, not all sway control systems provide weight distribution.
Sway control, without weight distribution, still helps you maintain control of your tow vehicle. Also called anti-roll bars or sway bars, the sway control keeps your trailer following along behind the tow vehicle through turns and quick lane changes.
Trailer Sway Mythbuster!
Accelerating will NOT reduce trailer sway. Just the opposite, accelerating elevates the danger level. Instead, if your RV hitch and tow setup uses a weight distribution hitch, then start braking softy using your trailer brake and vehicle brakes. This will pull the trailer straight behind you while you safely decelerate to a stop. Then, once at a safe stopping point, inspect and rebalance the RV's load to reduce trailer sway. Keep heavy items closer to the RV's axle, and don't overload the rear.
A weight distribution hitch and sway control systems are an optional upgrade. When determining whether to invest in either, consider the length of your trailer and the towing capacity of your tow vehicle. For many RVers, the extra peace-of-mind and smooth drivability are worth the upfront investment of these systems.
Fifth Wheel Hitch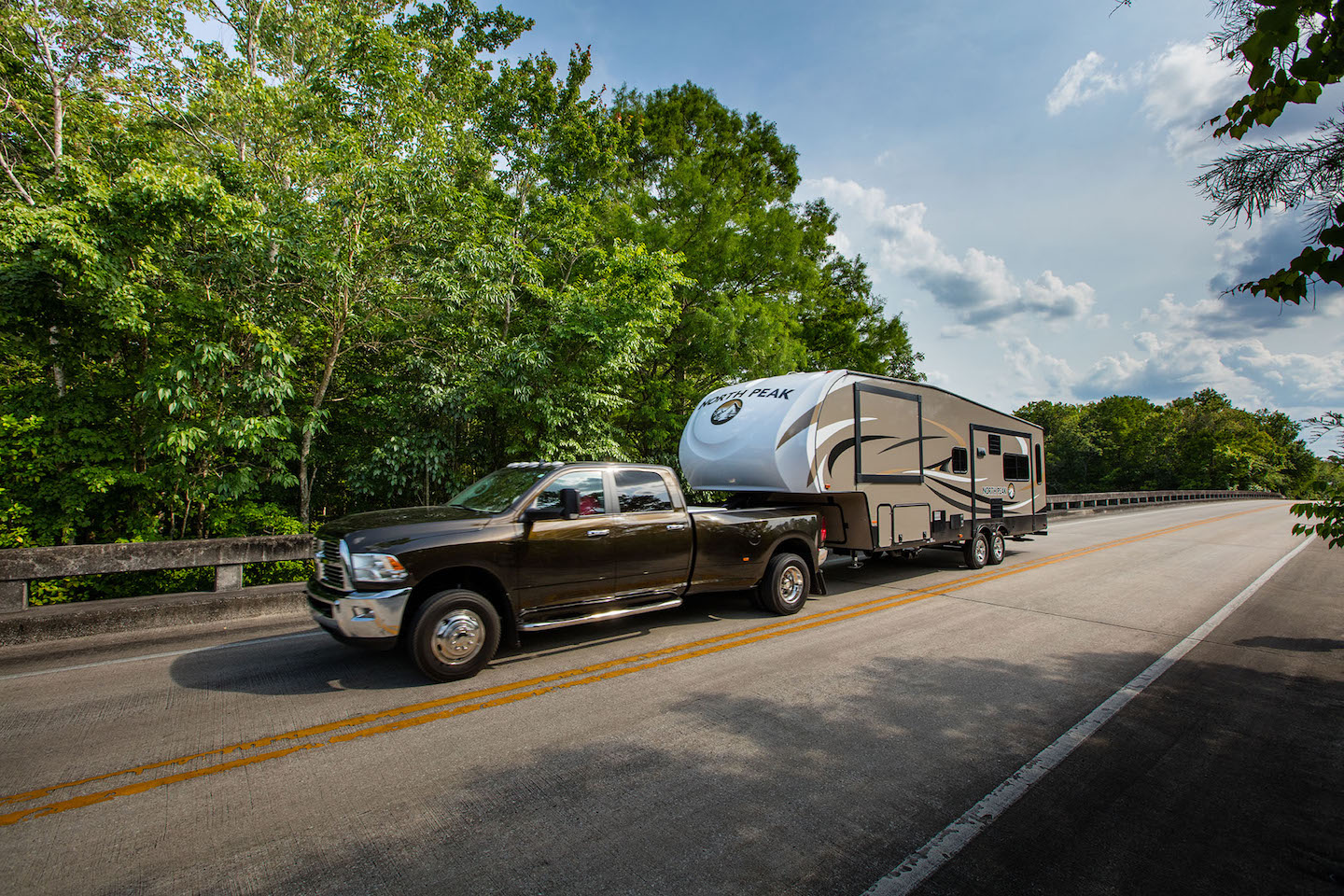 The fifth wheel hitch receiver is mounted in the tow vehicle truck bed above the rear axle. Compared to the rear receiver hitch, this hitch mounting location allows for longer, wider, and heavier RV trailers without destabilizing the tow vehicle.
A fifth wheel trailer has a king pin that connects to the fifth wheel hitch with a jaw mechanism coupler. There are sliding and fixed fifth wheel hitch options to match your tow vehicle capabilities. Sliding hitches can help avoid damage to the tow vehicle if you have a short bed truck and can help maneuver in tighter spaces.
There are optional king pin box upgrades, too.
Towing Capacity
Now that we've covered compatible RV hitch and tow configurations, the other half of the equation is compatible towing capacity.
Easy Towing Math
Know your weights, actuals, and limits. At the component level, every component of your hitch and tow configuration will have a weight rating. Refer to the hitch class list above.
At the vehicular level, both your RV and tow vehicle will have ratings for Gross Combination Weight Rating, Gross Vehicle Weight Rating, and Gross Axle Weight Rating. The tow vehicle Rear Axle Weight Rating in conjunction with the trailer Tongue Weight or fifth wheel Pin Weight are also important to know.
For each of these weight rating categories, you need to know the maximum weight rating and the actual weight, or a close educated guess. Knowing these numbers will make driving with a towable safer as well as help you feel more comfortable towing. You can weight your vehicle and trailer at a truck stop weigh station.
Gross Combination Weight Rating (GCWR) is the total amount of weight of everything moving down the road. This includes the RV, tow vehicle, gear, supplies, fluids, and passengers. This is essential for the braking system. Staying within spec means the brakes can slow the whole rig down appropriately.
Your fully loaded "wet" weight with fluids onboard must not exceed the Gross Vehicle Weight Rating (GVWR), which is the maximum allowable weight of that vehicle, its cargo, and its passengers. When towing anything, it's recommended to stay within 75% of your tow vehicle's GVWR to provide a cushion for a safer towing experience.
Mythbuster: You cannot change the vehicle GCWR or the GVWR by upgrading the trailer hitch. Upgrading the hitch configuration optimizes the carrying capacity of your tow vehicle as well as improves towing safety, fuel economy, braking, and load stabilization.
When loading and packing your RV and tow vehicle, take note of the Gross Axle Weight Rating (GAWR). This is the amount of weight each axle is designed to support—including the weight of the axle itself. This rating assumes the loaded weight is balanced on both sides of that axle. As you pack, also keep in mind the impact of the trailer Tongue Weight, fifth wheel Pin Weight, and tow vehicle Rear Axle Weight Rating (RAWR) limit. As you drive, you will feel even as well as uneven weight distribution in the performance of the tow vehicle.
BONUS TIP: When pulling out for your road trip, stop at a certified scale or weigh station to weigh both your fully loaded trailer and tow vehicle. Most scale operators are willing to help in the interest of safety and will instruct you through their scale process. If you can't find a public scale, call a local trucking company—they will know where to find one.
How to Correctly Hitch Up
Next, it's essential to connect correctly and make sure everything works. Correctly hitching up your towable RV (travel trailers and fifth wheel trailers) is straightforward.
First, you need to use the correct hitch compatible for your setup.
If desired, install the optional weight distribution hitch or sway control.
If needed, reposition the tow vehicle—Remember to set the emergency brake on the tow vehicle.
Next, connect the hitch and latch the hitch coupler using the appropriate mechanism.
If your coupler uses a pin-style mechanism, be sure to fully engage the pin by pushing it all the way in.
Then, if you have an optional weight distribution hitch or sway control, adjust those attachments according to the manufacturer's instructions in the technical manual.
Next, electrically connect and secure your RV and tow vehicle using the manufacturer provided cables and chains for your hitch and tow configuration.
Test the brake lights on your trailer to make sure they're functioning.
For a rear receiver hitch, hook up your safety chains by crisscrossing them under the coupler. The crisscrossed chains form a "cradle" for the trailer tongue to fall onto if anything caused the trailer to disconnect from the tow vehicle. The chains should have slack, but they should not drag. The slack allows sharp turn maneuverability.
Always attach the breakaway brake cable or chain. This activates the trailer brakes if the trailer unexpectedly disconnects from the tow vehicle in transit.
Do a walk-around touch inspection before pulling out. Each hitch and tow configuration has specific touch points.
Touch points to remember: All hitch pins and electrical connections are fully pushed in all the way. All bolts are tightly secured. Double-check to make sure your tongue jack and any stabilizer jacks are completely up. Remove the wheel chocks last—Remember to remove these.
You can also download or print and laminate this fifth wheel hitch checklist for reference.
Safe Towing
Visibility is essential for safe towing. Increase your visibility. You can easily add tow mirrors to help you see blindspots if the trailer is wider than your tow vehicle. Consider installing a backup camera. Use a spotter, especially when parking or maneuvering tight spaces.
Practice towing before the road trip and remember to give yourself plenty of time to make stops for gas, food, and bio breaks. Adjust your travel speed to account for road construction, steep grades, strong cross-winds, and inclement weather.
Parking
Now you've arrived at your destination, it's time to park it and set up camp. Again, everything you do to increase your visibility will help. Since backing up your RV to a campsite can be stressful here's what you can do to defuse the tension.
No matter how you feel about backing-in your RV, you need to take things slow. Going slow will allow you to readjust if you need to. There's often a delay from what your hands do on the steering wheel and how the trailer reacts. Going slow accounts for that time delay. Remember: Slow is smooth, and smooth is fast.
It can be hard to take things slow if there are a lot of other campers, or people waiting to get into their own campsite, but don't let people rush you. When you rush you are far more likely to either put your RV in the wrong spot, or damage it by colliding with something.
Unhitching
Always chock your towable before unhitching. You don't want to lose fingers or damage your RV once you've arrived. For good measure, use a coupler lock to prevent anyone else from hitching up to your RV.
If you have a boat trailer, before backing the trailer into the water at a boat launch disconnect the trailer's wiring from the tow vehicle to avoid any electrical problems from submerging the trailer's lights in the water.
If you have a fifth wheel trailer, remember to lower your tailgate after disconnecting your tow vehicle from the hitch. This way, when you're ready to explore the local sights with your tow vehicle, you won't damage your truck or RV as you try driving away.
RV Hitch and Tow Recommendations
If you want customized guidance, come to your nearest Camping World. We can help you invest in the compatible hitch and tow setup that fits your RV lifestyle and teach you how to correctly connect your RV and tow vehicle.