It is important to maintain your RV tires while in storage. After all, they serve as the foundation for safe RV travels. So, how do you track your tire's health while you're on the road?
With a quality tire pressure monitoring system (TPMS), that's how. Sure, you can use a standard tire gauge to check tire pressure manually at regular intervals. But a TPMS gives you information on all your tires simultaneously and displays it at your fingertips.
The Benefits of an RV Tire Pressure Monitoring System
Let's dive into the benefits of adding a tire pressure monitoring system to your RV:
Receive notifications about low tire pressure or when tires are going flat.
Make your travels safer by improving vehicle handling.
Improve your fuel economy.
Reduce braking distance.
Decrease tire wear.
Do You Need an RV Tire Pressure Monitoring System?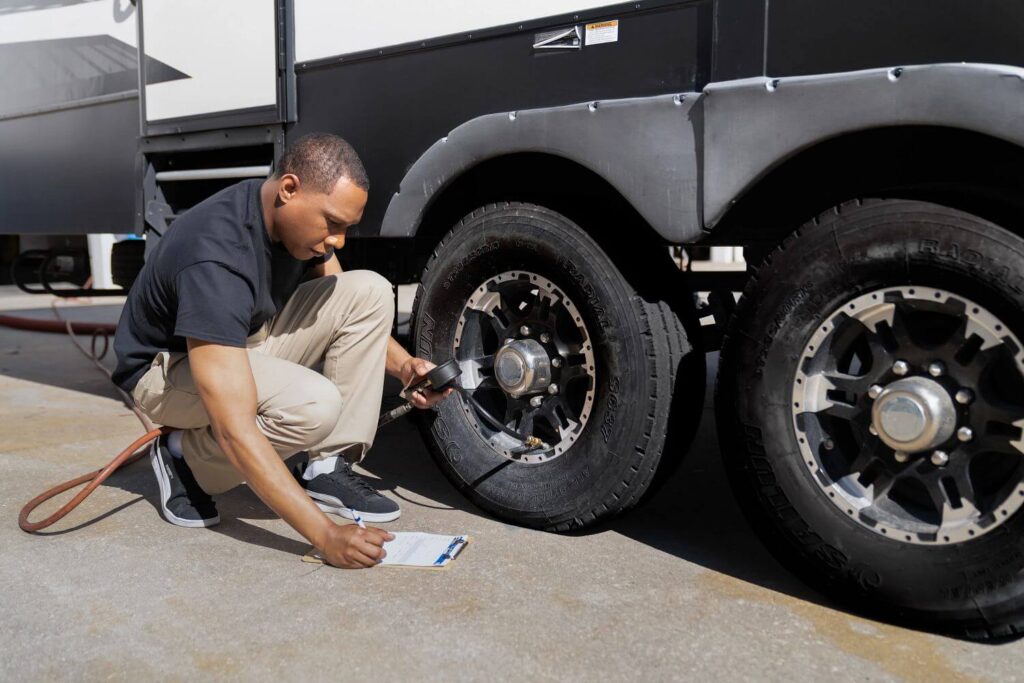 All RVers can benefit from installing a tire pressure monitoring system. It takes the guesswork out of how frequently you should check tire pressure and eliminates the need to keep track of a standard tire gauge (an RV accessory that gets misplaced all too easily).
It also provides temperature readings so you have real-time information to make navigation decisions. A high-temperature alert can save you hours on the side of the road or the hassle of waiting for roadside assistance.
High temperatures greatly affect your RV tires. Tread deformity and blowouts can take place much easier at higher temperatures. A sudden increase in tire temperature is a sure indication of a tire about to leave you on the side of the road.
For the hours and dollars it can save you, a TPMS is a worthwhile investment. Its benefits aren't limited to a certain type of RVer either. Everyone from weekend warriors to full-timers will enjoy the peace of mind found through the use of a TPMS.
Explore Camping World's entire TPMS inventory.
The Best RV Tire Pressure Monitoring Systems
If you're ready to invest in the peace of mind of having a TPMS, here are some of the best tire pressure monitoring systems for your RV:
TireMinder i10 RV TPMS with Standard Transmitters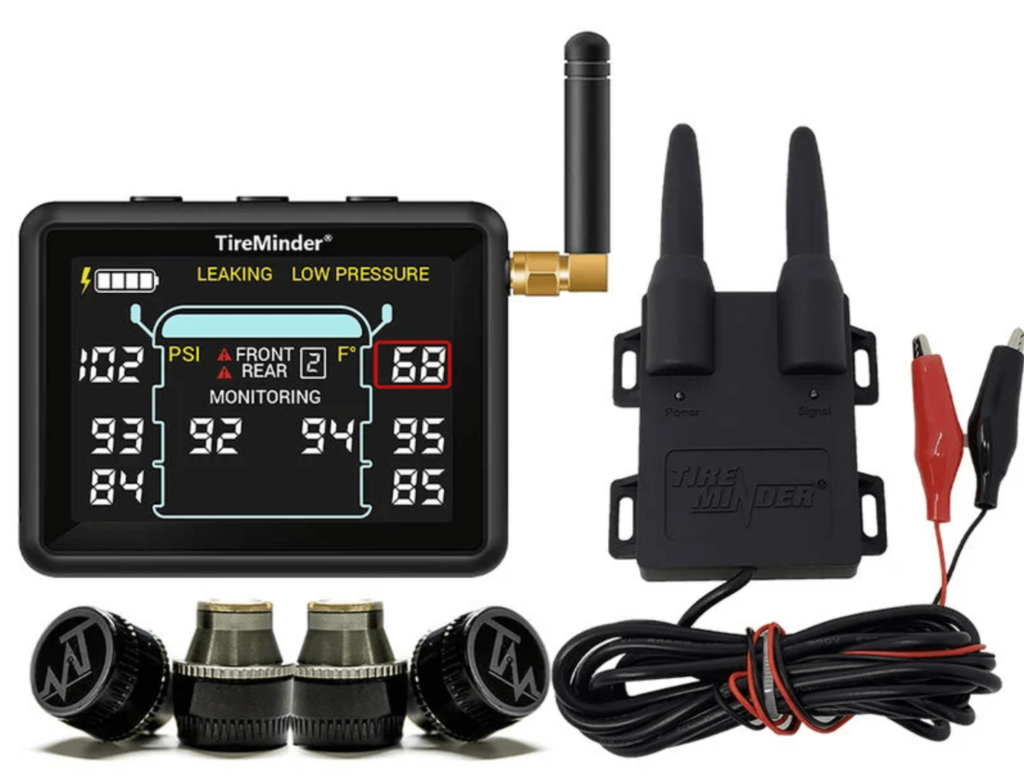 TireMinder is one of the leading brands in tire pressure monitoring systems. Their i10 RV TPMS is accurate up to +/- 1 PSI with a safe operating range of 0-199 PSI, making it ideal for everything from lightweight campers to mammoth Class A motorhomes.
This TPMS comes with standard transmitters that you install on your tire's existing air-fill valves. The 3.15-inch display can monitor up to 20 tires at a time and seamlessly swap between the tires on your tow vehicle and your towable camper's tires.
Standard transmitters (also known as stem-mount transmitters) must be removed to add or remove air from your RV's tires.
Once installed, the transmitters relay information to the display every six seconds. They detect high and low tire pressure, slow and rapid leaks, and high temperatures that can increase your blowout risk.
There are three models to choose from based on how many tires you need to equip. Here's where you can learn more about each:
TireMinder i10 RV TPMS with Flow-Through Transmitters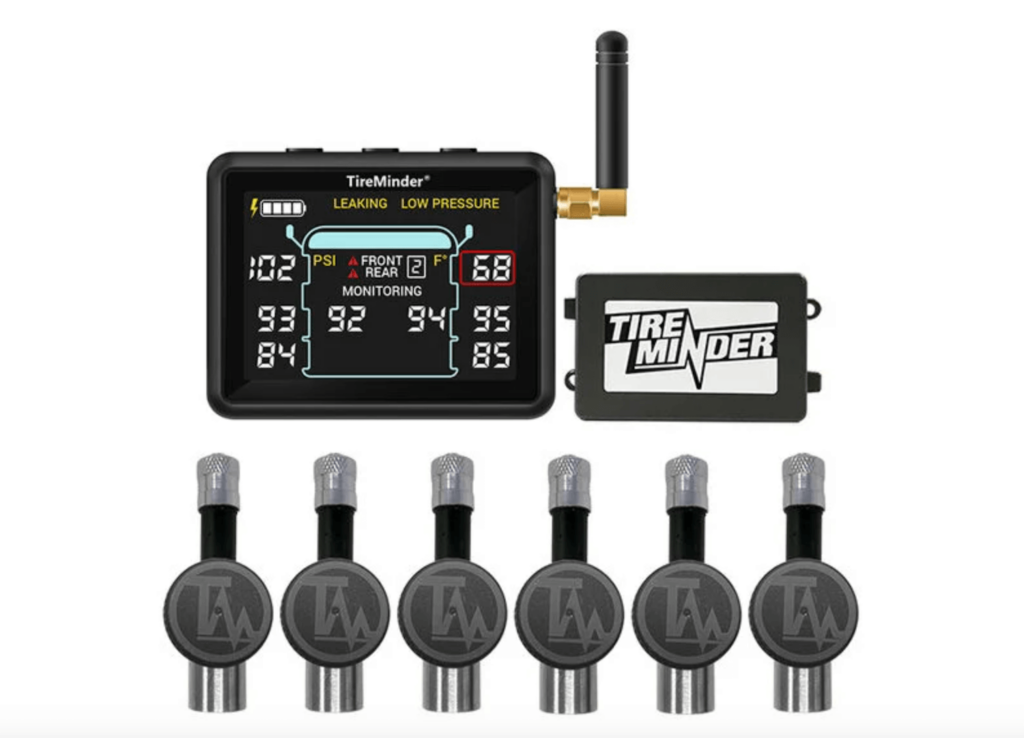 This model offers the same features as the i10 with standard transmitters but has one important upgrade. It features a different style of transmitter known as a flow-through transmitter.
Flow-through transmitters allow you to add or remove air from your tires while installed.
This makes these TPMS models a one-time installation and minimizes the work required to maintain adequate tire pressure. The Rhino Signal Booster (also included in the model with standard transmitters) provides superior signal strength to ensure the connection between the transmitters and the display.
This is an important feature if you have a longer travel trailer or fifth wheel, as the transmitters on your rear tires may be more than 30-40 feet from the display.
This TPMS is available in two models for trailers, motorhomes, or fifth wheels with four or six tires:
TireMinder Smart RV TPMS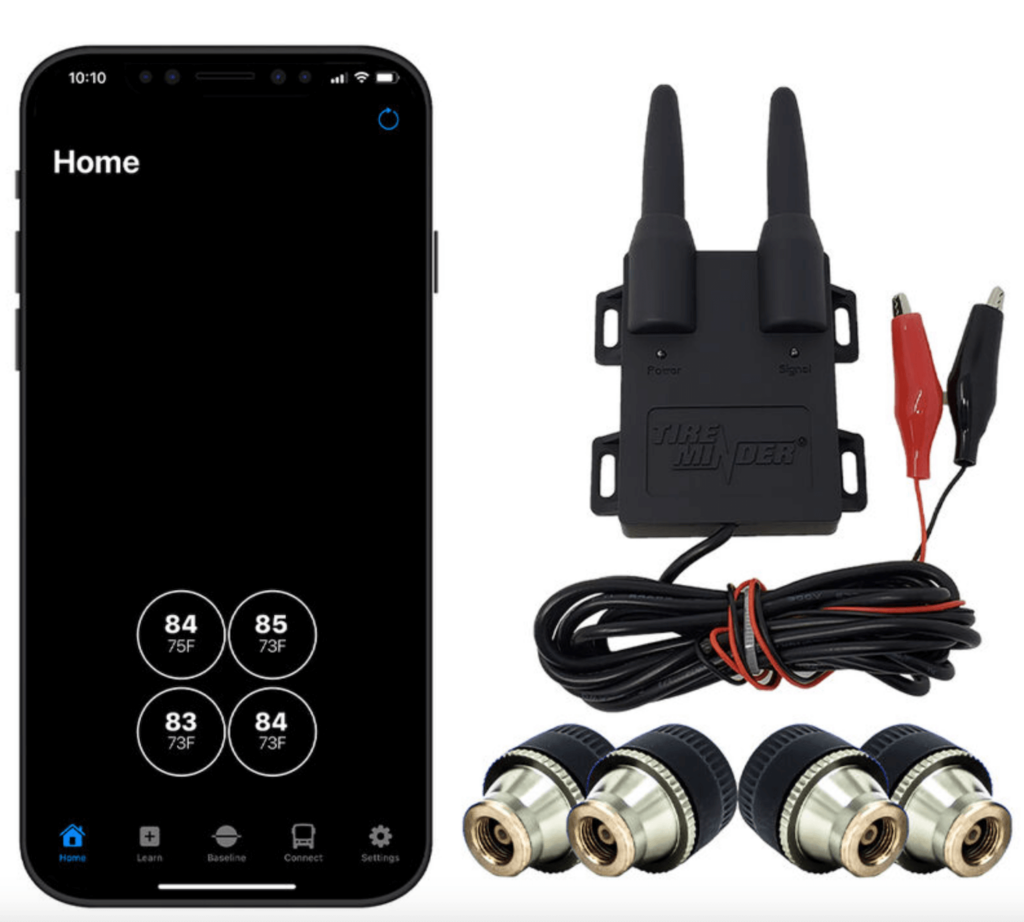 TireMinder also makes a smart TPMS system designed for RVers that don't want to add a 3.15-inch display to the cockpit. Instead, the transmitters use a Bluetooth adapter that's compatible with several generations of smartphones (iPhone and Android).
You can set up push notifications for all TireMinder alerts and view tire pressure and temperature readings simultaneously. The Smart TPMS is also available with standard or flow-through transmitters.
In this group, there are three models to choose from:
Learn more about TireMinder, including specific product reviews, over on RV.com.
How to Install a Tire Pressure Monitoring System on Your RV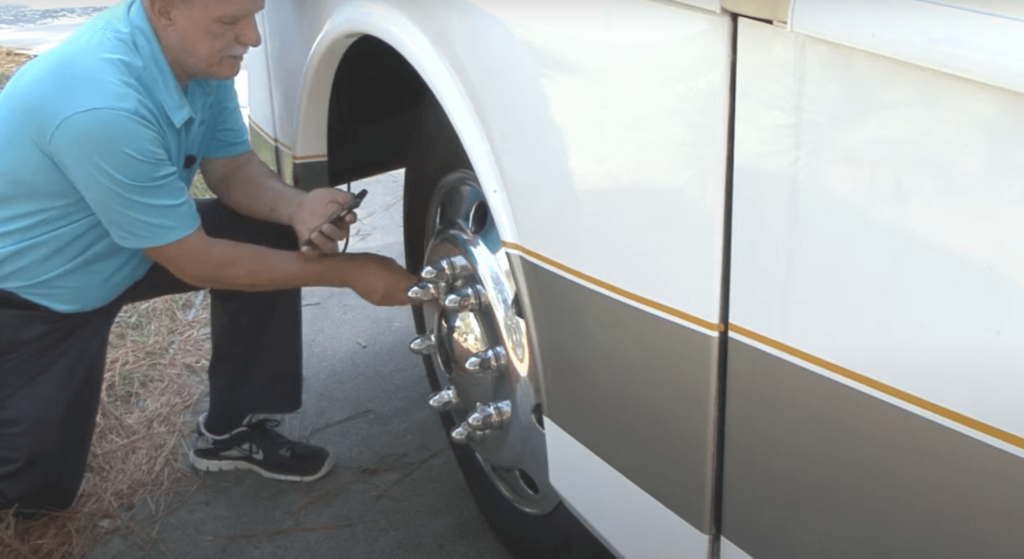 After unpacking your TPMS, follow the manufacturer's instructions for the correct installation.
Every manufacturer will be a little different, so following the initial setup procedures is vital to ensuring the proper operation of your TPMS.
Because they offer many popular models, here are the basic installation steps for TireMinder TPMS models:
Connect the signal booster to a 12 or 24-volt power source.
Add the recommended battery type to each transmitter.
Power on the display monitor or download and open the recommended app on your smartphone.
Toggle the display (or smartphone) into Learn mode. You should see an L in the center of the display to verify you've changed modes successfully.
Note the current tire position, which will be marked by this flashing symbol (- -).
Screw a transmitter onto the corresponding tire. Within 15 seconds, you should hear a beep and see the tire's current PSI displayed.
Use the left or right buttons to change to the next tire position and then repeat until all transmitters are installed, and the current pressure is displayed for each tire.
Toggle the display back into Monitoring mode and then into Pressure Setting mode.
Press and release the left buttons to set your desired unit of pressure measurement (PSI or BAR).
Press and release the center button to set your desired temperature metric (℉ or ℃).
Press and release the center button again to exit metric settings. You should see the pressure for the selected tire position blinking.
You can then use the left and right buttons to adjust the pressure baseline for each monitored tire.
After completing that step for all tires, press and hold the center button for five seconds until the display returns to Monitoring mode.
How to Reset a Tire Pressure Monitor System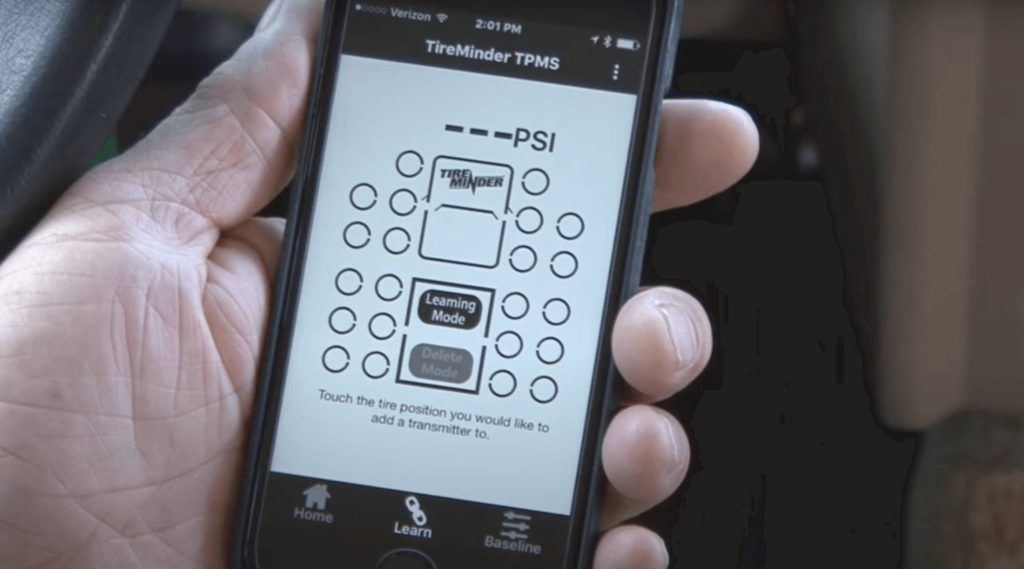 Some tire pressure monitoring systems also have a reset or 'Start Over' mode. This mode is designed to be used if you suspect a faulty installation, have lost track of which transmitters go on which tires, are buying a new RV and need to reset tire positions, or want to re-install the system for any other reason.
Here are the step-by-step instructions for resetting a TireMinder TPMS:
Enter Monitoring mode and press and hold the left and right buttons for five seconds until 'Learn' appears in the top center of the display. All active tire positions should display their current pressure.
Press and hold the center and right buttons for five seconds until the display beeps twice and all tire positions display the (- -) symbol.
If you intend to re-install, you can begin the process immediately since you're already in Learn mode.
If not, press and hold the left and right buttons until all tire positions disappear. This will return you to Monitoring mode, and you can proceed with a new installation when ready.
Can You Turn Off a Tire Pressure Monitoring System?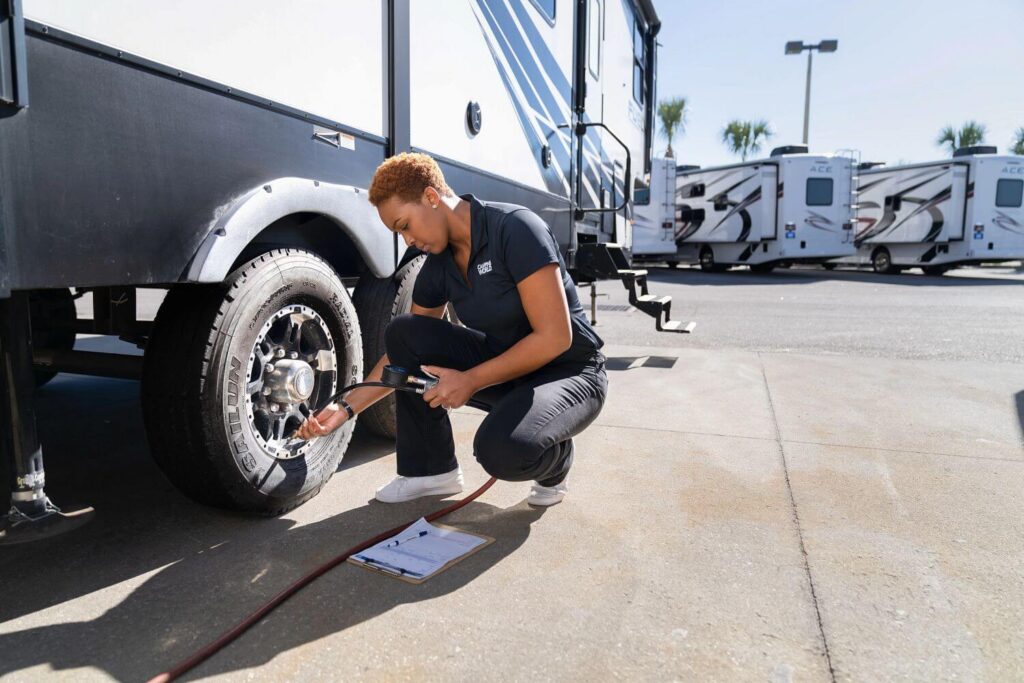 Continuous monitoring is one of the important benefits of installing a tire pressure monitoring system on your RV. That said, there are several ways that most systems can effectively be turned off.
One way is to disconnect your tow vehicle from your towable camper (if this is your setup). Your display will enter a 'disconnect mode' where it continues displaying information for your tow vehicle's tires, but the transmitters on your RV will be off.
Other methods include unplugging the signal booster, powering down the display, or removing the transmitters from your RV's tires. But this last method is risky because you'll need to track which tires the transmitters came off to re-install them correctly. They aren't interchangeable once the system is set up.
Technician Tip: While a TPMS provides enhanced benefits, a standard tire gauge must be kept track of and used when adjusting tire pressures. Without one, you cannot safely perform this task. Most aftermarket TPMS systems are stem mounted and must be removed to adjust tire pressures, rendering them useless during the process. Internally mounted TPMS systems do not provide instant data to the person working on the tire.
---
Regular tire care is just the start of thorough RV maintenance. The more you care for your RV's components, the longer they'll last, and the more you'll be free to enjoy all the benefits of living in an RV.
Download our complete maintenance reference handbook to track what needs to be addressed seasonally and annually to keep your RV in tip-top shape.
Do you have questions about selecting or installing an RV tire pressure monitoring system? Share them in the comments below.