You could easily argue that the national park system wouldn't exist without the contributions of President Theodore Roosevelt. He was a force for change in how Americans valued land and championed the conservation of the country's natural resources.
Theodore Roosevelt National Park honors that legacy and protects one of the most spectacular landscapes in North Dakota. One that held a special place in the heart of the President himself. Here's our guide to RVing Theodore Roosevelt National Park.
Why Visit Theodore Roosevelt National Park in an RV?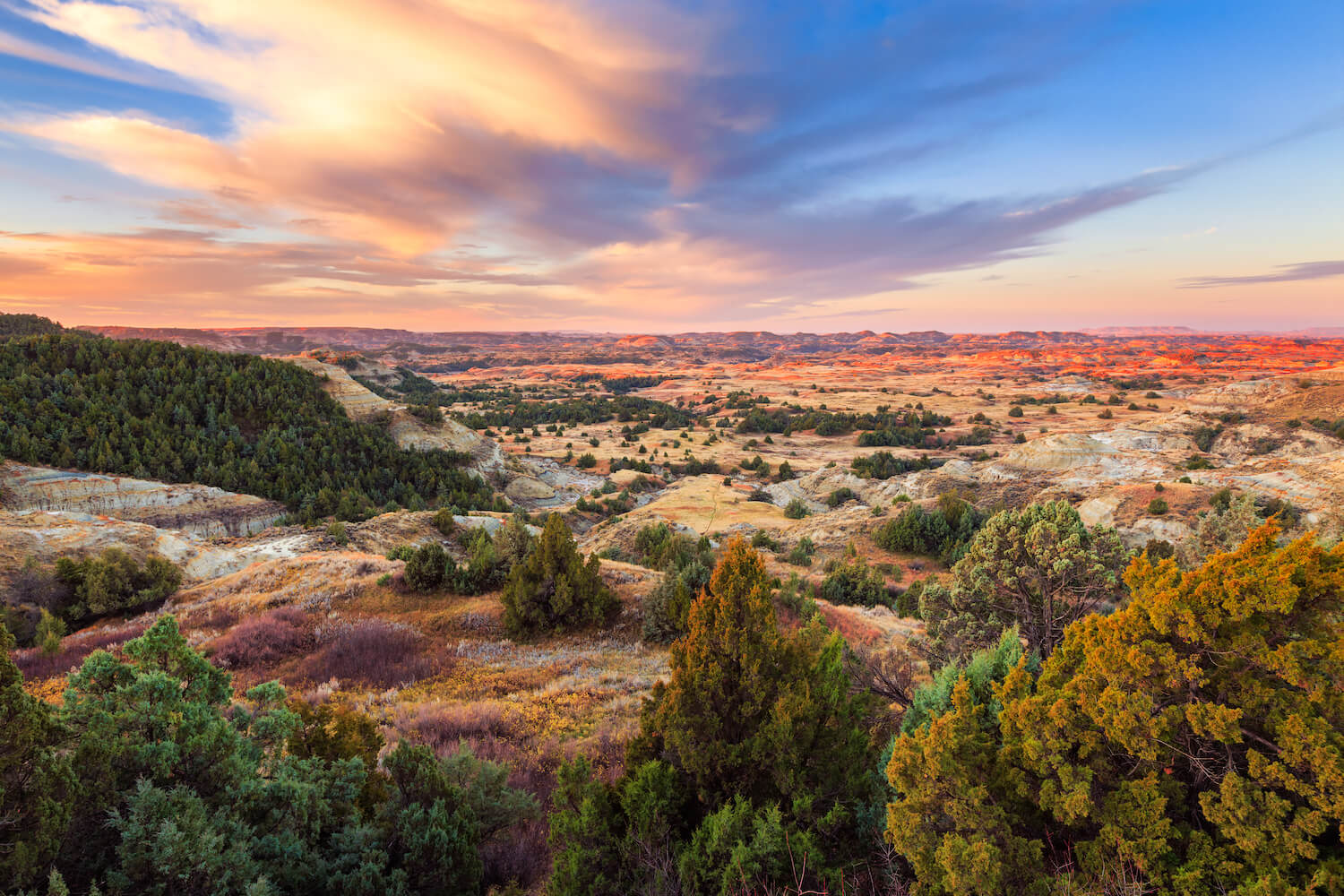 Theodore Roosevelt National Park is an excellent destination to add to a Dakotas national parks road trip, looping in spots like Wind Cave National Park and the Badlands along your route. Because the closest major airport is nearly two hours away in Williston, ND, an RV road trip is the best way to explore everything this park has to offer.
You can camp inside the park or just outside the entrance in the charming town of Medora – sometimes referred to as "North Dakota's #1 Tourist Destination." The town is an excellent place for an RV base camp because it provides easy access to the park's scenic drives, hiking trails, and fossil displays.
Perhaps the park's biggest attraction is its wildlife – populous herds of massive bison, sprawling prairie dog towns, bounding pronghorn, feral horses, and seasonal elk herds are regularly spotted right from park roads.
I personally went in search of bison on a 5-mile loop hike, only to encounter a herd of 50 or more upon returning to my truck. I saw plenty of bison tracks leading through the prairie dog towns as I meandered across a river, over open grassland, and through a flood plain – three of the park's main ecosystems.
When to Visit Theodore Roosevelt National Park
Theodore Roosevelt National Park is open year-round, but some, if not all, park roads close during the winter because of snow. A considerable amount of wind is common in the park throughout the year. Here's a little more about the seasonal weather patterns in this North Dakota destination:
Theodore Roosevelt National Park in the Spring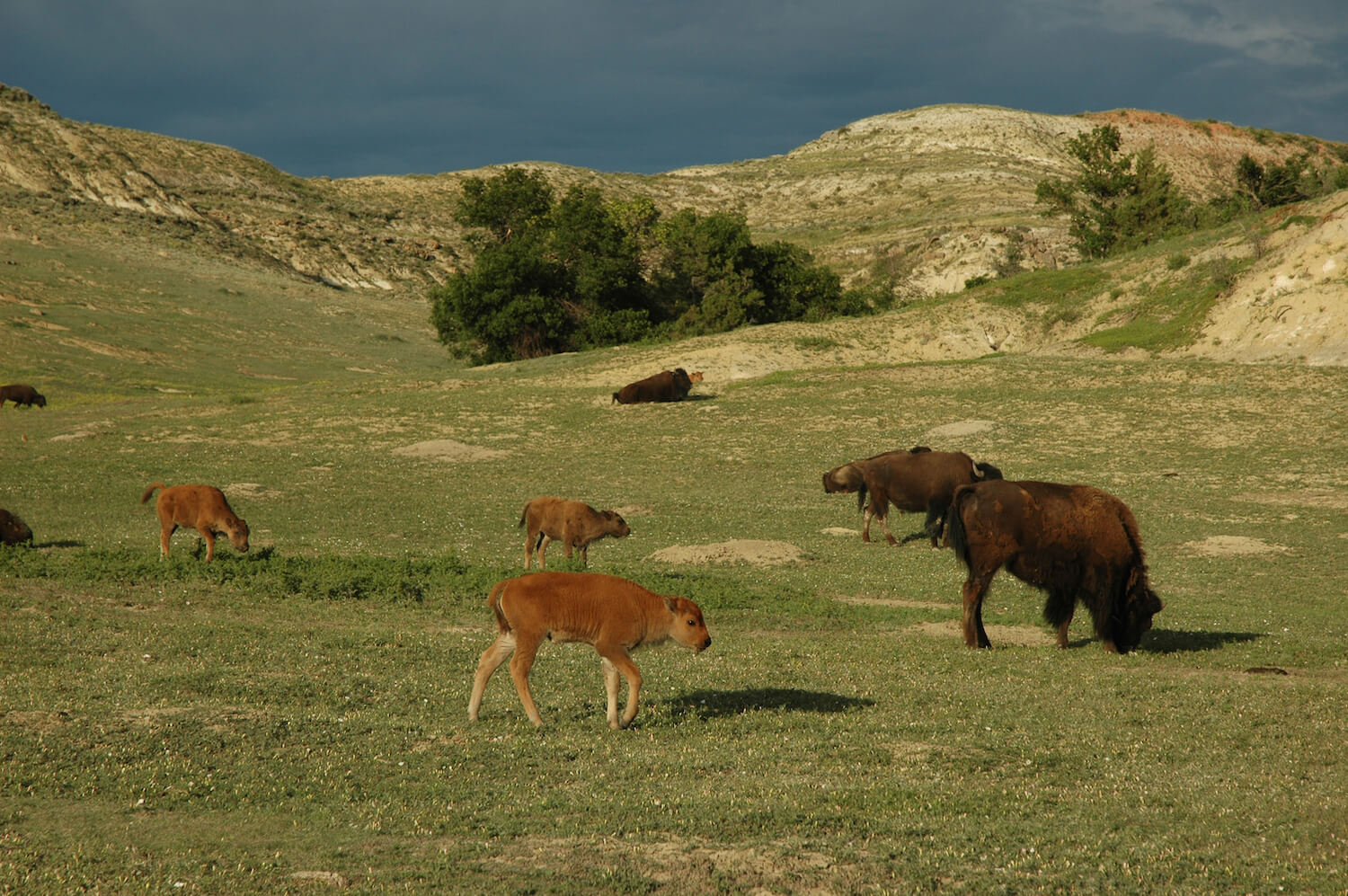 By mid-April, the overnight lows have typically climbed out of the teens, and daytime highs average in the mid-to-upper 50s. Snow and freezing temperatures are still possible, but spring can be a great time to see the park's wildlife as they shake off the chill of winter and grow more active as things warm up.
Theodore Roosevelt National Park in the Summer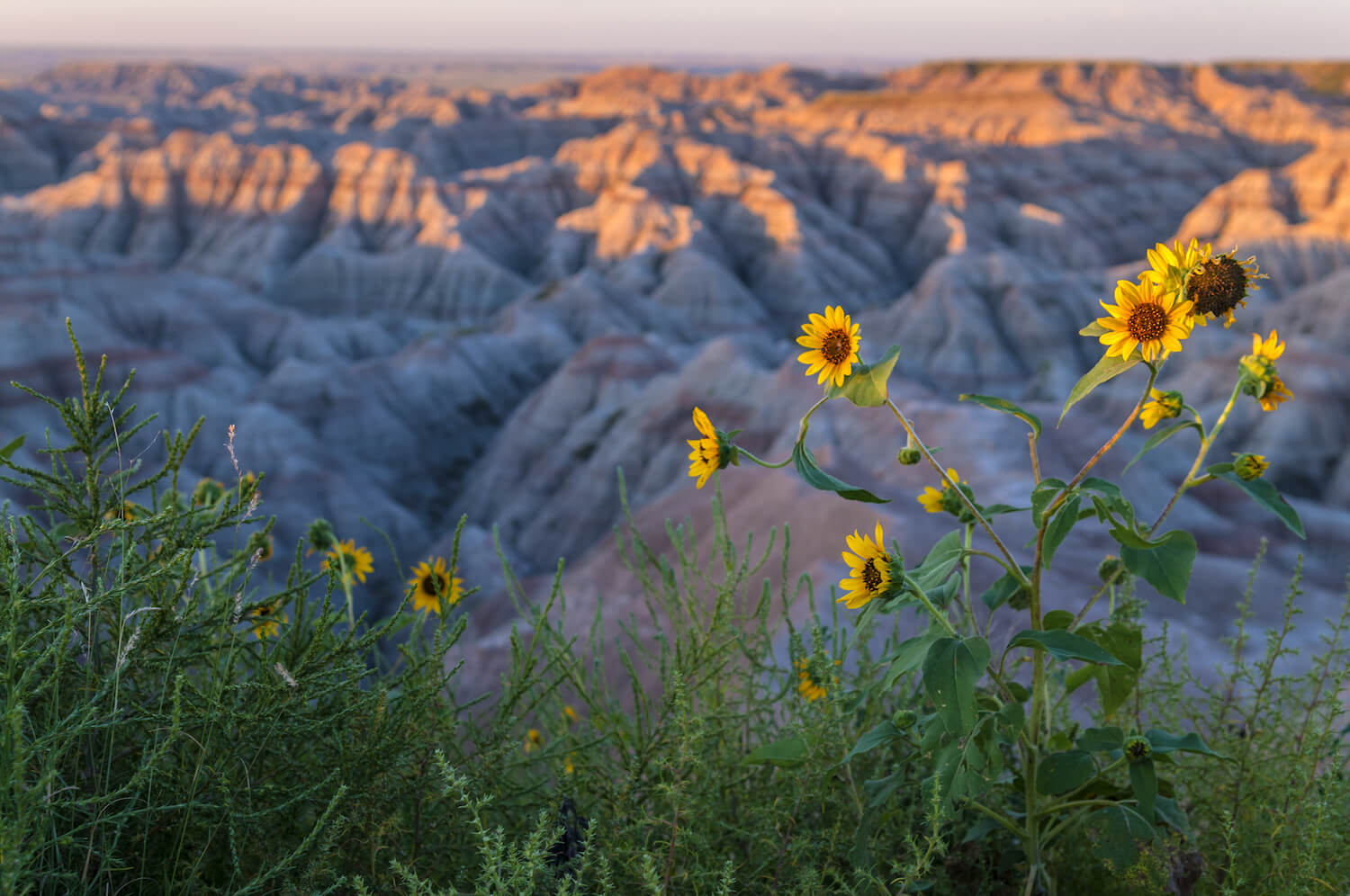 Summer highs regularly rise into the 70s and 80s, which can feel quite hot in this dry northern climate. Low temps can sometimes dip into the 40s but often bottom out in the low 50s. Summer does come with the possibility of violent afternoon thunderstorms, so check the weather often before and during your visit.
Theodore Roosevelt National Park in the Fall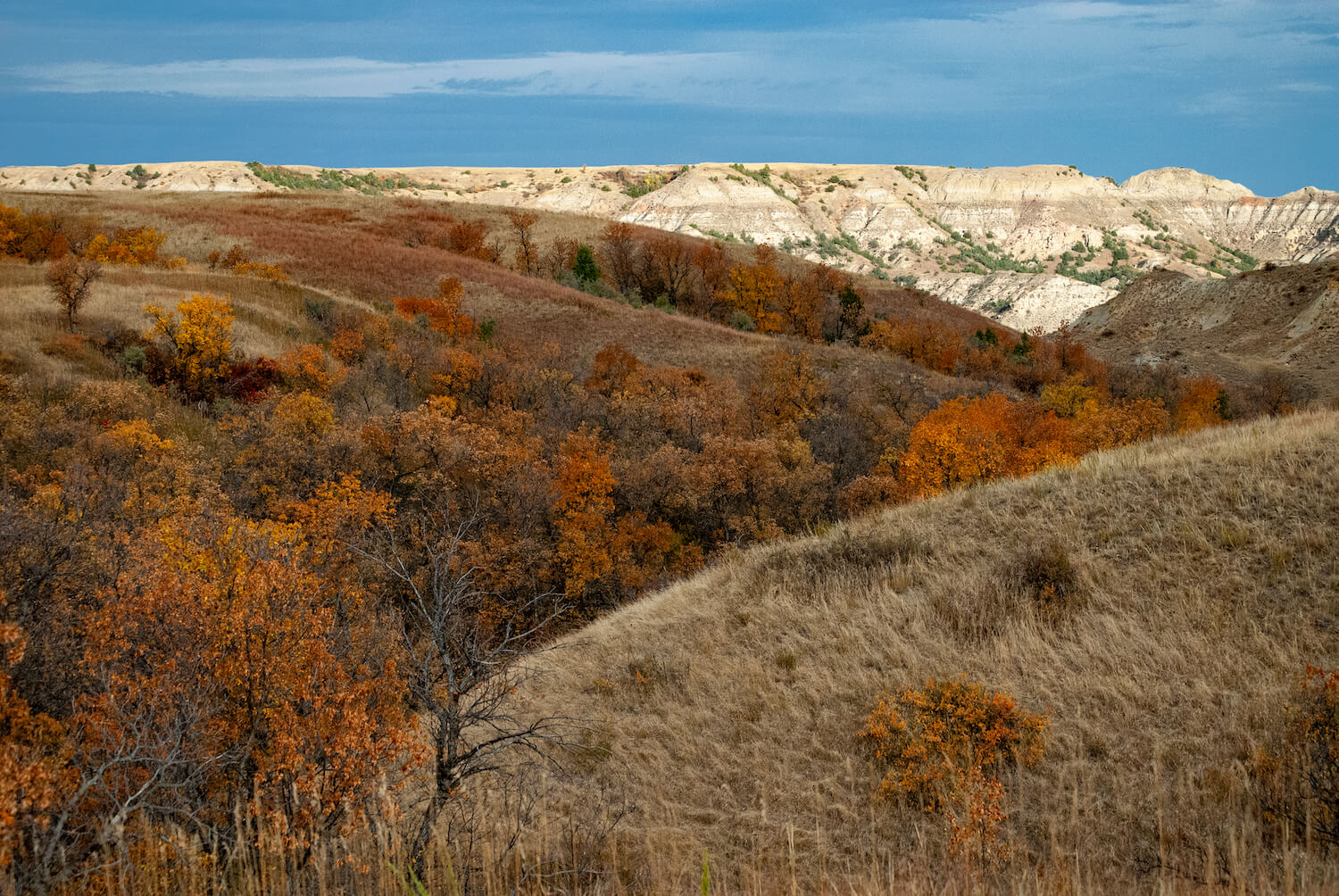 Daytime temperatures begin to dip into the 40s by late October, but the early fall months are a beautiful time to visit. You'll enjoy smaller crowds and excellent wildlife viewing along the park's roadways. Be prepared for overnight temperatures to potentially drop below freezing.
Theodore Roosevelt National Park in the Winter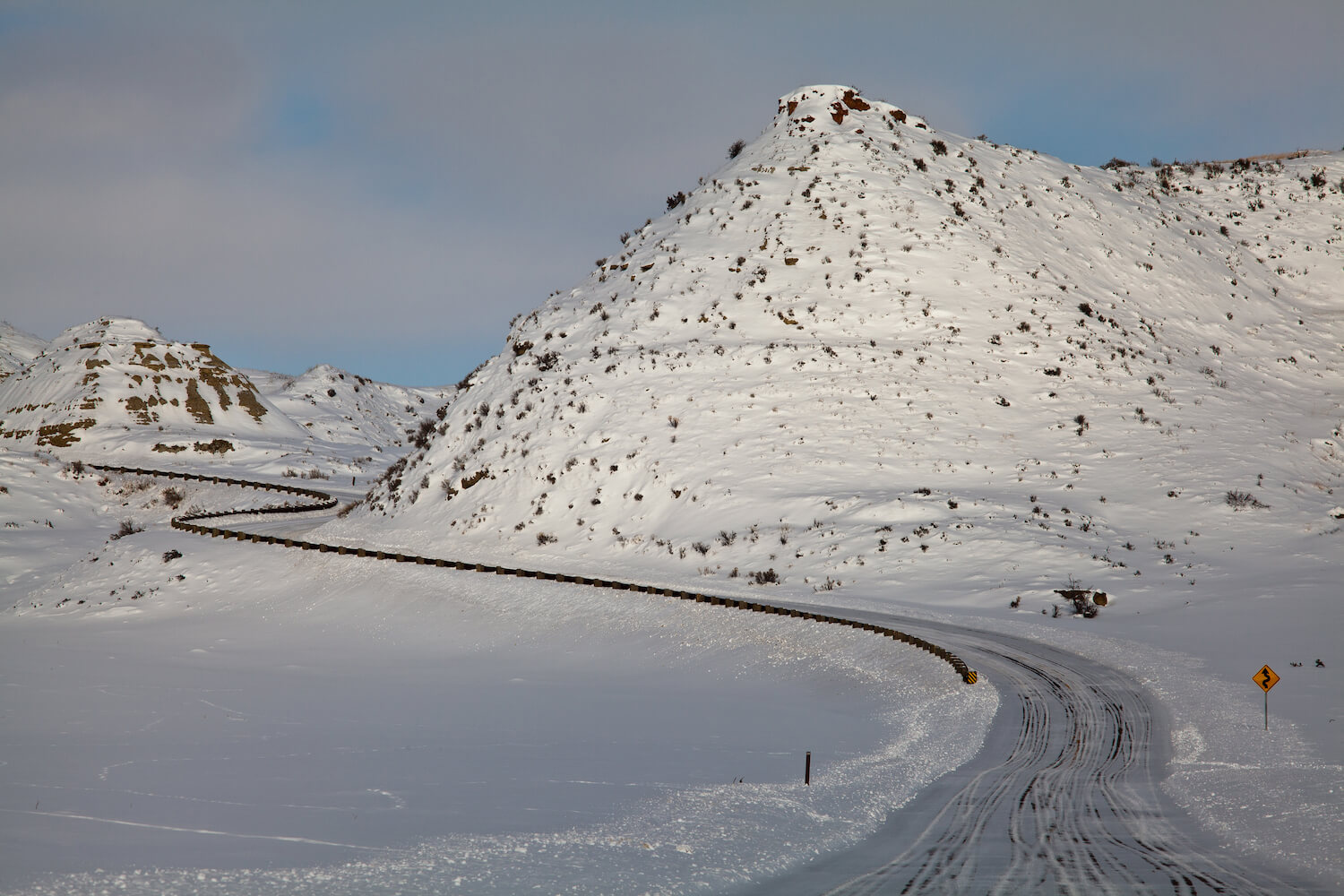 For the well-prepared, the park offers winter activities like cross-country skiing and snowshoeing. You'll just need to be ready for potentially difficult winter weather, as storms frequently roll in and average low temps rarely rise out of the single digits.
Where to Stay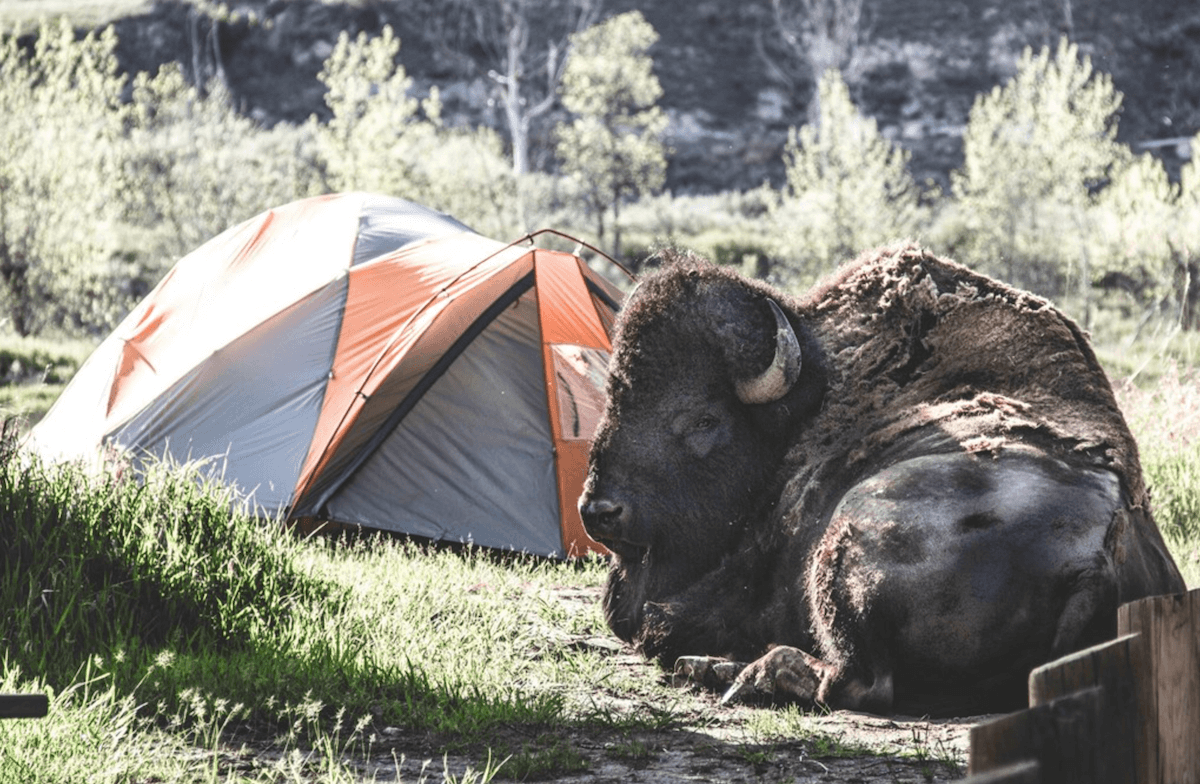 The park has two main campgrounds open to RVs: Cottonwood Campground and Juniper Campground. Both also welcome tent campers, but neither has hookups or communal showers.
Cottonwood Campground is your best choice for visiting the park's south unit. It has a total of 76 sites, 12 of which are tent-only. Roughly half the sites can be reserved, which is strongly encouraged because it usually fills to capacity from the middle of May through mid-September.
For those interested in the park's north unit, Juniper Campground operates on a first-come, first-served basis. There are 50 total sites, but nine are reserved for tent camping. Only the Juniper group site may be reserved from May through September.
Staying Outside the Park
If you're unable to book a site in the park, check out these nearby RV parks:
Invest in a Good Sam Membership and save 10% on nightly stays at Good Sam Campgrounds.
Tips for Your Camping Stay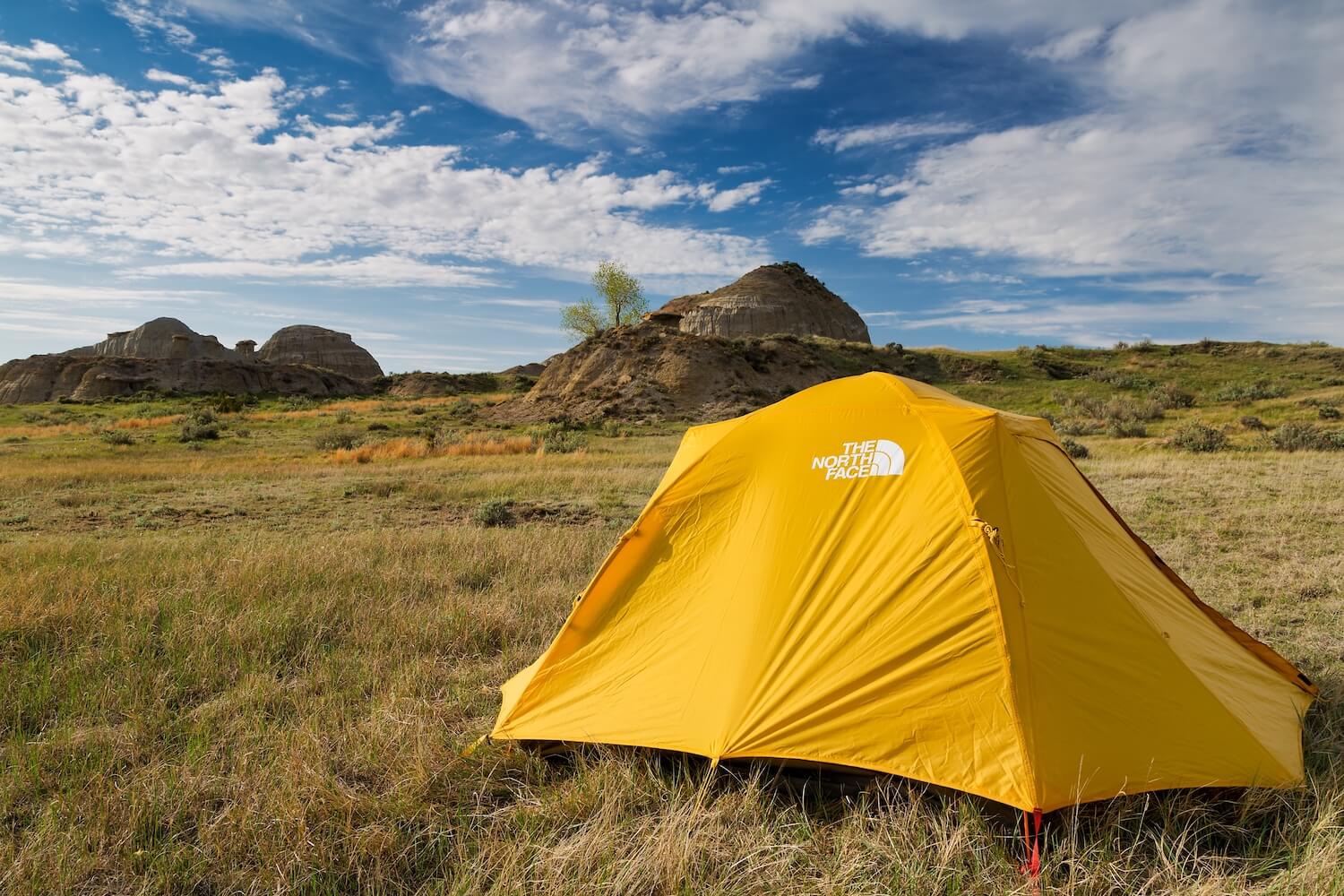 Use these tips to plan and make the most of your visit:
Reservations should be made in advance through Recreation.gov using these links:
Choose your campground based on the park unit (north or south) you plan to spend the most time exploring.
Cellphone reception is limited or nonexistent in most parts of the park. Plan accordingly.
There are no services at either campground. Pack food and drinks in a camping cooler before you arrive.
The closest dump stations are outside Juniper Campground and Medora, but they are only open seasonally from May through September.
Visitors can also obtain a backcountry permit for backpacking in the park's wilderness areas.
How to Get Around Theodore Roosevelt National Park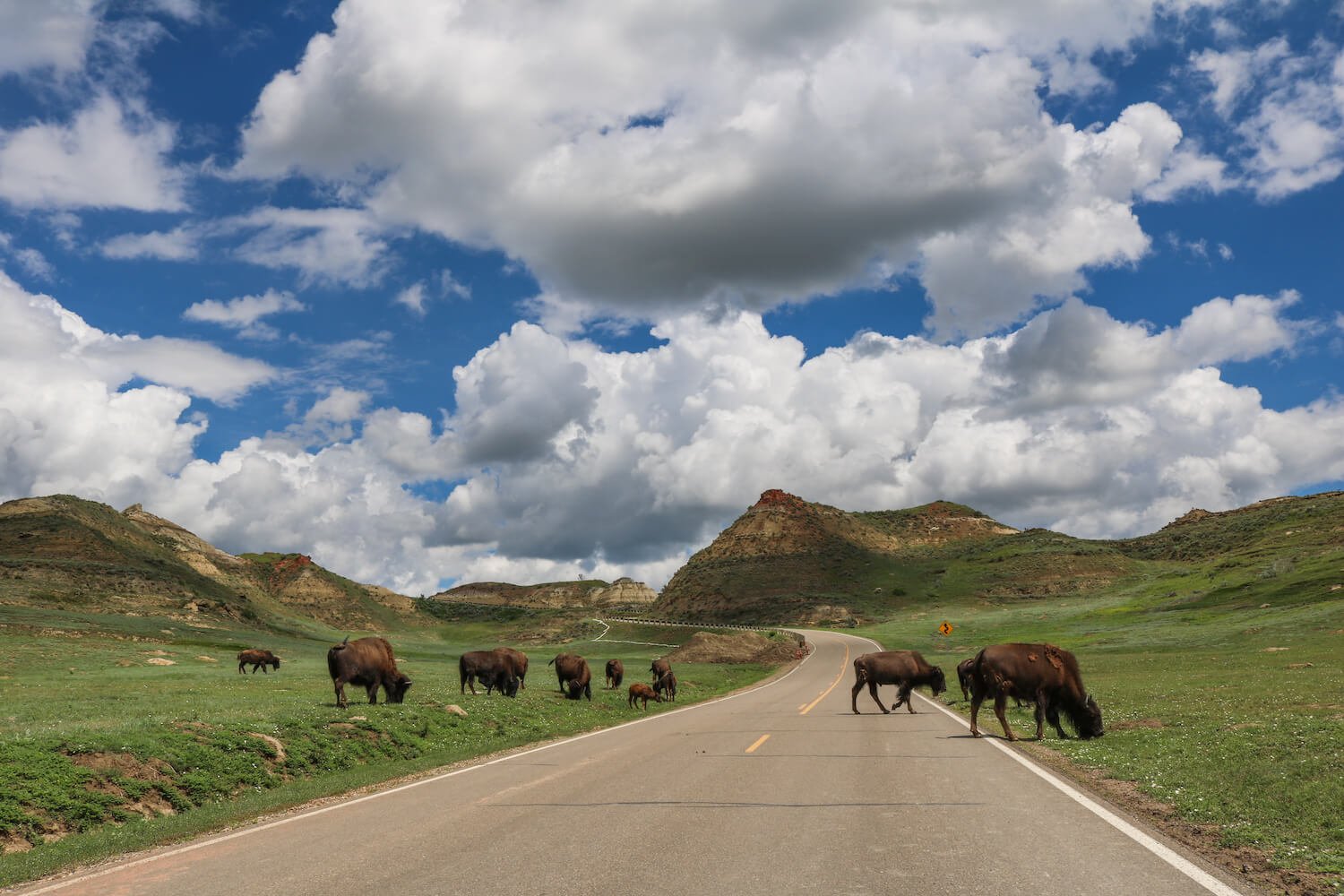 The park is divided into two units: north and south. That means your first decision is which unit you prefer to explore. The park is most easily accessed from Interstate 94, and you'll take exit 61 to access the park's south unit if you're driving in from the east. From the west, use exit 24.
For those wishing to explore the park's more remote north unit, you'll exit I-94 and head north on US 85, regardless of whether you're coming from the east or west. After about 50 miles, you'll turn left onto Scenic Drive to find the park's north entrance.
Once you're in the park, the best ways to get around are by car (towing a vehicle is a great idea if you have a motorhome), on foot, by bicycle, or on horseback. There are no maximum RV length restrictions on park roads, but they are windy and can occasionally be blocked by herds of migrating wildlife. Take it slow and enjoy the journey.
Check road closures as your trip dates approach to stay prepared.
Places to Go
Especially if it's your first time visiting Theodore Roosevelt National Park, make sure these destinations are on your list:
The Visitor Centers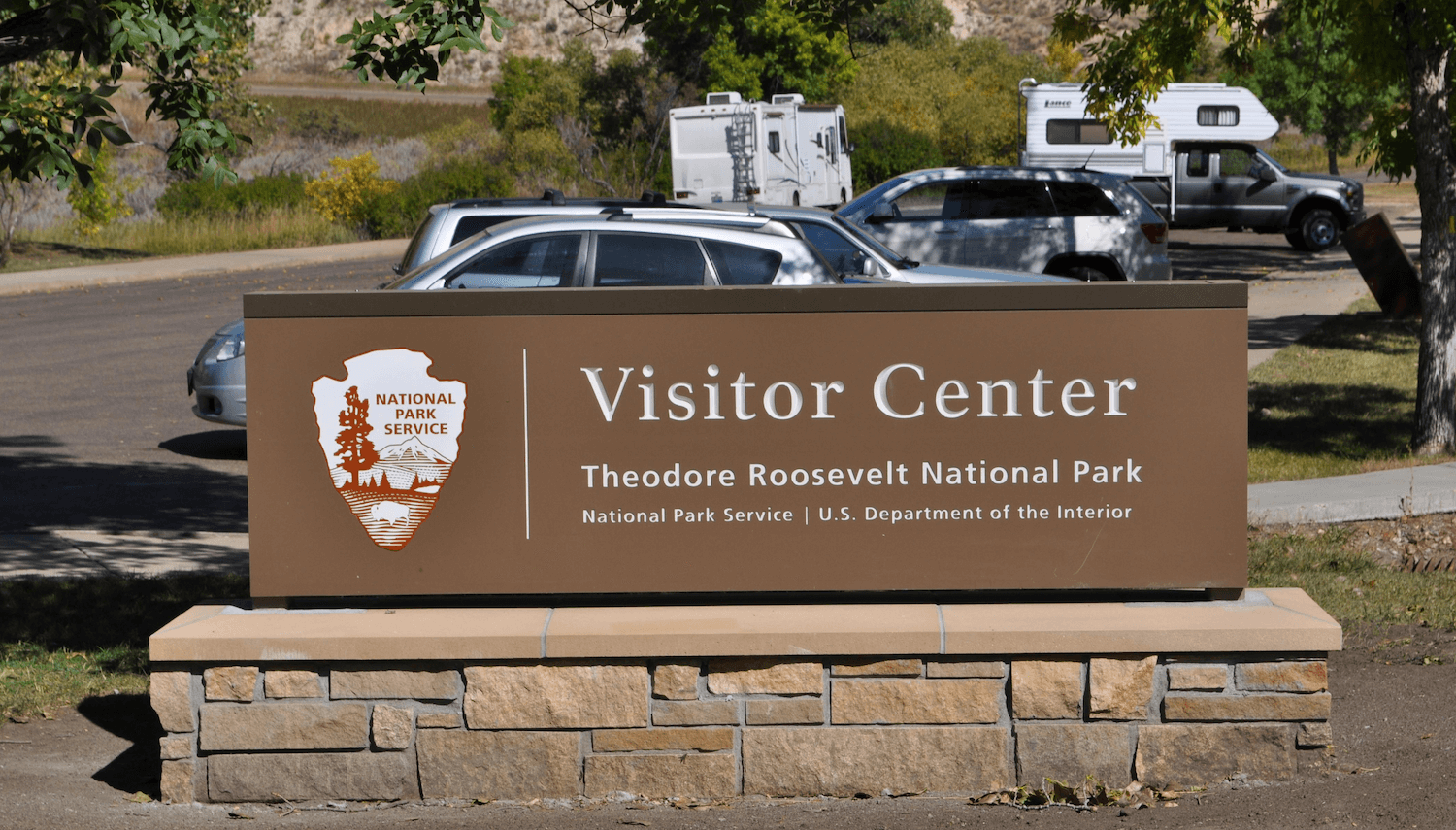 You can begin your visit at one of three visitor centers in the North Unit and South Units or Painted Canyon. The park unit you intend to explore most will be your guide for which to choose, but check the National Park Service's website for seasonal visitor center closures and construction updates.
Here's a quick synopsis of what you'll find at each location:
North Unit Visitor Center: Historical exhibits, a bookstore, RV parking, and a theater.
South Unit Visitor Center: Self-guided or ranger-led tours, a bookstore, and a museum.
Painted Canyon Visitor Center: A gift shop, exhibits, displays, and panoramic views.
The South Unit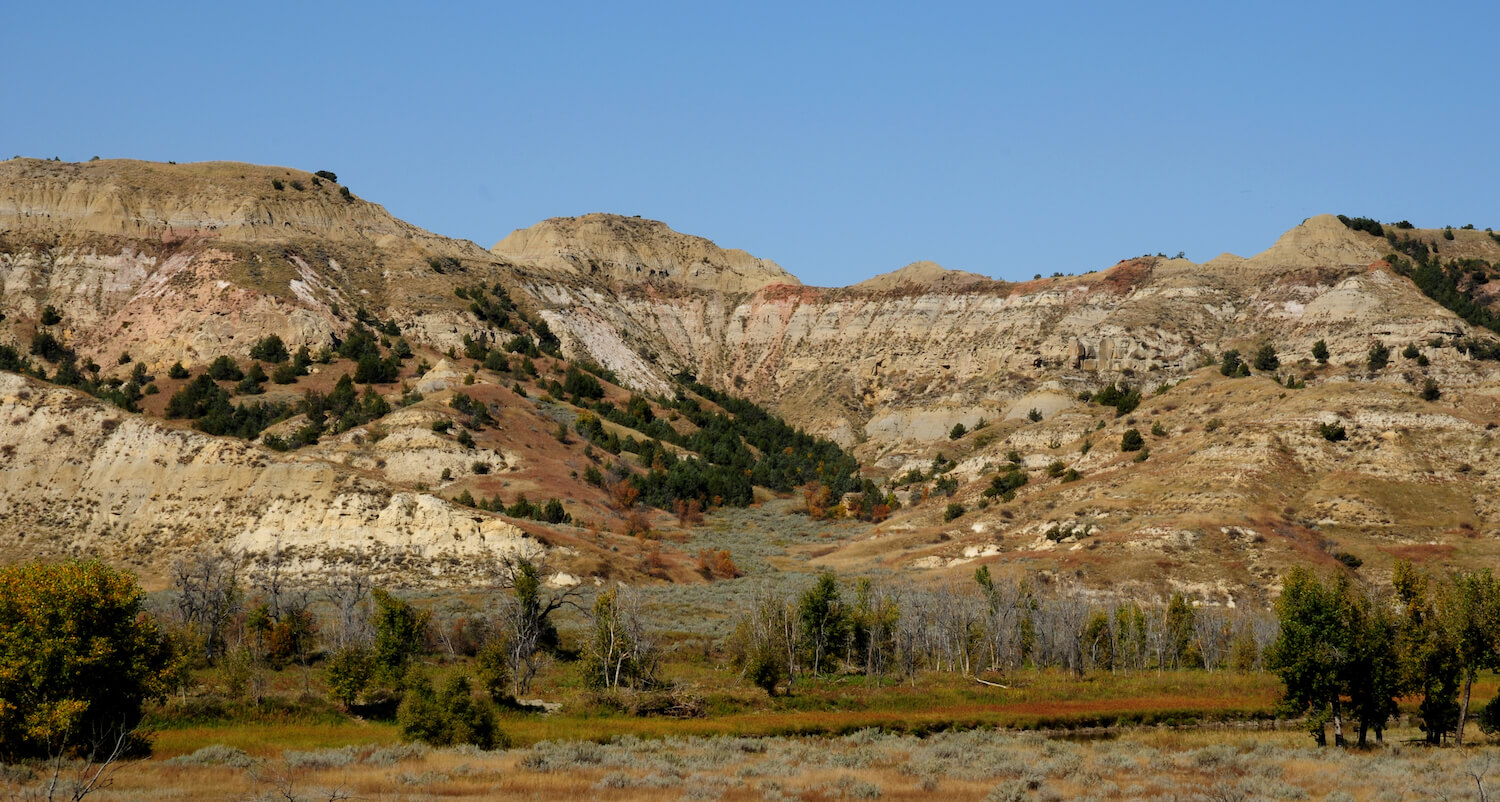 Start your South Unit visit with the park's iconic 48-mile scenic drive. If you plan to travel in your RV, stop by the South Unit visitor center to ask park rangers about the best places to turn around on this two-way paved loop.
Along the way, take the opportunity to park in a few pullouts and get out to enjoy wide views of the rolling badlands. Many pullouts also have informational displays and trailheads to stretch your legs and explore further.
The North Unit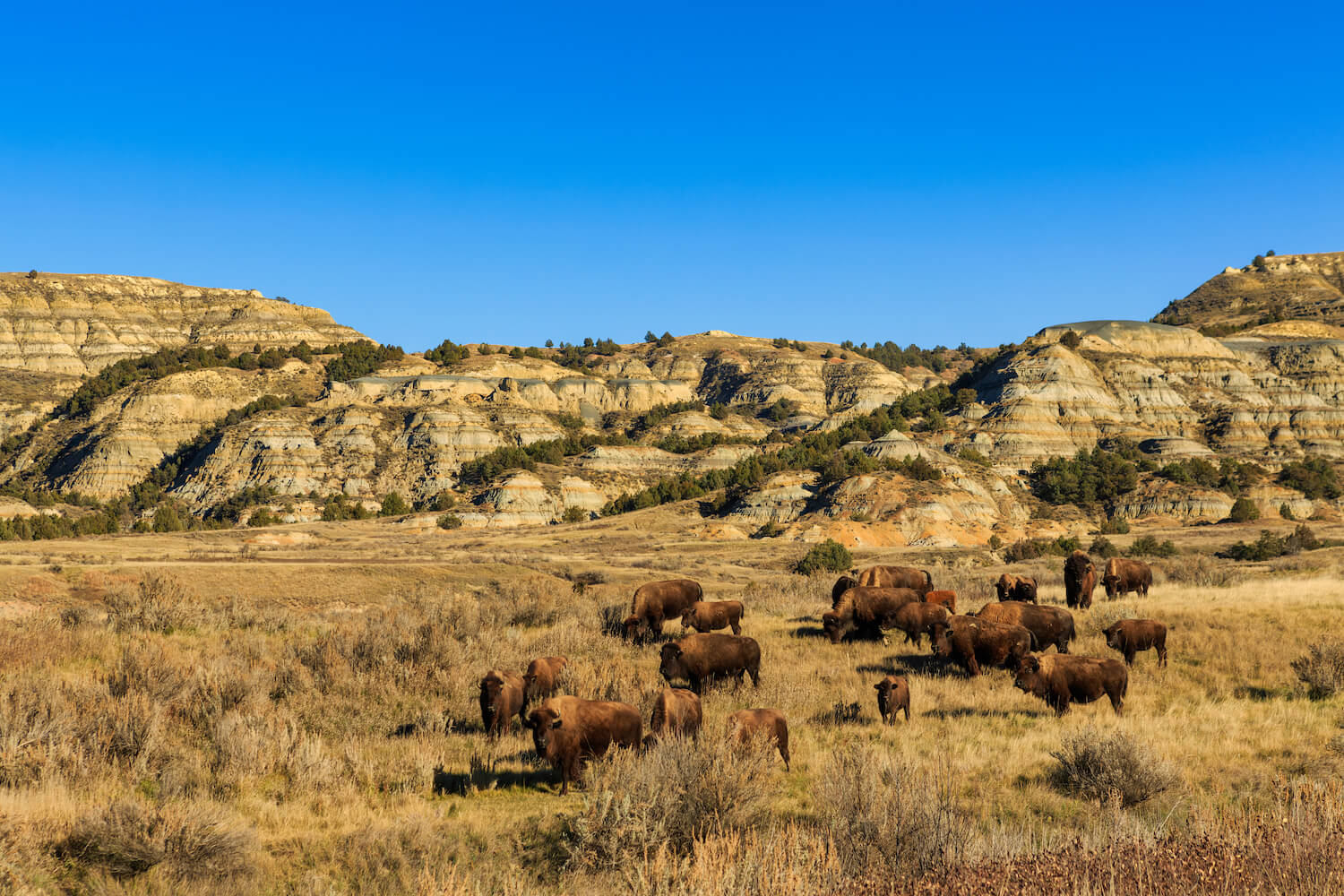 Most visitors head to the South Unit first, meaning the North Unit offers more solitude if that's what you're looking for. The 28-mile out-and-back scenic drive is a great introduction, with the unit's most outstanding view located about halfway through at River Bend Overlook.
The road is mostly paved and accessible to RVs and passenger vehicles, but there is one small gravel section. You can access plenty of nature trails along the route, and bison can be seen throughout the daylight hours.
Elkhorn Ranch Unit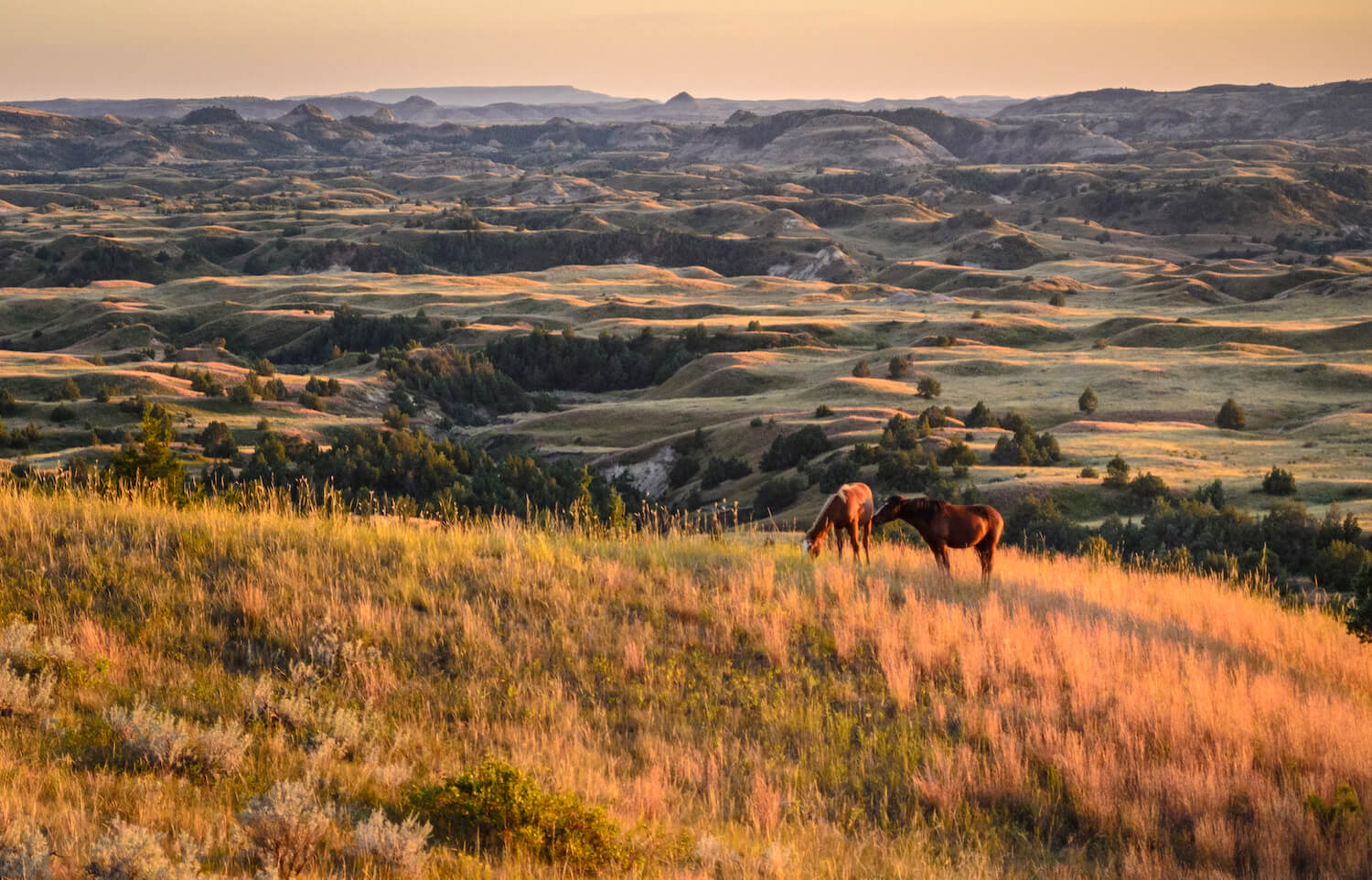 President Roosevelt chose this land to be his personal ranch after the passing of his mother and wife. As such, there's a solemn feel to the area, and there are no visitor services or park facilities in the Elkhorn Ranch Unit.
The only way to access the ranch in the old days was on horseback, but you can now drive along a road. However, the final three miles require a 4×4 vehicle with high ground clearance. Keep in mind, the route can become impassable during the winter and after heavy thunderstorms.
Things To Do in Theodore Roosevelt National Park
Outdoor recreation opportunities are abundant in this park. Here are some of our favorites:
Hiking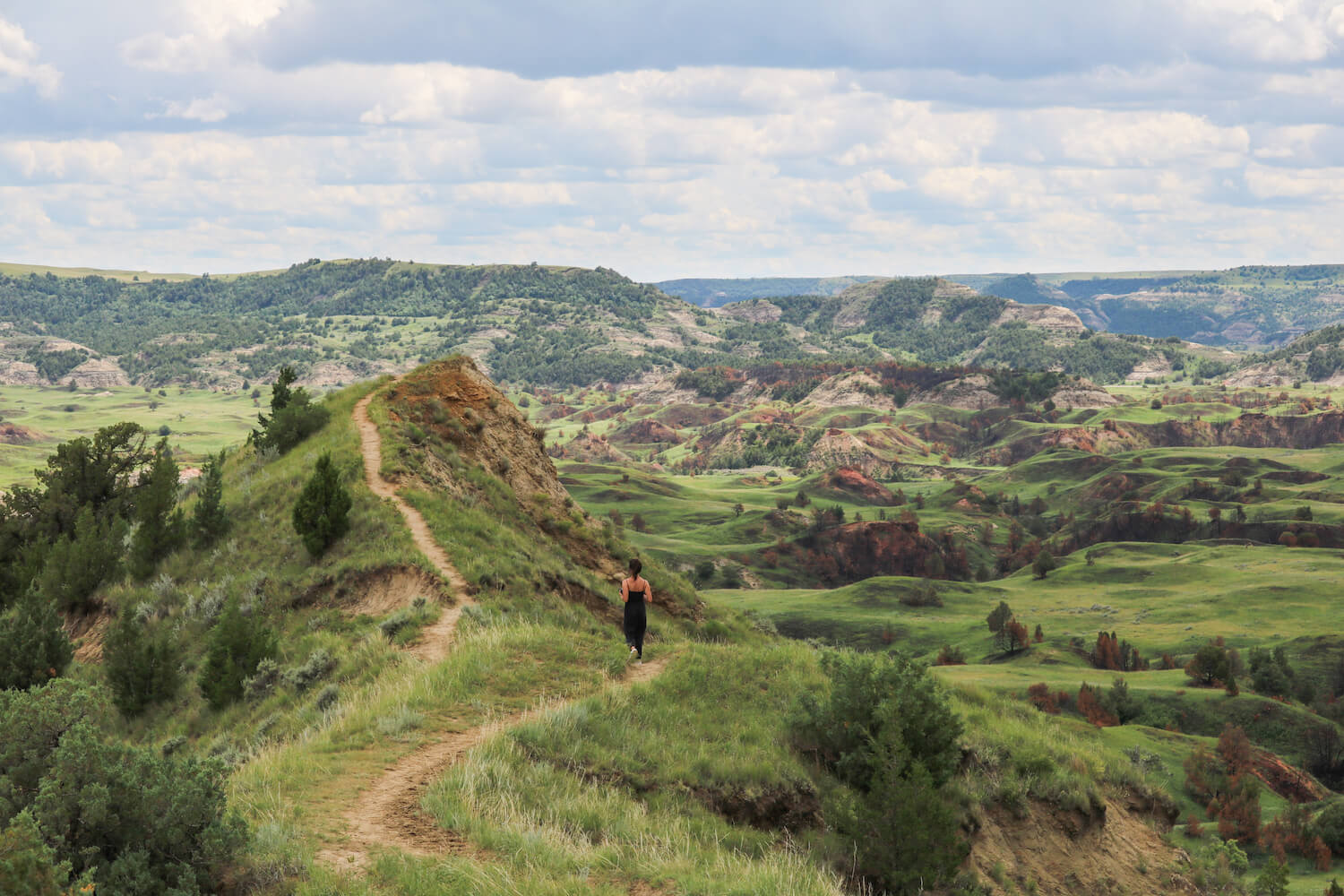 June and July are the best time to hike in the park to enjoy the seasonal wildflower blooms. Some wildflowers—like asters, sunflowers, and rabbitbrush—don't bloom until August and September, and the cottonwood leaves are the last to change in late September.
Here are a few hikes of various difficulties you can explore:
Ridgeline Trail: A moderate 0.6-mile nature trail through the badlands environment.
Coal Vein Trail: Choose your own adventure by tackling the 0.6-mile inner loop or 0.8-mile outer loop and learn about ecology and geology along the way.
Maah Daah Hey: The full length of this trail stretches 96 miles and connects all three park units. The most accessible 14.2-mile section is in the park's south unit.
Prairie Dog Town via the Buckhorn Trail: Cross the Little Missouri River to explore one of the park's largest prairie dog towns. Easily connect this to sections of the Maah Daah Hey and Buckhorn trails for a longer loop hike.
Road Cycling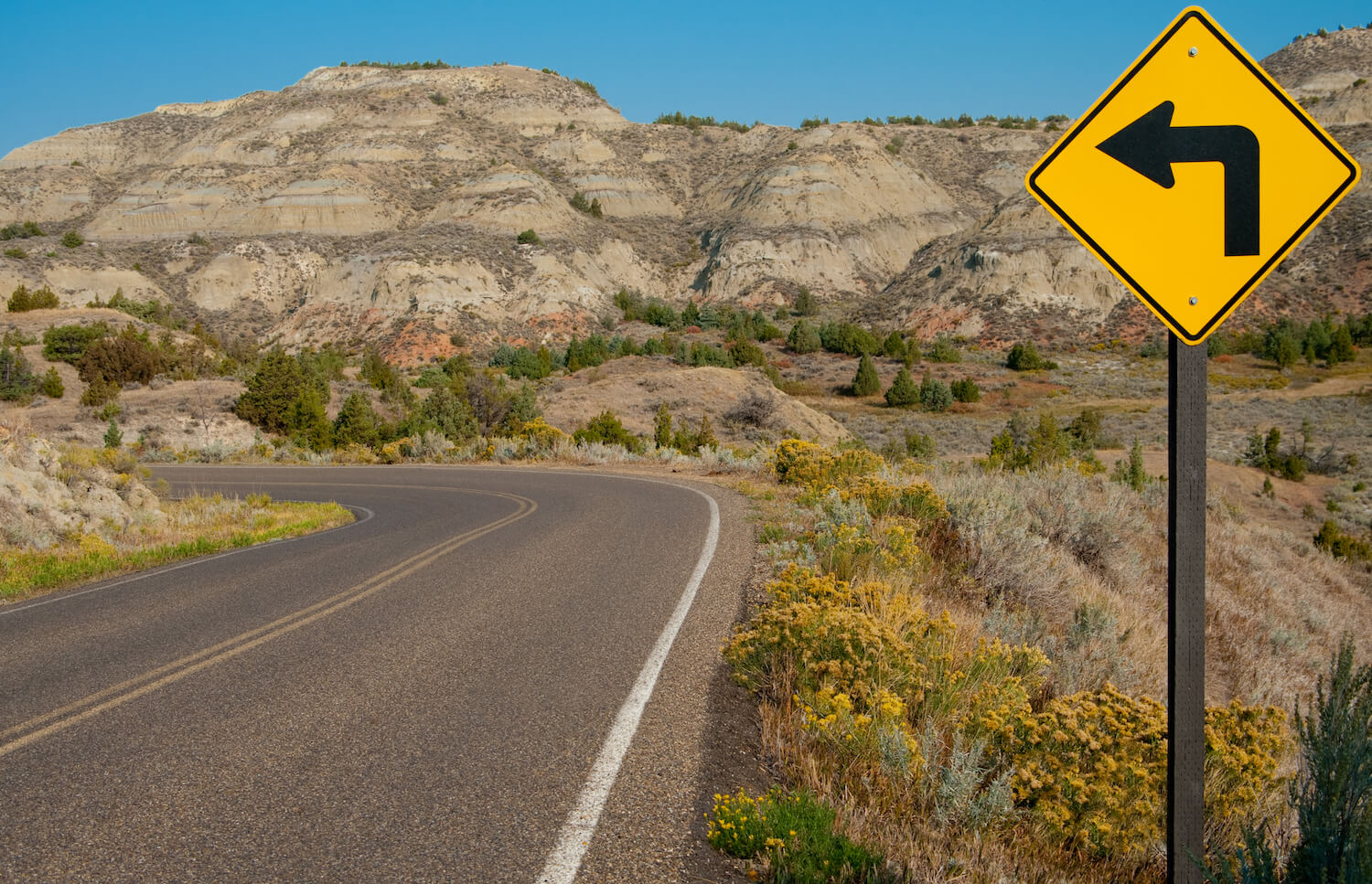 Road biking is one of the coolest ways to experience the park's geologic formations and get some exercise while doing so. All the roads are open to cyclists, but bikes must remain on paved or dirt roads at all times.
Remember that you'll share the road with RVs and other vehicles. The roads can be fairly narrow with a minimal shoulder. June through September is the most heavily trafficked time of year, so you'll need to keep a vigilant eye on other vehicles and wildlife while riding.
Canoeing and Kayaking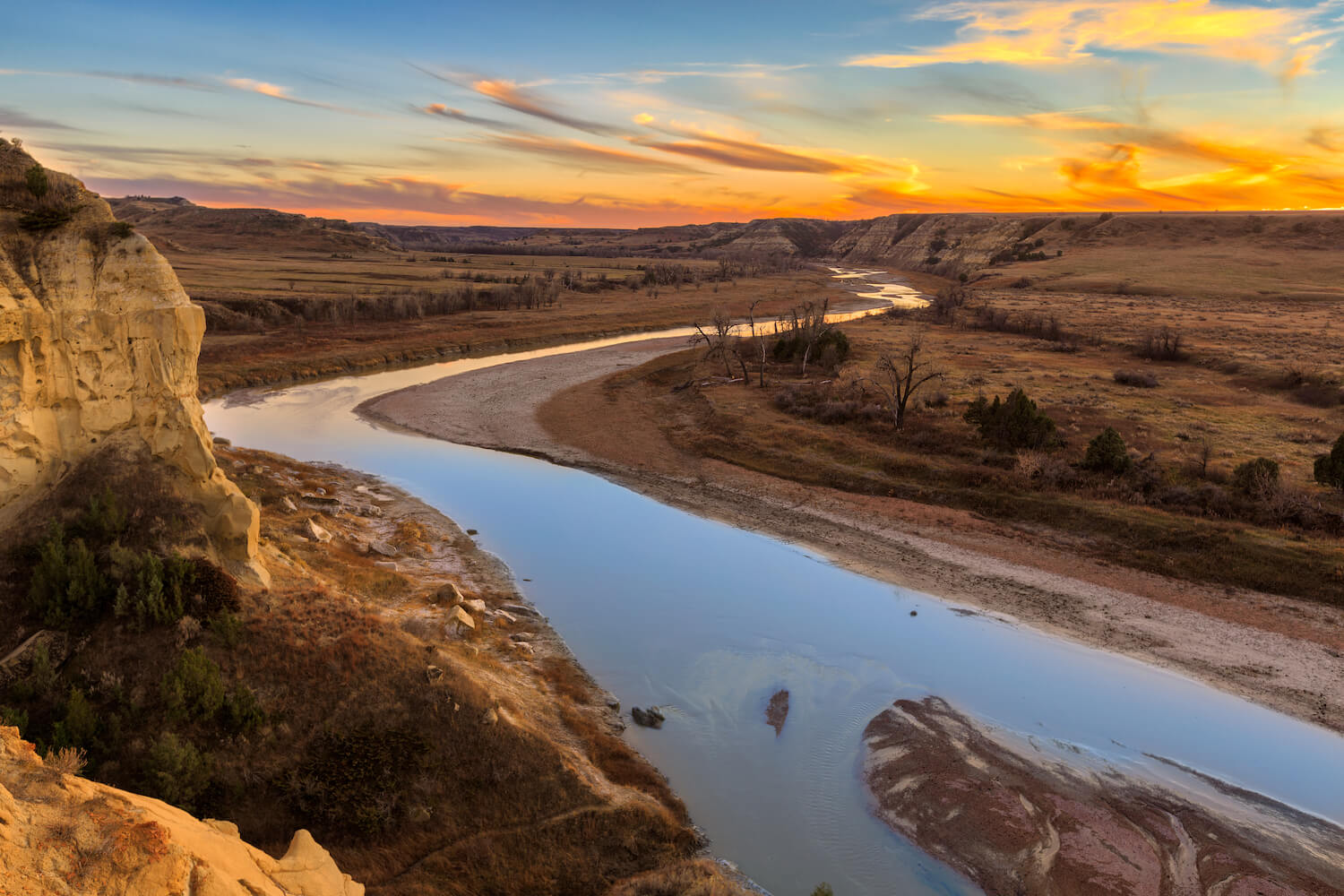 The Little Missouri River presents opportunities to see the park from a different perspective. Float trips via canoe or kayak require a minimum river depth of 2.5 feet, but a depth of 3.5 feet makes for better boating conditions.
There are two and five-day itineraries along the river when it's high enough for paddling, and trips can start when river ice breaks up (usually in early April). May and June are usually the ideal months for canoeing or kayaking in this national park.
Guided Tours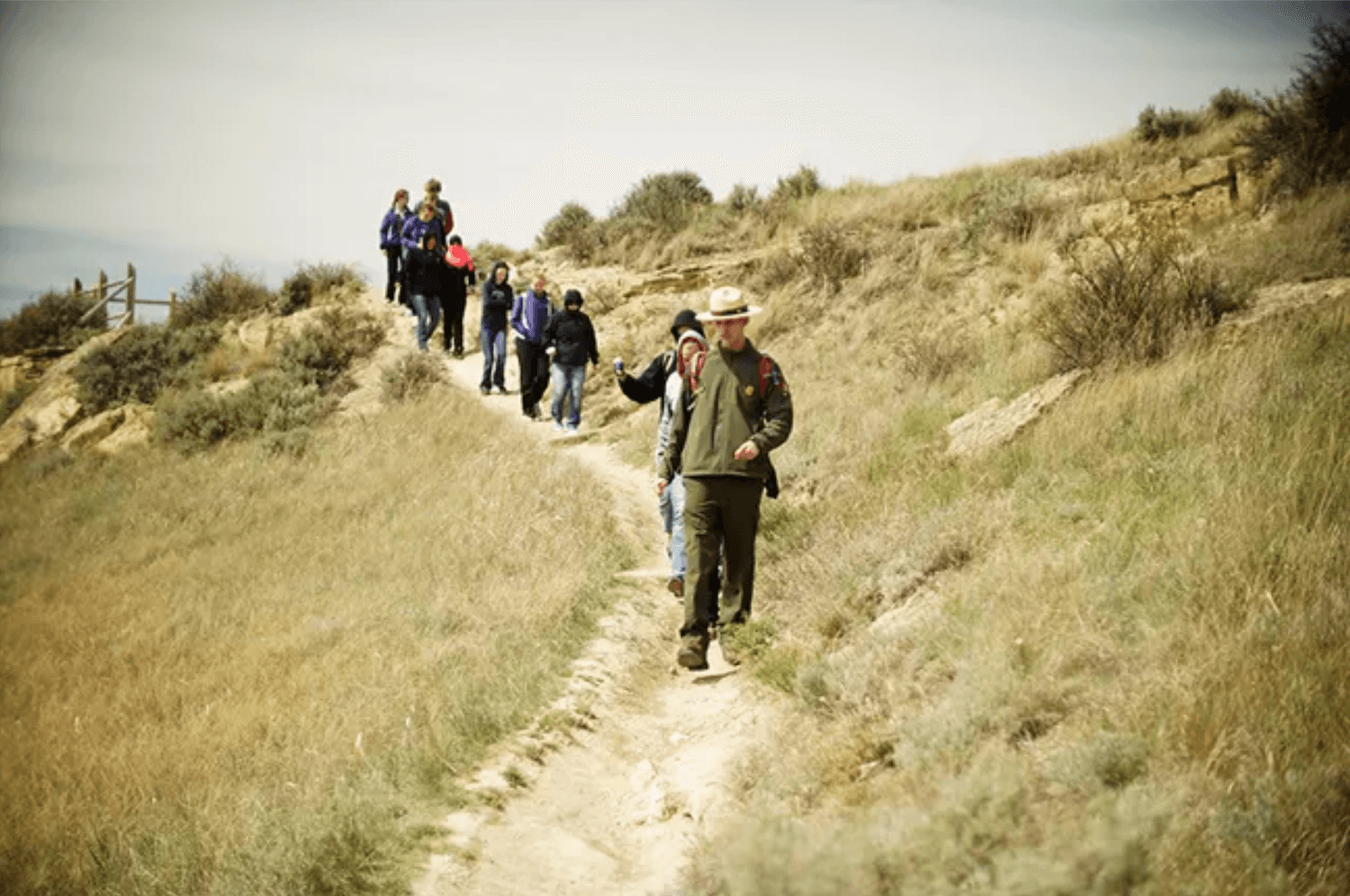 The National Park Service offers various ranger-led tours during the busier seasons. These include tours of President Roosevelt's Maltese Cross Cabin, guided hikes, evening programs, and daytime ranger talks.
See a full selection of tours, dates, and accessibility on the NPS website.
The Dakota Nights Astronomy Festival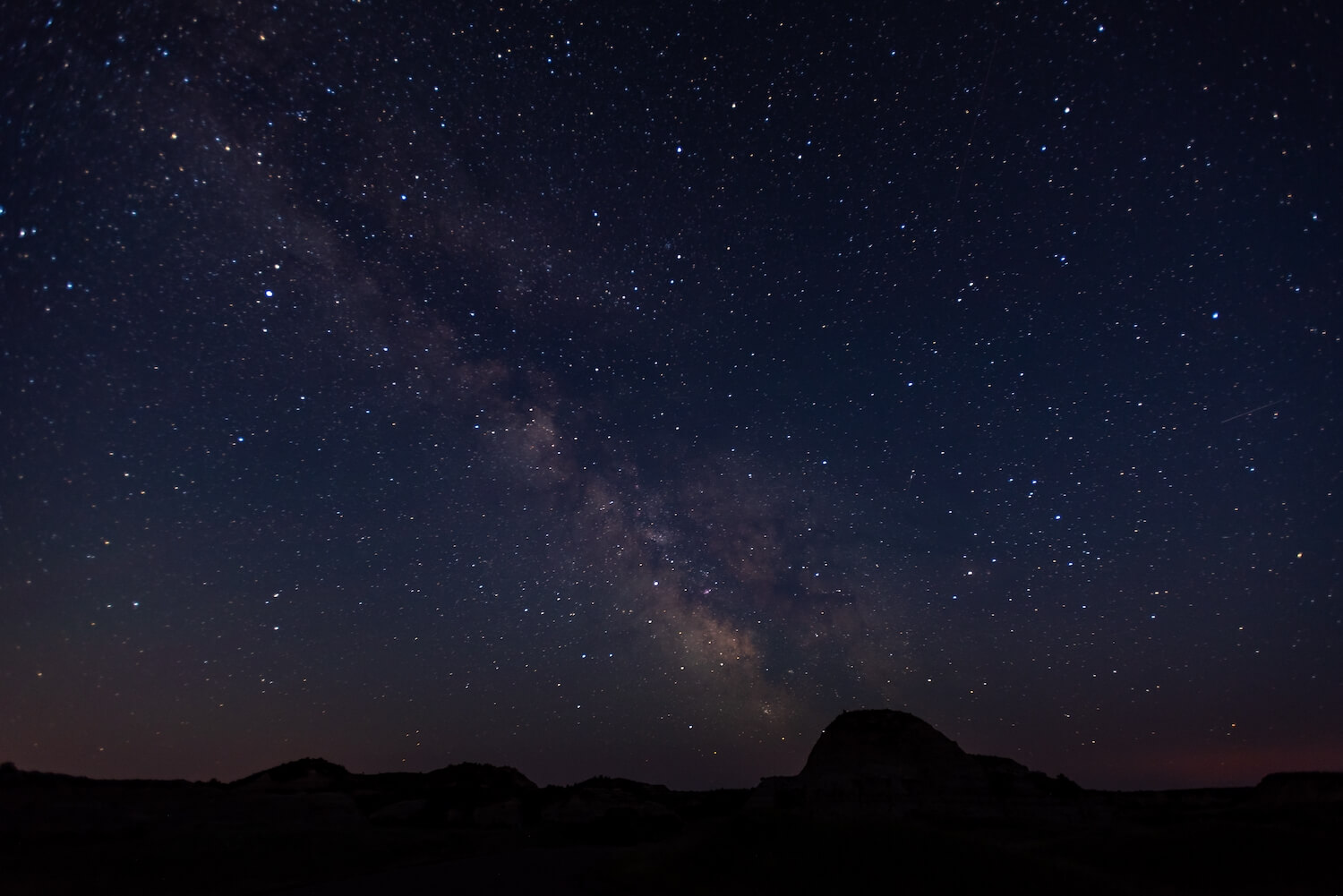 This annual astronomy festival is one of the most popular events in one of the best national parks for stargazing. It typically occurs in September of each year and includes events during the day and after sundown.
The festival packs a lot of fun into a long weekend, with nightly telescope viewing at Peaceful Valley Ranch, stories of sky science, talks on mythology, keynote presentations, and much more.
What to Bring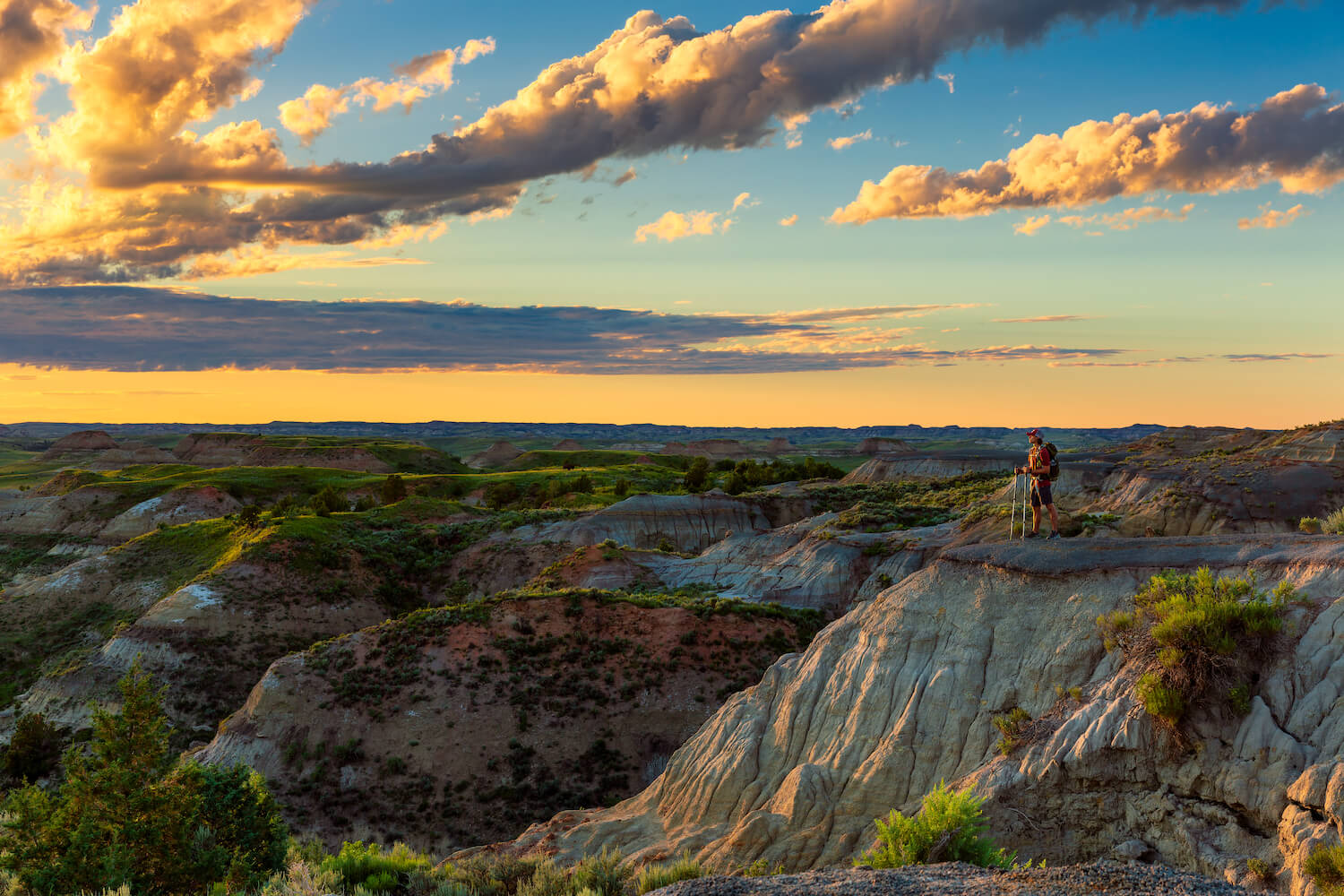 Use these tips to maximize your time in Theodore Roosevelt National Park:
No food, gas, lodging, or other visitor services are available in the park. Stock up your camping cooler or RV refrigerator in Medora or Watford City if camping inside the park.
Carry extra water to stay hydrated or use for dishwashing, as there are no hookups.
The park's animals are unpredictable. View them from a safe distance, and remember – bison always have the right of way!
Leashed pets are welcome in the following areas: roads, road shoulders, sidewalks, campgrounds, picnic areas, and parking areas.
Because there are no electrical hookups, consider bringing a portable generator or portable power station.
Breathable, long-sleeved performance shirts and hiking pants are recommended for hiking in late spring and early summer to minimize exposure to poison ivy and ticks.
Brief History of Theodore Roosevelt National Park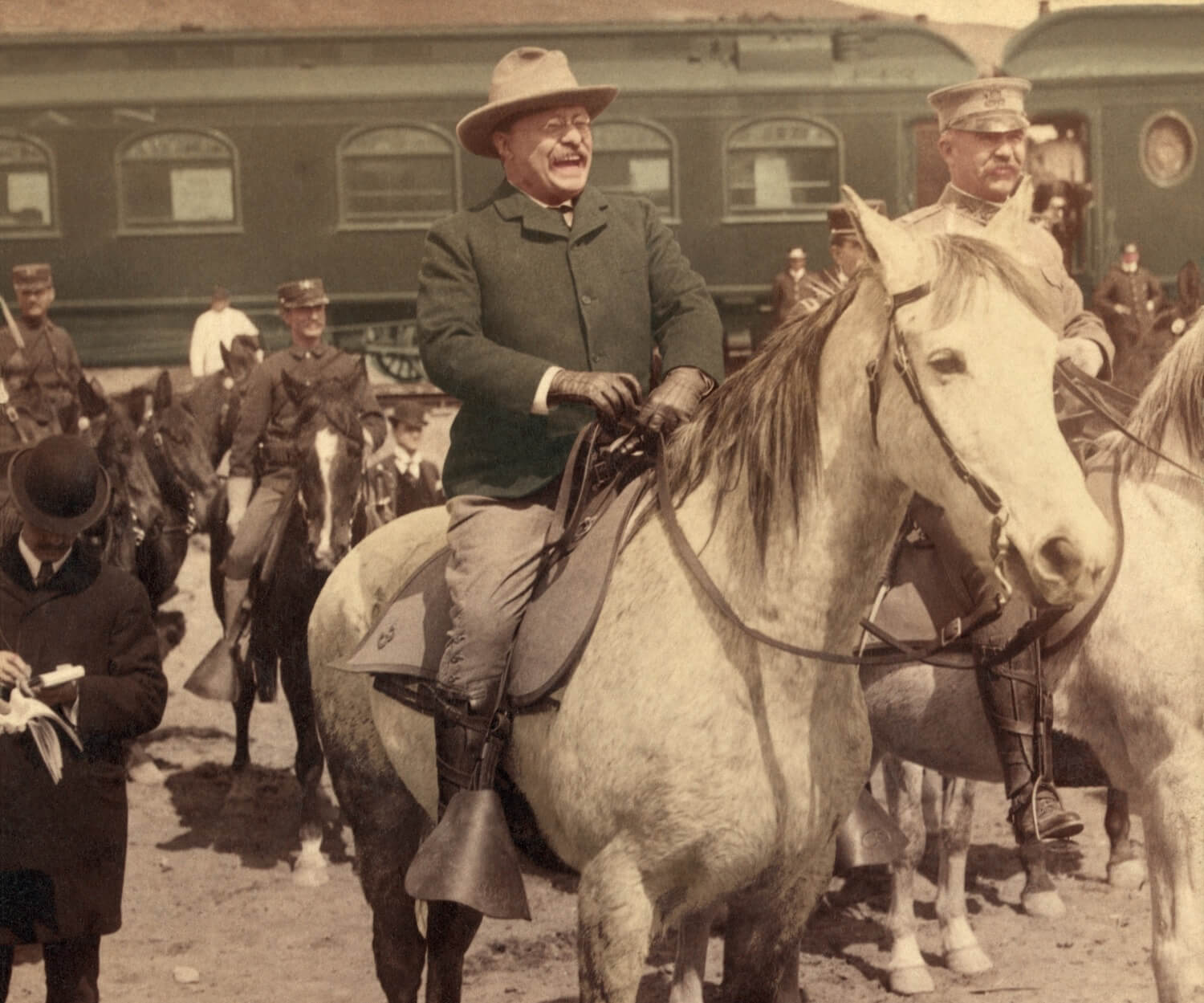 Theodore Roosevelt first visited this region in 1883 with the goal of hunting bison. At the time, he was a young man hailing from New York, but his experiences in the Dakota territory would have a lasting impact on his life and career. The hunt was a successful one, but more importantly the future president fell in love with the landscapes that he found there. So much so that he soon bought the Maltese Cross Ranch, located not far from Medora.
The region is remote and rugged, and the lifestyle Roosevelt experienced was strenuous. But he returned with a newfound respect and ideas that would shape his conservation policies for years to come. Once he became president in 1901, those policies included the establishment of five national parks, 150 national forests, 51 federal bird reserves, 18 national monuments, and four national game preserves.
However, his work didn't include designating a national park and naming it after himself. Theodore Roosevelt National Park was created by President Truman in April of 1947 and protects the legacy of President Roosevelt and the land that taught him the importance of conservation.
---
Plan your next trip to the national parks in an RV. Rent an RV, trade-in your RV, or buy an RV and start traveling for less than $5 a day.
Have you taken your RV to Theodore Roosevelt National Park? Share your tips in the comments below.