Towering cliffs in shades of cream and rust, deep slot canyons, depictions of the tribes that called this land home, and overlooks that make you feel like you're one with the angels, Zion National Park is one of the Utah Five and provides adventurers a chance to experience the beauty of the high desert.
Spanning a little over 200 square miles, Zion National Park is one of the smaller parks on the list, but that doesn't stop it from having some of the most diverse landscapes and a bounty of activities for explorers of all ages and abilities. It's no surprise that Utah's first national park has become more popular recently, pulling in around five million annual visitors.
Why Visit Zion National Park in an RV?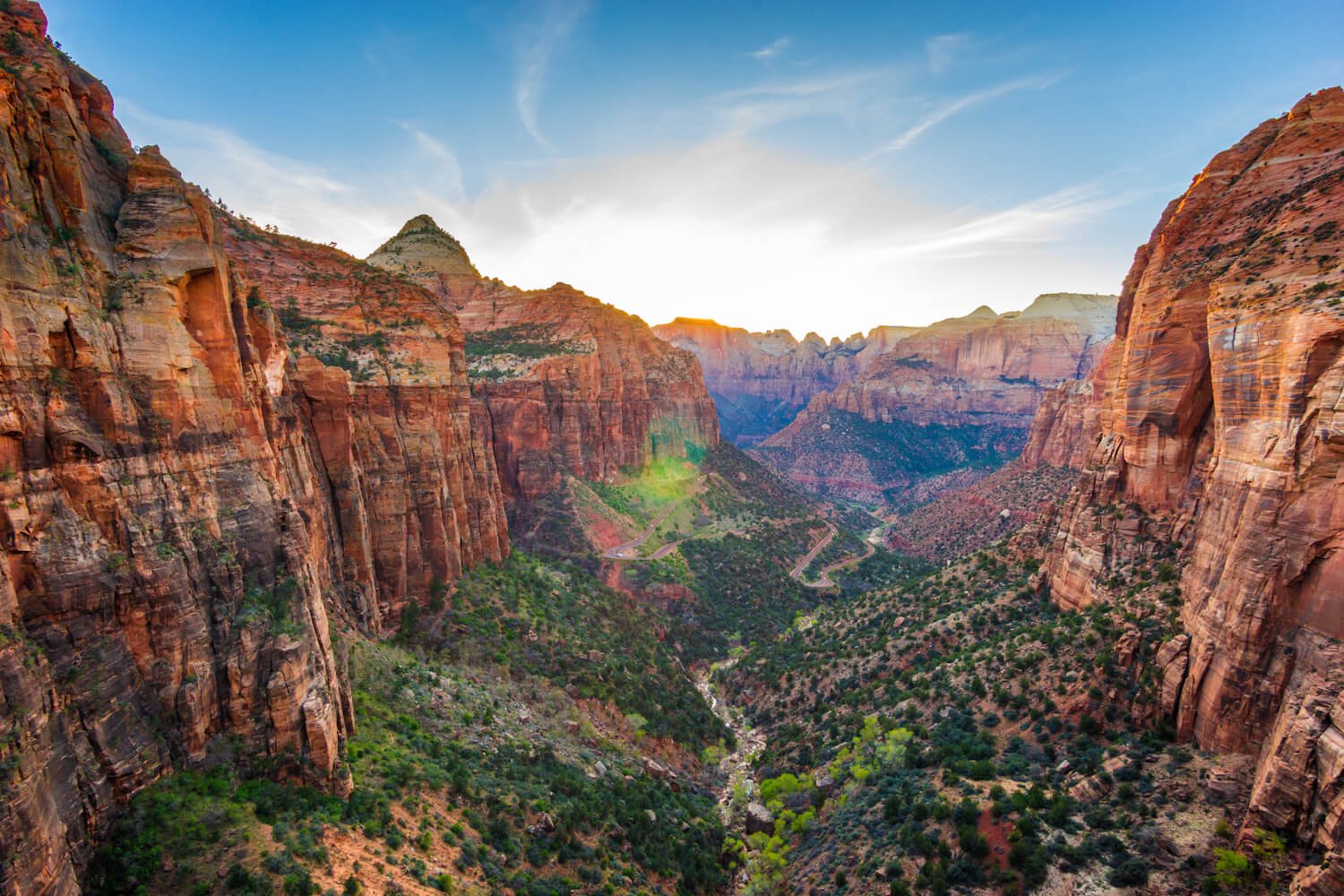 RVing to Zion National Park offers a few key benefits. Its proximity to Utah's other national parks makes it perfect for an adventurous road trip. Easily take the comforts of home with you as you RV through Zion, Canyonlands, Bryce Canyon, Arches, and Capitol Reef national parks. Bonus points if you travel down to Arizona for Grand Canyon National Park.
And it's not just national parks you can hit nearby. Zion is also close to popular monuments and state parks like Coral Pink Sand Dunes, Antelope Canyon, Grand Staircase-Escalante, Monument Valley, Horseshoe Bend, and the Vermillion Cliffs.
Ready to go deep in the Narrows or take on the heights of Angels Landing? Then gear up and get ready for breathtaking views. Due to its popularity and accessibility, there are a few things you need to know before you venture into Zion National Park.
When to Visit Zion National Park
Zion National Park offers adventures for all seasons and welcomes visitors to most areas of the park year-round. If you are looking for a typical southwestern experience, the summer months offer average daily highs in the 80s and 90s but can sometimes reach triple digits.
Want a unique experience with the red rocks dusted with fresh snow? Winter temperatures typically reach no higher than the 50s during the day and dip into the 20s at night. But temperatures and conditions also fluctuate dramatically with elevation, so here's what you need to know about each season.
Zion National Park in the Spring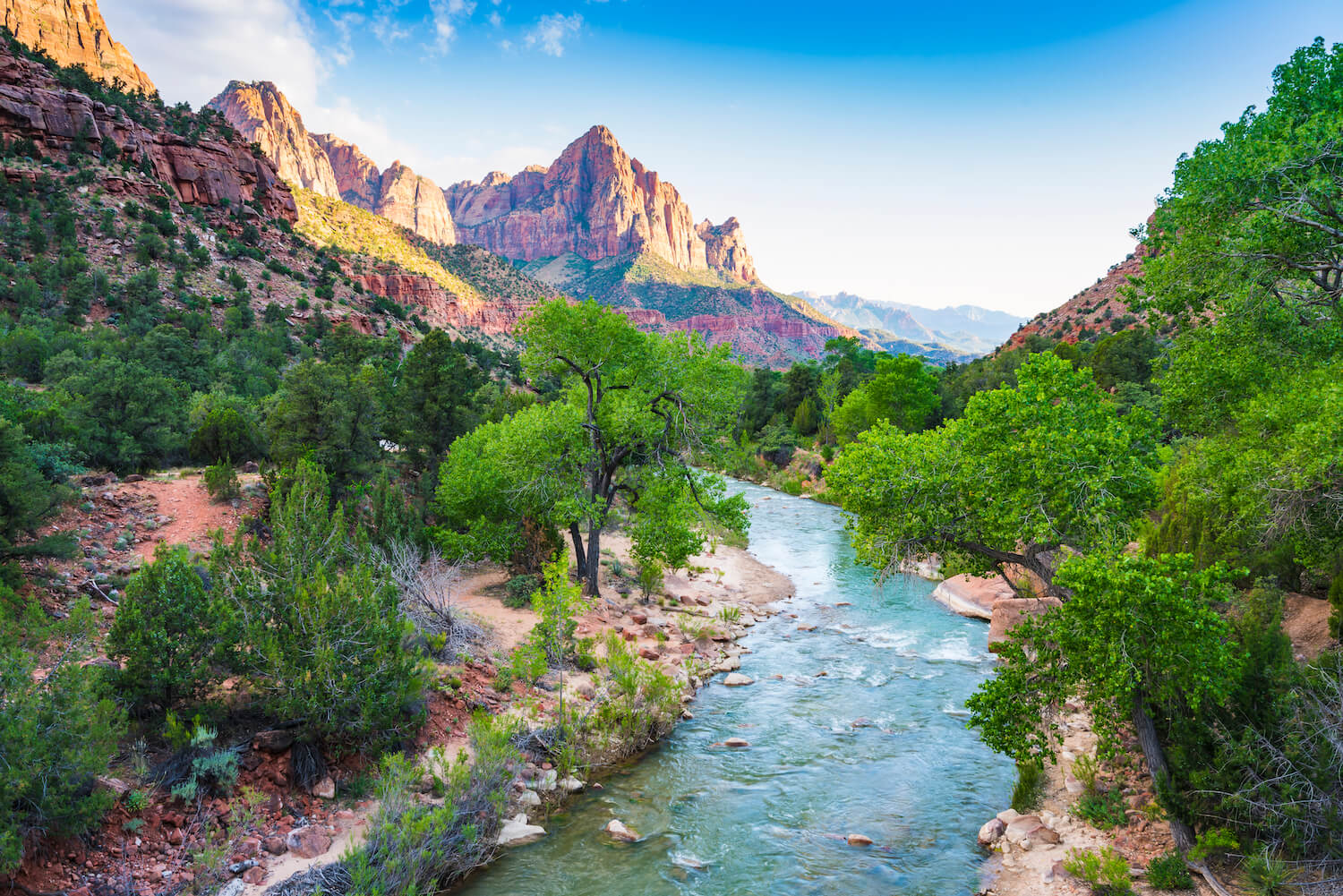 Spring months in Zion bring mild to chilly temperatures but fewer crowds and the benefit of wildflower blooms during the later spring months. Temperatures in The Narrows may be too cold, with much of the hike being in the Virgin River, but there are still plenty of things to experience in other parts of the park.
Remember that the park shuttle will ramp up during this time, closing access to Zion Canyon Scenic drive, so be sure to plan ahead.
Zion National Park in the Summer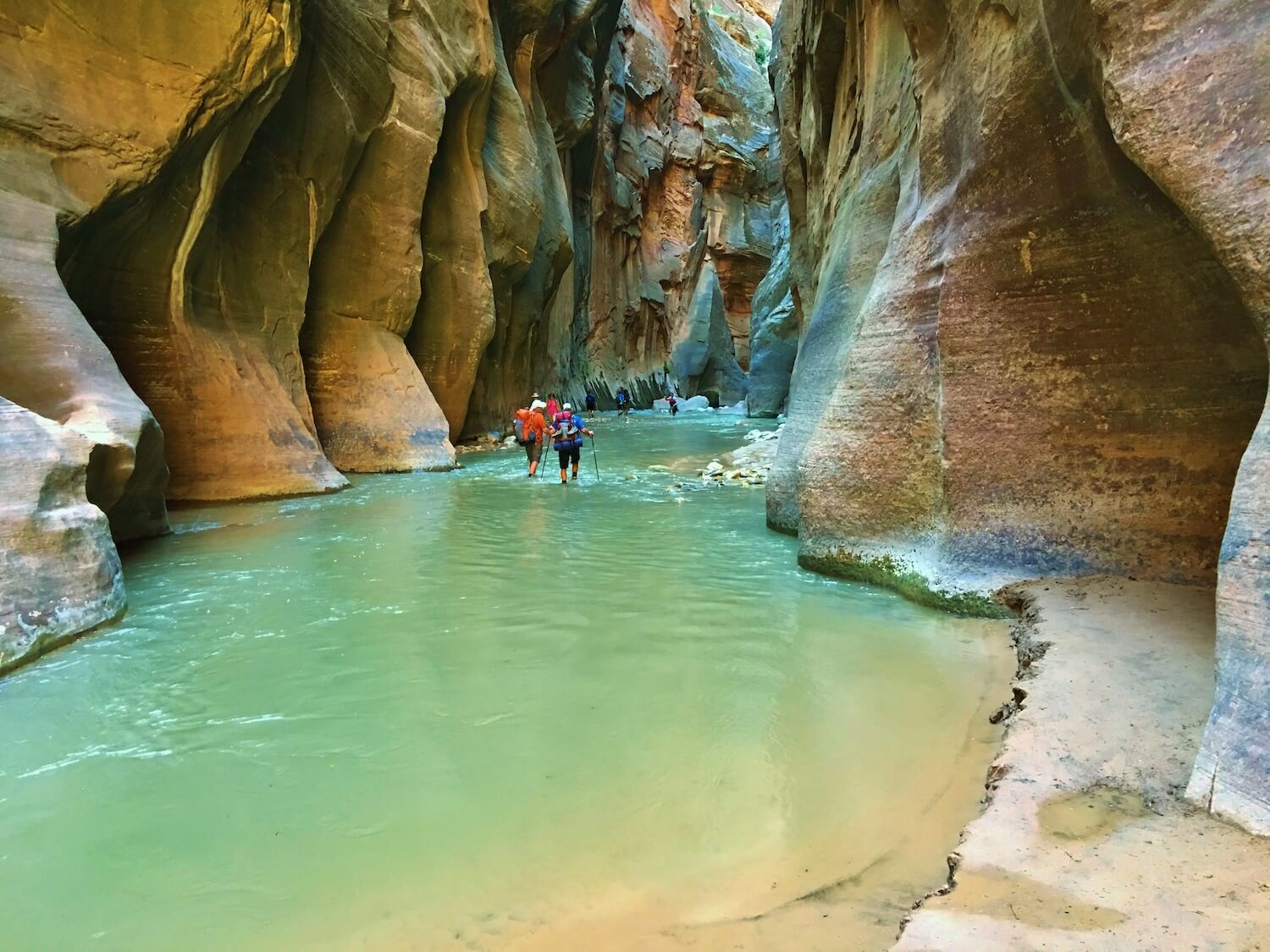 By far the most popular time to visit Zion National Park, summer brings great temperatures for hikes and big crowds. So, if you want to have the park more to yourself, we recommend visiting in spring or fall. The summer months also bring with them monsoon season. These storms typically pop up in the late afternoon, and preparation for them is a must.
Zion National Park in the Fall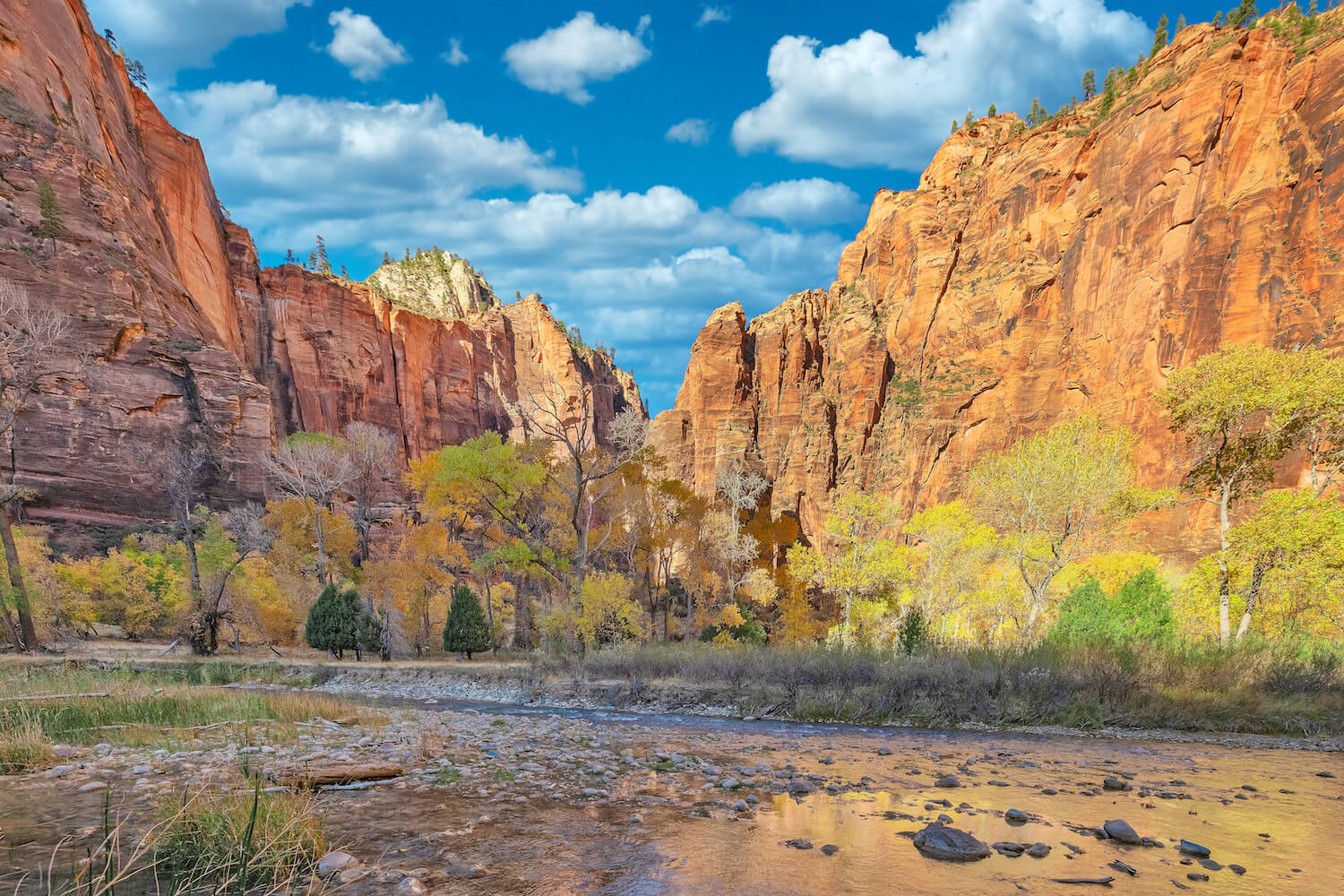 Fall in Zion National Park brings back the mild temperatures of spring and is another ideal time to visit if you are looking for fewer crowds. The shuttle runs through November, so you'll need to plan ahead for destinations within Zion Canyon. You'll get the opportunity to see fall foliage against the signature Ponderosa pines of the southwest.
Zion National Park in the Winter
Winter in the park brings the colder temperatures of the high desert and the possibility of snow. The bonus of visiting during winter is that you'll be able to navigate the Zion Canyon Scenic drive in your own vehicle, as it's the only season where the shuttle isn't running except on holiday weekends.
Where to Stay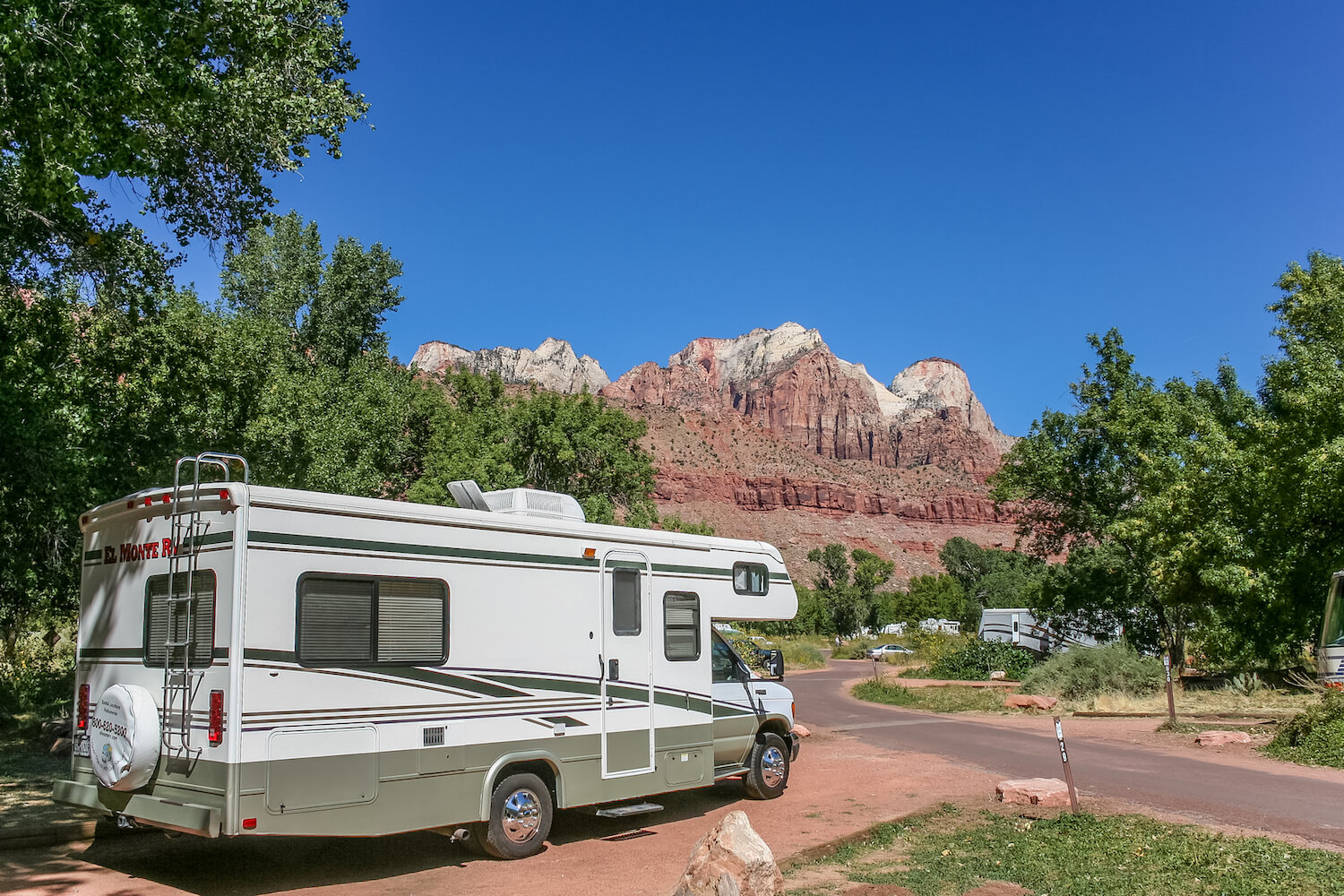 Zion National Park has only three campgrounds inside park grounds, with two being friendly to RVs up to 40 feet in length. If you have a Class B RV that's 19 feet or shorter, you can access the Lava Point Campground, which only has six available camping spots and must be booked no less than two weeks in advance.
If you're looking to stay in the park, here are the two best options:
Operational from March through October
½-mile from the south entrance
117 total sites
No hookups
Sites include a picnic table and fire ring
Check out the Campground Map
Operational year-round
¼-mile from the south entrance
95 RV sites with electric hookups
Access to a dump station
Check out the Campground Map
Staying Outside the Park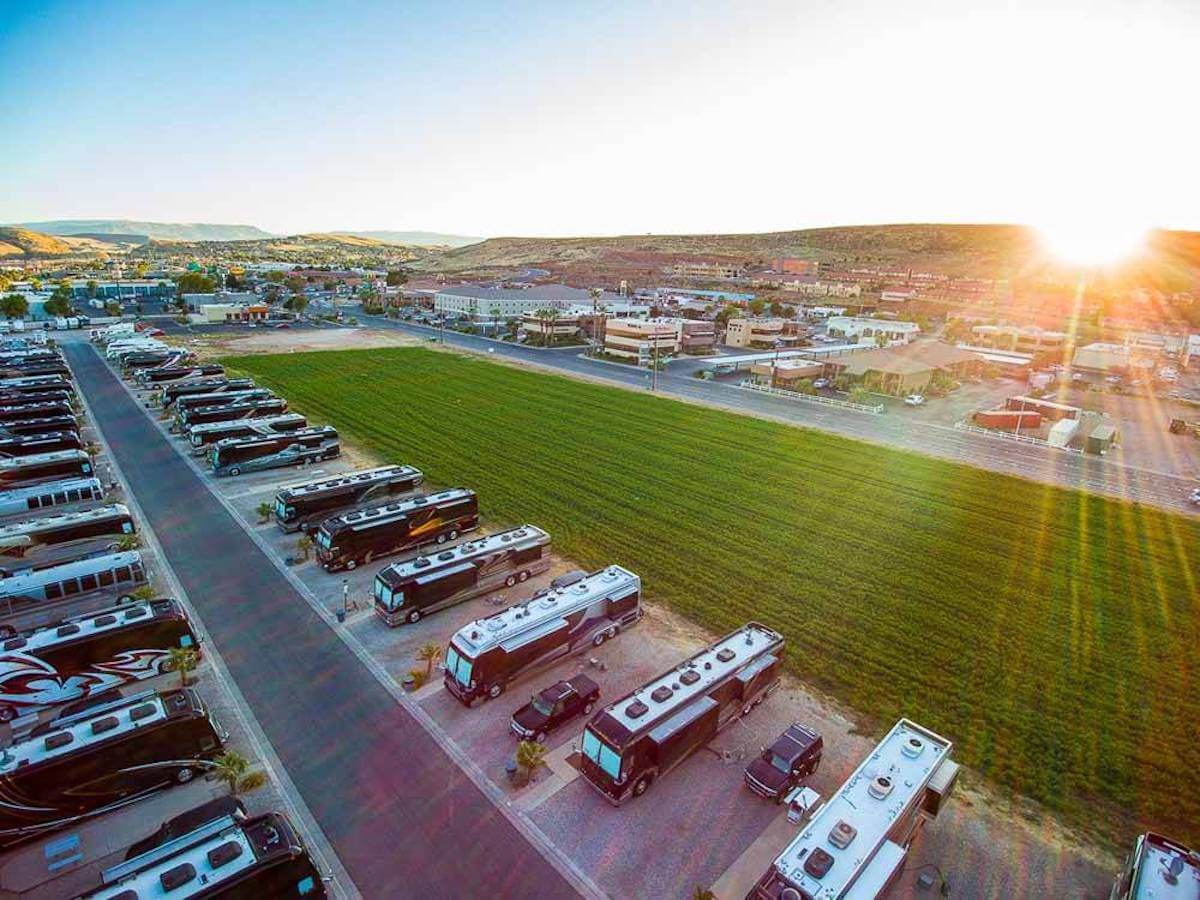 If you can't find a campsite in the park, here are a few campgrounds within an hour's drive:
Invest in a Good Sam Membership and save 10% on nightly stays at Good Sam Campgrounds.
Tips for your Camping Stay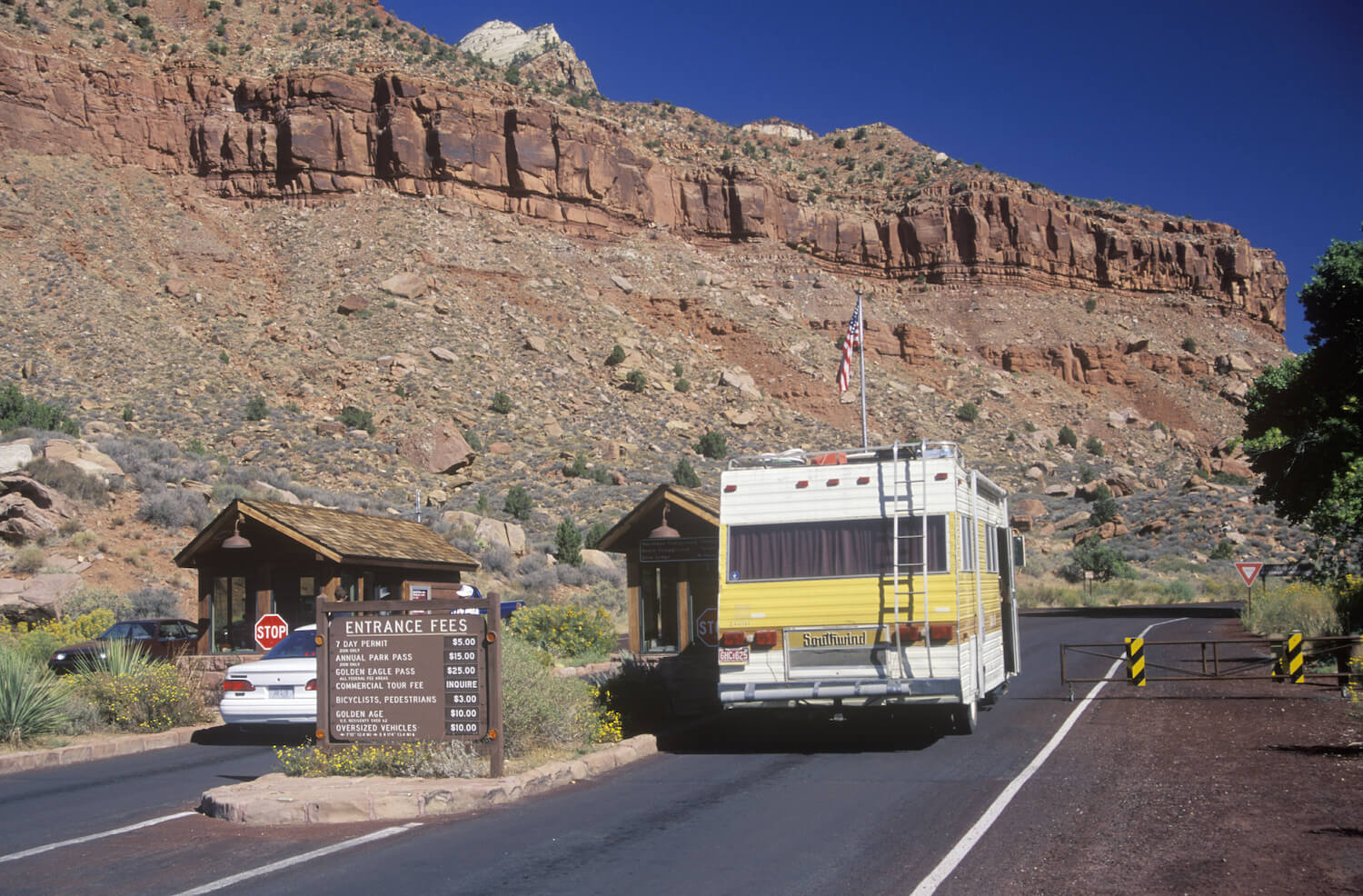 Whether you choose a developed campground inside the park or nearby, these tips will help you enjoy your time in southern Utah:
Reservations for the park's campgrounds can be made up to six months in advance through Recreation.gov.
Here are the reservation links:
Camping is not permitted in any pullouts or parking lots in the park.
There are few trees in the campgrounds to provide shade. Ensure your RV awning is working, or bring an extra canopy shelter for relief from direct sunlight.
Feeding wildlife is prohibited, and all food must be stored in a rigid, lockable container.
Campground bathrooms include flush toilets, running water, and trash receptacles. They do not offer showers or electrical outlets. The nearest pay showers are in Springdale, accessible via car, shuttle, bicycle, or foot.
How to Get Around Zion National Park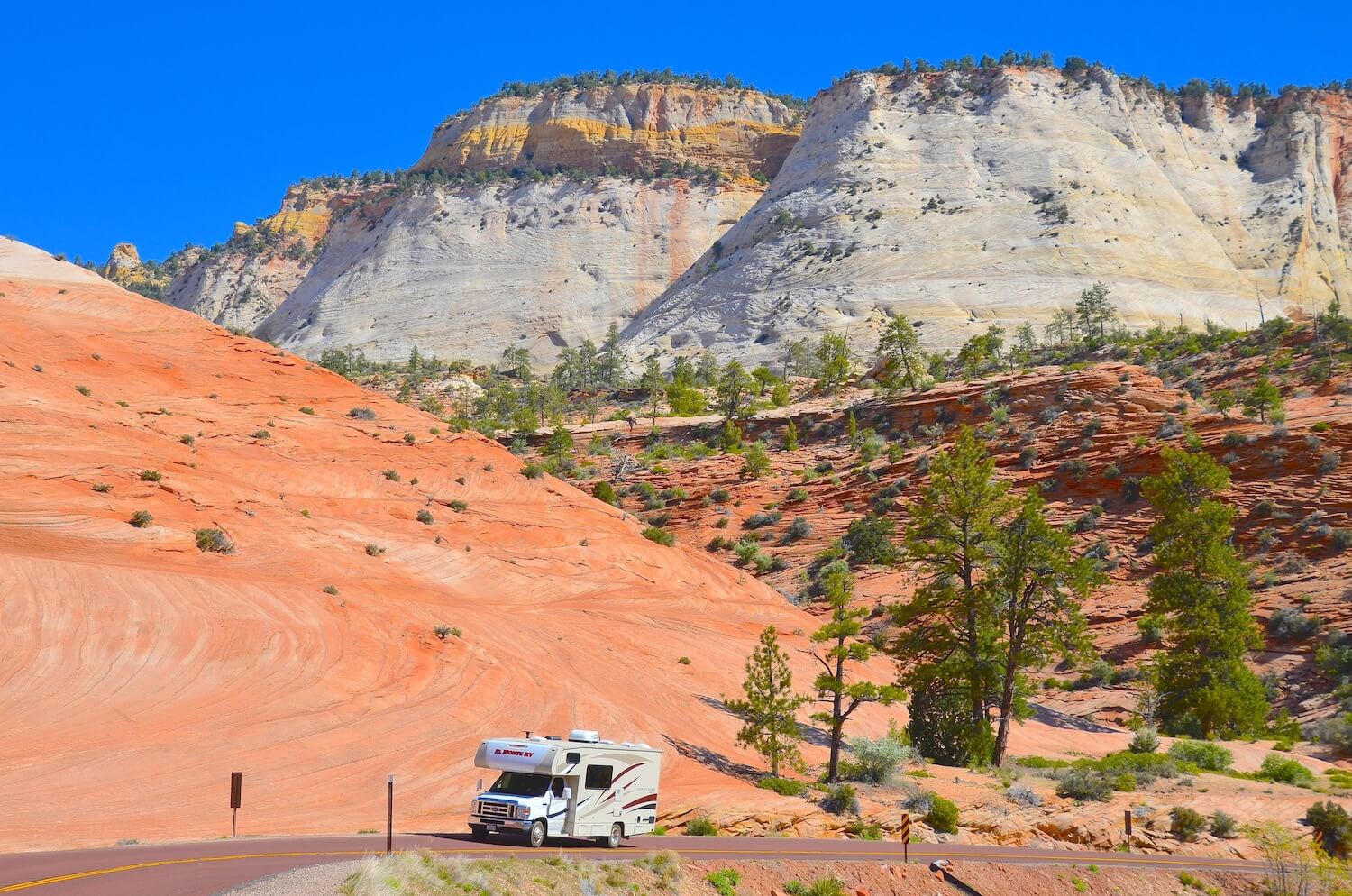 Zion National Park is located in the southwest portion of Utah near the Utah-Arizona border, making it fairly accessible from a few key locations.
Approximate driving times to the park from nearby cities:
From Las, Vegas, NV: Under three hours
From Phoenix, AZ: Under seven hours
From Salt Lake City, UT: Under five hours.
The main interstate that runs near the park is I-15, which takes you to Highway 9, where you can access the park. You can also get to Highway 9 by traveling on Highway 89 from parts of Utah and Arizona, depending on which side of the park you choose to enter.
Once you're inside the park, getting around will typically require taking the free shuttle. That includes if you'd like to explore the Zion Canyon Scenic Drive. Shuttle stops and times vary seasonally, so be sure to research Zion shuttles before your trip.
That said, Highway 9 does run through the park, allowing you to drive your vehicle and experience breathtaking views. Be advised that vehicles over 11'4″ tall and/or 7'10" wide require an escort or traffic control to pass through the Zion-Mount Carmel Tunnel.
Zion Canyon Shuttle System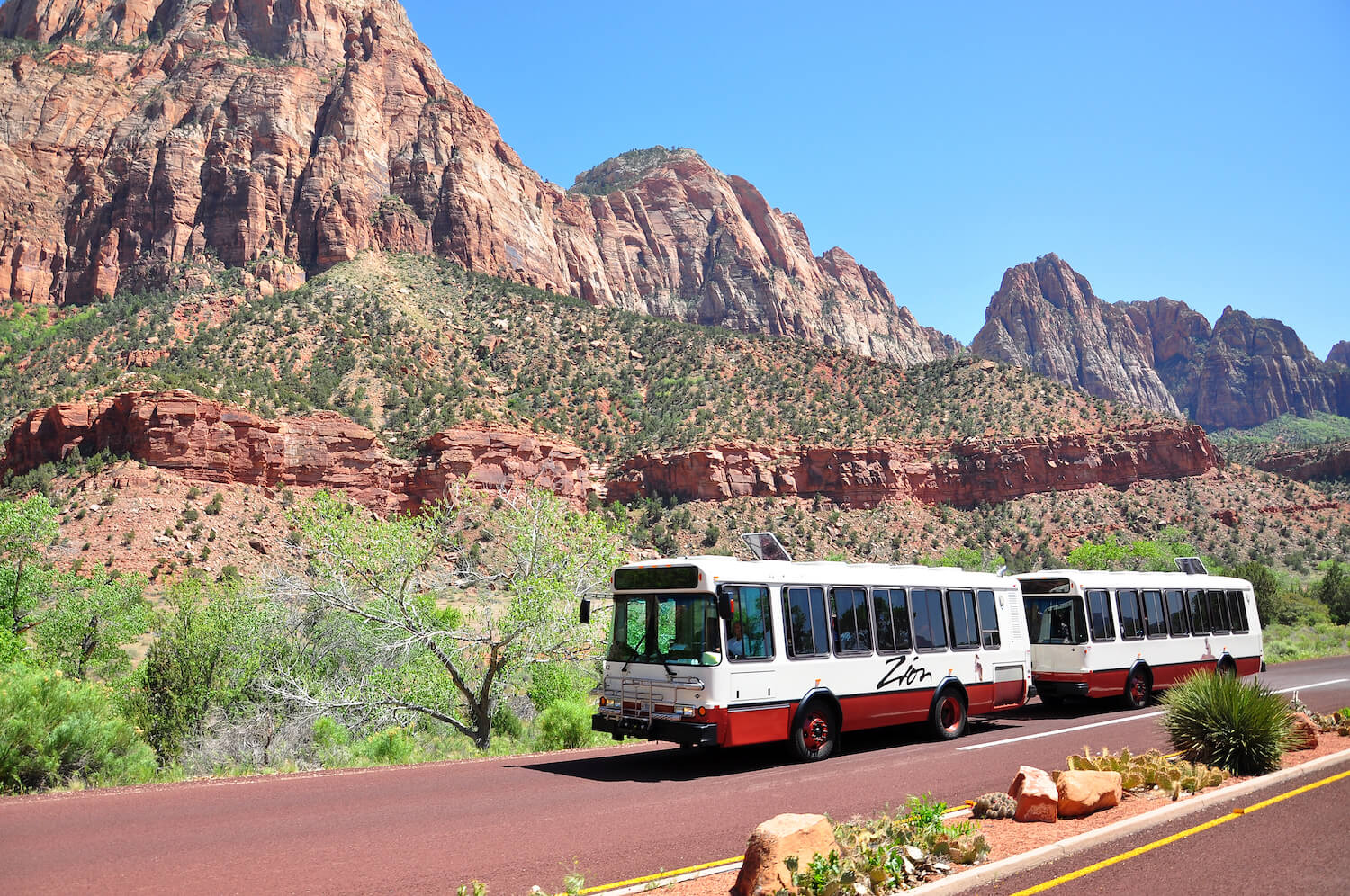 The Zion Shuttle System is free and does not require advance reservations. It typically runs from March to November, with weekend routes available in February or March and some holiday season availability.
The shuttle route proceeds from the Zion Canyon Visitor Center up to the Temple of Sinawava, and you can expect to ride for about 45 minutes to make it all the way to the top. Check the shuttle schedule to ensure you don't miss the last ride down, or you might be hiking back to your car.
Remember, you must take the shuttle to the respective trailhead if you are doing the Narrows or Angels Landing hikes. Though you don't need a permit to ride the bus, you will need to secure one for hiking Angels Landing.
Places to Go in Zion National Park
There's no shortage of stunning vantage points and unique landscapes in Zion National Park. Deep valleys, slot canyons, and soaring cliffs allow visitors to take in the natural wonder from whatever angle they please. But this national park camping guide wouldn't be complete without a few can't-miss destinations.
The Narrows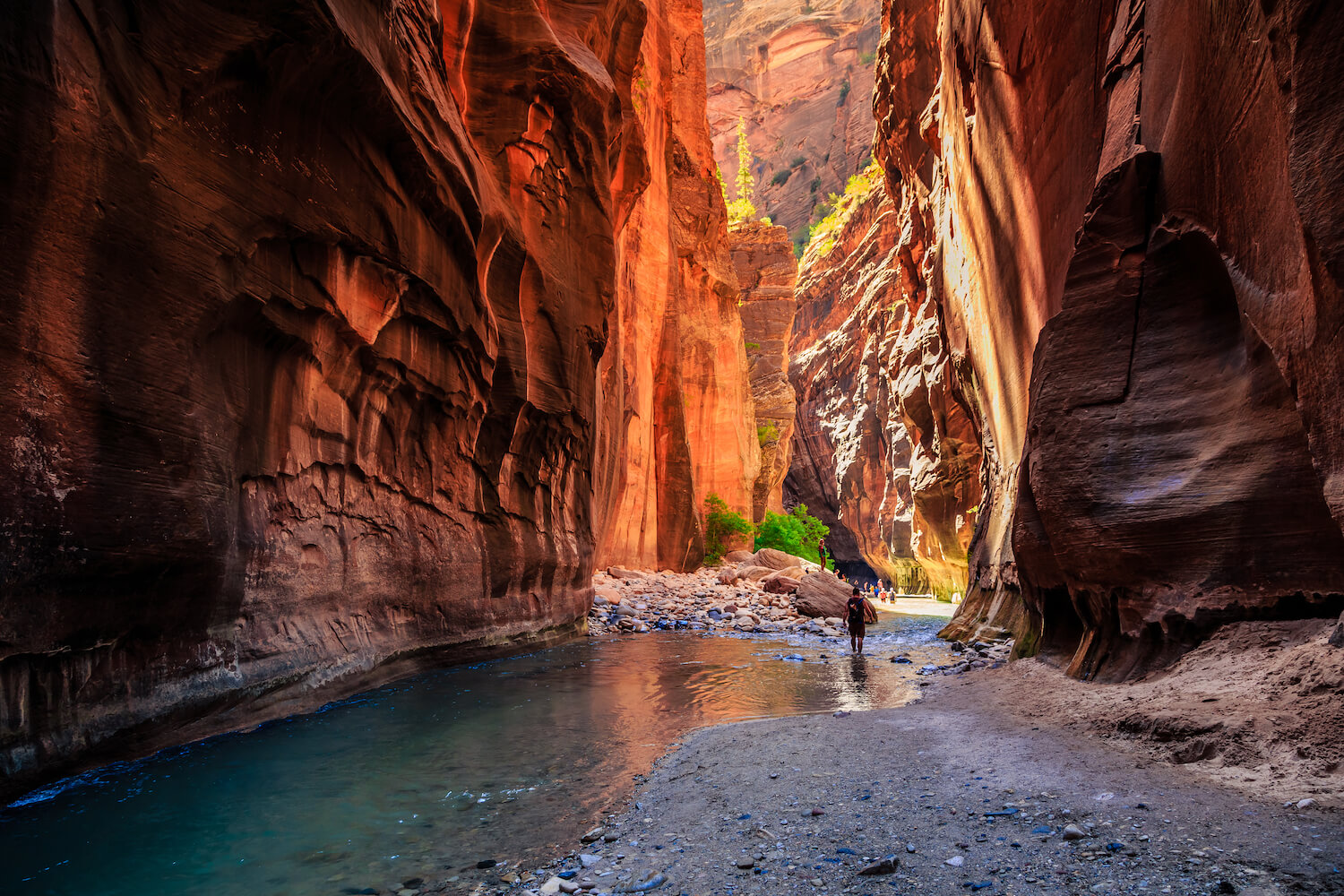 The Narrows is one of Zion's most iconic features. It's a deep gorge with cliffs towering over 1,000 feet above. You can take the wheelchair-accessible trail for one mile along the Virgin River for a short trip or continue into the river, wading through the waters for an all-day excursion.
Due to the nature of the slot canyon, you'll want to check the weather beforehand to ensure you have a safe adventure in and out of The Narrows. If rain is predicted, pass on this hike due to the risk of rapid flash flooding.
Angels Landing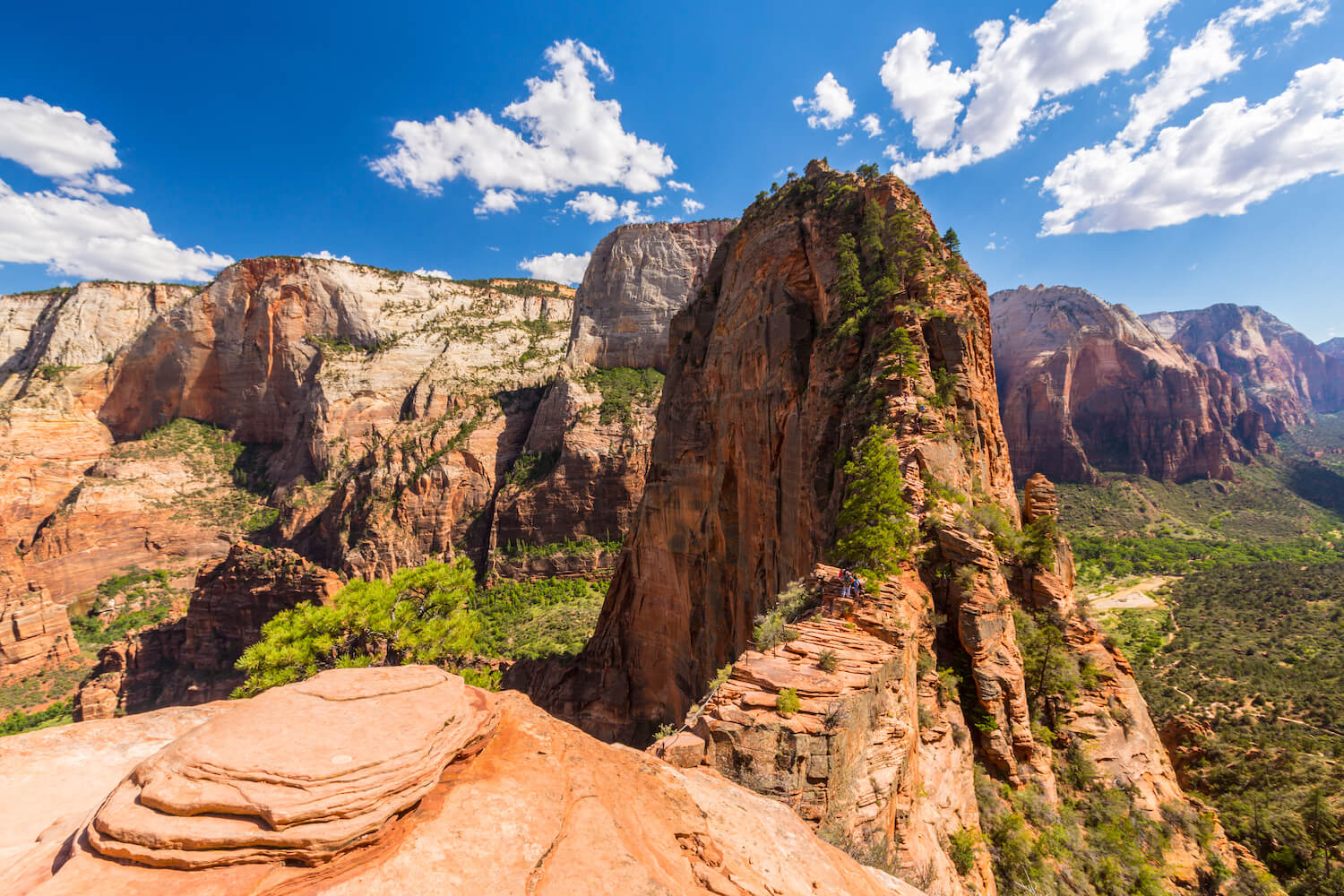 The other iconic landmark is Angels Landing, a narrow overlook that requires a strenuous hike that's not for the faint of heart. It's a 5.4-mile out-and-back trek with almost 1,500 feet of elevation gain. To reach the iconic overlook, you'll traverse a narrow trail with steep drops on either side.
Ready to take on Angels Landing? You'll need to secure a permit to complete the hike. You might have some luck with the day-of lottery, but getting your Angels Landing permit in advance is a good idea.
Observation Point
Want all the views of Angels Landing without the strenuous hike and narrow final ascent to the lookout? Observation Point is the perfect option for you. You'll get similar views of Zion Canyon and can actually gaze out at Angels Landing. Since this hike is not as popular, you'll have a better chance of enjoying the views without the crowd.
Kolob Canyons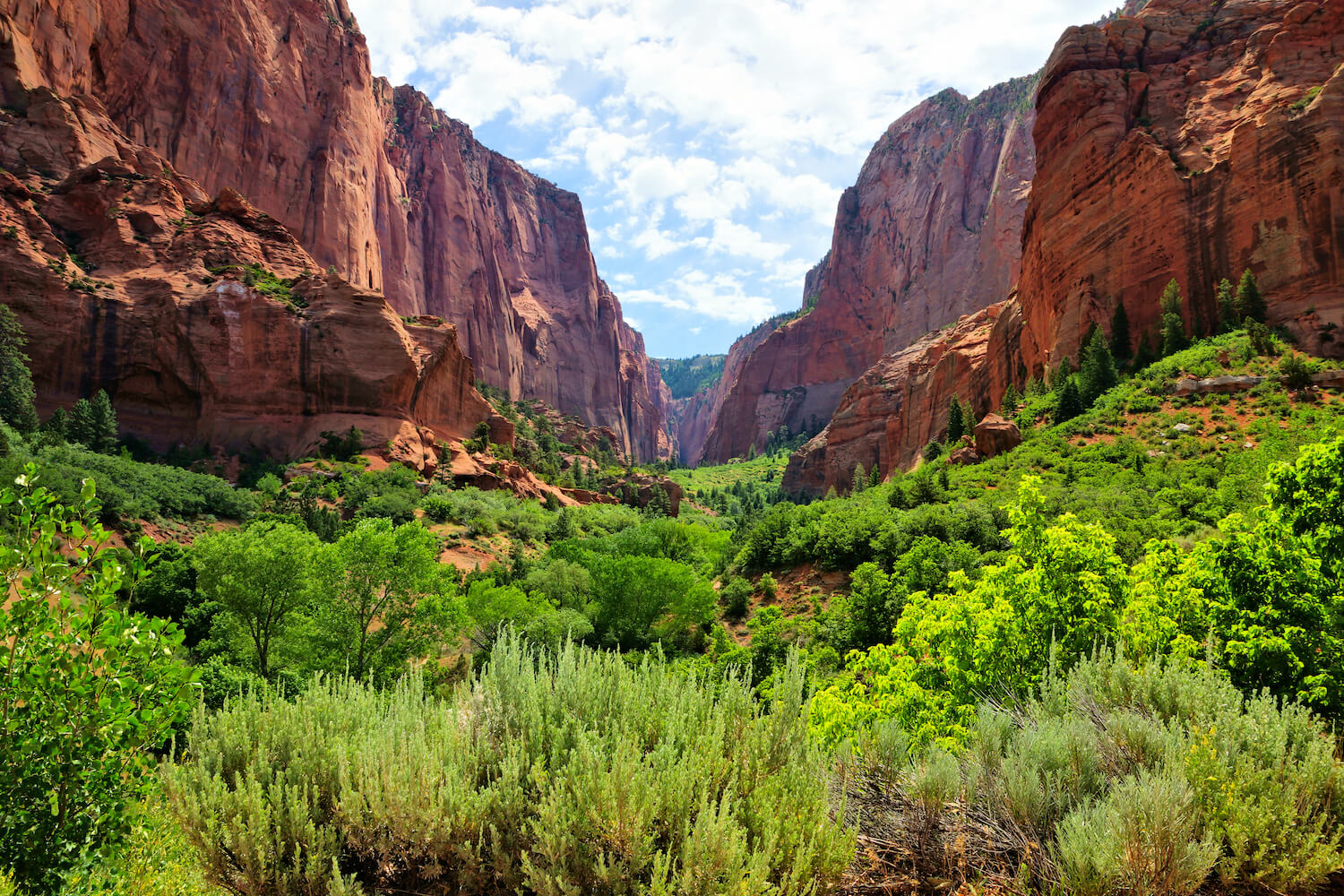 Kolob Canyons offers several trails ranging from short day hikes to multi-day backpacking trips. Many of these trails have less elevation gain, with some as few as 100 feet. This makes them perfect for those looking for accessible trails with stunning views.
Kolob Terrace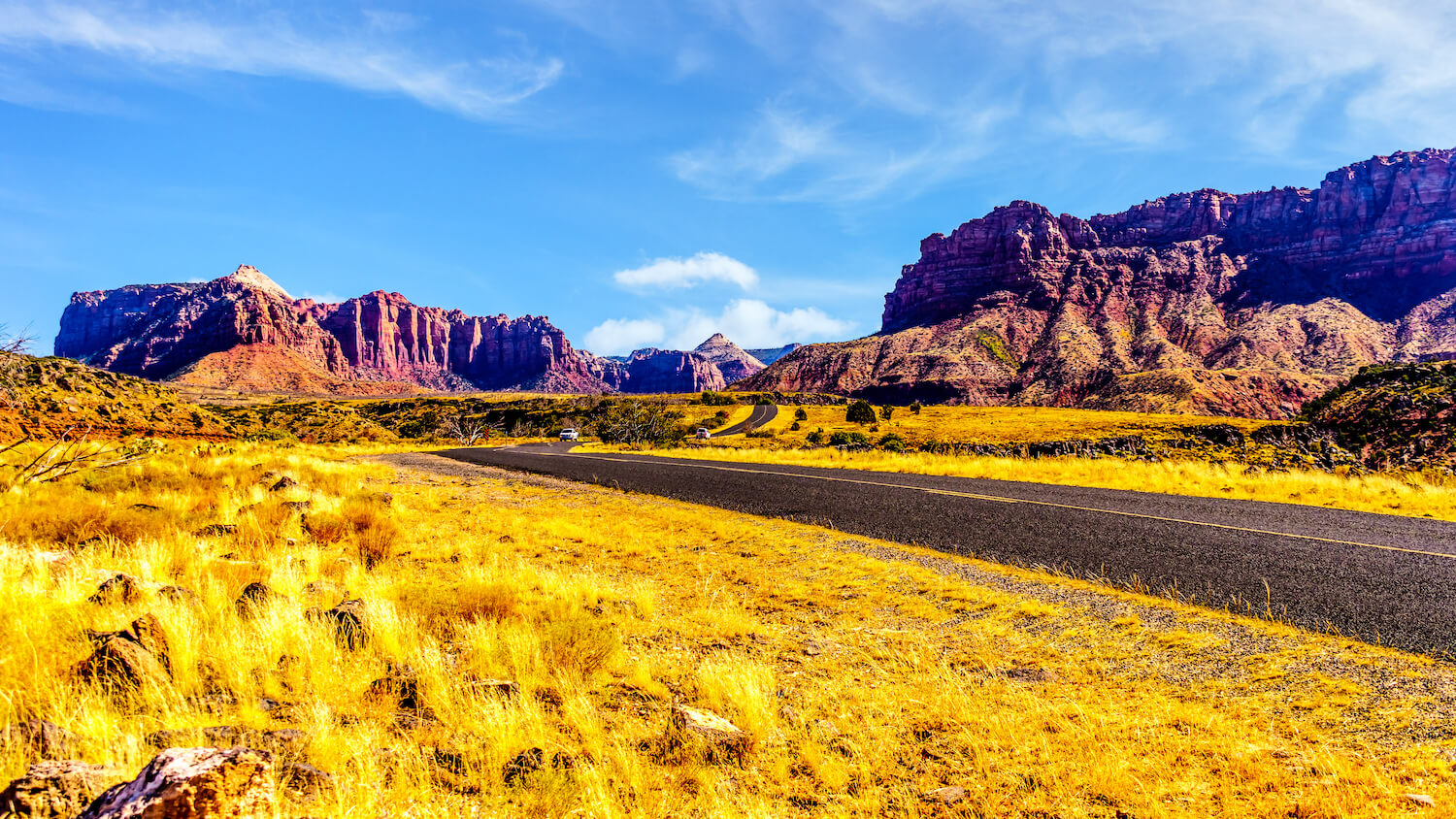 A high desert plateau, Kolob Terrace is another great spot to check out. Because it's away from the main Zion Canyon trails, it tends to be less busy, offering a great chance to escape into nature and enjoy Zion National Park's wild landscapes.
Things to Do in Zion National Park
Zion National Park offers large and small adventures, and one of our favorite aspects is the unique stargazing opportunities on the park grounds. Whatever you are looking to do, you'll have 146,000 acres of nature's playground to explore.
Hiking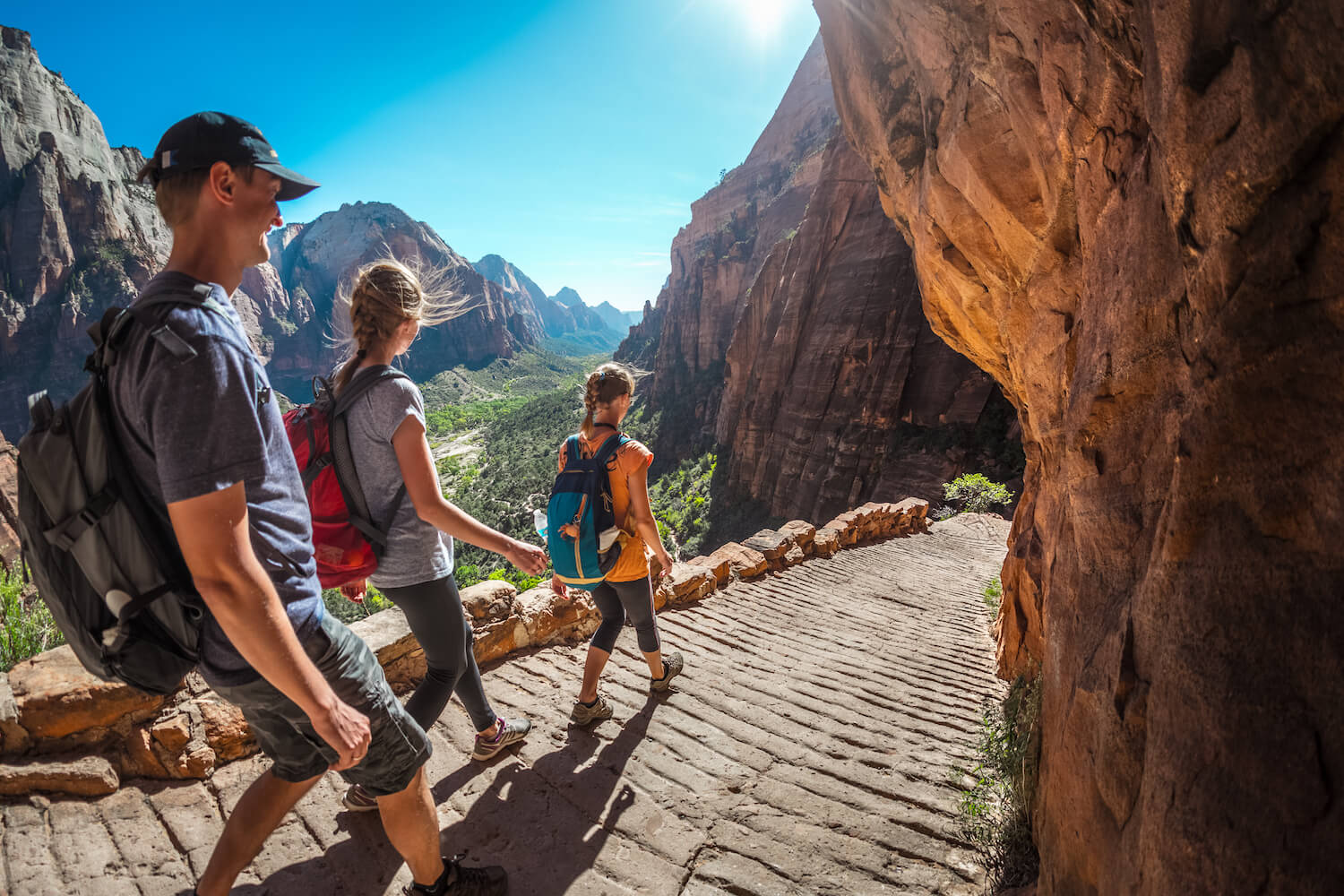 We've already covered Angels Landing and The Narrows, but there are many other trails for day hikers and overnighters to explore. The hikes are divided into the park's five main regions: Zion Canyon, Kolob Canyons, Kolob Terrace, the East Rim Area, and the Southwest Desert.
Backpacking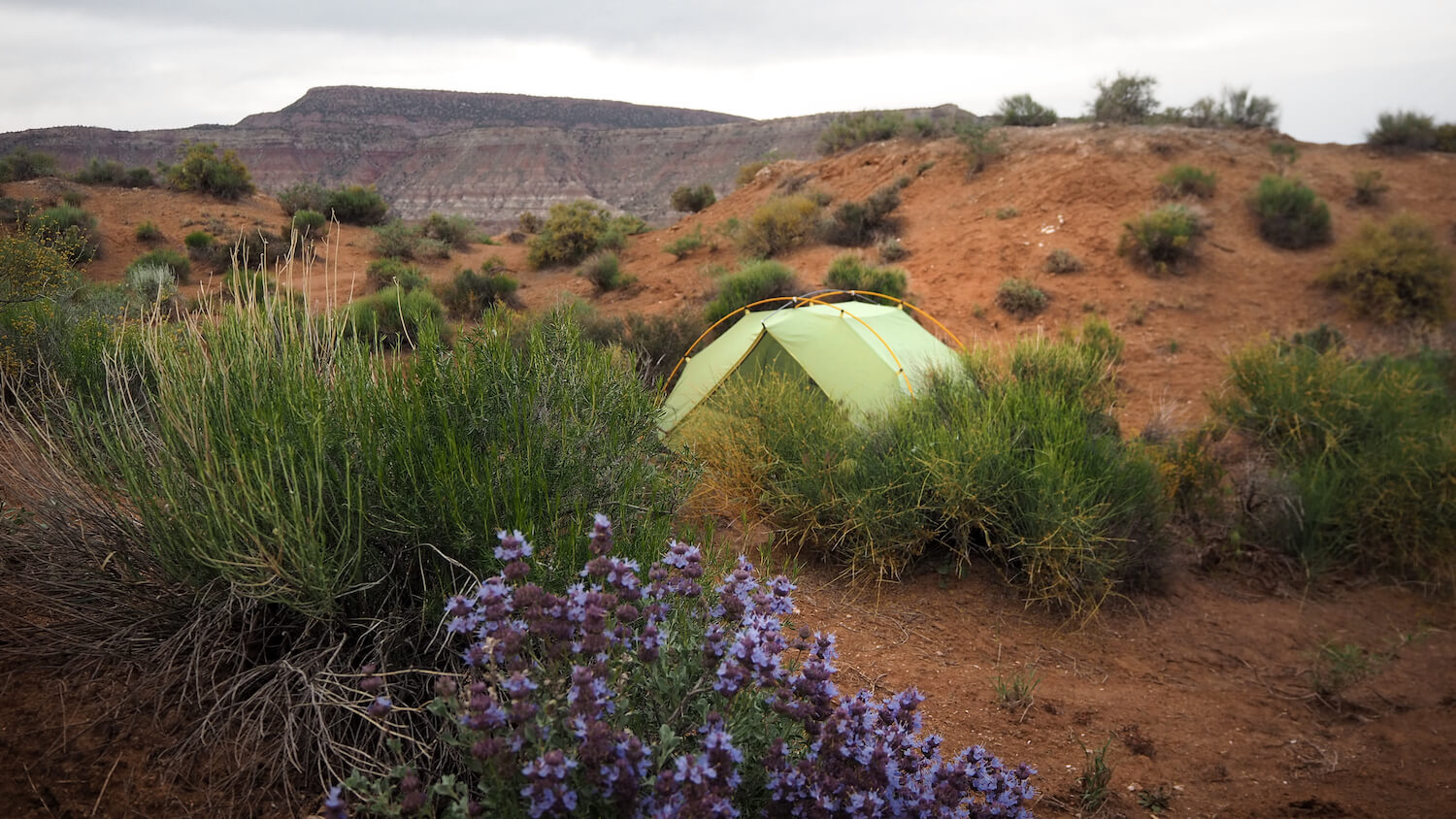 Looking to leave your RV behind and head into the backcountry for a few days? Get a wilderness permit and venture into Zion National Park's desert landscape. You'll need a planned route, knowledge of wilderness campsite locations, and an idea of where to refill water before you set out. Backpacking in Zion National Park allows you to create your own adventure and see less accessible views.
Stargazing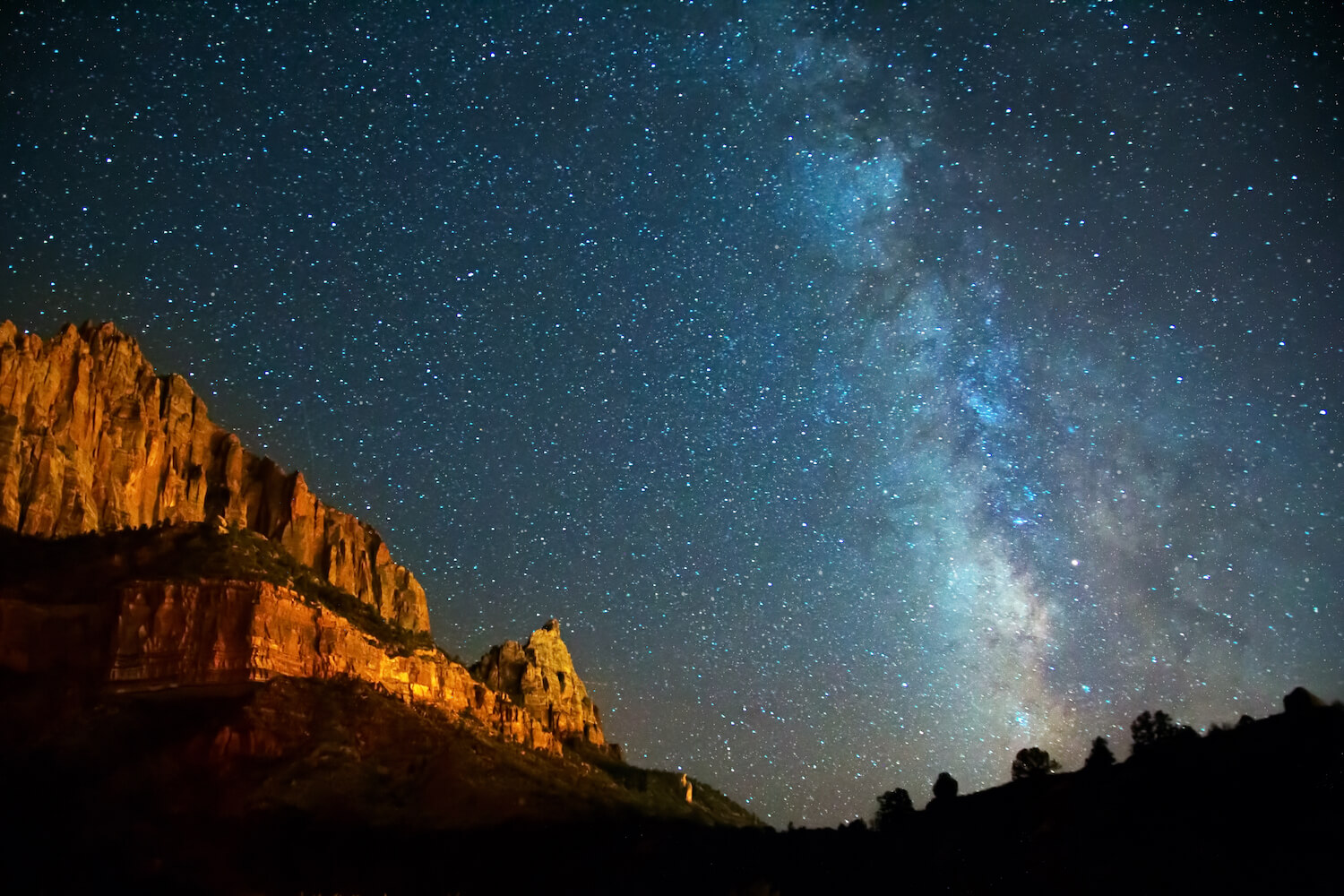 Zion National Park is a certified International Dark Sky area, which has been carefully protected from light pollution that can impact the normal view of the night sky. You'll frequently be able to see the Milky Way galaxy and millions of stars after the sun sets on the red rocks.
Rock Climbing & Canyoneering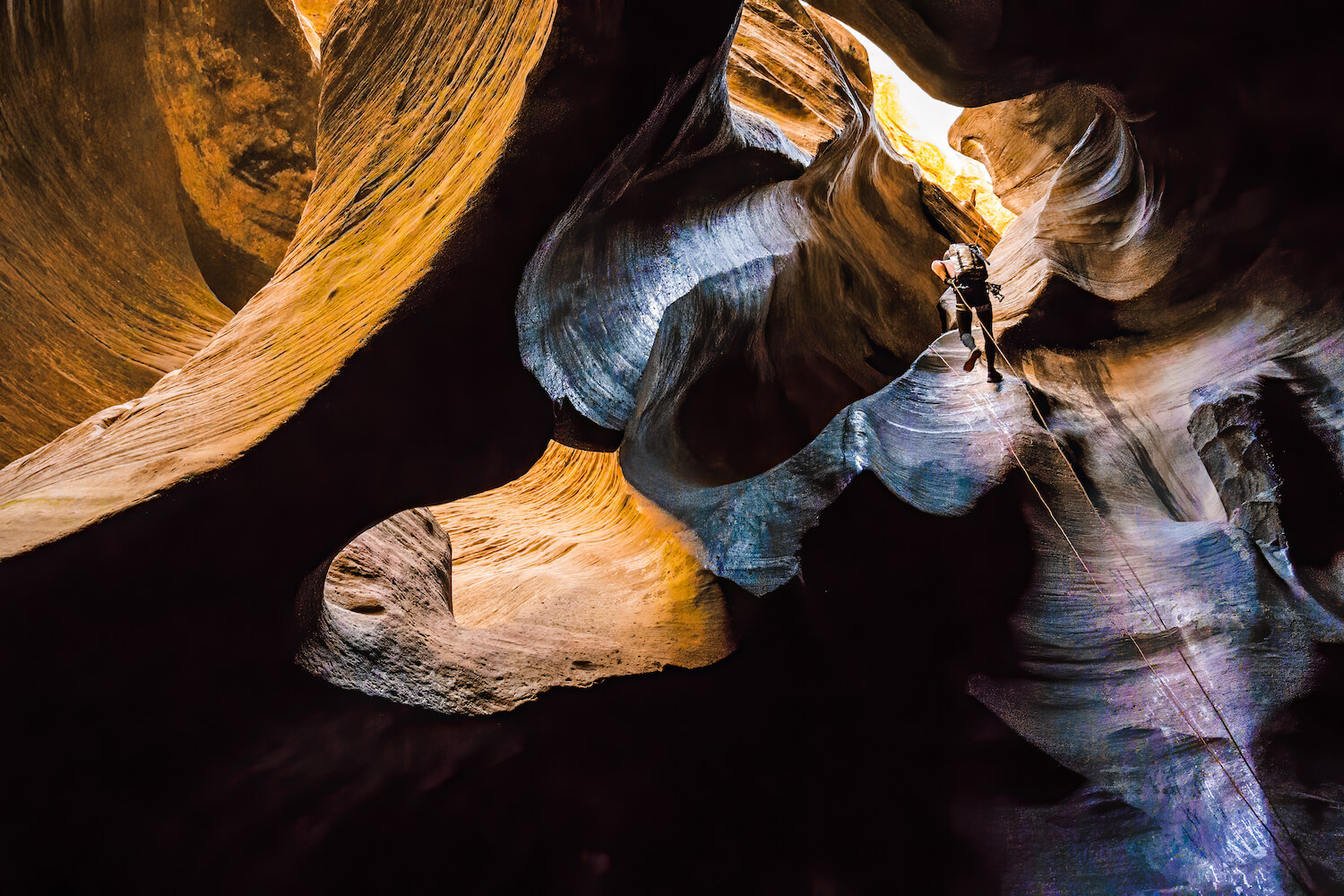 It's no surprise that rock climbers and canyoneering enthusiasts flock to Zion National Park. The canyons offer terrain that provides climbers with incredible vantage points and exciting challenges. Seasonal closures may impact open sites, and those looking to canyoneer and rock climb will need to obtain the proper permits.
Whitewater Kayaking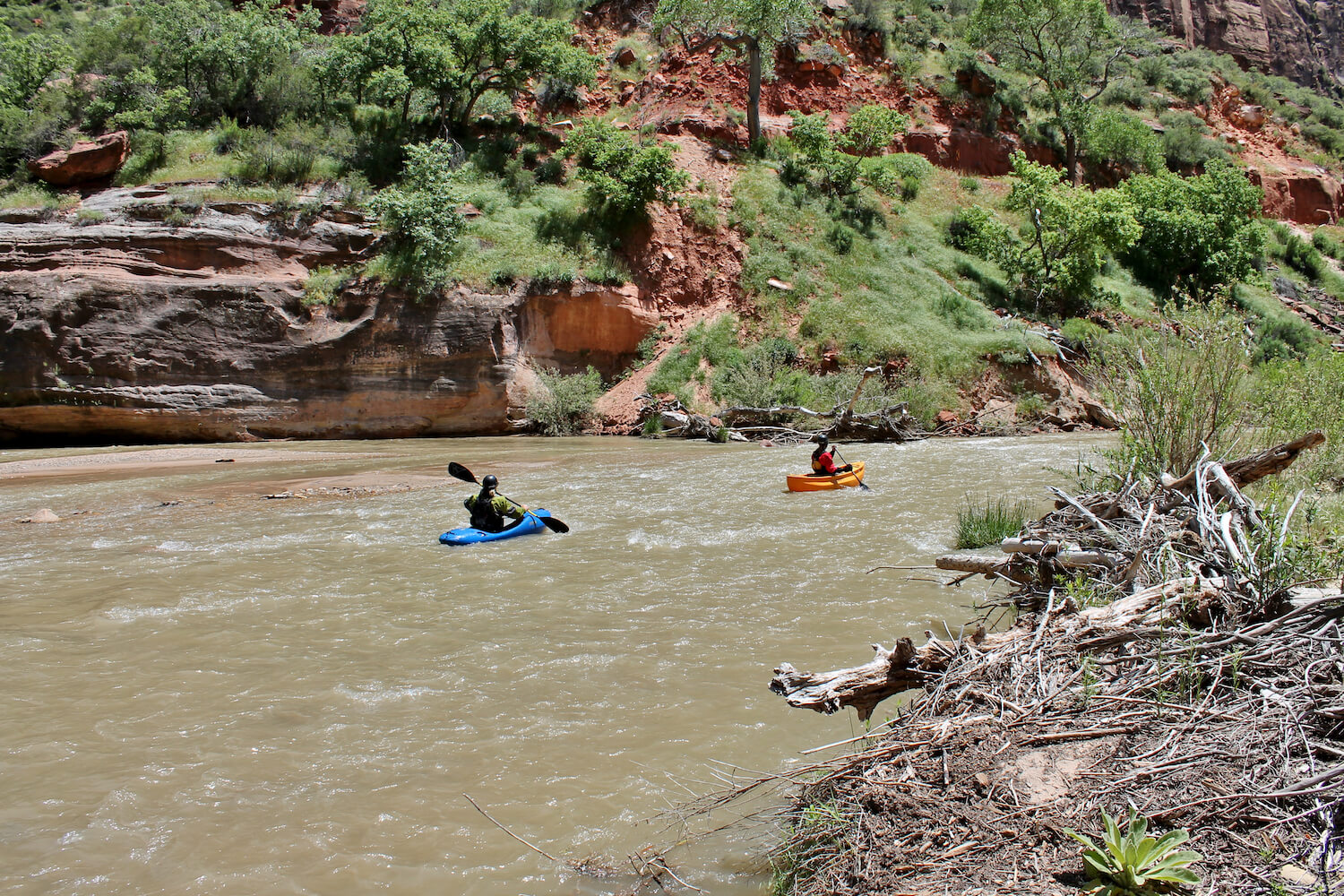 The Virgin River offers some stunning views of the park and some challenging rapids at certain points throughout the year. However, these excursions should only be attempted by experienced kayakers certified to navigate class V rapids.
What to Bring and How to Prepare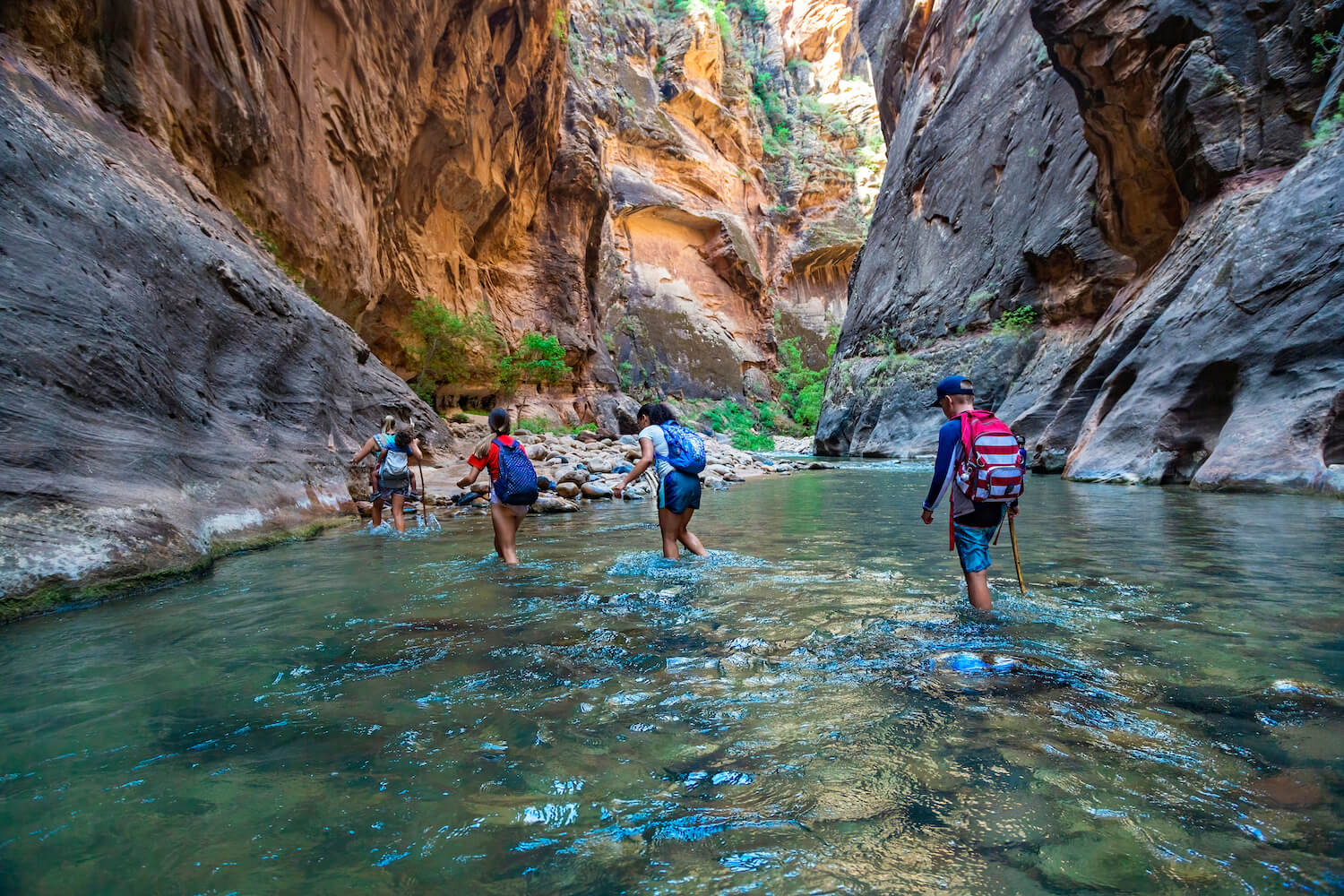 Zion National Park is adjacent to Springdale, Utah, offering fuel, groceries, and other items necessary for your RV camping trip. Unless you plan to backpack, you should be able to fuel up and get the necessary supplies on demand as you easily go in and out of the park.
There are still a few things we recommend bringing with you.
The History of Zion National Park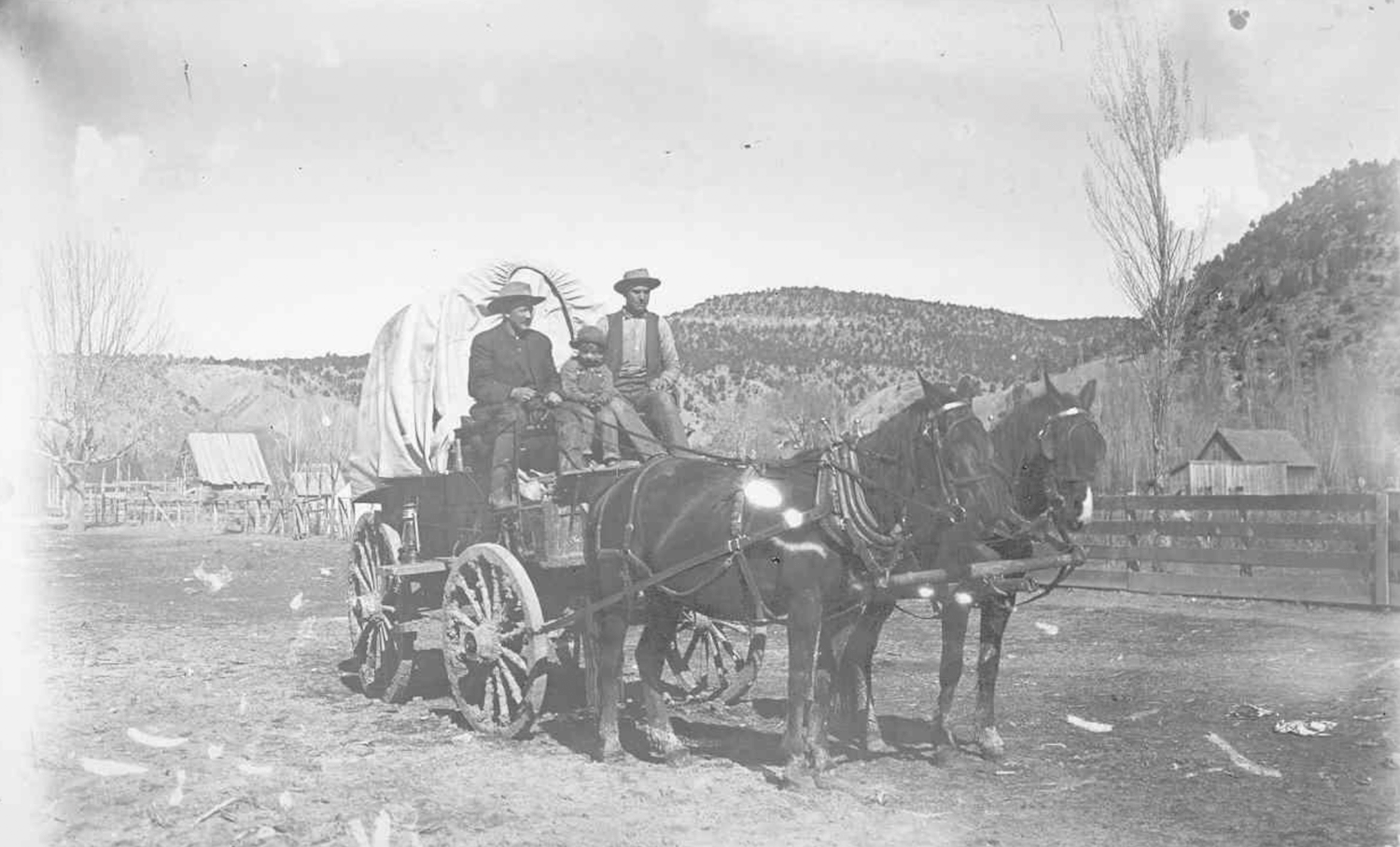 Zion National Park was officially established in 1919 after being named a National Monument in 1909. Originally named Mukuntuweap National Monument, the name was changed based on the Mormon settlers that lived in the area to encourage increased visitation.
But Mormons were not the original inhabitants of the region. The Anasazi and Southern Paiute nations were here long before, and visitors can still discover these early nations' sacred lands and histories in the park's cliff dwellings and cave art. When traveling into indigenous lands, respecting the area and practicing Leave No Trace principles are important.
Today, millions of visitors visit the area to experience the beautiful Navajo sandstone and explore the diverse flora and fauna where the Great Basin, the Colorado Plateau, and the Mojave Desert converge.
If you are looking for an adventure with some of the most unique landscapes in the Southwest, pack up your gear and plug Zion National Park into your GPS.
---
Plan your next trip to the national parks in an RV. Rent an RV, trade-in your RV, or buy a new or used RV and start traveling for less than $5 a day.
Have you visited Zion National Park in an RV? Share your tips in the comments below!