The rolling, snow-like dunes of White Sands National Park offer a stark but truly unique landscape – a brilliant minimalist canvas worthy of quiet contemplation, reflection, and peaceful moments of solitude.
There are some 275 square miles of dune fields in the Tularosa Basin, with the park holding nearly 40% or about 115 square miles. Elevations range from 3,890 to 4,116 feet above sea level, and it's home to the world's largest collection of fossilized footprints from the Ice Age – prints that tell the story of more than 20,000 years of human presence in the region.
Why Visit White Sands National Park in an RV?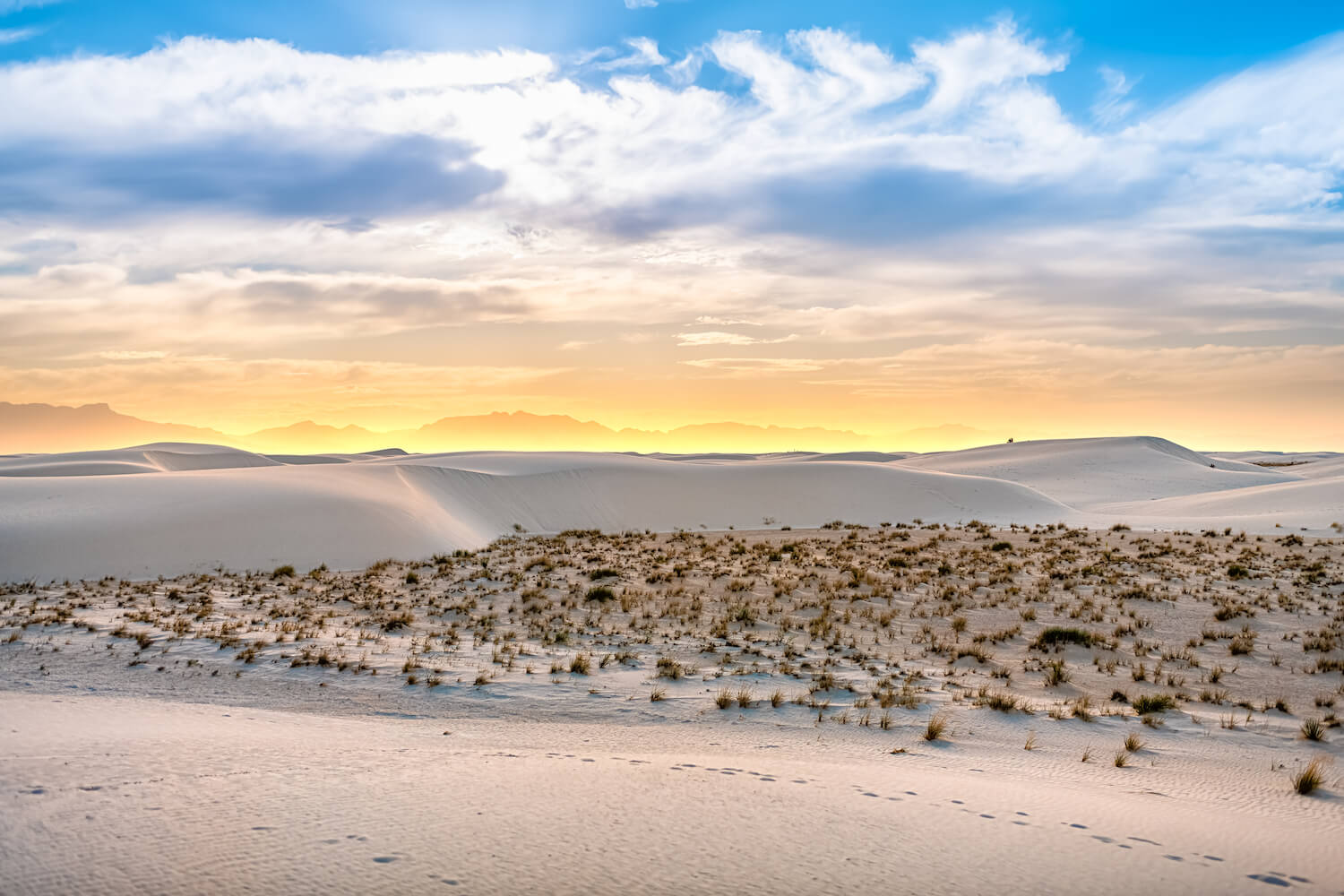 Using an RV to explore White Sands National Park is a great way to experience this unique park, which is home to the world's largest gypsum dune field. The dunes are quite dynamic, and some individual dunes move up to 30 feet per year.
This white, rolling landscape is home to various species of plants and animals, all of which have evolved to survive cold winters, broiling summers, minimal surface water sources, and ground waters that are very high in mineral content.
Visiting White Sands in an RV gives you an easy way to escape the desert and retreat to a well-stocked basecamp with food, water, shade, and other RV essentials. Your elevated driving position will also provide better views of the sweeping, sparkling landscape.
Plan for a long day trip, perhaps even sun up to sun down, and use your RV to replenish yourself after hikes, photographic fun, viewing the sunrise or sunset, and even sledding the dunes.
When to Visit White Sands National Park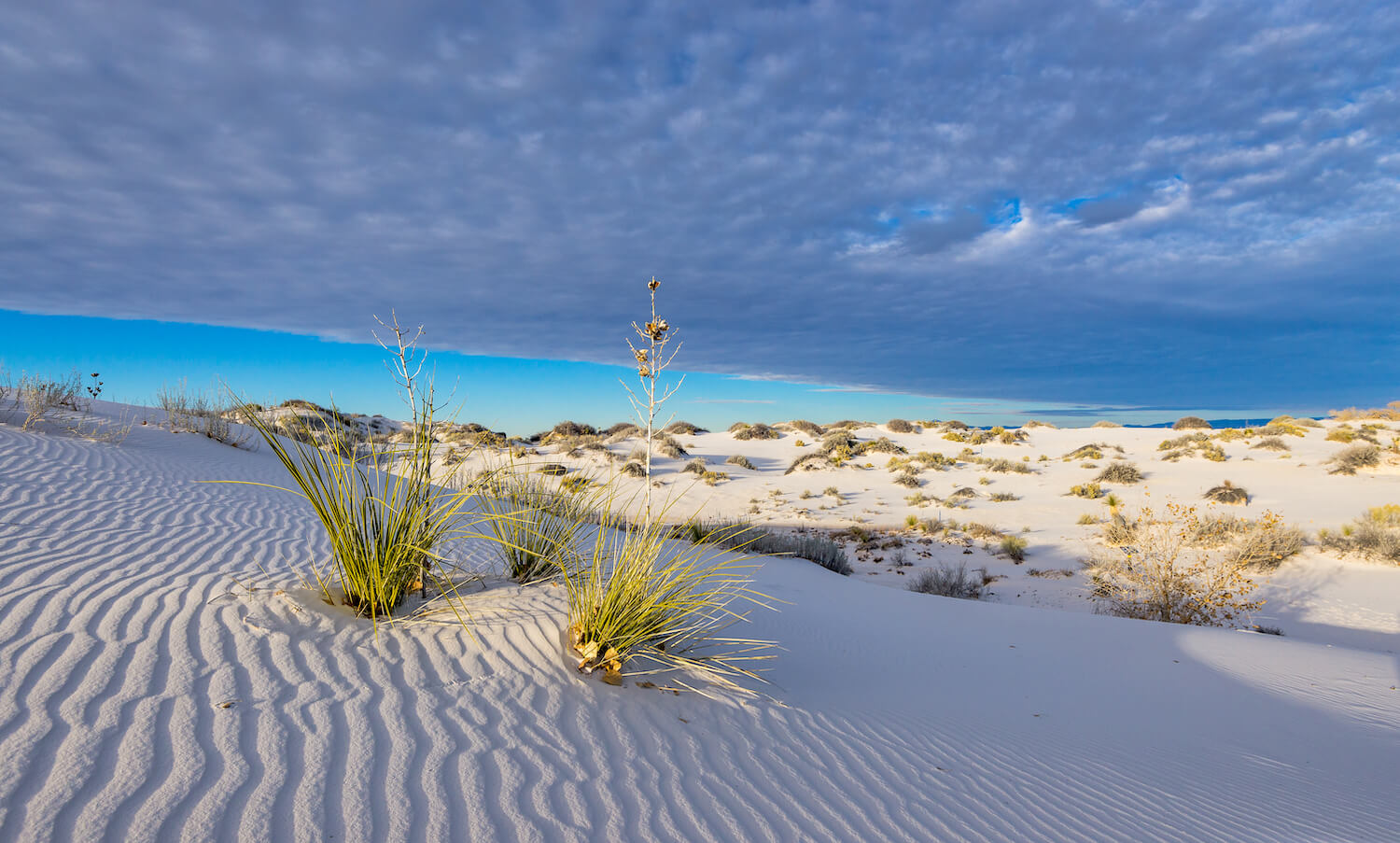 The park is open year-round, and visitation reaches its peak in March, over the spring break holidays. Kelly Carroll, the Park's Chief of Interpretation and a park ranger, notes:
"There's not really a peak time, but if we had one, it would be March. The holidays are very busy, too, and just, in general, it's gotten to be an extremely busy park. Becoming a national park [in 2019] and then people rediscovering their public lands over the COVID pandemic really increased visitation here."
He also notes that their least visited time is January and February, adding, "To me though, it's a wonderful time to visit. There are so few visitors, and generally, the temperatures are mild with sunny skies."
White Sands National Park in the Spring
Daytime temperatures from March to May average about 75 degrees Fahrenheit, with cool nights dropping to around 40. Sunny days are common, as are strong windstorms, sometimes with wind speeds up to 50 miles per hour.
White Sands National Park in the Summer
June through August temperatures average 95 degrees with highs as hot as 110. The temps drop in the evenings, and lows at night range from 50-65 degrees.
Their rainy season begins in early July and carries over into late September. During this time, late afternoon and evening thunderstorms are common, and the region will receive most of its 10 inches of annual precipitation.
White Sands National Park in the Fall
The fall months generally have daytime temperatures averaging around 80 degrees, with nighttime lows of 40. Sunny days with light winds are typical.
White Sands National Park in the Winter
Temperatures average around 60 degrees from December to February, with colder nights that drop to 23. Sporadic winter storms will bring rain and even, on occasion, snow.
Where to Stay
There are no developed campgrounds in White Sands National Park, making it a park that's better for a day trip than a multi-day stay. On occasion, the park offers primitive backcountry camping in White Sands, but accessibility can be dependent on season and activity at the nearby missile range.
Staying Outside the Park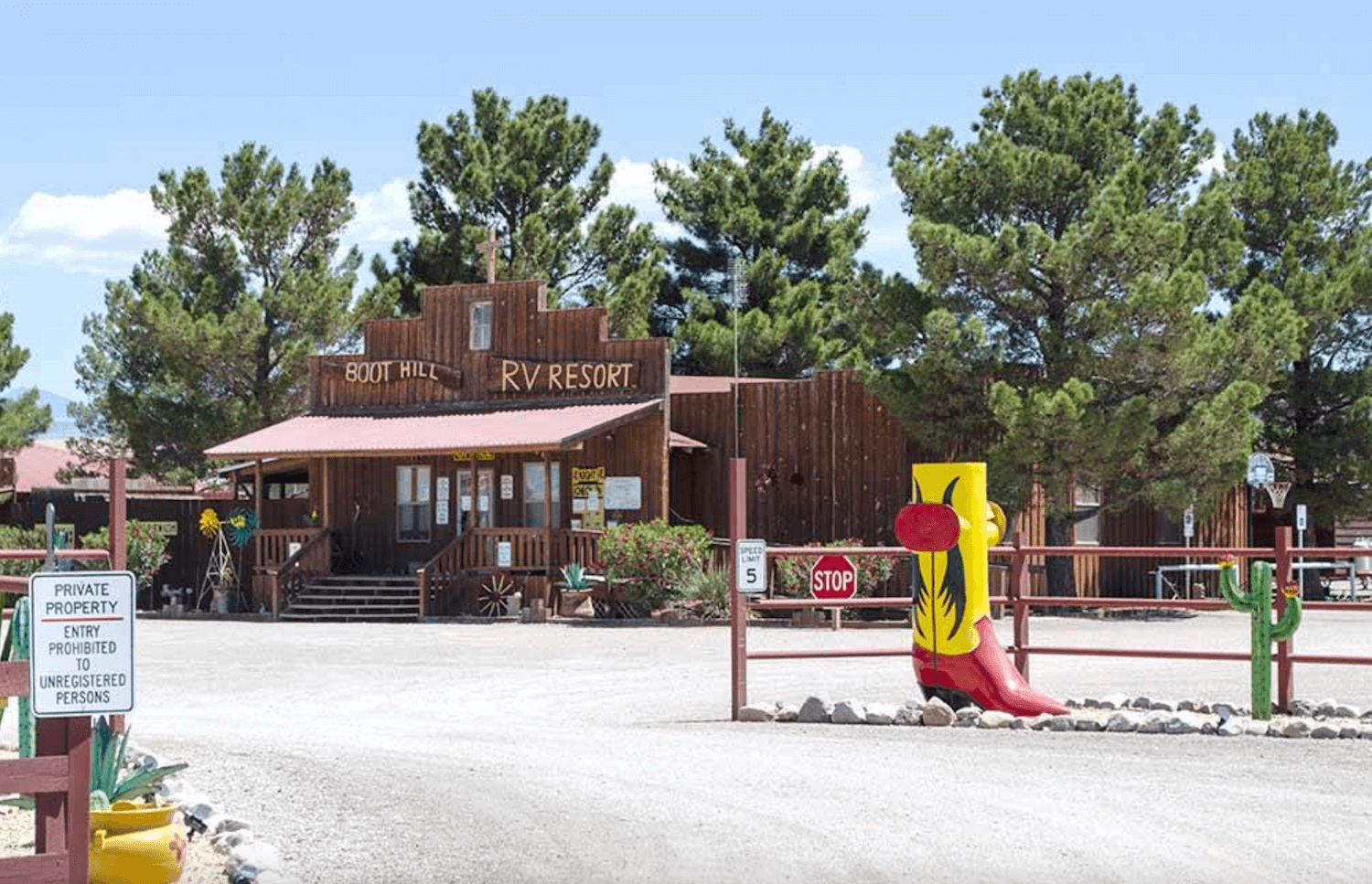 If you don't want to leave the comfort of your RV to camp overnight in the dunes, here are a few nearby RV parks and resorts:
Invest in a Good Sam Membership and save 10% on nightly stays at Good Sam Campgrounds.
For public camping options nearby, check out:
Oliver Lee State Park offers 41 campsites (15 of which have water and electricity) and is situated 27 miles to the southeast. Ranger Carroll is a particular fan of this campground. "It's absolutely beautiful and well-maintained," he says. "I love it there, especially since it has, I think, the best dark skies in the Tularosa Basin."
Aguirre Springs Recreation Area's campground has 55 sites (with two additional group sites). Water is only available at the entrance, and the road up to the campground gets narrow and winding. The recommended maximum RV length is 23 feet.
In summer, the Lincoln National Forest's Monjeau Lookout Campground handles RVs. It's about 40 miles east in the Sacramento Mountains, with steep dirt roads leading to it. Carroll notes that the national forest can be some 25 degrees cooler than the temperatures in the park, offering a particularly nice escape in the summer. It's worth noting that this forest is where the actual Smokey the Bear was found in 1950.
Tips for Your Visit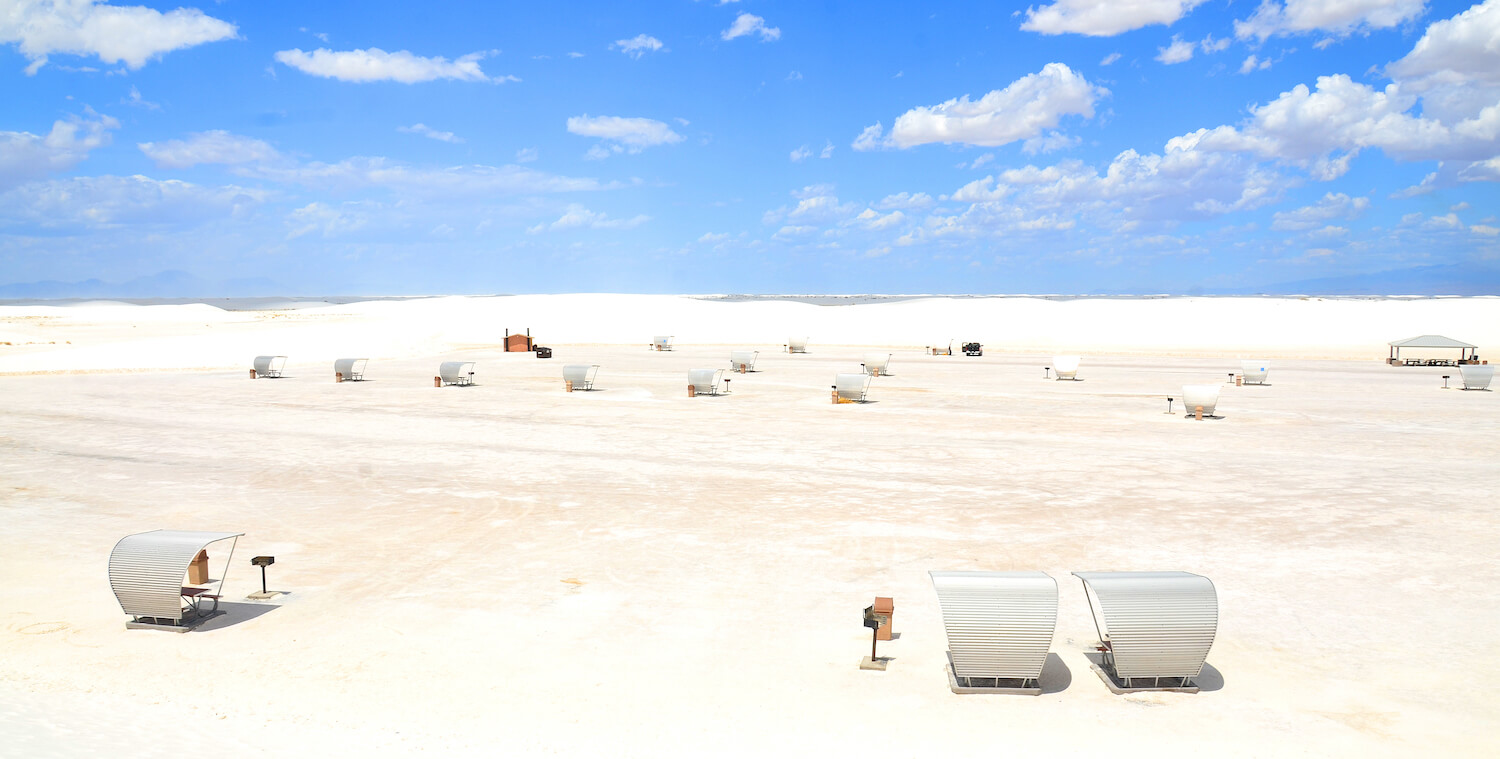 Whether you're spending the day in the park or camping nearby, these tips will make your trip more enjoyable:
Be prepared for the possibility of blowing sand. Ensure your RV doors, windows, and roof vents are secured, and be prepared to manage sand from your shoes.
If you can, use your RV's outdoor shower to rinse footwear before going inside. You can also use a wash tub to get the sand off your shoes or take them off/swap them out before you step inside.
Keep extra electronics inside the RV, and consider a protective case for your phone or any camera gear.
Like snow, the gypsum will reflect sunlight back up toward you, so be sure to sunscreen places under your chin and the very sunburn-prone area under your nose.
Carroll adds, "The heat out here can get intense. The white sand is so reflective, even more reflective than a mirror. You really need to be cognizant of your situation and necessary safety protocols."
The US Army's White Sands Missile Range occasionally conducts missile tests in the area. During these tests, the road into the dune field, Dunes Drive, may be closed for up to three hours.
Park staff generally know about tests two weeks in advance, but notification may come as quickly as 24 hours before the scheduled test. All activity, including hiking, horseback riding, sledding, and driving, is prohibited during the tests, although the park visitor center and gift shop will remain open.
Note that occasionally debris from these tests falls into the park. It's often buried by sand, only to be exposed later. If you locate any sort of strange object, do not touch it, stay well away and notify park staff as it may be an unexploded ordinance.
How to Get Around White Sands National Park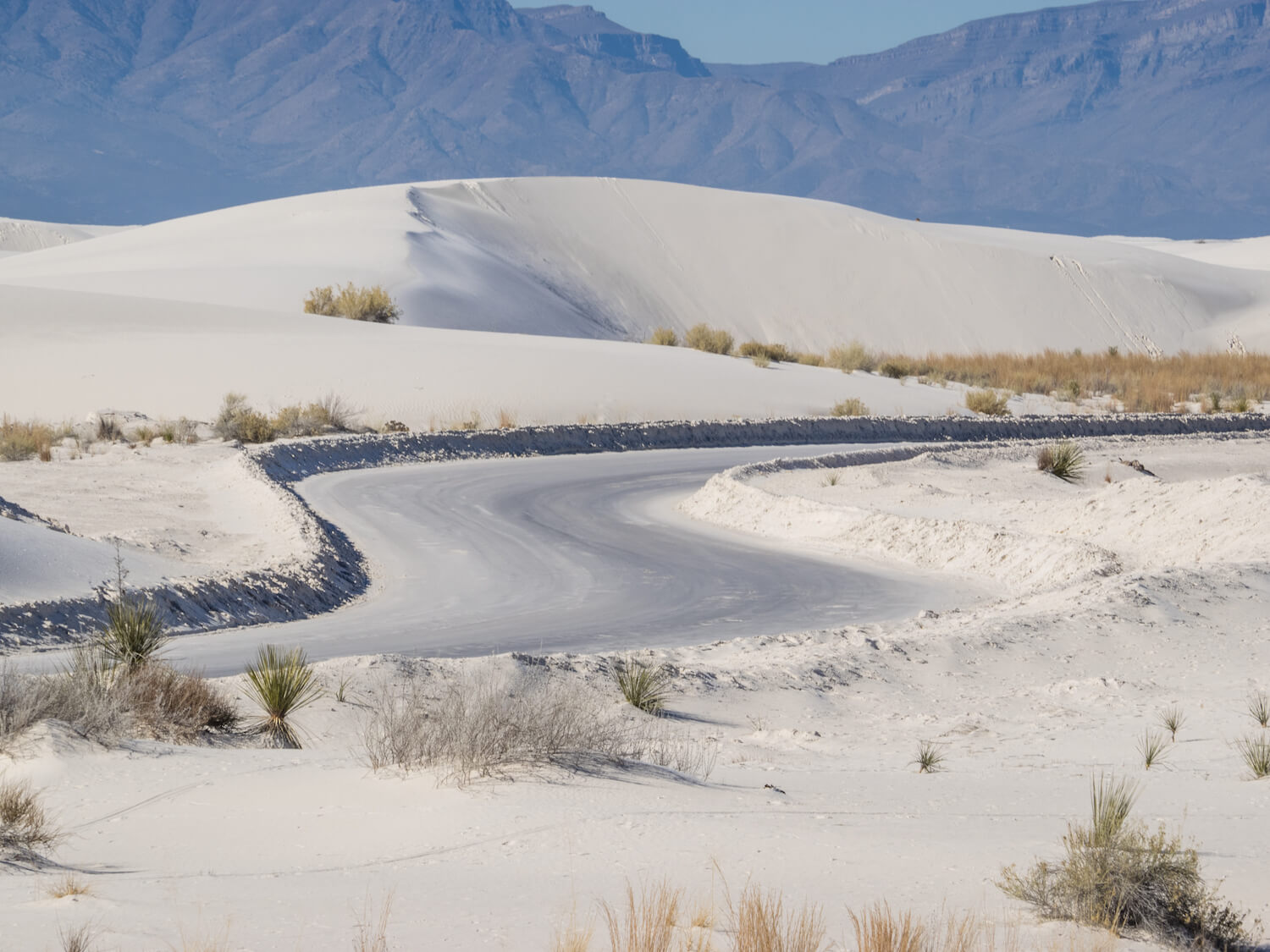 White Sands National Park roads are wide and flat with very little grade anywhere. Carroll adds, "The park is perfectly able to handle RV visits. The roads are nice and wide, and there's plenty of space to turn around. It's never an issue to see this park from an RV."
The park roads are known for washboard surfaces, which are important to navigate slowly in an RV. But getting there is easy, as you can access Dunes Drive and the visitor center off US 70 between mile markers 199 and 200.
The park entrance is about 15 minutes from Alamogordo and an hour from Las Cruces. If you're using a GPS unit, be careful to input 'White Sands National Park' instead of just 'White Sands' – the latter may direct you to the missile range instead of the park.
Places to Go
As its name suggests, the white sands are the main attraction but start by visiting these accessible places if it's your first time in the park.
The Visitor Center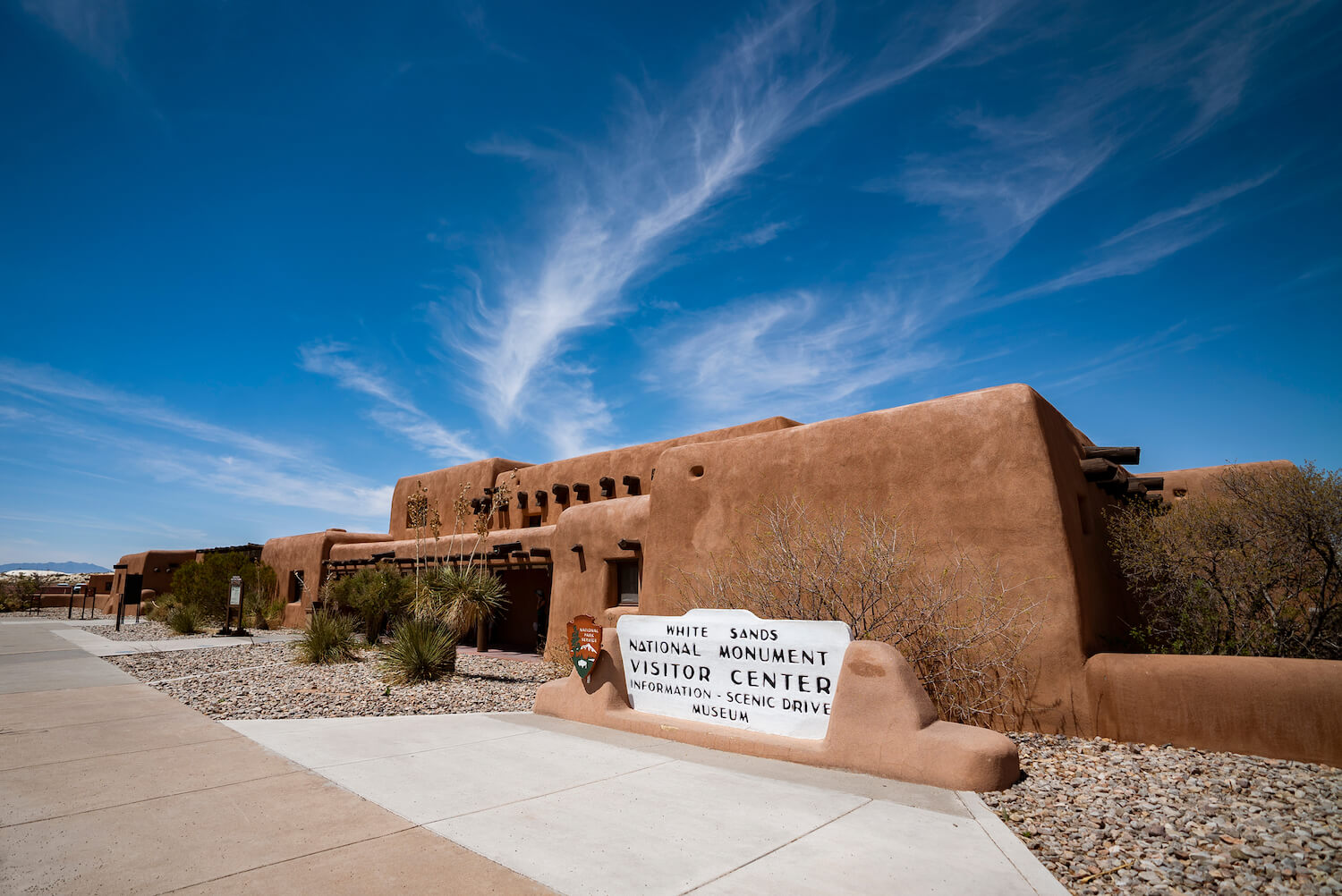 This building is an excellent example of Spanish pueblo-adobe or 'Pueblo-Revival' architecture as constructed during the years of the Great Depression by Works Progress Administration workers.
The benches and chairs throughout are typical Indian-Spanish designs with modest decorative carving and heavy construction to resist splitting in the dry desert air. Lighting fixtures are made of tinware in the local historical style.
In 1990, the visitor center and adjacent buildings were designated as the White Sands National Park Historic District. The visitor center includes a museum and a 17-minute film about the park.
The Park Store and Gift Shop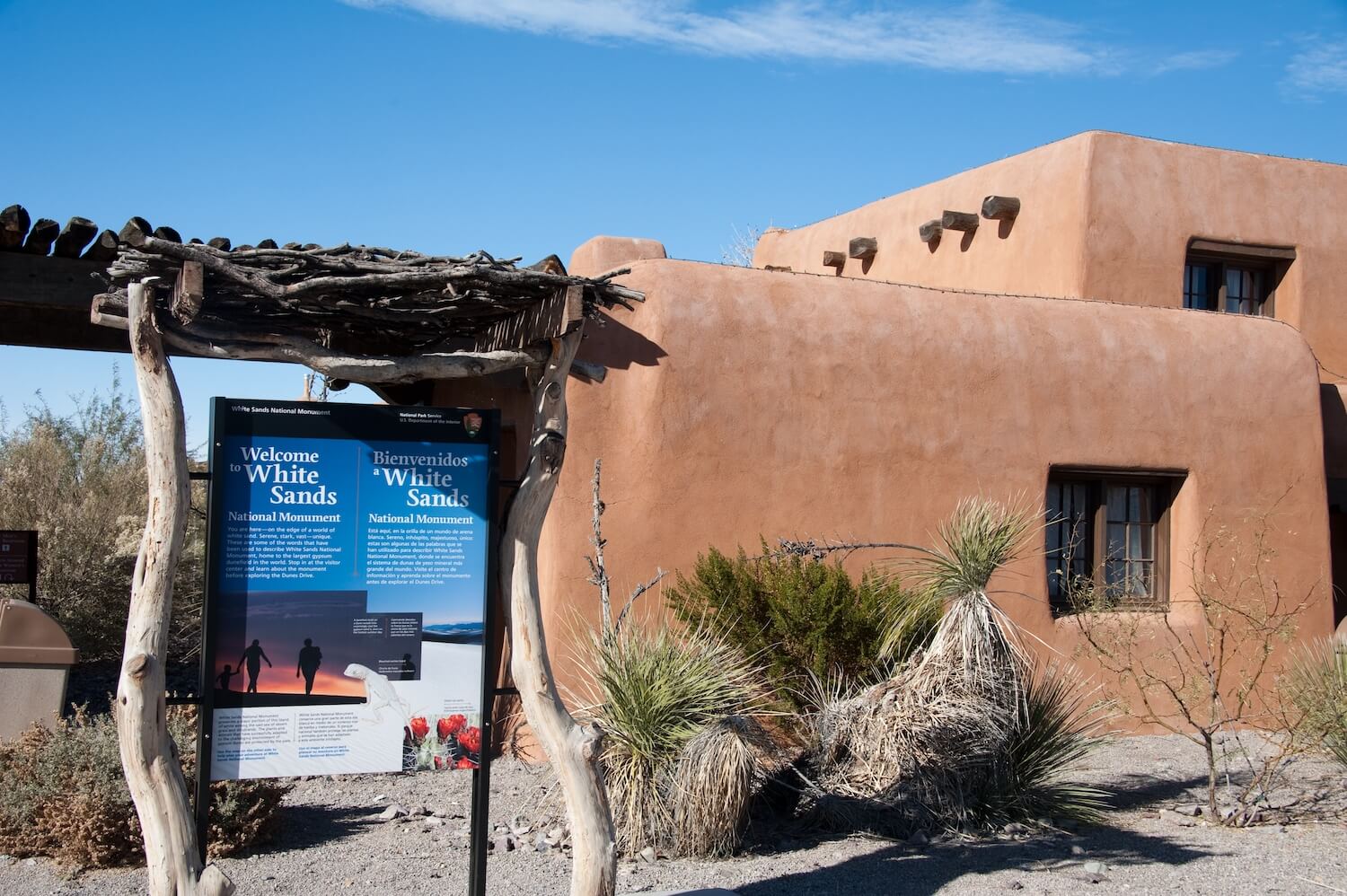 There is a park store with a selection of sandwiches, burritos, snacks, and beverages. The White Sands Trading Company's gift shop offers authentic Native American handicrafts, including pottery and sterling silver jewelry, sleds for sand sledding, sandwiches and snacks, t-shirts, and souvenirs.
The Dunes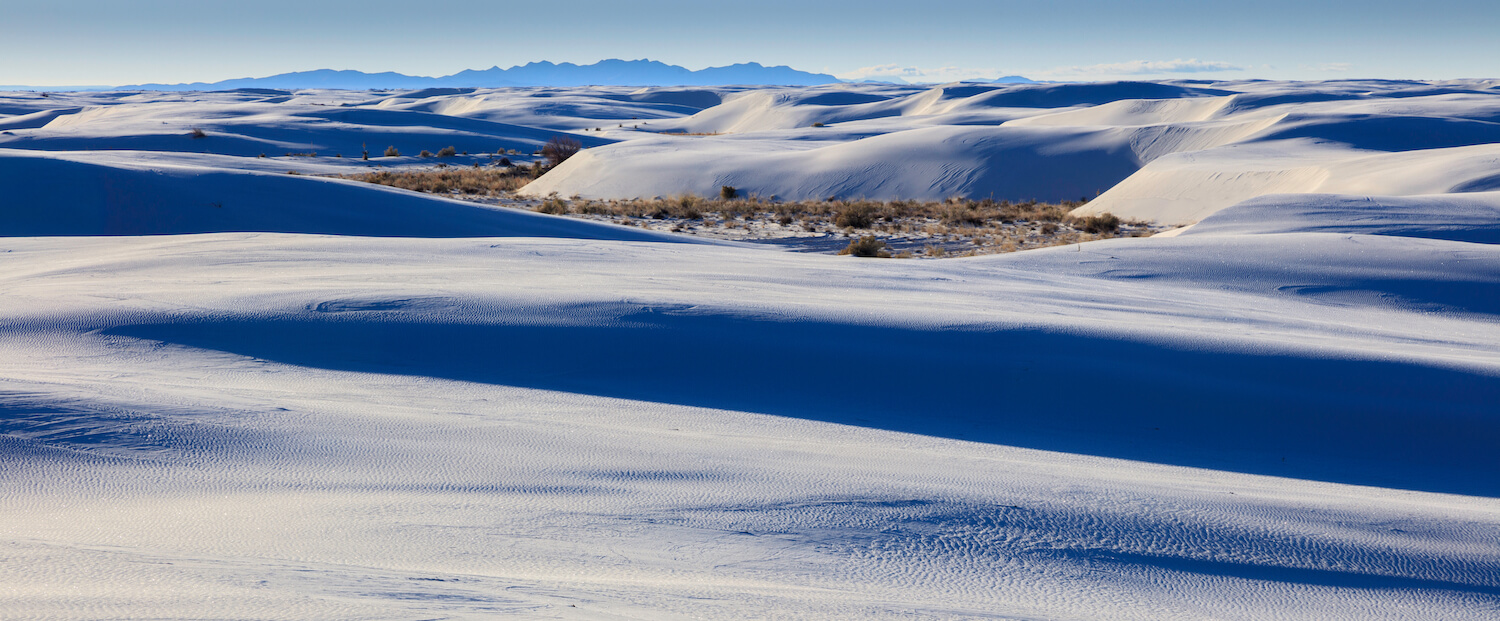 Time your visit to explore the dunes in various light conditions, and be prepared for some creative photo opportunities. Carroll, who is on his fourth national park assignment, says, "Definitely stay for the sunsets as they're some of the best I've ever seen. They definitely bring in a crowd."
Things To Do in White Sands National Park
Fill your day (or days) in the park with these exciting outdoor and educational activities.
Hiking and Picnicking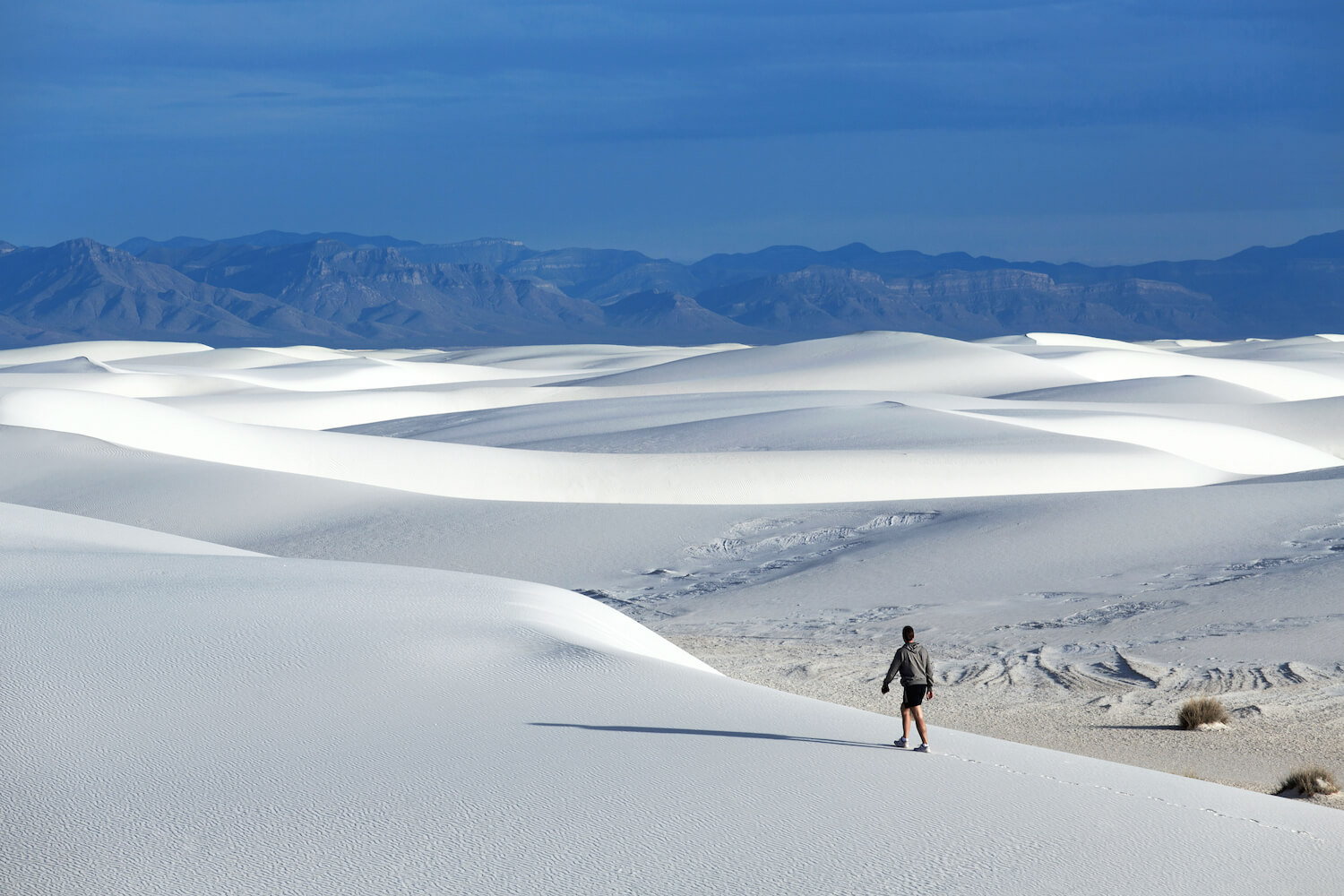 There are five designated hiking trails, including a one-mile nature trail and a short boardwalk trail over the dunes. The Playa Trail's shortest trail is only 1,200 feet, while the Alkali Flat Trail is the longest at five miles. Picnicking in the park has been a favorite activity of locals for generations. There are 62 canopied picnic tables in three designated areas along Dune Drive.
Sledding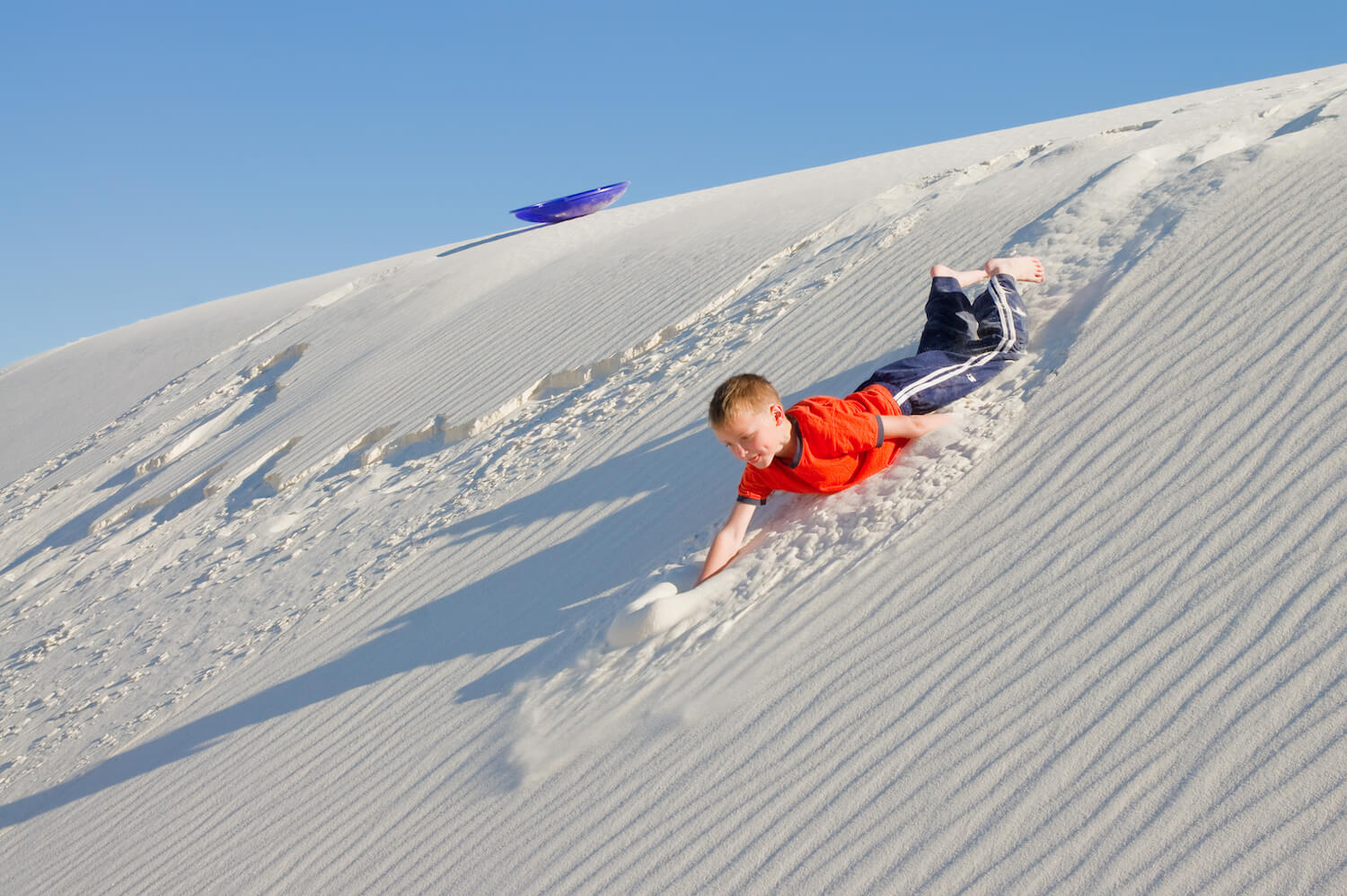 While unexpected to first-time visitors, sledding is another favorite activity here. The white gypsum dunes look snow-like and behave (somewhat) like snow too. You can bring your own sleds, or you can purchase them at the White Sands Trading Company.
Note that old-style sleds with runners won't work well in the sand as they don't have the necessary lift to 'float' atop the sand to sled down a dune.
Ranger-Led Programs
Park ranger programs include a sunset stroll on the interdune boardwalk, full moon hikes, a tour of the dry Lake Lucero, and MothaPalooza, an annual, family-friendly night event that investigates and showcases the more than 40 unique, endemic species of moths. The park stays open later on full moons in the summer, with live music, ranger programs, and special guest presenters.
Cycling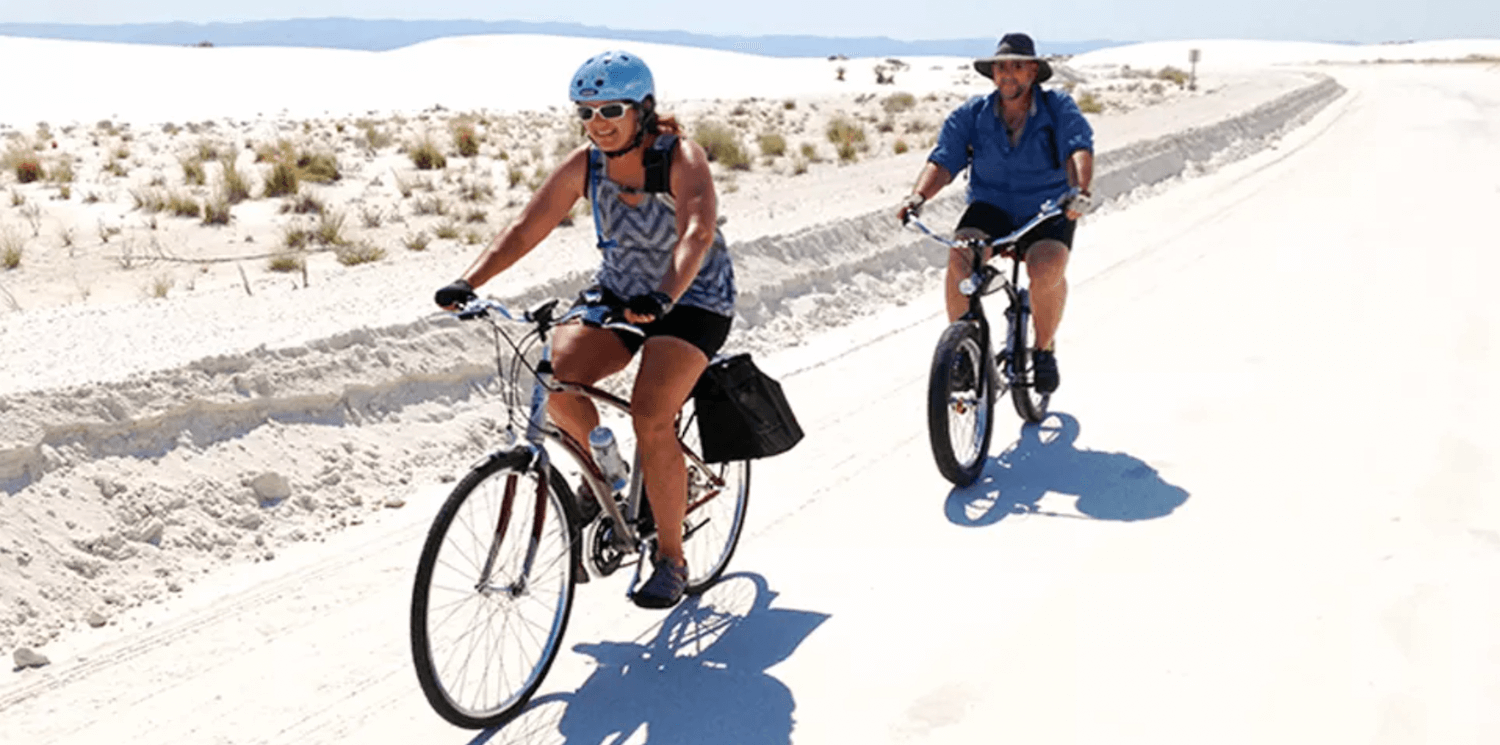 Biking is also a pleasant and unique way to experience White Sands National Park. The first four miles of Dunes Drive are paved, but the hard-pack gypsum crystal areas often have a rough 'washboard' surface, potholes, and sand drifts. For that reason, road bikes with skinny tires are not recommended. Mountain bikes, city/beach cruisers, and fat tire e-bikes are preferred.
What to Bring and How to Prepare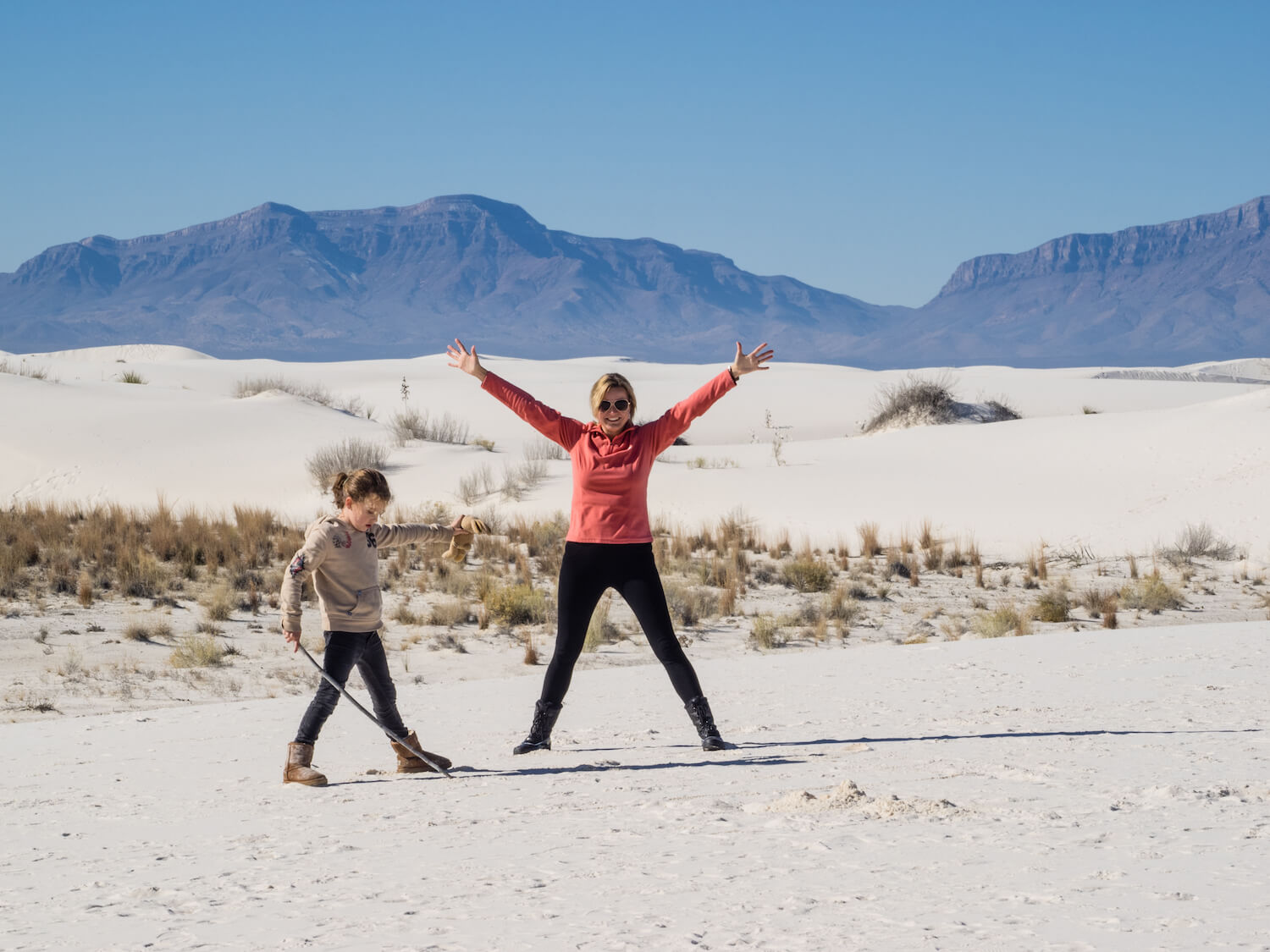 To ensure your safety and comfort in what can sometimes be an unforgiving environment in the gypsum sands, consider adding these items to your RV's inventory:
Brief History of White Sands National Park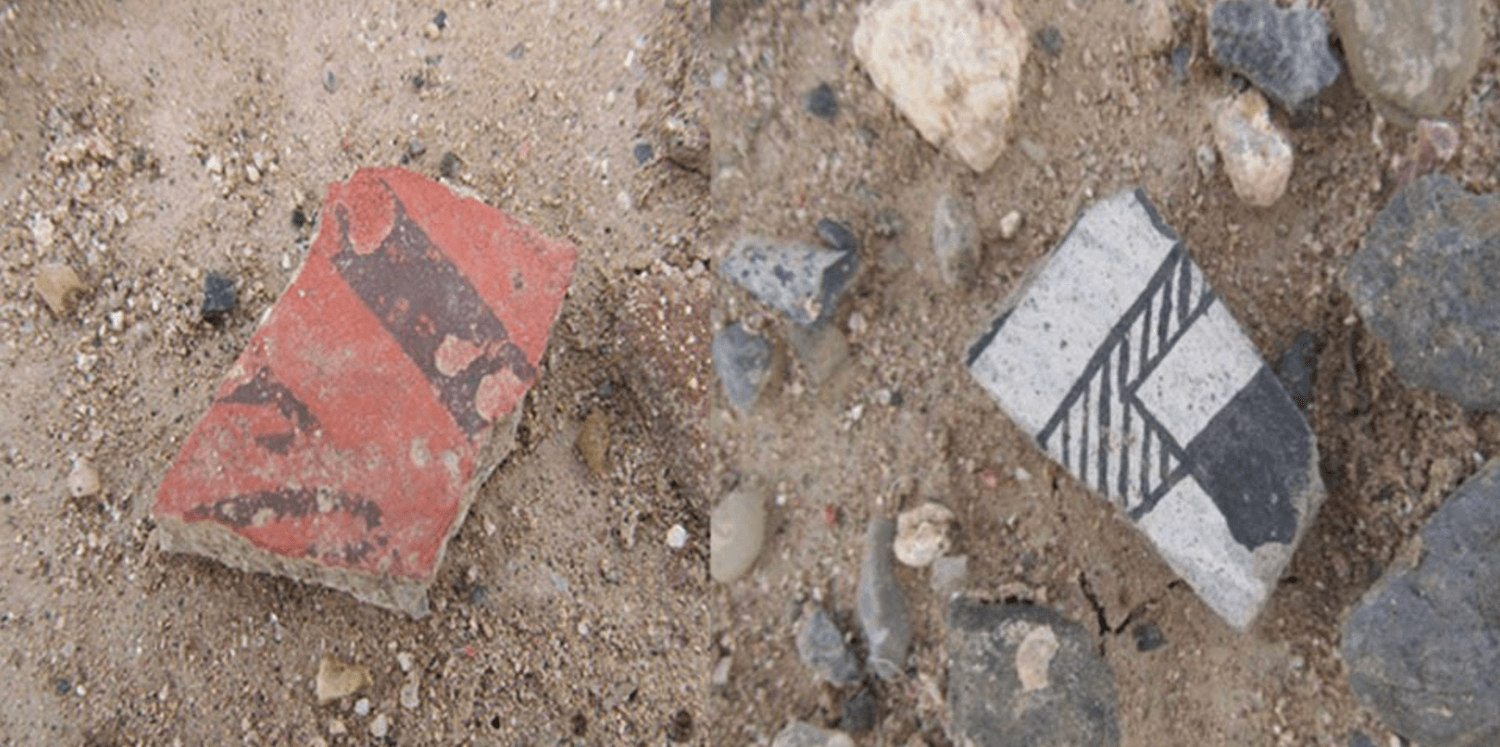 While the white sand dunes have been around for about 10,000 years, the site didn't become a part of the NPS until it was designated White Sands National Monument in 1933. 4,000 people showed up for the monument's opening in 1934, and some 34,000 people visited during that first year.
The visitor center, restrooms, park staff residences, and other structures were completed in 1938 and are still used today. Just months after the attack on Pearl Harbor, the nearby 1,243,000-acre Alamogordo Bombing and Gunnery Range were created by President Roosevelt.
In July 1945, the world's first atomic bomb was detonated about 60 miles north of the monument at the Trinity Site. The site is now a National Historic Landmark but is closed to the public except for two days of the year in April and October.
After the conclusion of World War II, the military began using the area to test missiles, including captured German V-2 rockets. In 1947, one went off course and flew over the border into Mexico, crashing just outside the city of Juarez.
The facility was eventually renamed White Sands Missile Range. In December 2019, the monument was re-designated and became the 62nd national park in the National Park System.
---
Plan your next trip to the national parks in an RV. Rent an RV, trade-in your RV, or buy a new or used RV and start traveling for less than $5 a day.
Have you visited White Sands overnight or for a day trip? Tell us about your experience in the comments below!