Standing 14,410 feet in height, Mount Rainier is one of the most iconic and imposing sites in the entire Pacific Northwest. The mountain's snowcapped peak looms large on the horizon, even 70 miles away in the city of Seattle.
The breathtakingly beautiful mountain sits at the center of a vast wilderness expanse that is Mount Rainer National Park, a place where visitors can find glacier-fed waterfalls and lakes, miles of Douglas fir forests, and vibrant flowering meadows.
This wild and untamed place is a vast, spectacular playground for outdoor enthusiasts and nature lovers alike. Adventurous travelers will find the national park holds an undeniable allure that is hard to ignore. The mountain is calling, and you must go.
Why Visit Mount Rainier National Park in Your RV?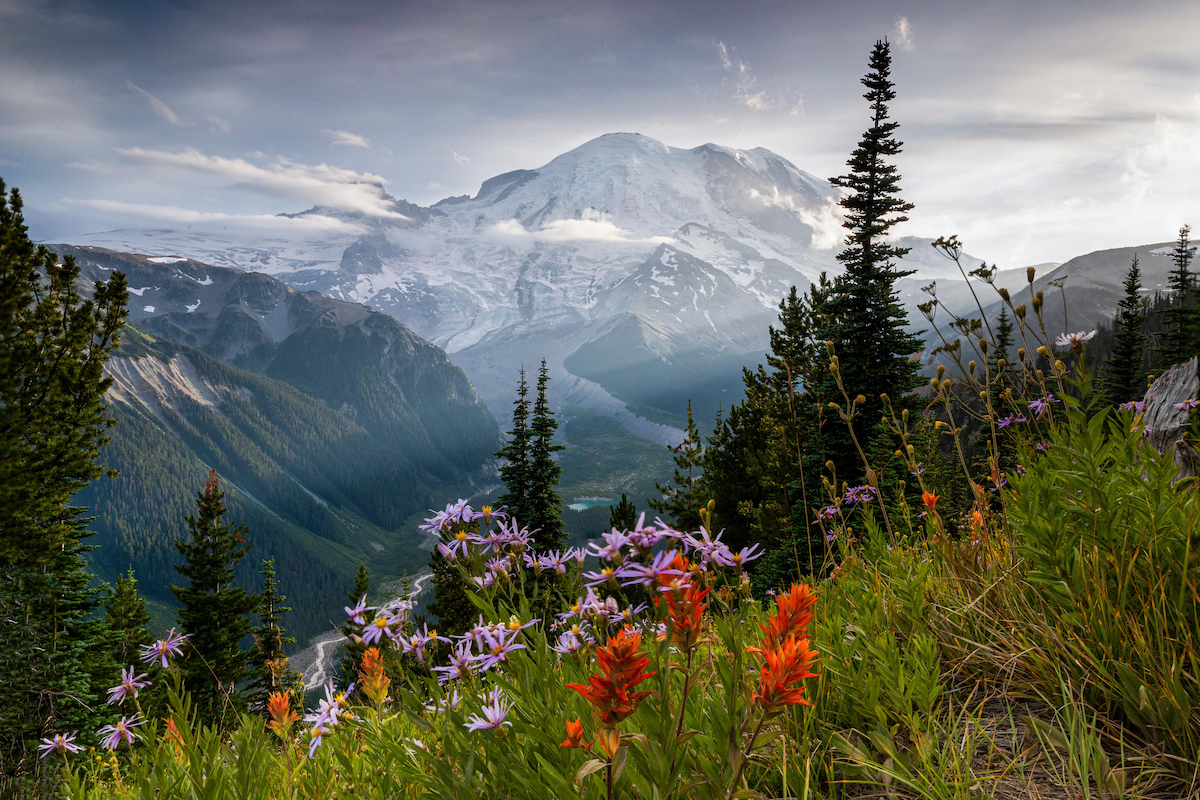 Despite its remote and wild nature, Mount Rainier National Park is actually very accessible by RV. Located just an hour outside Seattle, this wilderness setting is perfect for day trips or extended camping excursions.
Inside the park, visitors will find endless opportunities for adventure, including the chance to explore lush rainforests, hike through alpine meadows, and camp in the shadow of the titular mountain—which happens to be an active volcano.
The park has something to offer anyone who enjoys the outdoors and beautiful space. With more than 150 trails to wander and 147 miles of road to drive, there are many ways to take in this pristine wilderness.
RVers will also find three fantastic campgrounds inside the park boundaries, each with sites for motorhomes and travel trailers. All of this makes it a great destination for camping, exploring, and relaxing.
At the heart of it all is the mountain itself. Those with the time and inclination can make the arduous trek to Rainier's iconic summit. But be warned, this is no easy undertaking, requiring stamina, determination, and a true spirit of adventure.
When to Visit Mount Rainier National Park
The park is open year-round and offers wildly different experiences depending on when you go. Here's what you need to know:
Mount Rainier National Park in the Spring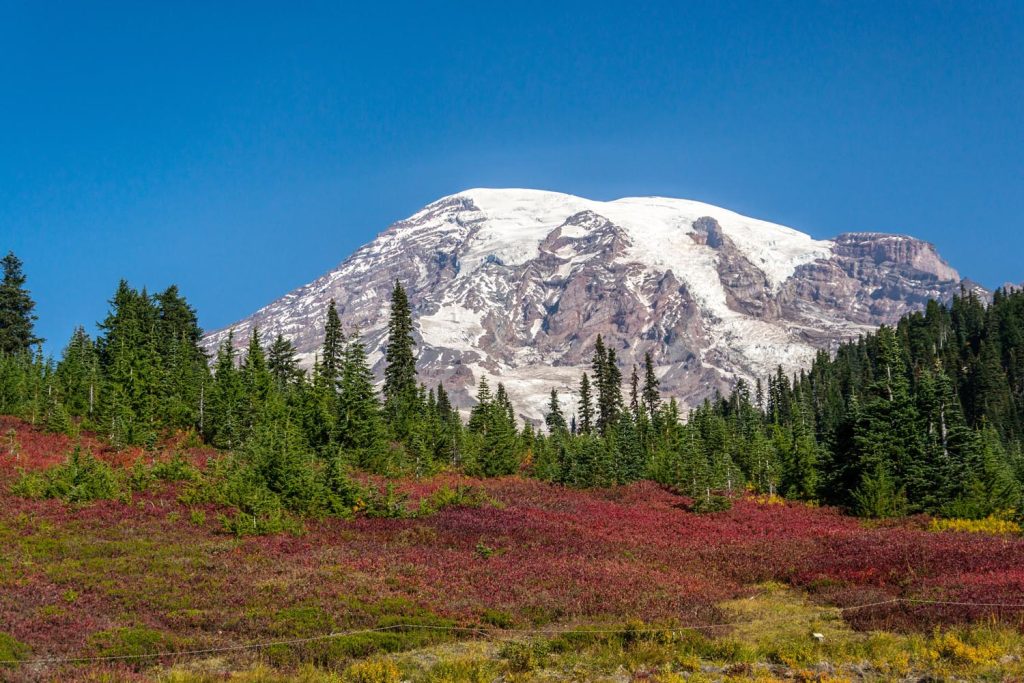 Early spring can be cold and wet, but as the season continues, the park warms up nicely. Average high temperatures range from the low 40s in March to the upper 50s in May. Overnight lows range from the mid-20s to mid-40s during that same time period.
Snow storms can still be quite common at altitude, leading to road closures at times. Be sure to check online or at a ranger station for the current conditions. Crowds tend to be low during this time of year but grow in numbers closer to the start of summer.
Mount Rainier National Park in the Summer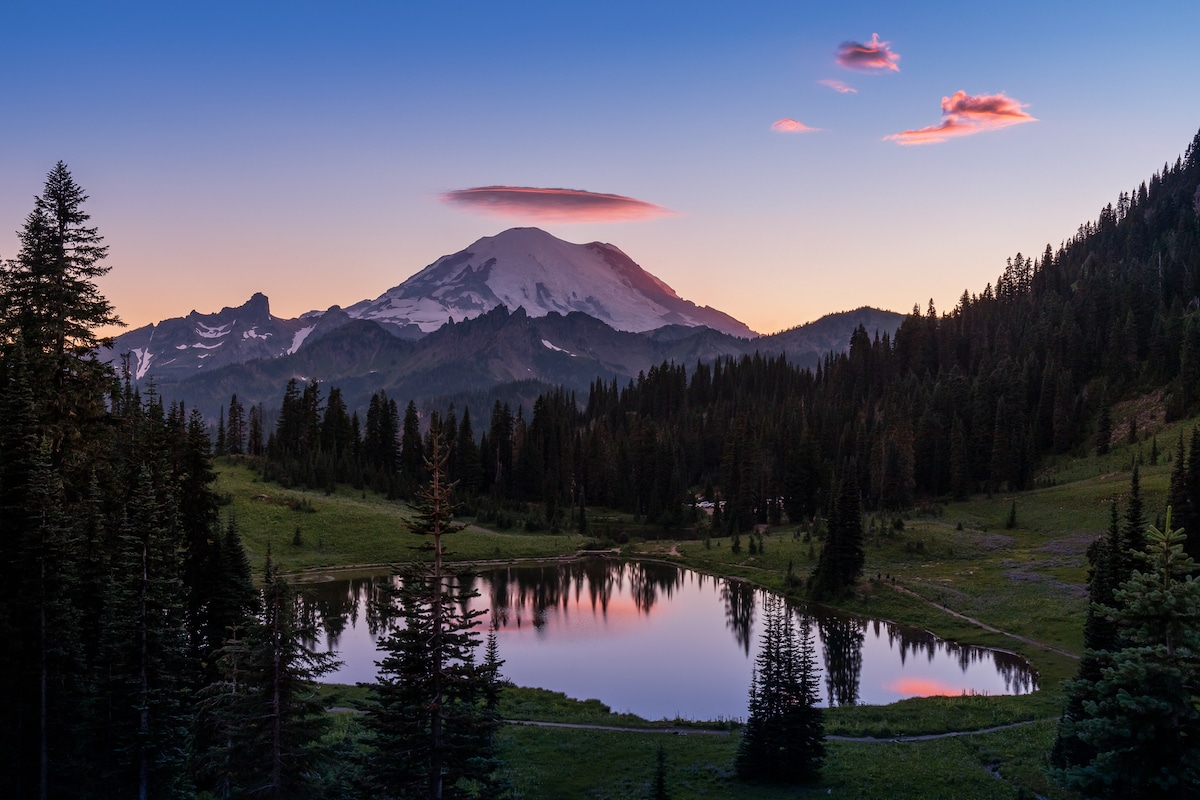 Summer is a popular time to visit the park, which is busiest from mid-July through mid-August. That's when Rainier's famous wildflowers bloom, bringing a dizzying array of colors with them. The weather is usually fantastic, with dry conditions and warm—but rarely hot—temperatures. Expect daytime highs in the low 70s and overnight lows in the 50s, with cooler conditions at higher altitudes.
Mount Rainier National Park in the Fall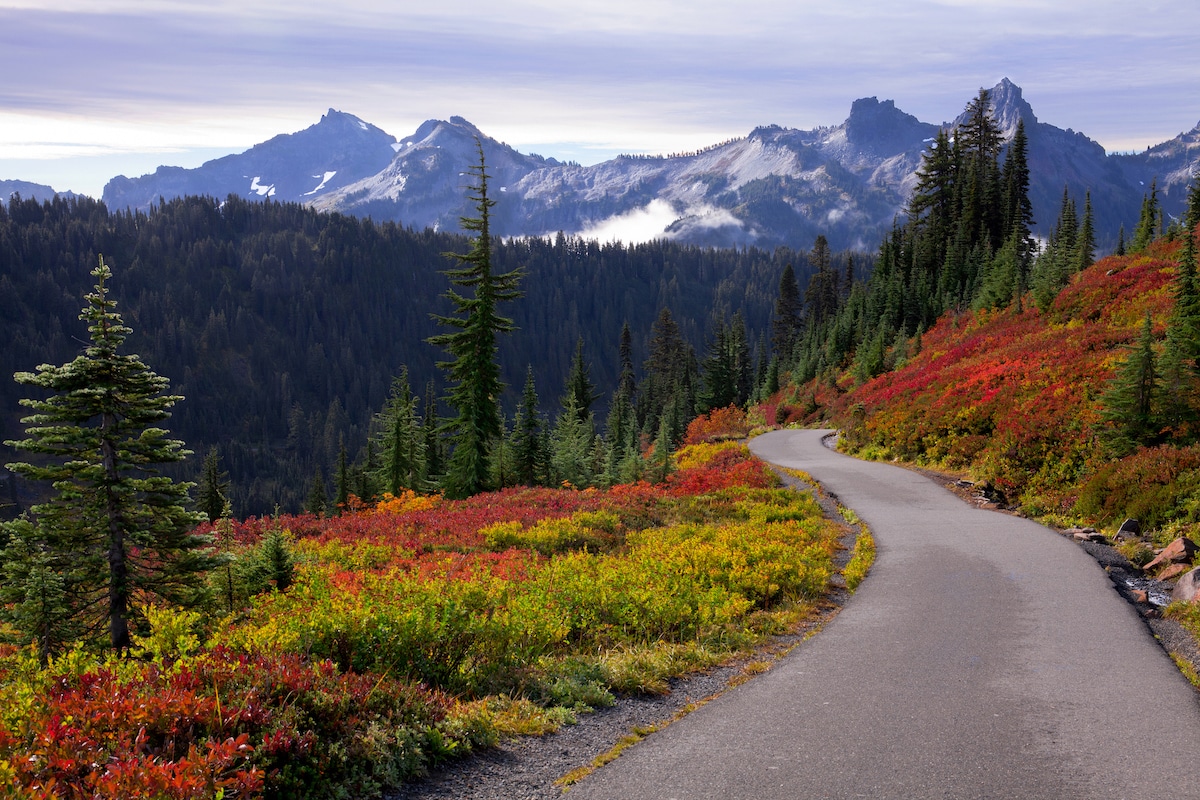 Autumn is an amazing time to visit Mountain Rainier National Park, which is awash in the season's colors starting in late September. Autumn does bring cooler temperatures—expect low 50s during the day and upper 30s at night—and October can be rainy. During peak leaf season, the park's trails and roads can be quite busy but taper off as fall wanes.
Mount Rainier National Park in the Winter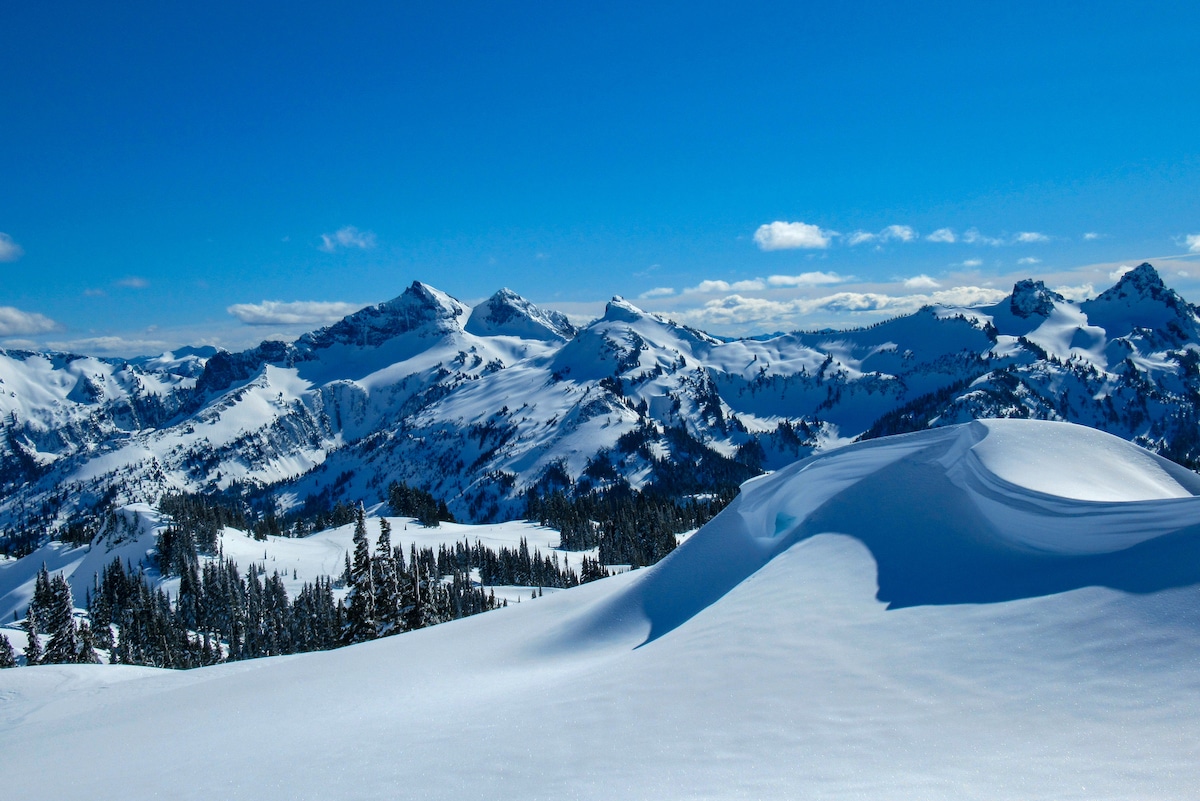 The national park gets plenty of snow during the winter, with some areas receiving several hundred inches of accumulation. As a result, many of the roads and trails are closed for the season. But the park is still very much open, and there is plenty to do, provided you dress for the weather and don't mind the challenges that winter brings. Average daytime temperatures tend to hover around 35ºF, while overnight lows drop into the low 20s.
Where to Stay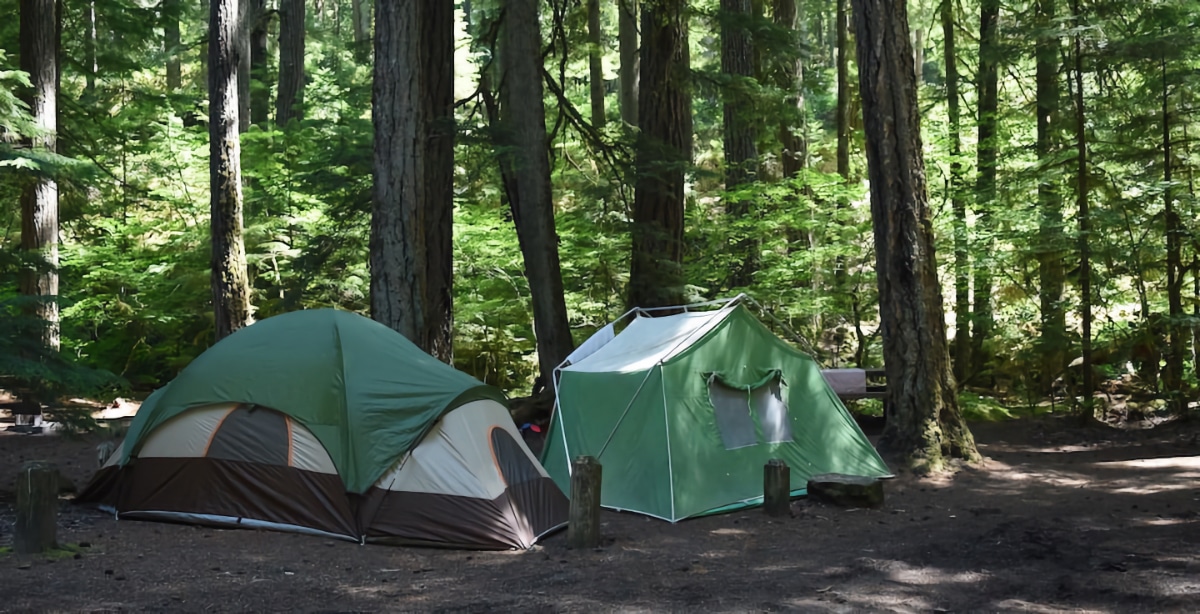 There are four campgrounds in Mount Rainier, three of which can accommodate RVs. None of the sites have hookups of any kind, so dry camping is the only option. The campgrounds do have water and flush toilets but keep in mind they are only open for a limited time each year, usually running from late May through late September. The park charges a site fee of $20 at each location.
The park's campgrounds include the following:
Cougar Rock: Located in the southwest region of the park, this campground sits at an elevation of 3,180 feet and features 179 individual campsites. This campground can accommodate motorhomes 35 feet in length and trailers up to 27 feet. Sites are available on a first-come, first-served basis, although advanced reservations are available at recreation.gov.
Ohanapecosh: Head to the southeast corner of the park to find this campground, which also has 179 designated campsites. Ohanahpecosh can accommodate motorhomes up to 32 feet in length and trailers as long as 27 feet. Sites are available on a first-come, first-served basis, although advanced reservations are available at recreation.gov.
White River: The White River Campground is the smallest and most remote in the park, offering 88 individual sites at an altitude of 4,400 feet. RVs are restricted to no more than 27 feet in length for motorhomes and 18 feet for trailers. There are no advanced reservations available for this location, which operates on a first-come, first-served basis.
Staying Outside the Park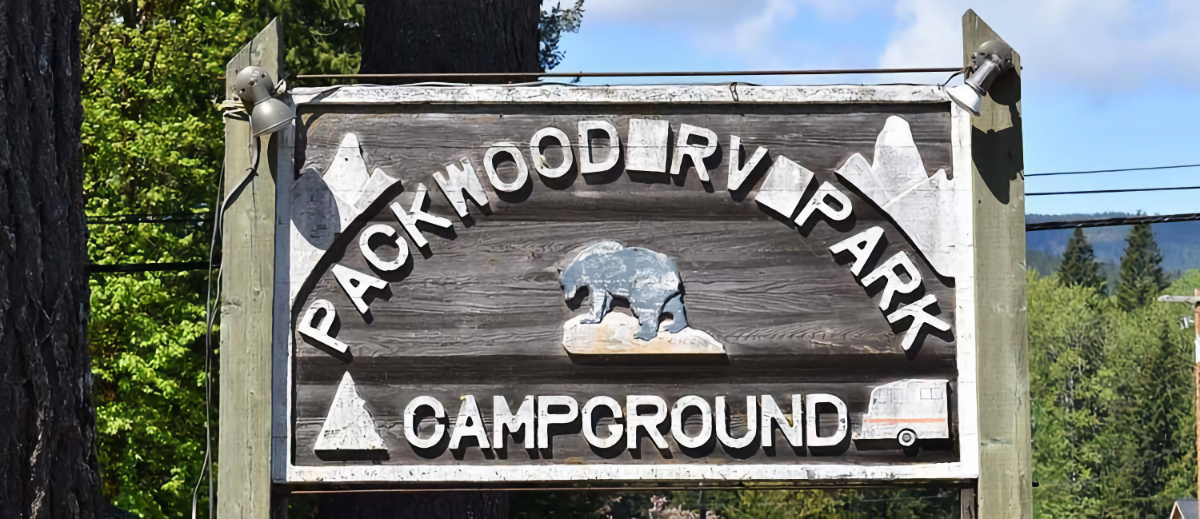 If the campgrounds inside the park are full or you prefer a campground with full hookups, there are some excellent options nearby. Here are a few suggestions for places to park your rig:
Maple Grove Resort and Golf Course: Maple Grove is one of the best RV resorts in the region, with plenty to offer visitors. The campground is located in Everett, WA, and is less than an hour from Mount Rainier National Park.
Rainier Wings/Packwood RV Park: Located in Packwood, WA, this campground is a little more than an hour away from the national park.
Mounthaven Resort: This charming RV resort is found in Ashford, WA, which is found just outside the boundaries of Mount Rainier National Park.
Invest in a Good Sam Membership and save 10% on nightly stays at Good Sam Campgrounds.
Tips for Your RV Camping Stay
If you plan on visiting Mount Rainer during the busy summer season, book your campsites early. The park can get very busy in July, August, and early September, making it challenging to find an open site.
Reservations for the Cougar Rock and Ohanapecosh campgrounds can be made on recreation.gov, but White River is always first-come, first-served only.
Camping or overnight parking is prohibited everywhere other than designated campgrounds.
All vehicles must be parked within the designated campsite parking area, not beyond the barriers or on vegetation.
Camping is limited to 14 consecutive days in any developed campground within the park and no more than 28 days total in any designated campground within the calendar year.
Keep campfires small at all times, and do not leave them unattended.
Buy firewood locally to prevent bringing invasive species into the park.
Dogs, cats, and other pets must be caged, on a leash (no longer than 6 feet), or otherwise under physical restraint at all times.
How to Get Around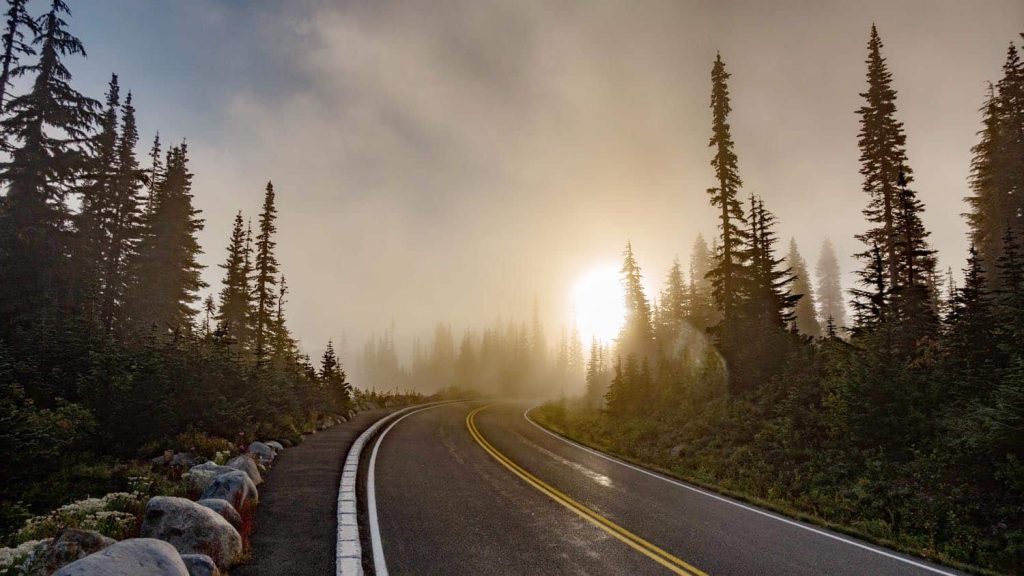 Because it is located in west-central Washington state, access to Mountain Rainier National Park is very good. The park sits a relatively short distance from several major metropolitan areas, including Seattle, Tacoma, Yakima, and Portland.
Visitors to Mount Rainier will find five entrances to the park. The southwest entrance is open year-round and can be accessed via SR 706. The northwest entrance at Carbon River via SR 165 is only open to cars up to the entrance point.
From that point on, only pedestrians and bicycles are allowed. Three entrances on the east are open seasonally from about May to September via SR 123. Once in the park, vehicles can travel SR 706 year-round from the southwest entrance to Longmire Visitor Center, where the road is closed from late September until spring.
However, in the summer season, SR 706 continues through the southern section of the park, becoming Stevens Canyon Road. Once reaching the southwest entrance, vehicles can travel the entire eastern region on SR 123 and SR 410.
All roads are a bit narrow and winding but offer awe-inspiring views and pull-offs to enjoy the scenery or take a break. Traffic jams are possible during the busiest times of the year, especially on the weekends, so be prepared to be patient. The narrow roads can also be challenging for larger motorhomes and travel trailers, so allow plenty of time for your drive. With nearly 150 miles of road to wander, there is plenty to see.
When visiting the park in the winter, always check the current road conditions and closures. Heavy snow closes many of the roads for several months, and others can be shut down based on current conditions.
Places to Go
Mount Rainier National Park has five distinct regions, each with their own character and special attractions. Here are several suggestions of places to visit within these districts:
Henry M. Jackson Memorial Visitor Center at Paradise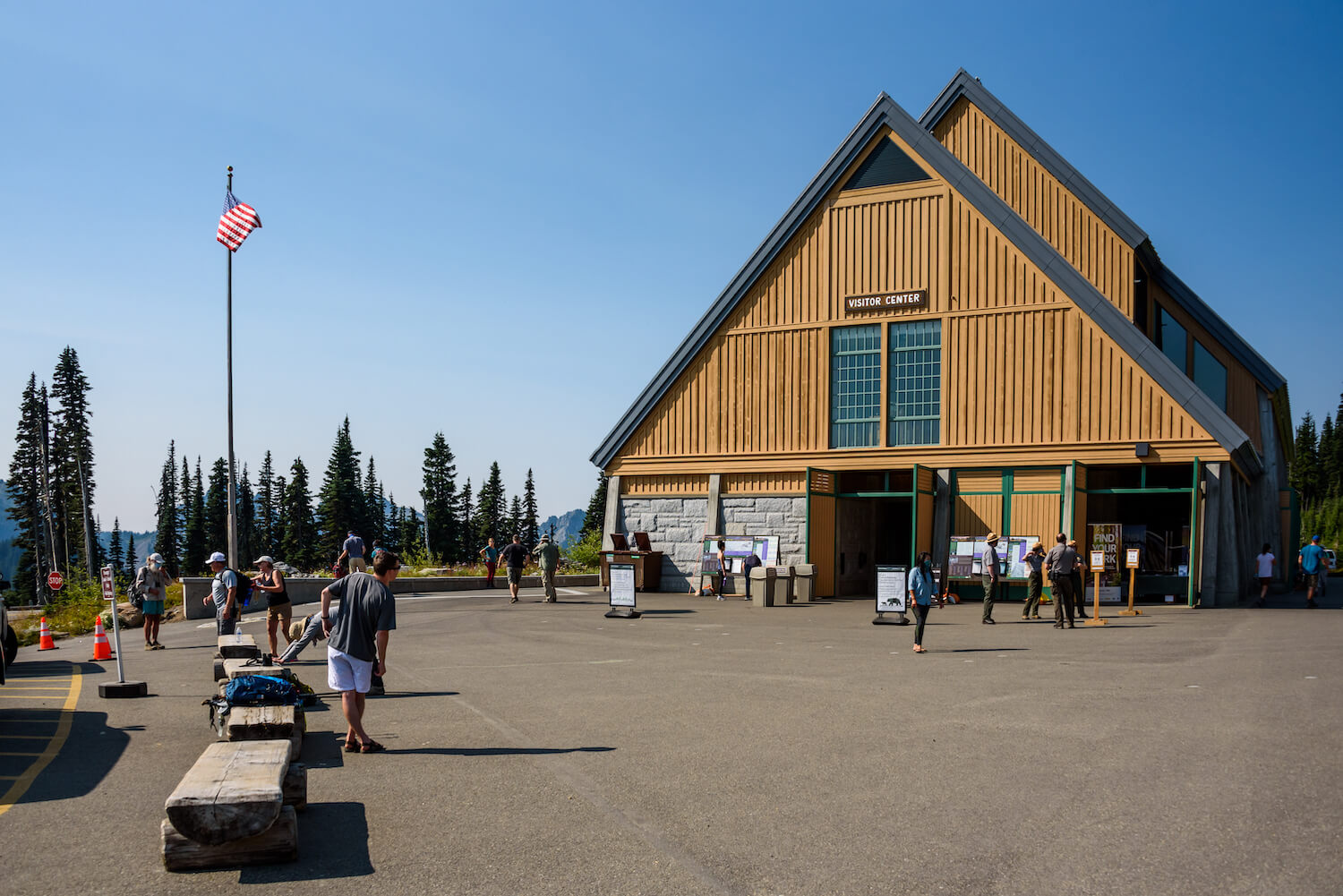 Located in the Paradise region, this is the main visitor center for the park. It is an excellent stop for visitors to pick up information about the region, join ranger-led tours, check out some exhibits, and watch a film about Mount Rainier. You'll also find a bookstore and a cafeteria here.
Paradise Inn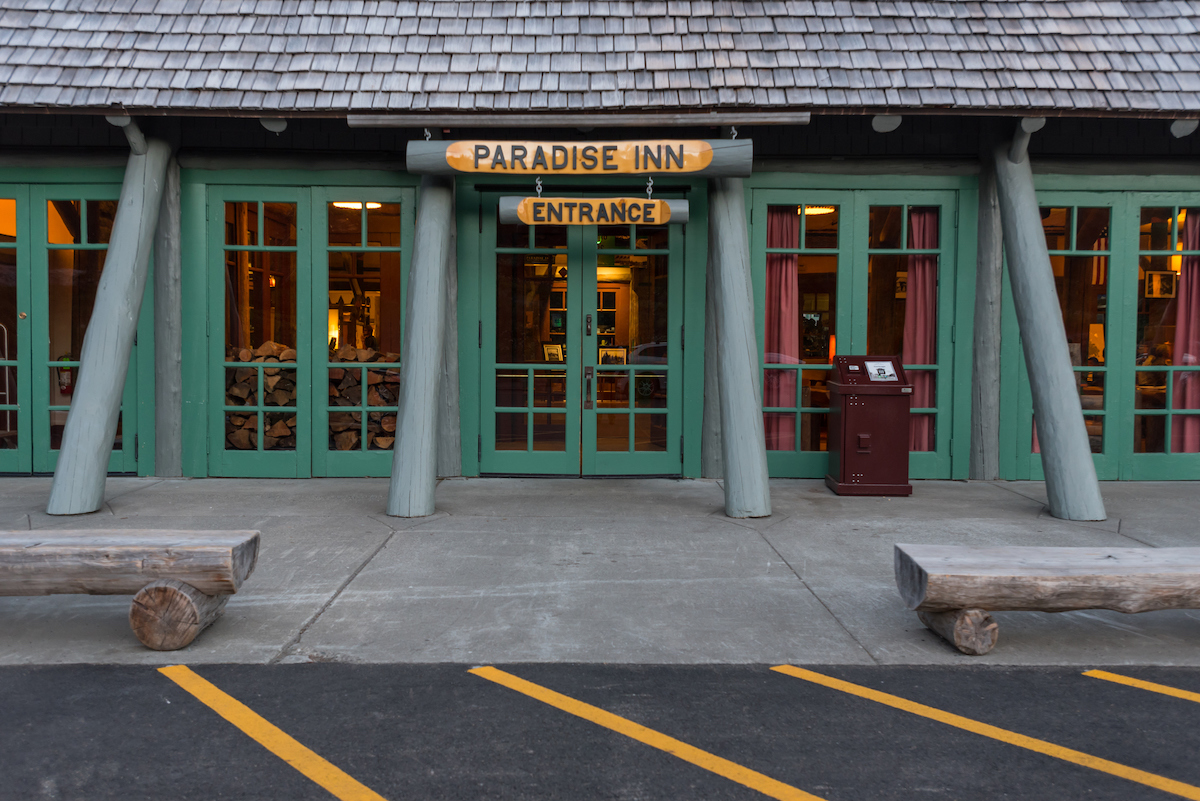 This historic hotel has lodging, a dining room, a café, and a gift shop. Built in 1917, the inn has been designated as a "Great Lodge of the West." It is open seasonally.
Longmire Museum
Once the original park headquarters, the Longmire Museum holds park exhibits, information, and a book store. It is located in the Longmire National Historic District, which showcases several buildings constructed in the "National Park Service Rustic" style.
National Park Inn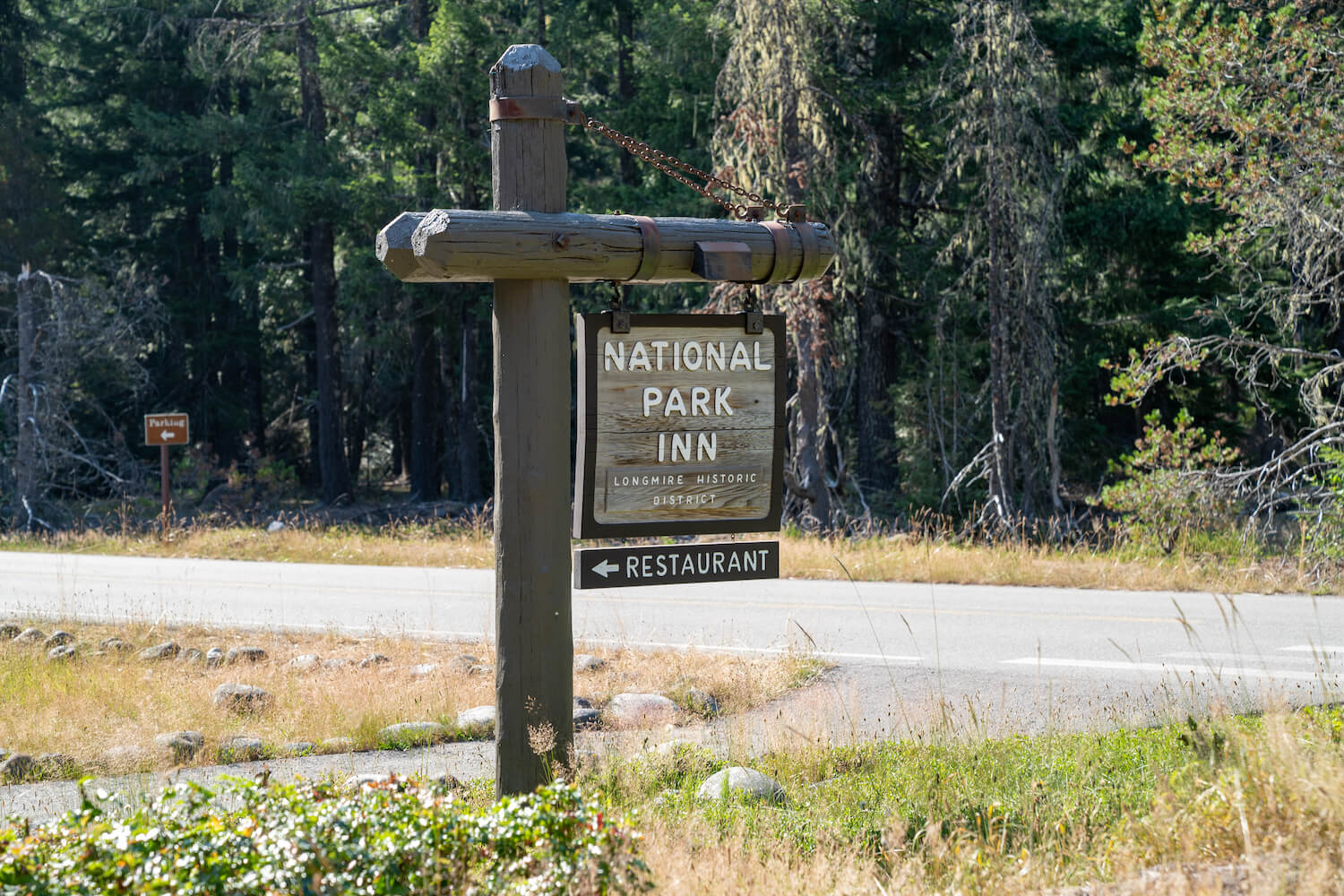 Located in the Longmire historic park district, this 1911 log building has 25 rooms with casual dining and a gift shop. It is open year-round.
Sunrise Visitor Center and Day Lodge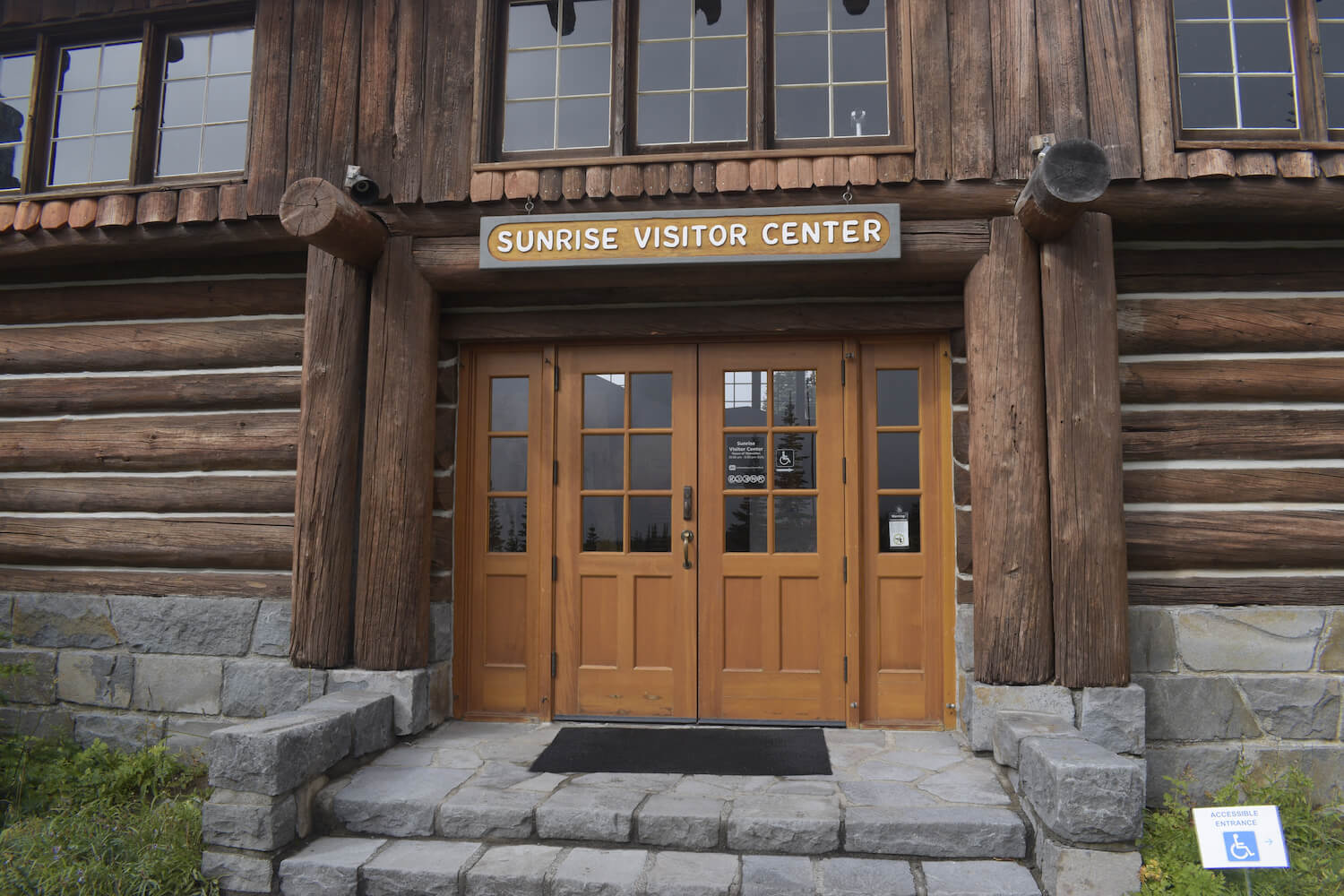 This visitor center and its accompanying day lodge are open from early July to early September. They provide information, a bookstore, a cafeteria, and a gift shop.
Ohanapecosh Visitor Center
Located in the southeast corner of the park, this center has information, exhibits of the area, guided interpretive programs, and a book store. It is open from late May to early October.
Reflection Lakes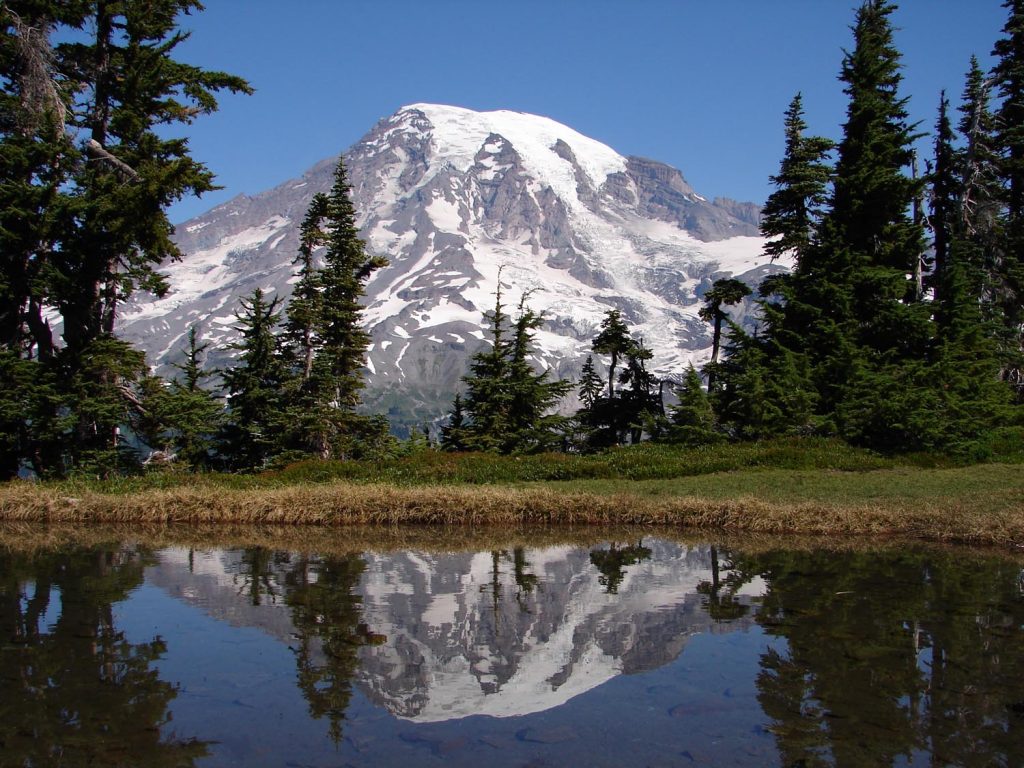 Located three miles east of Paradise, these lakes are the perfect place to capture images of Mount Rainier reflected on the water. Best of all, because the lakes are found just a few steps from the road, they are easily accessed by most visitors.
Paradise
The aptly-named Paradise region is found on the southern flanks of Mountain Rainier. As one of the most famous locations in the entire park, it can get frequently crowded, but it offers some of the best views too. There are several trailheads in the area, making it a great place to go for a hike, with crowds thinning out the further you wander.
Myrtle Falls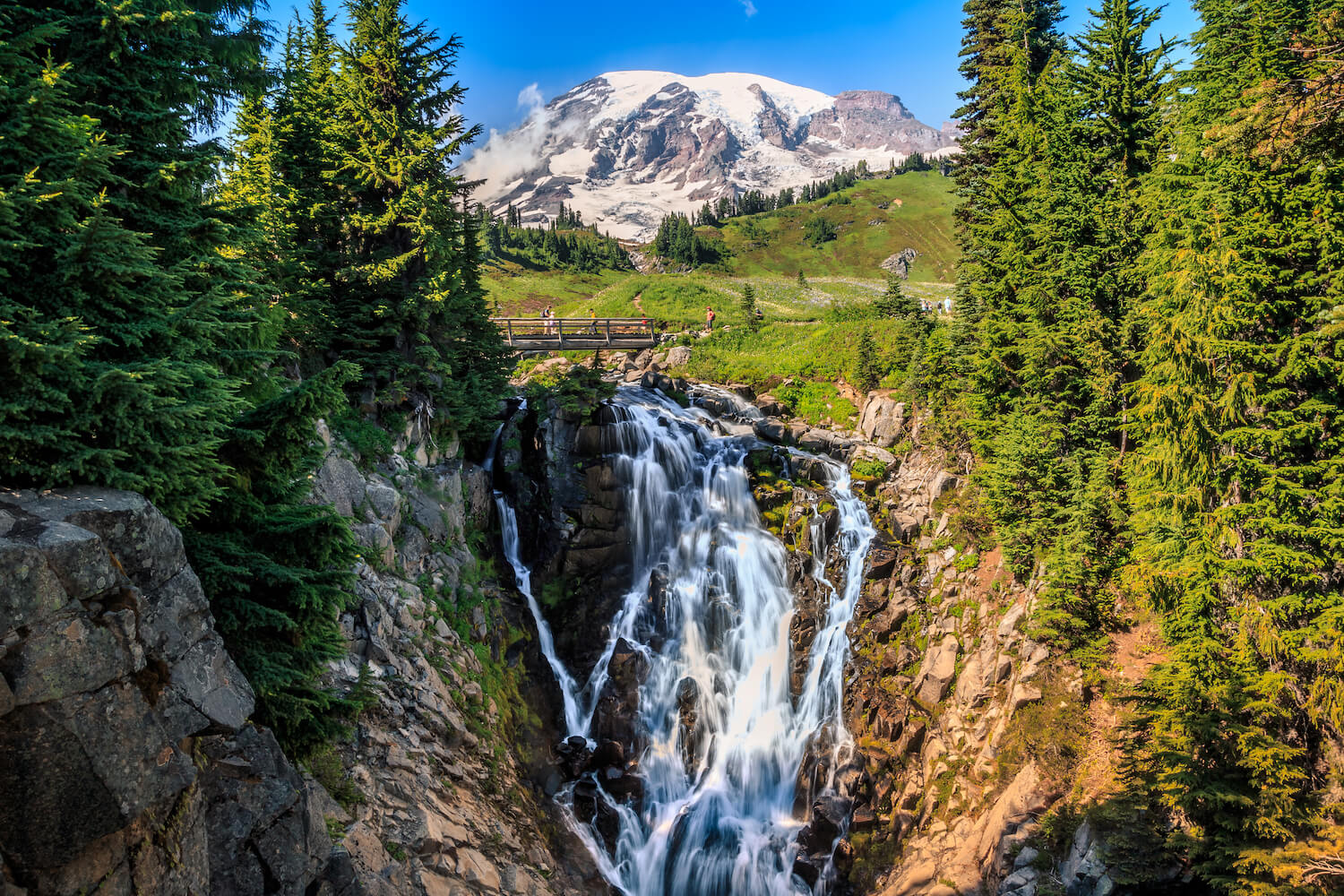 The short one-mile roundtrip hike to Myrtle Falls takes visitors to an idyllic setting that not only includes the namesake waterfall but stunning views of Mount Rainier in the distance.
Things to Do
With nearly 370 square miles to explore, outdoor enthusiasts and nature lovers will find numerous activities to keep them busy. Here are a few that you should do while you're visiting the park.
Day Hiking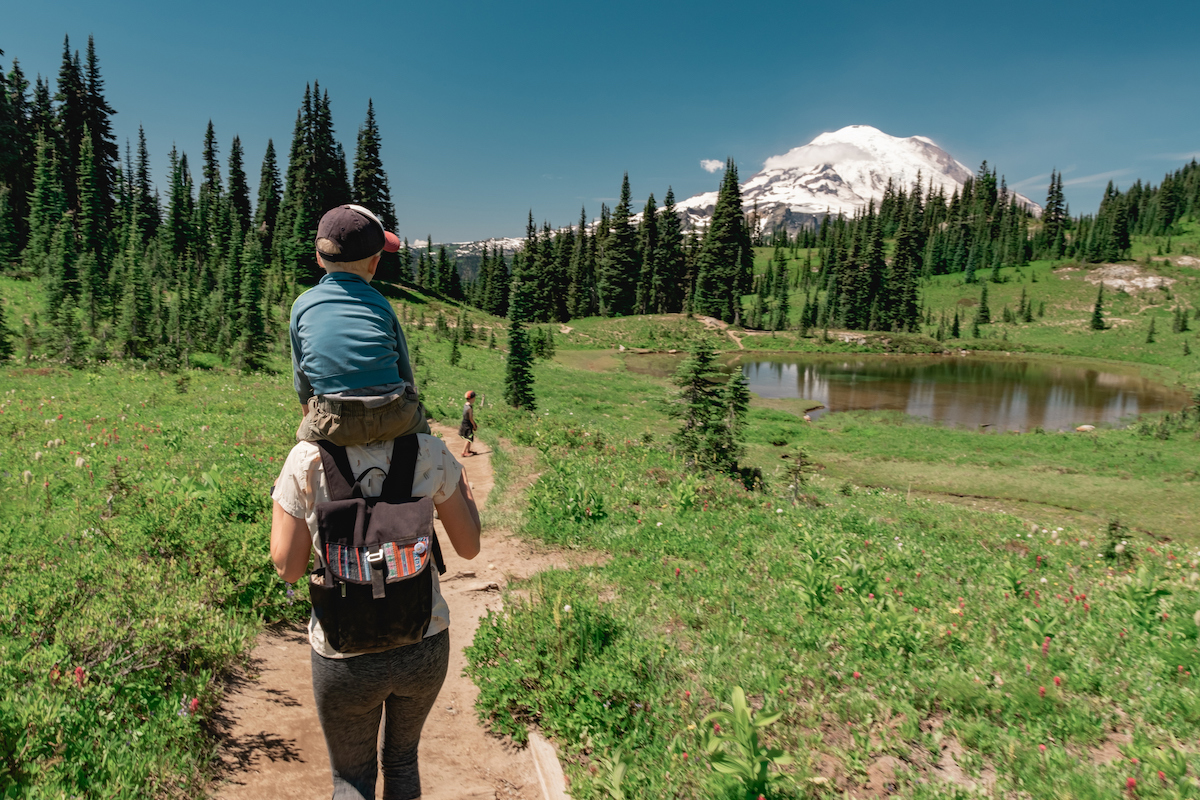 The most popular activity in the park is hiking its many trails. It is a great way to enjoy the meadows full of wildflowers, alpine landscapes, and the quiet solitude of the backcountry.
Trails are arranged by region and difficulty:
Longmire Region – This area is known for its historic district and scenic waterfalls.
Paradise Region – This breathtakingly beautiful region is known for its wildflower meadows and captivating landscapes.
Ohanapecosh Region – This area is known for its towering old-growth forests and its proximity to the wild Ohanapecosh River.
Sunrise Region – At 6,400 feet in altitude, this region is the highest point in the park that can be reached by vehicle It offers stunning views of the mountain and plenty of spectacular trails to wander.
Carbon River & Mowich Region – This area is known for its lush rainforests and glacial basin.
Backpacking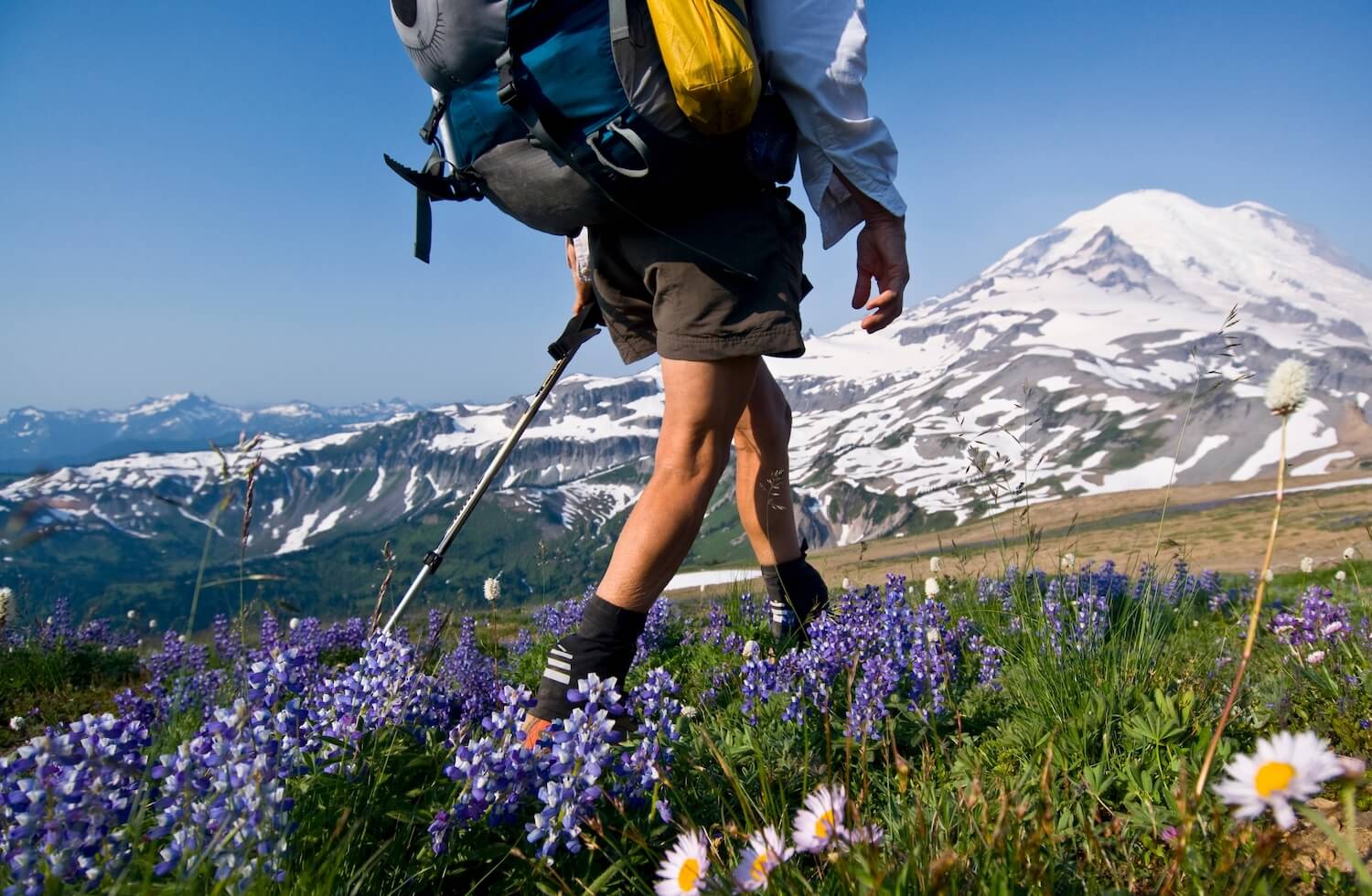 As mentioned, there are four official campgrounds within the park boundaries, although only three of them can accommodate RVs. The fourth, Mowich Lake Campground, is a hike-in, hike-out location above 4,929 feet. Backpackers will find 13 tent pads there, which are available on a first-come, first-served basis. Fires are prohibited, and the site is only open from early July through early October.
Backcountry camping is allowed in the park's expansive backcountry. Permits can be obtained at a visitor center or ranger station. Those permits are in high demand, and park officials suggest reserving a permit ahead of your visit.
Bicycling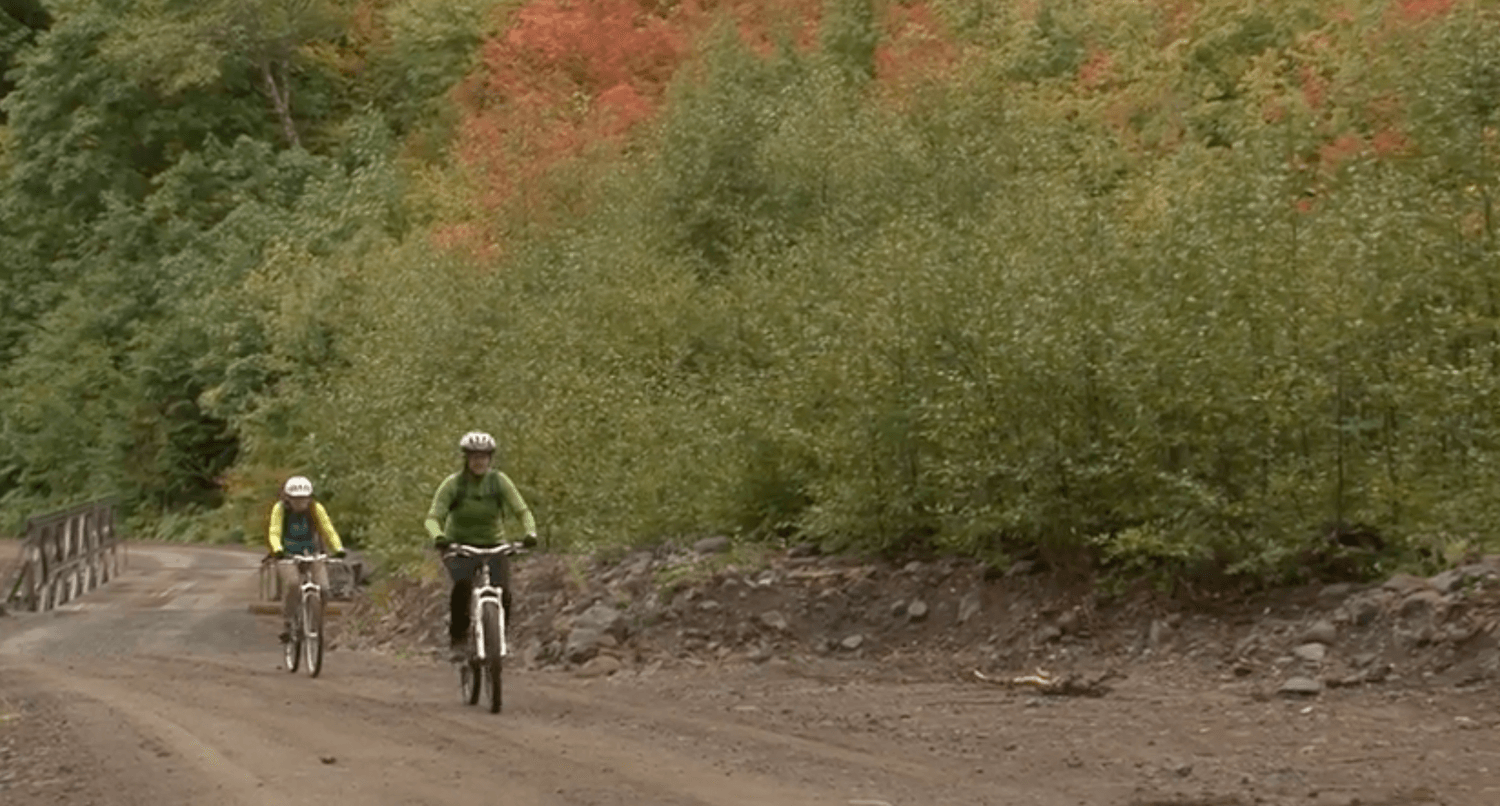 Cyclists are welcome to bike the roads within Mount Rainier National Park, but they cannot ride on trails. Existing roads are narrow and winding without paved shoulders, so ride carefully. September and October are usually the best times to ride, as car traffic in the park decreases, but the weather remains warm, and the autumn colors are spectacular.
Mountaineering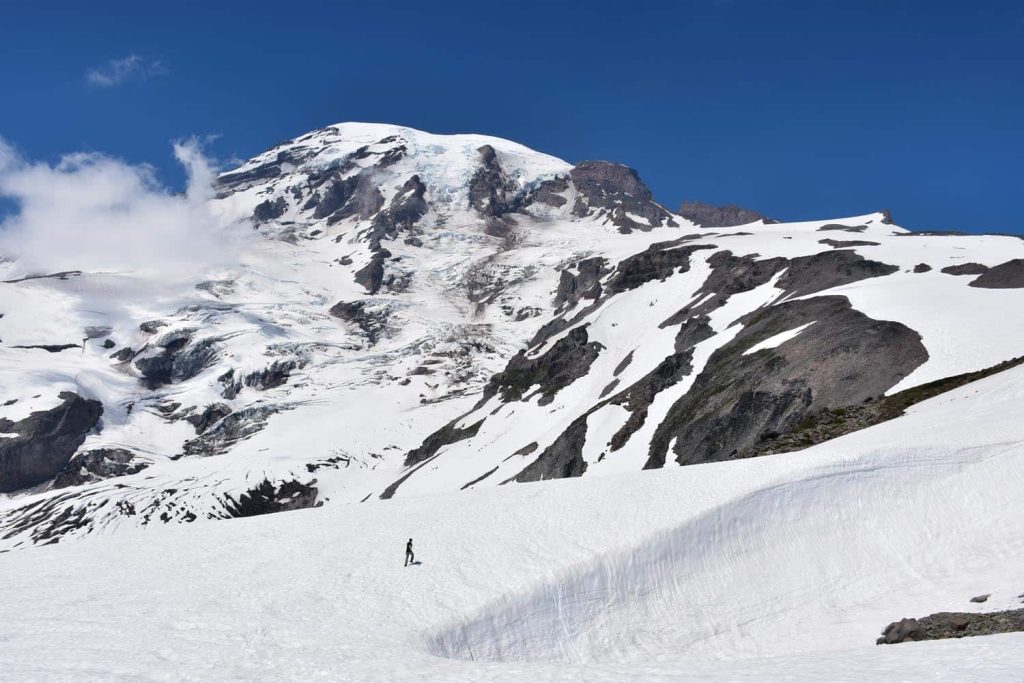 Mount Rainier is one of the premiere climbing destinations in the world, drawing thousands of alpinists annually. It is a challenging ascent with over 9,000 feet of vertical gain to reach the summit at 14,410 feet.
While not for the faint of heart, the climb is accessible for visitors who are in good physical condition and have experience in mountaineering. Permits are required for such an undertaking, which typically takes two to three days to complete.
Climbing Mount Rainier is not for the inexperienced or unprepared. Anyone wishing to summit the peak should do so with a professional guide, many of which can be hired in the area. For more information, check out the National Park Service guidelines on the park's website.
Snowshoeing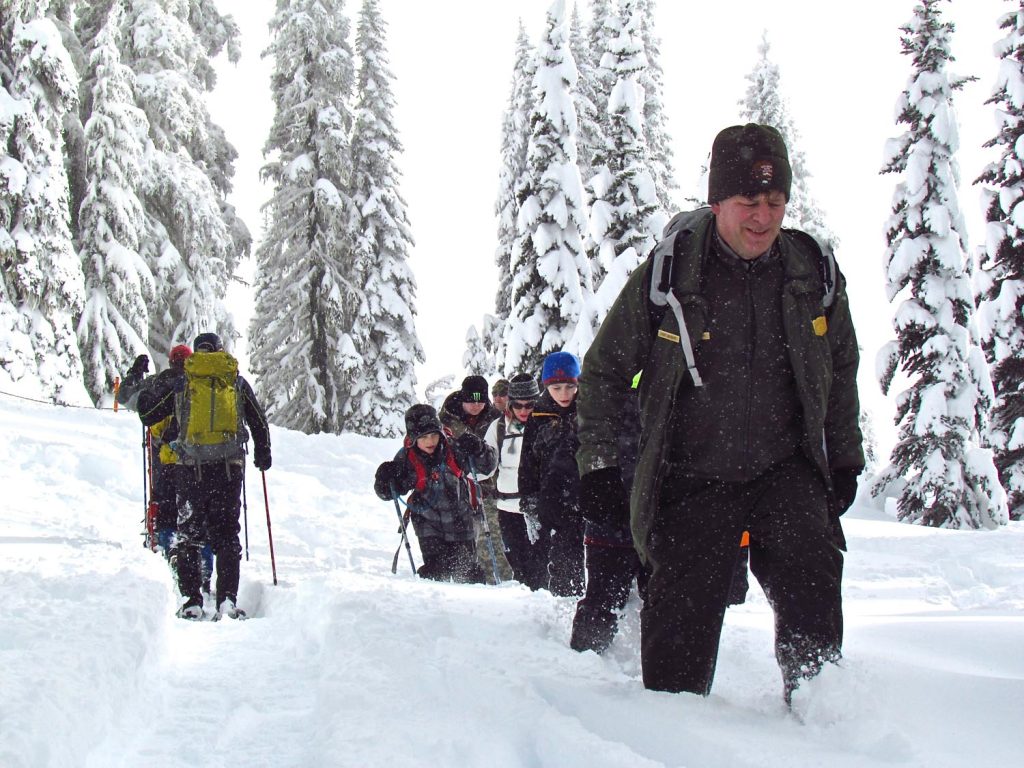 Snowshoeing is a popular way to explore the park during the winter months. Guests to Mount Rainier are welcome to hike on any trail without needing a guide. Just dress appropriately for the weather conditions and stay safe on your adventures.
Additionally, ranger-guided snowshoe tours are offered from December through March on weekends and holidays. Participants are led through park areas to see how plants and animals adapt to winter conditions. The tours are first-come, first-serve,d with a limit of 25 guests per tour. Visitors to Mount Rainier are also welcome to snowshoe on trails without a guide.
Skiing and Snowboarding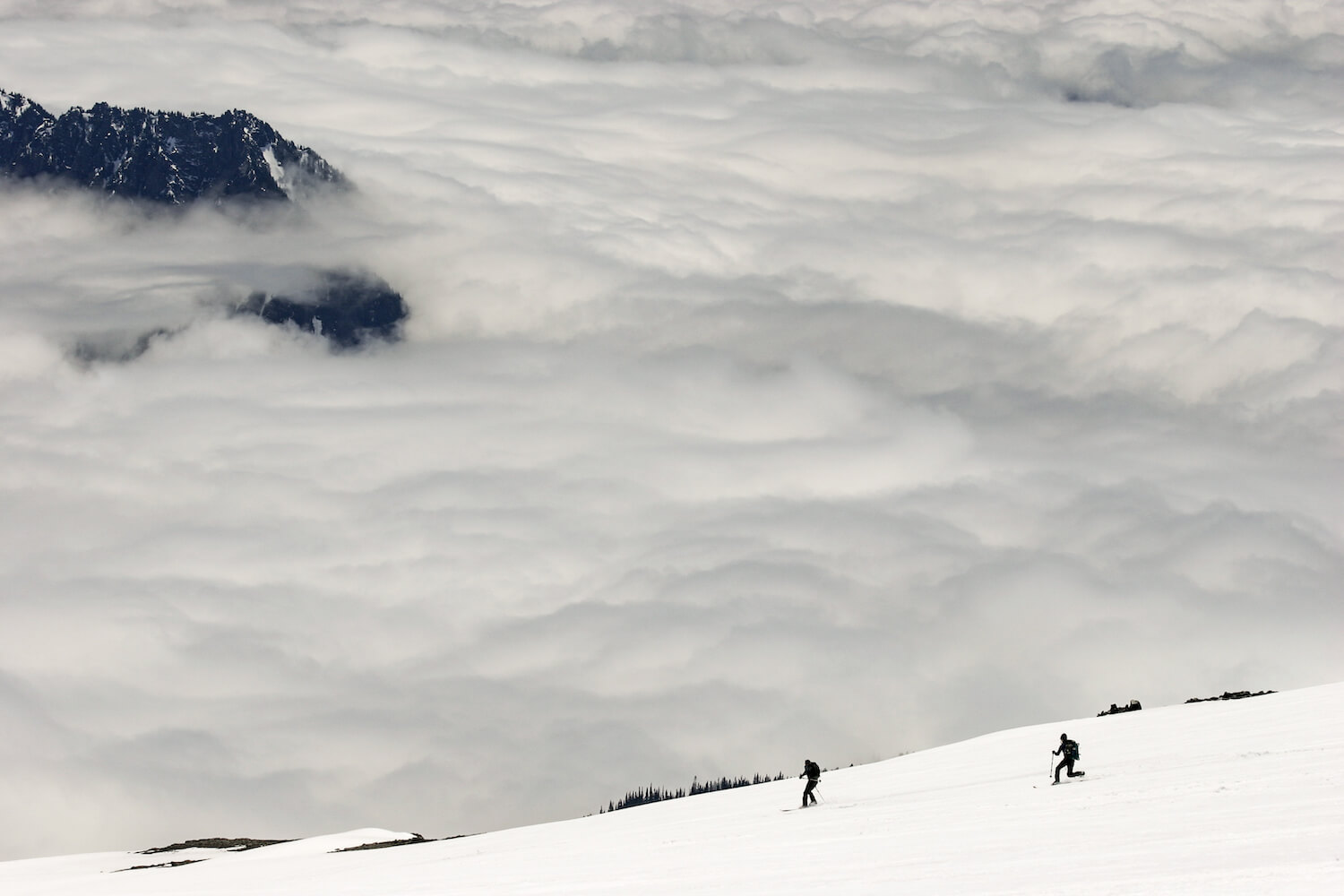 While there are no designated ski hills or resorts inside the park, experienced skiers and snowboarders can hit the slopes in the backcountry. Mount Rainier offers epic and wild terrain that is best explored by experienced winter athletes.
To protect the indigenous flora, the National Park Service requires at least five feet of snow coverage. To find the locations where backcountry skiing and snowboarding are allowed, check in at the Jackson Visitor Center.
Snowmobiling
Snowmobiling is another popular way to experience Mount Rainier National Park in the winter. In the southwest region of the park, visitors can ride the length of Westside Road to Round pass, a distance of 6.5 miles.
Snowmobiles are also permitted on the road loops near Cougar Rock Campground and Highway 410 to the White River Campground. For more information on snowmobiling in the park and to get maps for the White River, Carbon River, and Mowich Lake areas, visit the US Forest Service District Office in Enumclaw.
What to Bring and How to Prepare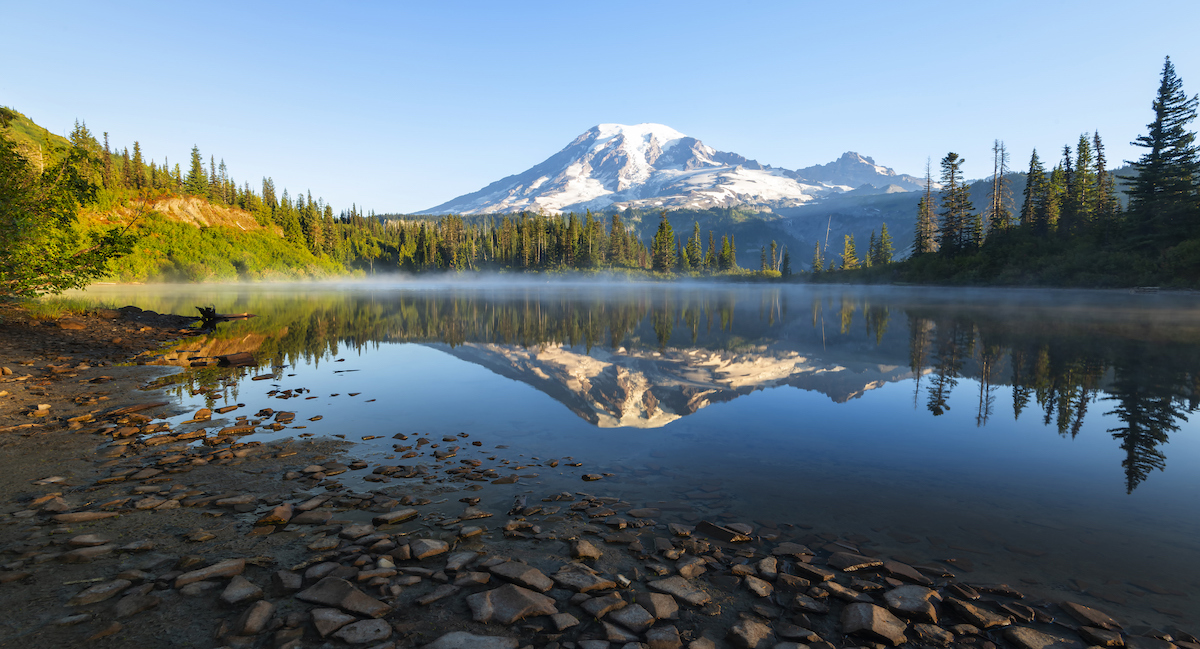 Mount Rainier National Park isn't far from several major metropolitan areas but is a wild and remote place. Here are a few additional tips to help you enjoy your time there:
Be sure to stop in one of the visitor centers to find out which roads are open and how busy the park is, and learn more about the place. This is especially important from late fall into early spring when road closures are common.
If you want to climb the mountain, contact a local guide service to ensure you are safe and well-prepared for such an endeavor. Some of the top guiding companies include RMI Expeditions, Alpine Ascents, and International Mountain Guides.
Cellphone service is available in some sections of the park but very limited in others. Be prepared to be out of contact with the outside world during portions of your trip. Consider adding a cell booster to your RV if necessary, or alternatively, use two-way radios to communicate with your party.
There are two restaurants, two snack parks, a cafe, and a general store located in the park. Those locations are perfect for grabbing lunch or picking up drinks and snacks for the road. You'll also find plenty of options in the neighboring communities when coming and going.
Bring extra layers, even in the summer. The weather can be somewhat unpredictable sometimes, and it is always nice to have a fleece pullover or a rain jacket at your disposal just in case the conditions change.
Mount Rainier National Park has a large and diverse wildlife population, some of which can be dangerous to visitors. Be sure to maintain a safe distance from black bears and mountain lions at all times. Do not knowingly approach these animals; if you come across one unexpectedly, slowly but swiftly back away.
Winter is an amazing time to visit the national park, but it can be unforgiving for the unprepared. Bring plenty of warm clothes, boots, and other equipment to keep you safe in the Mount Rainier wilderness. Also, let others know where you are going and when you expect to be back.
Brief History of Mount Rainier National Park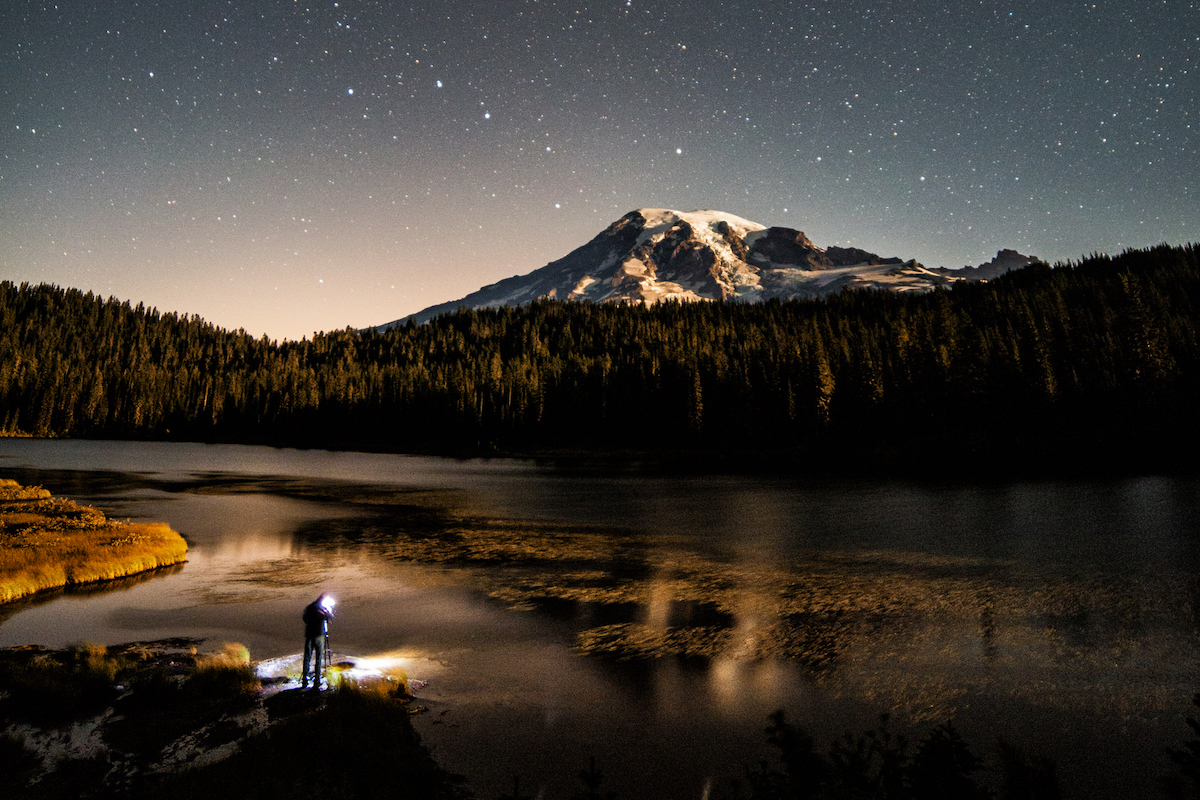 While there is evidence that nomadic tribes moved through the Mount Rainier region as far back as 8000 BC, there were no permanent settlements in the area until the 1800s. Instead, those ancient travelers came to the area to hunt, fish, and explore without establishing villages. Archaeologists have found plenty of artifacts left behind by those hunters, including a shelter used on a seasonal basis around 1000 BC.
In 1854, the Nisqually, Puyallup, Muckleshoot, Yakama, and Taidnapam peoples entered into treaties with the US government that allowed them to settle in the shadow of the mountain. Those five Native American tribes already lived in the area but still hadn't established permanent settlements. They would remain on those lands for several decades that followed.
In 1893, the federal government created the Pacific Forest Reserve to protect the lands on and around the volcanic mountain. Just six years later, President William McKinley would sign a bill that officially created Mount Rainier National Park. The goal was to preserve the land for generations to come and protect the peak from urbanization. This was done as much for the natural wonder of the place but also to keep communities well away from a potential volcanic eruption.
Today, Mount Rainier National Park sees more than 1.5 million visitors annually. Roughly 10,000 of those visitors come to climb to the summit of the tallest peak in the Cascade Range.
---
Plan your next trip to the national parks in an RV. Rent an RV, trade-in your RV, or buy an RV and start exploring.
Have you visited Mount Rainier National Park? Share your tips and advice in the comments below.