In southwest Alaska, where the Alaska Mountains meet the Aleutians, lies one of the world's most diverse regions. Lake Clark National Park and Preserve is home to active volcanoes, rushing salmon-filled rivers, glaciated valleys, and nutrient-rich tundra.
This diverse landscape supports many brown bears, caribou, bald eagles, moose, and Dall sheep. It is here that nature envelopes visitors in overwhelming landscapes and unbelievable wildlife viewing.
Why Visit Lake Clark National Park in an RV?
Your RV or travel trailer will have to sit this one out, as Lake Clark has no road accessibility. Leave your RV in a town where bush flights into the park are available, like Anchorage, Kenai, or Homer. Plan to spend several days exploring the immense landscapes of the park and watching brown bears devour sedges, clams, and salmon.
Several lodges can be booked for summer visits. Lake Clark National Park and Preserve is one of the last truly wild places on the planet. Travel here is reserved for the adventurous, those looking for experiences larger than life itself.
Sensory perception is overloaded in this corner of the world, where glacier-capped mountains erupt, fish too numerous to count color the water bright red, and the landscapes are so vast that you will think you are the only person left on earth to exult in them. With 4 million acres of space, you just might be.
When to Visit Lake Clark National Park
Lake Clark is open year-round, and your visit will depend on what season you'd like to explore and what kind of wildlife you wish to see. Caribou and moose can be seen anytime, and birds follow the migrating season. Remember that Lake Clark National Park is remote and very isolated, so be thoroughly equipped for all of your activities.
Lake Clark National Park in the Spring
The melt doesn't really begin until late April in Lake Clark National Park. Ice conditions play a major role in the ability to visit, as it dictates whether or not planes with float or skis can land. The park receives 17-26 inches of precipitation annually, but conditions can vary dramatically from the coast to the park's interior.
Lake Clark National Park in the Summer
If fishing is high on your list of To Dos, summer will be your best bet, but hiking and camping can be enjoyed during any season if you are prepared. Brown bears hibernate from December to April but are most active during the salmon run in August and September.
Summer temperatures range from 50 to 65℉, but frost and snow can occur anytime in the park from September through early June. You can go from basking in the sunshine to being soaked in a rainstorm in the park all year round.
Lake Clark National Park in the Fall
Temperatures begin to dip in September, but Lake Clark usually doesn't freeze until sometime in November. While the coast remains foggy and wet, it does stay slightly warmer than the park's interior, where the record low temperature is -55℉.
Lake Clark National Park in the Winter
Winter can be brutally cold in Lake Clark, and conditions often prohibit planes from even landing on the lake. The average low temperature in January is 1℉, and the average high temperature is 22℉, but it's not uncommon for temperatures in the park's colder interior to dip below -40℉.
Where To Stay
RVs must be left in the mainland communities of Homer, Kenai, or even Anchorage, as the only way into the park is by bush plane. Once on land, there are several private lodges for overnight stays or weekly visits, and those are all accessed by plane, as well.
If you want to camp inside the park, you'd better be ready to tent camp and comfortable with primitive campsites. Check out the park's website for information about backpacking and camping before you go.
Staying Outside the Park
If parking your trailer or motorhome, here are a few RV parks available:
Invest in a Good Sam Membership and save 10% on nightly stays at Good Sam Campgrounds.
Tips for your Camping Stay
All camping in the park is primitive, and there are no designated campsites or facilities. Know and practice

Leave No Trace principles

to minimize your impact on the park's environment.

Access to backcountry campsites requires off-trail hiking. That can sometimes include fording rivers, avoiding bogs, and preparing for inclement weather.

Backpacking and camping in the park require advanced wayfinding and hiking skills. If you don't possess these skills, strongly consider

hiring a guide

.

The average backcountry hiker in the park moves at a rate of roughly one mile per hour.

Backcountry permits are not required, but all campers must know and adhere to the

rules and regulations

that govern travel and camping in the park.
How to Get Around Lake Clark National Park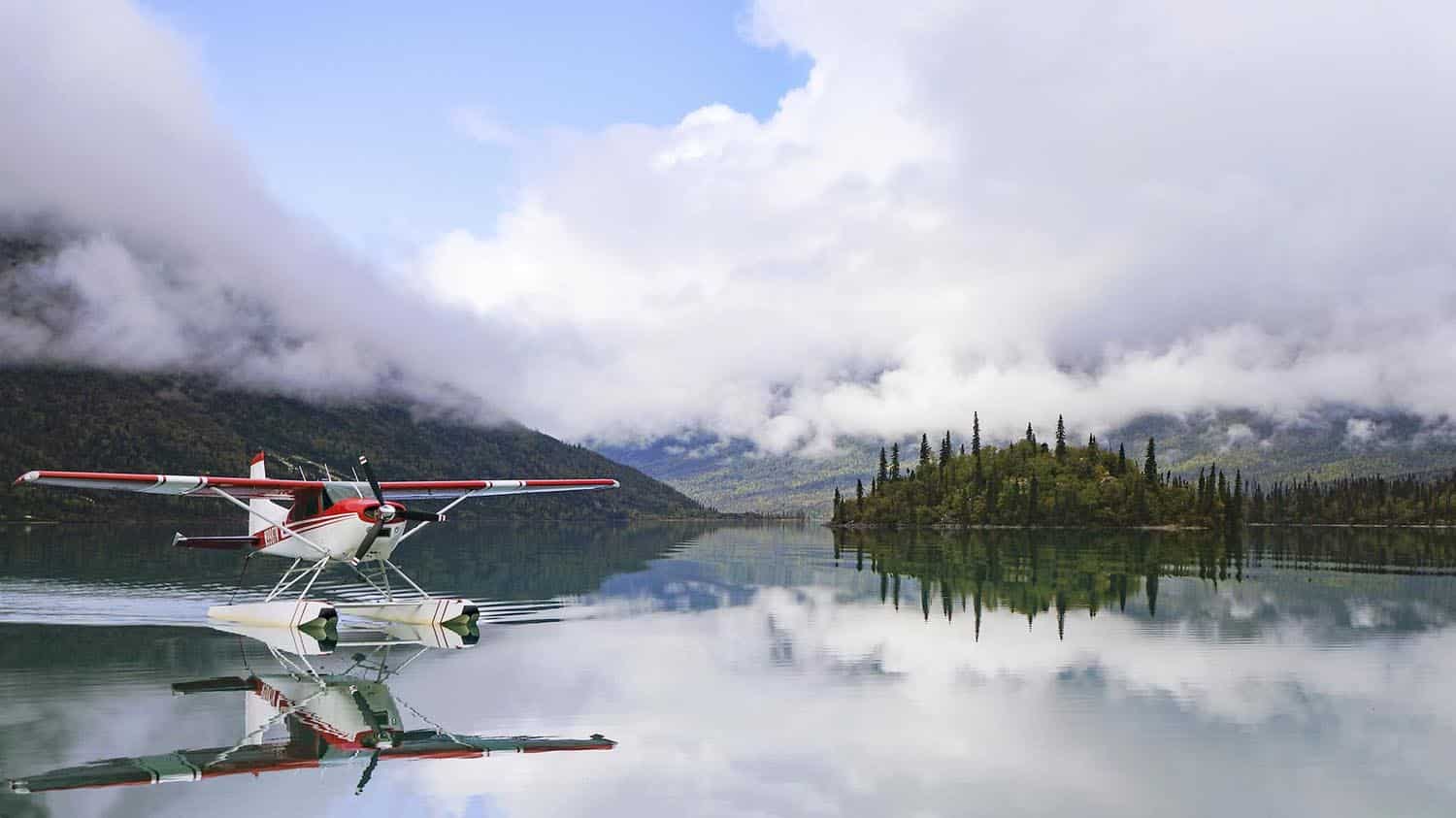 Lake Clark National Park is immense in size and grandeur, but there are no roads in or out of the park's 6,250 square miles of natural habitat. So bush planes equipped with floats, skis, or wheels, depending on the season and the landing spot, are the only way through the Chigmit Mountains and into the park.
Private guide services and chartered planes are available from Homer, Kenai, Soldotna, and Anchorage. Keep in mind that weather plays a big factor in accessibility, so plan some extra time for your excursions for flight delays.
Places to Go
Here's a look at some of the best places inside the park that you can visit. There are many of them, but these are some of the best spots to go.
Chinitna Bay
Brown bear viewing is the number one activity for visitors to Lake Clark, and Chinitna Bay is one of the best locations in the world to see up to 20 bears at a time feeding on the sedges and other available sources of food. Getting there requires a flight on a bush plane, and visitors can walk along the beach to two viewing areas, where the brown bears abound in summer.
Crescent Lake
The most visited destination within the park, Crescent Lake attracts brown bears with its abundance of sockeye and silver salmon. The bears hunt the shoreline and Crescent River looking for these tasty morsels, and anglers flock here to catch trout, dolly varden, and king salmon, so expect to see other Homo sapiens along with Ursus arctos!
Port Alsworth
Check out the park's visitor center in the summer months to solicit help from a ranger or get more information on Lake Clark National Park. Fish at Tanalian Falls or spend the night in a rustic cabin.
Upper Twin Lake and Richard Proenneke Cabin
Explore the handbuilt cabin of an Iowa native who spent 30 years living at Twin Lakes. The cabin is only open in the summer and has numerous campsites surrounding it for those who wish to explore the area further.
Things to Do in Lake Clark National Park
There are also plenty of fun and interesting activities to do at Lake Clark that are unique to the area. Here are some of them.
Bear Viewing
By far, the most popular activity in Lake Clark is watching brown bears in their natural habitat. Crescent Lake is a popular viewing spot, as is Chinitna Bay, where the bears feed on sedges and dig up clams.
Because Chinitna Bay's saltwater marshes green up with early summer, the bears can be found there more readily in June and July. The months of August and September bring the sockeye salmon run, so brown and black bears gravitate to Silver Salmon Creek and Crescent River and Lake, where the fish are prevalent.
Day Hiking
There are numerous opportunities to cut your own trail in the backcountry at Lake Clark National Park. However, there is only one designated trail system here. The Tanalian Trails are maintained and easy to follow, with several hikes of varying degrees of difficulty. You can also access some great hiking trails from Port Alsworth.
Birdwatching
There is such a wide variety of habitats in the park that visitors can observe more than 180 species of birds. Raptors, songbirds, and waterfowl all make this region home. In fact, it is a common occurrence to see bald eagles, peregrine falcons, trumpeter swans, owls, and puffins on the same day.
Camping and Backpacking
The entire park is open for trail-less backpacking. Camping is primitive, and the only designated trails are part of the Tanalian Trails, so a map and compass are your best friends here. Be prepared to ford streams, deal with bad weather, and encounter bears. Follow these guidelines for bear safety.
What to Bring and How to Prepare
Lake Clark National Park is not a destination for inexperienced or unprepared travelers. That said, those who make the trip will find it rewarding on many different levels. Here are some tips to keep in mind before you go:
Weather can change quickly and is unpredictable all year round in the park, so stay comfortable with a versatile layering system of base layers, fleece, and a down jacket. Also, bring a weather-resistant shell to keep the wind and rain at bay.
With your RV sidelined for this adventure, your tent will be your primary shelter. Be sure to invest in one that is durable enough to withstand the conditions, with enough room for your team and your gear. If you are visiting in the winter, a four-season or mountaineering shelter will be needed.
Bring a sleeping bag designed for use in cool or cold conditions. Even in the summer, temperatures in Lake Clark National Park can drop into the 30s overnight, although typically, conditions are mild in June, July, and August.
If you are not an experienced backpacker or hiker who is comfortable in remote conditions, consider hiring a guide for your Lake Clark adventure. There are options available for day trips or multi-day excursions.
Bring a bear canister to keep fresh food secure while camping.
On a multi-day trip, bring extra food and supplies. Inclement weather could prevent small aircraft from being able to fly in the area, extending your stay for a few extra days.
As a safety precaution, plan where you intend to go in the park and share that plan with others.
Brief History of Lake Clark National Park
Ancestors of today's northern Athabaskan Dena'ina peoples have lived in the area for more than 9,000 years, mainly around Bristol Bay and, to a lesser extent, Chinitna Bay. It wasn't until 1778 that British explorer James Cook navigated the bay that would take his name, Cook Inlet.
Russian traders, then Americans, entered the region in the 1800s, but settlements were still sparsely populated. By 1930, the first float plane landed on Lake Clark, and eventually, those looking for quiet solitude ventured into the area, including Richard Proenneke.
He was a writer who built his own cabin and lived on the shore of Twin Lakes for almost 30 years, filming his building projects and subsistence living off the land. By 1978, President Carter named the region the Lake Clark National Monument under the Antiquities Act, as he did with several other national monuments that year.
By 1980 the monument was designated a national park and preserve when Congress passed the Alaska National Interest Lands Conservation Act. Just 9 short years after being named a national park, Redoubt Volcano called attention to the region with year-long eruptions within the park's boundaries.
In 2009 she did it again, proving that Lake Clark National Park and Preserve lies not so quietly within the infamous Ring of Fire, a landscape of volcanoes, glaciers, boreal forest, lakes, and mountains that surround much of the Pacific Ocean.
---
Plan your next trip to the national parks in an RV. Rent an RV, trade-In your RV, or buy a new or used RV and start traveling for less than $5 a day.
Have you ever been to Lake Clark National Park? What were your experiences there?