As if a road trip isn't fun enough, imagine a family adventure where pickleball fuels your travels every stop along the way. If you're familiar with pickleball, you know how much excitement currently surrounds the game and its wild growth and popularity lately. If you're not familiar, no worries. Picture the playfulness of ping pong with the energy of tennis and you've got the entertaining game known as pickleball.
Known for its social and friendly dynamic, pickleball is one of those games that's easy to start and hard to stop. It's a craze that's sweeping parts of the country and, like with most trends centered around fun, the RV community has fully embraced it. So where can you get in on the action?
Buckle up for a pickleball road trip. We'll help you discover the best places to play ball.
Pickleball Courts to Visit in the Southwest
There's no wrong way to start your tour of pickleball. You can find courts all over the country. So arrange your road trip route in the way that works best for you and in the season you like traveling in the most. We're starting in the south and working our way up.
Dreamland in Texas
Like much of the rest of the country, Austin, Texas has really taken to pickleball; and Dreamland has been a big contributor. With 15 courts, leagues, clinics, and open play, they're quickly becoming a hub in central Texas.
Campgrounds Nearby:
Green Valley Recreation in Arizona
Located less than 20 miles of Tucson, the Green Valley Recreation Pickleball Club hosts an impressive 36 courts for members and guests. Perfect your skills surrounded by scenic views of the Arizona desert during the day and, if you're not tired by sundown, keep playing on one of their many lighted courts. It's the perfect stop for beginner and experienced players alike.
Campgrounds Nearby:
Catalina Spa and Resort in California
Basically a playground for adults, Catalina Spa comes equipped with odorless mineral hot springs, five swimming areas, cottage rentals, water volleyball, bocce ball, and of course, pickleball. Under the direction of their very own pickleball coordinator, this Palm Springs campground recently refinished six courts and provides training for beginners and novice players, while coordinating a sponsored team with the USA Pickleball Association (USAPA). With tournaments, round-robin play, and plenty of coaching, they're literally a desert oasis for pickleball.
Bobby Riggs Racket & Paddle Club in California
Whether you choose to play indoors or outside, or mix it up with a little of both, the Bobby Riggs Racket & Paddle Club in Encinitas, CA caters to your every whim. From introductory classes to competitive tournaments, drop-in open play and private court reservations, the Pickleball program at Bobby Riggs is top-notch.
Campgrounds Nearby:
Pickleball Courts to Visit in the Southeast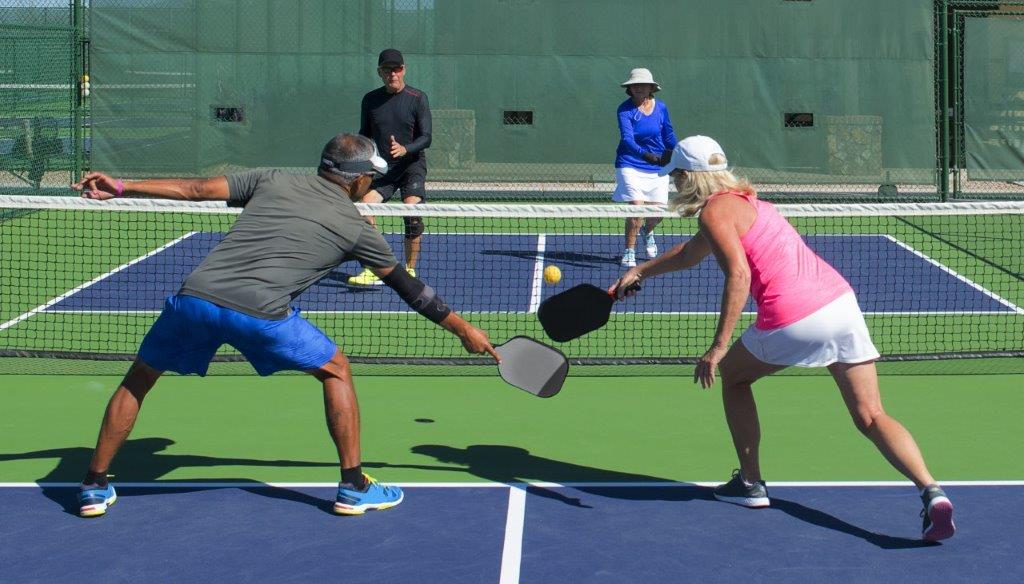 The Villages, Florida
Commonly referred to as the "unofficial pickleball capital of the world", The Villages is a retirement community that is home to 150+ pickleball courts. Stopping by The Villages will ensure you'll have a court waiting for you. Courts are available to residents and non-residents (with a guest pass)–it's an ideal setup in an ideal location.
Campgrounds Nearby:
House of Pickleball in North Carolina
If you're looking to hop out of the sun for a few, swing by the House of Pickleball in Leland, NC. Climate-controlled indoor courts with rubberized, cushioned flooring ensure gameplay is as fun as possible. The refreshment selection includes beer, wine, and cider plus snacks. Even if you lose, you're still winning.
Campgrounds Nearby:
Pickleball Courts to Visit in the Northeast
Pickleball Island in New York
Grand Island, NY is the home to Pickleball Island which is the largest dedicated indoor pickleball facility in New York State. All things pickleball-related are celebrated here! With no membership required, guests can take advantage of the free beginner lessons, or the open-play courts, year-round. If RV enthusiasts time their trip right, you could watch or compete in one of 5 tournaments held each year.
Campgrounds Nearby:
Fort Williams Park in Maine
If a pickleball court with a view is on the wish list, then the Fort Williams Park in Cape Elizabeth, ME is the location for you. With eight courts, two that overlook the Atlantic Ocean and the Portland Headlight, you'll be able to play pickleball and soak in the beauty of your surroundings all at once.
Campgrounds Nearby:
View this post on Instagram
Pickleball Courts to Visit in the Midwest
Chicken N Pickle in Missouri
What's better than good food and a good time? It's the perfect combination if you ask us. Chicken N Pickle in Kansas City, MO offers a unique experience by serving up a full menu in its restaurant (including drinks and a brunch menu) while guests serve up point after point on the adjacent pickleball courts. Food and fun, what more could you ask for?
Campgrounds Nearby:
Mentor Pickleball Courts in Ohio
Home of 15 lighted outdoor courts, and 4 indoor courts, the Mentor Pickleball Courts in Civic Center Park, OH welcome pickleball players of all ages and experience levels. Open 7 days a week, the Mentor Pickleball Courts encourage open play, offer classes and clinics, and host leagues and tournaments throughout the year.
Campgrounds Nearby:
Pickleball Courts to Visit in the Northwest
Pickleball Station in Washington
Driving through Seattle, WA will have you parking the RV for a visit to the Pickleball Station for a quick game and to browse through the world's best Pickleball Pro Shop. A favorite for any avid pickleball player, the Pickleball Station offers clinics and lessons by pickleball professionals who craft personalized lesson plans on a player-by-player level.
Campgrounds Nearby:
View this post on Instagram
Little Valley Pickleball Complex in Utah
Located in St. George, UT, the Little Valley Pickleball Complex has 24+ courts with considerately placed shaded areas offering seats for spectators. Locals and pickleball enthusiasts have nicknamed the location the "cathedral of pickleball" so playing on these courts takes the sport to an entirely new level.
Campgrounds Nearby:
Whether you take your RV through the southern states and work your way up or do the opposite and drive your way down, there are plenty of pickleball courts waiting for you. Find a court near you using the "Places 2 Play," app or website. Then, book a high-quality campground nearby using the Good Sam park-finder tool.
Prep your RV, grab your paddles, queue up your favorite playlist, and soak in all the views along the way. Visiting the best places to play ball and have a good game is the perfect excuse for a road trip. You just might discover a new passion along the way. Ace!